Easy Stuffing Muffins are buttery and crisp with onions, apples, sausage, and poultry seasoning all baked in tender breading.
If you like Classic Sausage and Herb Stuffing, then you're going to love this version that turns the favorite stuffing recipe into serving-sized muffins. They're the perfect cute and flavorful Side Dish for your holiday dinner.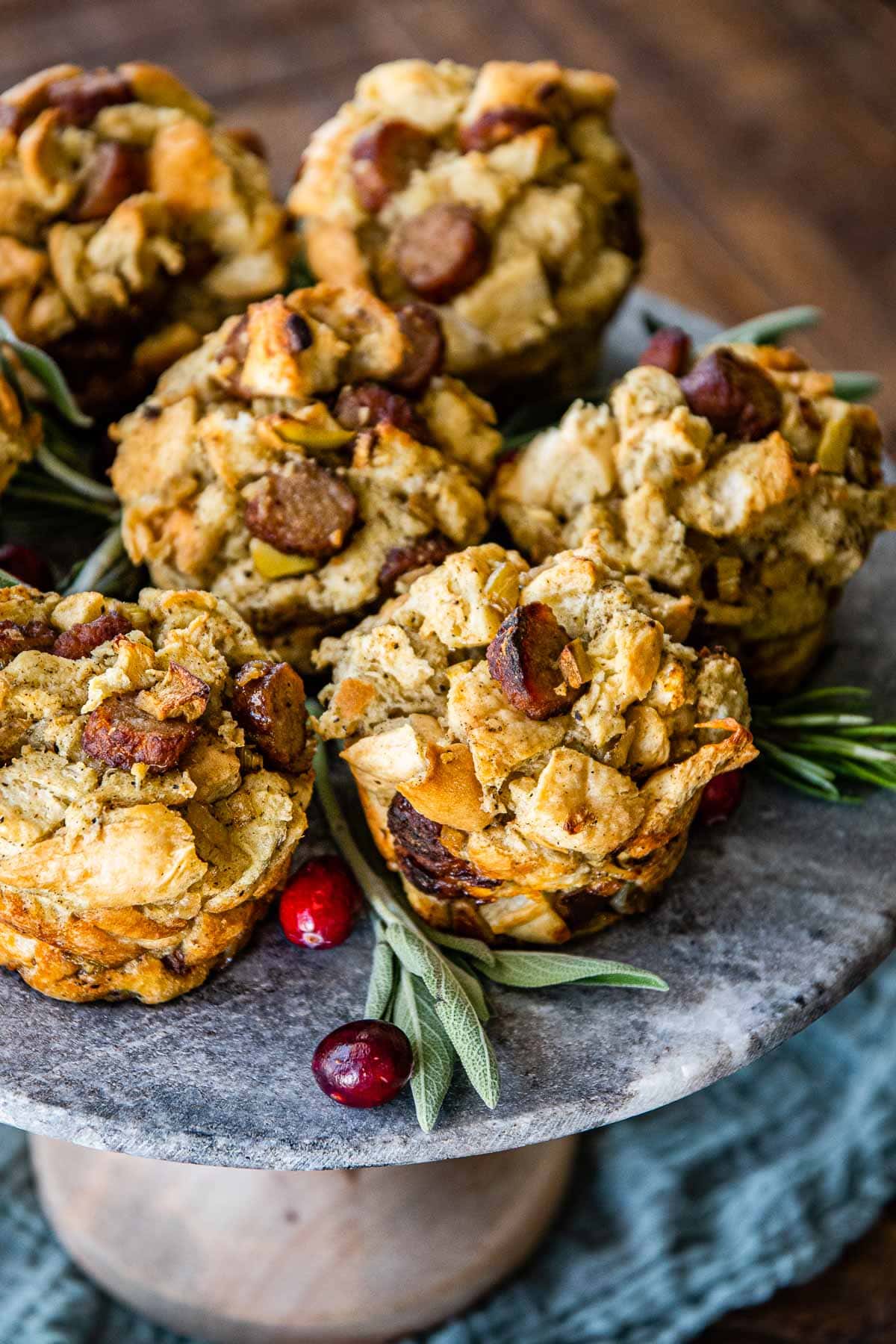 Making this recipe in muffin tins is a great way to simplify your holiday dinner. Instead of scooping up servings of stuffing for everyone, you can arrange Stuffing Muffins on a serving plate for everyone to grab one, the same way you grab Dinner Rolls. Baking the Stuffing in Muffin Tins also makes the outer edges nice and crispy, but still leaves flavorful and tender bread on the inside. It's the perfect way to change up a classic stuffing recipe.
Stuffing Muffins only take about 25 minutes to bake. Then the oven will be free for the other holiday dishes you have to make. Serve up the finished muffins with your other favorite Thanksgiving sides like Cranberry Sauce, Mashed Potatoes, and Green Bean Casserole. It makes the perfect holiday spread!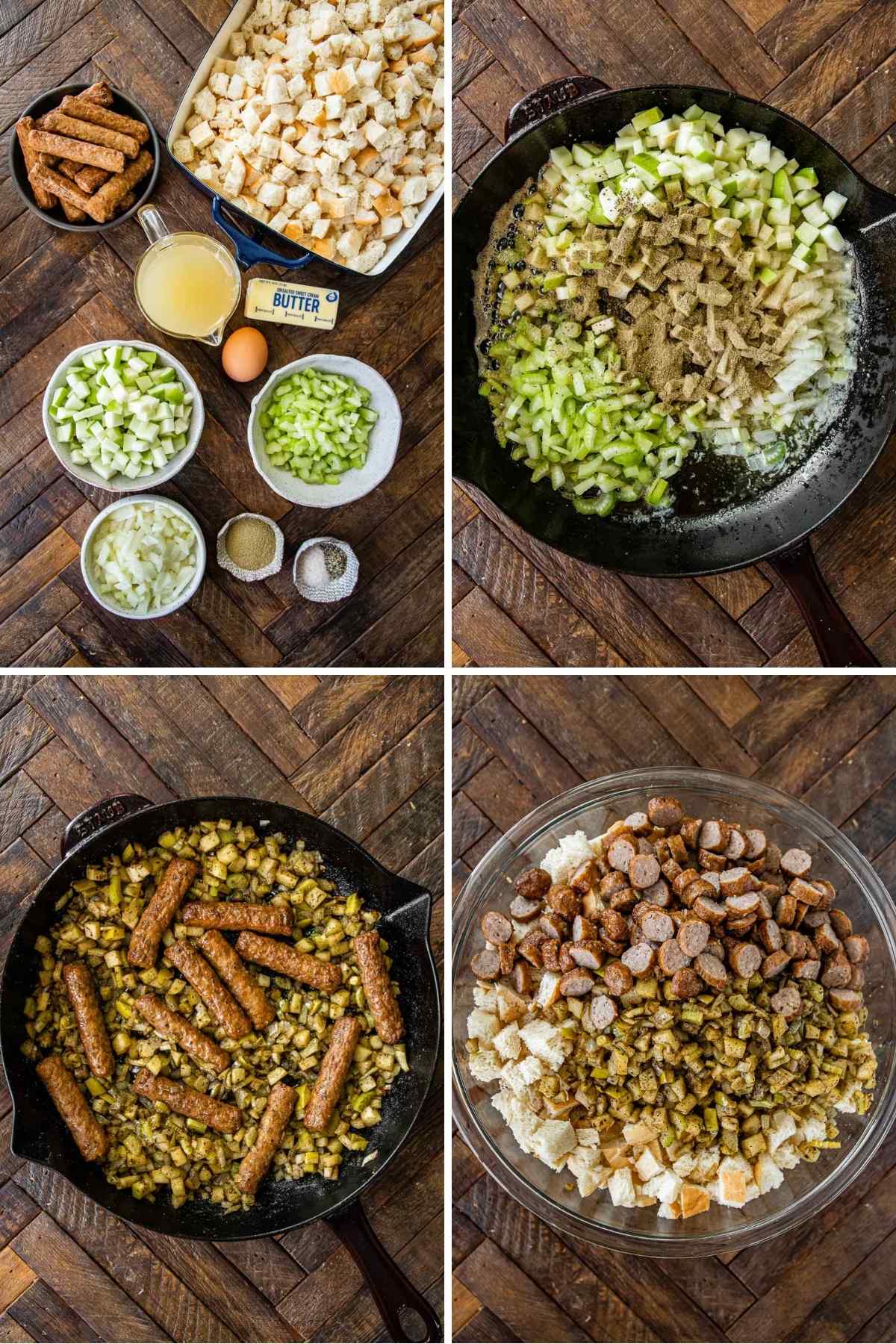 Stuffing Muffins are easy to make with veggies, spices, chicken broth, sausage, and simple bread cubes. For the bread base, you can really use whatever kind of bread you prefer. I love using French bread, challah, or brioche, but you could also make the stuffing a little healthier by using whole wheat bread.
More Stuffing Recipes
Key Ingredients in Stuffing Muffins
Bread: The base of the muffins is made with cubed bread. You want to use 1 pound of bread, which is about 3-4 cups of bread cubes. To best prep the bread for this recipe, leave it out overnight. That way, the bread dries out and more easily absorbs the chicken broth and eggs. The finished Stuffing is far more tender and flavorful when you use slightly stale bread to make it.
Vegetables: To prep the vegetables, just cook 2 sliced celery stalks and ½ diced onion in ½ unsalted butter and poultry seasoning. As the veggies cook in butter they'll soak up the poultry seasoning. Then you add them to the breading to add tons of delicious flavoring to the muffins.
Apples: Adding 1 green apple is a great way to bring more variety to the stuffing mix. The sweet and tart flavors contrast a lot with the other savory ingredients, and the apple and herb flavor is very seasonal.
Sausage: Breakfast sausage links are perfect to use for stuffing. You can easily brown them in just a few minutes. Then slice them up so that they're small enough to mix with the other ingredients and go into muffin cups.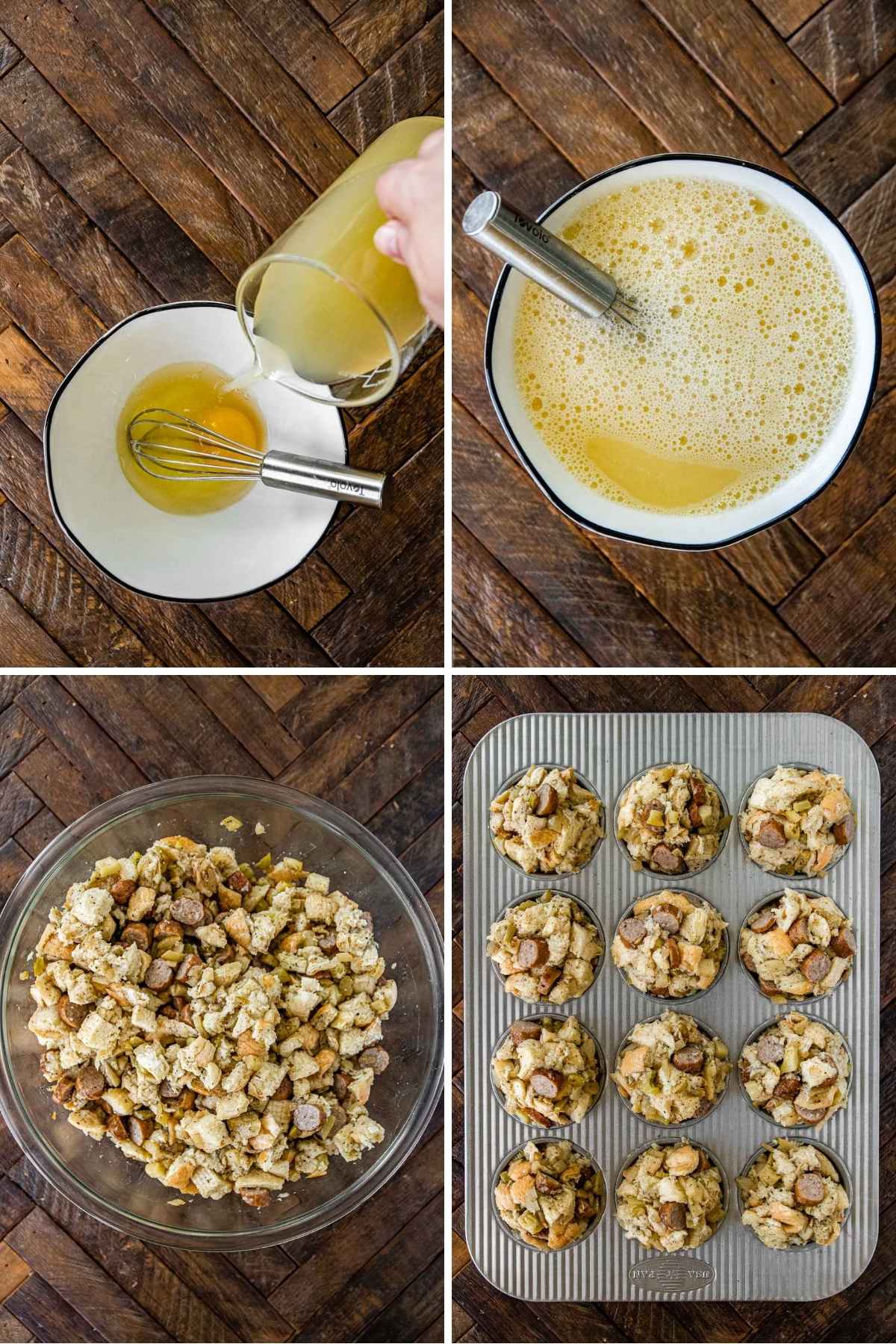 How to Make Easy Stuffing Muffins
Prep Time: Start the recipe by preheating the oven temperature to 375 degrees. Then spray 2 12-cup muffin tins with nonstick cooking spray.
Veggies: Add the butter, diced onions, celery, apples, poultry seasoning, salt, and pepper to a large skillet. Then turn the oven to medium heat, and cook until the veggies are translucent.
Sausage: Add the sausage to the pan. Stir to brown the sausage links on all sides.
Stuffing Mixture: Add the bread cubes, veggies, and apples to a large mixing bowl. Then slice each of the sausage links into 1/2-inch slices to add to the bowl. Add the egg and chicken broth to a separate medium bowl. Then whisk the egg mixture until well combined and pour it over the stuffing mix. Toss the mixture until it's well coated in the broth and egg mix.
Cooking Time: Divide the stuffing mixture evenly into the 24 muffin cups. Pack them well to form rounded tops. Then put the pans in the preheated oven to bake for 25-30 minutes. Take the Easy Stuffing Muffins out once the breading is golden brown with crispy tops.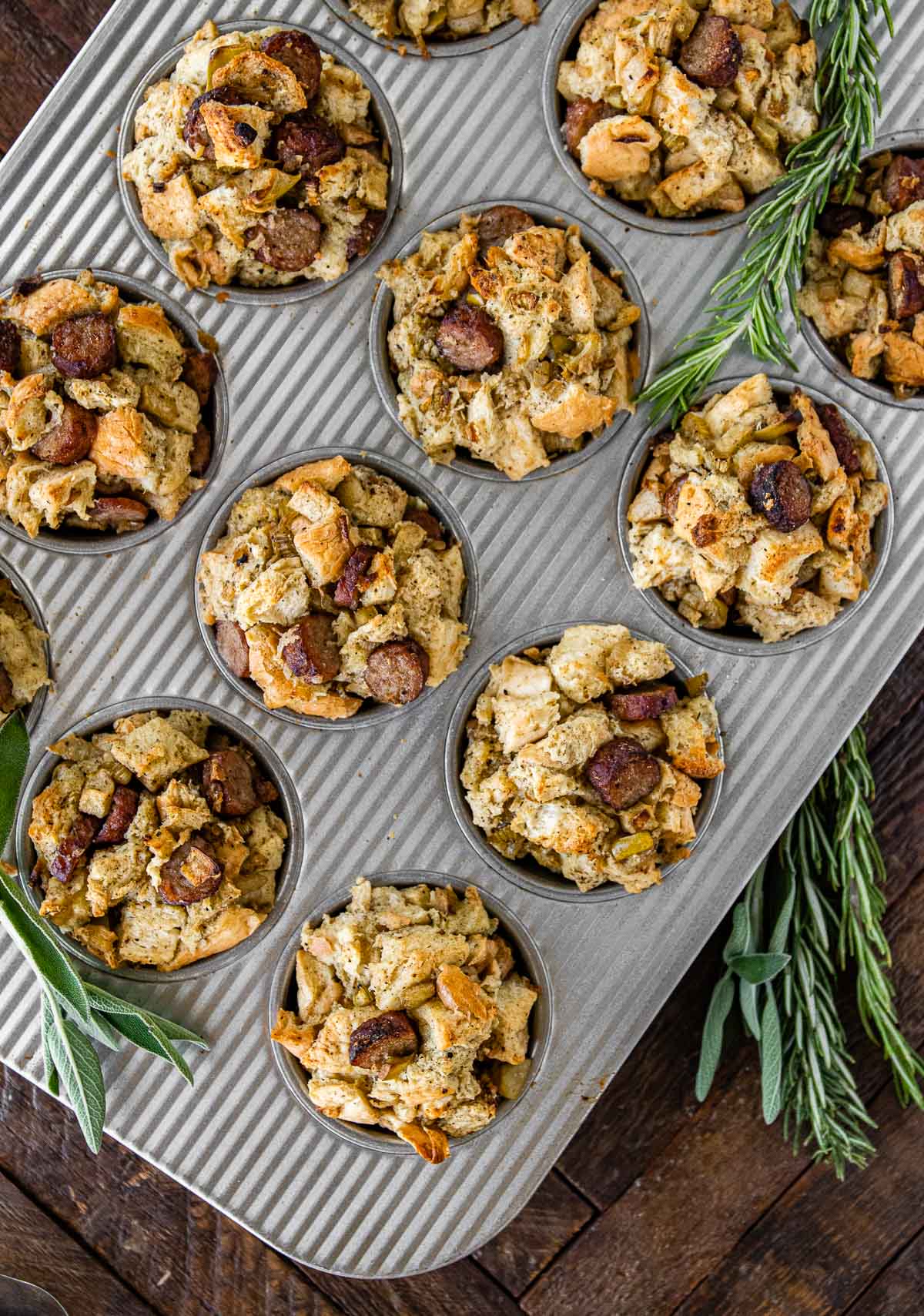 Create a free account to

Save Recipes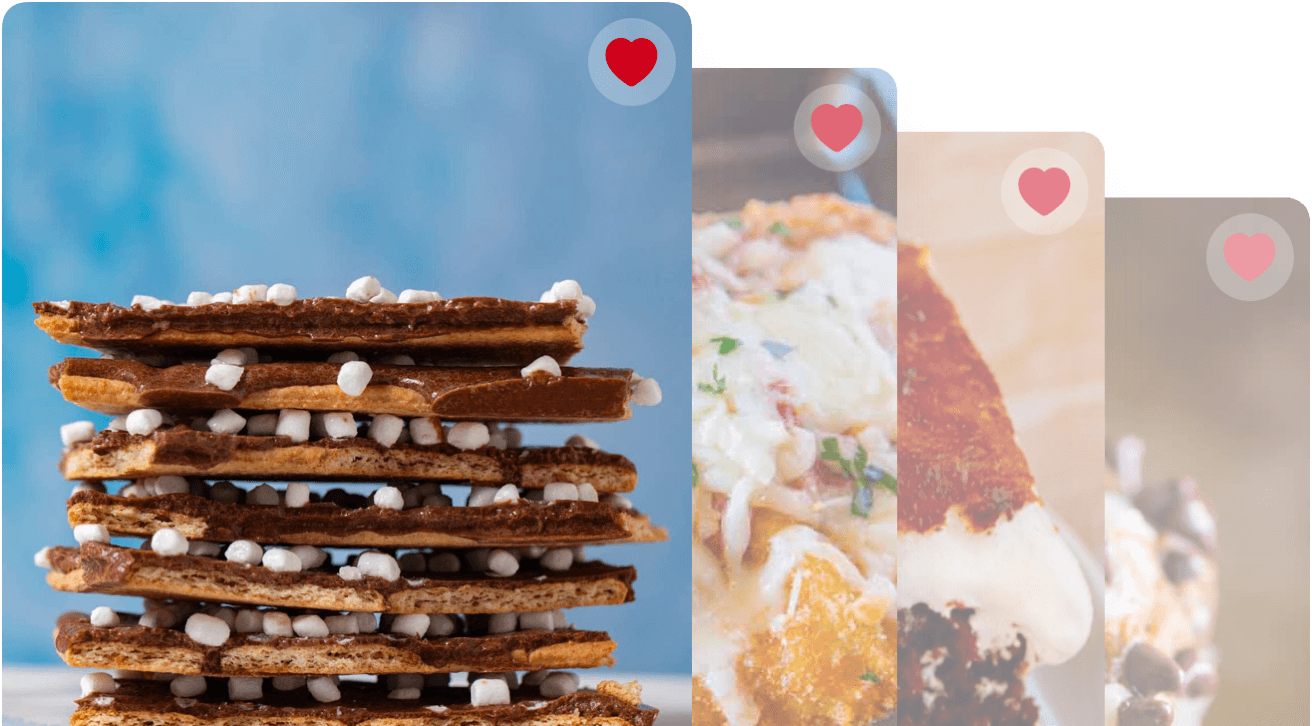 Variations on Stuffing Muffins
Seasonings: For extra flavor, you can sprinkle different kinds of seasoning into the Stuffing recipe. Fresh parsley leaves, rosemary, onion powder, garlic powder, or Italian seasoning would all taste amazing.
Sausage: There are all different kinds of sausage that you could use in your Stuffing Muffins. Try using Italian sausage, chorizo, or andouille.
Mini Stuffing Muffins: If you want to make your stuffing recipe into smaller, bite-sized servings, you can divide the breading into mini muffin tins. Just keep in mind that the smaller portions will bake faster.
Cheesy Stuffing Muffins: For some savory, cheesy flavor, you can add shredded cheese to the stuffing mixture. Any of your favorite kinds of cheeses can make a great addition to Cheese Stuffing Muffins. Try adding cheddar, pepper jack, Swiss, gouda, or provolone to the bread cube and veggie mixture. Then fold the cheese in so it's evenly distributed throughout the Cheesy Stuffing Muffins.
Add-ins: There are plenty of other kinds of add-ins that you can use for Easy Stuffing Muffins. Try mixing in shredded carrots, green onions, or diced peppers for more veggie flavor. You could add dried cranberries for a bright burst of cranberry flavor. Or, mix in some chopped nuts to add a crunchy texture to the stuffing mix.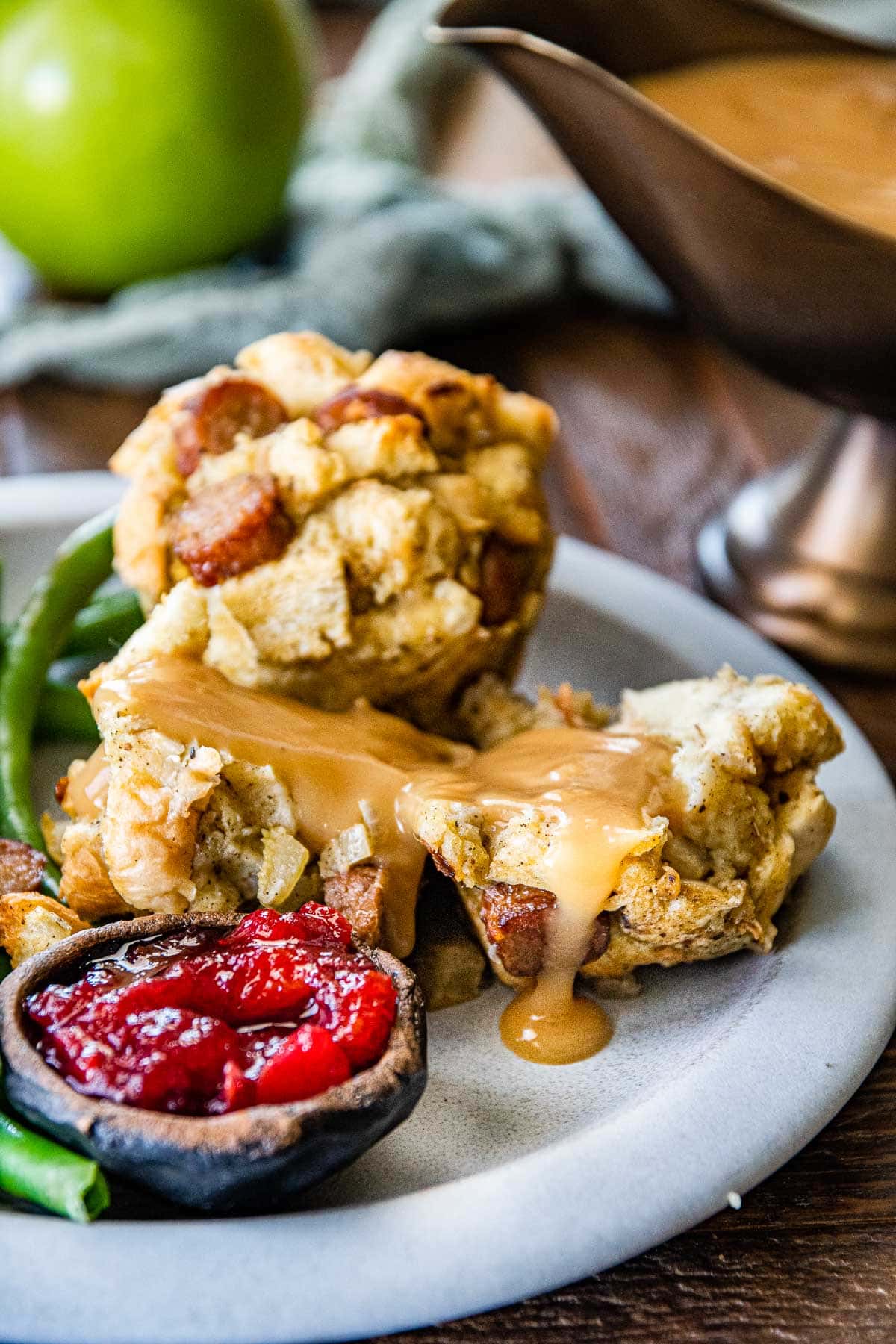 SIDE DISH RECIPES
HOW TO STORE
Serve: You don't want to leave these Easy Stuffing Muffins at room temperature for more than a couple of hours.
Store: If you have any Leftover Stuffing Muffins, you can put them in an airtight container to store in the fridge for 3-4 days.
Freeze: You could also seal the Stuffing Muffins to store in the freezer for up to 1 month.


Ingredients
1/2

cup

butter

1/2

yellow onion

, diced

2

Stalks

celery

, thinly sliced

1

green apple

, cored and diced

2

teaspoons

poultry seasoning

1/2

teaspoon

Kosher salt

1/4

teaspoon

ground black pepper

8

ounces

breakfast sausage links

1

pound

loaf of bread

, broken into cubes

1

cup

chicken broth

1

large

egg
Instructions
Preheat your oven to 375 degrees and spray 2 12-count muffin tins with cooking spray.

In a large skillet add the butter, onion, celery, apple, poultry seasoning, salt, and pepper.

Cook on medium heat until veggies are translucent.

Add in the sausage links and cook until browned.

In a large bowl add the bread cubes then add the veggies.

Slice the links into small 1/2-inch slices.

In a small cup whisk the broth and the egg and add it to the bread mixture.

Toss the mixture well then pack the mixture into muffin tins creating a rounded top.

Cook for

25-30 minutes

or until the tops are crispy.
Nutrition
Calories:
124
kcal
|
Carbohydrates:
11
g
|
Protein:
4
g
|
Fat:
7
g
|
Saturated Fat:
2
g
|
Polyunsaturated Fat:
2
g
|
Monounsaturated Fat:
3
g
|
Trans Fat:
1
g
|
Cholesterol:
15
mg
|
Sodium:
285
mg
|
Potassium:
78
mg
|
Fiber:
1
g
|
Sugar:
2
g
|
Vitamin A:
212
IU
|
Vitamin C:
1
mg
|
Calcium:
32
mg
|
Iron:
1
mg