Baked Eggnog Cheesecake is a decadent festive dessert recipe made with real eggnog, eggs, rum extract, and nutmeg in a graham cracker crust.
Rich and creamy New York Cheesecake is a go-to dessert for special occasions, but this new Cheesecake Recipe is sure to be a favorite winter holiday Dessert! It's got all the creamy goodness you love about regular cheesecake plus the incredible rich flavor of eggnog!
This is hands-down the most decadent holiday cheesecake recipe you will ever make. The rich and creamy eggy filling mixture is bursting with so much Christmasy flavor, you can't help but make it the star of your holiday party. Be sure to tell your guests to save room for this show-stopping eggnog dessert!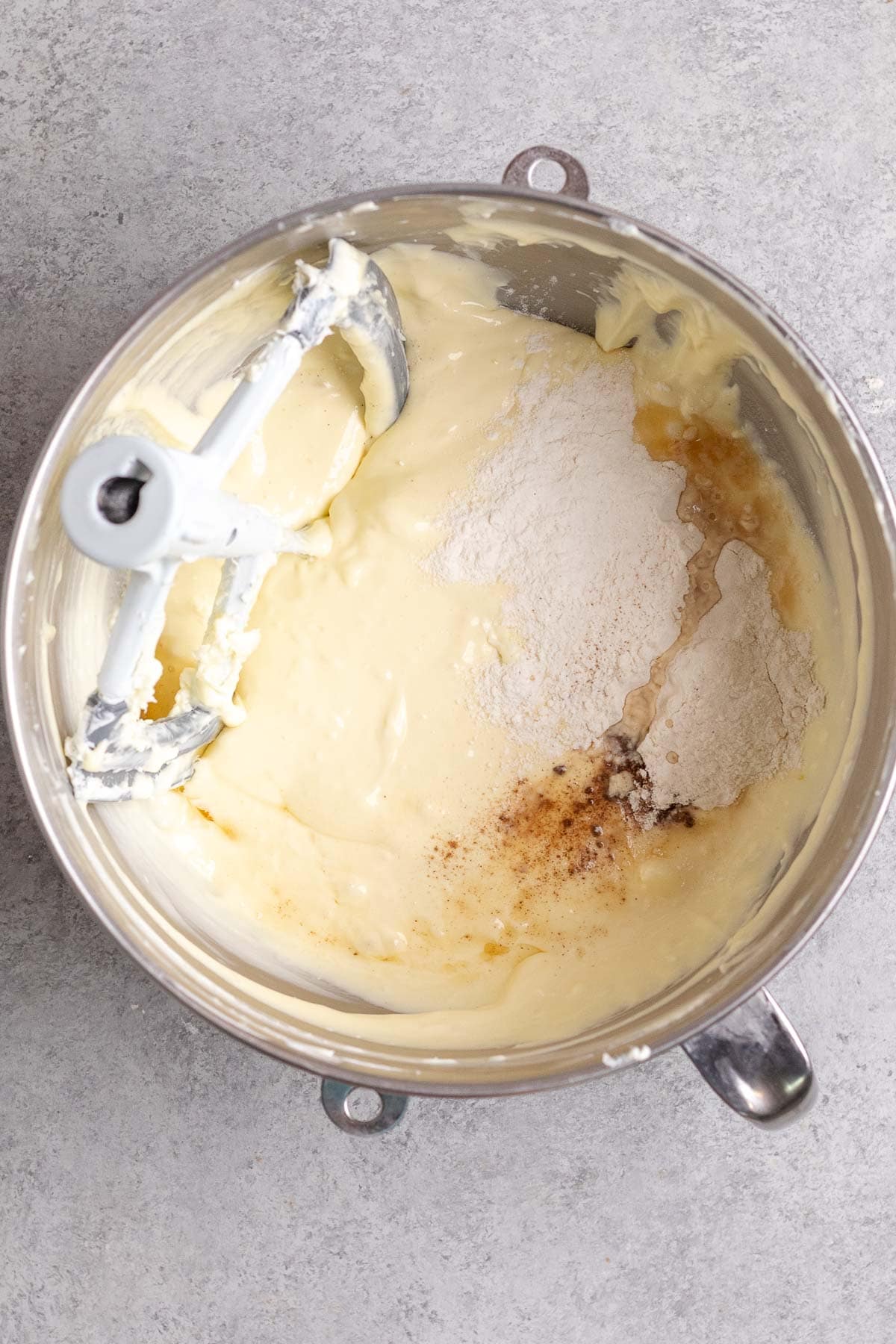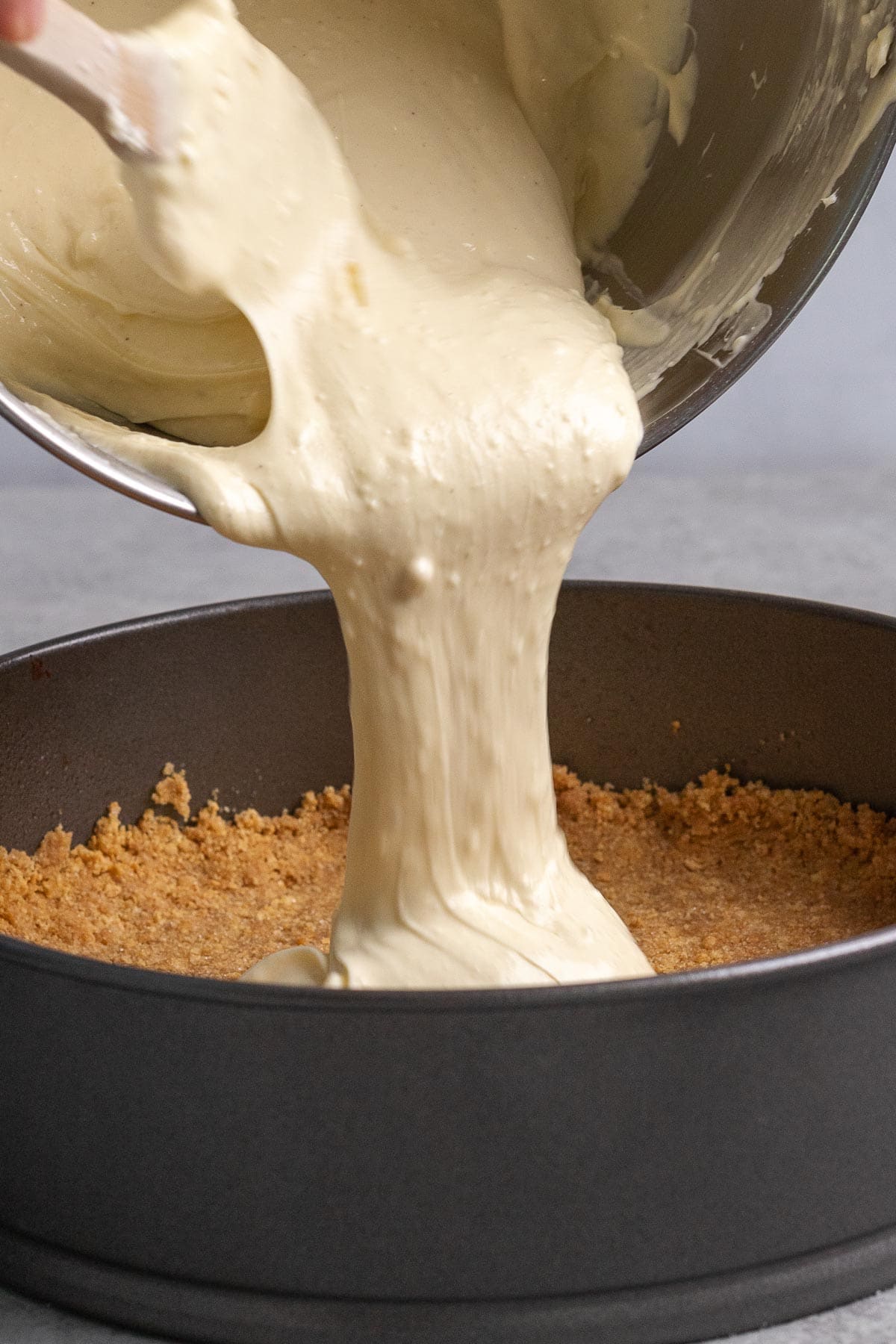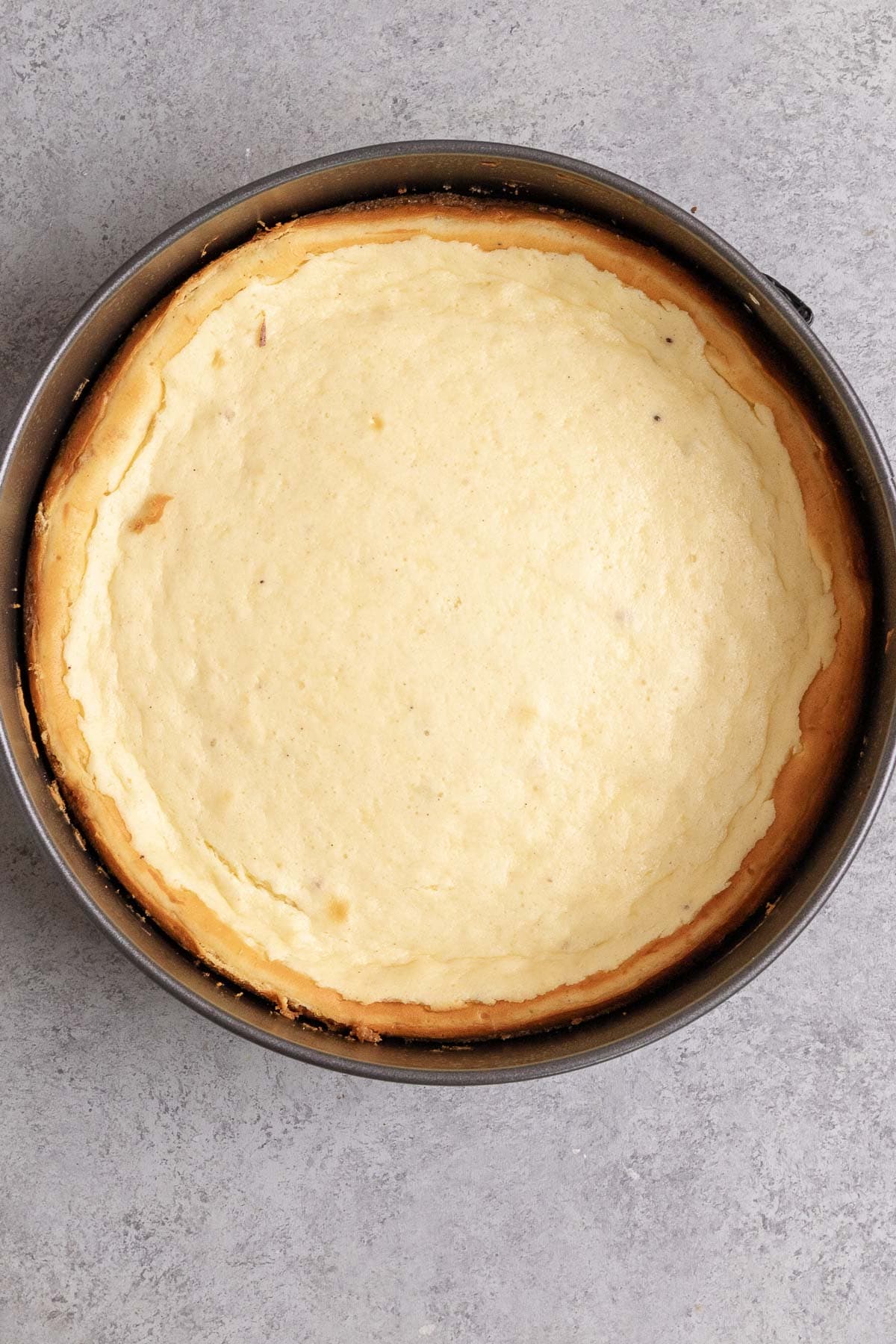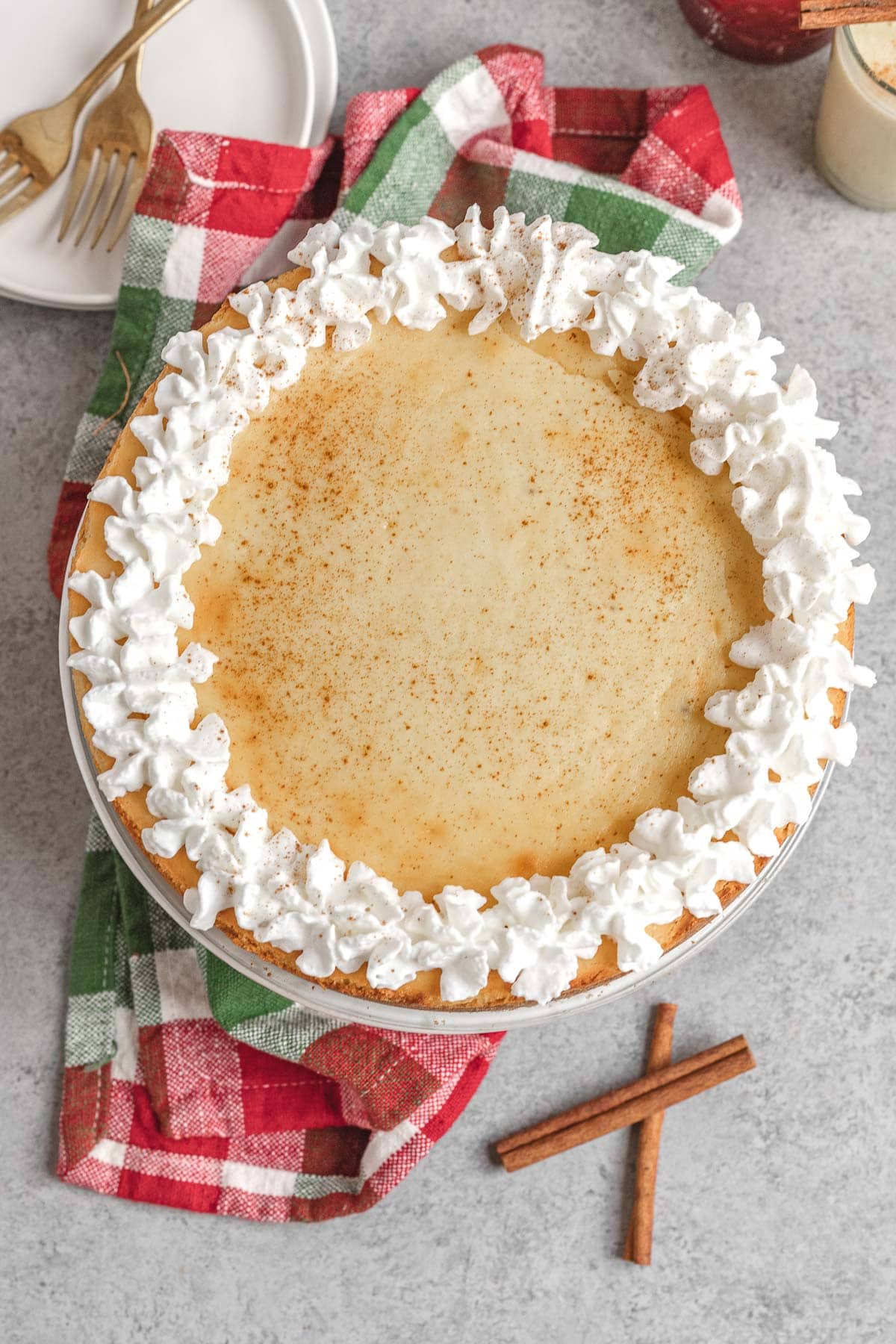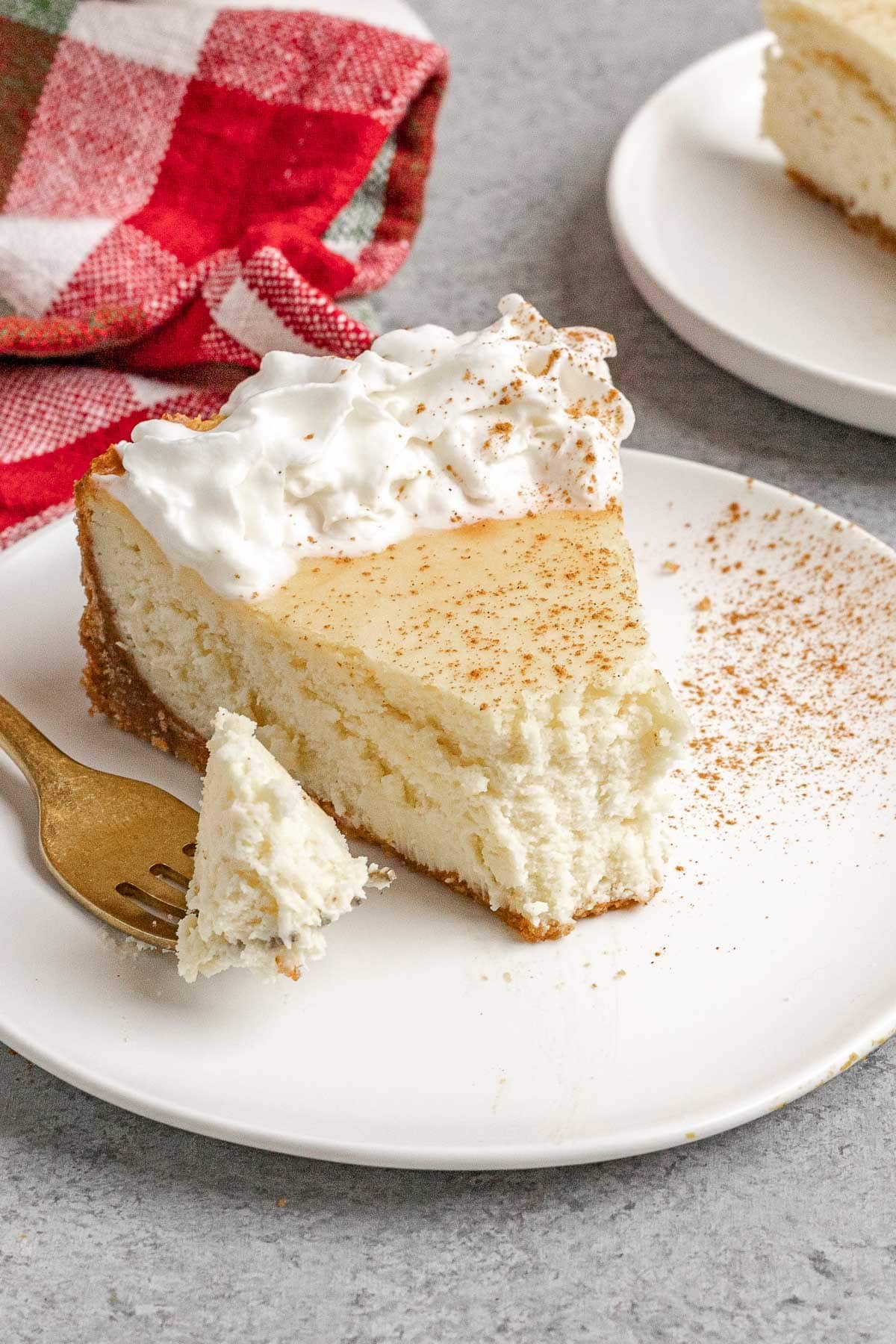 About our Eggnog Cheesecake Recipe
Eggnog Cheesecake is the ultimate festive dessert recipe! The rich eggnog cheesecake filling comes together easily with real eggnog, eggs, cream cheese, rum extract, and nutmeg. Everything is blended together then baked in a graham cracker crust in a waterbath. It's a delicious baked cheesecake with the indulgent flavors of warm holiday eggnog.
If you want to take this Eggnog Cheesecake to the next level (yes, it can get more amazing!) you should try making it with Homemade Eggnog. Even the best quality store-bought eggnog pales in comparison to creamy Eggnog made from scratch. If you are making spiked eggnog for a party, reserve a cup for this cheesecake recipe to make prepping easier.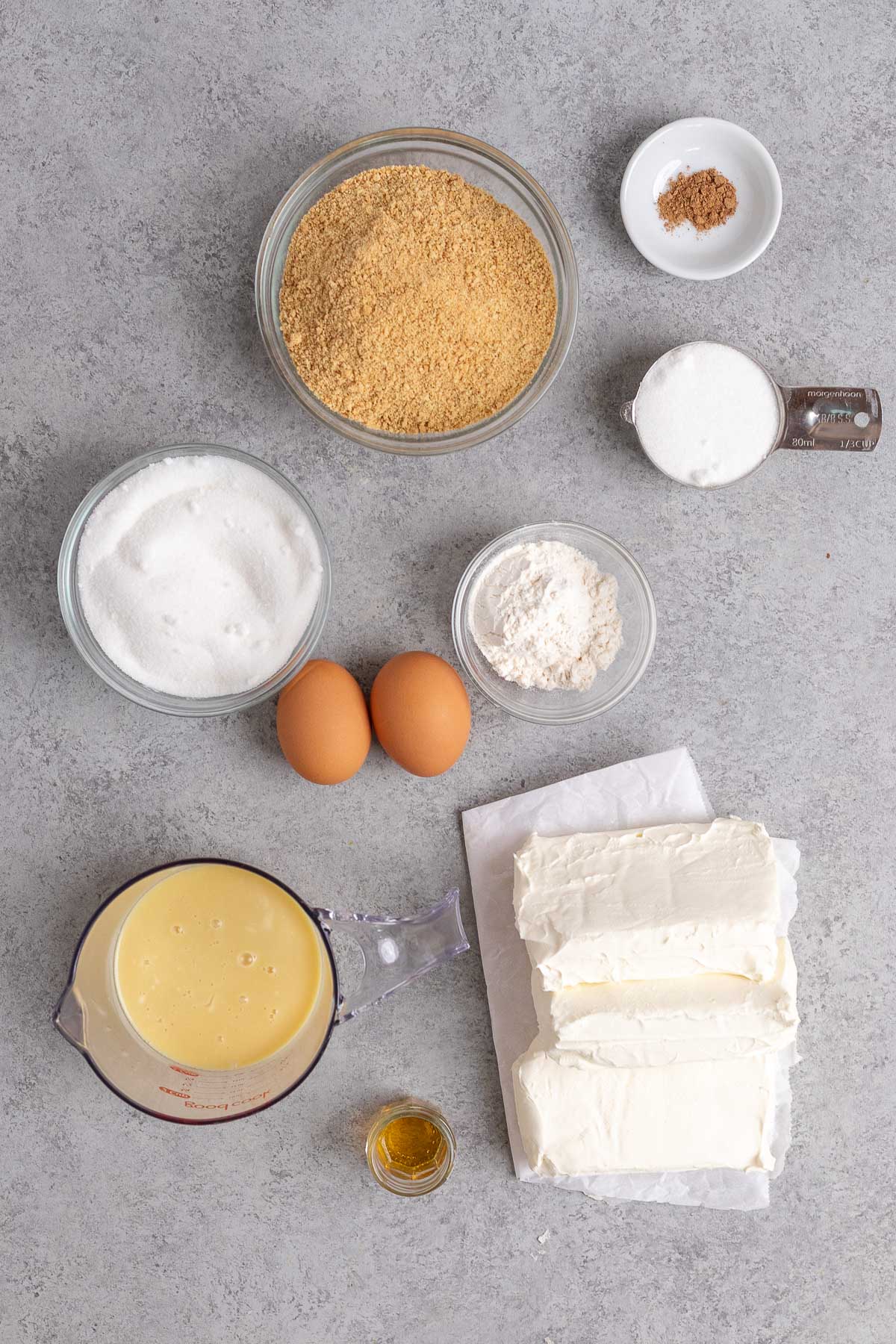 Eggnog Cheesecake Ingredients
Graham Cracker Crust: The simple and traditional graham cracker crust is made with 1 ½ cups graham cracker crumbs, ⅓ cup sugar, and 6 tablespoons melted butter. You can add a little more nutmeg or another warm spice to add to the holiday flavor!
Cheesecake Filling: The creamy delicious filling starts with a basic cheesecake recipe of 3 packages of cream cheese, 1 cup sugar, 2 eggs, and 3 tablespoons all-purpose flour. Make sure everything is at room temperature so it whips up easily and creates lots of air for a fluffy cheesecake.
Eggnog: The eggnog takes the place of the milk you use in regular cheesecake recipes. Since it's made with eggs and vanilla, you use less eggs in the batter and don't need to add vanilla. Instead you get the full eggnog flavor shining through.
Rum Extract: A ½ teaspoon of rum extract gives this creamy, rich cheesecake a warm, boozy flavor of adult eggnog drink but without using actual alcohol. If you don't even want the flavor of rum, swap it with 1-2 teaspoons vanilla extract.
Nutmeg: The batter gets a ¼ teaspoon of nutmeg to really enhance the warm flavors in the eggnog and balance all the richness in this indulgent cheesecake.
Kitchen Tools & Equipment
Water Bath: A water bath is key to a perfectly cooked cheesecake. Use a large roasting pan that fits the springform pan (with the foil sling) without touching the sides so water surrounds the pan.
Springform Pan: A 9-inch springform pan is great for baking cakes with custard filling like creamy cheesecake because you can delicately remove them without squashing the cake. The important thing is to let the cheesecake cool completely until the creamy filling sets or it will spill out.
How to Make Eggnog Cheesecake
Time needed: 9 hours and 15 minutes.
Set Up a Water Bath

Preheat your oven. Use a large roasting pan, or pan that fits your springform pan inside. Wrap the springform pan with foil to seal it up. Place the wrapped pan in the larger pan.

Make the Crust

Combine the cracker crumbs, sugar and melted butter in a bowl with a fork until it looks like wet sand. Press the cracker mixture evenly into the bottom of your pan and a bit up the sides.

Mix the Batter

Beat the cream cheese and sugar in a stand mixer. Add the eggnog to the mixture until combined. Begin adding the eggs one at a time until the mixture is smooth and completely combined. Finally, mix in the rum extract, nutmeg and flour.

Fill the Crust

Pour the filling into the prepared crust and even out the top gently. Add an extra sprinkle of nutmeg if you want. Place the pan into the larger pan and pour water in the roasting pan until it reaches up about 1 inch of the sides of the cheesecake pan.

Bake the Cheesecake

Place the roasting pan in the center of the oven, careful not to splash water into the cheesecake. Bake for 50-55 minutes. Turn the oven off and prop open the oven door. Allow the cheesecake to cool for 1 hour in the oven, then refrigerate overnight before slicing and serving.
Nutritional Facts
Nutrition Facts
Eggnog Cheesecake
Amount Per Serving
Calories 326
Calories from Fat 153
% Daily Value*
Fat 17g26%
Cholesterol 82mg27%
Sodium 293mg13%
Potassium 199mg6%
Carbohydrates 38g13%
Protein 7g14%
Vitamin A 560IU11%
Vitamin C 1mg1%
Calcium 119mg12%
Iron 1mg6%
* Percent Daily Values are based on a 2000 calorie diet.
Eggnog Cheesecake Recipe Tips & Tricks
Let the Cheesecake Cool Slowly

Don't rush your Eggnog Cheesecake recipe, plan enough time to let the cheesecake cool with the oven door open. If you take a hot cheesecake from the oven without cooling first, you will get cracks on the top and it won't set right.

Fresh Grated Nutmeg

Use freshly grated nutmeg if you can, the flavor is unmatched! The nice thing about fresh nutmeg is you can freeze it whole for years and just grate what you need. Plus a little goes a long way so it lasts a long time.
How to Store Eggnog Cheesecake
Store: Eggnog Cheesecake tastes best after it has chilled overnight and should be served cold. You can keep this cheesecake at room temperature for up to 2 hours. Cover Eggnog Cheesecake with plastic wrap or store in an airtight container and refrigerate the cheesecake for up to 1 week.
Freeze: Once Eggnog Cheesecake is completely cooled remove from the pan and wrap tightly in plastic wrap. Freeze in a sealed container for up to 6 months and thaw overnight in the refrigerator before serving.
Ideas to Serve Eggnog Cheesecake
Eggnog Cheesecake is best served after it has chilled overnight to allow all the nutmeg and eggnog flavors to deepen. Serve your Eggnog Cheesecake with a dollop of Whipped Cream and a sprinkle of cinnamon or additional ground nutmeg. Salted Caramel Sauce would taste delicious drizzled over this eggnog dessert, too!
Alternative Eggnog Cheesecake Baking Techniques
This baked Eggnog Cheesecake recipe takes longer than a no-bake Eggnog Cheesecake recipe but the creamy texture and decadent flavor are worth it. If you still want all the flavor but are pressed for time, you can mini Eggnog Cheesecakes or Cheesecake Bars instead. They are just as creamy and flavorful, but a little less work.
Mini Eggnog Cheesecakes
Preheat oven to 325 degrees.
Line a 12-cup muffin tin with cupcake liners or spray generously with baking spray.
Prepare graham cracker crust and Eggnog Cheesecake filling according to the recipe card.
Divide graham cracker crust between muffin cups and press so it is firm, going slightly up the sides but mostly in the bottom.
Pour cheesecake filling mixture over crusts evenly, so cups are about ¾ full.
Bake for 18-22 minutes, until centers are mostly set.
Cool on a wire rack for 1 hour, then refrigerate for at least 4 hours before serving.
Eggnog Cheesecake Bars
Preheat the oven to 325 degrees and generously grease a 13×9 pan with baking spray.
Prepare graham cracker crust and Eggnog Cheesecake filling.
Press graham cracker crust evenly and firmly into the bottom and slightly up the sides of the baking dish.
Spread the cheesecake filling over graham cracker crust and smooth with a spatula.
Bake for 40-45 minutes until cheesecake is set and firm. Cool completely before slicing and serving.
FAQ for Eggnog Cheesecake
Why did my cheesecake sink?
If you try cooling your cheesecake too quickly, that will cause it to sink and possibly crack. You want to let your baked cheesecake slowly cool by leaving it in the oven but turning the oven off and opening the door for one hour before you finish cooling it in the fridge.
Is there alcohol in Eggnog Cheesecake?
While this Eggnog Cheesecake recipe doesn't have an actual rum or other spirit in it, there is some alcohol in rum extract just like there is in any flavoring extract. However, since it contains the same amount of alcohol as if you used vanilla extract, and you only need ¼ teaspoon, the alcohol content is negligible.
Recipe Card


Ingredients
Graham Cracker Crust
1 1/2

cups

graham cracker crumbs

, 12 full crackers

1/3

cup

sugar

6

tablespoons

unsalted butter

, melted
Eggnog Cheesecake Filling:
24

ounces

cream cheese

, softened

1

cup

sugar

3/4

cup

eggnog

2

large eggs

1/2

teaspoon

rum extract

1/4

teaspoon

ground nutmeg

3

tablespoons

flour
Instructions
Preheat oven to 325 degrees. Get a large pan of water you can set a 9" springform pan in to bake. Wrap the 9" springform pan in a large piece of foil to protect it from the water bath.
Graham Cracker Crust
Mix the graham cracker crumbs, ⅓ cup sugar, and 6 tablespoons melted butter.

Press mixture into the bottom of the springform pan and 1 inch up the sides.
Cheesecake
In a stand mixer, beat the cream cheese and sugar, then add in the eggnog until combined.

Add in the eggs one at a time until fully combined. Then, add in rum extract, ground nutmeg, and flour until combined.

Pour filling into pan over the crust and spread evenly.

Sprinkle with additional ground nutmeg if desired (optional).

Place the pan in the water bath and bake for

50-55 minutes

.

Turn off the oven, open the door a couple inches to let the heat out gently and let cool for

1 hour

.

Remove from oven, discard the foil and refrigerate overnight before serving.
Nutrition
Calories:
326
kcal
|
Carbohydrates:
38
g
|
Protein:
7
g
|
Fat:
17
g
|
Saturated Fat:
10
g
|
Polyunsaturated Fat:
1
g
|
Monounsaturated Fat:
5
g
|
Trans Fat:
1
g
|
Cholesterol:
82
mg
|
Sodium:
293
mg
|
Potassium:
199
mg
|
Fiber:
1
g
|
Sugar:
29
g
|
Vitamin A:
560
IU
|
Vitamin C:
1
mg
|
Calcium:
119
mg
|
Iron:
1
mg
Eggnog Cheesecake Variations
Gingersnap Crust: Use hard gingersnap crumbs in place of the graham cracker cookie crumbs to make a Gingersnap Cookie Crumb Crust. You could also use shortbread cookie crumbs or chocolate sandwich cookies.
Spiked: Instead of a bit of rum extract, add up to 1 tablespoon of dark rum, bourbon or brandy. You can also use vanilla extract or almond extract in place of rum flavoring.
Topping: Make a festive cinnamon and nutmeg cream topping for your Eggnog Cheesecake. Whisk 1 cup heavy cream with ¼ cup powdered sugar, ½ teaspoon cinnamon, and ¼ teaspoon ground nutmeg until whipped cream forms.
Related Recipes
More Decadent Holiday Cheesecakes