Herb Quick Bread is easy to make without any kneading or rising time. Just mix the batter and bake the savory bread to buttery perfection.
Quick breads are the perfect recipe for beginning bakers to try out because they're so fast and simple. Whether you're looking for a sweet bread for Breakfast like Banana Bread or savory bread like Beer Bread or this herb one to go with dinner, you can have fresh baked bread in no time.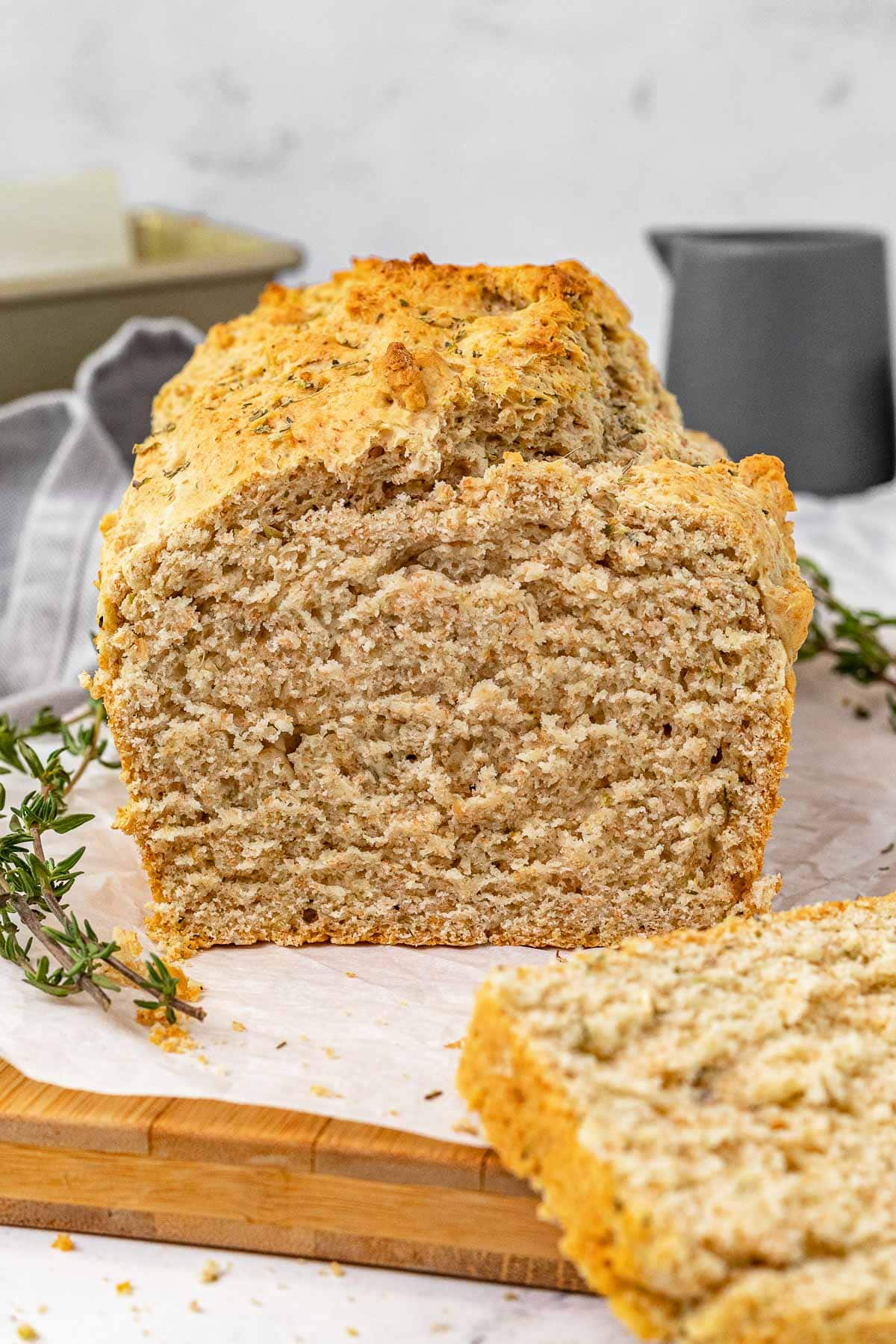 This is one of the most basic bread recipes ever! For the most part, it's just a combination of staple ingredients like flour, milk, oil, and an egg. But, the addition of thyme brings a rich, earthy, and fresh flavor to the simple batter. It is a quick and easy bread that you can whip up in minutes and bakes in about an hour for a delicious side for a weeknight dinner.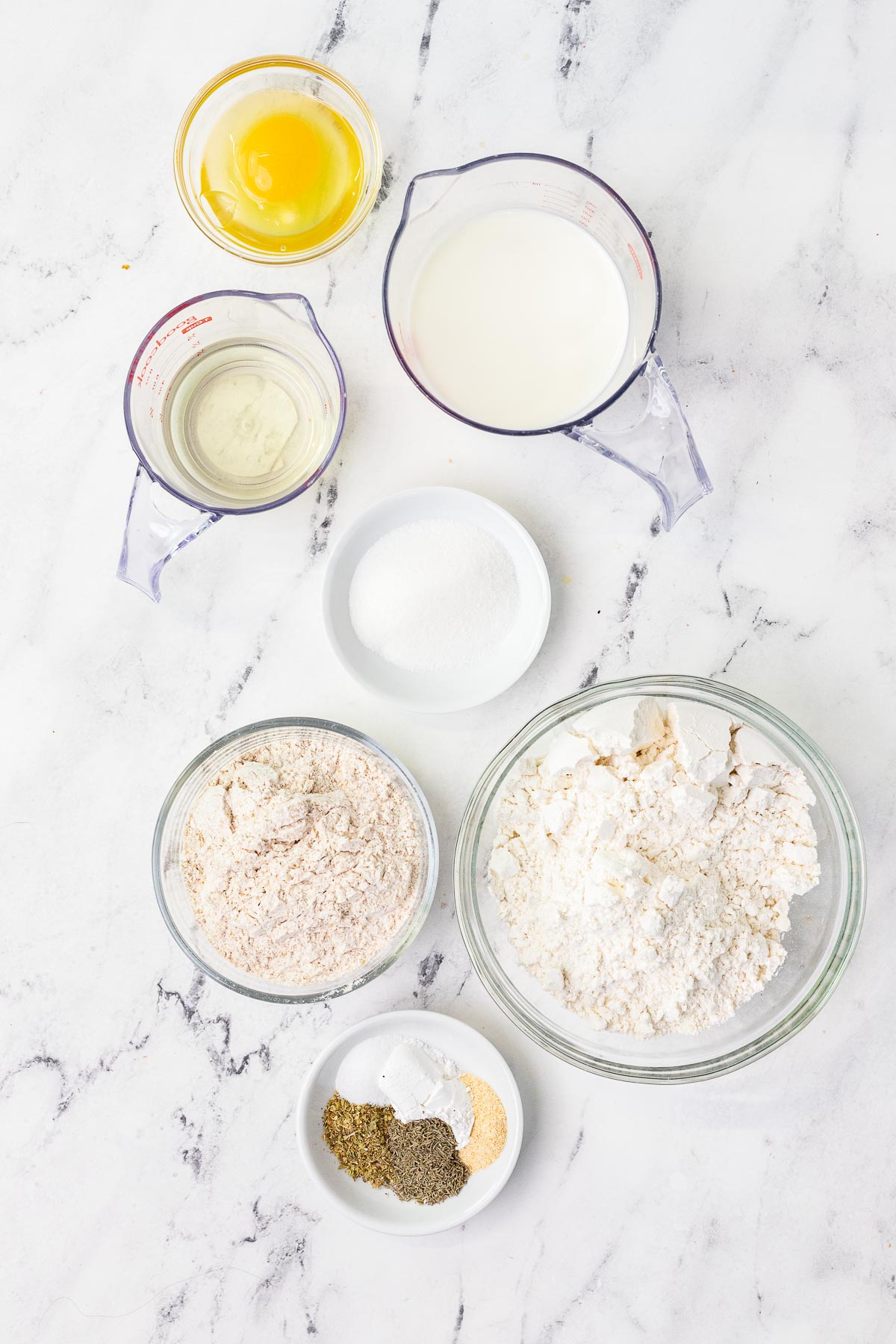 Once you've combined the batter, just pop the Herb Quick Bread in the oven to bake. When it's done, you'll have the perfect golden brown bread loaf. It's light and airy with the most amazing buttery texture that just melts in your mouth. While you can use it to make sandwiches, serve it with other meals, or add a spread to your slice, the bread is so delicious you can enjoy it on its own with a little butter.
What's the difference between quick bread and yeast bread?
The difference between yeast bread and quick bread comes down to how they rise. While a yeast bread recipe uses yeast, a quick bread recipe uses baking soda or baking powder. Because of this difference, quick breads are, as you may have guessed from the name, quicker to make. You don't have to knead the dough or leave it covered for a rise time.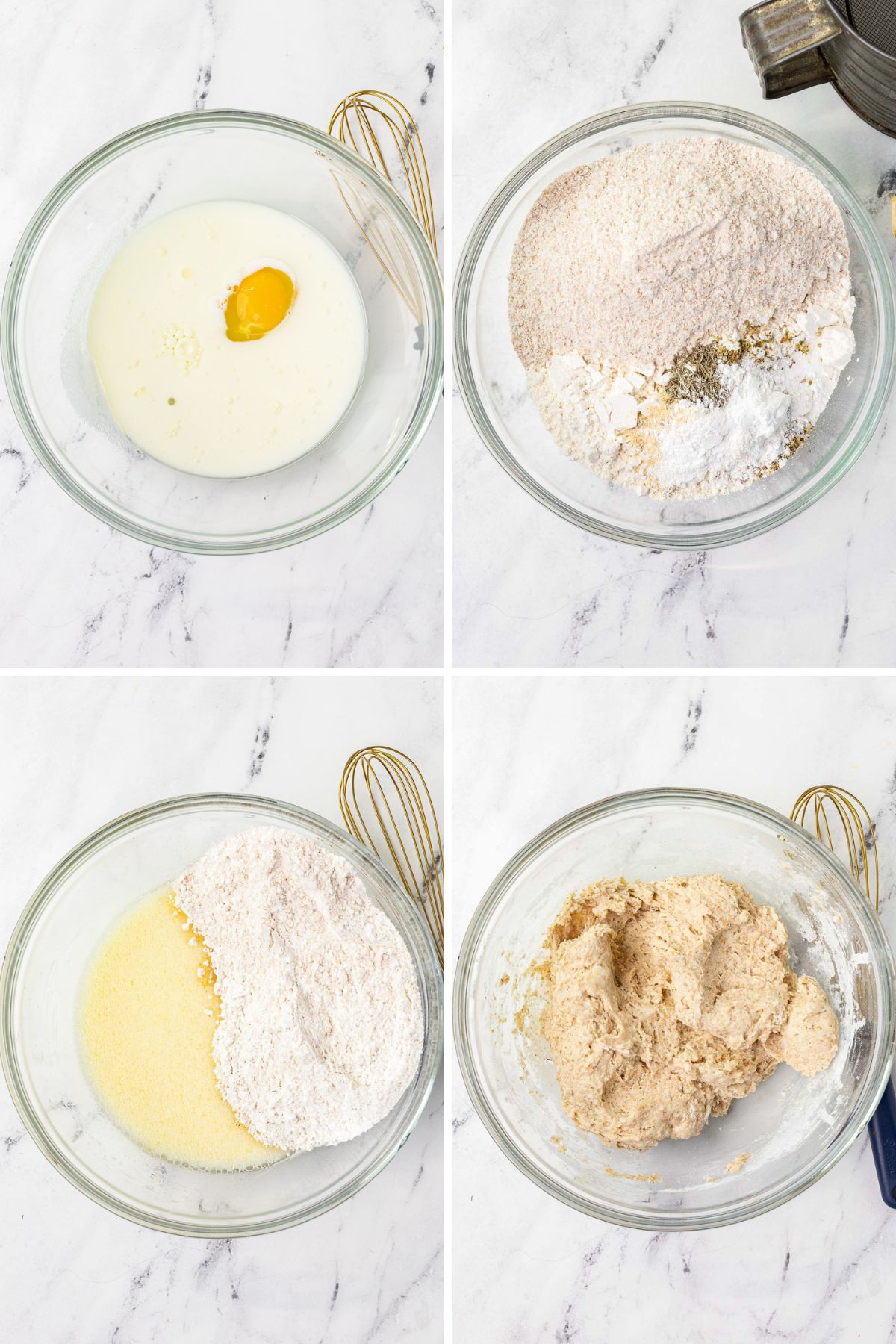 How to Make Herb Quick Bread
Prep: Start by preheating the oven temperature and spraying a regular size bread tin with cooking spray. Generously coat the inside with spray or line it with parchment paper to be sure the bread doesn't stick to the pan.
Bread Batter: Add the flour, sugar, baking powder, salt, and thyme to a large mixing bowl. Whisk the flour mixture to remove all the clumps. Next, add the egg, milk, and canola oil to the bowl. Whisk again to combine the wet ingredients and dry ingredients until just combined.
Baking Time: Once the batter is combined, pour it into the prepared loaf pan. Use a spatula to gently smooth out the surface. Place the loaf pan in the preheated oven on the center of the rack in the middle of the oven for 45-50 minutes.
Serve: When you take the bread out, you can check that the top is lightly springy when pressed. That indicates that it's done. Give the baked bread 15 minutes to cool before removing it from the loaf pan and placing it on a wire rack.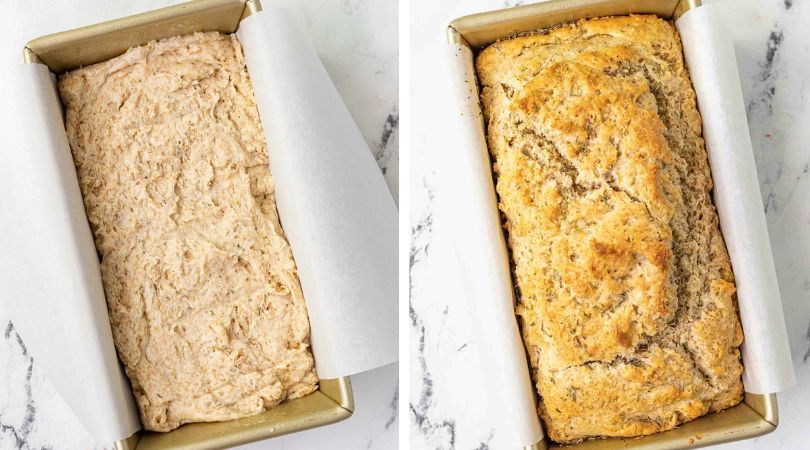 Delicious, Cozy Soup Recipes
FAQs for Herb Quick Bread
What makes a quick bread rise?
The combination of baking powder, milk and sugar are what causes quick bread to rise in place of traditional yeast. Make sure your baking powder is fresh and don't overmix your batter for the best rise.
Do you need any special baking equipment to make this quick bread recipe?
The best part about this easy Herb Quick Bread is that it doesn't need any special equipment! Just a regular loaf pan, a whisk and a mixing bowl is all you need. Since you don't have to wait for it to rise, it is ready for the oven in minutes.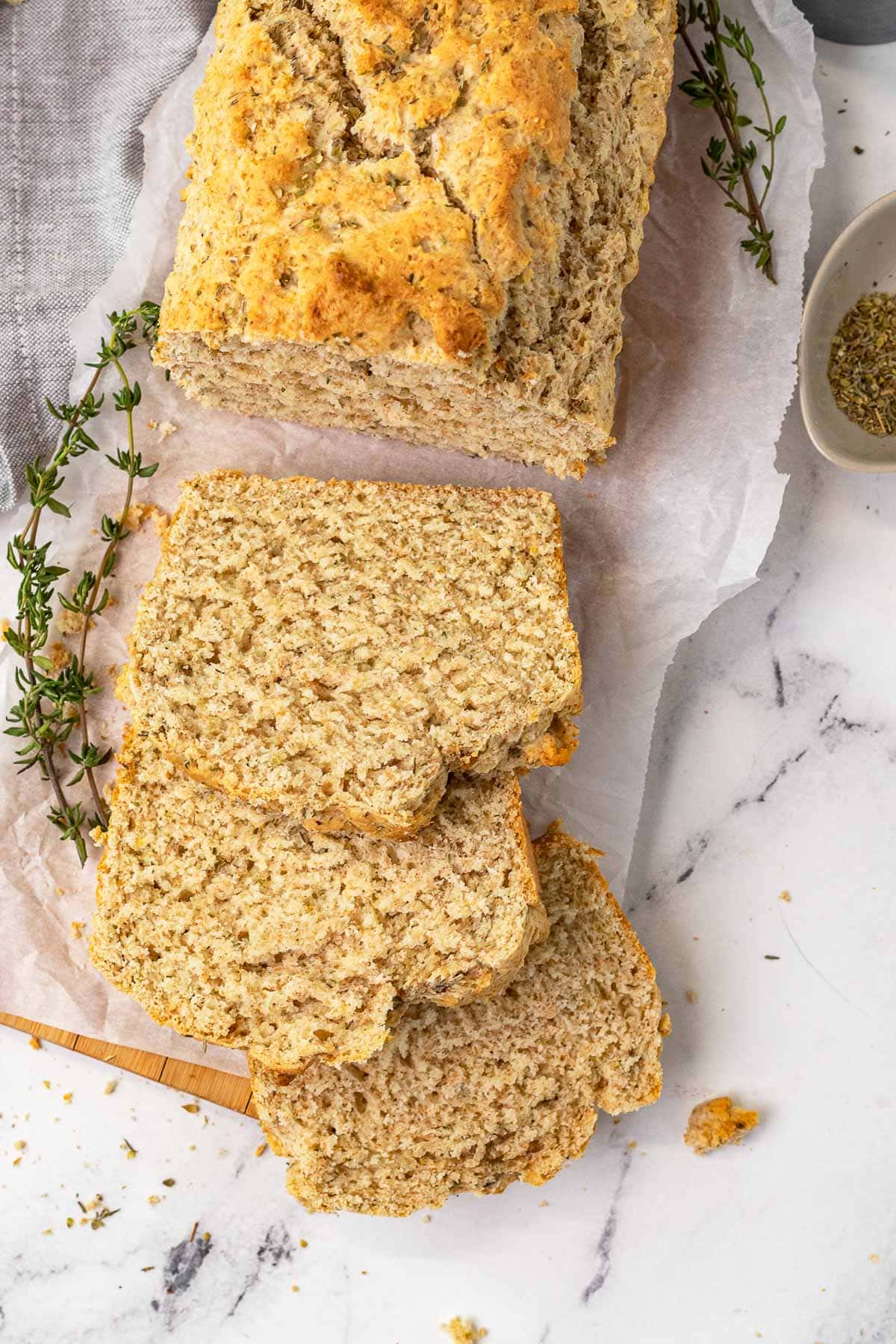 Create a free account to

Save Recipes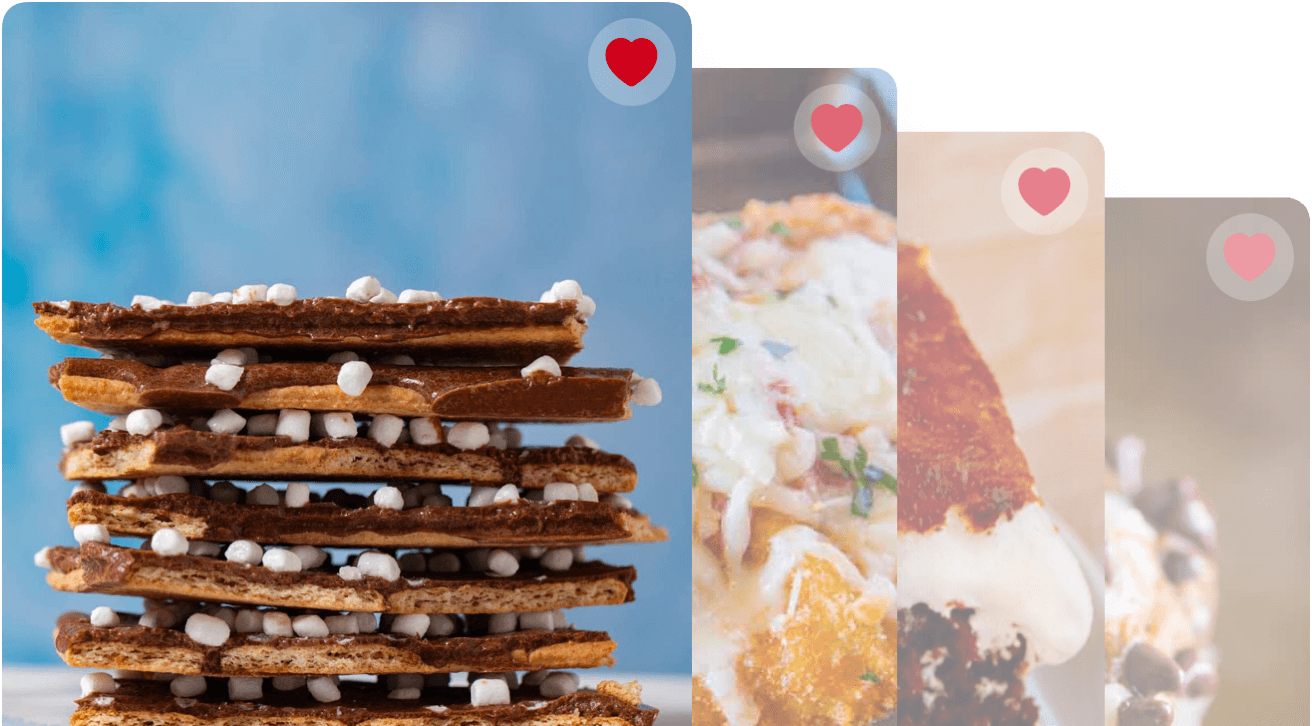 Key Ingredients
Dry ingredients: Quick breads are actually quite easy to make with very basic pantry ingredients. For the dry ingredients, all you need are flour, sugar, baking powder, and a pinch of salt. You can sift the dry ingredients together, with or without the thyme, as a ready to go dry bread mix that just needs the eggs, milk and oil.
Thyme: The woody, herb flavor of thyme is perfect for this bread recipe because it's strong enough you don't need much but not so strong it is overpowering. Dried herbs pack more flavor than fresh herbs so if you want to add fresh thyme, increase the amount to a tablespoon or add the dried thyme to the dough then sprinkle the top of the loaf with fresh thyme.
Egg and Milk: The egg helps bind the dough together, so it all bakes into a consistent texture instead of falling apart. The milk helps flavor the dough and gives the bread extra moisture as well as activating the baking powder to help the bread to rise. Use whole milk for a richer taste.
Canola Oil: Finally there is canola oil added to the bread which helps it stay moist at room temperature. Butter returns to solid when it cools but olive oil stays in liquid form so the bread will be tender for days! You can use other neutral oil like vegetable oil or use a fruity olive oil for a bit more flavor.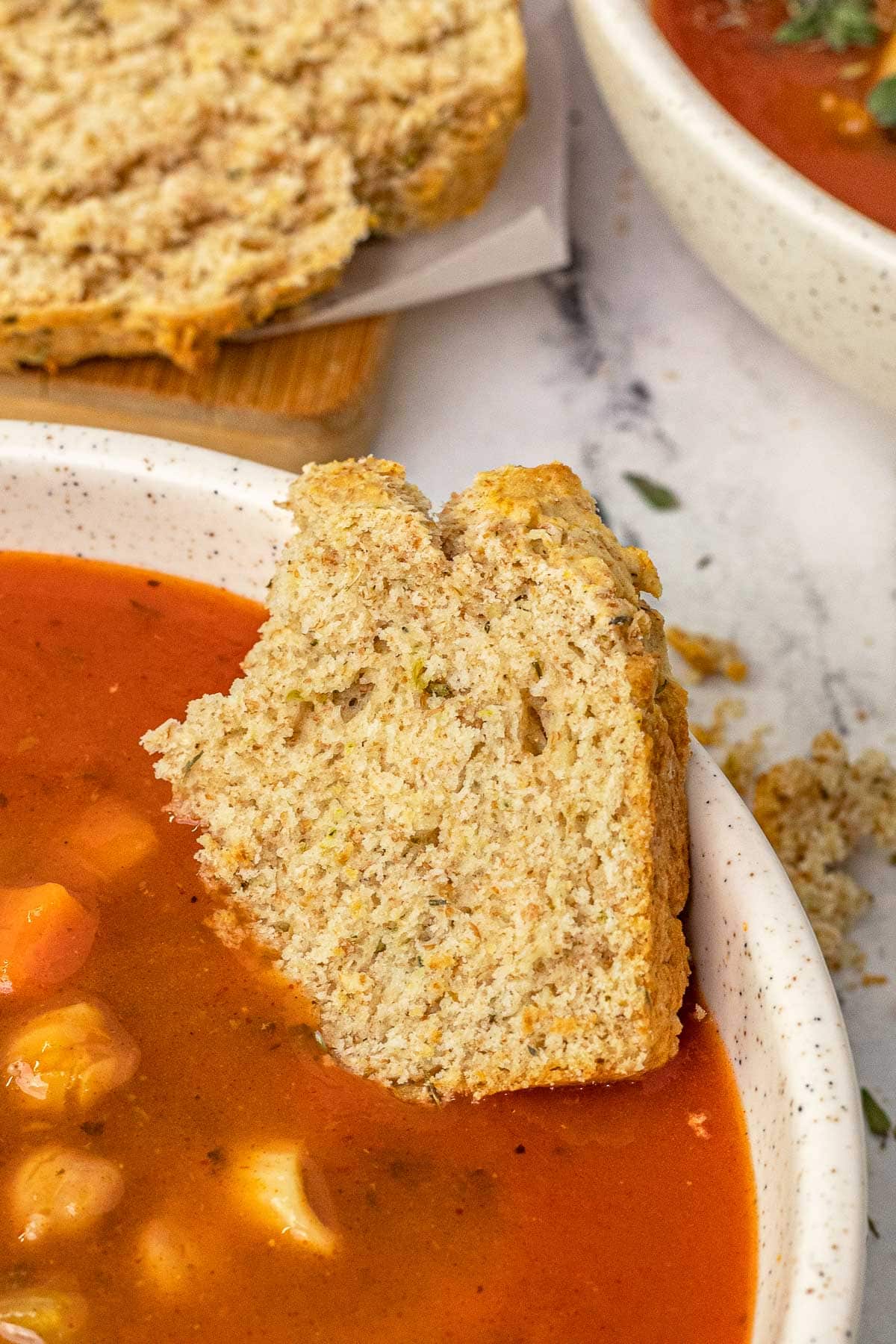 Can Herb Quick Bread be made ahead of time?
You can bake the loaf of bread and freeze it for months! However, once you mix the dough, you will need to bake it. Unlike yeast bread, the rising agents in quick bread start working right away and you risk dense gummy texture if you prepare the dough mixture in advance. As mentioned, you can bake the bread and reheat and serve it later. Allow the bread to cool completely before storing so that it doesn't collect moisture. Wrap it in two layers of plastic wrap then either foil or a freezer safe bag to prevent freezer burn.
Variations
Seasonings: You can give additional flavor to this bread with more savory herbs like fresh rosemary, oregano, parsley, and sage. You could also try mixing in spices like paprika, garlic powder, or red pepper flakes.
Herb and Cheese: For a cheesy bread recipe, mix your choice of cheese into the batter before baking. Monterey Jack, Pepper Jack, Swiss, provolone, Gouda, mozzarella, Parmesan, or grated cheddar cheese would all make delicious additions to the recipe.
Jalapeno: If you want a quick bread recipe with a little bit of spice, then you can add hot peppers. To make the Jalapeno Quick Bread, simply add a minced jalapeno pepper to the bread batter. Feel free to add more or less pepper according to your taste. The jalapeno flavor also tastes fantastic with shredded cheddar cheese mixed in.
Oil: You need some kind of oil to make this Herb Quick Bread. But, if you don't like using canola oil in your baking, then there are a few other excellent options. Try olive oil, sunflower oil, coconut oil, or avocado oil, depending on your taste.
How to Serve Herb Quick Bread
There are lots of ways to serve this homemade bread recipe. You can simply toast it and add some butter for an easy, savory snack. Serve it up with Scrambled Eggs or fried eggs for a hearty, delicious breakfast. The bread also makes an excellent side dish at dinner time. The herbs go especially great with Italian flavored soups like Italian Wedding Soup or Creamy Sausage and Tortellini Soup.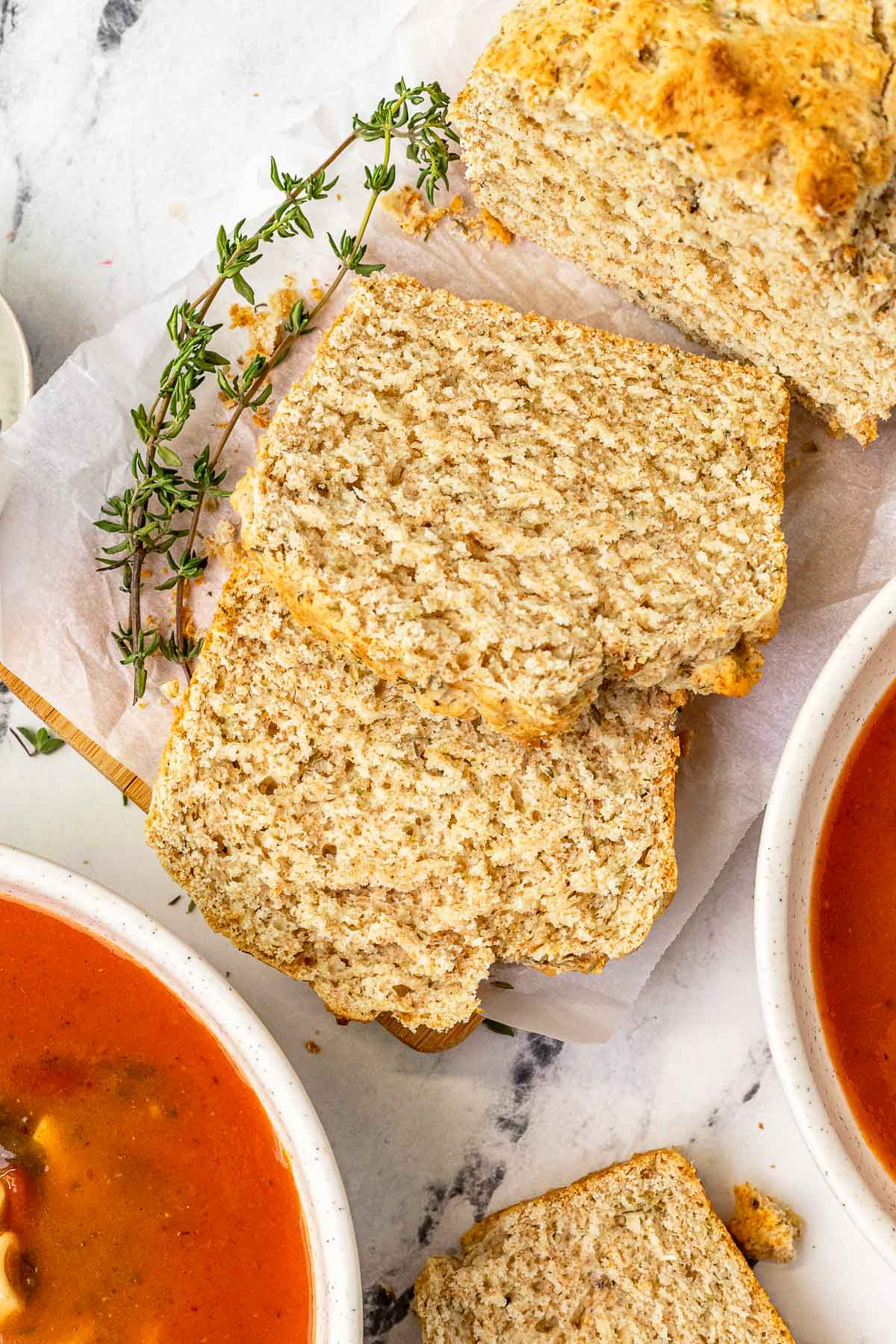 More Easy Savory Bread Recipes
How to Store
Store: Make sure to give the bread some time to cool before cutting and serving it. After letting it cool, you can wrap Herb Quick Bread in foil or keep it in an airtight container to store it in a dry, cool place for up to 3 days. It will keep in the fridge for about a week.
Reheat: The bread is good at room temperature but obviously all bread is better warm! Heat slices in the oven on low heat, 300 degrees, until hot.
Freeze: To freeze the bread, allow it to cool completely after it's removed from the pan. Wrap the loaf of bread in plastic wrap and store in a freezer safe bag. It will keep in the freezer for up to 4 months. Allow it to thaw at room temperature before warming and serving.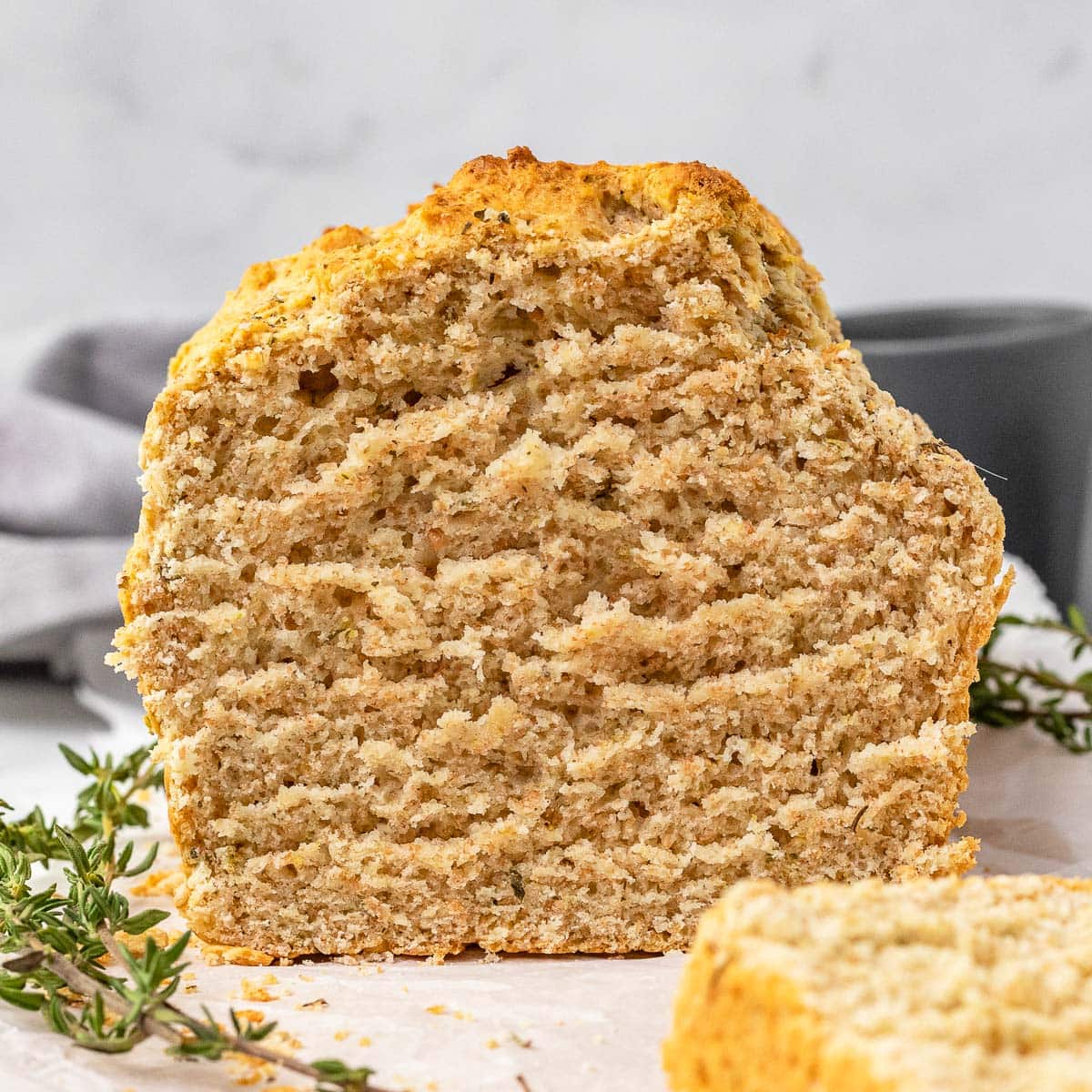 Ingredients
3

cups

flour

3

tablespoons

sugar

1

tablespoon

baking powder

1/2

teaspoon

salt

1/2

teaspoon

dried thyme

1

large

egg

, room temperature

1

cup

whole milk

1/3

cup

canola oil
Instructions
Preheat oven to 350 degrees and spray a 9×5 loaf pan with baking spray.

In a large bowl whisk together flour, sugar, baking powder, salt and thyme.

Add in the egg, milk and canola oil and whisk to combine.

Pour the batter into the loaf pan.

Bake for

45-50 minutes

until the top of the bread lightly springs back when pressed.

Cool in pan for

15 minutes

before removing from loaf pan.
Nutrition
Calories:
200
kcal
|
Carbohydrates:
28
g
|
Protein:
4
g
|
Fat:
8
g
|
Saturated Fat:
1
g
|
Polyunsaturated Fat:
2
g
|
Monounsaturated Fat:
4
g
|
Trans Fat:
1
g
|
Cholesterol:
18
mg
|
Sodium:
113
mg
|
Potassium:
167
mg
|
Fiber:
1
g
|
Sugar:
4
g
|
Vitamin A:
57
IU
|
Vitamin C:
1
mg
|
Calcium:
74
mg
|
Iron:
2
mg