Pepperoni Pizza Soup has all flavors of the classic meaty cheesy pizza in a creamy soup for a yummy kid-friendly dinner that is healthy too!
Turning your family's favorite takeout dishes into delicious Soup Recipes is great to switch up your dinner routine with a taste you know everyone will love! Try other takeout inspired recipes like Taco Soup, Cheeseburger Soup and Philly Cheesesteak Beef Stew.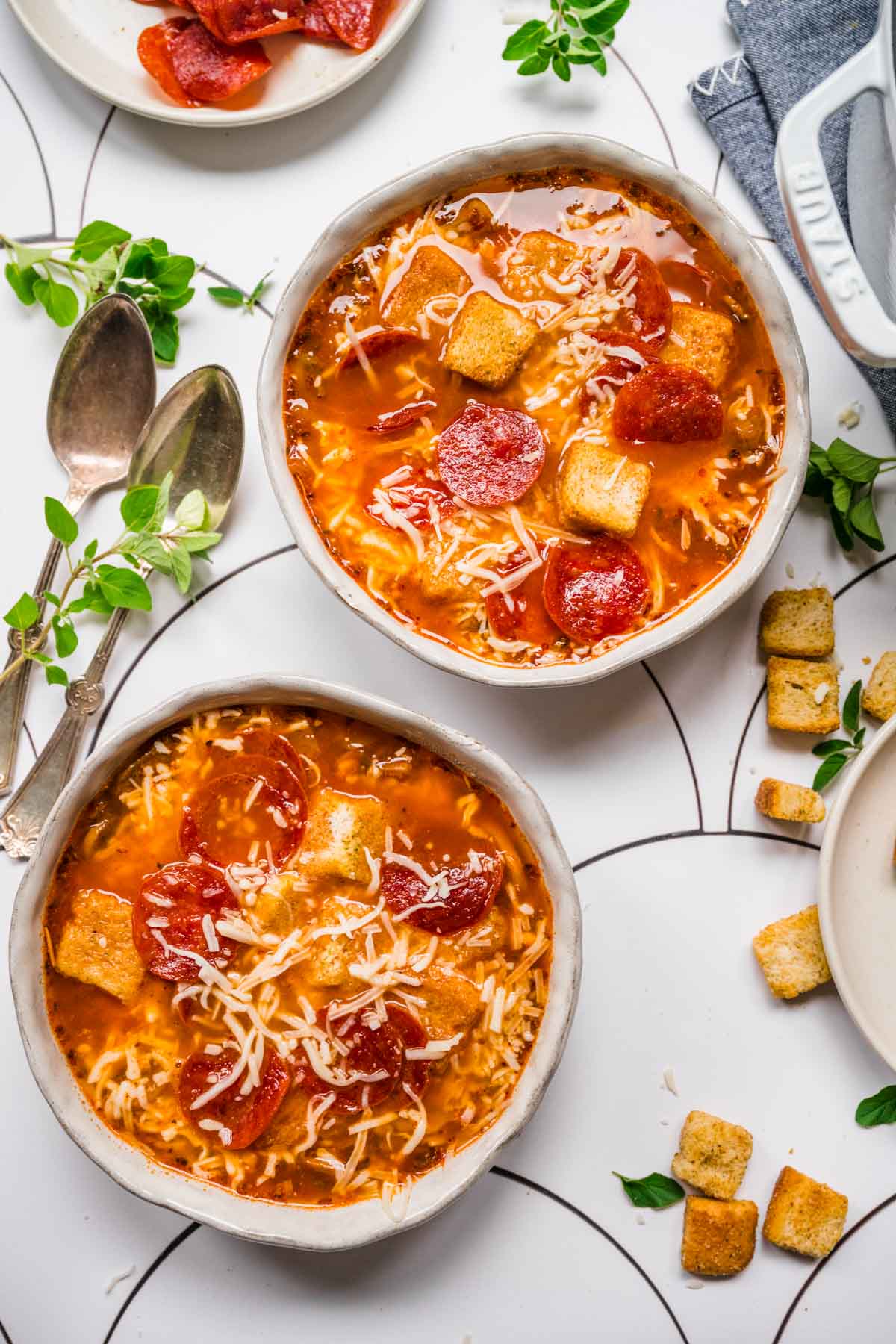 This tasty comforting soup is perfect for any pepperoni pizza fans, and to be honest, isn't that all of us? It has all your favorite pizza flavors. The delicious tomato base is made with tomato sauce, which is similar to a classic pizza sauce. That's then topped off with pepperoni pieces croutons, and a little salty cheese. The melted cheese on top makes this an easy cheesy soup that's rich and creamy.
This is also a quick meal to throw together. Just add all the ingredients, except for the toppings, into a large soup pot, and cook them together. The delightful soup will be ready to enjoy in under 30 minutes! If you have more time, or just want a pizza dinner without the wait after work, you can also cook it in the slow cooker all day. The are crock pot instructions are at the bottom of this post.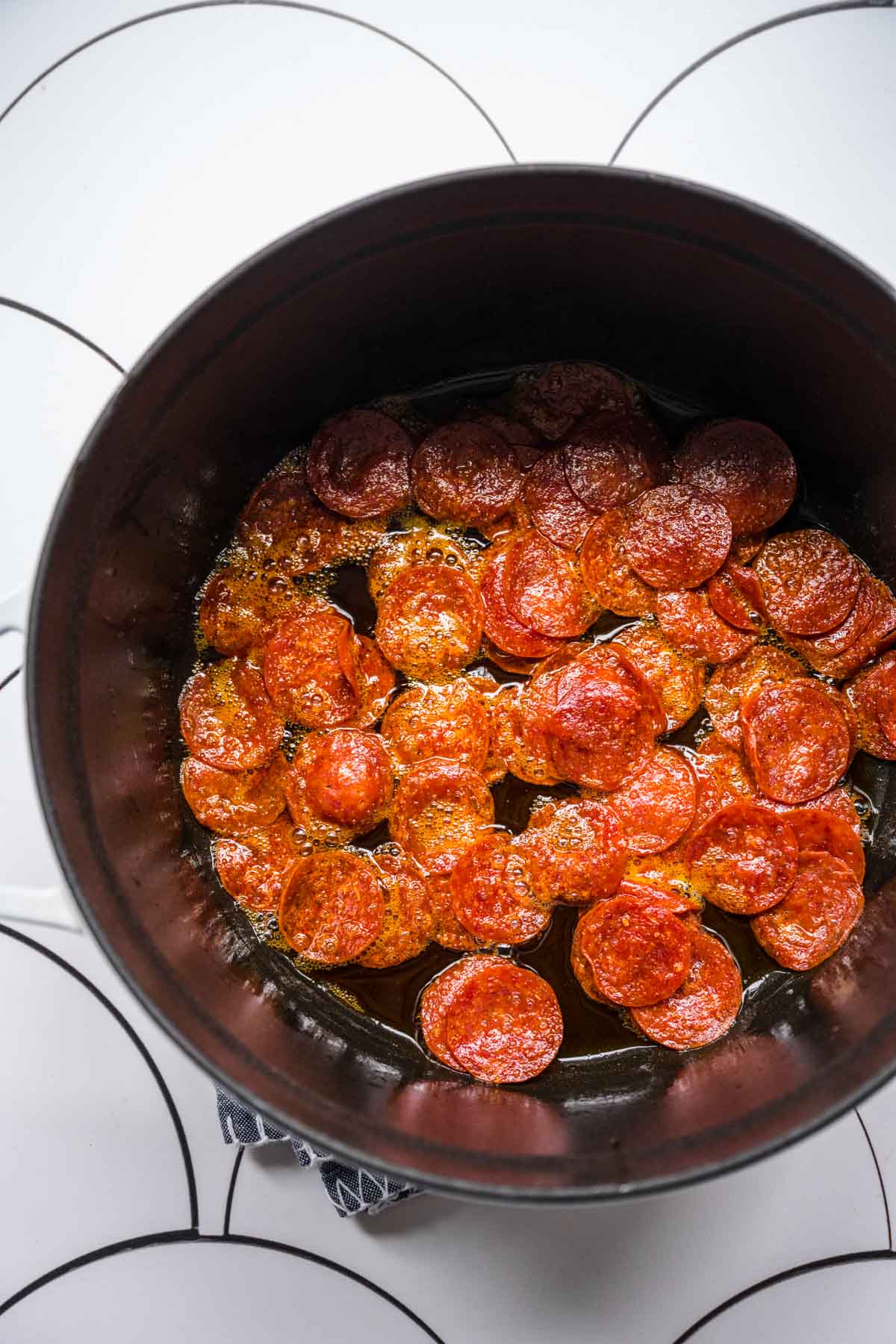 For an even more comforting meal serve up Homemade Pizza Soup with a buttery toasted bread side dish. Sourdough bread, cheese toast, Garlic Bread, or Pesto Cheesy Bread would all taste amazing dipped in this easy, Cheesy Pepperoni Soup. Try serving it like regular Tomato Soup with some Grilled Cheese for two kid-favorites in one meal!
How to Make Pepperoni Pizza Soup
Prep time: start by slicing the mushrooms and dicing the onion, so they're ready to toss in the soup.
Pepperoni: Cook the pepperoni in a large pot or dutch oven over medium-high heat. Continue cooking until the pepperoni is crispy. This will give it a nice texture and leave out some of the fat. Take the pepperoni from the pan and set it to the side on a plate.
Soup: Add the mushrooms and onion to the pot. They would only need a 6-8 minute cook time. Add the chicken broth, Italian seasoning, and marinara sauce. Stir the quick and easy soup recipe together. Leave on low-medium heat while the soup simmers for 15 minutes.
Serving: Ladle the finished soup into bowls while still hot. Top with the cheeses right away for melted cheese. Then add the croutons and cooked pepperoni slices over that.
More Pepperoni Pizza Inspired Recipes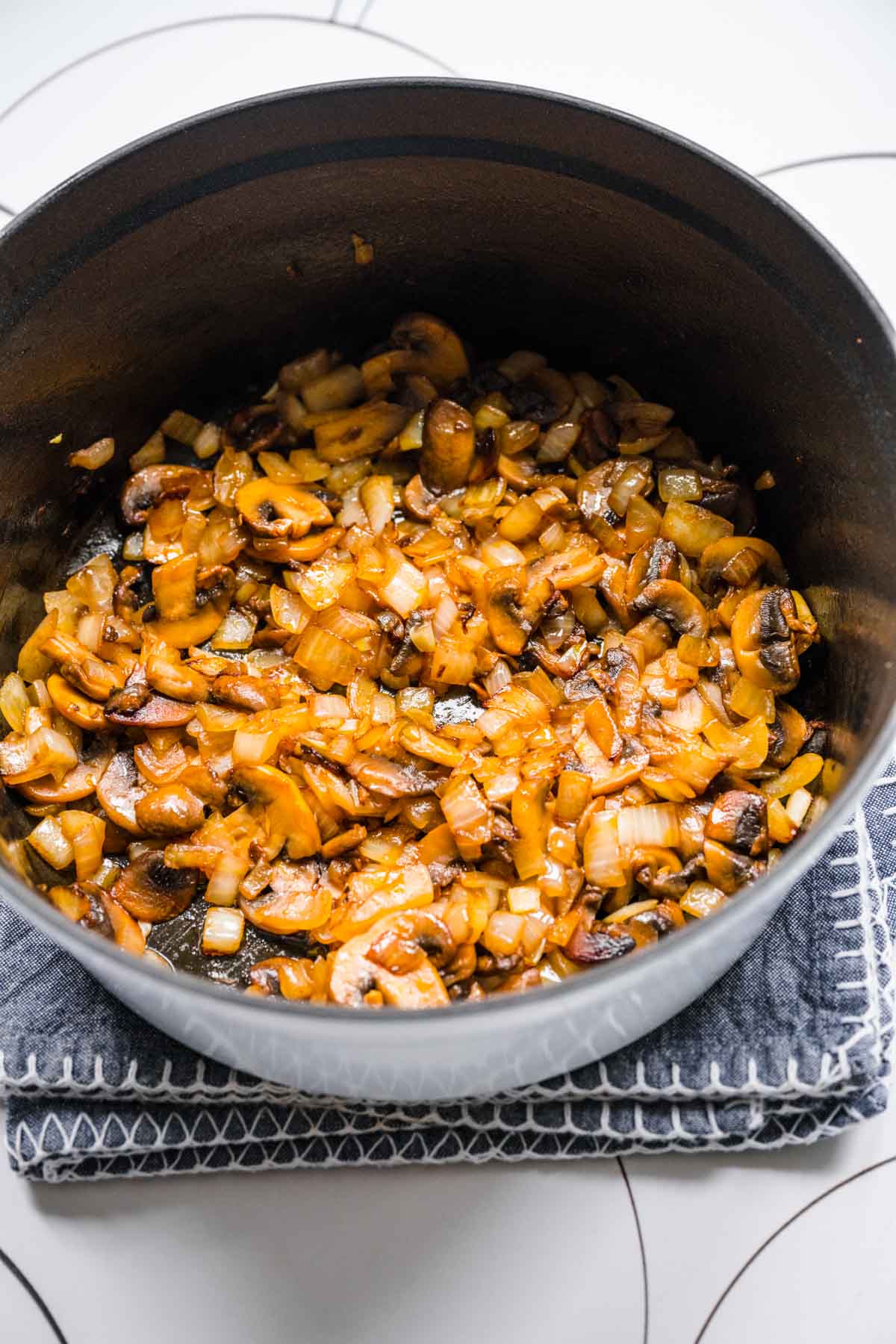 FAQs for
Pepperoni Pizza Soup
What should I do if my Pizza Soup is too watery?
If your Pepperoni Pizza Soup is too watery, you can reduce the liquid by continuing simmering it uncovered for longer than the cooking time. Alternatively, you can thicken the soup by whisking in a mixture of cornstarch and water or by adding a small amount of tomato paste. 
What if my Pizza Soup is too thick?
If your Pepperoni Pizza Soup is too thick, you can thin it out by adding more chicken broth or water, a little at a time, until you reach the desired consistency. Stirring in a small amount of heavy cream can also help to thin the soup and make it creamier. 
Can I add pasta to Pepperoni Pizza Soup?
Yes, you can add the pasta to this tasty soup and either cook it beforehand or simmer it in the broth to cook it. Keep in mind that the pasta will absorb some of the broth as it cooks, so you may need to add additional liquid (such as chicken broth or water) to the soup to compensate. It's a good idea to add the pasta to the soup with just enough cooking time to reach al dente before serving.

Create a free account to

Save Recipes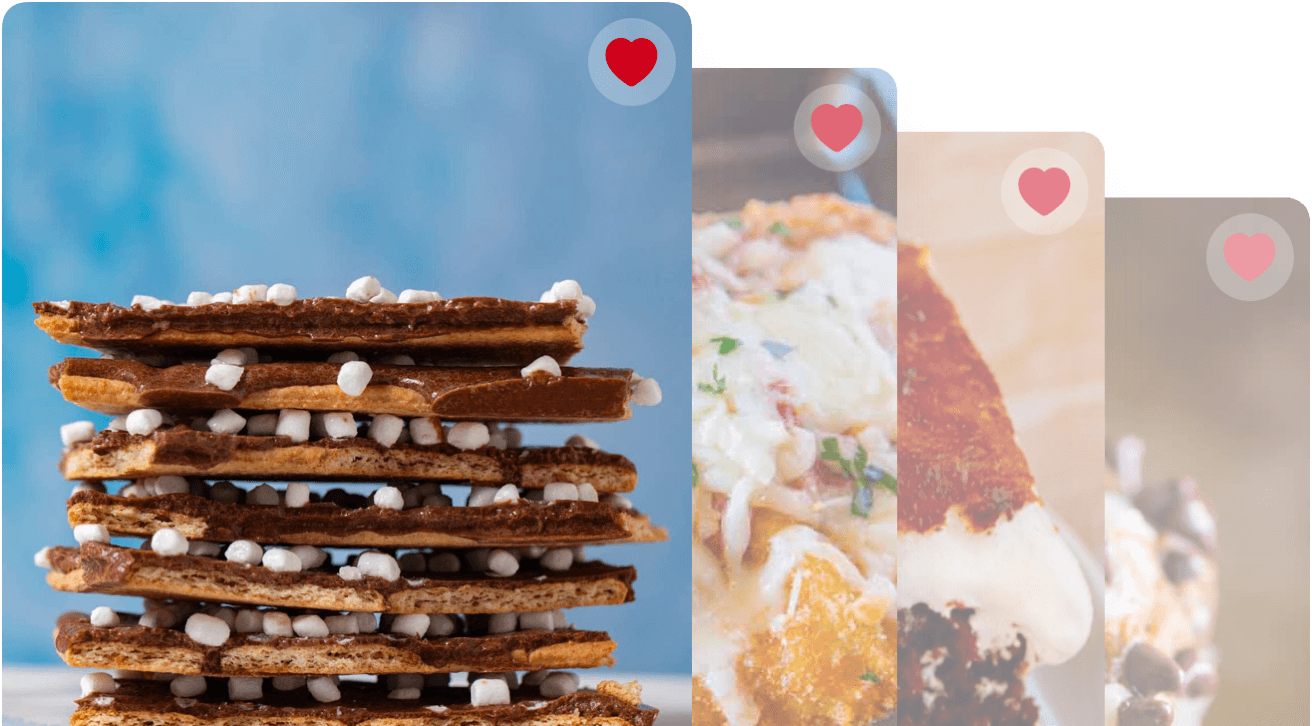 Key Ingredients
Pepperoni: Pepperoni is a type of cured, slightly spicy salami that gets super crispy edges as it bakes on top of pizza! For this soup recipe, the pepperoni is cooked then used as a topping so you get the spicy meaty flavor, without losing any of that crunchy, fatty goodness.
Mushrooms: The sliced mushrooms in this recipe add a meaty texture and earthy flavor and are a popular pizza topping to go with pepperonis.
Chicken Broth: The chicken broth is used as the liquid and helps to create a more flavorful, hearty soup than plain water.
Italian Seasoning: The Italian seasoning is a blend of dried herbs and spices, including basil, oregano, and thyme. It gives this cheesy tomato soup the classic Italian flavors in pizza sauce and pizza toppings.
Marinara Sauce: Instead of regular pizza sauce, which can sometimes be a bit sweeter, this recipes uses marinara sauce to create the robust tomato broth. You can use any jarred pasta sauce you like or homemade Marinara Sauce.
Cheese: This cheesy soup gets a double topping of melty, gooey cheese. The Parmesan cheese adds a nutty, salty flavor and the shredded mozzarella cheese melts into a creamy, stingy cheesy goodness just like a fresh baked pizza!
Italian Seasoned Croutons: The Italian seasoned croutons give a little salty, crunchy texture so that you don't miss the pizza crust too much in this amazing pizza soup. You can leave them off if you are doing a low-carb diet, or use garlic toast slices for even more delicious Italian flavored crispy bread.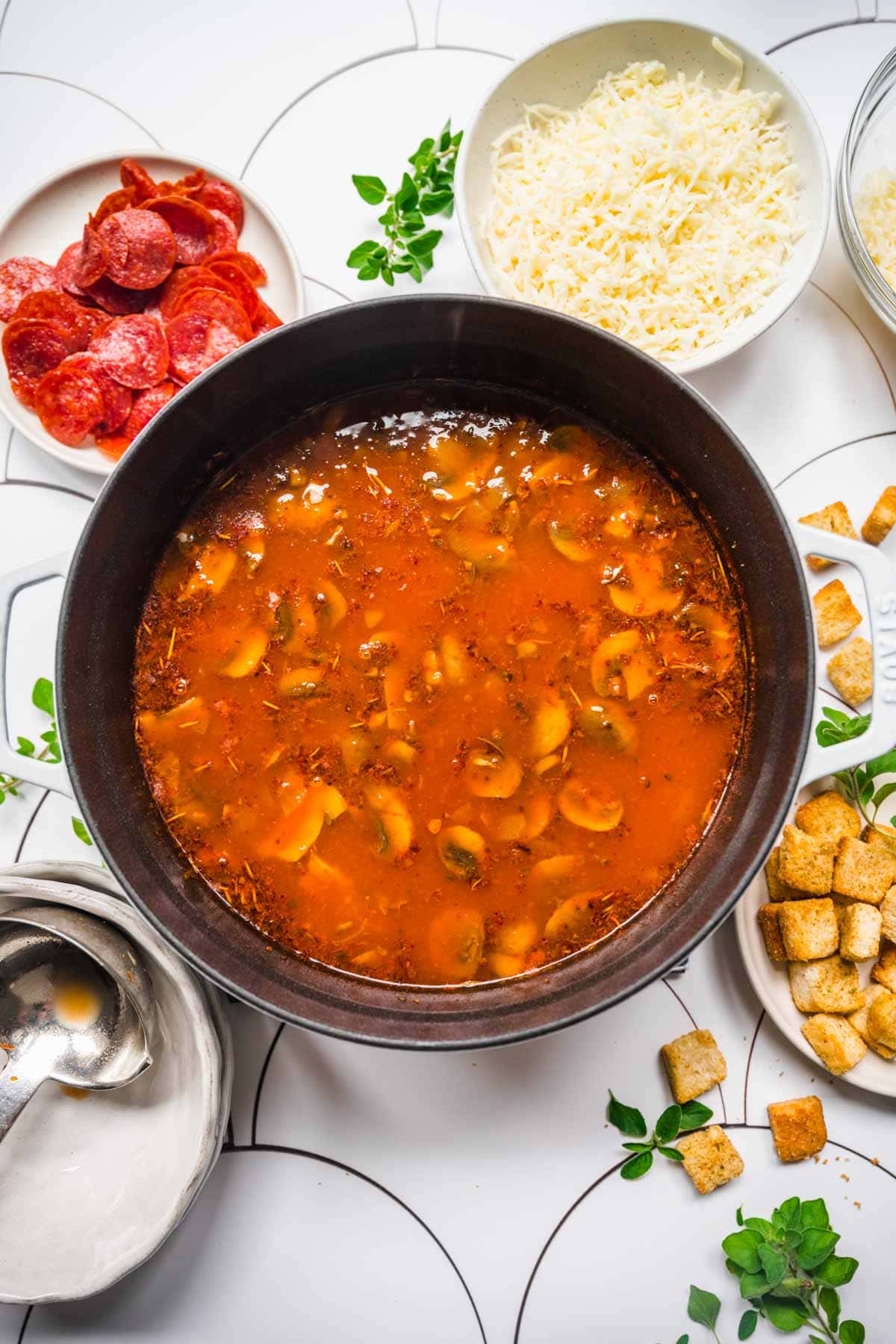 Can Pepperoni Pizza Soup be made ahead of time?
Yes, this Pizza Soup can be prepared ahead of time. Simply make the recipe as directed, let it cool to room temperature, and store it in an airtight container in the refrigerator for up to 3 days. When ready to serve, rewarm the soup on the stove top or in the microwave and top with the mozzarella cheese, croutons, and pepperoni slices just before serving.
Variations
Veggies: You can also add bell peppers, diced tomatoes, extra fresh mushrooms, minced cloves of garlic, green onion, black olives, stewed tomatoes, and an extra small onion.
Supreme Pizza: Easily turn this into another classic pizza combo by adding browned Italian pork sausage, green bell peppers, ground beef or mini Meatballs. Just make sure to cook the meat before adding it and saute the peppers with the onions.
Pasta: You want to used smaller bite sized pasta like penne pasta, bowtie pasta, or pasta shells. You can also add filled pastas like cheese raviolis or cheese tortellini to mimic a pizza crust texture and make this an extra Cheesy Pepperoni Pizza Soup.
Meat: There are also plenty of different meats you can try in Pepperoni Soup. If you want to change up the pepperoni, use turkey pepperoni or mini pepperoni. You can also add different kinds of meat like ground beef, Italian sausage, spicy sausage, chicken sausage, or cooked bacon.
Cheese: Parmesan cheese, Asiago, cheddar cheese, or provolone would all be great for melted cheese on top of the soup. Give it a French Onion effect by spooning it into an oven safe bowl, then topping with the croutons and thick layer of shredded cheese. Pop the bowl under the broiler until the cheese is browned and bubbly.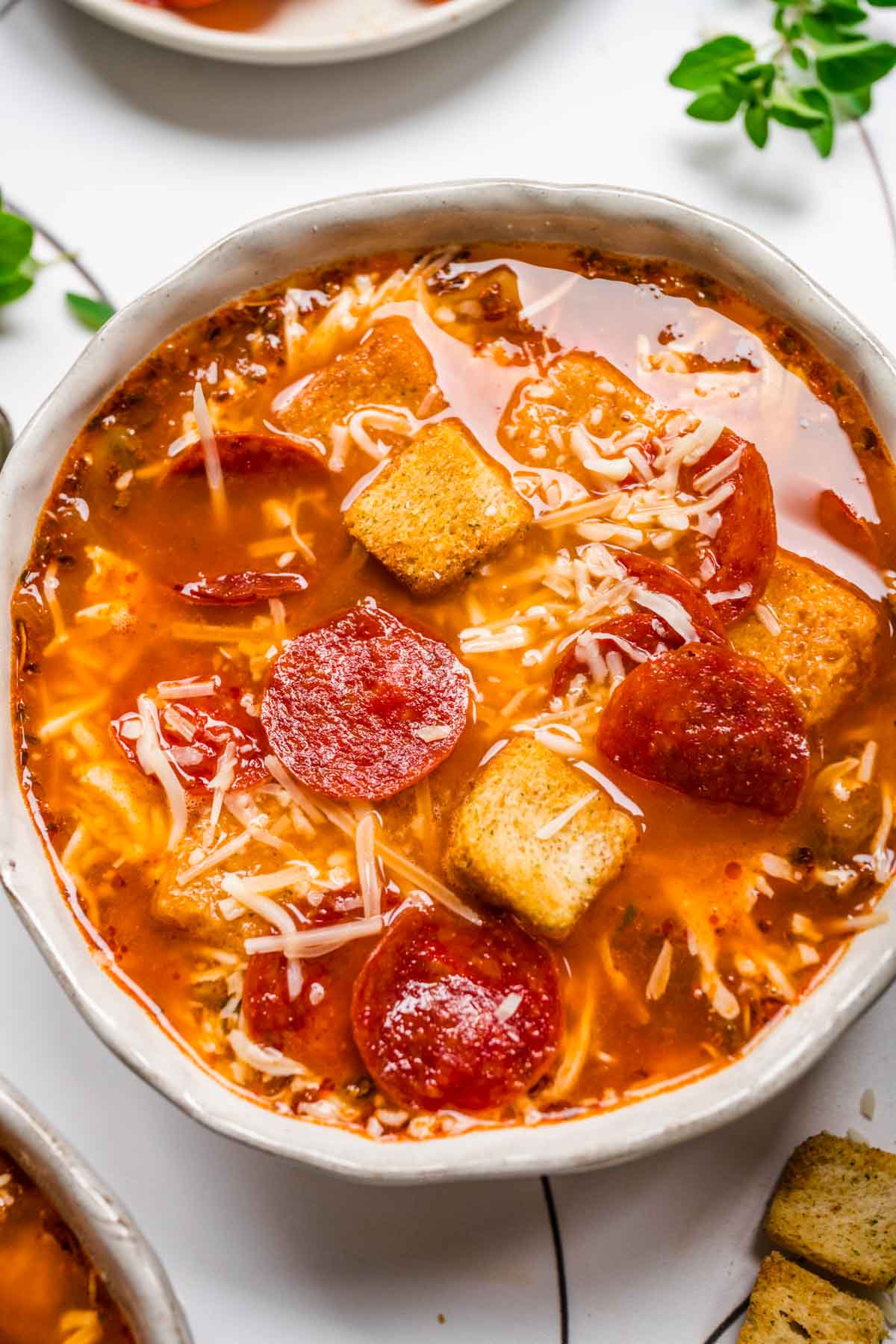 Slow Cooker Pepperoni Pizza Soup
Add the pepperoni to a large saucepan and cook on medium heat.
Once crispy set the pepperoni to the side and sauté mushrooms and onion for 6-8 minutes.
Add the chicken broth, Italian seasoning, and marinara sauce to the crockpot. Stir them together.
Add the onion and sautéed mushrooms to the crockpot.
Cover the slow cooker and cook on high for 4 hours or low for 6.
Ladle the delicious soup into bowls. Top with mozzarella, pepperoni, and croutons before serving.
More Delicious Soup Recipes
How to Store
Store: Don't leave Pizza Soup at room temperature for more than 2 hours. Let the soup cool to room temperature, then store it in an airtight container in the fridge. It will stay good in the fridge for 3-4 days.
Reheat:The best way to reheat Pepperoni Pizza Soup is on the stove top over medium heat. This allows for slow and even heating, which helps to preserve the texture and flavor of the soup. This method also allows you to easily adjust the consistency of the soup by adding more broth or water if needed.
Freeze: Leftover pizza soup can be frozen for up to 3 months. Transfer the cooled soup to a freezer safe bag, then freeze flat on a baking sheet until solid to make it easier to store long term.


Ingredients
1

cup

sliced pepperoni

, about 1 package

8

ounces

mushrooms

, sliced

1

yellow onion

, diced

8

cups

chicken broth

1

tablespoon

Italian Seasoning

32

ounces

marinara sauce

1/2

cup

grated Parmesan

5

ounces

Italian Seasoned croutons

2

cups

shredded mozzarella cheese
Instructions
To a large pot, add the pepperoni on medium heat and cook until crispy, leaving the fat behind. Remove the pepperoni to a plate.

Add the mushrooms and onion, and cook until softened, about

6-8 minutes

.

Add the chicken broth, Italian seasoning, and marinara sauce, and stir well.

Bring to a simmer and cook for

15 minutes

.

To serve, ladle the soup into a bowl, top immediately with Parmesan cheese and mozzarella cheese (this should melt quickly), and then with croutons and pepperoni slices.
Nutrition
Calories:
308
kcal
|
Carbohydrates:
24
g
|
Protein:
17
g
|
Fat:
17
g
|
Saturated Fat:
8
g
|
Polyunsaturated Fat:
1
g
|
Monounsaturated Fat:
6
g
|
Trans Fat:
0.2
g
|
Cholesterol:
46
mg
|
Sodium:
2043
mg
|
Potassium:
591
mg
|
Fiber:
3
g
|
Sugar:
7
g
|
Vitamin A:
750
IU
|
Vitamin C:
10
mg
|
Calcium:
252
mg
|
Iron:
3
mg