Homemade Pork and Beans is easy to make with a savory and sweet sauce flavored with brown sugar, molasses, ketchup, and Worcestershire sauce.
Our recipe for Southern Baked Beans has been one of the most popular recipes on the website for a long time. They are sweet and a little spicy with crispy bacon mixed in with the beans. This dish is quite similar, but we've made the beans on the stovetop instead of in the oven and used rich, thick-cut bacon. Either recipe for beans with pork would be the perfect Side Dish to serve up at your next BBQ, picnic, or potluck!
HOMEMADE PORK AND BEANS
This is sure to become your favorite Pork and Beans recipe ever! The dish is flavored to perfection with molasses and brown sugar for some smoky-sweet flavor. Then mustard, ketchup, and Worcestershire sauce are added for some rich, complex, savory taste. Plus, there's salty, thick-cut bacon, which add even more flavor and some texture to the savory and sweet beans.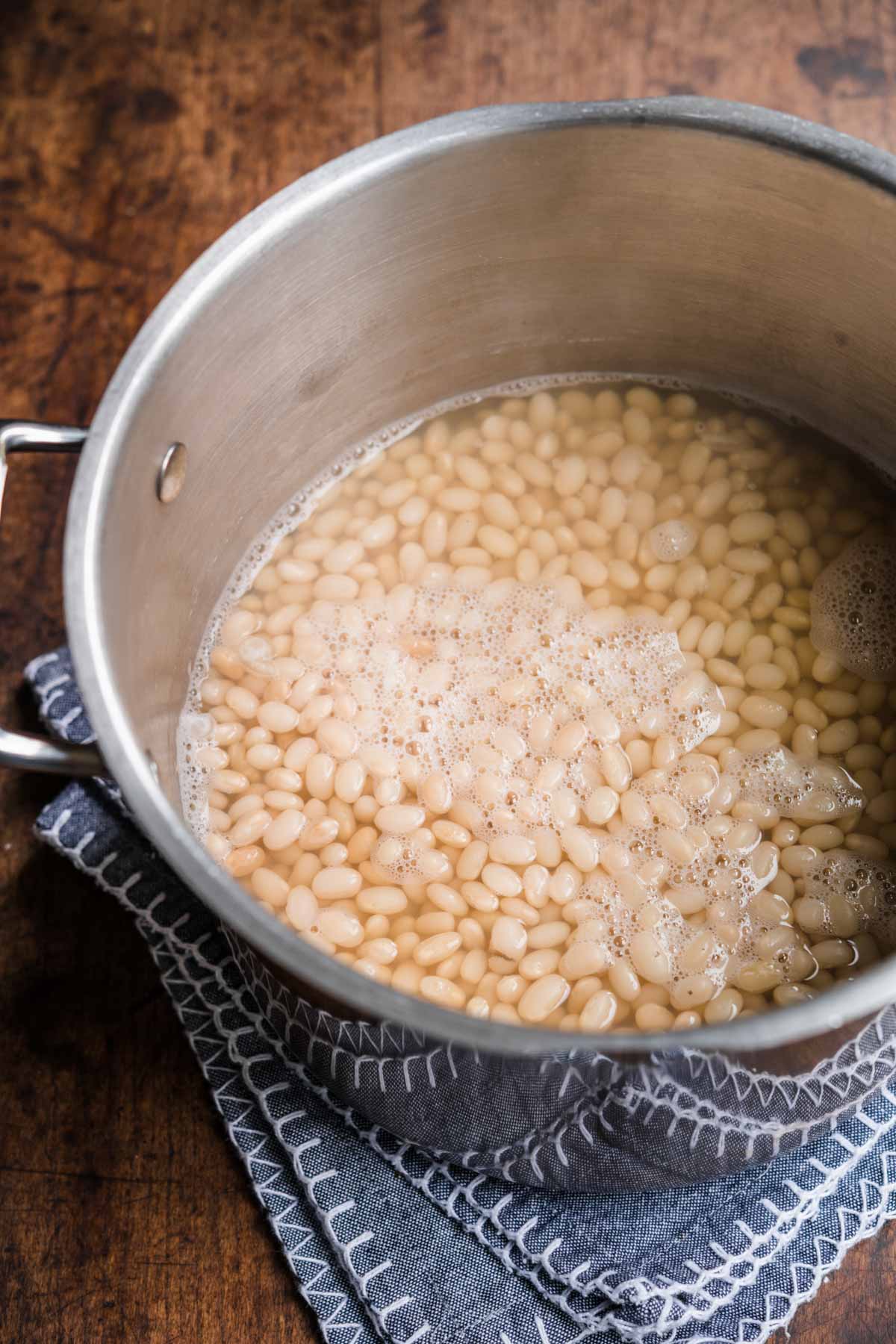 Traditional beans like this recipe are great to serve at cookouts. You can dish up servings to go with your favorite BBQ dishes like hamburgers or Pulled Pork. Your guests are sure to love this version of the classic side.
Because this recipe is made from scratch, it does take several hours to make. However, just because the recipe takes some time doesn't mean it is at all difficult. The only reason it's so long is because we are cooking dry white beans. The beans have to soak in water overnight to help them expand before you start cooking them. Then it takes another couple of hours of cooking so that they can fully absorb the amazing flavors of the hearty sauce. The good news is you won't even have to be in the kitchen most of the time. Just set the pot over low heat and leave it to simmer.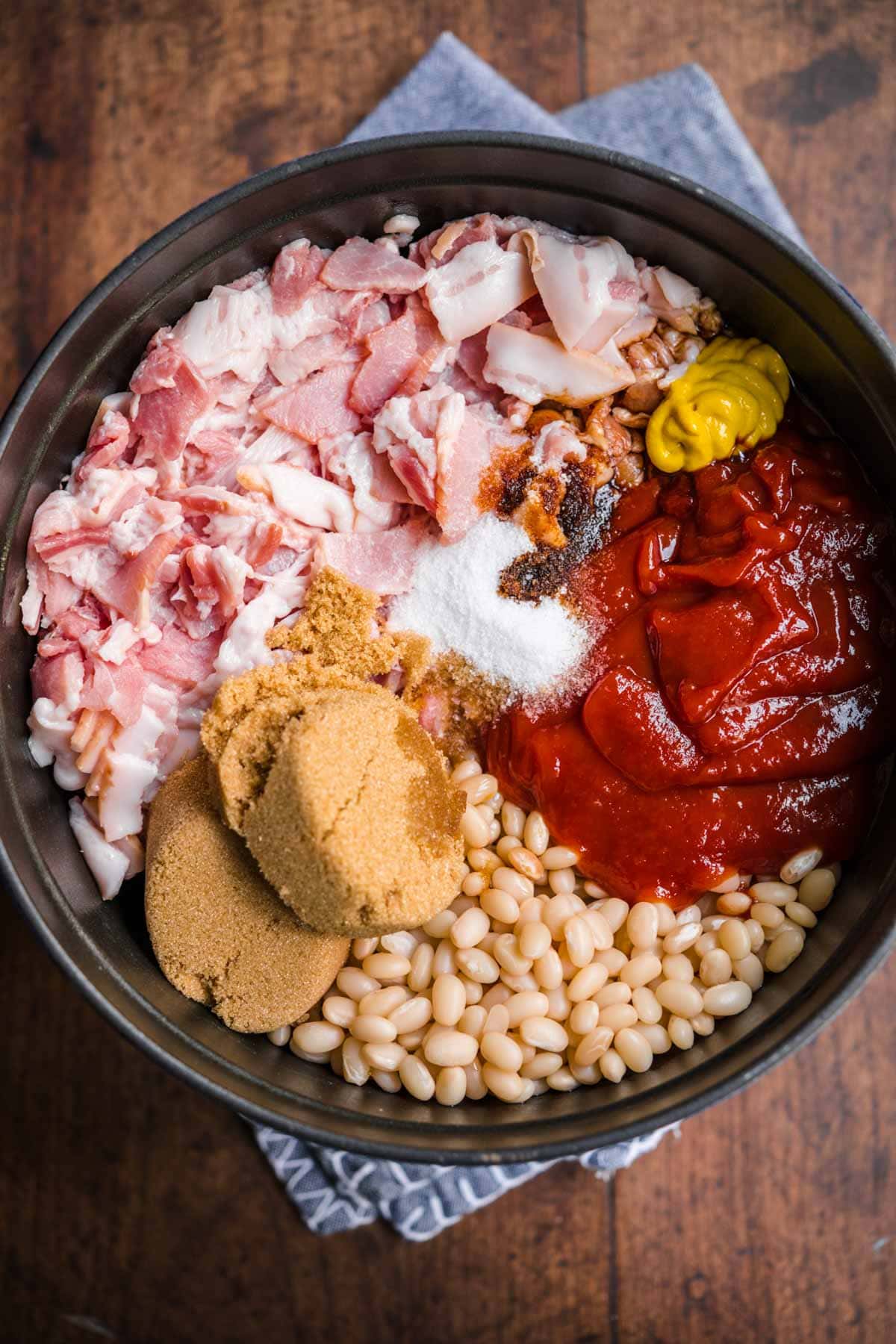 MORE CLASSIC BBQ SIDES
TIPS FOR MAKING THE PERFECT PORK AND BEANS
Cook beans: Bring a pot of water to a boil, then add in the dry navy beans and cover. Turn off the heat and cover the pot. Let the beans soak in the liquid overnight, or for 8-14 hours. the next morning, drain the beans. Then add the beans back into the dutch oven. Pour 6 cups of water on top. Turn the stovetop to medium heat and cook the bean mixture for 60 minutes. After cooking, drain the cooked navy beans.
Sauce: Add the salt, molasses, mustard, brown sugar, ketchup, Worcestershire sauce, and chicken broth for the flavorful cooking liquid. Cut the cooked bacon into small pieces, then add the bacon on top. Stir all the ingredients together.
Cooking time: Simmer the mixture for 60 minutes until the beans are tender and the prepared sauce has thickened.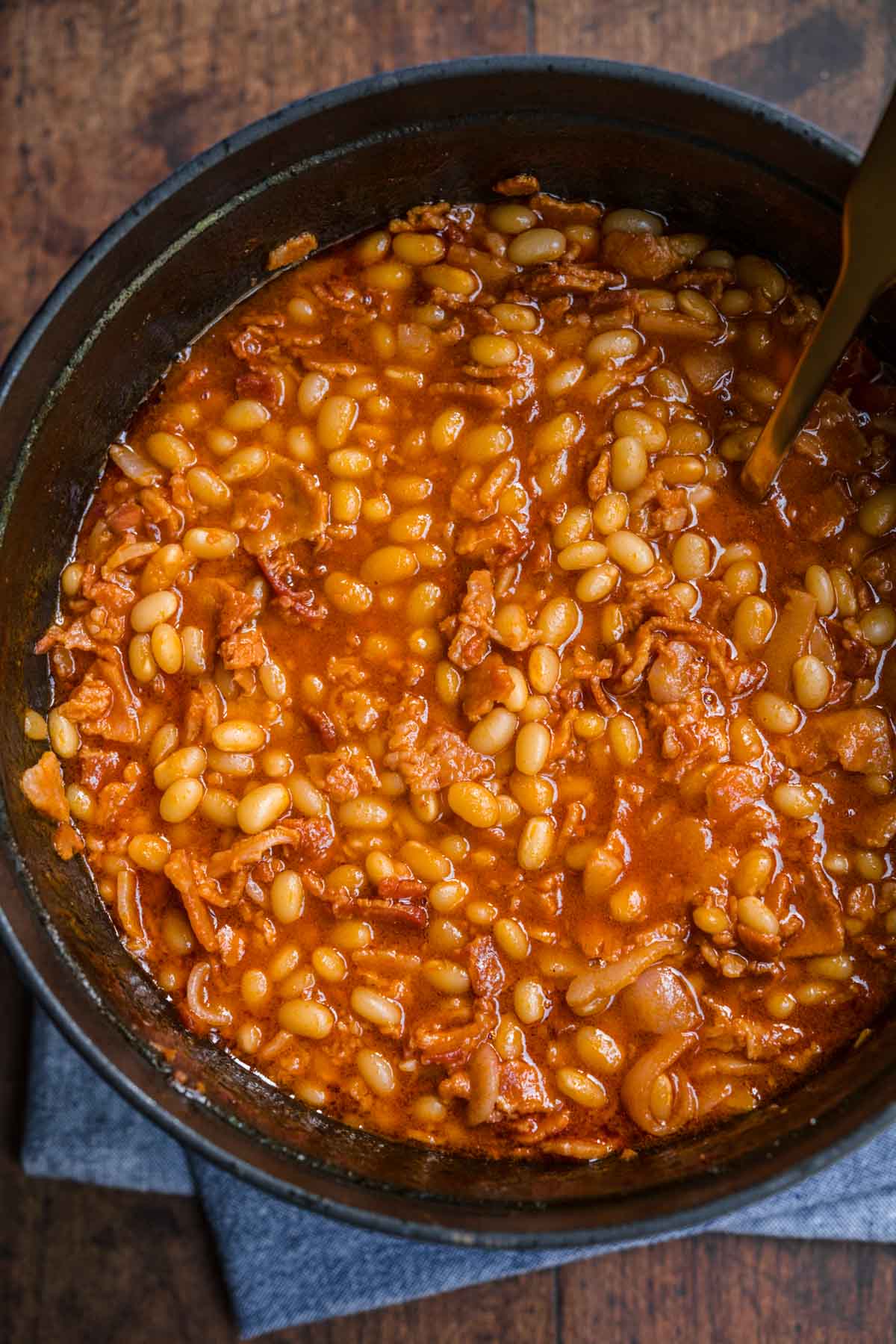 Create a free account to

Save Recipes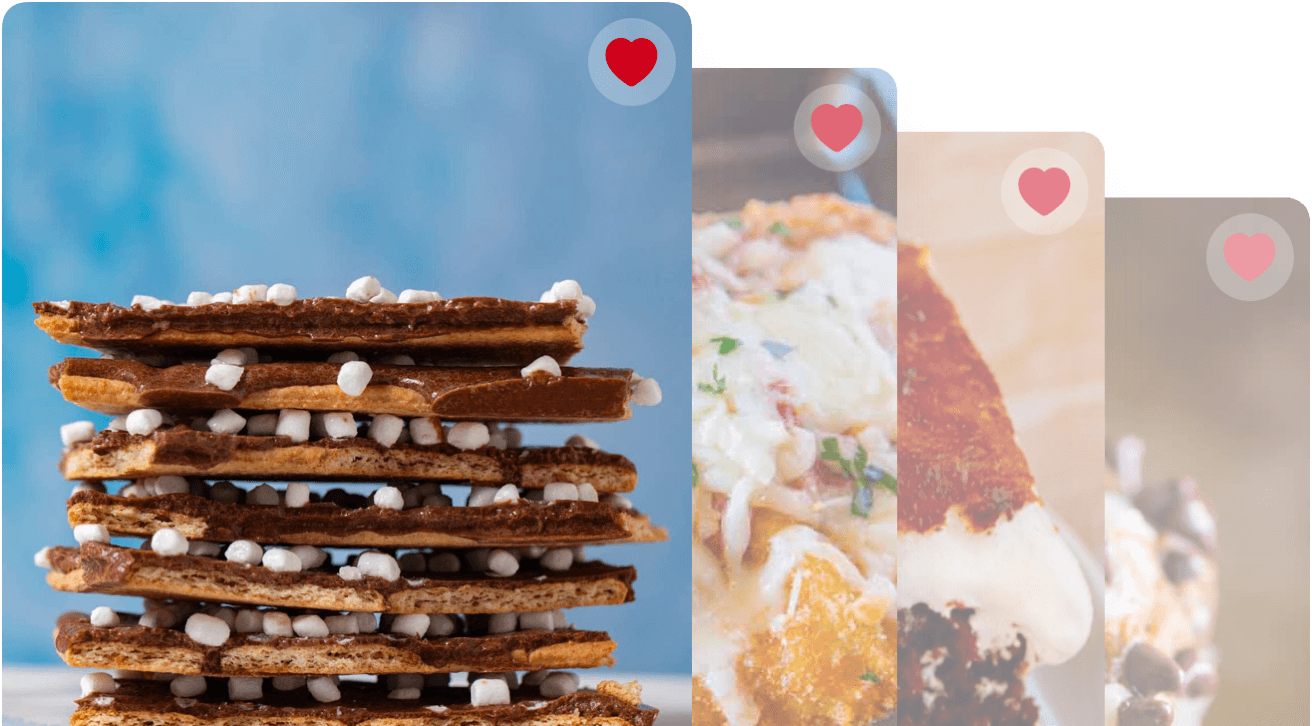 VARIATIONS ON HOMEMADE PORK AND BEANS
Tomato sauce: For a thicker sauce with more tomato flavor you can mix in a 6 ounce can of tomato sauce along with the rest of the liquid ingredients.
Onions: For some extra savory flavor in the dish you can add onions to the sauce. Slice yellow onion into small pieces and sauté them in oil until translucent. Add ½ cup onion mixture to the beans along with the rest of the sauce.
Spices: You can add your favorite seasonings to the sauce ingredients. Chili powder, paprika, onion salt, oregano, cumin, or cinnamon would taste great. You could also add a few minced garlic cloves to the savory sauce.
Peppers: Chop up some green bell peppers for a sweet vegetable addition. Or, you could add in some heat with sliced jalapeño pepper.
Pork: Instead of bacon, you can use a cut of boneless pork shoulder in the recipe. Cook the pork in a separate pan, then cut it into pieces and add chunks of pork to the dish.
Beans: We've made this recipe with navy beans, but you can try other beans of your choice. Kidney beans, pinto beans, or cannellini beans would all work well.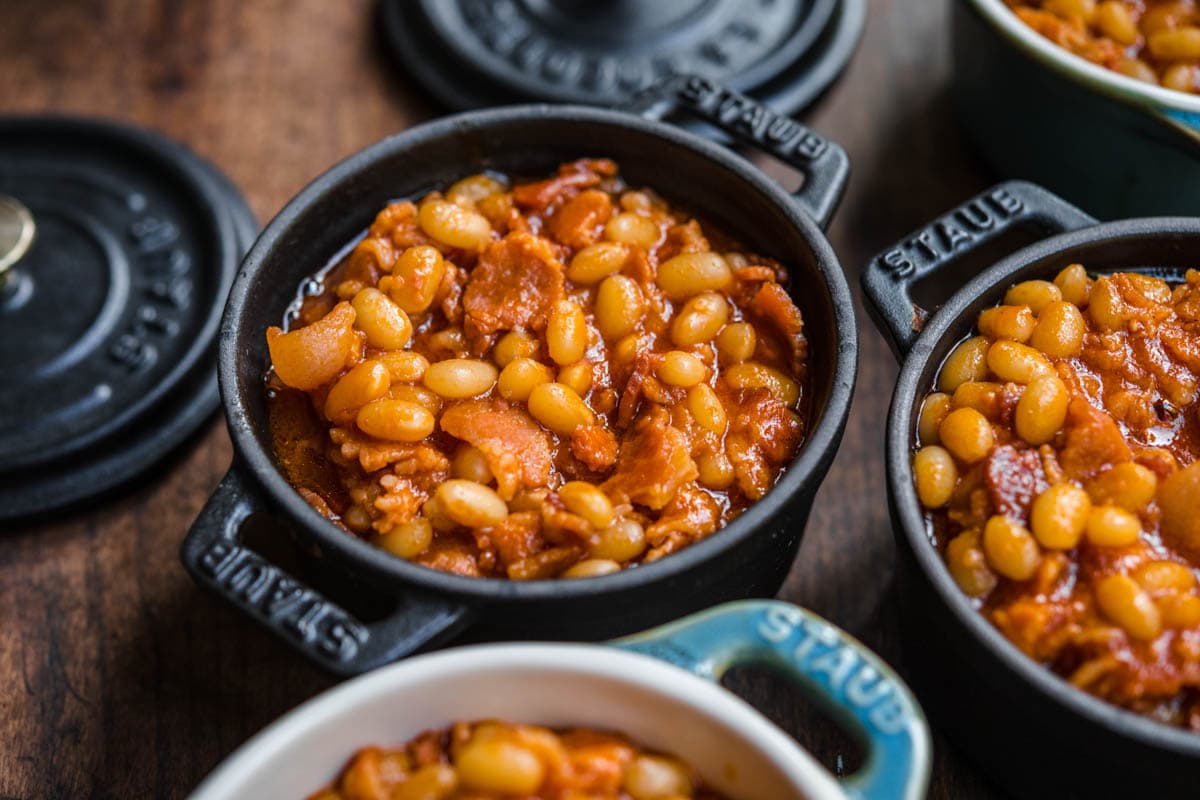 SLOW COOKER PORK AND BEANS
To start the slow cooker version, you'll still need to soak the beans in liquid overnight.
Then drain the beans, and add them to the slow cooker with 4 cups of water.
Cover the cooker and turn it on low for 6-8 hours.
Add the remaining ingredients on top.
Mix, then turn the cooker to high for 30 minutes to warm the sauce.
Serve immediately, or leave the slow cooker on low to keep the dish warm.
WHAT TO SERVE WITH PORK AND BEANS
HOW TO STORE HOMEMADE PORK AND BEANS
Serve: Don't leave Pork and Beans out at room temperature for more than 2 hours after cooking.
Store: If you have leftovers, you can put them in an airtight container or cover them in plastic wrap to store in the fridge for 3-4 days.
Freeze: This recipe can also be kept in the freezer for 1-2 months.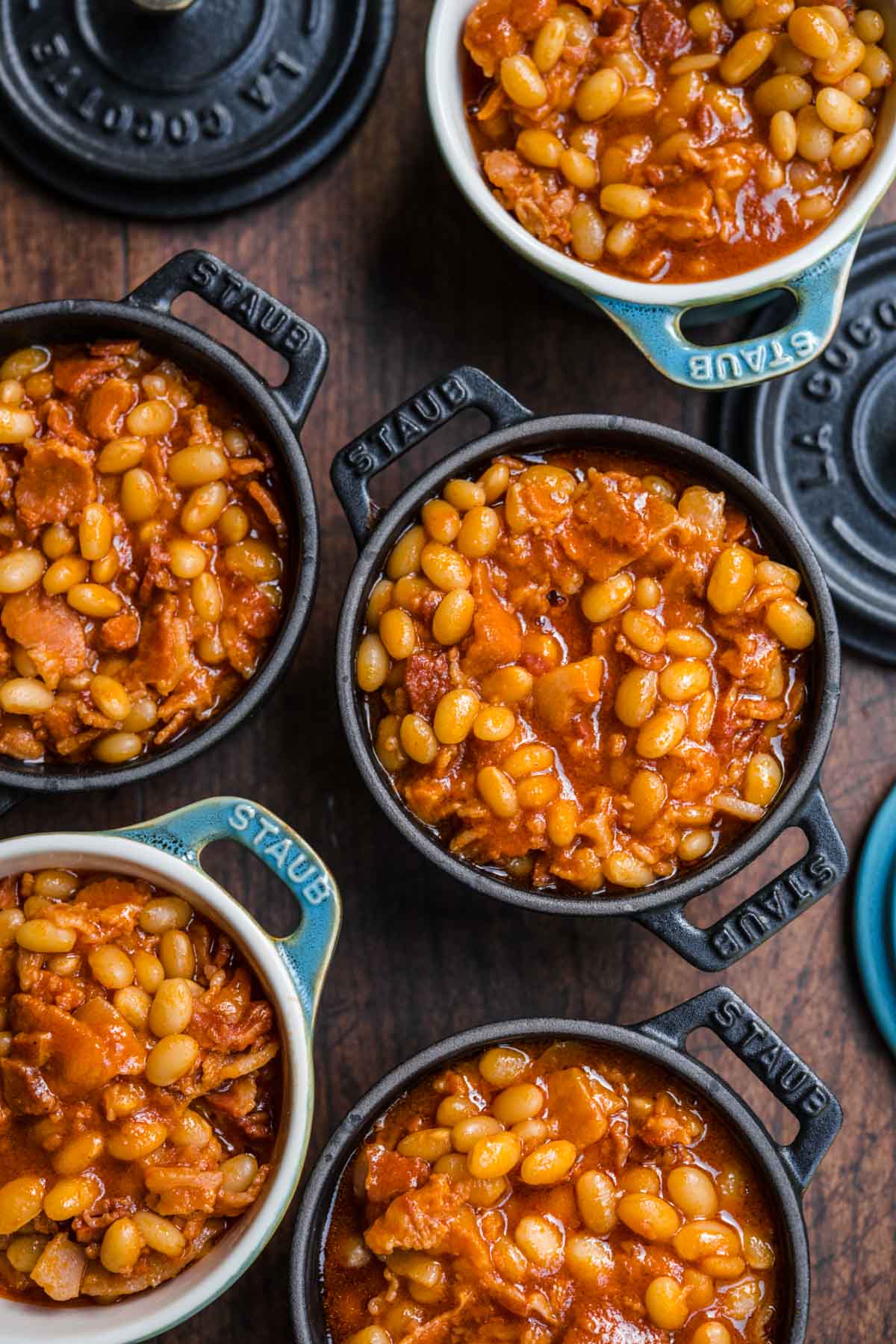 Ingredients
3

cups

dried navy beans

12

cups

water

, boiling

6

cups

water

1

tablespoon

Kosher salt

1

tablespoon

molasses

1

tablespoon

yellow mustard

1/2

cup

brown sugar

, packed

2

cups

ketchup

1

tablespoon

Worcestershire Sauce

2

pound

thick-cut bacon

, chopped

3

cups

chicken broth
Instructions
Add beans and boiling water to a large pot and cover.

Let sit overnight.

Drain beans and add 6 cups of water.

Cook on medium-high heat for

60 minutes

.

Drain navy beans a second time.

Add salt, molasses, mustard, brown sugar, ketchup, Worcestershire sauce, bacon, and chicken broth, and stir well.

Reduce heat to a simmer and cook for

60 minutes

or until beans are tender.
Nutrition
Calories:
435
kcal
|
Carbohydrates:
40
g
|
Protein:
16
g
|
Fat:
23
g
|
Saturated Fat:
8
g
|
Trans Fat:
1
g
|
Cholesterol:
37
mg
|
Sodium:
1283
mg
|
Potassium:
741
mg
|
Fiber:
10
g
|
Sugar:
16
g
|
Vitamin A:
177
IU
|
Vitamin C:
4
mg
|
Calcium:
86
mg
|
Iron:
3
mg