Loose Meat Sandwiches are flavorful Midwestern chopped meat burgers made with seasoned beef, Worcestershire sauce and onion, topped with dill pickles.
While my Ultimate Sloppy Joes will always have a place in my heart, this nostalgic twist is a must try. Don't let the lack of sloppy sauce fool you, this Loose Meat Burger is just as flavorful as any of my Sandwich Recipes.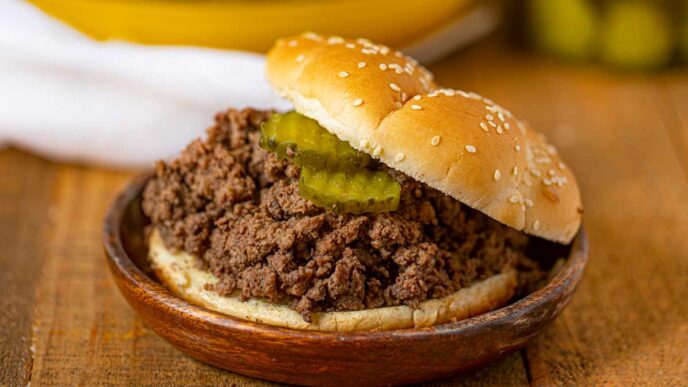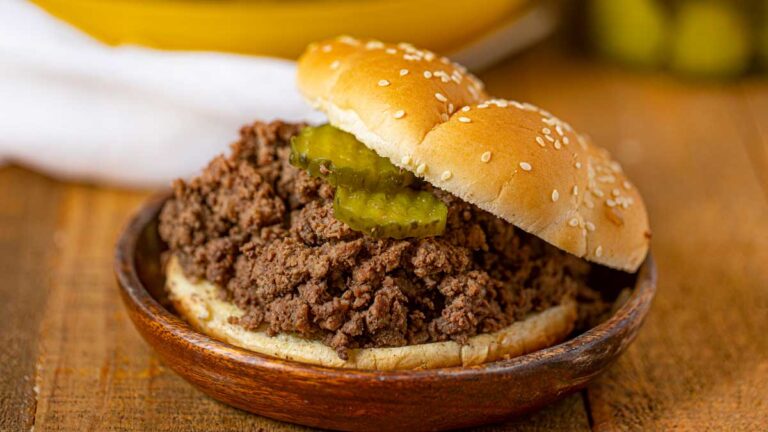 LOOSE MEAT SANDWICHES
Loose Meat Sandwiches are walk down memory lane, known by different names all over the Midwest. You might recognize them as the Maid-Rite, Tavern Sandwich, or the Tastee. Most notably you may remember these Sloppy Joe cousins from a little tv show called Roseanne.
Inspired by a real restaurant, the Canteen Lunch, Roseanne's Lanford Lunch Box (in the original series) was known for their Loose Meat Sandwiches. More recently, trying different Loose Meat Sandwiches was featured on the tv show The Goodwife as a campaign strategy.
A version of these seasoned loose ground beef hamburgers has been around for almost a 100 years. Fred Angell featuring them on his menu as a Loose Meat Sandwich at the flagship Maid-Rite restaurant in 1926, and they've been all over the Midwest since. After you try this recipe, it's easy to see why!
What sets these sandwiches apart from Sloppy Joes is the lack of a thick sauce that's usually tomato based (unless you get as adventurous as I do with Sloppy Joe Recipes). They are just as flavorful with sautéed yellow onion and Worcestershire Sauce, just a bit more crumbly.
For a traditional Loose Meat Sandwich, simply spoon your seasoned ground beef mixture on a bottom hamburger bun, top with thick dill pickles and the other bun half. Tavern Sandwich versions include all your regular burger condiments like ketchup, yellow mustard, and mayonnaise.
DELICIOUS SLOPPY JOES RECIPES
HOW TO MAKE LOOSE MEAT SANDWICHES
Sear the beef with onions: Break apart the beef into larger chunks and cook along with the onions.
Add Seasonings: Add Worcestershire sauce, salt and pepper.
Serve with pickles: Top with pickles for the classic variety or top with additional toppings of your choosing.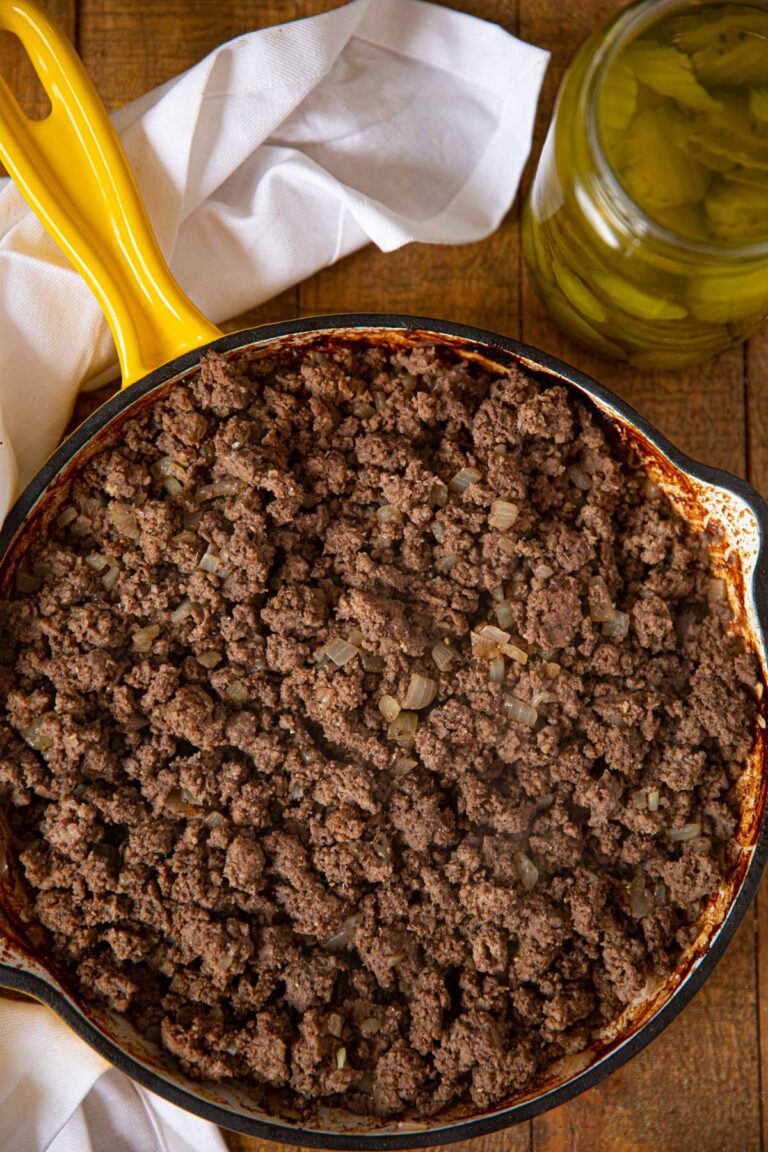 Create a free account to Save Recipes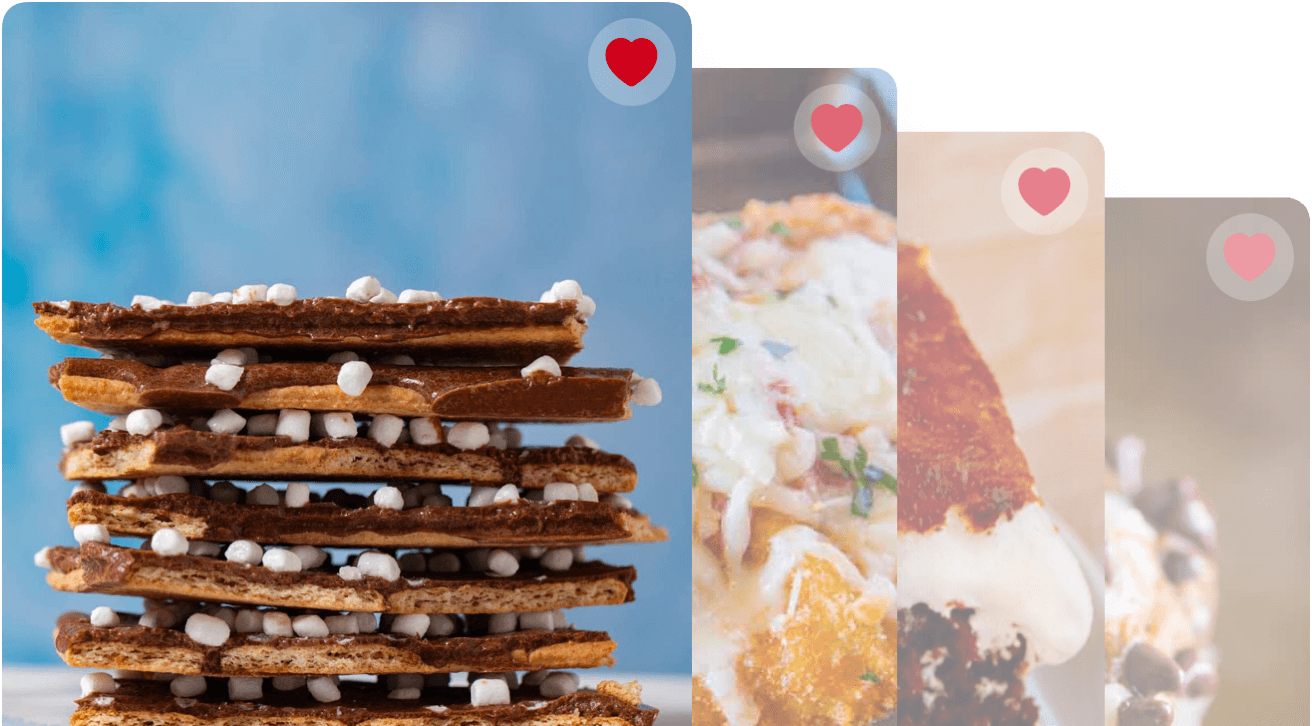 VARIATIONS ON LOOSE MEAT SANDWICHES
Loose Coney: Serve (almost) like they do in Detroit by topping a hot dog with Coney Sauce (no bean beef chili) and the Loose Meat. My Tommy's Chili is great substitute for Coney Sauce, especially if you add nutmeg, allspice, and cinnamon.
Seasonings: Instead of Worcestershire sauce, you can substitute soy sauce or beef broth. Add spices like garlic powder, paprika, or Taco Seasoning for even more flavor.
Toppings: Use hamburger condiments like ketchup and yellow mustard, or top like you do on any of your favorite burgers. Adding BBQ sauce, American cheese, and crispy bacon is one of our family favorites.
Meat: For a lighter version, use lean ground beef or substitute ground turkey or chicken. Go meatless by using veggie meat crumbles, usually found in the freezer section.
Slow Cooker Loose Meat Sandwiches
Brown ground beef and onions in a skillet and add to your slow cooker. Add remaining ingredients. Cover and set slow cooker on low for 2 to 3 hours. Serve on hamburger buns with dill pickles or any of your favorite toppings.
FAQs ABOUT LOOSE MEAT SANDWICHES
What is the difference between a maid rite and a sloppy joe? Maid Rite sandwiches, aka Loose Meat Sandwiches, are not made with a thick sauce like Sloppy Joes.
What is a loose Coney? A Loose Coney is variation of a signature Detroit style hot dog known as a Coney. It has all the toppings of regular Coney, plus cheese and loose meat.
What is tavern meat? Tavern Meat is yet another name is for the Loose Meat Sandwich. It originates in Iowa and has been a regional dish for almost 100 years. Once difference is its served open faced on hamburger buns.
MORE EASY SANDWICH RECIPES:
HOW TO STORE LOOSE MEAT SANDWICHES
Serve: You will need to store your ground beef after 2 hours at room temperature.
Store: Bring your meat to room temperature and store in an airtight container for up to 3 days in the fridge.
Freeze: This meat freezes really well for up to 3 months! Always cool completely before storing in a freezer bag.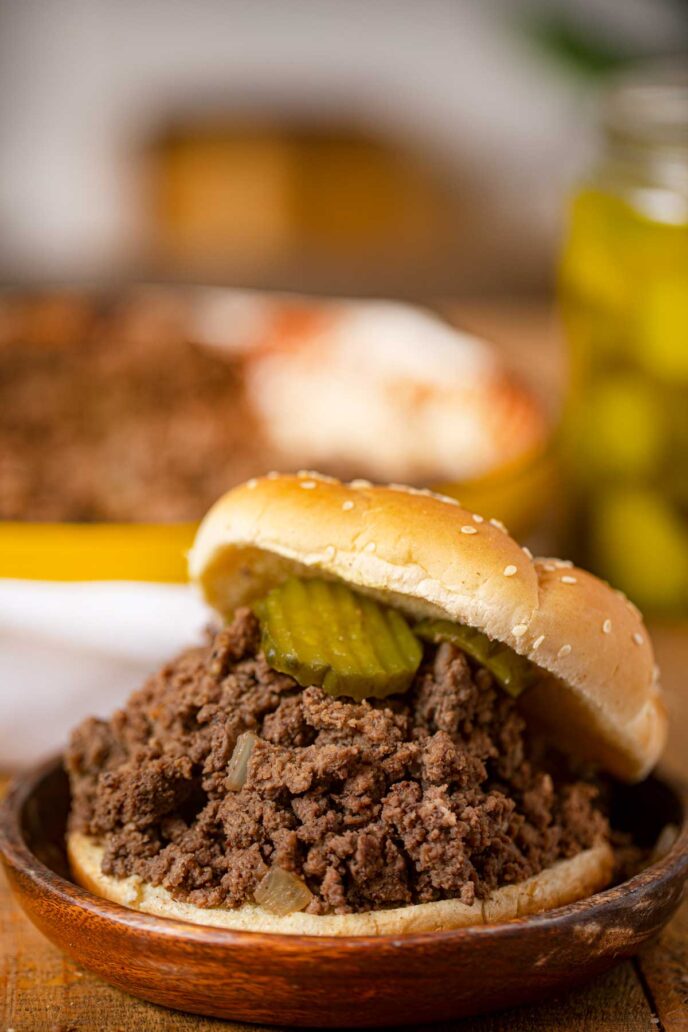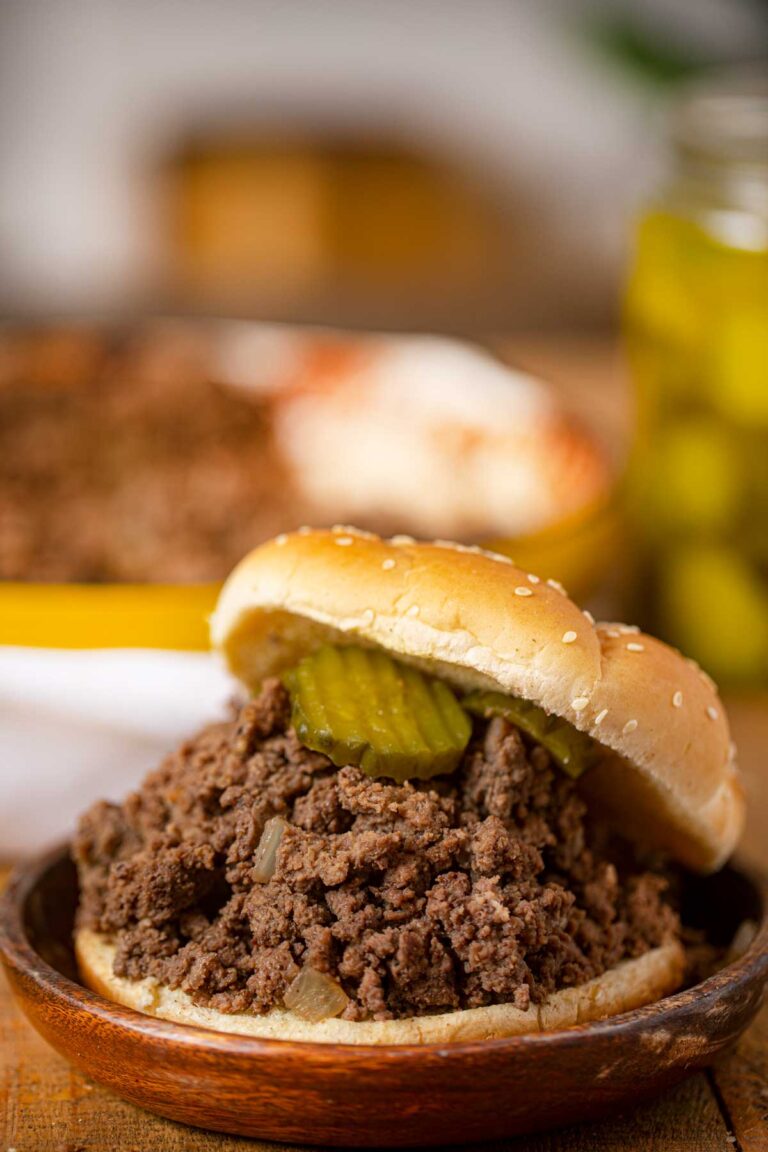 Ingredients
1

tablespoon

vegetable oil

1/2

yellow onion

1/2

teaspoon

kosher salt

1/4

teaspoon

coarse ground black pepper

1

pound

ground beef

, (85/15)

1

clove

garlic

, minced

2

tablespoons

Worcestershire sauce

3

tablespoons

yellow mustard

hamburger dill pickles

6

plain hamburger buns
Instructions
Add the vegetable oil, ground beef and onion to large skillet on medium high heat.

Break the meat apart and continue cooking until the onions are translucent, about

6-8 minutes

.

Add salt, pepper, garlic, Worcestershire and mustard and stir well to combine.

Serve on hamburger bun topped with pickles.
Nutrition
Calories:
304
kcal
|
Carbohydrates:
24
g
|
Protein:
19
g
|
Fat:
14
g
|
Saturated Fat:
5
g
|
Cholesterol:
51
mg
|
Sodium:
439
mg
|
Potassium:
351
mg
|
Fiber:
1
g
|
Sugar:
4
g
|
Vitamin C:
2
mg
|
Calcium:
100
mg
|
Iron:
4
mg