Maple Pecan Biscuits are the perfect buttery, tender, flaky biscuits made with buttermilk, cinnamon, maple syrup, and chopped pecans.
These sweet Maple Biscuits are much different than classic Buttermilk Biscuits. While you could serve them along with dinner to add a surprising sweet dish to the spread, the maple flavoring makes them more like a Dessert, Breakfast, or sweet snack to munch on, much like these Pumpkin Biscuits.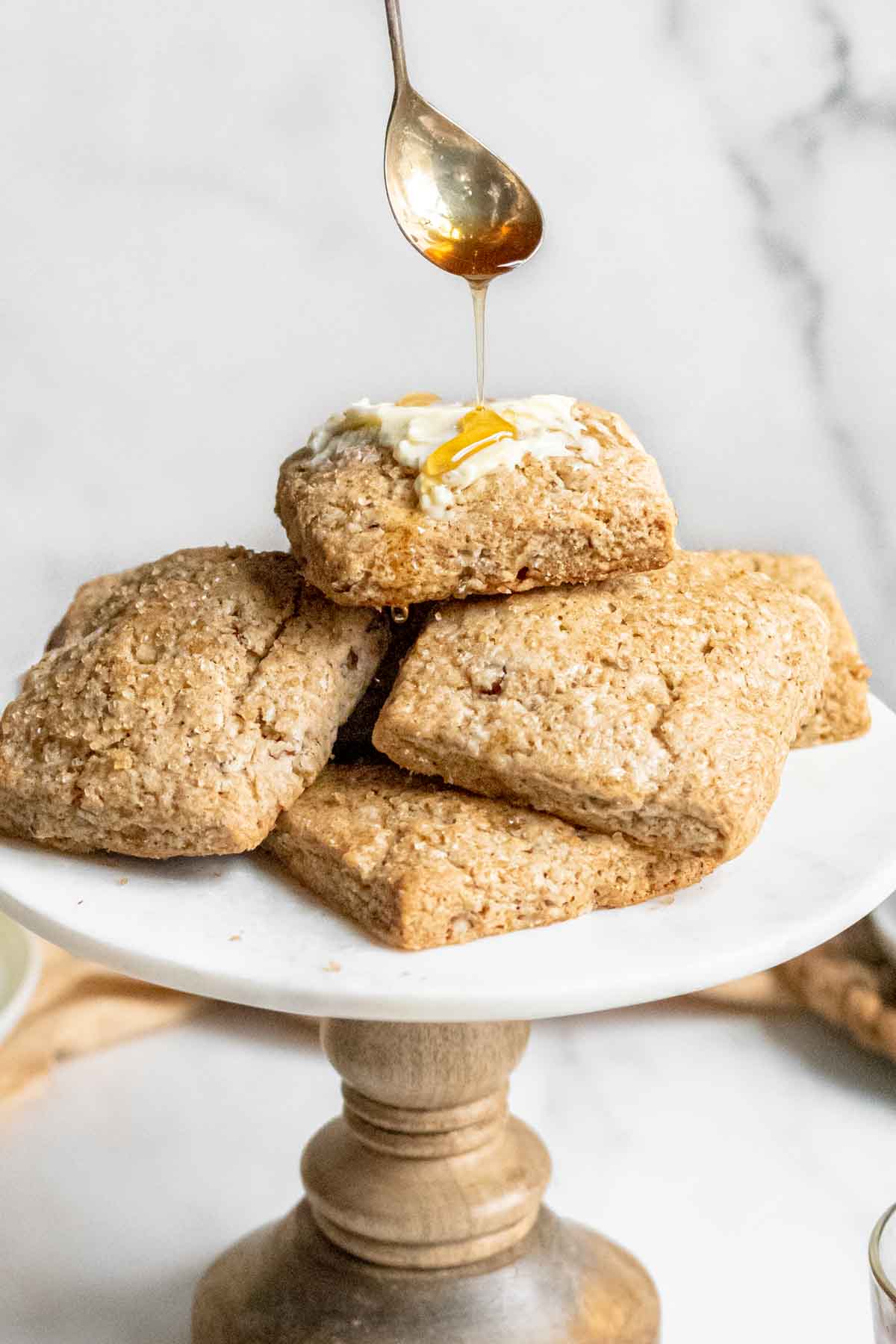 The warm cinnamon and maple flavor makes this the perfect comfort food to enjoy in the fall and winter. As it starts to get colder outside it's always nice to enjoy your favorite baked goods from the comfort of your own home. It's hard to find anything cozier than a warm, buttery maple biscuit recipe.
Plus, Maple Pecan Biscuits are wonderfully easy to make. You only need a few staple baking ingredients like butter, sugar, buttermilk, cinnamon, and flour. Then add maple syrup and pecans for the special flavoring. Once you've combined the easy biscuit dough, just spread heavy cream and sanding sugar on top for some extra moisture and sweetness, and bake. The entire recipe is done in about 20 minutes, and you can enjoy the most amazingly sweet biscuits ever!
Maple is such an amazing flavor to add to baked goods because it's sweet, strong, and complex. Some others to try are Chewy Maple Cookies and Maple Shortbread Cookies. However, unlike a cookie recipe, the best thing about these biscuits is that you can enjoy them for breakfast. Spread a little bit of melty butter in the center while they're still warm, and enjoy these amazing baked goods with a cup of coffee for the ideal start to your day.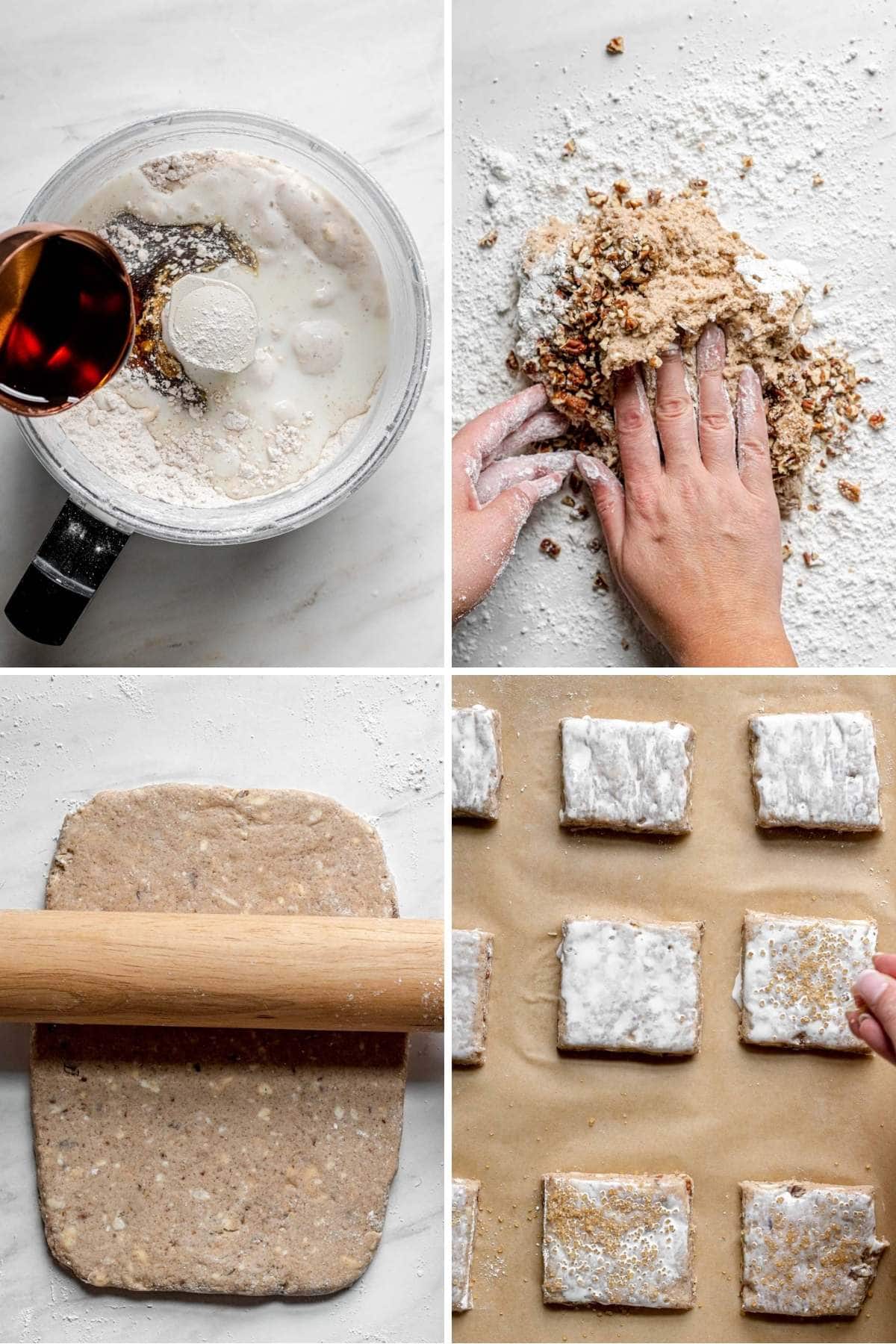 More Maple Recipes
Frequently Asked Questions About Maple Pecan Biscuits
Can I change the nuts in this recipe?
You can use any nuts you like in this recipe. Walnuts or hazelnuts would be fantastic. You can also completely omit the nuts if you don't like them or if you have a nut allergy.
What kind of maple syrup should I use?
In order to obtain that rich maple flavor, you want to use real maple syrup. The bottle at the grocery store will say "Pure Maple Syrup" on it. That will also be the only ingredient listed. The other stuff will have corn syrup and lots of other ingredients.
Key Ingredients
Buttermilk: Buttermilk serves several purposes in biscuit recipes. Firstly, it acts as a liquid ingredient to form the mixture into dough and adds some fat along with the butter. The acidity in buttermilk also combines with the other leavening agents (baking powder and baking soda) to help the biscuits rise while they bake. If you don't have buttermilk, you can make your own by adding ½ tablespoon vinegar to a cup measurer, then using whole milk to fill it the rest of the way to ½ cup. Leave it for about 5 minutes, or until it starts to curdle slightly before using.
Butter: You want to make sure the unsalted butter you use is completely frozen. That way it won't completely blend into a smooth dough, and instead will remain slightly coarse. Cut the butter into cubes before adding it to the dry ingredients, then blend. It'll give you the perfect crumbly biscuit dough.
Maple Syrup: The maple syrup is not the only sweetener in this recipe because adding too much maple syrup would make quite a strong flavor, and add too much liquid to the biscuit dough. In addition, there are 3 tablespoons of regular sugar mixed into the dough. Then maple syrup is added to give the biscuits a rich, smoky, sweet flavor perfect for breakfast.
Pecans: Maple Pecan Biscuits have a wonderfully flaky, buttery texture. Mixing in the pecans is a great way to add a crunchy ingredient to the soft biscuit mixture. They truly make these Biscuits unique.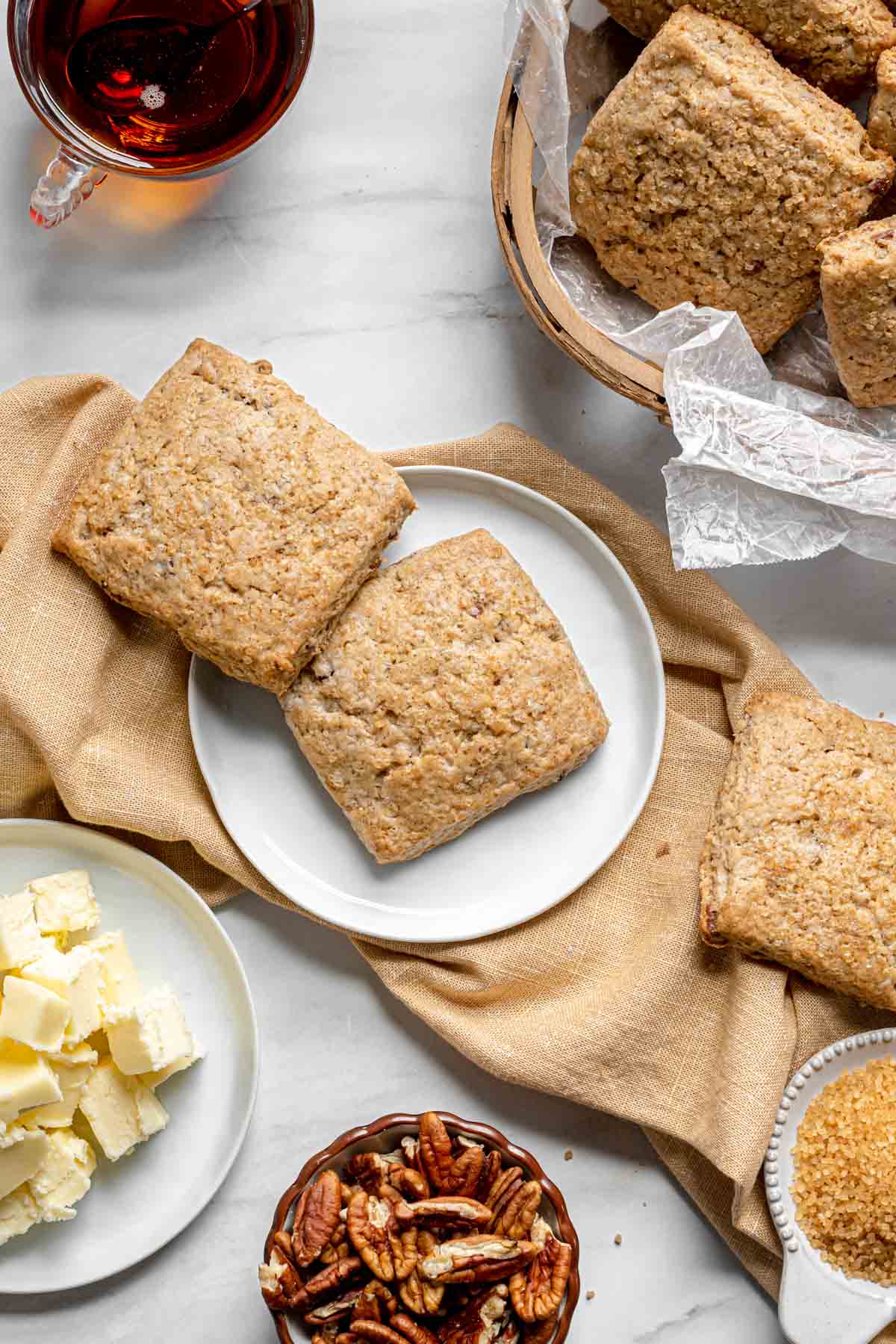 How to Make Maple Pecan Biscuits
Prep Time: To start the Maple Biscuit recipe, preheat your oven temperature to 400 degrees. Then take out two rimmed baking sheets and line each of the baking trays with parchment paper to stop the biscuit dough from sticking to the pan.
Biscuit Dough: Add the all-purpose flour, sugar, cinnamon, baking powder, baking soda, and salt to a large food processor. Then pulse the flour mixture 10-12 times at medium speed until it's well mixed. Add the cold butter chunks. Then pulse again until the flour and butter mixture is combined into coarse crumbs. Next, add the buttermilk and maple syrup. Pulse in the wet ingredients until it's more of a consistent dough, but still crumbly.
Knead: Sprinkle flour over your countertop or another flat surface area. Then remove the biscuit dough from the food processor bowl and place it on the floured surface. Add the chopped pecans, and use floured hands to mix the pecans in while kneading the dough 3 times. Gently roll the dough out until it's 1/2" thick. Then use a butter knife to cut the dough into 3-inch squares. You could also use a biscuit cutter to form them into rounds.
Cooking Time: Arrange each of the squares onto a prepared baking sheet with at least an inch between them. Pour heavy cream into a mixing bowl. Then use a pastry brush to brush each of the biscuit dough squares with the cream, and sprinkle sanding sugar over the top. Place them in the preheated oven for 12-14 minutes of baking. Take the Maple Pecan Biscuits out of the oven when baked through and golden brown.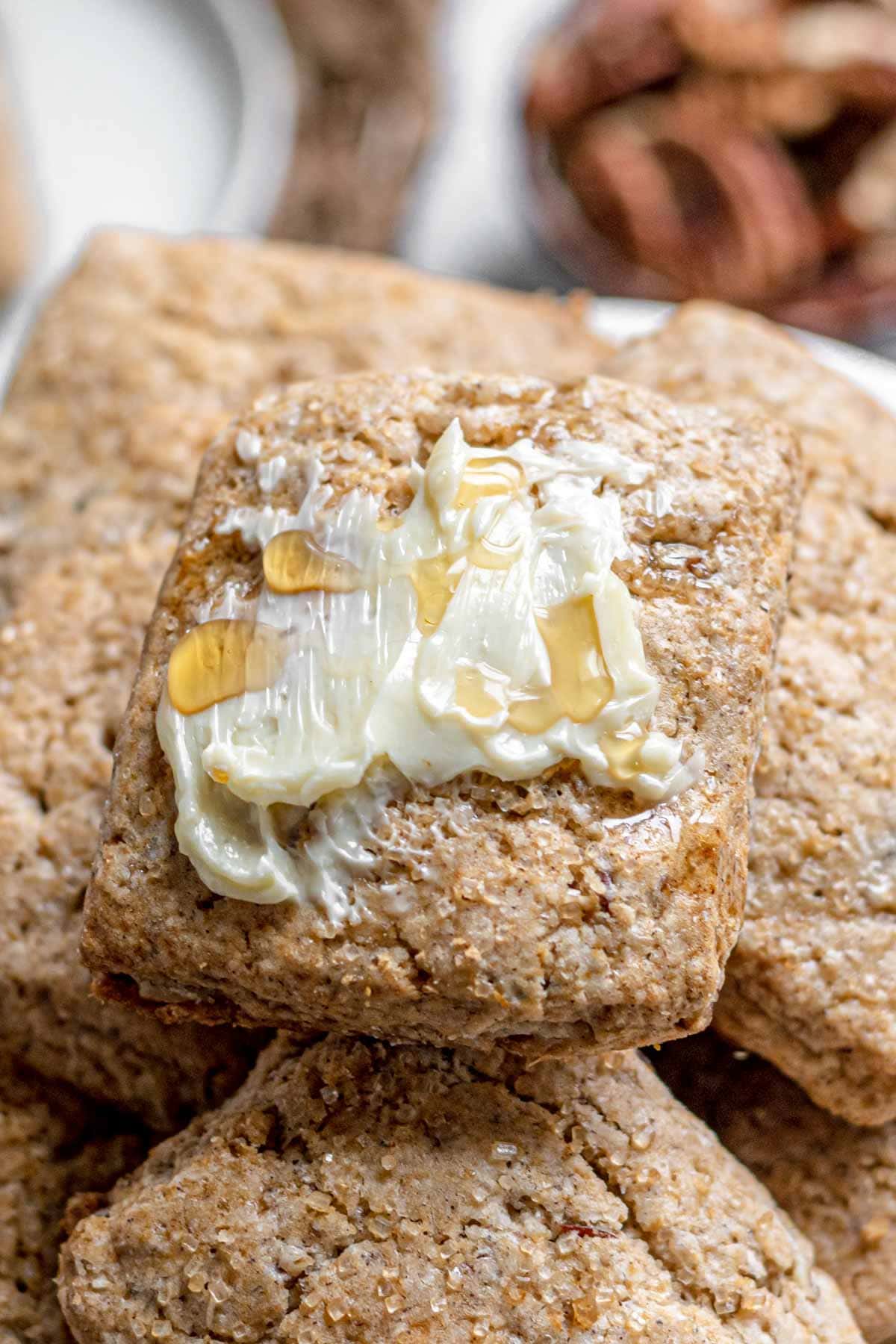 Create a free account to

Save Recipes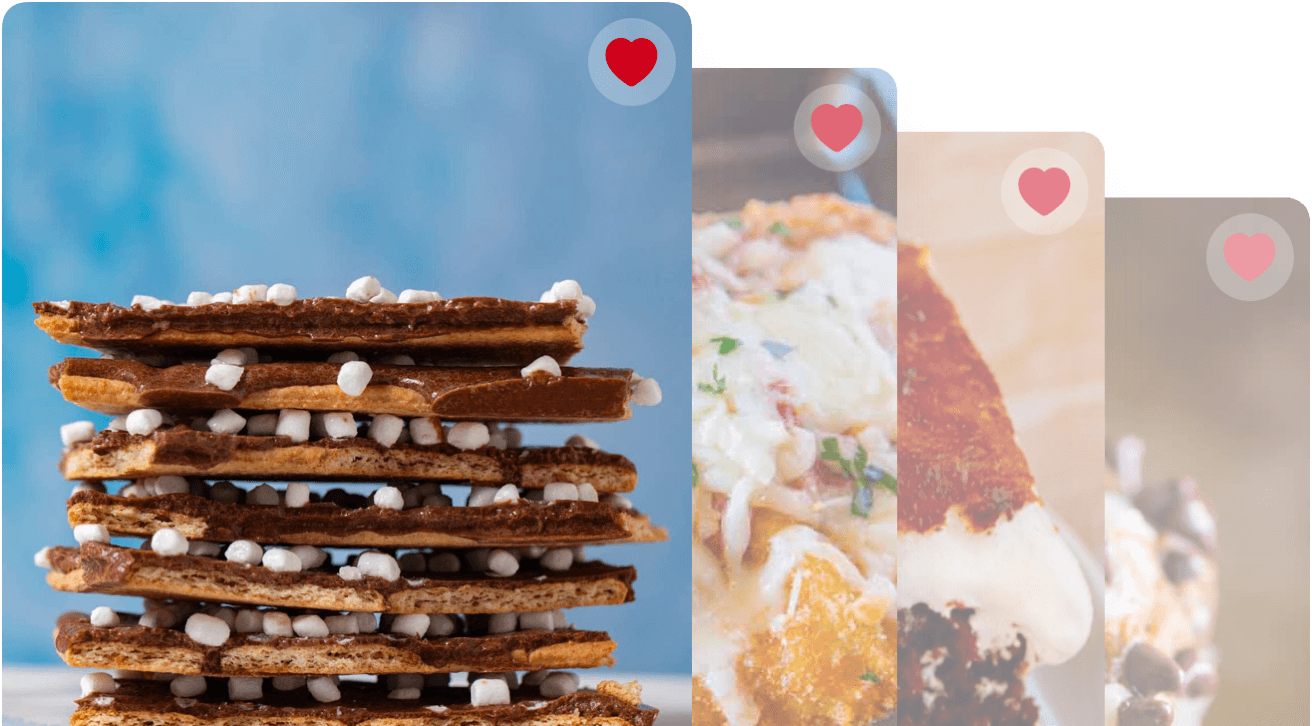 Variations
Flavoring: For a little extra flavor in the recipe, you could add extracts like almond or vanilla extract. You can also add spices like ground ginger, nutmeg, and allspice to go along with the cinnamon.
Flour: For more healthy Maple Pecan Biscuits, you can replace the regular flour with whole wheat flour. Additionally, for gluten-free baking, try almond flour, oat flour, or coconut flour.
Brown Sugar: If you want a darker, richer, caramel-like flavor for biscuits, you can use a little brown sugar. Brown sugar makes baked goods moister, so instead of using only brown sugar, try half granulated sugar to maintain the flaky biscuit consistency.
Irresistible Maple Glaze: Try making this easy and delicious glaze with maple flavoring to spread over the Maple Pecan Biscuits. After baking the biscuits, add 1 cup powdered sugar, ¼ teaspoon cinnamon, 1 tablespoon butter, ½ teaspoon vanilla, and ¼ cup maple syrup to a mixing bowl. Then whisk until the glaze is well combined. If it's turning out too dry, or the powdered sugar is making a lumpy glaze, add a little extra maple syrup until it mixes into a smooth consistency. Then spread the irresistible maple glaze over the biscuits and top it off with sparkling, flaky sea salt.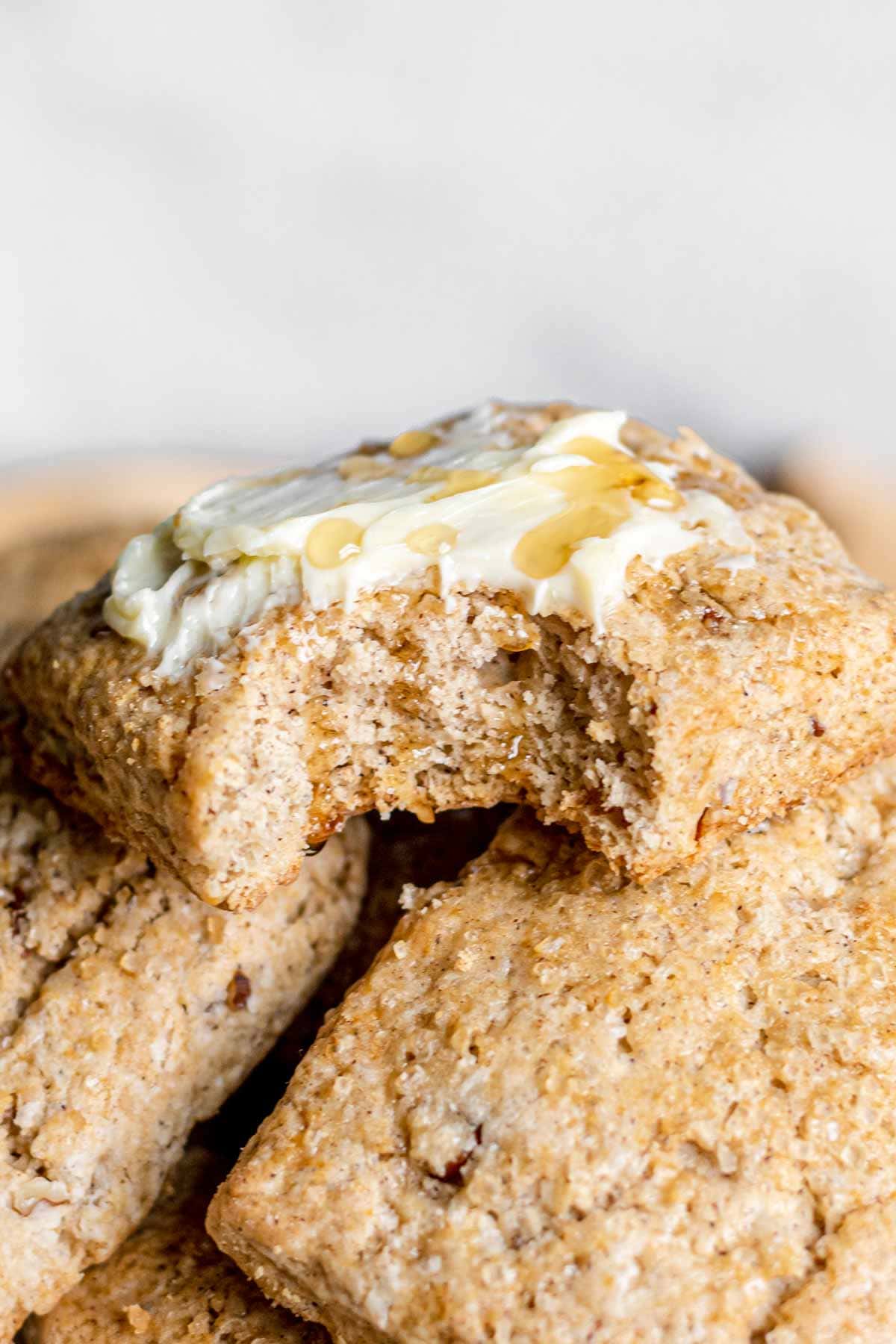 Bread and Biscuit Recipes
How to Store
Serve: Sweet Maple Pecan Biscuits can stay good at room temperature for up to 2 days. Just make sure you cover them in plastic wrap or put them in a zip lock bag to keep them from drying out.
Store: You can also transfer the biscuits to an airtight container and store them in the fridge for 1 week.
Freeze: To freeze the biscuits make sure they've cooled completely, then wrap each one in foil. Put those in a freezer bag and seal so it's airtight. Then they can stay good for up to 2 months.


Ingredients
2 1/2

cups

flour

3

tablespoons

sugar

1

teaspoon

cinnamon

1

tablespoon

baking powder

1/2

teaspoon

baking soda

1/2

teaspoon

salt

1/2

cup

frozen unsalted butter

, cubed

1/2

cup

buttermilk

1/2

cup

maple syrup

1/2

cup

finely chopped pecans

3

tablespoons

heavy cream

2

tablespoons

coarse sanding sugar
Instructions
Preheat oven to 400 degrees.

Line two baking sheets with parchment paper.

In a large food processor add the flour, sugar, cinnamon, baking powder, baking soda and salt and pulse 10-12 times to mix well.

Add in the frozen butter chunks and pulse to combine into coarse crumbs.

Add in buttermilk and syrup and pulse until just combined into the dough but still in crumbles.

Remove dough from food processor add in pecans and with floured hands on a floured surface barely mix together to combine and knead 3 times.

Roll gently and quickly to about 1/2″ thick.

Cut into 3″ squares.

Place on baking sheets lined with parchment paper.

Brush with heavy cream and sprinkle with coarse sanding sugar.

Bake for

12-14 minutes

or until golden brown.
Nutrition
Calories:
135
kcal
|
Carbohydrates:
18
g
|
Protein:
2
g
|
Fat:
6
g
|
Saturated Fat:
3
g
|
Polyunsaturated Fat:
1
g
|
Monounsaturated Fat:
2
g
|
Trans Fat:
1
g
|
Cholesterol:
13
mg
|
Sodium:
79
mg
|
Potassium:
99
mg
|
Fiber:
1
g
|
Sugar:
7
g
|
Vitamin A:
156
IU
|
Vitamin C:
1
mg
|
Calcium:
42
mg
|
Iron:
1
mg