Sweet Potato Biscuits are fluffy, light, and flaky. Perfect for Thanksgiving with sweet potato puree, cinnamon, cloves, and nutmeg.
Biscuits made with sweet potatoes are a great Side Dish to add to any dinner or holiday spread. They're slightly sweet and tender, and the sweet potato flavor makes an interesting change from Classic Biscuits or Dinner Rolls.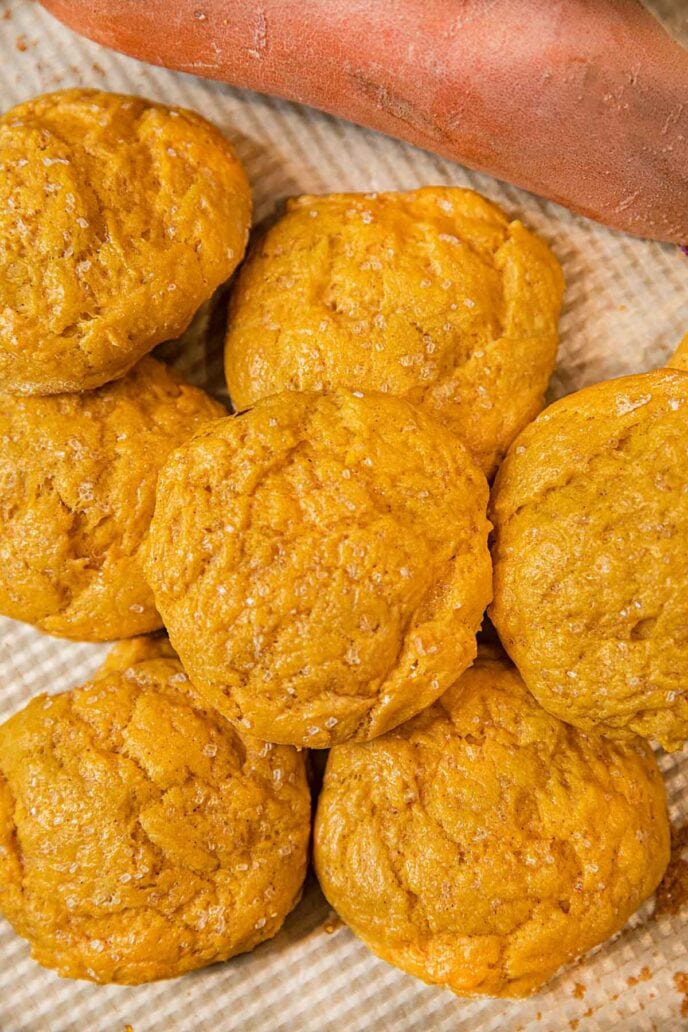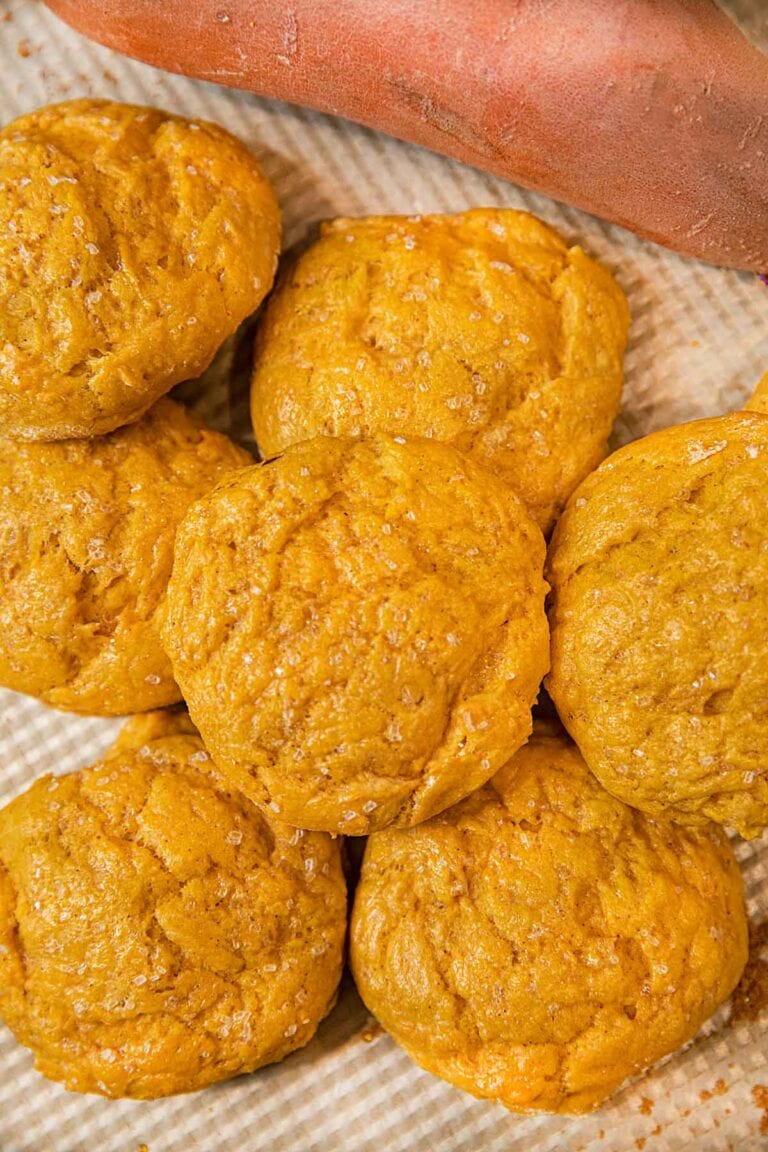 SWEET POTATO BISCUITS
Sweet Potatoes are such a wonderful ingredient to bake in a variety of recipes, especially during the Fall. These Sweet Potato Biscuits make an excellent, slightly sweet addition to Thanksgiving dinner. They're soft, buttery and go wonderfully with Turkey, Mashed Potatoes, and other savory dishes.
Apart from the sweet potatoes, the wonderful tastes from brown sugar, cinnamon, cloves, and nutmeg make them the perfect Autumn recipe. The warm spice and flaky bread combine to make an irresistible treat that's completely family-friendly. If you're serving a big group, you might want to make a double batch because these little biscuits will go fast.
Because Sweet Potato Biscuits are so versatile, you don't have to wait to make them for Thanksgiving. You can make this sweet potato treat year-round and enjoy them any time of day. The tender biscuits make a great dinner side dish, snack, or breakfast. If you're having Sweet Potato Biscuits in the morning, add some butter, honey, maple syrup, or honey butter in the middle of your biscuit and enjoy a wonderful and sweet breakfast treat.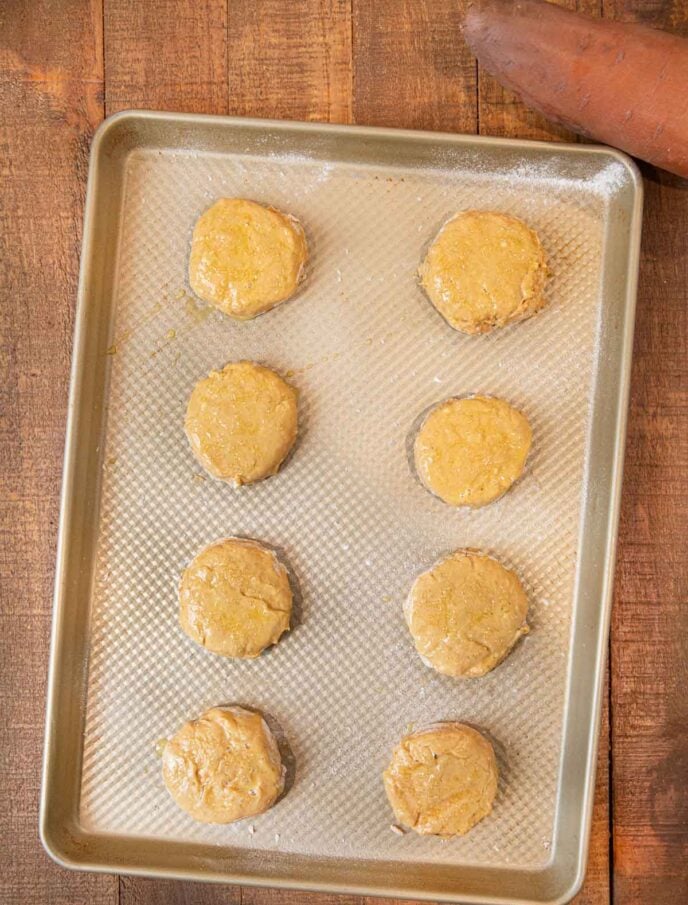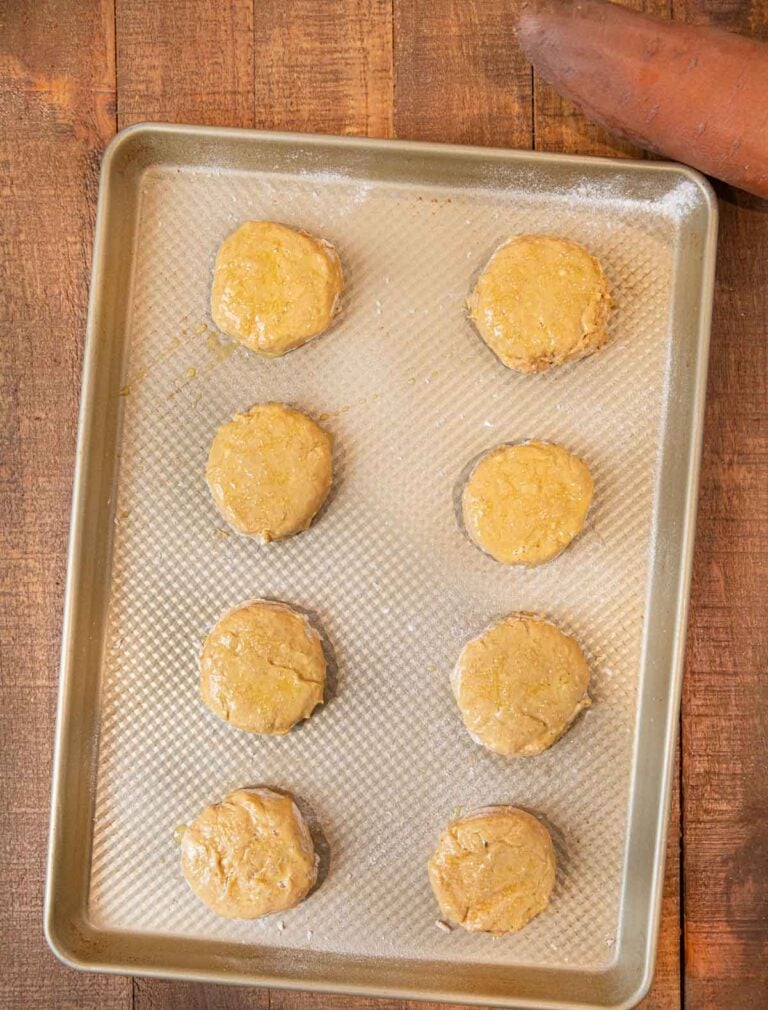 HOW TO MAKE SWEET POTATO BISCUITS
These Potato Biscuits are easy and quick to make. Combine the ingredients in just a few easy steps, then bake and have them ready in under a half hour. Follow these simple directions to make sure your sweet potato recipe comes out perfect every time.
Instead of just mixing the dry ingredients together, put the all-purpose flour, brown sugar, baking powder, cinnamon, salt, cloves, nutmeg, and baking soda in a food processor.
Pulse the food processor until the flour mixture is fully combined.
Add in the butter. Make sure the butter you use is still cold. Pulse the cold butter until the mixture has a crumb-like texture.
In another bowl, mix together the buttermilk and potato puree. Slowly fold in the dry ingredients. Be careful not to overmix the ingredients.
Prepare a floured surface to lay out the dough. Once you have the dough somewhat even and about an inch thick, cut the biscuits and put them on a parchment paper lined baking sheet.
Brush the biscuits with an egg and milk wash, then sprinkle sugar over the top of them before baking for 18-20 minutes.
MORE SWEET POTATO RECIPES
HOW TO MAKE YOUR OWN BUTTERMILK
The buttermilk in this biscuit recipe makes them soft and tender. You can get store-bought buttermilk, but you'll end up with a whole jug that you might not use up fast enough. To avoid the pressure of a practically full jug of buttermilk in your fridge, you can just make homemade buttermilk.
To make buttermilk use milk and lemon juice or vinegar.
Add 1 cup of milk for every 1 tablespoon of lemon juice or vinegar.
Mix the ingredients together and let them sit.
After a few minutes the milk will begin to curdle. Once it's curdled you can use it in the recipe.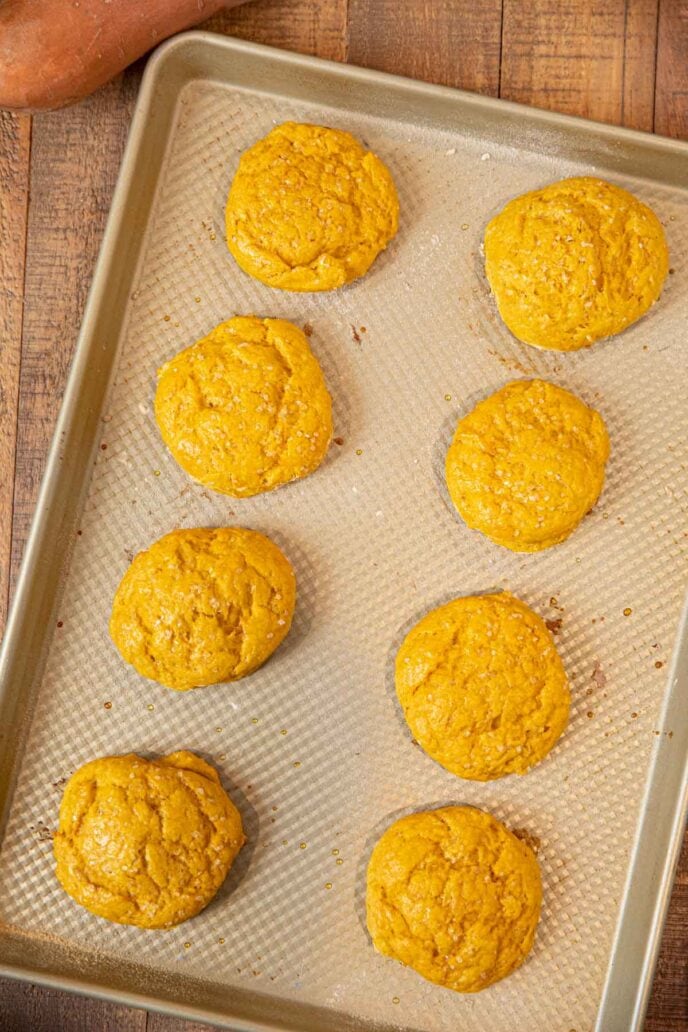 Create a free account to

Save Recipes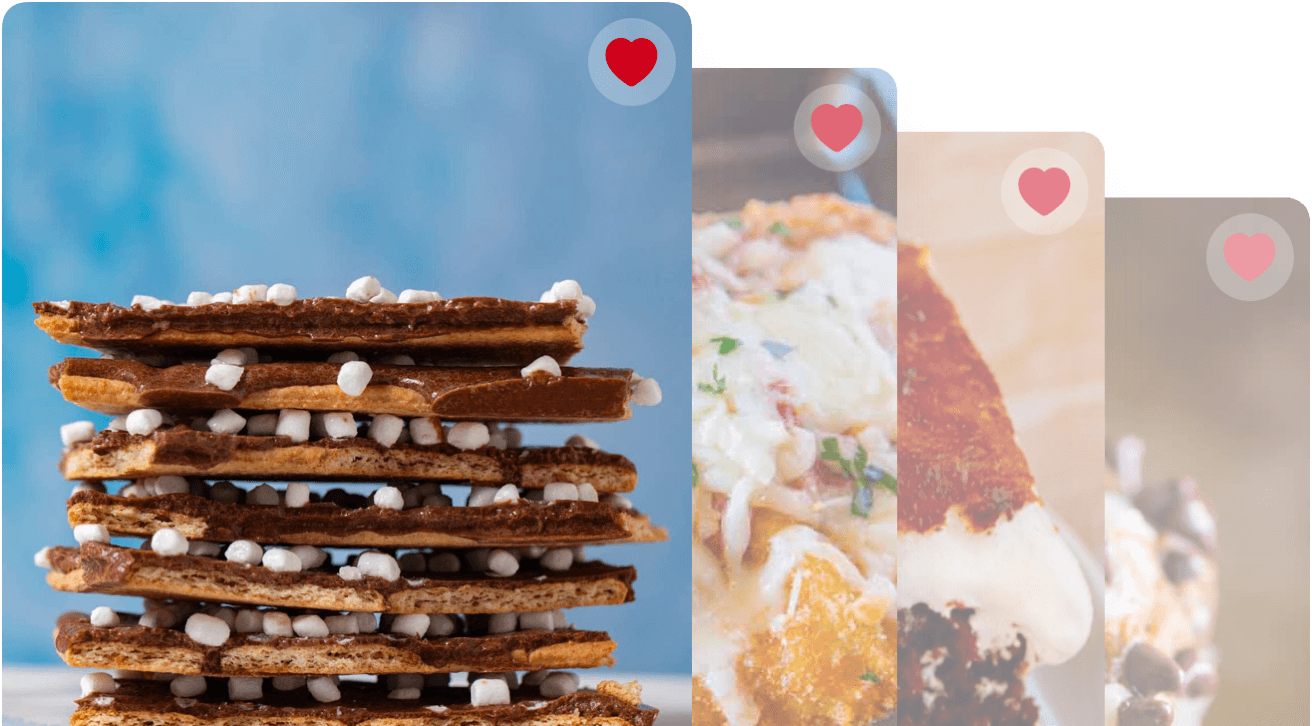 VARIATIONS ON SWEET POTATO BISCUITS
Potato Biscuits: Rather than making biscuits with sweet potatoes, you can use mashed potatoes to make regular Potato Biscuits. Use ¾ cups mashed potatoes in place of the sweet potato puree. Potato won't work well with the spices in this recipe. You'll want to take out the cinnamon, nutmeg, and other ingredients that pair better with the sweet potatoes. To make the Potato Biscuit recipe more savory you can try adding different ingredients like black pepper, and chives to the dough. You can even serve these savory biscuits with gravy.
Whole Wheat Sweet Potato Biscuits: To make a whole wheat Sweet Potato Biscuit recipe, simply replace the all-purpose flour with whole wheat flour.
Gluten-free Sweet Potato Biscuits: Similarly, to make your biscuit recipe gluten-free just replace the flour with a gluten free alternative. Almond flour, oat flour, or coconut flour will work nicely.
Sweet Potato Muffins: To make the Sweet Potato Biscuit recipe more portable, you can make them into Baked Sweet Potato Muffins. Just prepare the biscuit dough as usual. Then instead of cutting the dough into biscuits, put them into a lined muffin tin. Once you bake the muffins, they'll still have the crumbly consistency of a biscuit recipe, but be easy to grab and go in their muffin liners.
WHAT TO SERVE SWEET POTATO BISCUITS WITH
HOW TO STORE SWEET POTATO BISCUITS
Serve: You can keep Sweet Potato Biscuits at room temperature for 2-3 days. To keep them soft and flaky, cover the biscuits or store them in an airtight container.
Store: Once they've cooled, put the biscuits in an airtight container to store in the fridge. They'll keep well for up to a week.
Freeze: You can also freeze biscuits for up to 3 months. Seal them in a freezer bag separated by parchment paper.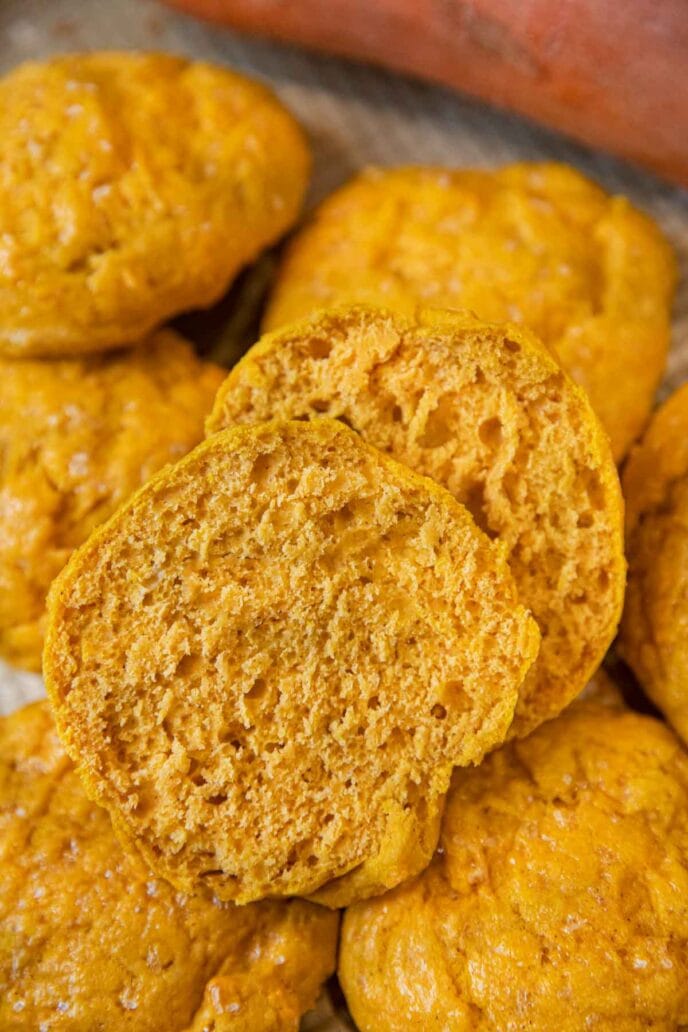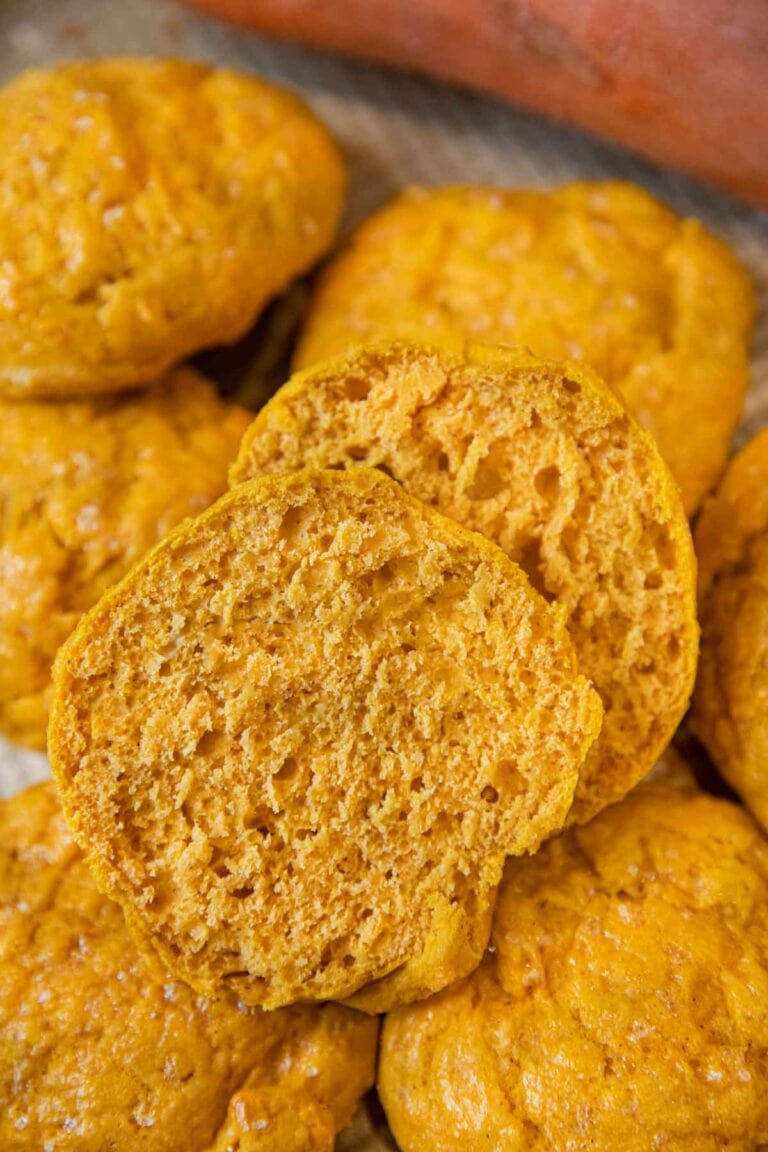 Ingredients
2

cups

flour

1/4

cup

packed brown sugar

2-1/2

teaspoons

baking powder

1

teaspoon

cinnamon

1/2

teaspoon

salt

1/4

teaspoon

cloves

1/4

teaspoon

nutmeg

1/4

teaspoon

baking soda

1/2

cup

unsalted butter

, frozen and diced

1/4

cup

buttermilk

3/4

cup

sweet potato puree

1

large

egg

2

tablespoons

whole milk

1

tablespoon

coarse sanding sugar
Instructions
Preheat oven to 425 degrees and line a baking sheet with parchment paper.

In your food processor add the flour, brown sugar, baking powder, cinnamon, salt, cloves, nutmeg and baking soda.

Pulse until well combined.

Add in the butter and pulse until it resembles coarse crumbs.

Mix buttermilk and sweet potato puree in a small bowl.

Remove the mixture from the food processor and gently fold in the sweet potato buttermilk mixture.

Flour a clean surface and add dough to it, patting to a 1" thick.

Cut into 8 biscuits with a 3 inch biscuit cutter or cut into squares.

Add to the baking sheet and brush lightly with a mixture of the egg and milk then sprinkle the sanding sugar over the biscuits.
Nutrition
Calories:
288
kcal
|
Carbohydrates:
39
g
|
Protein:
5
g
|
Fat:
13
g
|
Saturated Fat:
8
g
|
Cholesterol:
55
mg
|
Sodium:
212
mg
|
Potassium:
241
mg
|
Fiber:
2
g
|
Sugar:
11
g
|
Vitamin A:
5445
IU
|
Vitamin C:
5
mg
|
Calcium:
64
mg
|
Iron:
2
mg