Marinated Flank Steak (Stove or Oven) is the perfect way to make a tender, juicy steak with no grill required. Prepped with soy sauce, lemon, mustard, and brown sugar.
There's no reason you can't enjoy delicious homemade steak for Dinner year-round. This recipe takes the same concept as our Flank Steak Marinade (Grill) and adjusts it so you can make it on the stovetop or even in the oven. You get just as flavorful of a steak without having to use an outside grill.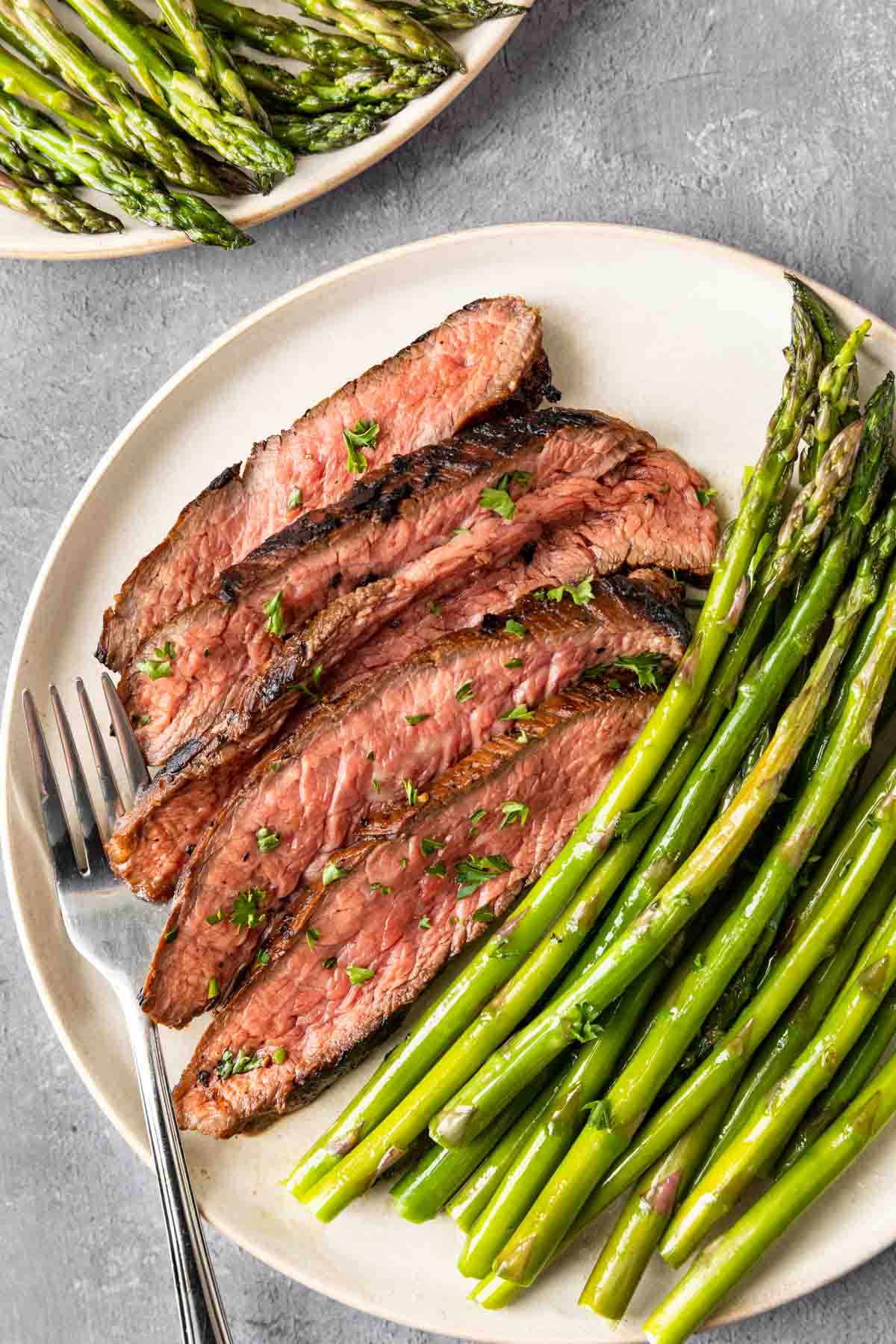 This Flank Steak Marinade is the perfect way to tenderize the flank steak. Typically, this cut of beef can be quite tough with lots of chewy muscle fibers and thick grain, but this steak marinade transforms it into a fork-tender steak with a juicy texture you're sure to love.
Making Flank Steak Marinade could not be easier. It's a simple matter of combining soy sauce, lemon juice, mustard, and other marinade ingredients in a sealable bag or large bowl. Place flank in the steak marinade, then put the marinating flank in the fridge. The marinade will tenderize the flank steak while the steak absorbs the flavorful juices for optimal flavor. Once it's done, you can save some excess marinade to serve with the tender steak as a sauce.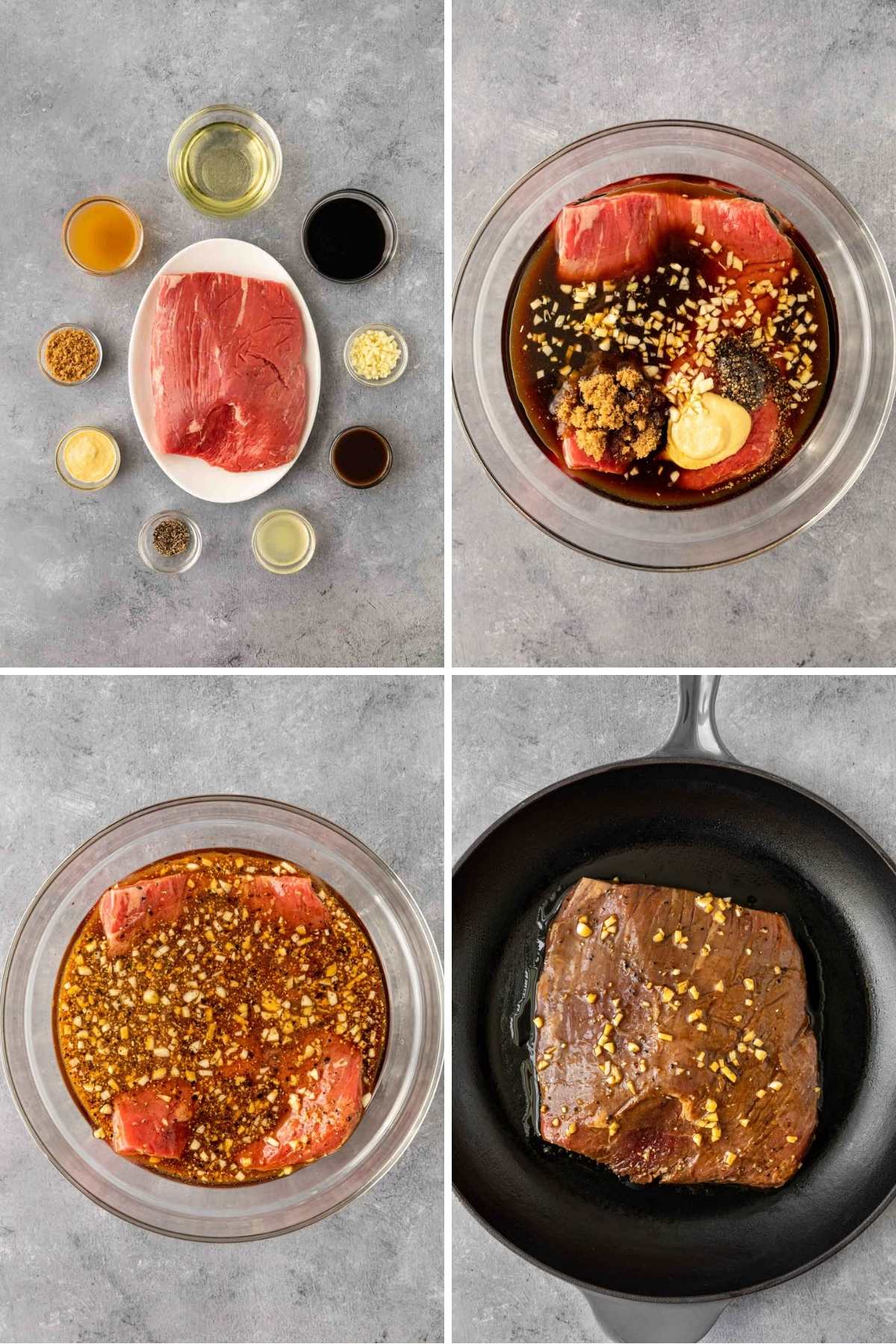 This delicious recipe makes it so easy to prepare juicy steak in a cast-iron skillet on the stovetop, or in the oven. Either way, the steak recipe is simple enough, you could work it into your typical dinner rotation for easy weeknight meals. While the steak cooks, you'll have time to prepare your favorite sides like green veggies, Mashed Potatoes, and Roasted Root Vegetables for a complete meal full of intense flavors.
BEEF FAJITAS
Along with just enjoying the rich steak taste as it is, you can also serve it up in steak tacos. Cut the meat into thin slices to make delicious fajitas. You could also make fajitas with skirt steak or cube steak. For more fajita fillings cut thin strips of peppers, and veggies to roast on a baking sheet while the steak rests.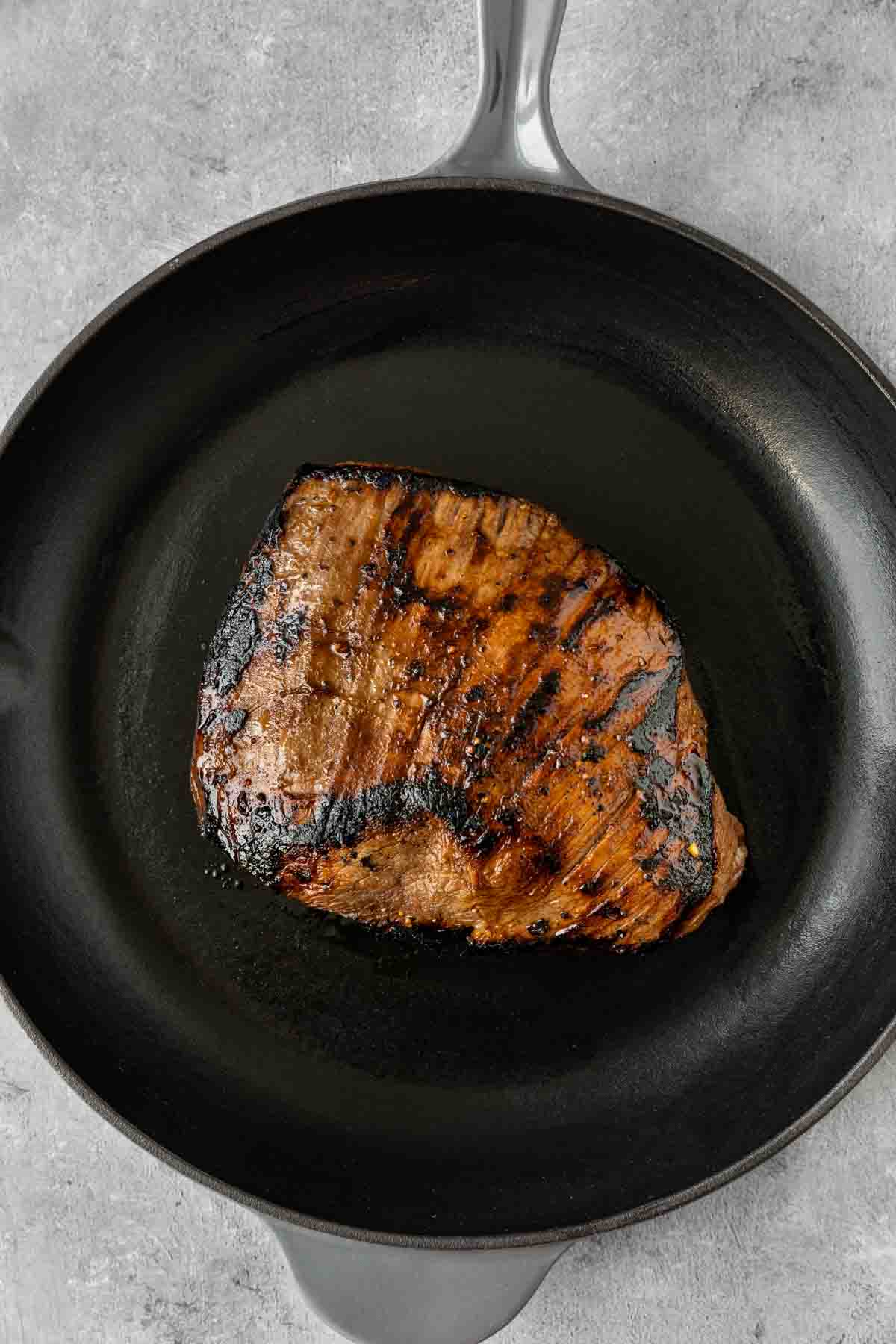 MORE BEEF RECIPE
TIPS FOR MAKING THE PERFECT FLANK STEAK
Steak marinade: Add all the marinade ingredients to a sealable bag or large bowl. Whisk the ingredients together until well combined, then place flank steak in the marinade. Cover and put the steak in the fridge for at least 4 hours. Increase the time for even juicier steak.
Stovetop: Heat your oil in a large skillet over direct heat. Sear the steak for 5 minutes on each side over medium heat or until it reaches the desired temperature for perfect doneness. Use an instant-read thermometer to check the meat temperature at the thickest part for food safety. 120-130 F is considered rare steak, and you'll want a higher temperature on your meat thermometer for medium-rare and so on. Put the meat on your cutting board and cut against the grain to separate muscle fibers.
Oven cook time: To make the steak in the oven set the oven to broil on high during the prep time. Put the steak in a cast iron pan or a baking sheet for sheet pan flank steak. Put the pan or baking sheet in the preheated oven. Make sure the meat is 8-10 inches from the broiler. Most likely the total time will be 6 minutes cooking on each side. However, you'll want to use a meat thermometer to check for the desired doneness again. You may need less cooking time for rare steak or additional cooking for medium-rare and upwards. Let the steak rest at room temperature before slicing it on a cutting board and serving.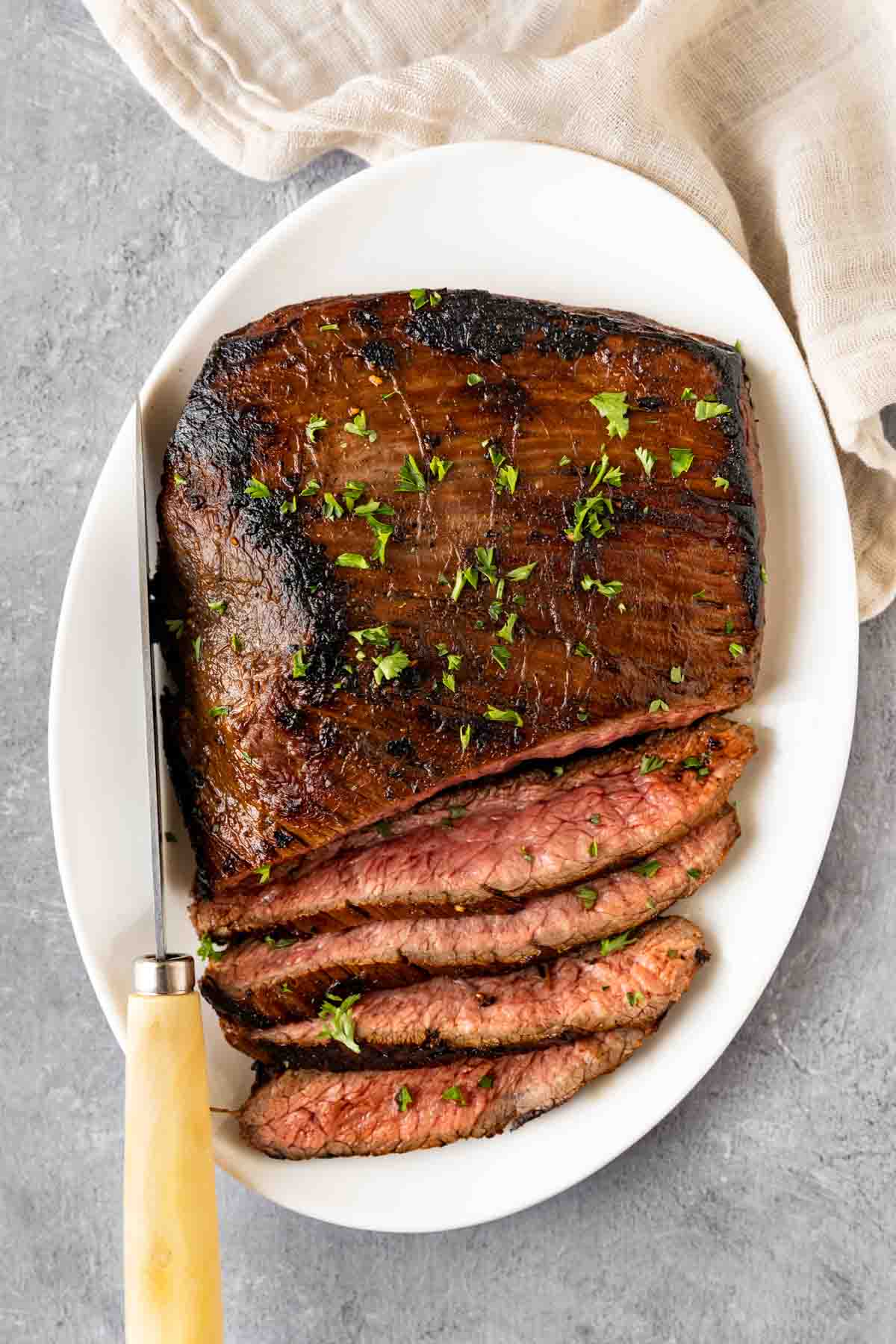 Create a free account to

Save Recipes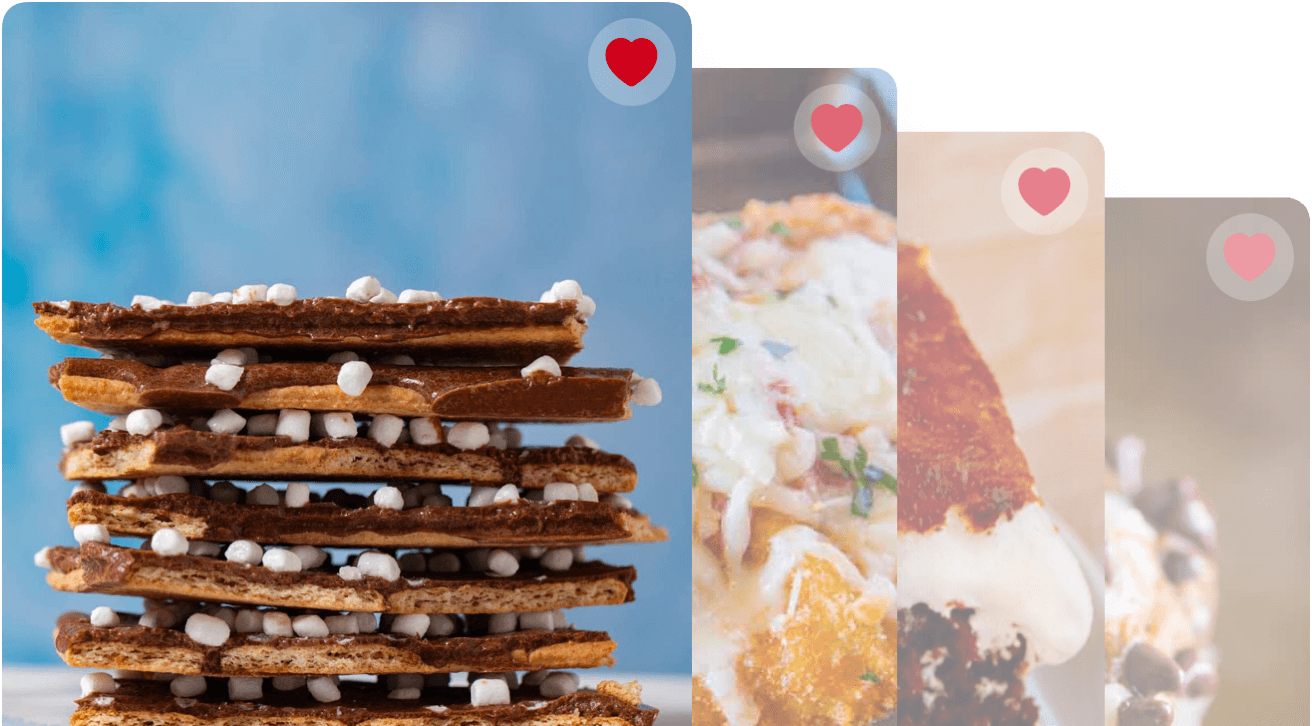 VARIATIONS ON MARINATED FLANK STEAK (STOVE OR OVEN)
Marinade liquids: You can exchange the lemon juice in the Flank Steak Marinade with lime juice. You could also use beef broth in the steak recipe marinade. To make a red wine marinade use red wine vinegar or a dry red wine.
Steak seasonings: For some extra flavoring add seasoning in an even layer to the marinated flank steak before cooking. You could add ground coriander, red pepper, chili powder, dried oregano, onion powder, seasoned salt, kosher salt, or Cajun seasoning. Another flavor option is cooking the meat with some red onion. Dice the red onion before cooking it with the steak.
Oil: If you don't want to use vegetable oil replace it in the steak marinade recipe with ⅓ cup olive oil or coconut oil.
Cut of Beef: If you don't have flank steak, you can use skirt steak. Skirt steak can also be tough, but the marinade will tenderize it.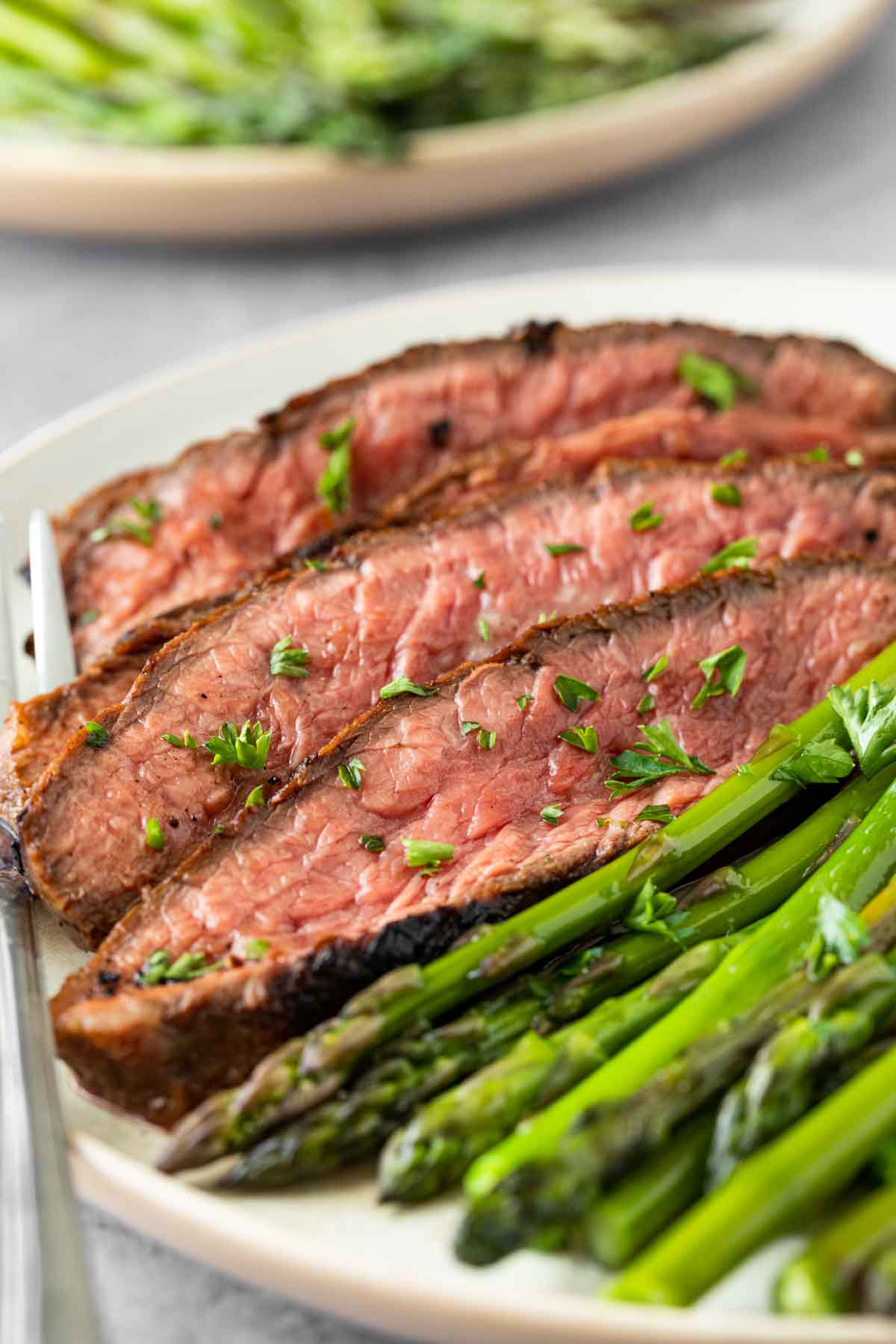 SIDE DISHES TO SERVE WITH YOUR STEAK
HOW TO STORE MARINATED FLANK STEAK (STOVE OR OVEN)
Serve: The Steak Recipe will only be good at room temperature for up to 2 hours.
Store: Let the steak cool to room temperature, then seal it in an airtight container or wrap the steak in plastic wrap. The steak will stay good for 3-4 days in the fridge.
Freeze: To freeze the Marinated Flank Steak keep it in a freezer-sized plastic bag. When you're ready to eat the steak let it defrost while still in the freezer size bag. Once it's thawed you can reheat the steak in the oven before serving.


Ingredients
2

pounds

flank steak

1/3

cup

vegetable oil

1/4

cup

low sodium soy sauce

1/4

cup

apple cider vinegar

1

tablespoon

lemon juice

2

tablespoons

Worcestershire sauce

1

tablespoon

Dijon mustard

1

tablespoon

brown sugar

, packed

3

cloves

garlic

, minced

1/2

teaspoon

coarse ground black pepper

1

tablespoon

vegetable oil
Instructions
To a large bowl or zip lock bag, add steak, oil, soy sauce, apple cider vinegar, lemon juice, Worcestershire sauce, Dijon mustard, brown sugar, garlic, and black pepper, and mix well.

Refrigerate, covered if using a bowl, for

4 hours

or overnight.
Stove-top Directions:
Heat oil in a large skillet on high heat.

Sear the flank steak for

5 minutes

on each side before resting

10 minutes

.

Slice thinly against the grain to serve.
Oven-Directions:
Set the oven to broil on high.

Add the flank steak to a cast iron pan or another high heat friendly baking pan.

Cook 8-10 inches from the broiler for

6 minutes

on each side before resting

10 minutes

.

Slice thinly against the grain to serve.
Nutrition
Calories:
269
kcal
|
Carbohydrates:
3
g
|
Protein:
25
g
|
Fat:
17
g
|
Saturated Fat:
4
g
|
Polyunsaturated Fat:
6
g
|
Monounsaturated Fat:
5
g
|
Trans Fat:
1
g
|
Cholesterol:
68
mg
|
Sodium:
424
mg
|
Potassium:
467
mg
|
Fiber:
1
g
|
Sugar:
2
g
|
Vitamin A:
6
IU
|
Vitamin C:
2
mg
|
Calcium:
36
mg
|
Iron:
2
mg