When we lived in Washington, DC we would frequent a take-out place I used to go to when I was in college called Wisemiller's Deli [Wisey's for short]. They have two things that any college student in the know would have to have, a sandwich called the Chicken Madness [coming soon to a blog near you!] and these amazing Oreo Chunk Cookies. They take Oreo crumbs and mix it into the batter until the whole cookie is Oreo flavored and then they would add in Oreo chunks to it. So you would have a delicious Oreo Cookie Cookie! Since that looks like I accidentally wrote the word cookie twice, I call them Oreo Chunk Cookies. Standard operating procedure would be to call the store [it was also a grocery store for college kid essentials like chips, beer and soda] and tell them you wanted a sandwich and then ask if you were lucky enough for any cookies to be left over. These cookies were so delicious they actually made an appearance later in our lives as part of our wedding favors as well.
Today these cookies are making an appearance in cheesecake form for my sweet husband's birthday. Cheesecake is his absolute favorite dessert, so when I asked him what flavor he wanted, he immediately said "Peanut butter…no Oreo…no! Oreo Cookie Cookie!" What the birthday boy wants, the birthday boy gets!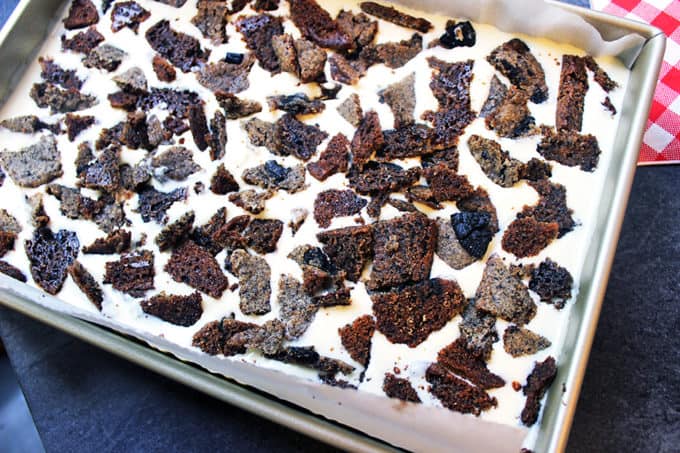 This cheesecake is amazing and you'll love every bite! This tray was able to make 48 bites. I left half as is and the second half I piped melted semisweet chocolate over. My husband's office enjoyed those chocolate covered ones!


Ingredients
15

graham crackers

, crushed

2

tablespoons

butter

, melted

10

Oreos

, finely ground

4

(8 ounce) packages

cream cheese

, at room temperature

1 1/2

cups

white sugar

3/4

cup

milk

, at room temperature

4

eggs

, at room temperature

1

cup

sour cream

, at room temperature

1

tablespoon

vanilla extract

1/4

cup

all-purpose flour

12

Oreo Chunk Cookies

, broken into chunks
Instructions
Preheat oven to 350 degrees F (175 degrees C).

Line a 9x13 metal baking pan with parchment paper

In a medium bowl, mix graham cracker crumbs and oreo crumbs with melted butter. Press onto bottom of pan.

Bake for

15 minutes

. Let cool

In a large bowl, mix cream cheese with sugar until smooth.

Blend in milk, and then mix in the eggs one at a time, mixing just enough to incorporate.

Mix in sour cream, vanilla and flour until smooth. Pour filling into prepared crust.

Add the Oreo Chunk Cookie chunks to the top.

Bake in preheated oven for

1 hour

.

Let sit at room temperature for an hour until the pan is cooled down.

Freeze for a few

hours

, then using a sharp knife and bowl of hot water, cut the cheesecake into squares.
Nutrition
Calories:
92
kcal
|
Carbohydrates:
14
g
|
Protein:
1
g
|
Fat:
3
g
|
Saturated Fat:
1
g
|
Cholesterol:
17
mg
|
Sodium:
69
mg
|
Potassium:
36
mg
|
Sugar:
9
g
|
Vitamin A:
70
IU
|
Vitamin C:
0.1
mg
|
Calcium:
16
mg
|
Iron:
0.8
mg

I would normally have it all broken down in steps for you, but it is a basic cheesecake construction and I was in the middle of 8 recipes at once for the big birthday dinner. He didn't request an easy meal! We had Toasted Mexican Rice, Guapo's Salsa, Homemade Mexican Lasagna made with fresh tortillas and a jumbo pico salad. Even writing that all out makes me tired again!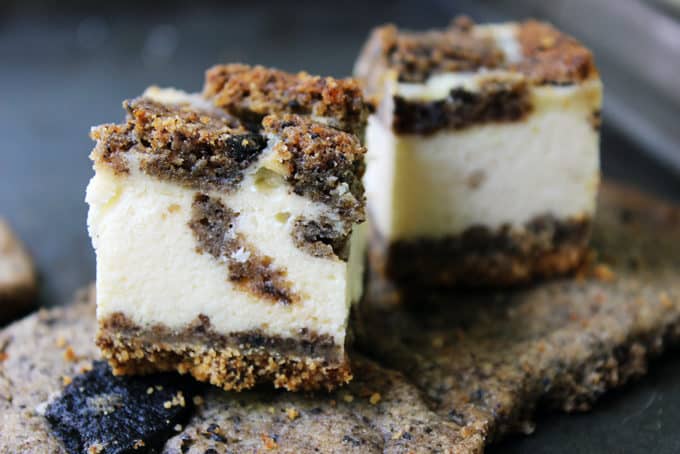 Try the cheesecake and the cookies! It may be hard to part with the cookies by putting them in the cheesecake! Luckily we still have about half a tray left, so I am going to be enjoying these all week! If only I made more desserts! Sheesh 😉