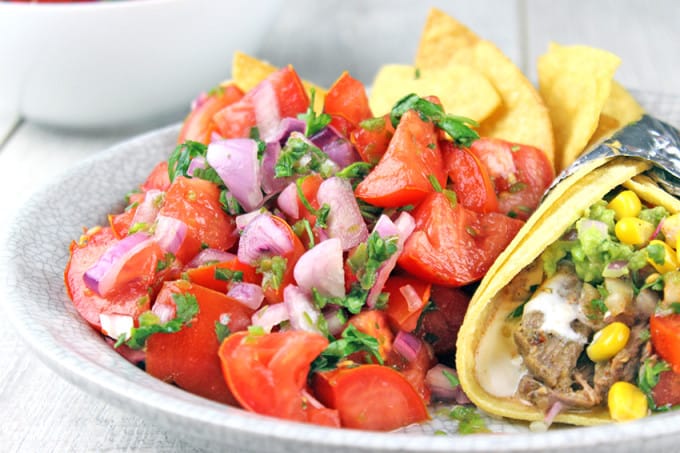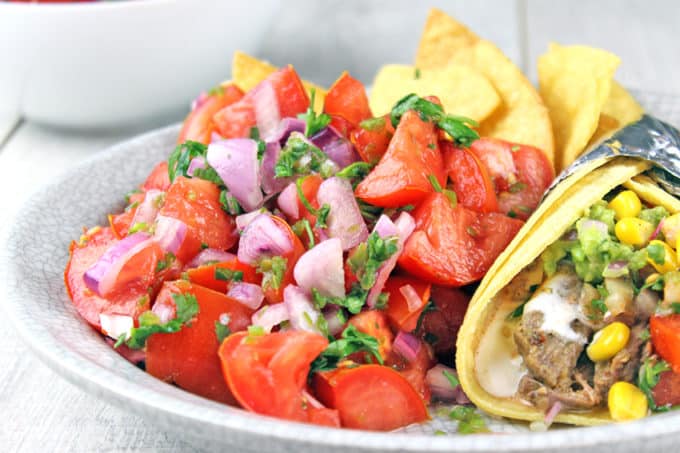 Pico de Gallo salad made with fresh tomatoes, red onions, jalapenos, cilantro and lime juice. You would expect it to be spicy, but the flavors work perfectly and this dish stands out as a delicious side to a great Mexican meal. Go ahead and add some cheese to your tacos because this salad has no fat!! You could eat the whole bowl completely guilt free!
You know those people (I am one of them, guilty as charged) who you see order a gluttonous meal and then ask for a diet soda? You know, the jumbo super-large bacon cheeseburger meal with onion rings and a diet coke please! I totally judge (and self judge) when I hear those orders but the logic is sound! If I am going to go nuts on my main meal, I should definitely reign it in with the drink. That is what I LOVE about this dish. And who better to come up with the idea than the Pioneer Woman herself.
When I make Mexican food I load it up with sour cream, cheese, guacamole and a braised tender fatty (normally) cut of pork or beef. Nevermind all the tortillas and Mexican Rice that go along with it! So because I am sparing no caloric expense I love making sides to the meal that I can binge eat so I only eat a small taco filled with the rich ingredients and still leave the table happy. This salad fits the bill perfectly. It tasted spicy, salty, fresh, sweet and has a bit from the onion. The flavor of the limes and the kosher salt give it a depth of flavor and when you take your first bite after putting one little spoonful on your plate (c'mon who are you kidding, you weren't going to give it a real chance when braised beef tacos are available!) you'll head back into the kitchen immediately to get a bowl to eat as much as you can! While you are at it, if you want a second healthy Mexican side dish, make my favorite Chipotle Jalapeno Lime Corn Salad. It also has no added fat, but it does have carbs… which this dish does not. Man I love this recipe, can you tell?
It could not be any easier to make either, which takes this salad from good to FANTASTIC. So let's do a checklist here:
5 ingredients (c'mon salt does NOT count!)
EASY!
No fat!
Healthy
Mexican Food
You get to eat more tacos because this half of your meal is so incredibly healthy
Inexpensive ingredients!
Selling the positives of this dish reminds me of one of my favorite episodes of The Office:
Michael: Oh, and another fun thing. We, at the end of the night, are going to give the check to an actual group of Boy Scouts. Right, Toby? We're gonna…

Toby: Actually, I didn't think it was appropriate to invite children since it's… You know, there's gambling and alcohol, and it's in our dangerous warehouse and it's a school night… And, you know, Hooters is catering. You know, is that enough? Should I keep going?
I could rattle off a TON of reasons why this dish is great, but nothing is going to be more convincing than giving it a try yourself. And what do you have to lose? I never, and I repeat never make Mexican food in this house without serving this on the side. Take that to mean I give it my highest praise because I cook Mexican food a lot!
I would have taken food shots of the prep, but it is such an easy dish I didn't want to slow down your load time with a bowl of chopped tomatoes so I will just leave you with the recipe card here. 🙂


Ingredients
10

whole plum tomatoes

, cut in 1" chunks

1

medium red onion

, diced finely

2

jalapenos

, halved, seeded and finely sliced

1

cup

fresh cilantro leaves

, chopped

4

limes

1

teaspoon

Kosher salt
Instructions
Add the tomatoes, red onion, jalapenos and cilantro to a large bowl. Toss.

Add the zest of one lime and the juice of all four.

Add kosher salt to taste, in ¼ teaspoon increments.

Mix between each addition so you can taste for salt.

Let sit for

20-30 minutes

if you can. Do not refrigerate, the tomatoes will become mealy
Nutrition
Calories:
41
kcal
|
Carbohydrates:
11
g
|
Protein:
2
g
|
Fat:
1
g
|
Saturated Fat:
1
g
|
Sodium:
396
mg
|
Potassium:
343
mg
|
Fiber:
3
g
|
Sugar:
4
g
|
Vitamin A:
1113
IU
|
Vitamin C:
35
mg
|
Calcium:
31
mg
|
Iron:
1
mg