Pecan Crusted Barramundi
This post may contain affiliate links. Read my disclosure policy here.
Pecan Crusted Barramundi is a breeze to make with a mixture of pecans and panko, this flaky white fish shines with just a few minutes of prep!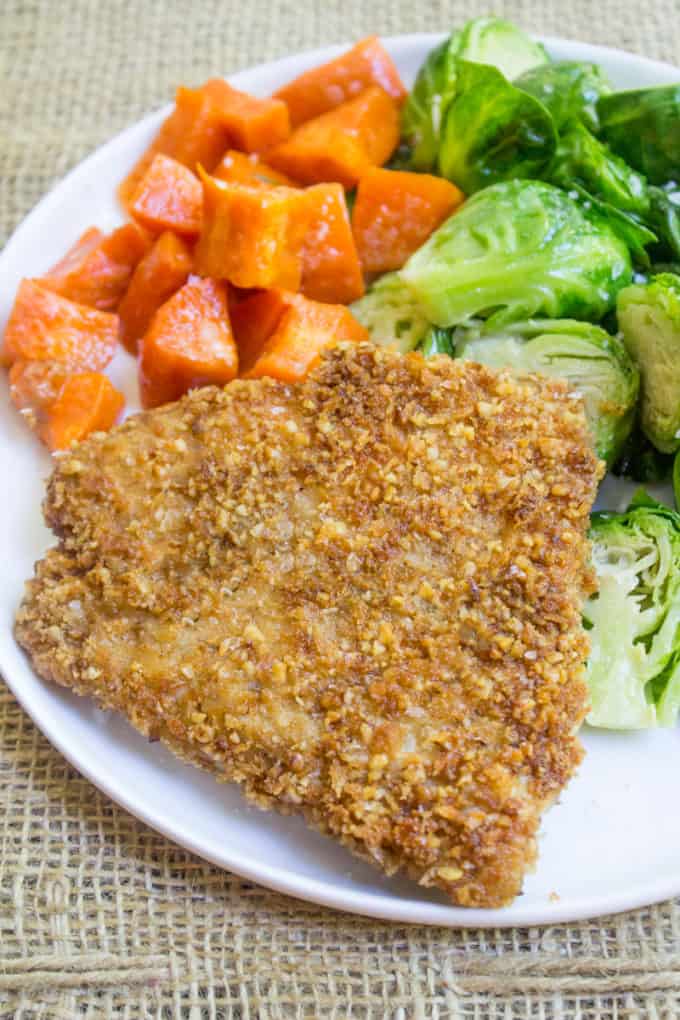 Pecan Crusted Barramundi is a breeze to make with a mixture of pecans and panko, this flaky white fish shines with just a few minutes of prep!
Cooking for clients, I am used to working with all types of fish, of varying degrees of difficulty and wildly varying costs (one of a private chef's greatest joys…the grocery bill is on them!). When cooking for us at home, we tend to stick to mild, flaky, white fish since everyone enjoys that (hooray for everyone eating the same food!).
The thing I love about this Australis Barramundi (who were so kind as to sponsor this awesome post and delicious dinner we enjoyed last week!) is that it is the perfect non-fishy fish for people who may not have a ton of fish-eating experience (read: our curious little toddlers who initially gave it the side eye then proceeded to eat three portions a piece!).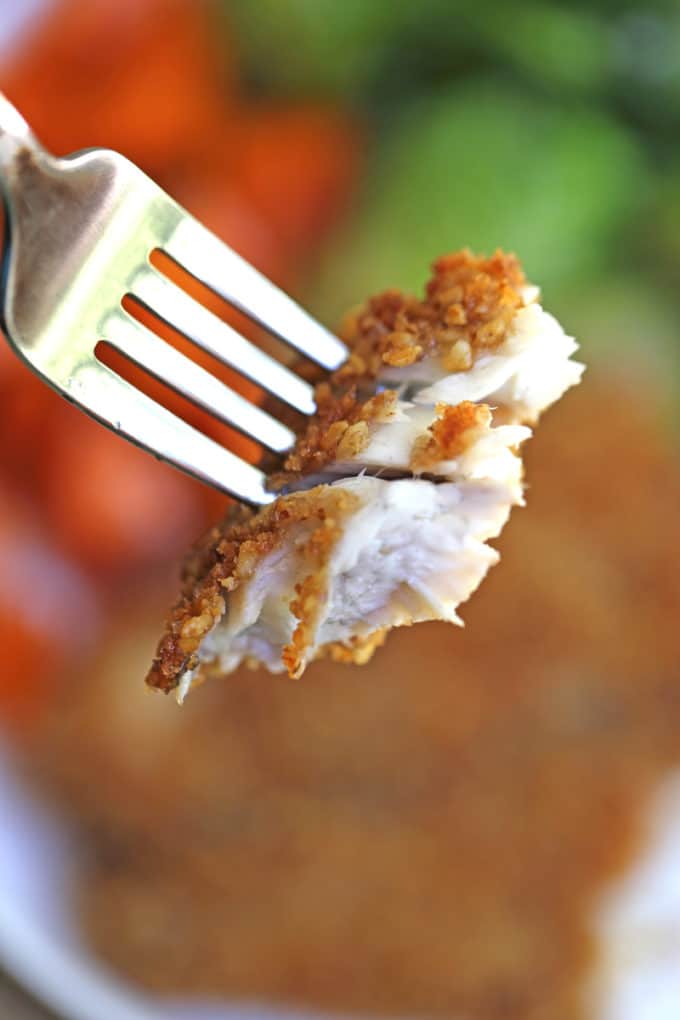 We've been trying to expand our mealtime options with them since they're getting older. Gone are the regular chicken tender meals and in are more flavorful options like this Pecan Crusted Barramundi we can all enjoy (random fun fact: If you cut chicken into dinosaur shapes you can convince your toddlers they're eating dinosaur chicken).
Australis Barramundi is the perfect choice for us because it's delicious, healthy (we try to replace a meal a week with a healthier protein option like this!) and the best part? It's sustainable!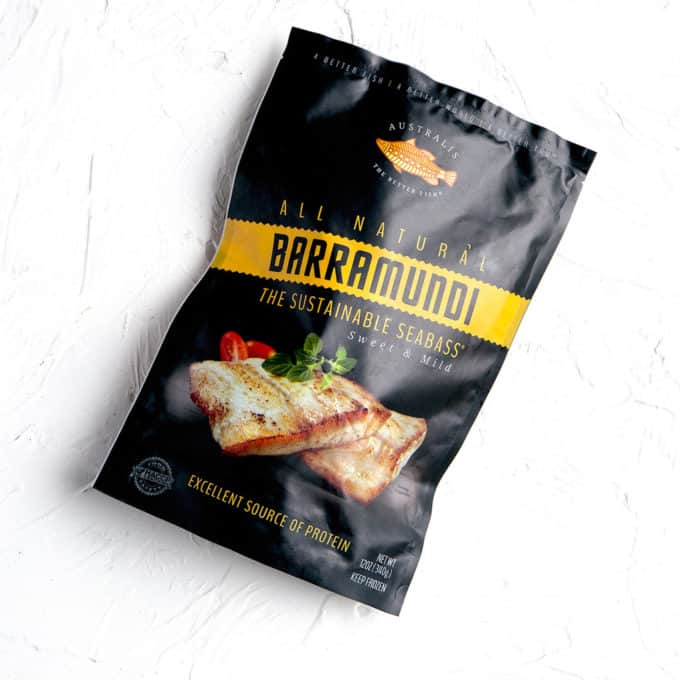 Yep, sustainable! It's high in high in omega-3's, with just half the calories of salmon and non of the colorings or hormones or additives you'll find in most salmon in the grocery store. Oh did I just say grocery store? Yep, because it is totally available in most local stores!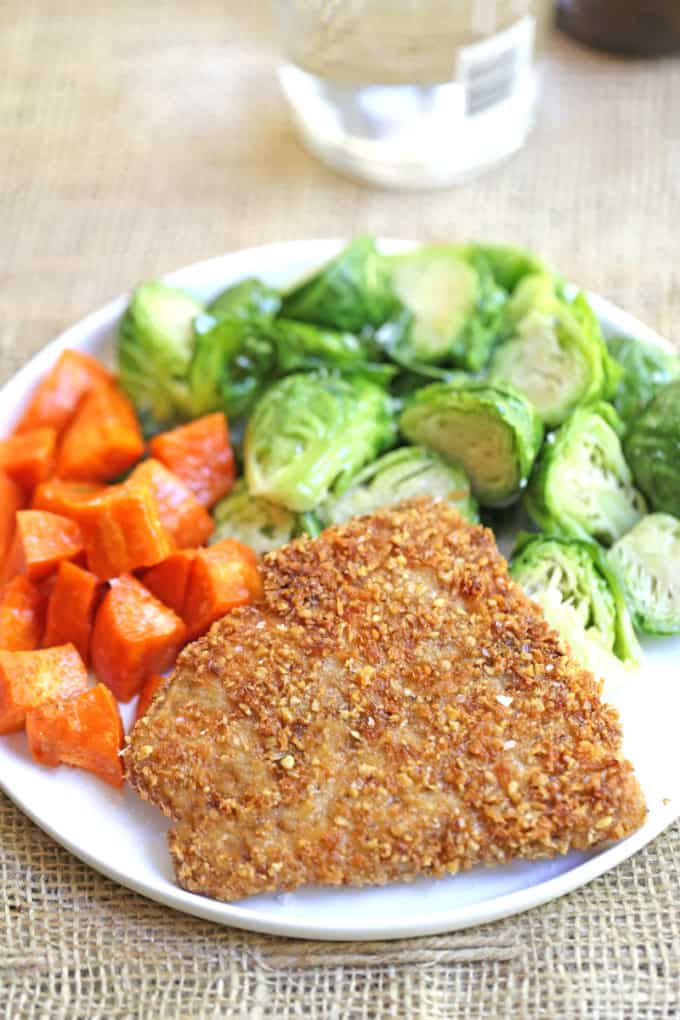 MY OTHER RECIPES
As a chef I would often have to make additional stops along the way to the specialty fishmonger to get fresh fish. The quality has to be really high and sometimes it can be hit or miss with fish quality in your local grocery. Australis Barramundi for the win because the fish is actually hand cut, then flash frozen the same day. That's right no fishy smells at all.
This Pecan Crusted Barramundi just takes a few minutes to make and has the perfect flaky center and crunchy exterior thanks to some deliciously crunchy pecans and panko.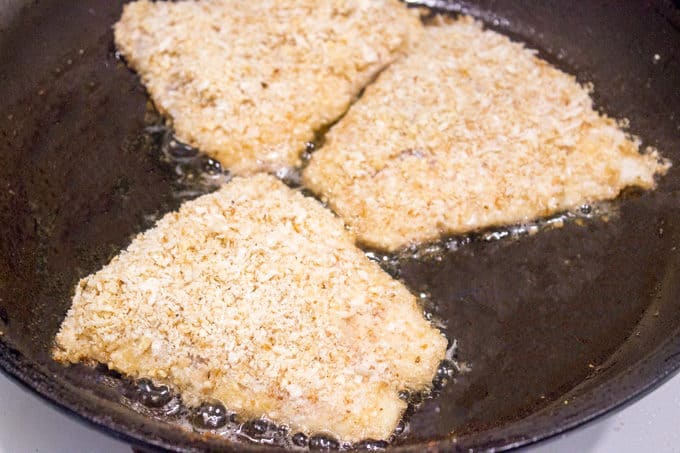 Okay last bit of bragging about this fish (I promise!). It has been heralded as "the perfect fish for a changing world," and was on the cover of TIME Magazine! Were anything you made for dinner ever a time cover model? It has also been awarded the Seafood Champion Award and Monterey Bay Aquarium SeafoodWatch® "Best Choice."
Totally chef (and toddler) approved.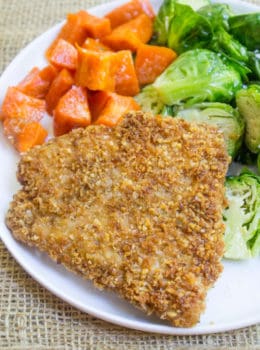 Pecan Crusted Barramundi
Pecan Crusted Barramundi is a breeze to make with a mixture of pecans and panko, this flaky white fish shines with just a few minutes of prep!
Prep Time 10 minutes
Cook Time 8 minutes
Total Time 18 minutes
Ingredients
2 eggs
1/2 teaspoon garlic powder
1/2 teaspoon onion powder
1/4 teaspoon Kosher salt
12 ounces Australis Barramundi filets (3 filets)
1/2 cup panko breadcrumbs
1/2 cup pecan crumbs (put in a food processor for 3-4 seconds or until they are similar to the size of the panko
3 tablespoons canola oil
Instructions
In a small flat bowl, add the eggs with the garlic powder, onion powder and salt.

In a second bowl add the panko and pecan pieces and mix.

Dip the Australis Barramundi filets in the egg mixture, then place carefully into the bowl with the crumb coating.

Press gently on both sides to get a good coating.

In a large skillet at 1 1/2 tablespoons of canola oil and heat on medium high.

Add the three coated filets carefully and cook for 3-4 minutes.

With a large spatula gently flip the filets.

Cook and additional 3-4 minutes.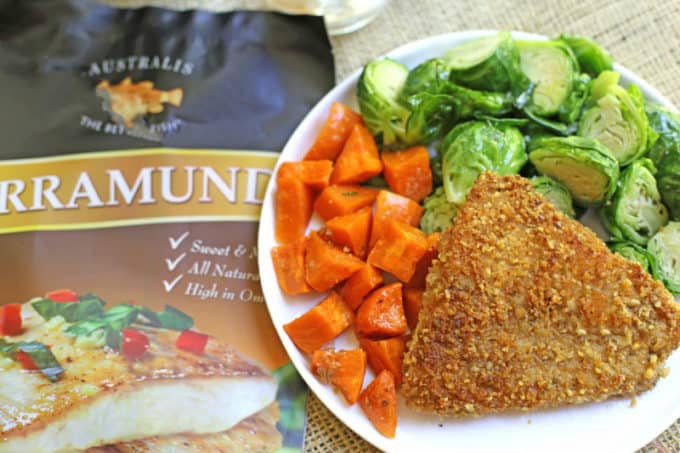 This is a sponsored post written by me on behalf of Australis Barramundi. I may or may not have a huge stash of it in my deep freeze at the moment. (Hey when you get a toddler to eat three portions of something healthy, you STOCK UP!) 🙂
Dinner, then Dessert, Inc. owns the copyright on all images and text and does not allow for its original recipes and pictures to be reproduced anywhere other than at this site unless authorization is given. If you enjoyed the recipe and would like to publish it on your own site, please re-write it in your own words, and link back to my site and recipe page. Read my disclosure and copyright policy. This post may contain affiliate links.