Easy Pumpkin Fruitcake recipe for a moist delicious loaf cake with pumpkin puree, pumpkin spice and candied fruit. The perfect holiday cake!
Fruit Cake has always been a classic Cake Recipe to make for the holidays and this pumpkin version is a fun spin on it that's great to serve for Thanksgiving or Christmas!
A warmly spiced fruit cake is the ultimate old fashioned holiday treat! The pumpkin makes it incredibly moist without needing to soak it plus it gives it a delicious fall pumpkin spice flavor. You definitely want to add this quick and easy fruitcake recipe to your holiday baking list this year!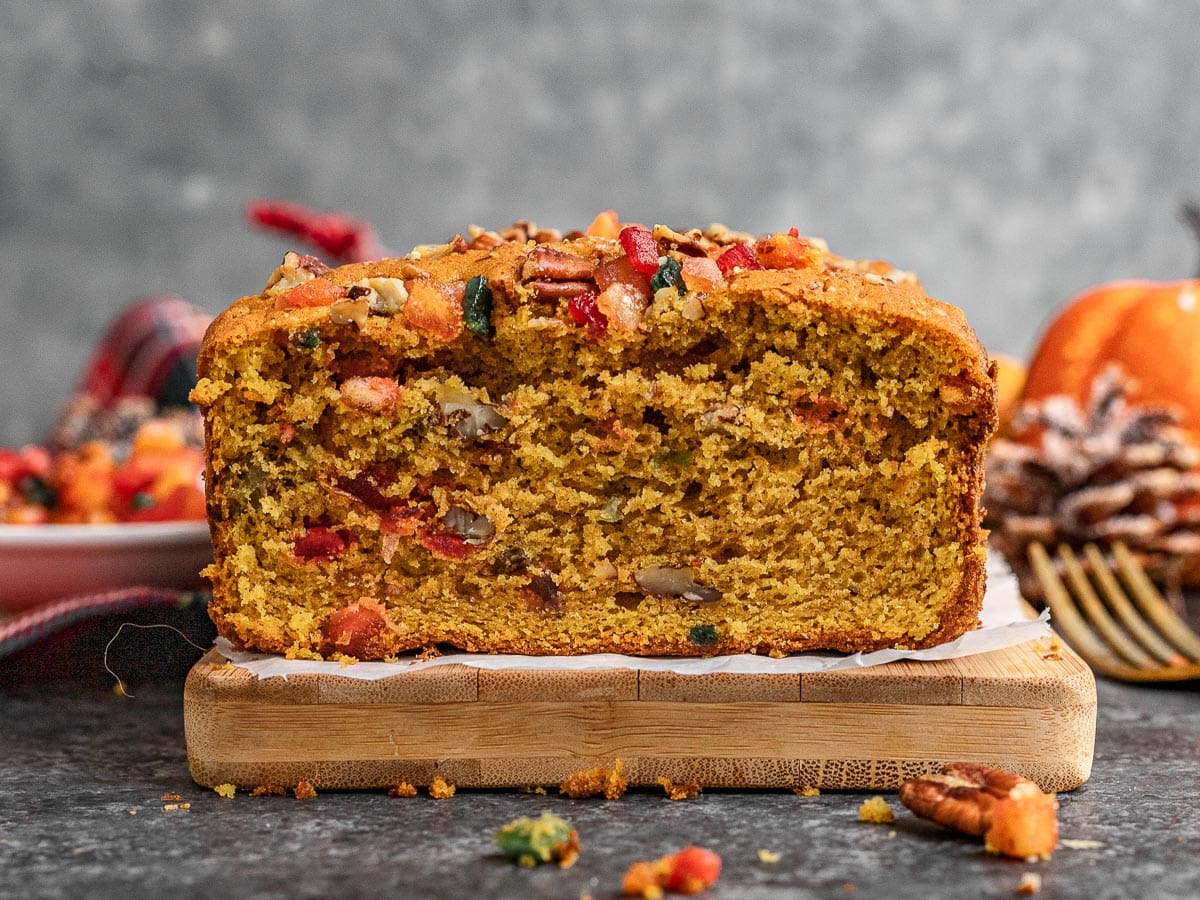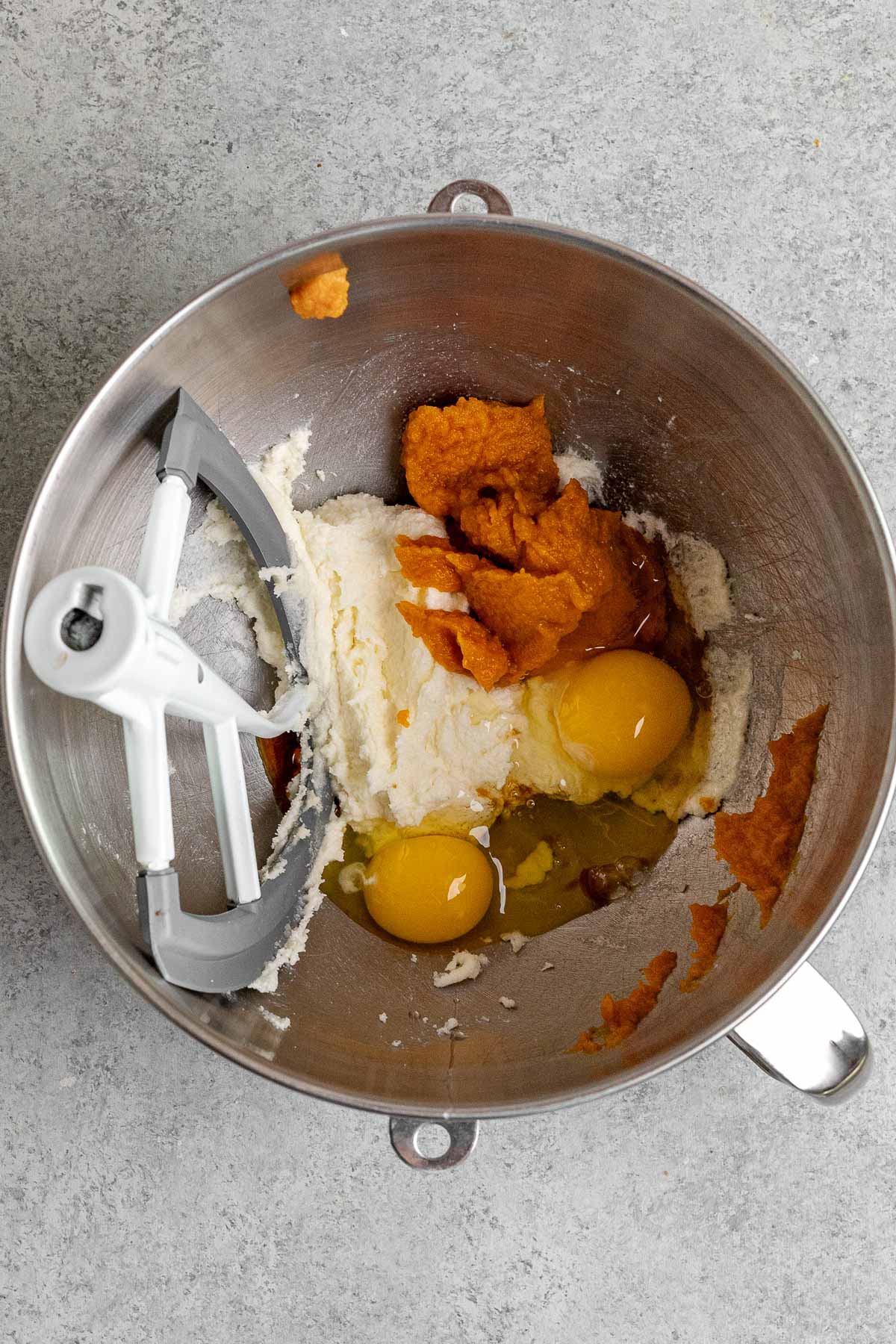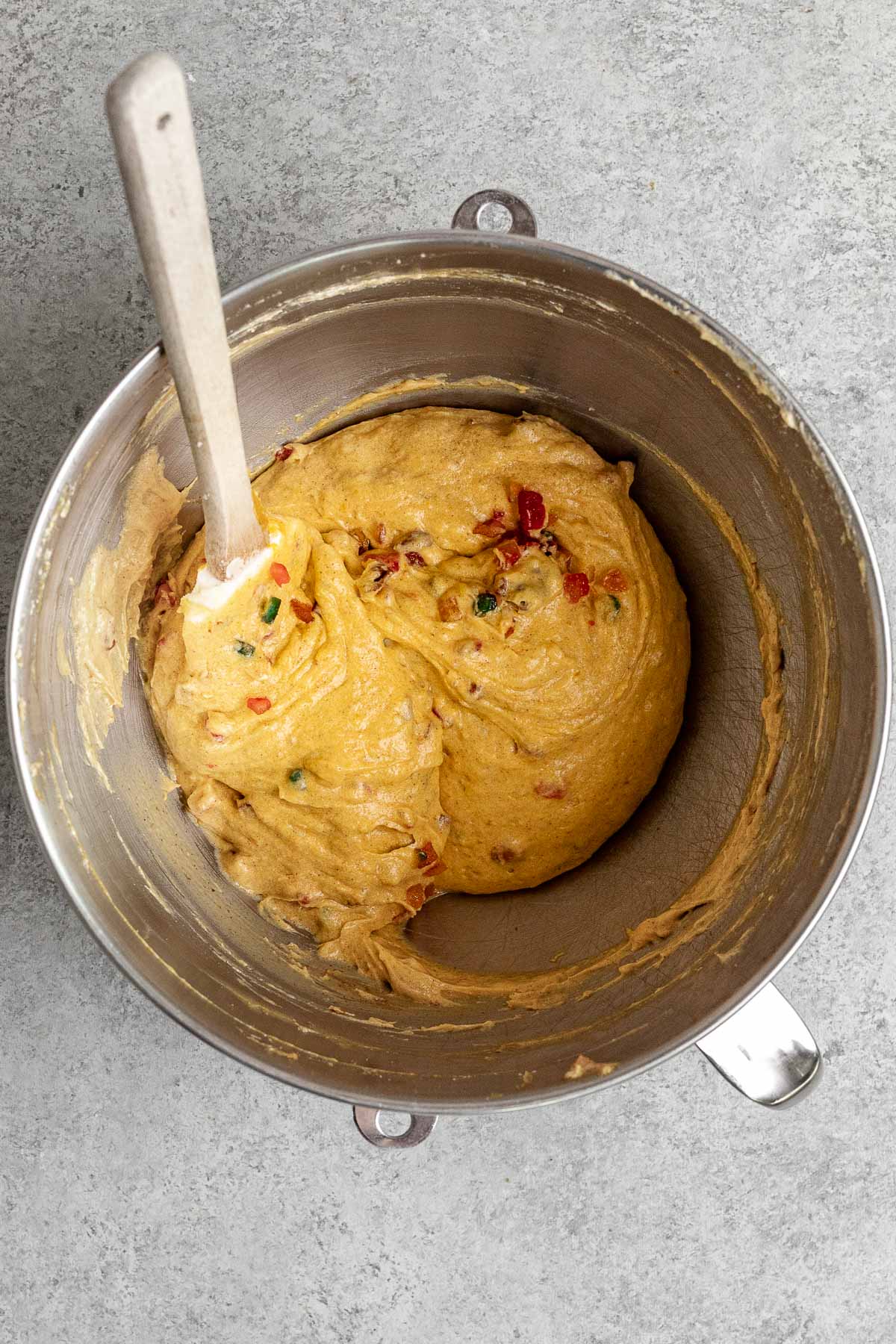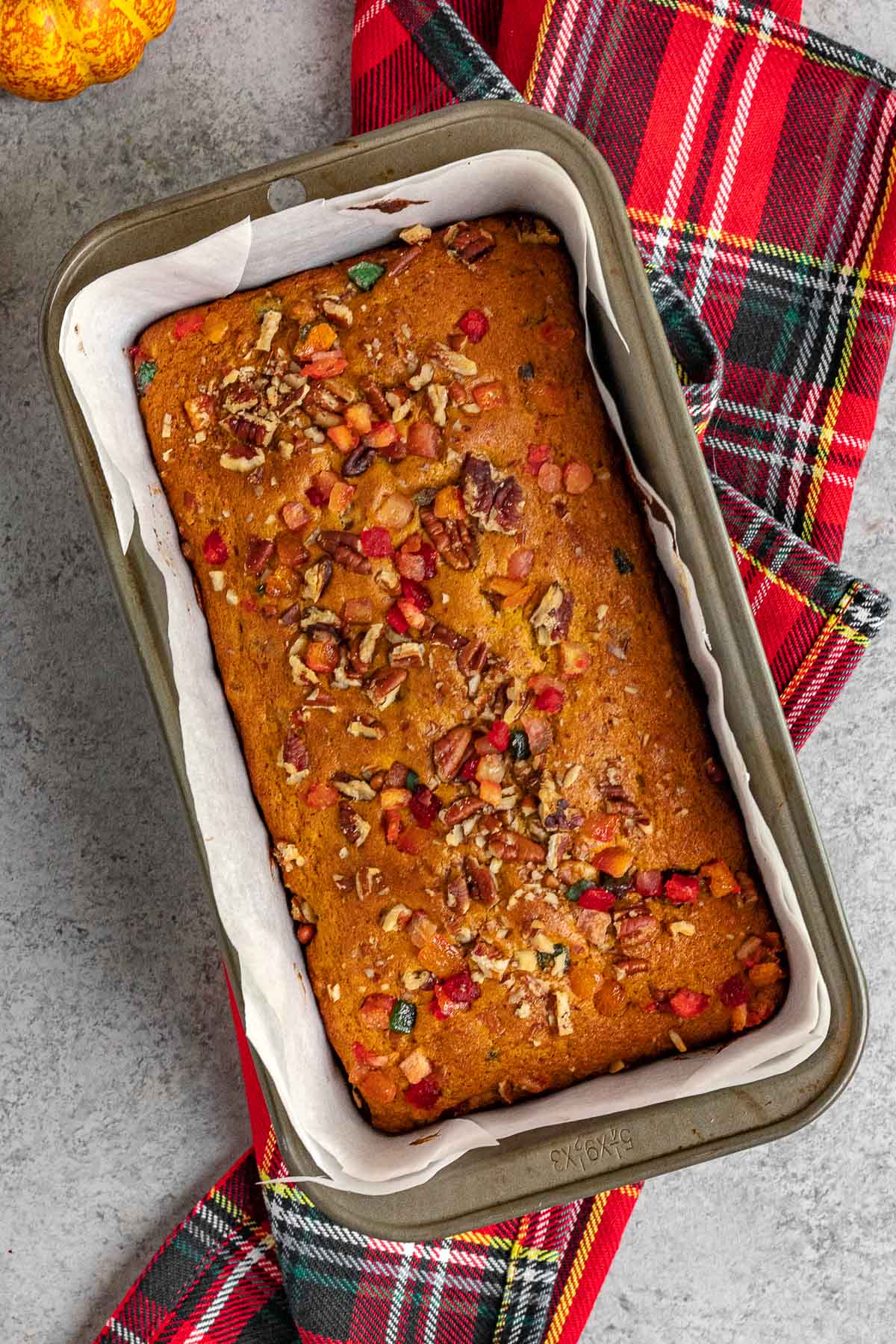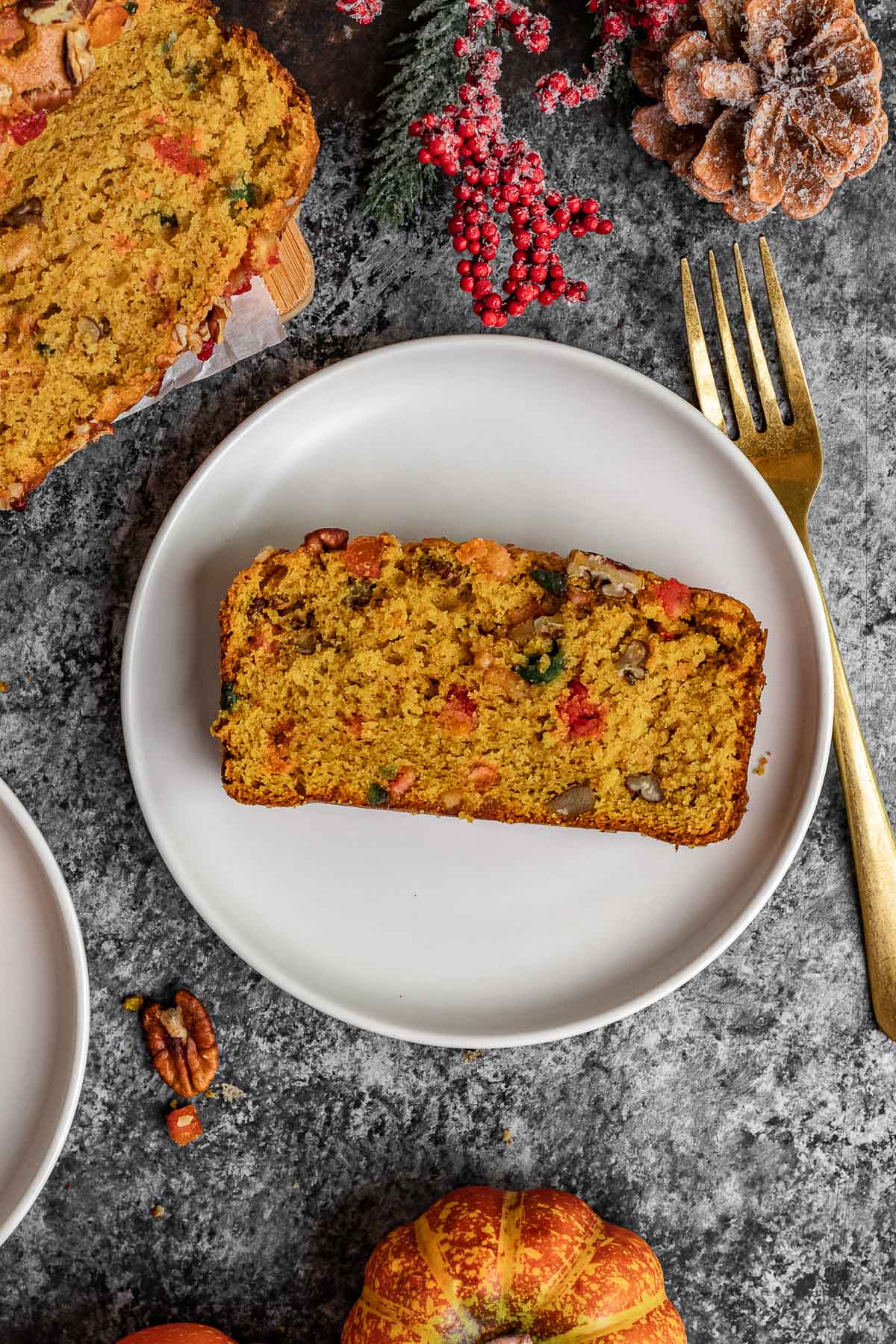 About our Pumpkin Fruitcake Recipe
If you've ever been on the fence about fruitcake, this delicious moist and flavorful Pumpkin Fruitcake could absolutely change your mind! The pumpkin puree makes it more tender and less dense than the traditional version and the earthiness balances out the sweetness a bit. There is also plenty of warm, rich flavor with the Pumpkin Spice to make this recipe better than any fruitcake you've ever tried!
Making Pumpkin Fruitcake in Advance
If you double up the recipe, it's also easy to save one loaf to enjoy later. Pumpkin Fruit Cake can last for up to a year in the freezer so it's great to make in advance, seal, and then thaw when you're ready to eat it. Enjoy the cake at room temperature or put it in the oven for a few minutes to enjoy warm Pumpkin Cake just like you baked it fresh.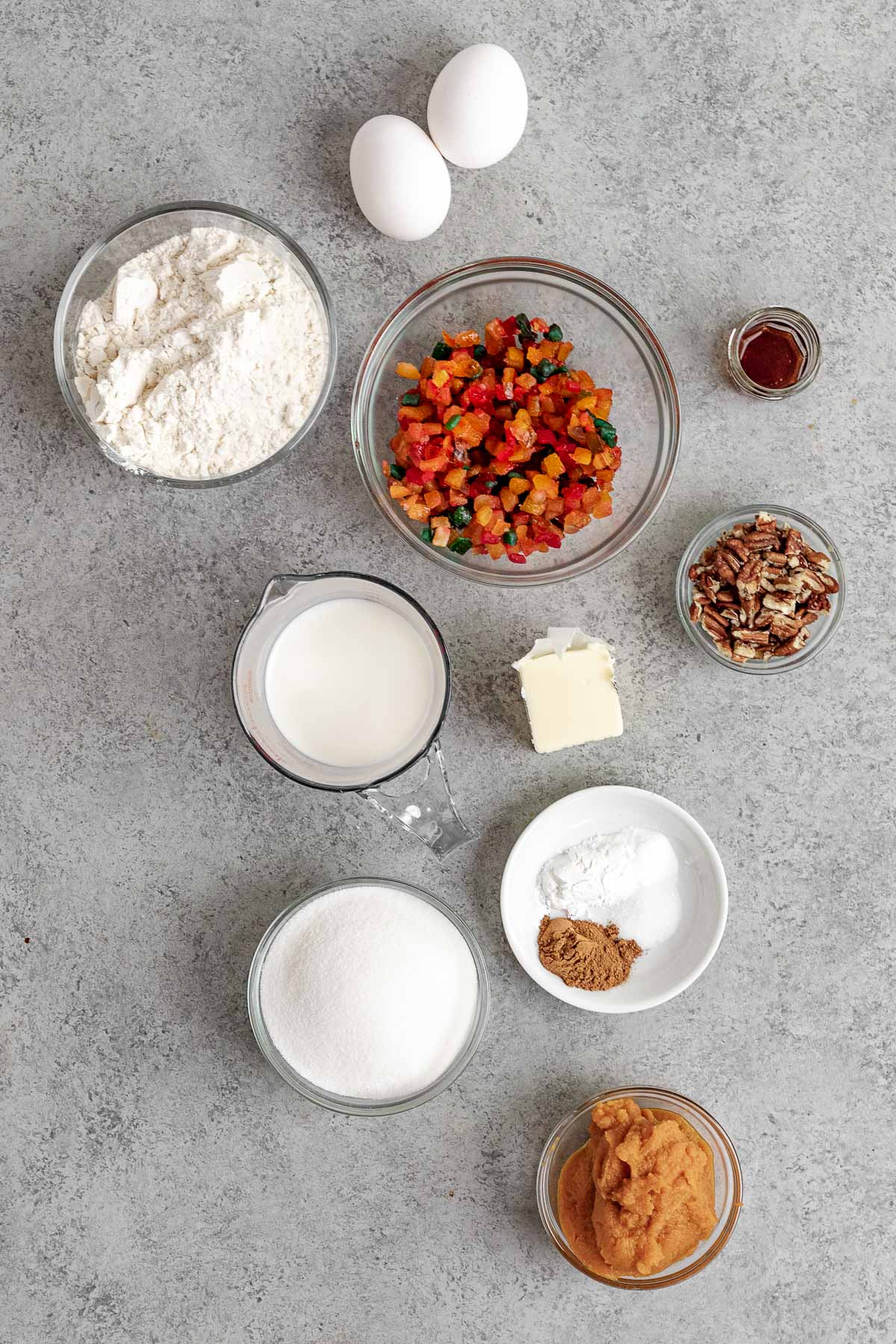 Pumpkin Fruitcake Ingredients
Butter: There isn't a lot of butter in this cake, just ⅓ cup of butter because there is also eggs, pumpkin, and milk added. The butter acts as a binder and when you cream it with the sugar, it adds some air into the cake so it's not as dense.
Sugar: Since there is a lot of sweetness in the candied fruit, we only used ¾ cup of sugar in the cake batter to keep the cake from being overly sweet. For a warmer, more caramely flavor, you can use brown sugar.
Pumpkin: We added a ½ cup Pumpkin Puree to give this delicious Pumpkin Spice Fruit Cake amazing taste of real pumpkin! You can use canned puree or homemade puree, just make sure it's all pumpkin without any sugar or flavoring added.
Whole Milk: A ⅓ cup milk helps loosen up the wet ingredients so the cake isn't thick like bread or biscuit dough. Use whole milk for a richer flavor, or swap it with sour cream for a lighter tangy flavor.
Flour: You only need 1 cup all-purpose flour for this smaller loaf cake recipe. You want to use all-purpose flour over cake flour because it holds up better with the moisture packed eggs, butter and pumpkin.
Leavening Agents: Since this cake has a lot of wet ingredients, it has 1 teaspoon of baking powder and ¼ baking soda so it's moist and soft instead of dense.
Spices: To give this fruitcake an amazing fall spice flavor, we used 1 teaspoon of pumpkin pie spice. The blend of cinnamon, nutmeg and allspice with the pumpkin puree give it more of a pumpkin pie taste than traditional spiced fruit cake.
Pecans: A generous ½ cup of pecans adds the perfect amount of crunch to this sweet and moist fruitcake. Make them even better by toasting them in a skillet first.
Candied Fruit: This loaf cake is packed full with a mixture of 1 cup chopped candied fruit. You can pick up a fruitcake mix, which typically has cherries, pineapple, citrus peels and citron. Or, you can hit up a store with bulk bins to mix and match your favorite dried and candied fruits.
Kitchen Tools & Equipment
Loaf Pan: A standard 8 or 9 inch loaf pan is perfect for making simple cake recipes like this Pumpkin Fruitcake. Line it with parchment paper that sticks up over the sides for easy removal.
Stand Mixer: A stand mixer makes whipping up the batter a breeze! If you don't have a mixer, use electric beaters to cream the butter and sugar and mix the wet ingredients, but then fold the flour mixture in by hand.
How to Make Pumpkin Fruitcake
Time needed: 1 hour and 15 minutes.
This super easy cake batter comes together quickly and is ready for the oven in minutes. It's baked in about an hour and then only needs 10 minutes to cool before you can start slicing and enjoying!
Prepare Your Baking Pan

Start the recipe by preheating your oven and spraying the loaf pan with baking spray. Instead of cooking spray, you can also use baking paper to stop the cake from sticking to the pan.

Mix the Wet Ingredients

Cream butter and sugar in your stand mixer until it's light and fluffy. Next, add the eggs, pumpkin, and vanilla extract. Mix until well combined, then mix in the milk.

Add the Dry Ingredients

In a separate mixing bowl, sift together the flour baking powder, baking soda, pumpkin spice, and salt. Sifting the dry ingredients well will help make the cake nice and fluffy. Add the flour mixture to your stand mixer and combine them at the lowest speed. Mix until just combined without overmixing.

Mix in the Nuts and Fruit

Stir in most of the pecans, but set some to the side. Fold in ¾ cup candied fruit. Pour the batter into your prepared baking dish, and top it off with the remaining pecans and fruit.

Bake the Pumpkin Fruitcake

Bake for 50-60 minutes or until a toothpick comes out clean. Let the cake cool for 10 minutes before removing it from the loaf and setting it on a wire rack.
Nutritional Facts
While it's not the healthiest cake, the holidays are all about indulging! Plus this fruitcake is pretty rich and sweet so it's easy to enjoy in moderation.
Nutrition Facts
Pumpkin Fruitcake
Amount Per Serving
Calories 288
Calories from Fat 99
% Daily Value*
Fat 11g17%
Cholesterol 54mg18%
Sodium 161mg7%
Potassium 89mg3%
Carbohydrates 45g15%
Protein 4g8%
Vitamin A 2184IU44%
Vitamin C 1mg1%
Calcium 83mg8%
Iron 2mg11%
* Percent Daily Values are based on a 2000 calorie diet.
Baking Pumpkin Fruitcake Tips & Tricks
Folding in Flour Slowly

If you have heard the instruction "fold in the flour" (or other ingredient), it means to incorporate it slowly so you don't overmix the overall batter and get a dense or stodgy cake. Putting your stand mixer on low while adding the flour in increments is a way to gently fold in the flour without mixing too much.

Keep the Fruit from Sinking

This is a pretty thick cake batter, so the candied fruit shouldn't sink too much as the cake bakes. However, if you are finding that issue, you can always lightly toss the fruit in flour before folding it in gently to help keep it spread evenly thoughout the cake.
How to Store Pumpkin Fruitcake
Store: Kept covered in aluminum foil or sealed in an airtight container, Fruitcake will stay good at room temperature for 1-2 days. You can also seal and store the Pumpkin Fruitcake in the fridge for up to 2 months.
Freeze: To keep the Fruitcake longer, seal it in the freezer for up to 1 year. Let the cake cool completely outside the pan then wrap it twice in plastic wrap. Wrap it a final time in aluminum foil or store in a freezer safe bag.
Ideas to Serve Pumpkin Fruitcake
Frosting: This would also make a delicious frosted cake with your favorite frosting! Try it with Cinnamon Cream Cheese Frosting for a tangy, cinnamon flavored topping that tastes amazing all the fall and spiced flavors.
Gifting your Fruitcake: Fruitcake is a classic dish for the holidays especially to give as a gift. You can easily double up this Pumpkin Fruitcake recipe to make edible gifts to share. You could also make the recipe in mini-cake tins for smaller loaves that are easier to give as a present.
FAQ for Pumpkin Fruitcake
What is the difference between fruit cake and Christmas cake?
A Christmas Cake is a type of fruitcake that is a bit more indulgent than classic fruitcake. Normally you soak the fruit overnight for Christmas Cake and it is a frosted cake, or sometimes topped with marzipan. Traditional fruitcake on the other hand has chewier, unsoaked fruit pieces and doesn't usually have frosting.
Why is pumpkin used in baking?
Pumpkin has a lot of great uses in baking. First off it adds that delicious sweet, earthy pumpkin flavor. It also adds a lot of extra moisture to bake goods. It is often used in dairy-free or egg-free baking as an egg or milk substitute.  
Recipe Card


Ingredients
1/3

cup

unsalted butter

, softened

3/4

cups

sugar

2

large

eggs

1/2

cup

canned pumpkin

1

teaspoon

vanilla extract

1/3

cup

whole milk

1

cup

flour

1

teaspoon

baking powder

1/4

teaspoon

baking soda

1

teaspoon

pumpkin pie spice

1/4

teaspoon

salt

1/2

cup

pecans

, chopped (divided)

1

cup

candied fruit

, chopped mixed, divided
Instructions
Preheat oven to 350 degrees and spray a 9×5 loaf pan with baking spray.

To your stand mixer, add the butter and sugar and beat until light and fluffy.

Add in eggs, pumpkin, and vanilla extract until well combined.

Add milk until well combined.

Sift together flour, baking powder, baking soda, pumpkin pie spice, and salt.

Add dry ingredients to stand mixer on lowest speed setting until just combined.

Stir in most of the pecans and ¾ cup mixed candied fruit.

Pour into the loaf pan, top with remaining pecans and mixed candied fruit.

Cool for

10 minutes

before removing from loaf pan.
Nutrition
Calories:
288
kcal
|
Carbohydrates:
45
g
|
Protein:
4
g
|
Fat:
11
g
|
Saturated Fat:
5
g
|
Polyunsaturated Fat:
2
g
|
Monounsaturated Fat:
4
g
|
Trans Fat:
0.3
g
|
Cholesterol:
54
mg
|
Sodium:
161
mg
|
Potassium:
89
mg
|
Fiber:
2
g
|
Sugar:
27
g
|
Vitamin A:
2184
IU
|
Vitamin C:
1
mg
|
Calcium:
83
mg
|
Iron:
2
mg
Pumpkin Fruitcake Variations
Fruit: You can add different flavors and textures to your fruit mixture with regular raisins, golden raisins, dried apricots, dried cranberries, diced apples, crystallized ginger, or fresh berries.
Pumpkin: Instead of delicious pumpkin spice cake, why not use sweet potato puree, applesauce, or mashed banana? They all act pretty similar in recipes as baking with pumpkin.
Related Recipes
More Easy and Tasty Fruit Cake Recipes