Cream Cheese and Ricotta Cheesecake is inspired by Italian cheesecake with a more light and airy texture. It's the perfect easy and elegant dessert.
While New York Cheesecake is amazing, if you're in the mood for a lighter Dessert Recipe, you should try this Ricotta and Cream Cheese Cheesecake instead. Using ricotta to replace half the cream cheese in the filling makes a less dense, airier cake. It's perfect to enjoy with your family or serve for a special occasion!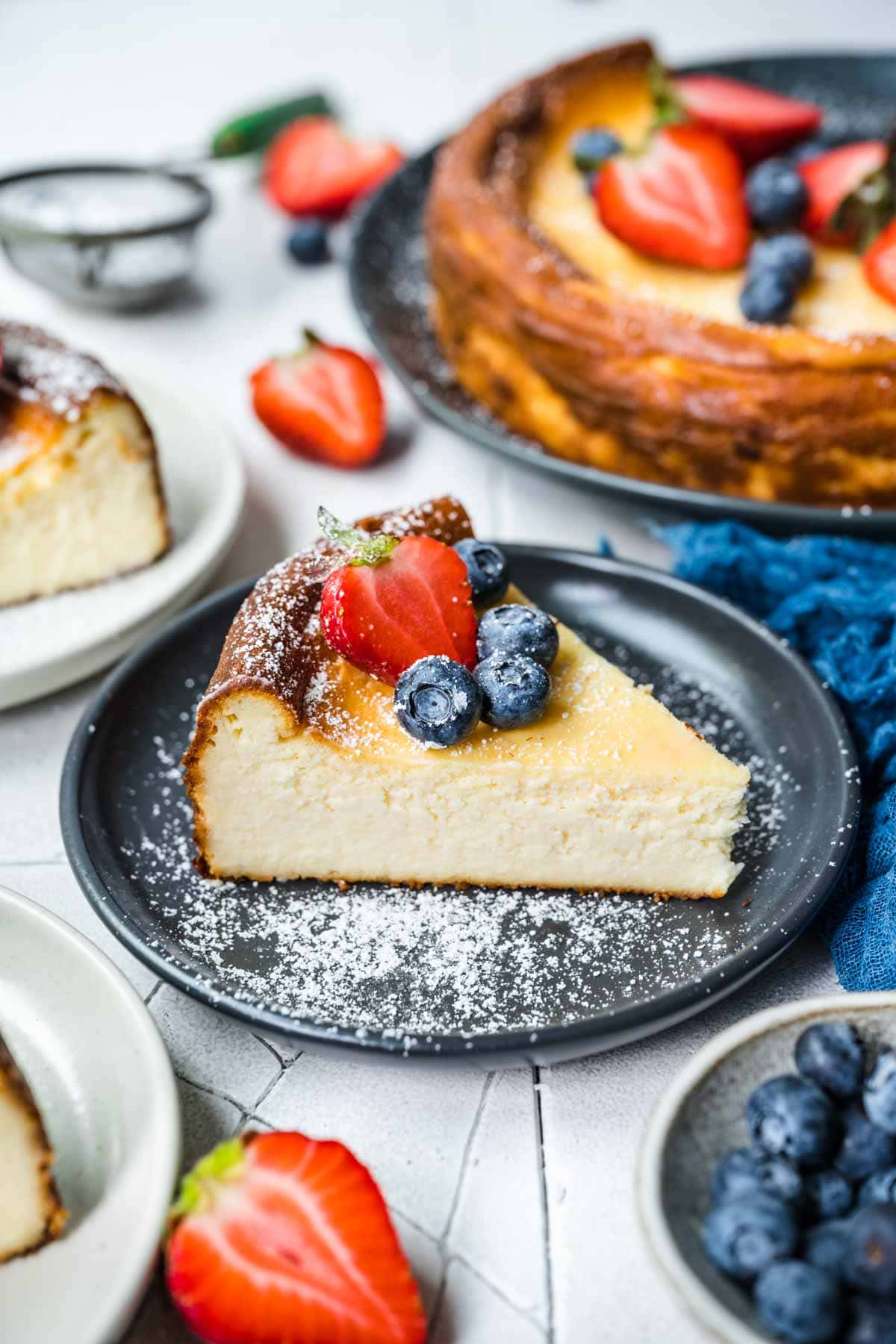 RICOTTA & CREAM CHEESE CHEESECAKE
This recipe is based on an Italian Cheesecake. The ricotta works well in the cheese cake because it has a slight sweetness and really helps the cake keep its light, airy, and nice texture. Then for some more creaminess cream cheese is also mixed into the recipe.
However, in more authentic recipes for an Italian Ricotta Cheesecake, there is no cream cheese included. If you'd prefer this, simply decrease the cream cheese and add extra ricotta cheese for the amount of cream cheese you take out. It will have a more unique taste and slightly less creamy texture overall.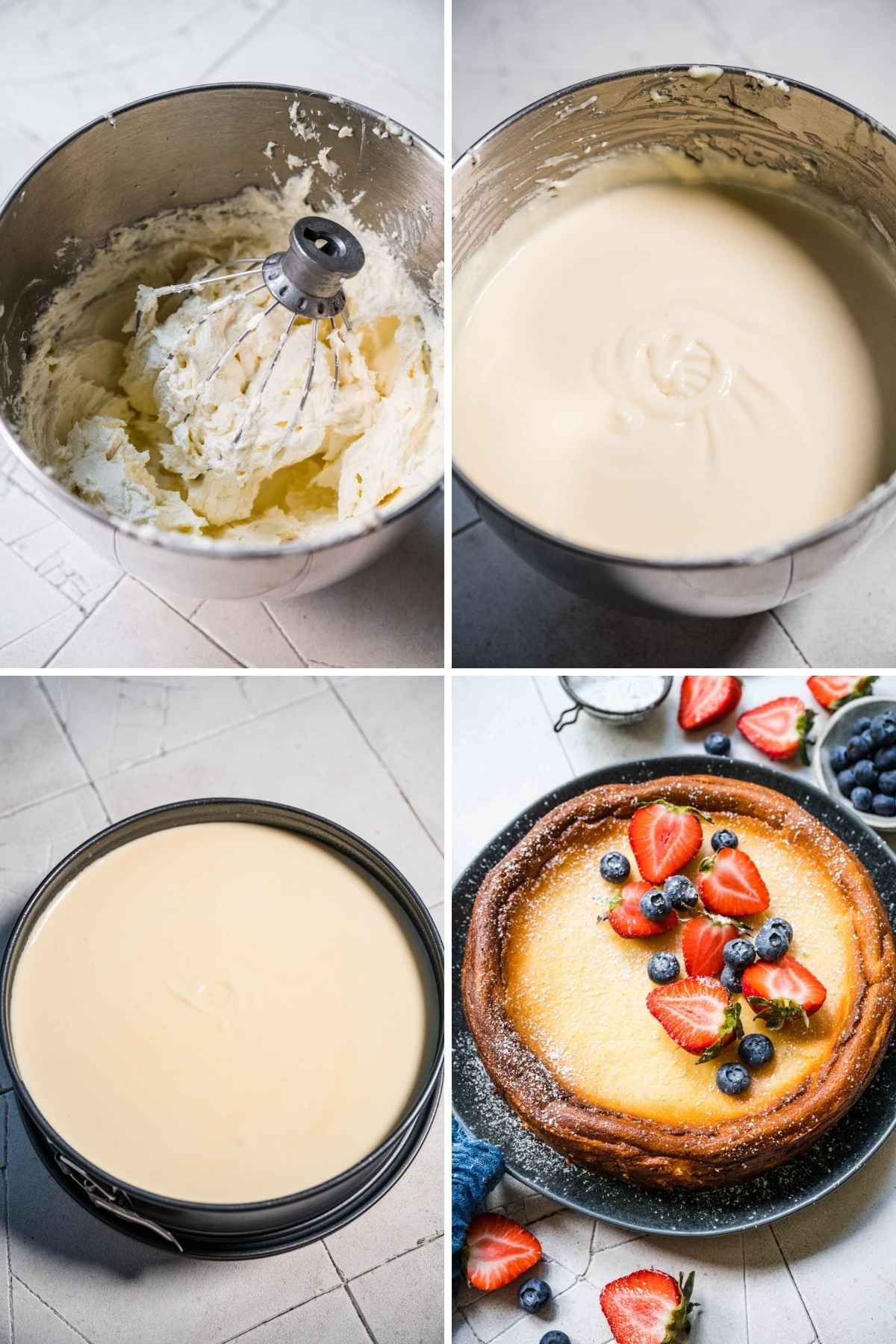 This fabulous recipe also has such an easy process. The directions to prep the cake filling are wonderfully easy. It's done in just a few steps, and there's no need for a water bath when you pop it in the oven. There is a fairly long cooking time for this dish. It's baked in two stages with a total of 2 hours in the oven, but the hands-on time is quite quick and easy to follow.
Once the Cheesecake recipe is done it's perfect to serve for parties, over the holidays, or anytime you're craving a light cheesecake. Serve it with fresh berries, Cool Whip, Caramel Sauce, or any of your other favorite toppings over the top.
MORE CHEESECAKE RECIPES
TIPS FOR MAKING RICOTTA CREAM CHEESE CHEESECAKE
Prep time: Start the recipe by preheating the oven temperature to 350 degrees, and using a butter wrapper to lightly grease a 9-inch springform pan. You should also take the cream cheese and ricotta cheese from the fridge 10-30 minutes in advance so that they can soften.
Filling: Add the cream cheese and ricotta cheese to a large mixing bowl, and mix until they're smooth and well combined. Then stir in the white sugar, eggs, lemon juice, vanilla, cornstarch, flour, and butter. Finish it off by mixing in the sour cream.
Bake time: Pour the mixture into the prepared cake pan. Pop it in the preheated oven for 1 hour baking time. Then turn the oven off and continue baking for another hour in the residual heat. Jiggle the cheesecake to make sure it's set in the center, and then take it from the oven. Let it chill in the refrigerator before slicing and serving.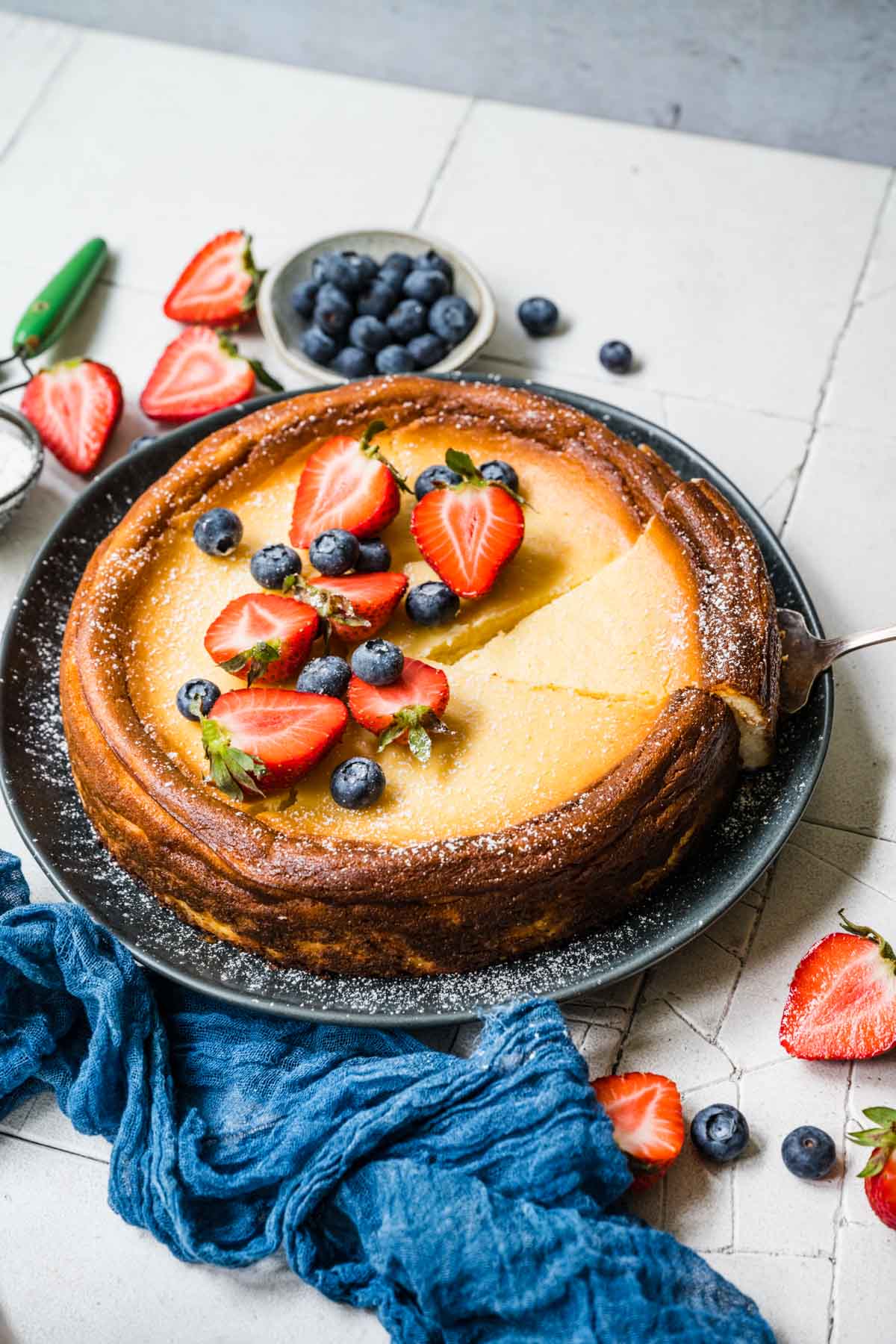 Create a free account to

Save Recipes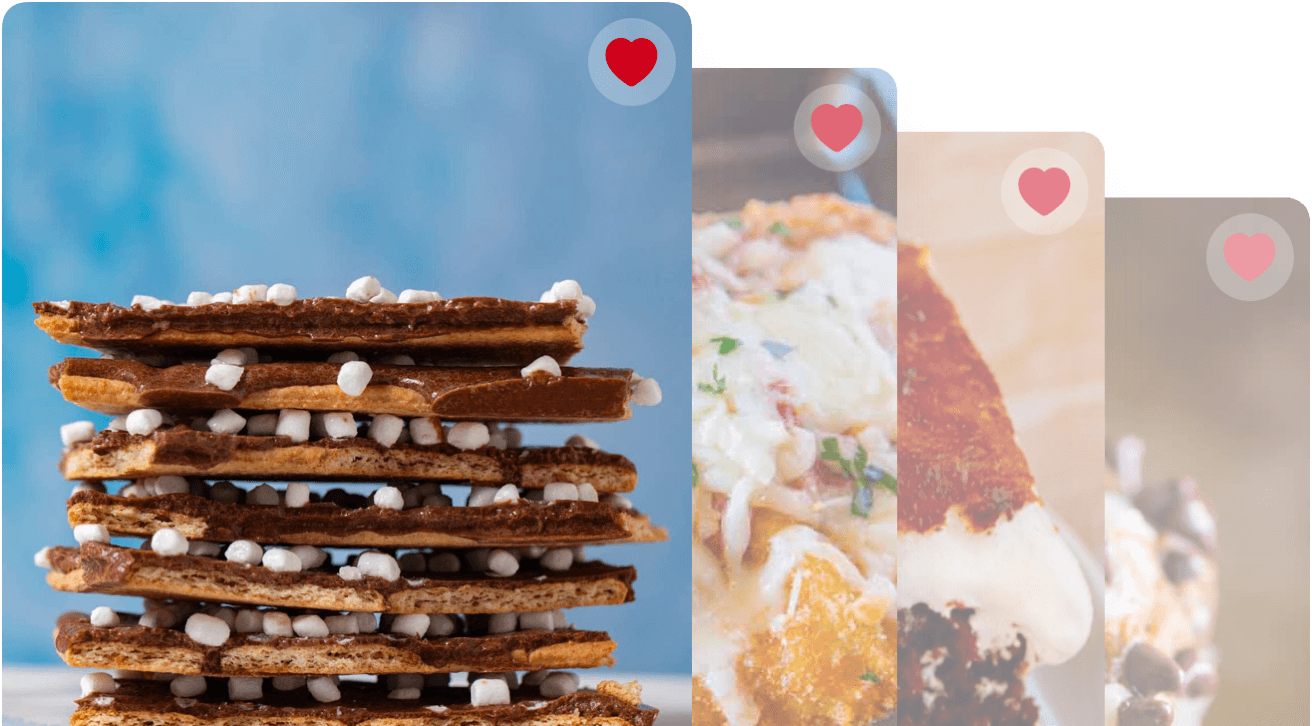 VARIATIONS ON RICOTTA CHEESECAKE
Ricotta Cheesecake bars: Instead of baking the recipe in a classic cake shape, you can make it into bars. Pour the batter into a 9×9 pan, and make sure you keep a close eye on them while they cook so that they don't burn. You won't have to bake them as long because of the size. This version is great for a party because they're easy to transport and easy to cut into squares.
Crust: You can add a crust to this recipe with just a few easy, classic crust ingredients. Use graham crackers, vanilla wafers, or Oreos to make the crust crumbs. Combine 1 ½ cups crumbs, ⅓ cup sugar, and 6 tablespoons melted butter. Once the crust ingredients are mixed press them into the pan. Pour the filling over the crust and bake.
Toppings: There are plenty of beautiful and delicious toppings you can add before serving. Try sprinkling on a little confectioner's sugar or sifted brown sugar. You could also top it off with Hot Fudge, Whipped Cream, or Strawberry Topping.
Add-ins: Try mixing in some fresh berries, specifically blueberries, raspberries, or strawberries. You can also try chocolate chips, caramel, or even chunks of fudge. For some extra citrus flavor, try adding grated lemon zest or orange zest.
Gluten-free: To make Ricotta Cheesecake gluten-free, all you have to do is switch out the all-purpose flour for almond flour or buckwheat flour. You should also make sure that the cornstarch is specifically marked "gluten-free" to ensure that there's no cross-contamination.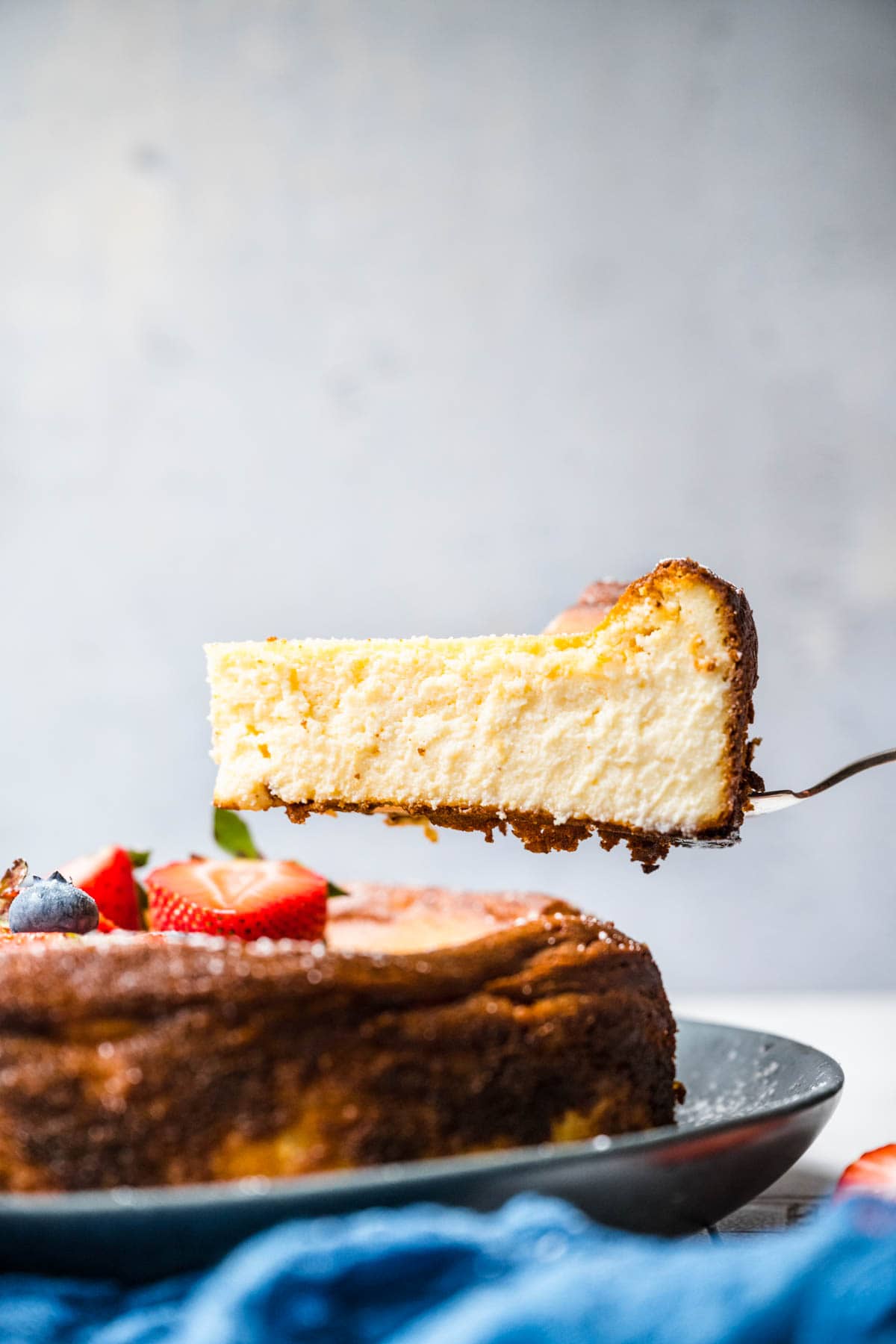 WHAT TO SERVE WITH RICOTTA CHEESECAKE
HOW LONG IS RICOTTA CREAM CHEESE CHEESECAKE GOOD?
Serve: Let the cheesecake set in the fridge before serving. When you take it out, don't leave it at room temperature for longer than 2 hours.
Store: You can store Ricotta Cheesecake for up to 2 weeks in the refrigerator, as long as you keep it wrapped up in plastic wrap or aluminum foil, or stored in an airtight container.
Freeze: Although you can freeze Ricotta Cheesecake for up to 6 months, freezing can change the texture of the cheese, so it's at its best enjoyed from the fridge.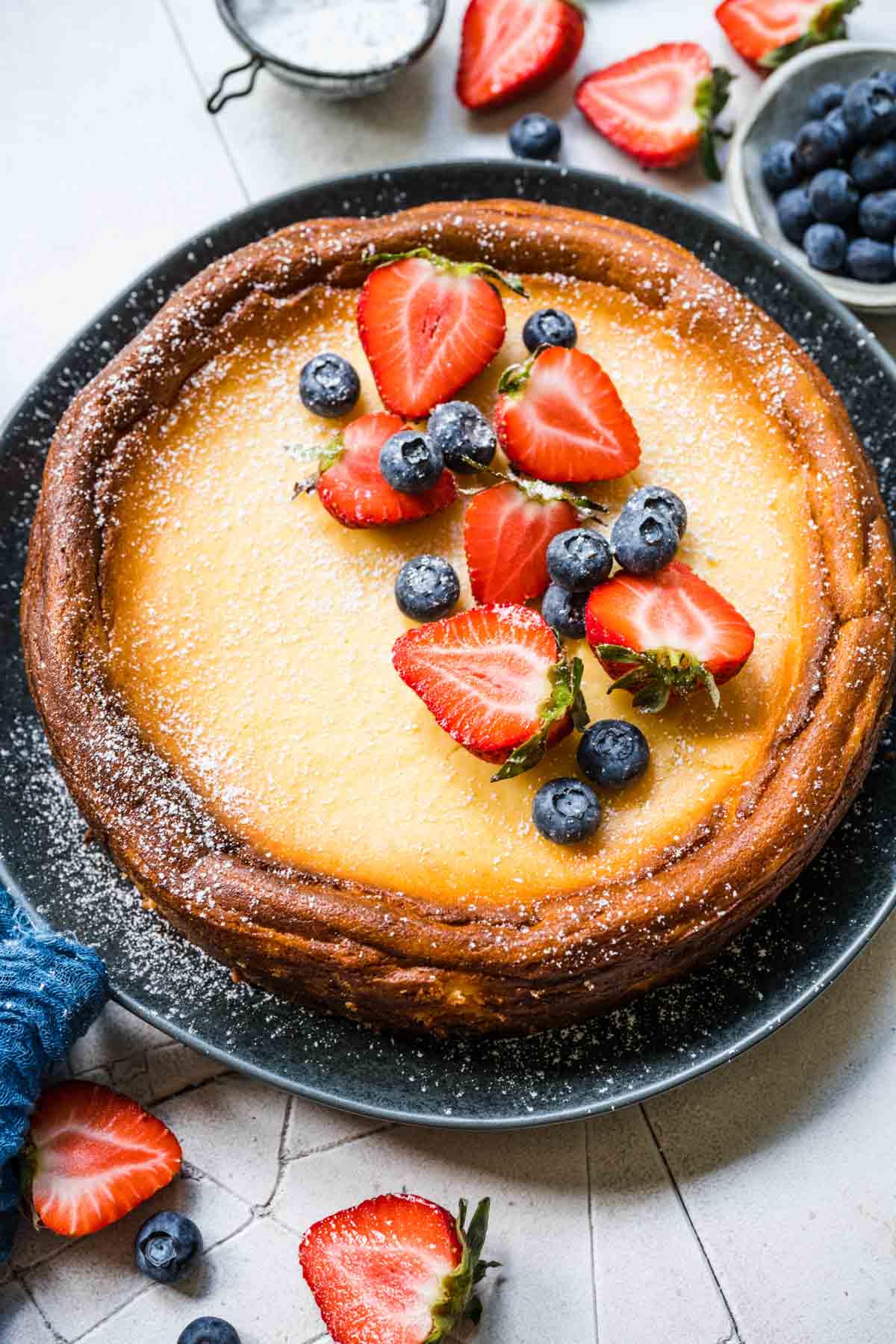 Ingredients
16

ounces (2 packages)

cream cheese

, softened

16

ounces

ricotta cheese

1 1/2

cups

white sugar

4

eggs

1

tablespoon

lemon juice

1

teaspoon 

vanilla extract

3

tablespoons

cornstarch

3

tablespoons

flour

1/2

cup

butter

, melted and cooled

1

pint

sour cream
Instructions
Preheat oven to 350 degrees.

Lightly grease a 9-inch springform pan.

Mix the cream cheese and ricotta cheese together in a mixing bowl until well combined.

16 ounces (2 packages) cream cheese,

16 ounces ricotta cheese

Stir in the sugar, eggs, lemon juice, vanilla, cornstarch, flour, and butter.

1 ½ cups white sugar,

4 eggs,

1 tablespoon lemon juice,

1 teaspoon  vanilla extract,

3 tablespoons cornstarch,

3 tablespoons flour,

½ cup butter

Add the sour cream last and stir.

Pour the mixture into the prepared springform pan.

Bake in the preheated oven 1 hour; turn oven off and leave in oven 1 hour more.

Allow to cool completely in refrigerator before serving.
Nutrition
Calories:
473
kcal
|
Carbohydrates:
32
g
|
Protein:
9
g
|
Fat:
35
g
|
Saturated Fat:
20
g
|
Trans Fat:
1
g
|
Cholesterol:
156
mg
|
Sodium:
274
mg
|
Potassium:
174
mg
|
Fiber:
1
g
|
Sugar:
28
g
|
Vitamin A:
1237
IU
|
Vitamin C:
1
mg
|
Calcium:
170
mg
|
Iron:
1
mg