Sheet Pan Sausage and Sauerkraut is a flavorful hands-off dinner recipe. Prep the sausage, red potatoes, and sauerkraut in minutes, then pop it in the oven.
Sheet pan dinners like Sheet Pan Cashew Chicken and Vegetables, and Sheet Pan Balsamic Chicken are the perfect way to make an entire Dinner all at once on busy weeknights. You cook the main course and the sides on a single sheet pan in less than an hour.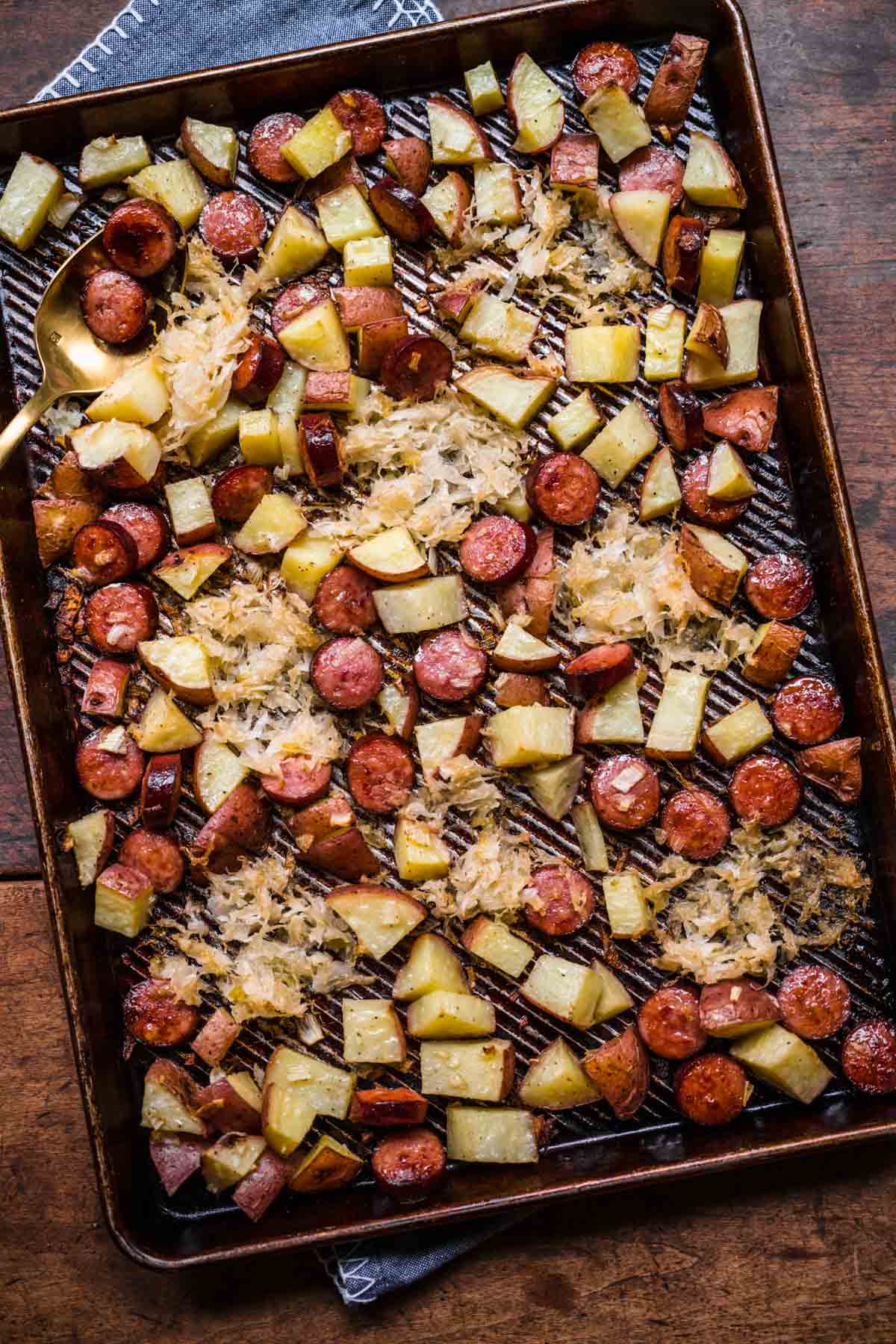 This German-inspired dinner is a quick and hearty Wintertime dish that tastes delicious and is made with almost no work. When it comes to weeknight meals, it's always great to have fast and easy recipes that cut down on steps but still have amazing homecooked flavors. That's exactly what you get with this Sausage and Sauerkraut dinner, delicious flavors the whole family will love in a simple recipe.
A big pile of smoked sausages with sauerkraut is one of those traditional recipes that you'll find in German and Polish cuisine. It's a budget friendly meal made with simple ingredients that have a lot of natural flavor all on their own. The savory flavor from the sausages and tangy sauerkraut with a bit of sweetness is the perfect combo. Potatoes are another staple of many rustic, traditional recipes and they round out this easy dinner with almost no extra seasoning needed.
By making roasted potatoes, sausage, and sauerkraut all at once, you get a complete meal without having to worry about separate cooking times or any complicated steps. There is almost no prep time, all you have to do is chop the potatoes and onions, toss everything in oil, and spread it all on the same sheet pan. Then you just pop it in the oven and in less than 45-60 minutes total time, Sheet Pan Sausage and Sauerkraut is ready to serve. It's a complete meal but you can also serve it with Roasted Broccoli for extra veggies.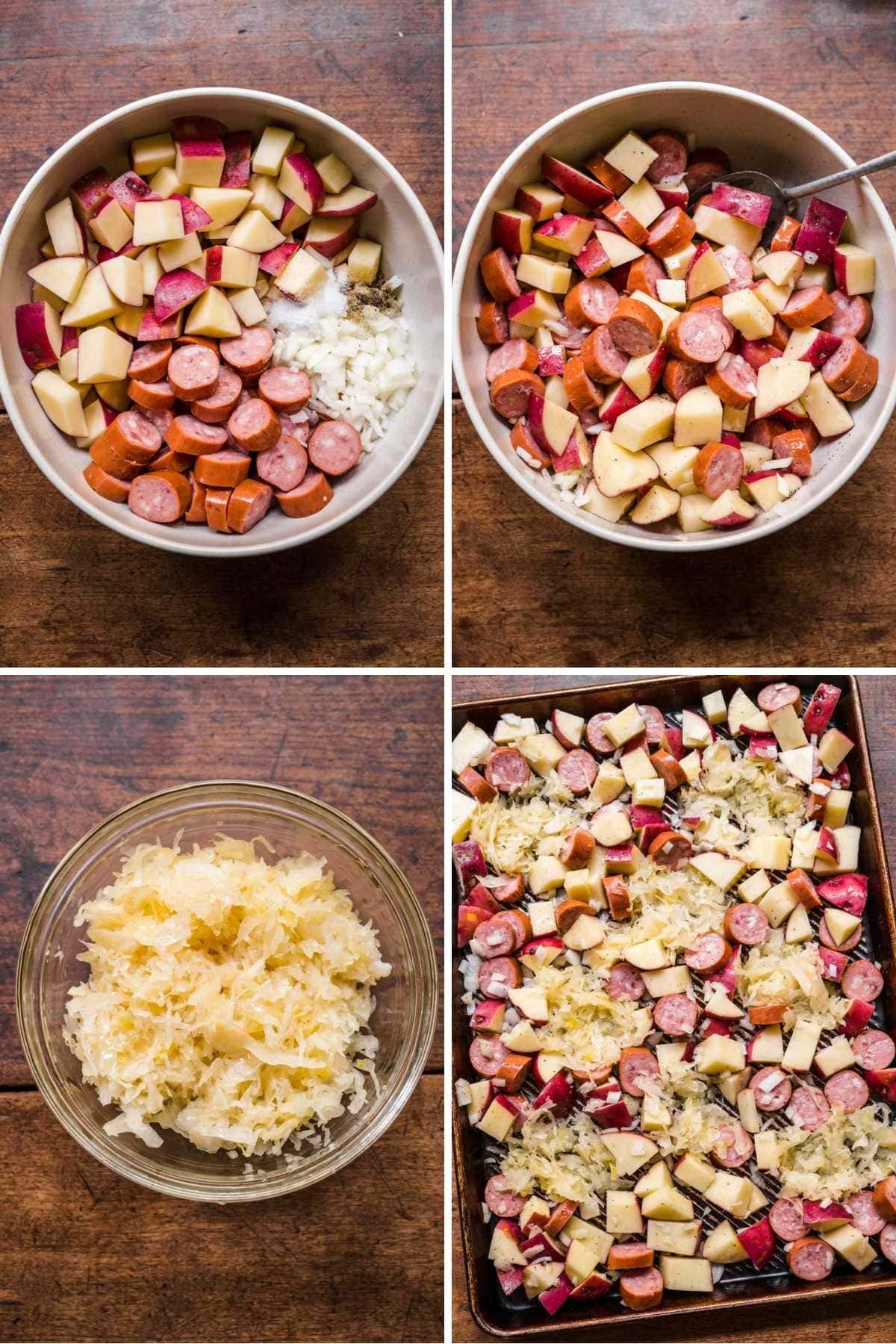 What is Sauerkraut?
Sauerkraut is fermented cabbage that has been a staple in Germany cooking since the 1600s. It is a simple recipe of finely sliced raw cabbage that has been fermented in a lactic acid bacteria. It has a unique sour flavor with a touch of sweetness that pairs really well with smoky, salty sausage flavors. For a more traditional recipe made with sour sauerkraut, try Old Fashioned German Sauerbraten.
What is the Difference in Smoked Sausage and Kielbasa?
Basically, kielbasa is a type of smoked sausage. Smoked sausage refers to any sausage that has been infused with a smoky flavor. Kielbasa sausage is made with ground pork and is lightly smoked and depending on the other seasonings, there are many types of kielbasa.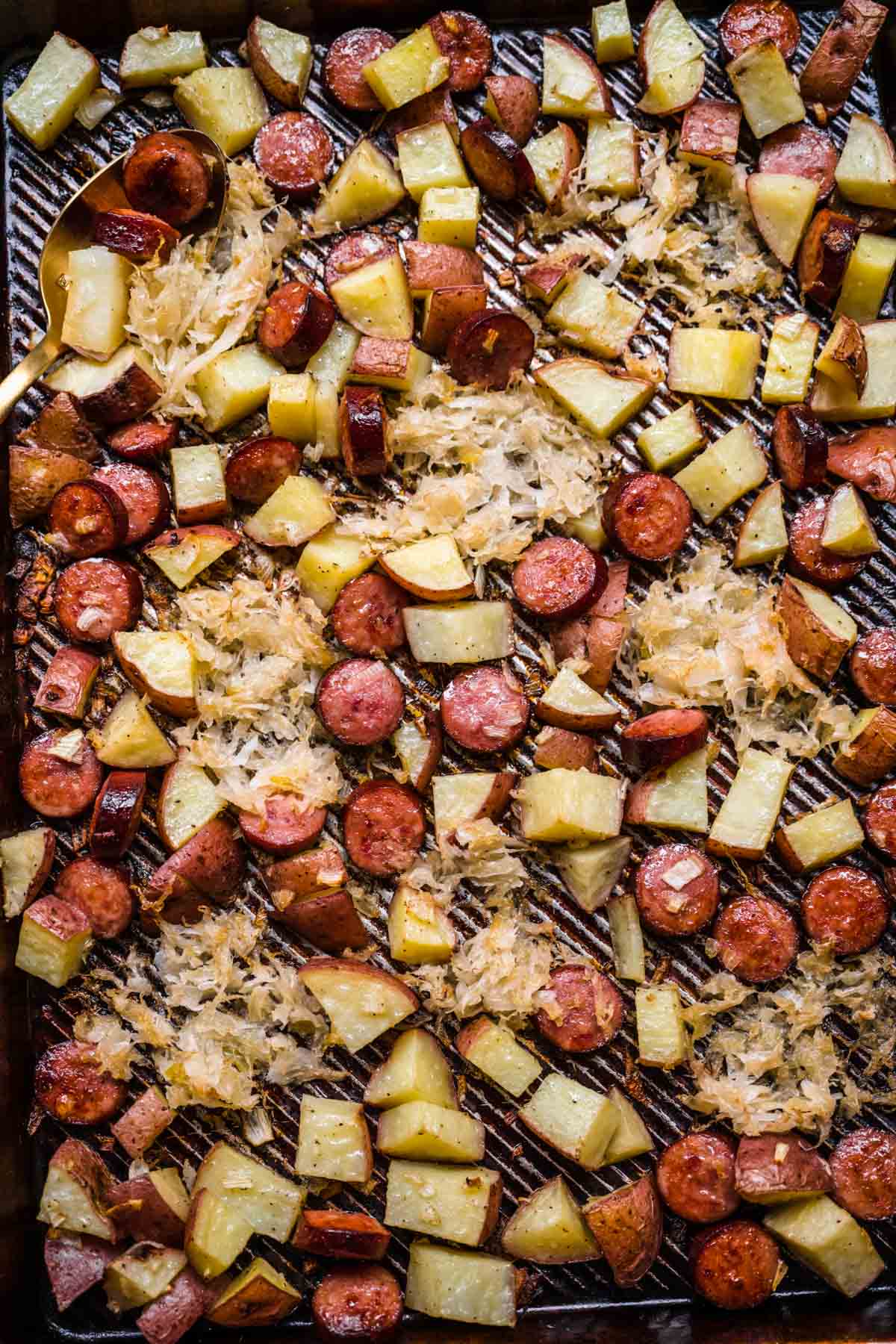 How to Make
Prep: Preheat the oven and line a

rimmed baking sheet

with foil.
Season: Toss the

smoked sausage

, red

potatoes

,

onions

, half the vegetable oil,

salt

, and

pepper

in a large bowl.
Spread: Spread the mixture in a single layer over the

baking sheet

and make for the sauerkraut in 8 small wells.
Sauerkraut: Mix the sauerkraut with the remaining vegetable oil. Spoon the sauerkraut into the prepared wells on the

baking sheet

.

Baking time

: Bake for until the

sausage

is browned and

potatoes

are fork tender.
FAQs for
Sheet Pan Sausage

and Sauerkraut

What are the best sausages to buy?

The best sausages are already smoked and cooked like Polish sausage or Kielbasa sausage. These can stand up to the cooking time without drying out and have tons of flavor already added to them. You could even use cooked chicken varieties in different flavors too.

Do I need to cook the sausages first?

As long as you get a cooked smoked sausage, you don't need to cook  it before you prepare this dish. If you do get raw sausages, you will want to cook them first before slicing so they stay juicy. We recommend boiling them in beer then grilling them for the best flavor.

What does sauerkraut taste like?

Sauerkraut tastes sour and salty with just a little bit of tangy sweetness depending on the acid base used to ferment it. You can get different kinds of pre-made sauerkraut that are seasoned to be spicy, sweet, or even with beet root.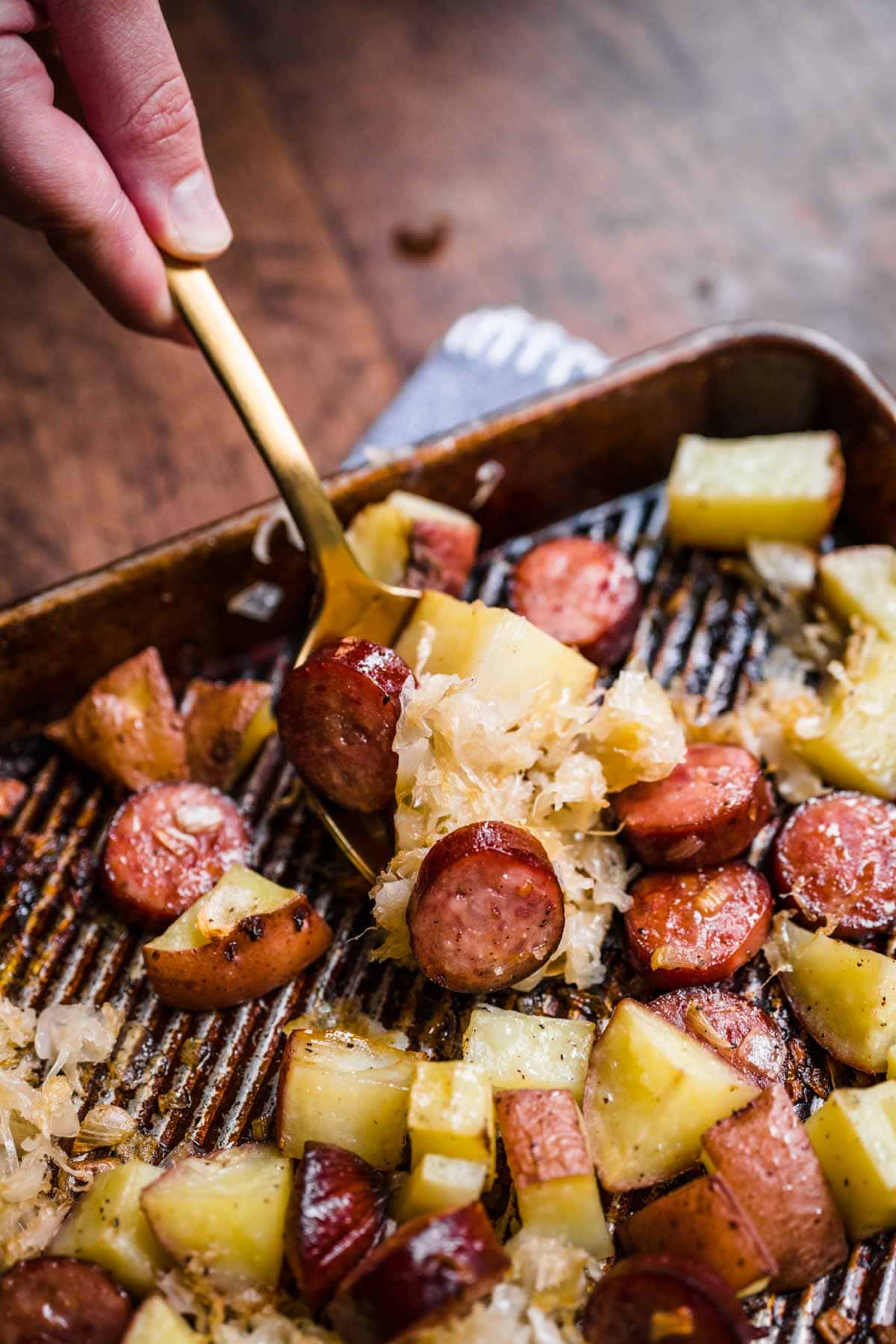 Create a free account to

Save Recipes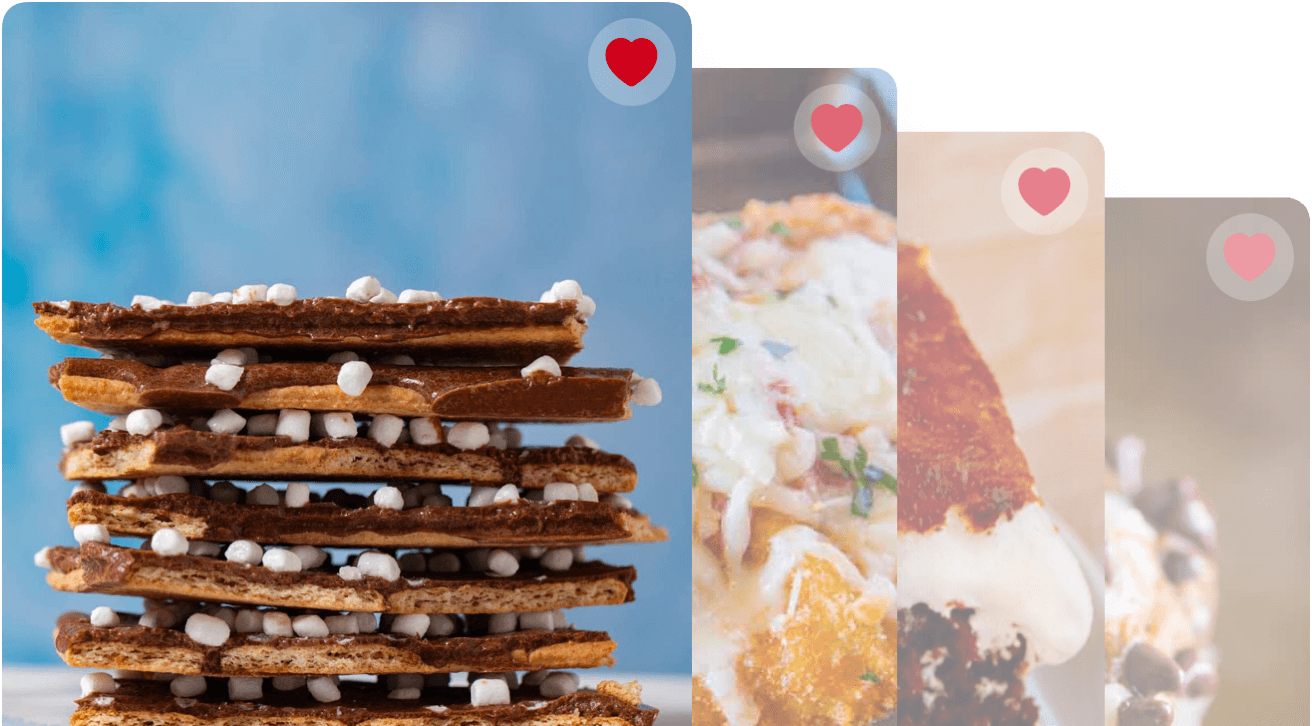 Key Ingredients
Smoked sausage

: There are lots of different

sausage

varieties that you could use for this one pan meal.

Smoked sausage

has a rich smoky flavor that is the perfect base for the other ingredients in this

dinner

.
Sauerkraut: Sauerkraut is made with fermented cabbage which gives it a distinct taste that really sets this whole meal apart. It's a bold, savory, salty, and sour taste that's absolutely delicious. Because it's made with cabbage, sauerkraut is also rich in vitamins and a great healthy addition to your diet.
Red

potatoes

: These

potatoes

are the perfect filling addition to this meal. Red

potatoes

have a waxy texture and thin skin that is perfect for roasting. Their slightly sweet flavor offers the perfect balance to the salty taste of the sauerkraut.

Onion

: The

onions

add a ton of seasoning to this

dish

with their natural flavor. Yellow

onion

is the most aromatic but you could also use red

onion

, shallots, or sweet white

onions

to slightly change up the flavor.
Vegetable oil: One of the most important ingredients that is easy to overlook is oil. The vegetable oil helps the other ingredients to cook and brown beautifully. It also enhances the rich, smoky flavors of

sausage

.
Can this sheet pan
dinner

be made ahead of

time

?

Sheet pan meals are already super easy but you could definitely prep the ingredients ahead of time to make it even easier. The potatoes can be cut a day ahead of time and stored covered in water in the fridge to keep them from turning brown. The sausage and onions can be sliced and stored separately for up to 2 days in sealed bags. Then when you are ready to make the dish, drain the potatoes and toss everything as usual.
Variations
Sausage

: Instead of the classic

smoked sausage

, you could try smoked Italian

sausage

,

chicken sausage

, or turkey

sausage

. Just make sure to use cooked

sausage

links or cook them first and drain the excess fat.
Seasonings: Try tossing some extra seasonings or herbs in the

potato

,

onion

, and

sausage

mixture.

Fresh parsley

,

garlic

,

onion

powder,

caraway seeds

, dried thyme, rosemary, or crushed red

pepper

.
Veggies: You can also add some extra vegetables to the sheet pan to go along with the rest of the

dinner

. Slice up broccoli florets, cauliflower,

bell pepper

, carrots, zucchini, summer squash or green beans. Whatever veggies you use, make sure they are cut to similar sizes of the

potatoes

so everything cooks evenly.

Mustard

:

Mustard

is a traditional seasoning to use in

sausage

recipes

. It adds a tangy flavor that compliments the saltiness. Toss the meat and

potato

mixture with a couple tablespoons of

mustard

like

brown mustard

, grainy

mustard

, or ground

mustard

.

Beer

Brats: Instead of using smoked meat, you can boil brats in

beer

like you would in

Beer

Brats, to give your

dinner

an Okctoberfest kind of flavor. This would taste really good if you serve the

sausage

, sauerkraut, and

onions

in hoagie rolls with the

potatoes

on the side.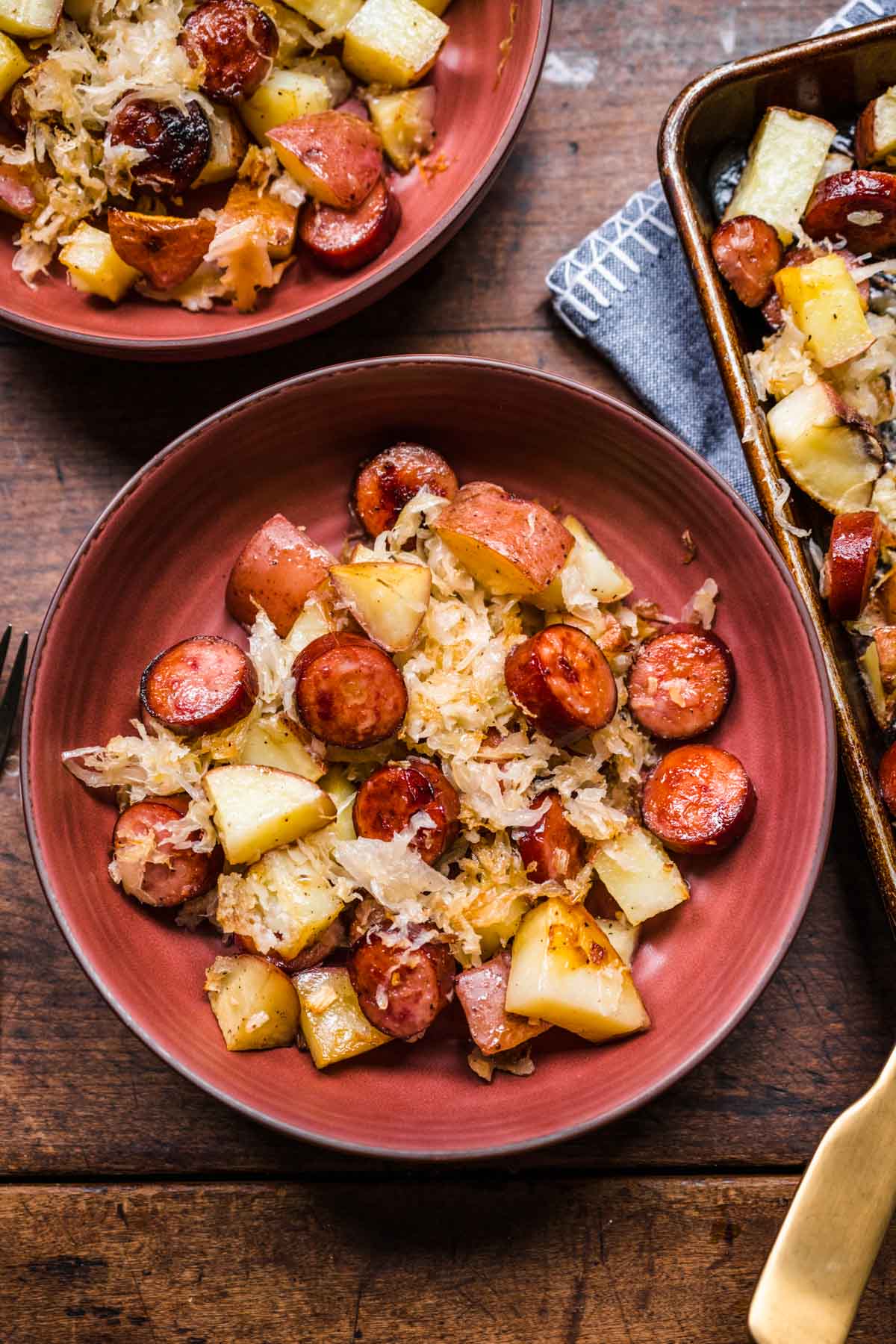 How to Store
Serve: Don't leave Sheet Pan Sausage, Potatoes, and Sauerkraut at room temperature for more than 2 hours. Cool before storing.
Store: If you have leftovers, you can transfer them to an airtight container to store in the fridge for up to 4 days. Reheat them on the stove top or in the oven with a dish covered with foil.
Freeze: For more long-term storage, carefully seal the leftovers in plastic bag with the air squeezed out. Make sure to cool completely before storing. It will stay good for up to 3 months and you can reheat it from frozen or thaw overnight in the fridge first.


Ingredients
1

pound

smoked sausage

, cut into 1/2" slices

4

medium

red potatoes

, cut into 1" cubes

1/2

yellow onion

, chopped

4

tablespoons

vegetable oil

, divided

1

teaspoon

kosher salt

1/4

teaspoon

coarse ground black pepper

16

ounces

sauerkraut

, rinsed and well drained
Instructions
Preheat oven to 375 degrees.

Toss the smoked sausage, potatoes, onion, 2 tablespoons vegetable oil, salt, and pepper together in a bowl.

Spread onto a baking sheet.

Make small wells of space in 8 different parts of the baking sheet.

Mix sauerkraut and remaining 2 tablespoons of oil.

Place small handfuls of sauerkraut into the wells on the baking sheet.

Bake for

35-40 minutes

or until potatoes and sausage are browned and cooked through.
Nutrition
Calories:
319
kcal
|
Carbohydrates:
21
g
|
Protein:
9
g
|
Fat:
22
g
|
Saturated Fat:
6
g
|
Polyunsaturated Fat:
6
g
|
Monounsaturated Fat:
9
g
|
Trans Fat:
1
g
|
Cholesterol:
40
mg
|
Sodium:
1166
mg
|
Potassium:
699
mg
|
Fiber:
4
g
|
Sugar:
3
g
|
Vitamin A:
18
IU
|
Vitamin C:
18
mg
|
Calcium:
34
mg
|
Iron:
2
mg