Sheet Pan Sausage and Vegetables is an amazing weeknight dinner that you can prep in just a few minutes with bell peppers, onion, red potato, and zucchini.
Recently, I've loved making sheet pan dinners for quick and easy Weeknight Meals. Instead of worrying about different oven times for your protein and vegetables, you can just cook it all in one baking process. For another amazing sheet pan option, try our Sheet Pan Sausage and Pepper Recipe.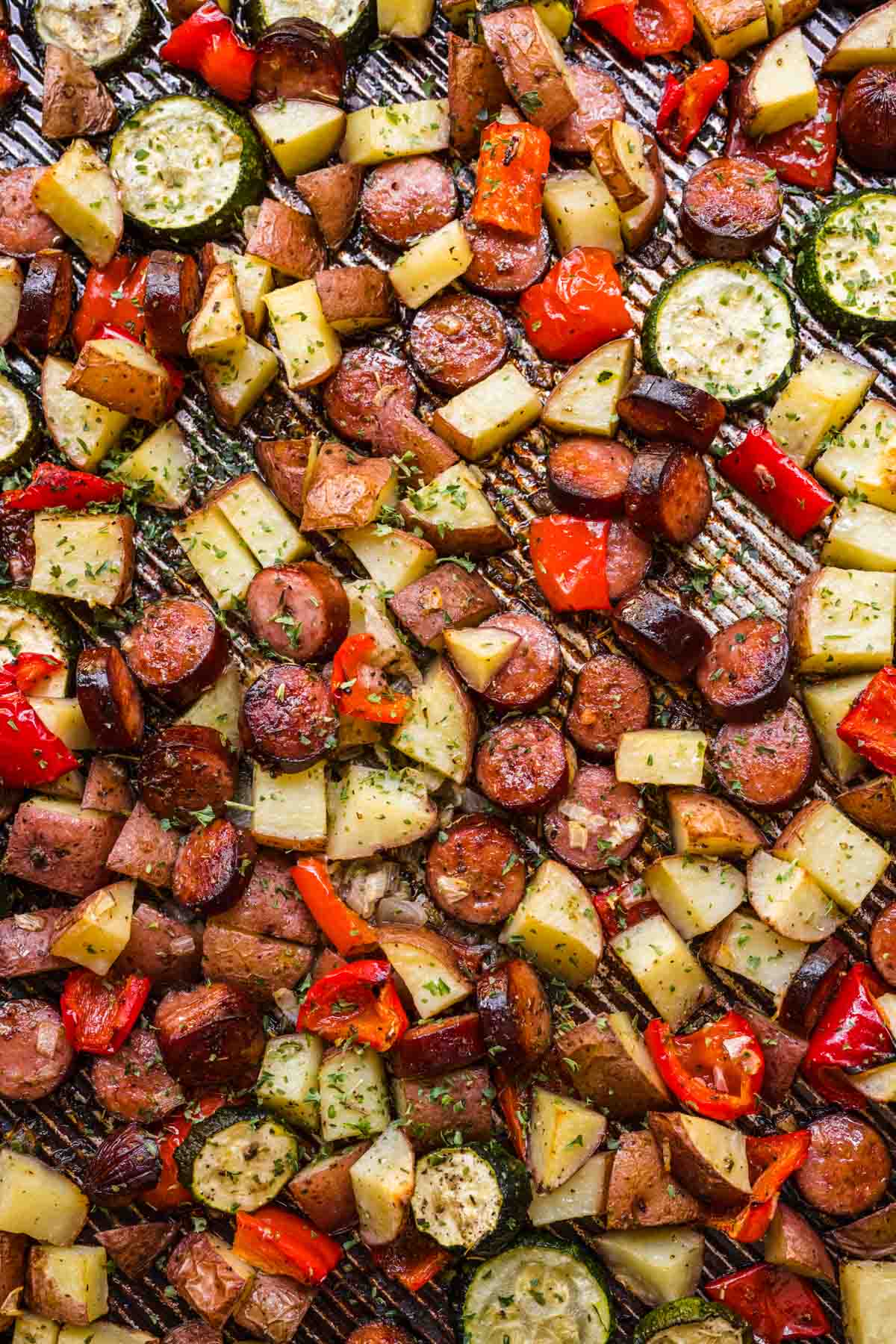 This is one of those delicious dinner recipes you'll find yourself going to again and again for an easy meal on busy weeknights. All you have to do is chop up the smoked sausage and veggies, toss them in oil and seasoning, and then put them in the oven to bake. It's wonderfully flavorful, and the vegetables roast to the perfect crispy texture. It's a simple dinner ready in about 40 minutes!
The bold flavors from the vegetables and seasoning pair great with the hearty sausage. Sweet veggies, red potatoes, and smoked sausage come together and make a filling dinner that everyone is sure to love!
One of the great things about sheet pan meals is that they come with built-in sides. However, if you want to add to the vegetables, you can serve the dish up with a bed of rice. Simply spoon the sausage and veggies over a bowl of white rice or Brown Rice and enjoy! It's also delicious to add a drizzle of Homemade BBQ Sauce, Yogurt Dill Sauce, or Salsa on top.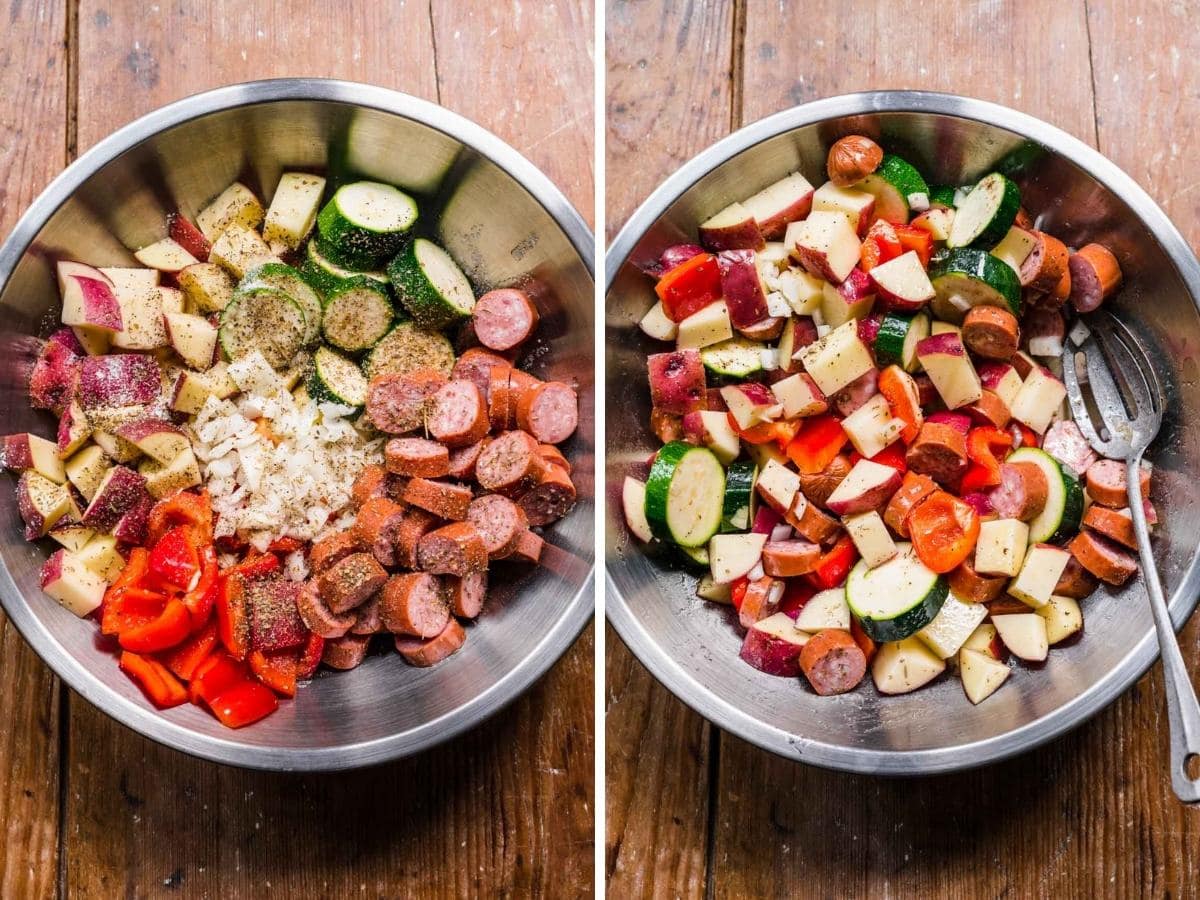 How to Make Sheet Pan Sausage and Vegetables
Prep time: Start the recipe by preheating the oven to 375 degrees. Then get out a 13 x 18-inch baking sheet. If you want to make the recipe extra easy to clean up, you can line the baking sheet with tin foil or parchment paper.
Combine ingredients: Slice the pre-cooked sausage into ½ inch slices, then cut the vegetables into 1 inch pieces. Add the sausage, potatoes, chunks of onions, bell peppers, and zucchini to a large bowl. Drizzle vegetable oil and sprinkle the seasoning over the top. Then toss until it's all nicely coated.
Cooking time: Lay the ingredients out over the prepared sheet in a single layer. Place the dish in the hot oven to bake for 35-40 minutes. Continue roasting until the sausage is baked through and the veggies are slightly browned.
More Sheet Pan Meals
Frequenty Asked Questions
Why do I need to cook the sausage if it's already smoked?
It's true that smoked sausage is already cooked and only needs to be heated. By roasting the sausage alongside the vegetables, they become nice and browned on the outside while still juicy on the inside. It also lets the smokey flavors from the sausage meld with the roasted veggies to make them even more delicious. 
Can I use fresh sausage instead of smoked?
If you'd like to use fresh sausage for this recipe, you'll want to cook the sausage through and let it cool before slicing it to roast with the rest of the ingredients. 
How do I make vegetarian Sheet Pan Sausage and Vegetables?
Substitute the sausage for your favorite meatless sausage for an easy one-pan veggie meal. You can also use cubed firm tofu instead of sausage.
How do I make this recipe even healthier?
With protein and vegetables, Sheet Pan Sausage and Vegetables is already a healthy combo of nutrients. You can make this recipe friendlier to your diet by choosing a lighter sausage like chicken or turkey, reducing or leaving out the salt, and spraying the veggies with olive oil instead. You may want to give them another spray of oil halfway through the baking time to avoid the veggies drying out.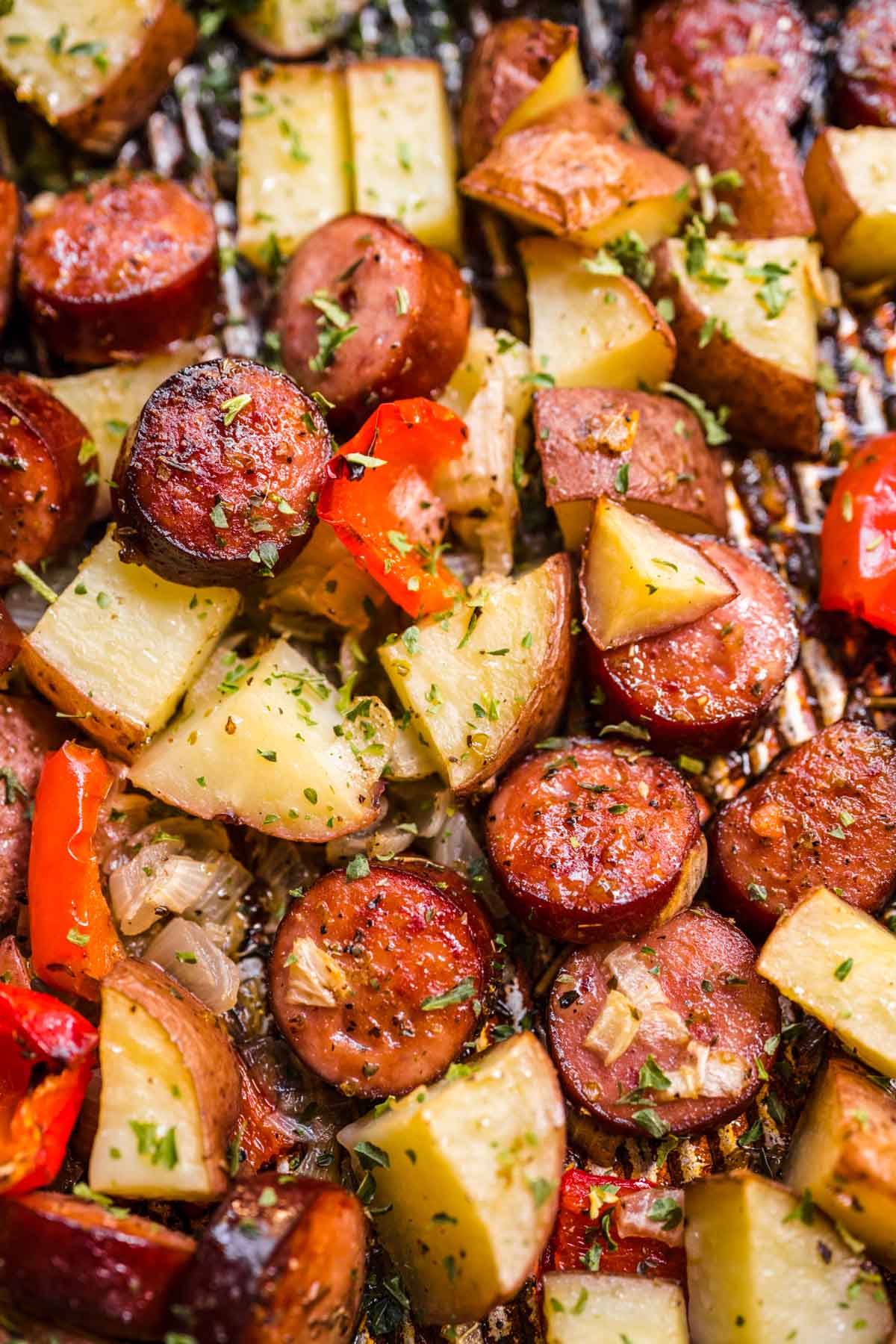 Create a free account to

Save Recipes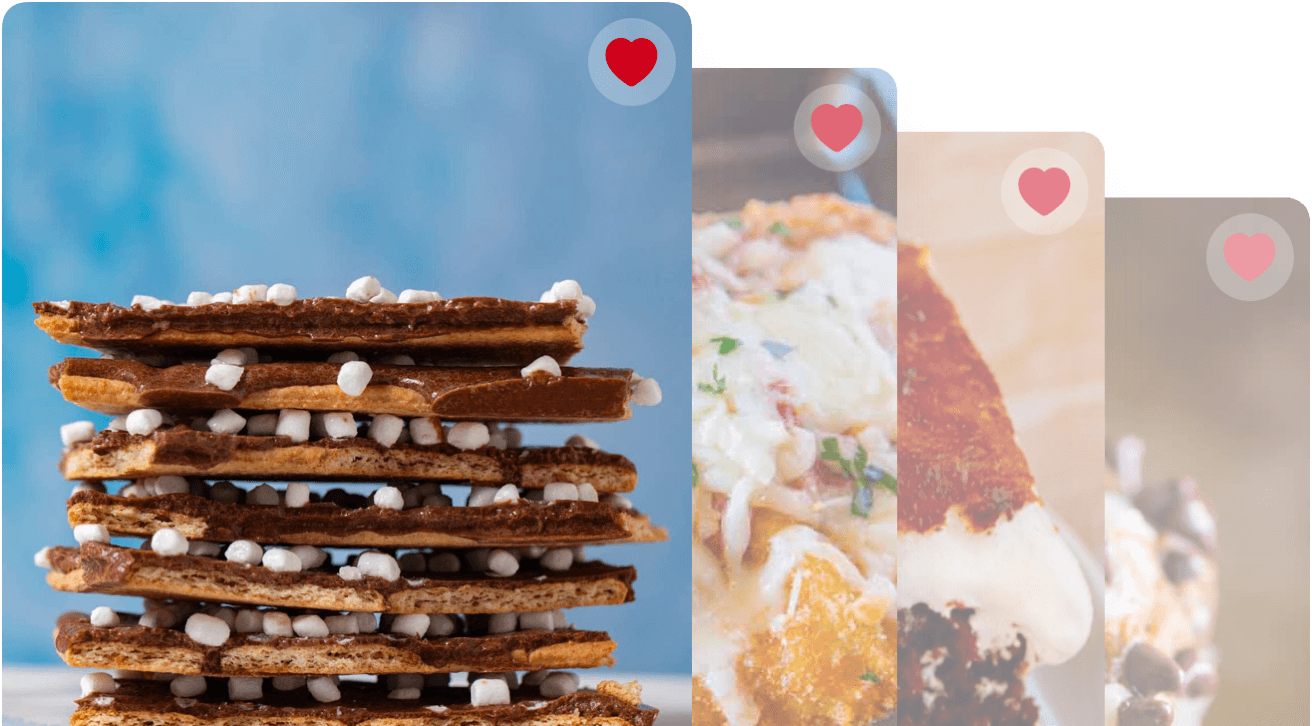 Key Ingredients in Sheet Pan Sausage and Vegetables
Smoked sausage: The smoked sausage in this recipe is a great filling and tasty protein that cooks up easily. Its rich, smoky flavor is a yummy contrast with the fresh vegetables in the recipe.
Vegetables: There are a variety of veggies in this recipe including yellow onion, zucchini, and bell peppers. Each of them has a mild and sweet flavor, and they all cook up perfectly to a crispy-tender texture during the baking time.
Red potatoes: Red potatoes have a slightly waxy texture that roasts nicely. After baking they're perfectly tender, but hold up well enough in the oven that they don't become mushy.
Seasonings: You get a lot of flavor in this recipe just by tossing the ingredients in Italian seasoning. The seasoning blend is made with savory and flavorful spices like dried basil, dried oregano, dried rosemary, dried parsley, dried thyme, red chili flakes, and garlic powder.
Can Sheet Pan Sausage and Vegetables be Made Ahead?
It's so easy to prep this recipe to make ahead. One way is to chop your sausage, potatoes, and veggies in advance and keep them refrigerated in an airtight container up to 24 hours in advance. Then just toss them with the oil and seasonings when you are ready to roast. If you do this, I recommend keeping the potatoes submerged in cold water separate from the other ingredients. Drain and pat dry when you are ready to cook. You can also save even more time by completing the roasting and letting the sausage and veggies cool, then store in an airtight container in the fridge until you're ready to reheat and serve.
Air Fryer Sheet Pan Sausage and Vegetables
Preheat air fryer to 380 degrees.
Chop sausage and vegetables, keeping them separate. Toss veggies with 3 tablespoons oil and seasonings.
Place veggies into air fryer basket and cook for 10 minutes.
Stir veggies, toss sausage with remaining 1 tablespoon oil and add to basket with vegetables.
Cook an additional 10 minutes or until potatoes are tender.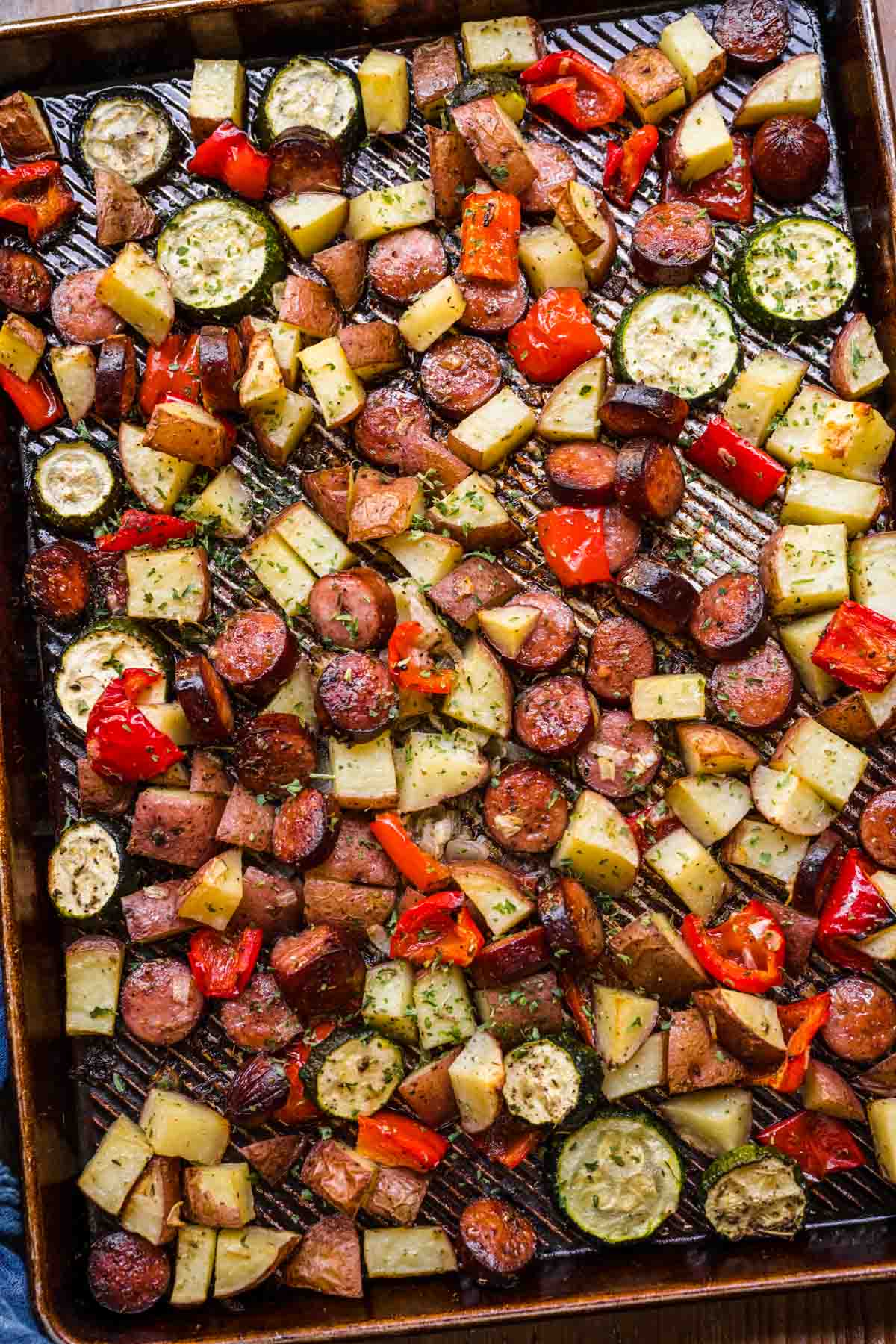 Variations on Sheet Pan Sausage and Vegetables
Sausage: Try this recipe with different types of sausage, like chicken sausage, turkey sausage, spicy sausage or Italian sausages.
Vegetable mix: You can add more of your favorite veggies to this delicious recipe for even more color, flavor, and texture. Green beans, cherry tomatoes or grape tomatoes, carrots, mushrooms, cauliflower florets, and broccoli florets would go great. You could also add in some root vegetables like sweet potato, baby carrots, garlic cloves, red onion, and beets.
Spices: You can also add your favorite spices to the dish like onion flakes, red pepper flakes, paprika, cayenne pepper, or Cajun spice blend.
Toppings: Serve your sausage and veggies with hot sauce, grated Parmesan cheese, fresh herbs, or pesto sauce to add another layer of flavor to the dish.
How to Serve Sheet Pan Sausage and Vegetables
There are so many ways to use this wonderful sausage and veggie combo. It's the perfect simple prep for healthy meals on the go. You can quickly throw this together at the beginning of the week and portion it into containers for easy work lunches. Omit the potatoes and additional veggies like mushrooms and carrots to make a hearty low carb meal. Or serve the sausage and vegetables over rice or pasta with your favorite sauce for an easy and hearty complete meal.
Another fun way to serve Sheet Pan Sausage and Vegetables is to cut up a variety of veggies and sausages, and let the family each make their own assortment before adding oil and seasoning. Use foil to separate individual servings on the sheet pan. Then everyone gets their favorite combo and you can feed any picky eaters with the same amount of work!
Delicious Side Dishes
How to Store Sheet Pan Sausage and Vegetables
Serve: This Sheet Pan Sausage recipe is good at room temperature for up to 2 hours. 
Store: After the 2 hours, you'll need to seal the sausage and veggies in an airtight container to store in the fridge. They'll keep well for up to 4 days. 
Freeze: You can also freeze this sheet pan dinner for up to 3 months.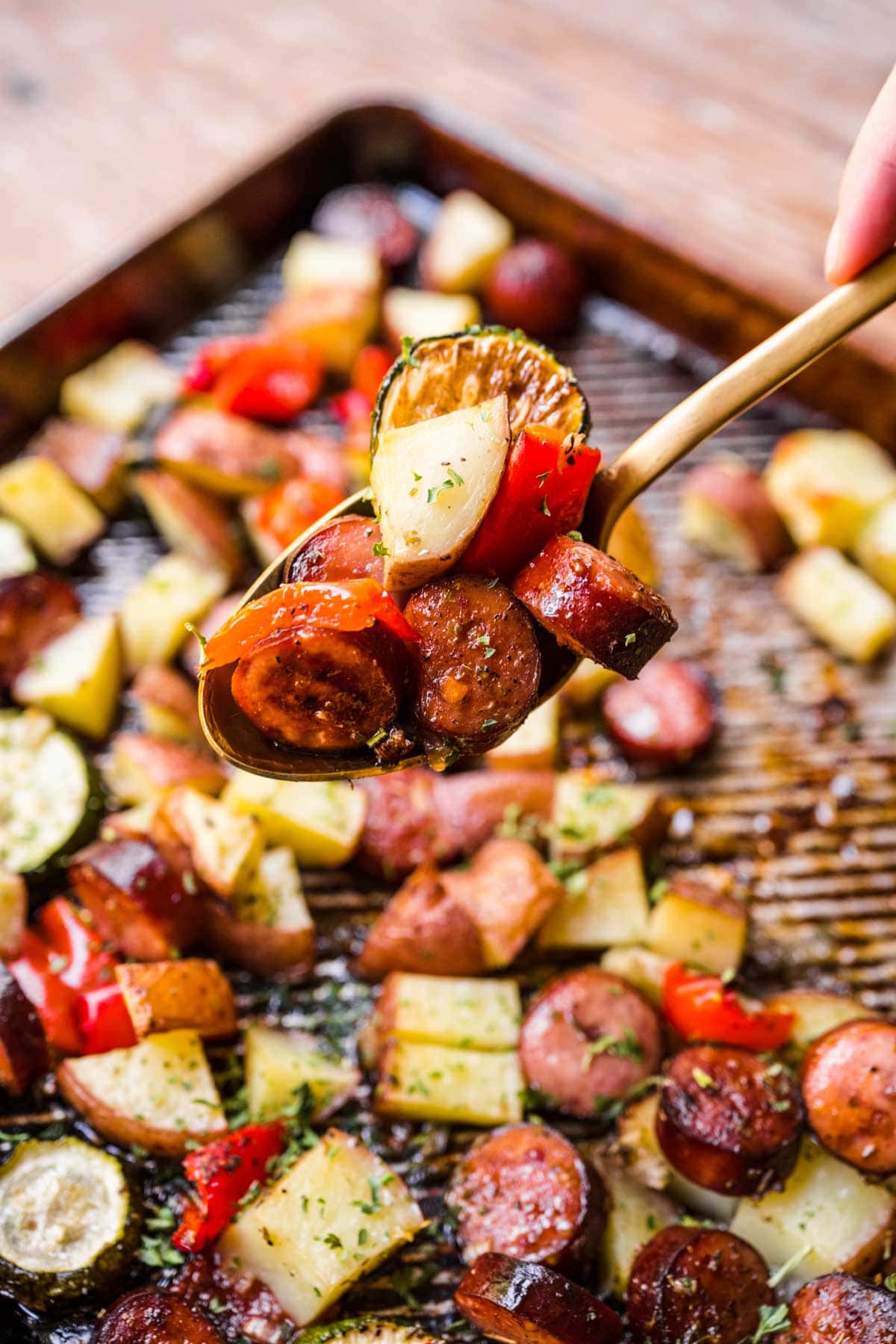 Ingredients
1

pound

smoked sausage

, cut into ½ inch slices

4

medium

red potatoes

, cut into 1 inch cubes

1/2

yellow onion

, chopped

1

red bell pepper

, cut into 1 inch cubes

1

zucchini

, cut into ½ inch thick slices

4

tablespoons

vegetable oil

1

teaspoon

Italian seasoning

1

teaspoon

kosher salt

1/4

teaspoon

coarse ground black pepper
Instructions
Preheat oven to 375 degrees.

Toss the smoked sausage, potatoes, onion, red bell pepper, zucchini, vegetable oil, Italian seasoning, salt, and pepper together in a bowl.

Spread onto a baking sheet.

Bake for

35-40 minutes

or until potatoes and sausage is browned and cooked through.
Nutrition
Calories:
254
kcal
|
Carbohydrates:
16
g
|
Protein:
8
g
|
Fat:
18
g
|
Saturated Fat:
5
g
|
Polyunsaturated Fat:
4
g
|
Monounsaturated Fat:
7
g
|
Trans Fat:
1
g
|
Cholesterol:
32
mg
|
Sodium:
635
mg
|
Potassium:
561
mg
|
Fiber:
2
g
|
Sugar:
2
g
|
Vitamin A:
422
IU
|
Vitamin C:
26
mg
|
Calcium:
20
mg
|
Iron:
1
mg