Sheet Pan Thanksgiving Dinner is the easiest holiday dinner ever! Make tender turkey, bacon Brussels sprouts, sweet potatoes, and stuffing all on one pan.
There are a few components you absolutely need for a delicious Thanksgiving Dinner. You need tender, moist Turkey, Stuffing, and your favorite Side Dishes. Typically making all that will take up half the day, but with this easy shortcut Turkey Dinner, you can make it all in a little over an hour on one baking sheet.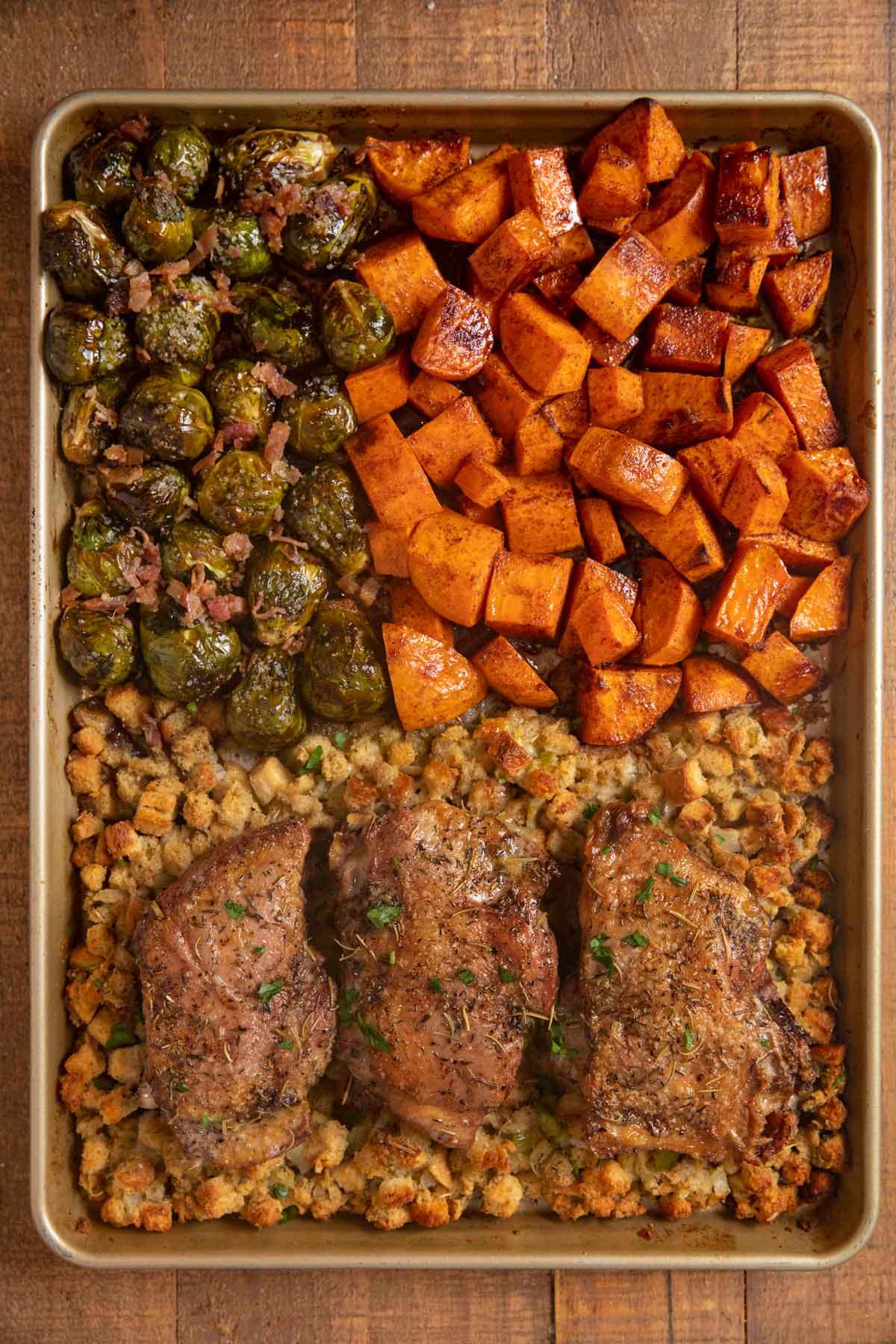 SHEET PAN THANKSGIVING DINNER
Sheet Pan Turkey Dinner gives you sweet potatoes, roasted Brussels sprouts, herb-roasted turkey breast, and stuffing. You can use this recipe with turkey legs or turkey breast. Whichever one you use the turkey recipe comes out with wonderfully crispy skin and tender inside. It's the perfect quick Thanksgiving feast if you're feeding a small group, and it's the ultimate sheet pan meal that you don't have to spend all day on!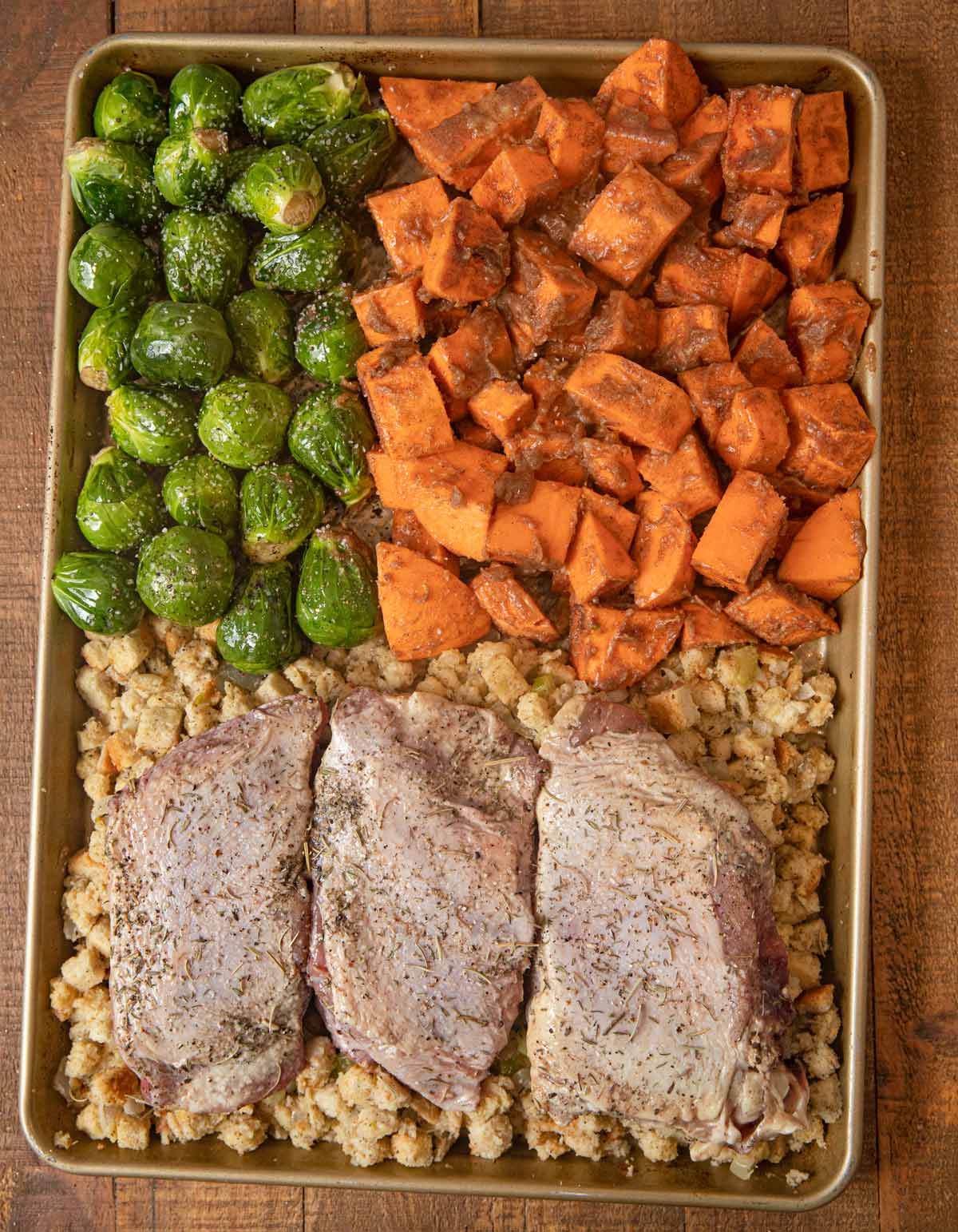 If you feel overwhelmed looking at the long list of ingredients and instructions, don't stress! This Sheet Pan Turkey recipe is the only recipe you need for the whole Thanksgiving day! Instead of spending time prepping Turkey Breast, stuffing ingredients, Brussels Sprouts and Sweet Potatoes all separately, you get them all done with one baking time on a single prepared baking sheet. No switching back and forth between recipes, it's all right here! You'll be amazed just how well this sheet pan dinner turns out.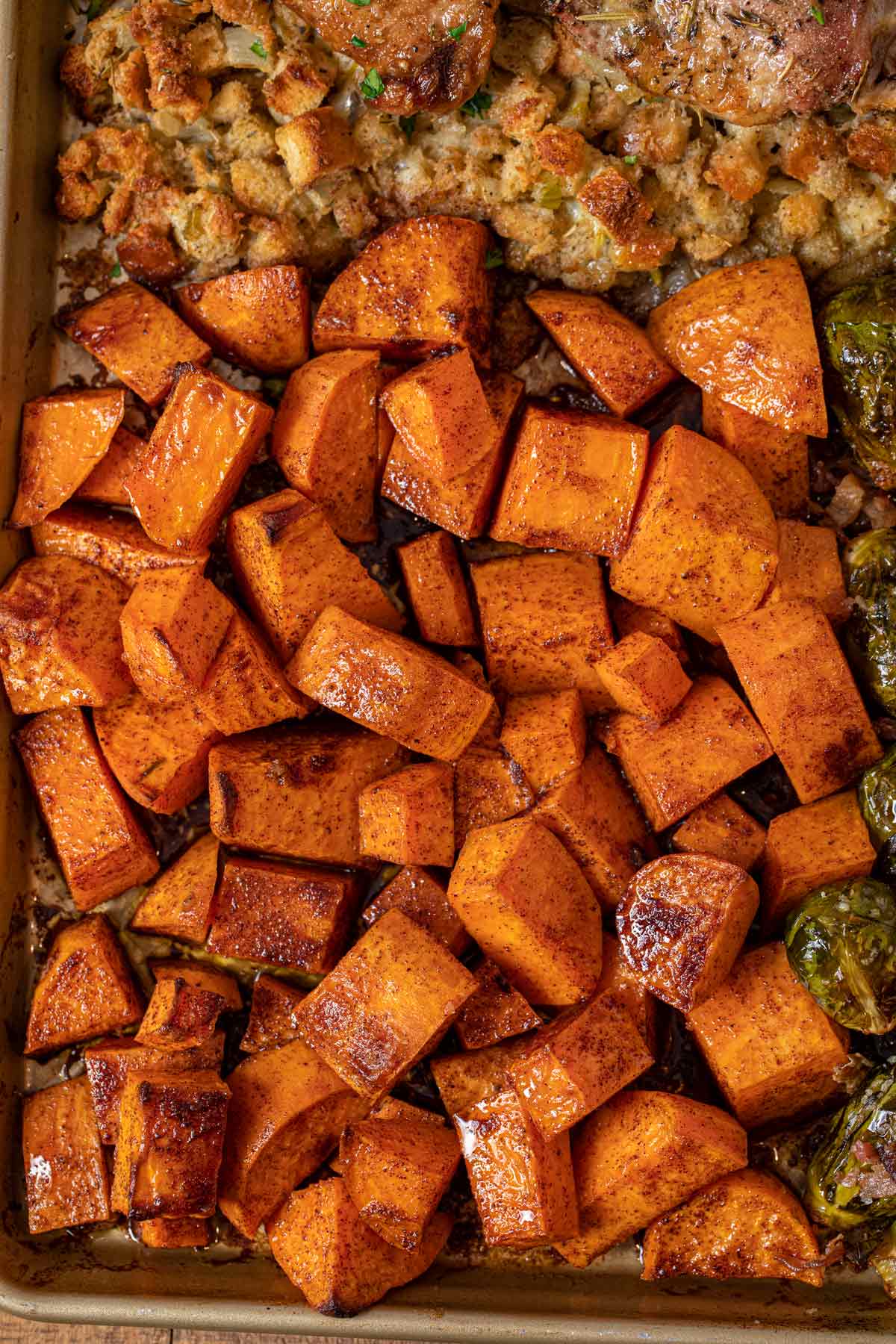 SHEET PAN TURKEY DINNER SIDES
TIPS FOR MAKING SHEET PAN THANKSGIVING DINNER
Prep time: To get ready for the whole recipe preheat oven and spray the rimmed baking sheet with non-stick cooking spray.
Brussels Sprouts: Next, prep your Brussels sprouts for the recipe. Cook the bacon in a cast-iron skillet until crispy then chop the bacon apart and set it to one side. Pour the bacon fat into a large bowl, then add the salt, pepper, and Brussels sprouts. Toss all the ingredients together. Lay the Brussels sprouts mixture in a single layer over ¼ of the baking tray.
Sweet Potatoes: Cut the sweet potatoes into ½ inch chunks. Toss them in a medium bowl with melted butter cinnamon and nutmeg. Lay the bite-sized sweet potatoes out next to the sprouts.
Stuffing: Chop the stalks celery and a medium onion. Add them to a skillet over medium heat with butter and cook until translucent. The cook time should be between 6-8 minutes. Add the seasoning and stir together. Toss the vegetables with the cube stuffing. Combine the chicken broth, eggs, and melted butter in a separate bowl then pour it over the stuffing. Add it to the remaining half of the baking sheet.
Turkey recipe: You can use either a turkey breast or turkey legs for this recipe. Add the turkey to a bowl with vegetable oil, sage, rosemary, thyme, and pepper. Rub the mixture over the thighs or breast meat to make herb-roasted turkey breast or legs. Place the turkey directly over the stuffing.
Cooking time: Tent with foil then put the sheet pan in the oven for 30 minutes. Remove the foil and cook for an additional 30 minutes. Use an instant-read thermometer to check the internal temperature of both the turkey and the stuffing. If they've both reached 165 degrees, you can take it from the oven and serve.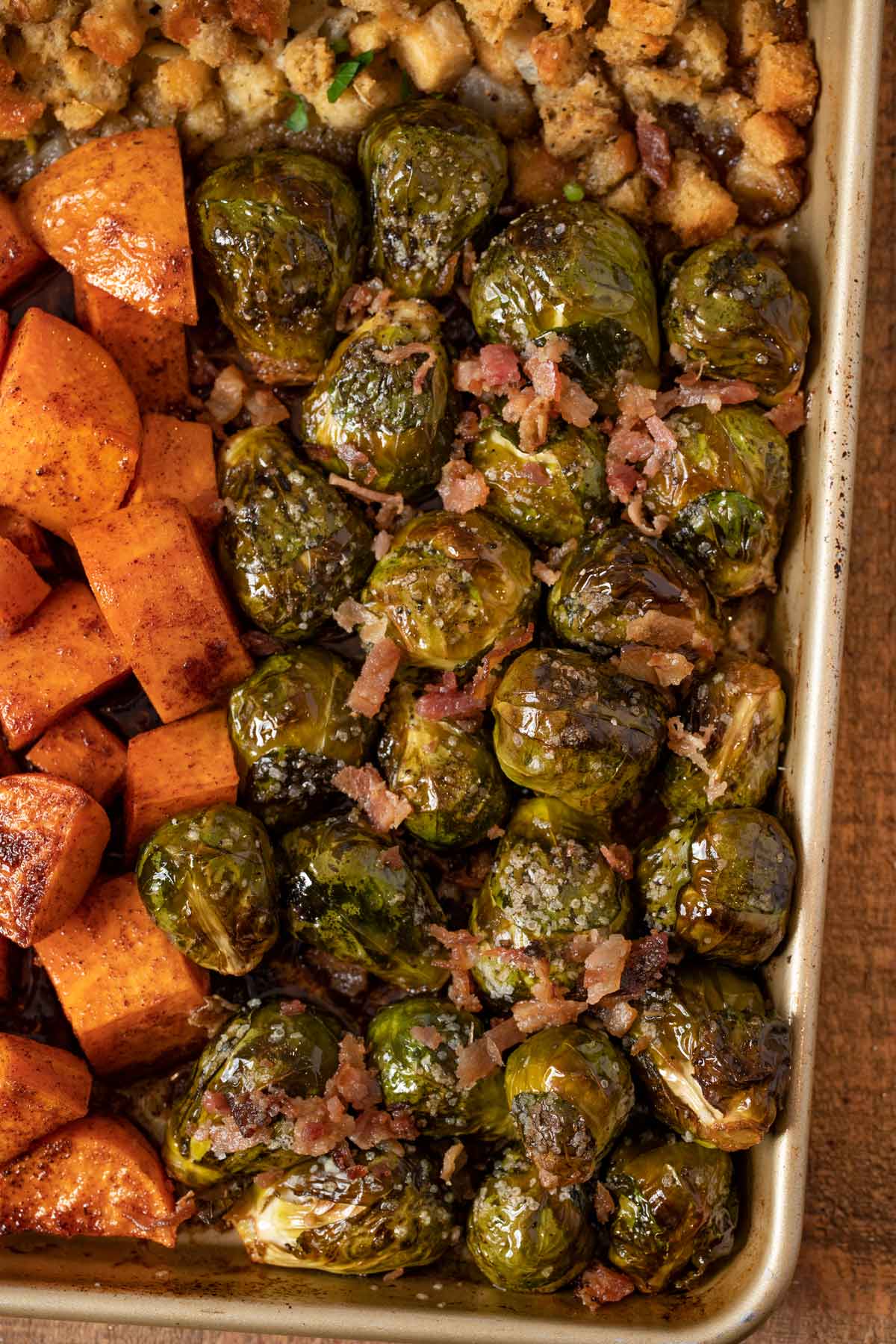 Create a free account to

Save Recipes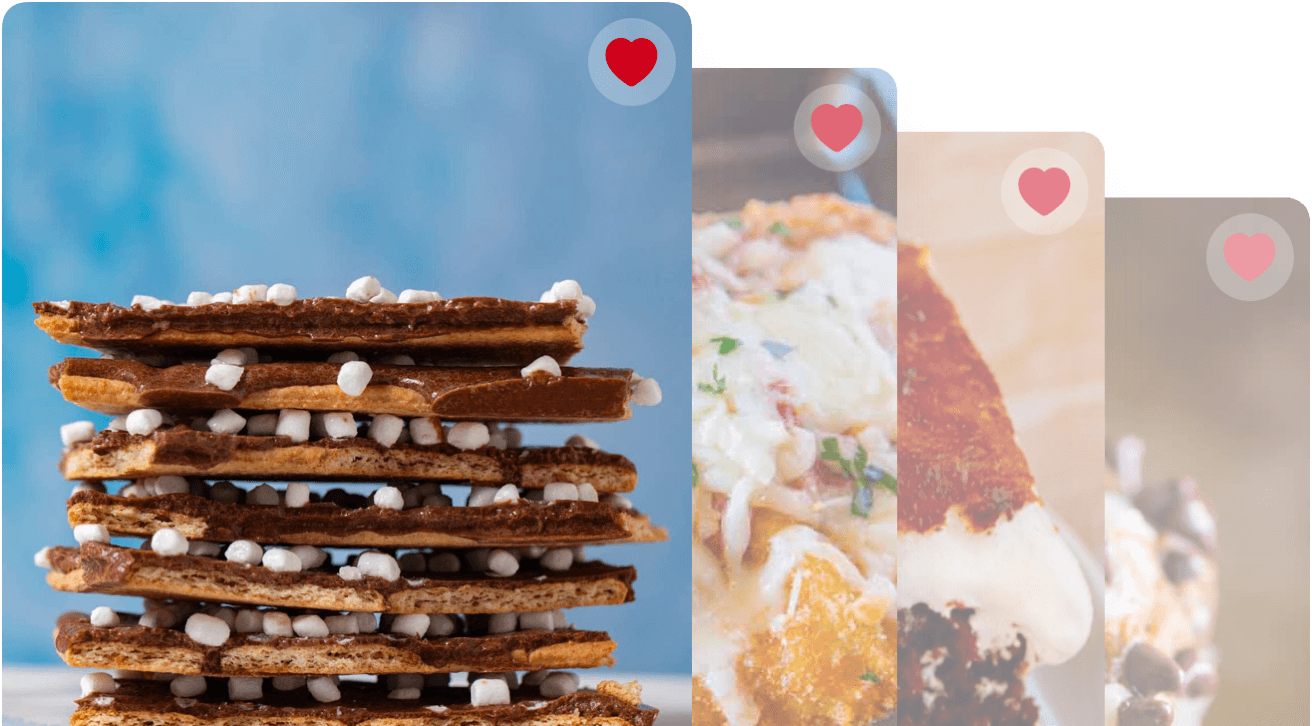 VARIATIONS ON SHEET PAN THANKSGIVING DINNER
More Veggies: You can try roasting other sides on the sheet pan like Butternut squash, or green beans. Cut up the

Butternut squash and season them the same way you would the sweet potatoes. You don't need to do much prep for the green beans just rinse them and coat them in your choice of oil and seasoning before adding them to the sheet pan.

Sweet: To make a sweet candied Thanksgiving dinner coat the sweet potatoes and turkey in brown sugar. You could also mix brown sugar in with the herbs for the stuffing.
Herbs and seasonings: There are lots of ways you can experiment with the taste of this recipe depending on what herbs you use. Try using fresh herbs instead of dry like fresh rosemary and fresh thyme in the herb mixture. You could also add new flavors with Italian seasoning, garlic powder, or freshly minced garlic cloves, cajun seasoning, nutmeg, or paprika.
Honey Garlic Turkey: To make Honey Garlic Turkey just make an easy lemon honey garlic sauce to dip the turkey legs in. You'll need 3 cloves garlic, ½ cup honey, 2 tablespoons soy sauce, 1tablespoon lemon juice, 1 tablespoon cornstarch, and ¼ cup water. Mince the head of garlic, then whisk the ingredients together. You can pour them over the baked turkey or just dip for Honey Garlic Turkey.
MORE HOLIDAY MAIN DISH RECIPES
HOW TO STORE SHEET PAN THANKSGIVING DINNER
Serve: Don't leave your leftover turkey dinner out at room temperature for more than 2 hours.
Store: Once the Thanksgiving meal has cooled to room temperature you can put it in an airtight container to store in the fridge. Either put each part of the meal in separate containers or store it all together. The dinner should stay good for about 3-4 days.
Freeze: You can also freeze your turkey dinner for up to 3 months.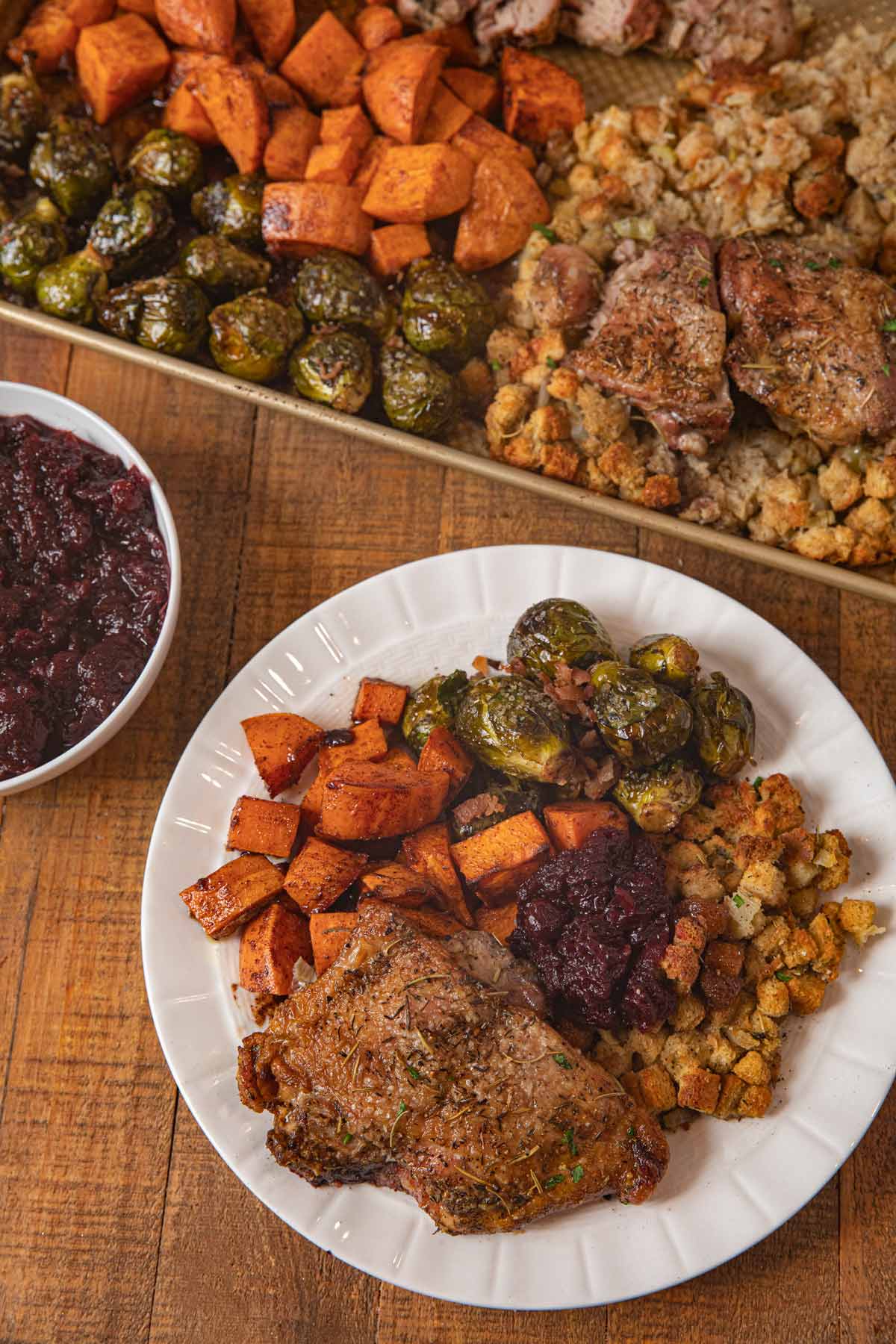 Ingredients
Brussels Sprouts:
4

slices

bacon

1

pound

brussels sprouts

1

teaspoon

kosher salt

1/2

teaspoon

coarse ground black pepper
Sweet Potatoes
2

large sweet potatoes

, peeled

4

tablespoons

unsalted butter

, melted

1/2

teaspoon

cinnamon

1/8

teaspoon

ground nutmeg
Stuffing:
1/2

cup

unsalted butter

, divided

4

celery stalks

, finely chopped

1/2

yellow onion

, finely chopped

1

teaspoon

kosher salt

1

teaspoon

rubbed sage

1

teaspoon

dried rosemary

1

teaspoon

dried thyme

1/2

teaspoon

coarse ground black pepper

21

ounces

cube stuffing

3

cups

chicken broth

2

large

eggs
Turkey
3

turkey thighs

, or 1 turkey breast

1

tablespoon

vegetable oil

1/2

teaspoon

kosher salt

1/2

teaspoon

rubbed sage

1/2

teaspoon

dried rosemary

1/2

teaspoon

dried thyme

1/4

teaspoon

coarse ground black pepper
Instructions
To Cook:
Preheat the oven to 350 degrees and spray a baking sheet with vegetable oil spray.
Brussels Sprouts:
Cook the bacon until crisp, then chop and set aside.

To a large mixing bowl add 2 tablespoons bacon fat, salt, pepper, and Brussels sprouts and toss well.

Add Brussels sprouts to ¼ of your sheet pan.
Sweet Potatoes:
Cut potatoes into 1/2" chunks and toss with melted butter, cinnamon and nutmeg.

Add Sweet Potatoes to ¼ of your sheet pan.
Stuffing:
Add 4 tablespoons unsalted butter to a large skillet on medium heat.

Add in the celery and onions, cook for

6-8 minutes

until translucent.

Add in the salt, sage, rosemary, thyme, and black pepper and stir.

To a large bowl add the cube stuffing, vegetable mixture, and toss.

Melt the remaining 4 tablespoons of unsalted butter.

In a second bowl whisk together chicken broth, eggs, and add in melted butter.

Pour the mixture over the bowl and toss gently to moisten the bread cubes.

Add the stuffing to the remaining half of the sheet pan evenly.
Turkey:
Add the turkey to a bowl and rub with vegetable oil, salt, rubbed sage, rosemary, thyme, and black pepper.

Place the turkey on top of the stuffing.
To Finish:
Cover sheet pan with foil and cook for

30 minutes.

Remove foil and cook an additional

30 minutes

until turkey and the stuffing under it reaches 165 degrees (use a thermometer so you don't accidentally eat stuffing that is not safe to eat.
Nutrition
Calories:
713
kcal
|
Carbohydrates:
55
g
|
Protein:
14
g
|
Fat:
50
g
|
Saturated Fat:
25
g
|
Cholesterol:
159
mg
|
Sodium:
2476
mg
|
Potassium:
945
mg
|
Fiber:
10
g
|
Sugar:
9
g
|
Vitamin A:
14851
IU
|
Vitamin C:
90
mg
|
Calcium:
137
mg
|
Iron:
4
mg