Slow Cooker Thanksgiving Dinner with tender turkey thighs, candied sweet potatoes, sausage stuffing and Brussels Sprouts cooked entirely in the Slow Cooker!
We love all things Thanksgiving and if you're looking for more than this slow cooker full of food you should check out the recipes for Green Bean Casserole, Ultimate Slow Cooker Mashed Potatoes and Baked Mac and Cheese.

Slow Cooker Thanksgiving Dinner for two!
Slow Cooker Thanksgiving Dinner for two with just a slow cooker, mixing bowl, knife, spoon and cutting board with all the side dishes. I know that may sound crazy, but I can assure you as someone who loves Thanksgiving dinner every month of the year you're going to love me when you try this out.
So I guess you're wondering either why? or how? or pfft yeah right. Well honestly if you guys have been a reader of the blog for a while you know my love for cooking meats in the slow cooker "dry" as well as how much I just love everything made in the slow cooker overall.
Yes, you're going to get to enjoy a full thanksgiving dinner minus the cranberry sauce (pop a can!) with exactly five dirty kitchen items to wash.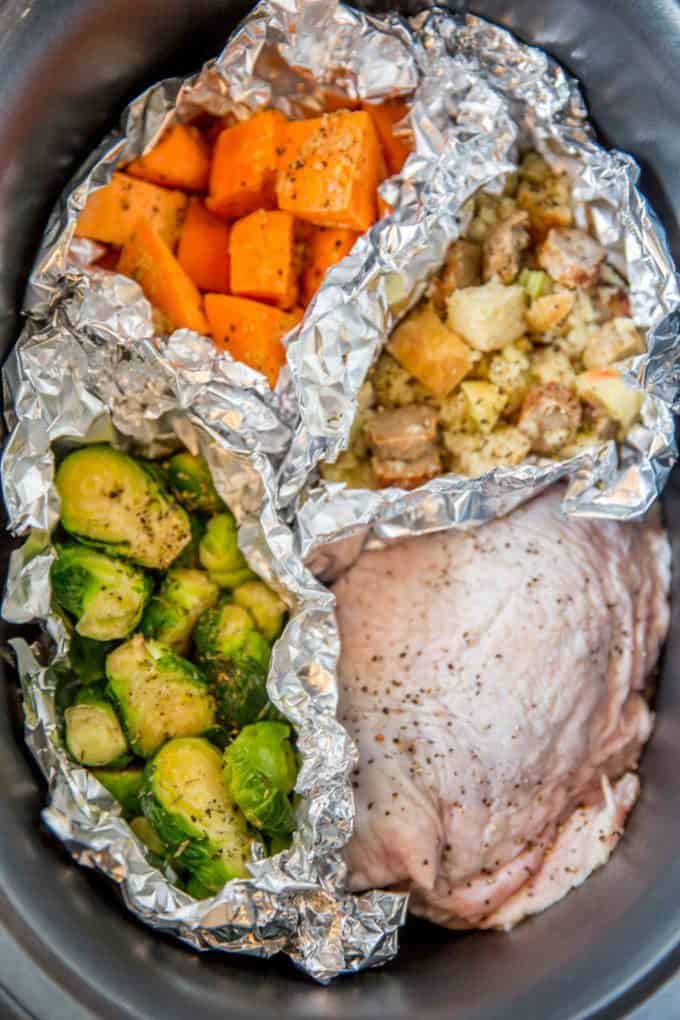 Tips for Slow Cooker Turkey Thighs:
You don't need the butter, skip if you'd like, but turkey benefits from it for flavor and man it would also make a good quick gravy if you wanted to dirty an extra saucepan.
Salt and pepper your turkey well! This bird is not going to get a lot of help from browning in the oven for hours, so season your food!
Other seasonings you could add? Rosemary and lemon or thyme and garlic.
Want a recipe for just turkey? Crispy Slow Cooker Turkey Thighs
Tips for the Sweet Potatoes:
You could go savory and used a garlic herb mixture, but or stay sweet with the same ingredients I used for Slow Cooker Sweet Potato Casserole and it would be DELICIOUS!
You could even just add a single large sweet potato to the slow cooker pierced with some holes then just split and serve for a healthier option.
You could also add whole russet potatoes like I did in this Slow Cooker Salisbury Steak and Mashed Potatoes.
Don't cut the cubes too small, remember they're going to cook for a while!
No one would judge you if you topped with some marshmallows and put the foil under the broiler (on a sheet pan, there will be turkey juices under it) if you chose to season sweetly instead of savory…ly. haha.
Want sweet potato recipes? Try: Slow Cooker Sweet Potatoes or Slow Cooker Sweet Potato Casserole
Tips for Brussels Sprouts:
I chose them because they're a hardy green vegetable that stands up to extended cooking. Want something green you can add in the last hour? Try broccoli, green beans or zucchini tossed in the same mixture.
Would be extra amazing with bacon if you've got some!
If you have really small Brussels Sprouts go ahead and leave them whole (just trim the bottoms).
Recipe for Brussels Sprouts: Oven Roasted Brussels Sprouts
Tips for Apple Sausage Stuffing:
Any stuffing recipe will do, just pare it down to 1/5th or 1/6th the recipe.
I like adding apple to this because it perfumes through the rest of the slow cooker really nicely too.
A small pat of butter in the last hour on top would be amazing.
Looking for just a stuffing recipe? Easy Apple Sausage Stuffing
Thanksgiving Dinner Tips:
If you want good browning, preheat your oven to 400 degrees and just finish it off for 10 minutes.
You may want to finish the food on a cookie sheet in the oven if your insert is not oven safe.
If you want to make a gravy of the turkey juices, melt some butter in a saucepan. Add an equal amount of flour (2 tablespoons of each should be good) and cook until lightly browned. Add in the juices and whisk until thickened. SEASON with more salt and pepper.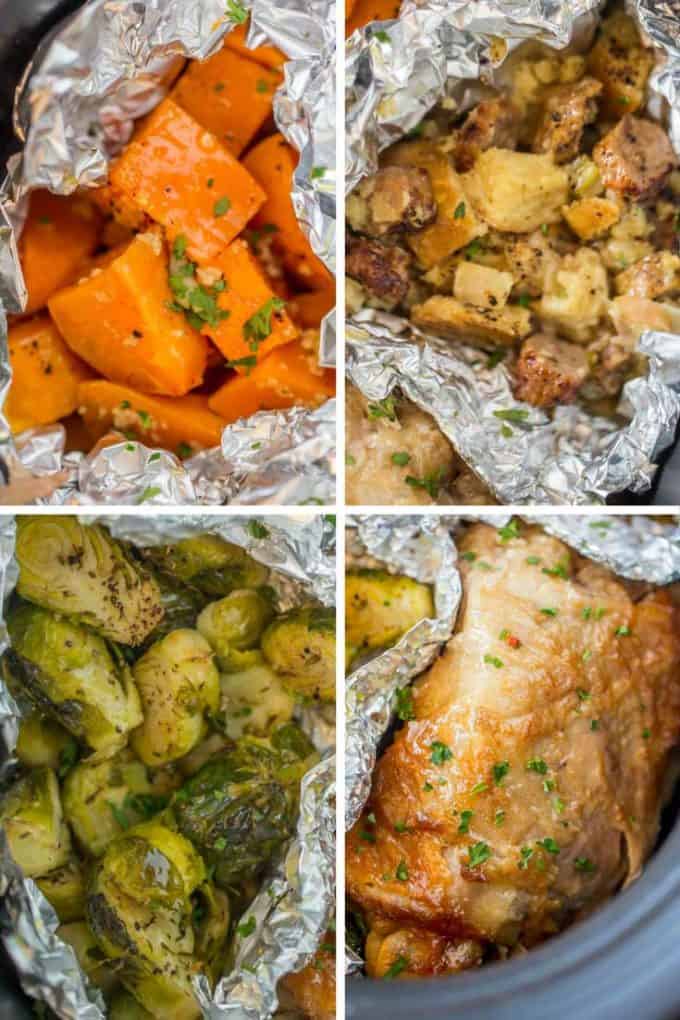 Want More Thanksgiving Options?
Tools used in this Slow Cooker Thanksgiving Dinner:
Slow Cooker: Love this slow cooker and how programmable it is, it has been a workhorse for me… until…
My New Slow Cooker: This recipe was made in this slow cooker. If you're thinking of a new slow cooker, consider it if your budget is open. With this slow cooker, you can finish it in the oven in the insert then remove the food and finish off your gravy on the stovetop!
Fat Separator: If you are going to make the gravy, draining the fat before adding the butter and flour with this handy tool that makes it easy for you.


Ingredients
TURKEY
1

Turkey thigh

(largest one you can find)

1/2

teaspoon

Kosher salt

1/4

teaspoon

crushed black pepper

1

tablespoon

butter

, melted
BRUSSELS SPROUTS
1

pound

brussels sprouts

, washed and cut in half through the stem (trim the bottom off the stem a little but not all the way)

1

tablespoon

melted butter

1/4

teaspoon

kosher salt

1/4

teaspoon

black pepper
SWEET POTATOES
1

pound

sweet potatoes

, peeled and cut into 1" chunks

1

tablespoon

melted butter

1/2

teaspoon

kosher salt

1/4

teaspoon

black pepper

1/4

teaspoon

cinnamon

2

tablespoons

brown sugar
STUFFING
6

slices

bread

, day old (cubed)

2

links breakfast sausage

, cooked and chopped

1/2

green apple

, diced

1/4

cup

chopped celery

1/2

large egg

1

tablespoon

melted butter
Instructions
Put the turkey thigh skin side up in the slow cooker and sprinkle on salt and pepper.

Pour over the 1 tablespoon of butter over the turkey.

Using the same bowl: Toss the brussels sprouts in ingredients and put into foil section.

Using the same bowl: Toss the sweet potatoes in ingredients and put into foil section.

Using the same bowl: Toss the stuffing with ingredients and put into foil section.

Cook on low for

8 hours

or high for

4 hours

.
Nutrition
Calories:
657
kcal
|
Carbohydrates:
126
g
|
Protein:
21
g
|
Fat:
10
g
|
Saturated Fat:
4
g
|
Cholesterol:
56
mg
|
Sodium:
2142
mg
|
Potassium:
1848
mg
|
Fiber:
20
g
|
Sugar:
35
g
|
Vitamin A:
34120
IU
|
Vitamin C:
200.3
mg
|
Calcium:
295
mg
|
Iron:
7.7
mg