Slow Cooker Salisbury Steak and Mashed Potatoes in a SINGLE slow cooker with mashed potatoes, rich gravy, mushrooms and onions over tender beef patties.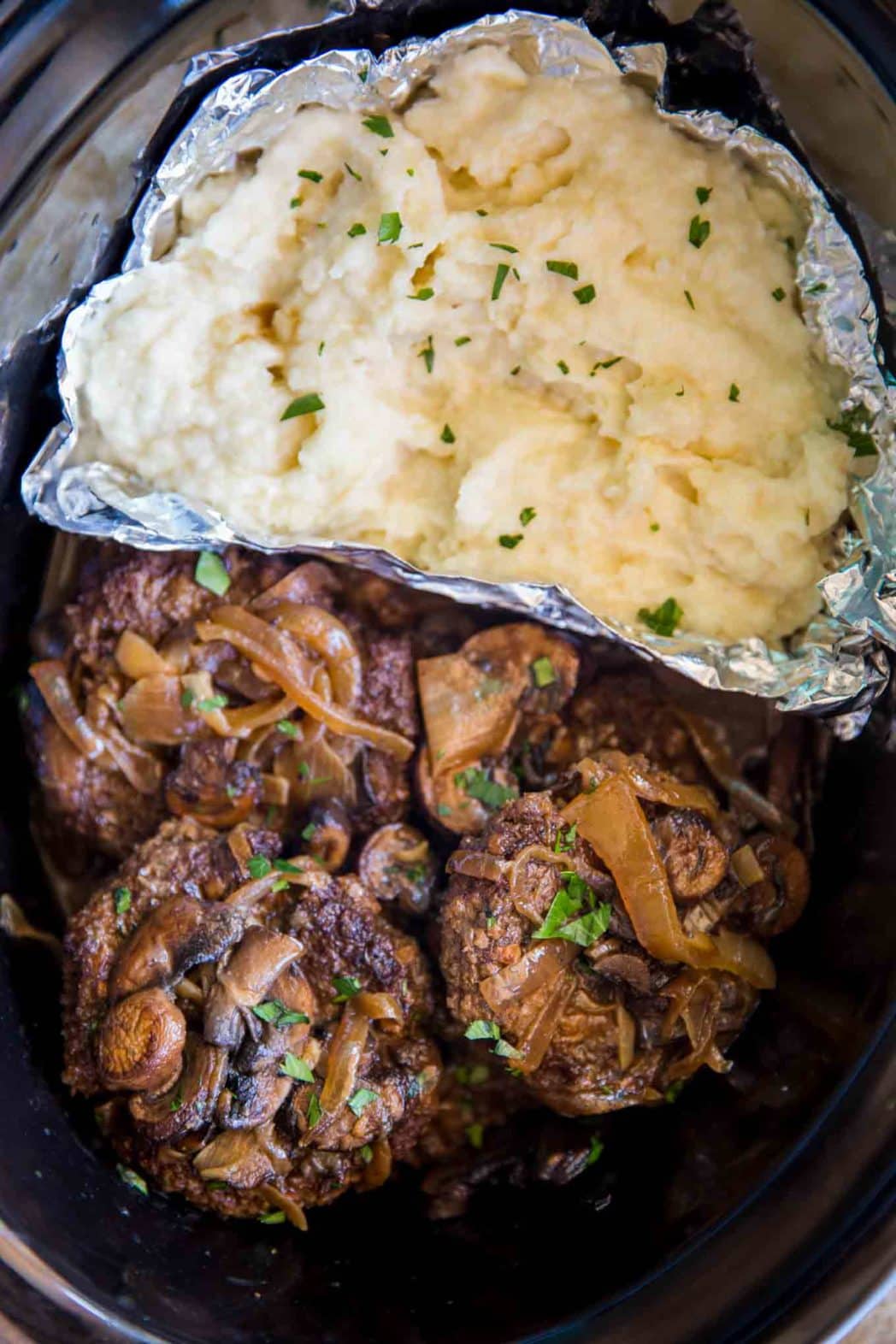 Slow Cooker Salisbury Steak and Mashed Potatoes. Yep, all in one slow cooker. Salisbury steak is actually a cherished memory for me as it is one of the first meals anyone ever cooked FOR ME. I know that may not be a huge deal, but when you're a chef people don't cook for you.
I've loved salisbury steak ever since. It was also one of my favorite meals my moms group made when we were doing meal swaps together. So making this entire meal in one slow cooker (and a bowl) has become an awesome weeknight meal for us this fall.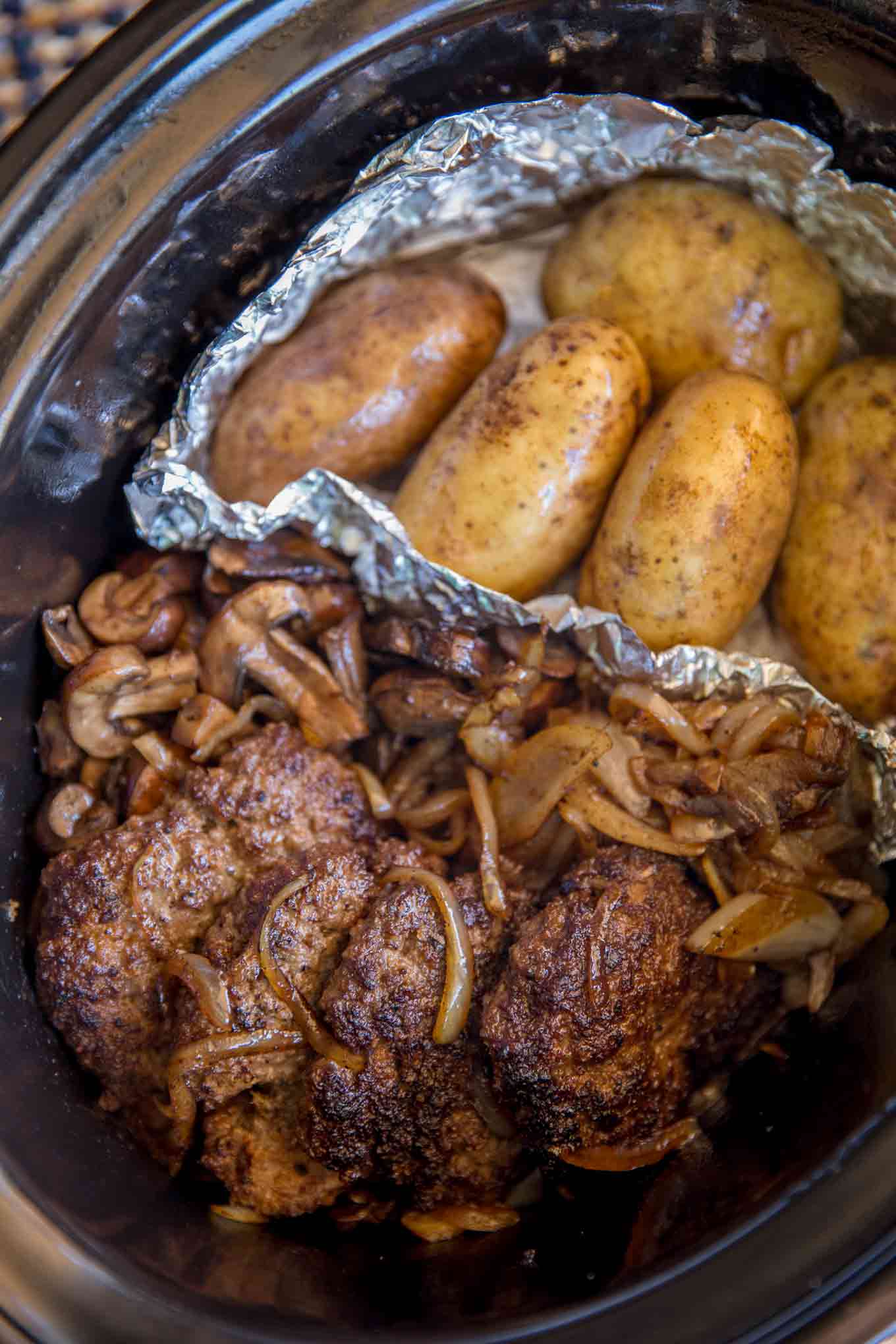 Some tips for making this Slow Cooker Salisbury Steak:
Browning the beef before putting it in the slow cooker isn't negotiable for this recipe. If you don't brown it the beef will be pretty unappetizing.
Browning the mushrooms and onions are a huge boost of flavor but they can otherwise be placed under the beef patties with the butter cut into slices on top of them with the salt and pepper.
I take the skin off the potatoes after they're done cooking but if you like them they're totally fine to leave on.
If you want you can skip the last part where you add the broth and cook on high if you had a small saucepan you can reduce the ingredients in until thick. Just add the broth, cornstarch and Worcestershire sauce into a saucepan on medium heat until thickened and pour over the beef, mushrooms and onions.
If you're in a hurry you can make slow cooker salisbury steak with french onion soup and swap out the broth mixture and onions for 2 cans soup added to the meat and mushrooms.
Looking for more Slow Cooker Dinner recipes?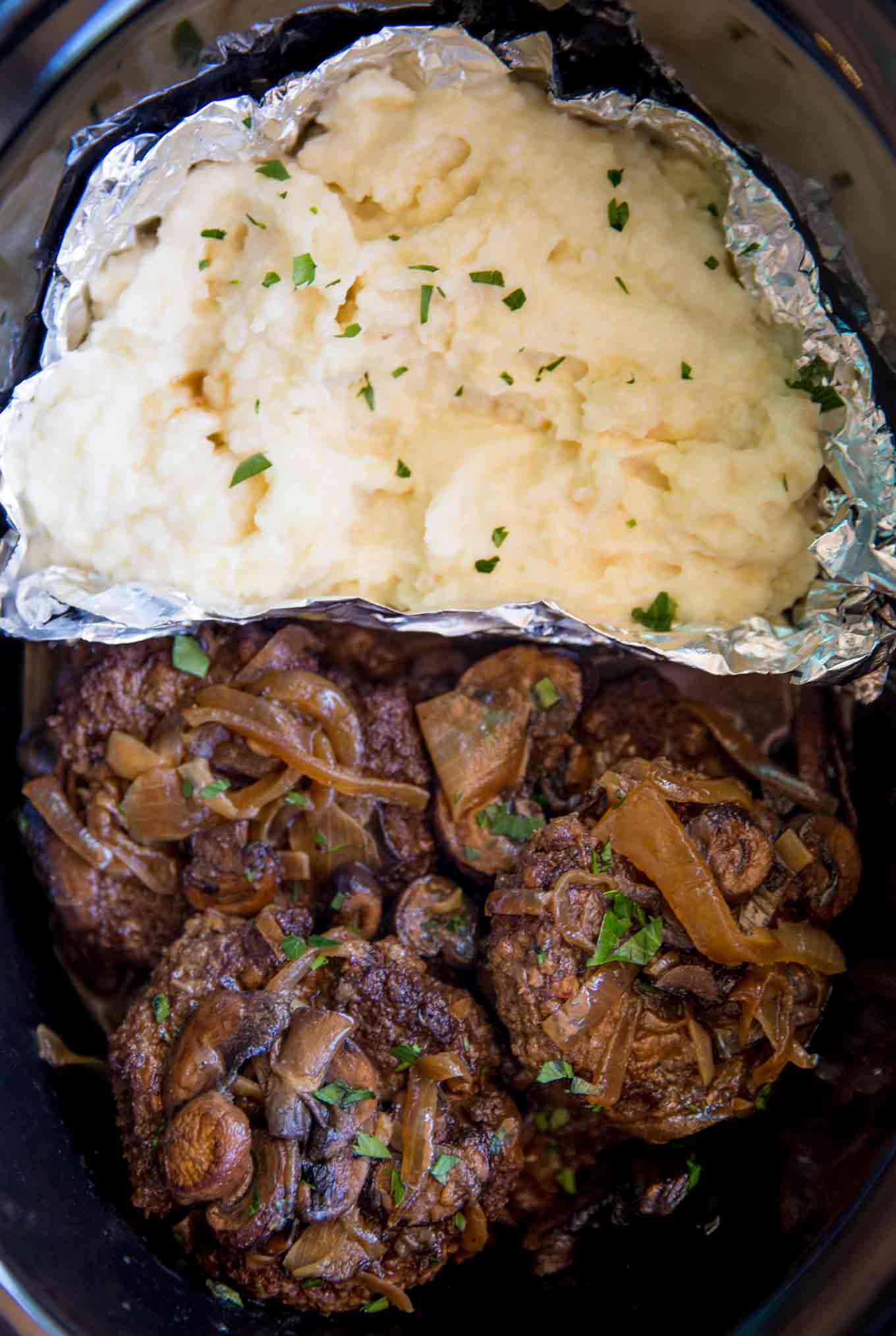 Tools used in this Slow Cooker Salisbury Steak and Mashed Potatoes:
Slow Cooker: Love this slow cooker and how programmable it is, it has been a workhorse for me… until…
My New Slow Cooker: This recipe was made in this slow cooker. If you're thinking of a new slow cooker, consider it if your budget is open. I brown the meat in the insert and not lose a bunch of the flavor by transferring the meat and leaving the browned bits behind.
Cast Iron Skillet: If you don't have a slow cooker with a stovetop friendly insert, this is my most used pan in my kitchen, heavy, keeps heat well and gives the BEST sear ever.
Potato Masher: ½ whisk, ½ potato masher, I love this kitchen tool!
Better Than Bouillon: I almost never buy boxes of broth because I keep the beef, chicken and vegetable version of this Better Than Bouillon.


Ingredients
SALISBURY STEAK
1

pound

ground beef

85/15

1/3

cup

breadcrumbs

panko or regular

1

tablespoon

ketchup

1

teaspoon

yellow mustard

1

tablespoon

beef base

(or 2 beef bouillon cubes, or skip)

1/2

teaspoon

Kosher salt

divided

1/4

teaspoon

crushed black pepper

divided

2

tablespoons

butter

1

yellow onion

sliced

8

ounces

crimini mushrooms

sliced

2

cups

beef broth

1

tablespoon

cornstarch

2

teaspoons

Worcestershire sauce

parsley

for garnish (optional)
MASHED POTATOES
6

russet potatoes

scrubbed clean

4

tablespoons

of butter

1/2

cup

sour cream

1

cup

whole milk or heavy cream

1/2

teaspoon

Kosher salt

1/4

teaspoon

ground black pepper
Instructions
SALISBURY STEAK
Mix the ground beef with breadcrumbs, ketchup, mustard, beef base (if using), ¼ teaspoon Kosher salt and half the black pepper.

Cook the patties on medium-high heat until browned on both sides,

4-5 minutes

per side.

Place the patties into ½ of the slow cooker.

Add the butter to the pan and add the rest of the salt and pepper to the onions and mushrooms.

Cook for

4-5 minutes

, stir, then cook an additional

4-5 minutes

.

Add to the slow cooker on top of the cooked beef patties.
MASHED POTATOES:
Add a piece of 12?x12? inches of foil into half of the slow cooker.

Place the clean and scrubbed potatoes into the slow cooker and press down tightly with another sheet of foil.
TO FINISH:
Uncover the foil and remove the potatoes. Peel if you'd like by rubbing off the skin with a paper towel or leave the skin on.

Add in the butter, sour cream, milk, salt and pepper and mash until desired consistency (I mashed the pictured potatoes for

1 minute

).

Add the potatoes back to the slow cooker in the foil still lining the bottom.

In a cup mix the beef broth, 2 teaspoons of Worcestershire sauce and one tablespoon of cornstarch and add it to the beef patties.

Cook on high for

20 minutes

.

Garnish with chopped parsley, optional.
Nutrition
Calories:
868
kcal
|
Carbohydrates:
76
g
|
Protein:
33
g
|
Fat:
48
g
|
Saturated Fat:
24
g
|
Cholesterol:
146
mg
|
Sodium:
1767
mg
|
Potassium:
2171
mg
|
Fiber:
5
g
|
Sugar:
9
g
|
Vitamin A:
820
IU
|
Vitamin C:
20.9
mg
|
Calcium:
209
mg
|
Iron:
6.1
mg