Slow Cooker Jalapeno Pineapple Pork with just six ingredients is crispy with a sweet, sticky, spicy glaze and meltingly soft pineapple chunks.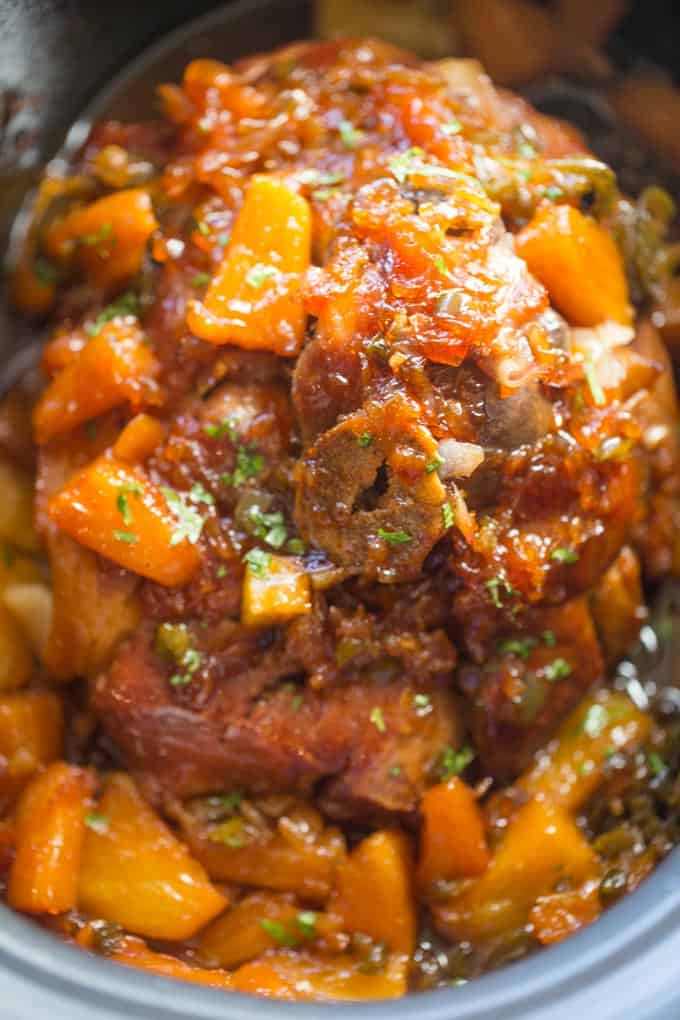 Slow Cooker Jalapeno Pineapple Pork wasn't actually supposed to make an appearance on the blog this soon. I was saving it for later because the blog has had so many slow cooker recipes recently. The pictures had been hanging out on my memory card for a couple of months (I cook and shoot pictures pretty far ahead of time because life is so unpredictable – as well as light!) and I figured I would post it towards the summer when it was more pineapple season friendly.
Then we made the Slow Cooker Jalapeno Pineapple Pork again for dinner last night. My husband said, "this must have like a hundred thousand hits on your blog" and I told him I hadn't posted it yet. Yeah. He looked at me like I was an alien and said, "you need to bump this up to the front of your schedule." It is so rare for him to comment on my posting schedule, so I'm going to run with it and bump my one pot creamy chicken dish back in the schedule to bring this to you all today!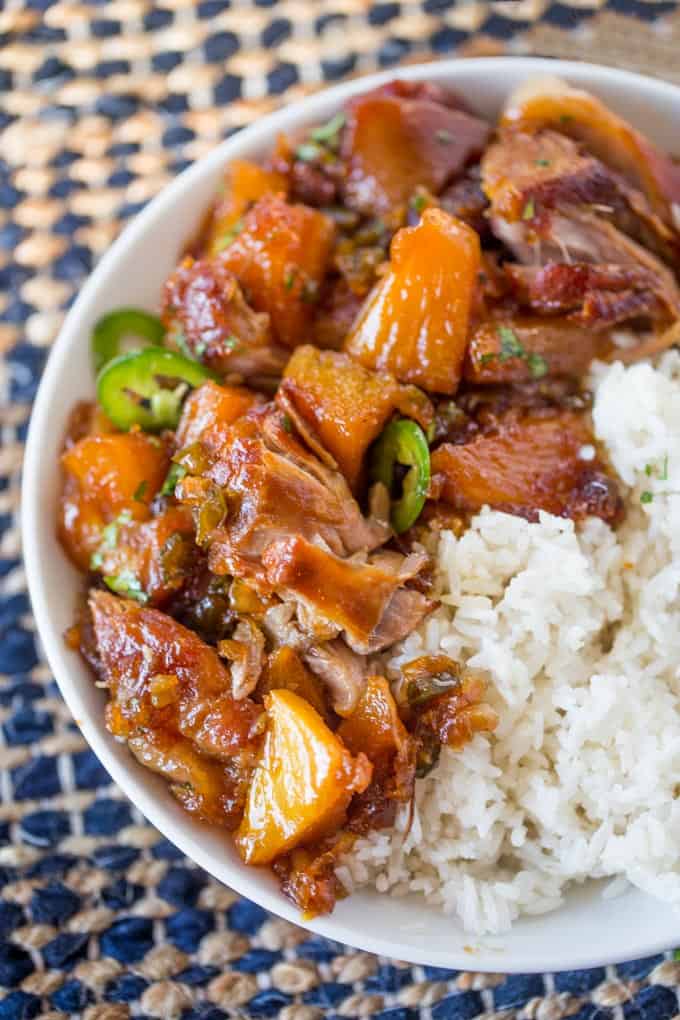 It's a bit hard to believe this dish only has six ingredients, but if you mix things up here are some ideas:
Add bell peppers (similar to my Slow Cooker Hawaiian Pineapple Chicken, the mix of bell peppers and pineapples is delicious)
Add garlic or ginger – this will give it a deeper, more savory flavor with a bit more of a punch
Add hoisin sauce instead of dark brown sugar – this will give it a more Asian vibe but preserve sweetness since hoisin is like a bbq sauce
Add sweet onion instead of yellow onion – if you want to cut back on savory and stick to sweet and spicy.
Looking for more slow cooker pork recipes?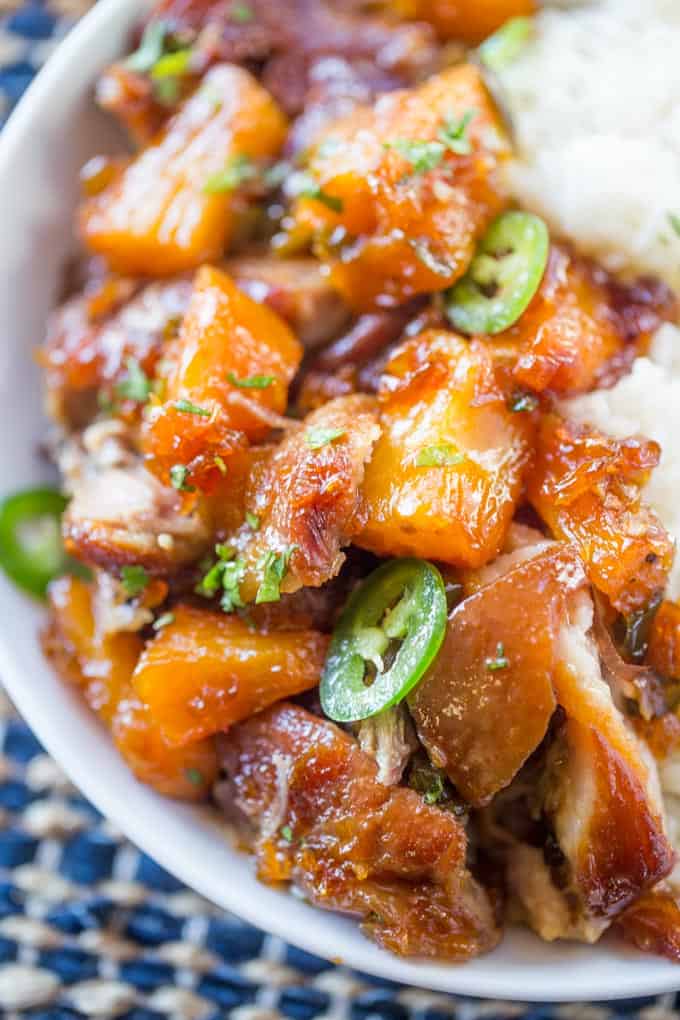 Tools used in the making of this Slow Cooker Jalapeno Pineapple Pork:
Low Sodium Soy Sauce – I find regular soy sauce much too salty, remember you can always add salt but you can't subtract it. Starting with low sodium allows you to alter to your tastes if necessary.
Dark Brown Sugar – You can use regular light brown sugar but the dark brown adds molasses which gives a deeper flavor to the pork. I'd recommend using dark brown sugar if at all possible.
Fat Separator: If you are draining the fat from the pork before serving this is a handy tool that makes it easy for you.
Spice Rack – I buy spices in bulk from local grocers and from Penzey's. It's less expensive and significantly higher quality than buying the jars individually but I ended up being left with tons of little bags of spices. Enter the spice rack.
Slow Cooker: Love this slow cooker and how programmable it is, it has been a workhorse for me… until…
My New Slow Cooker: This recipe was made in this slow cooker. For larger roasts I also brown the meat in the insert and not lose a bunch of the flavor by transferring the meat and leaving the browned bits behind. If you're thinking of a new slow cooker, consider it if your budget is open.


Ingredients
6

pound

pork shoulder roast

1

yellow onion

, diced

2

jalapenos

, 1 sliced thinly for garnish and one diced

1/2

cup

low sodium soy sauce

1/4

cup

dark brown sugar

1

pineapple

, peeled, cored and cut into 1" chunks

1/4

cup

fresh cilantro or parsley for topping
Instructions
In a small bowl add the yellow onion, diced jalapeno, soy sauce, brown sugar and pineapple chunks and stir to combine.

Put the pork in the slow cooker, fat cap side up.

Pour over the pineapple-jalapeno mixture.

Cook on low for

8-9 hours

or on high for

4-5 hours

.

If you'd like to reserve the liquids at the end remove the pork and pineapple pieces then drain the liquid into a glass measuring cup.

Let the fat settle to the top and spoon it off or let it chill in a refrigerator and then just scrape it off the top.

If you'd like this pork to taste like crispy carnitas you can crisp it up in a pan with a spoonful of the fat on medium high heat, or just spread it onto a sheet pan and put under the broiler for

45-60 seconds

.
Nutrition
Calories:
323
kcal
|
Carbohydrates:
19
g
|
Protein:
33
g
|
Fat:
11
g
|
Saturated Fat:
4
g
|
Cholesterol:
111
mg
|
Sodium:
554
mg
|
Potassium:
718
mg
|
Fiber:
1
g
|
Sugar:
15
g
|
Vitamin A:
120
IU
|
Vitamin C:
48.8
mg
|
Calcium:
44
mg
|
Iron:
2.6
mg