jump to recipe
Slow Cooker Balsamic Pot Roast
This post may contain affiliate links. Read my disclosure policy here.
Slow Cooker Balsamic Pot Roast with a rich balsamic glaze and tender fall apart beef, you'll LOVE this whole meat in one pot!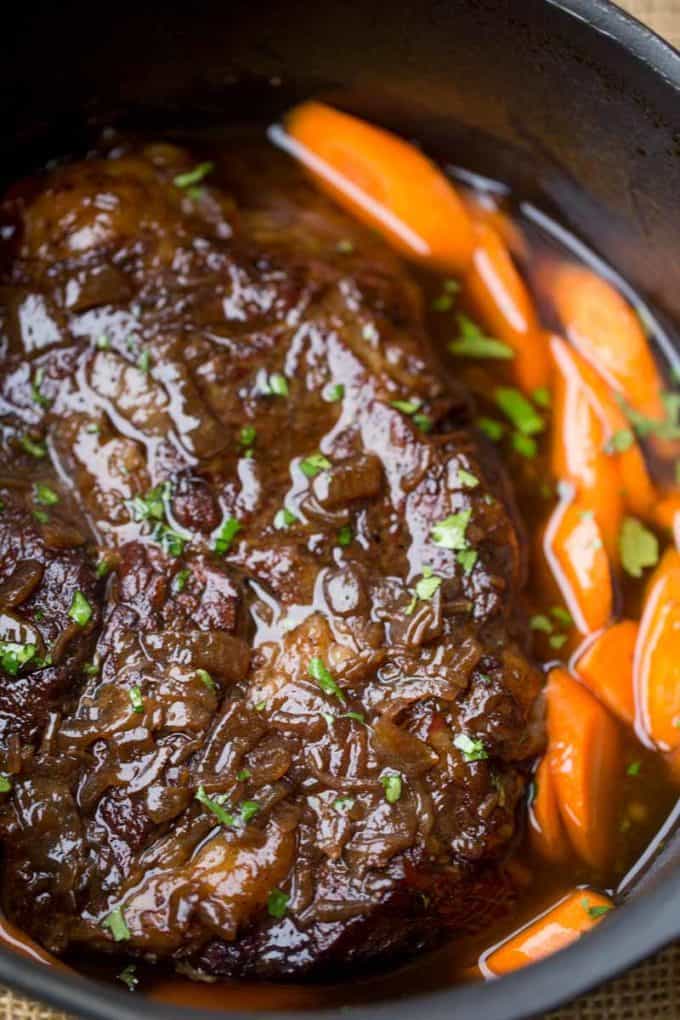 Slow Cooker Balsamic Pot Roast is one of the first pot roasts I ever made in the slow cooker. I find myself using slow cookers in recipes people normally wouldn't think of slow cookers for like Crisp and Juicy Slow Cooker Chicken and Slow Cooker Pastrami Sandwiches but we use it for pot roasts much more than the blog would make it seem like.
This Slow Cooker Balsamic Pot Roast is full of flavor from the balsamic vinegar, red wine and my secret flavor enhancing beef base. I use Better Than Bouillon for my bases and they add a ton of flavor to dishes. I use them in anything where there is a sauce that requires a stock. This adds the same flavor without having to cook the stock down.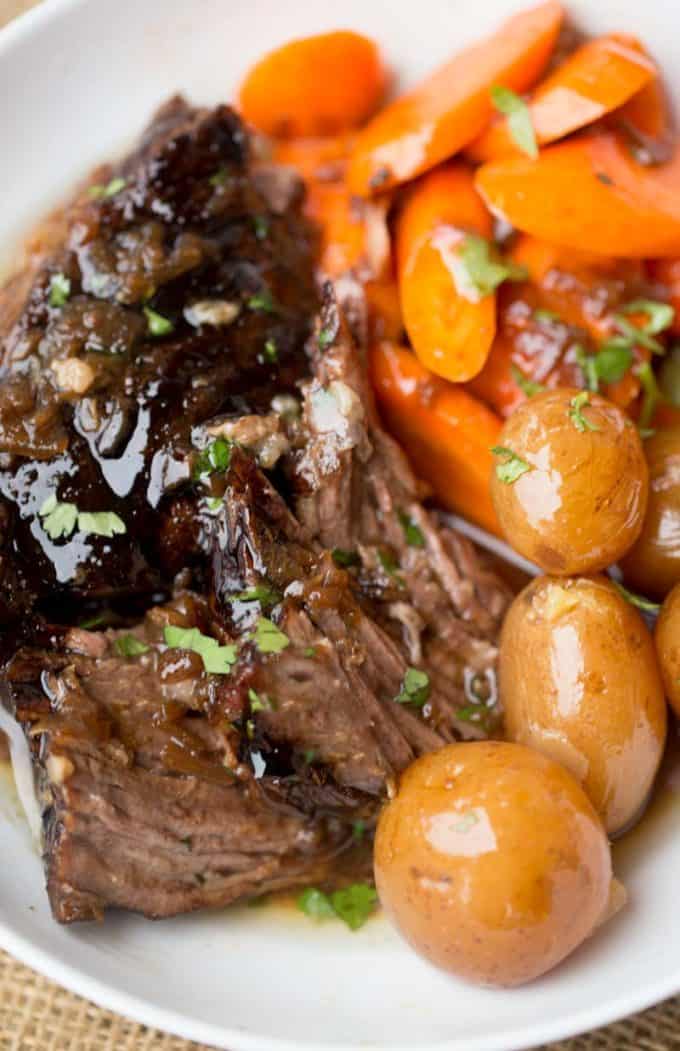 Best practices for Slow Cooker Pot Roasts:
Season your pot roasts aggressively. It adds a ton of flavor to the roast and will also season your sauce.
Brown the roasts very well on both sides. Since we are adding liquids to the slow cooker it won't have an opportunity to brown in there.
Try to keep the liquids minimal as the meat will also release quite a lot of liquids. This also makes for more flavorful sauces.
Let the meat rest for 10 minutes once you take it out of the slow cooker, this also gives you time to reduce the liquids to a thicker glaze/sauce.
If you have room in the slow cooker add vegetables to make this a truly easy meal. I add carrots and potatoes as they hold up well in slow cookers.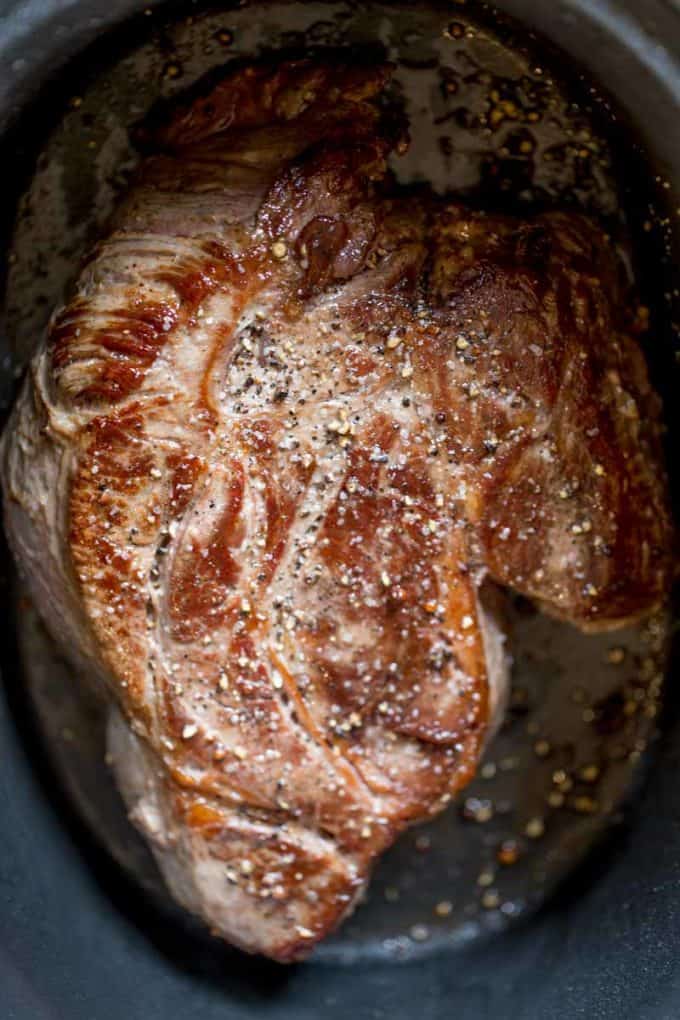 Looking for more slow cooker roast recipes?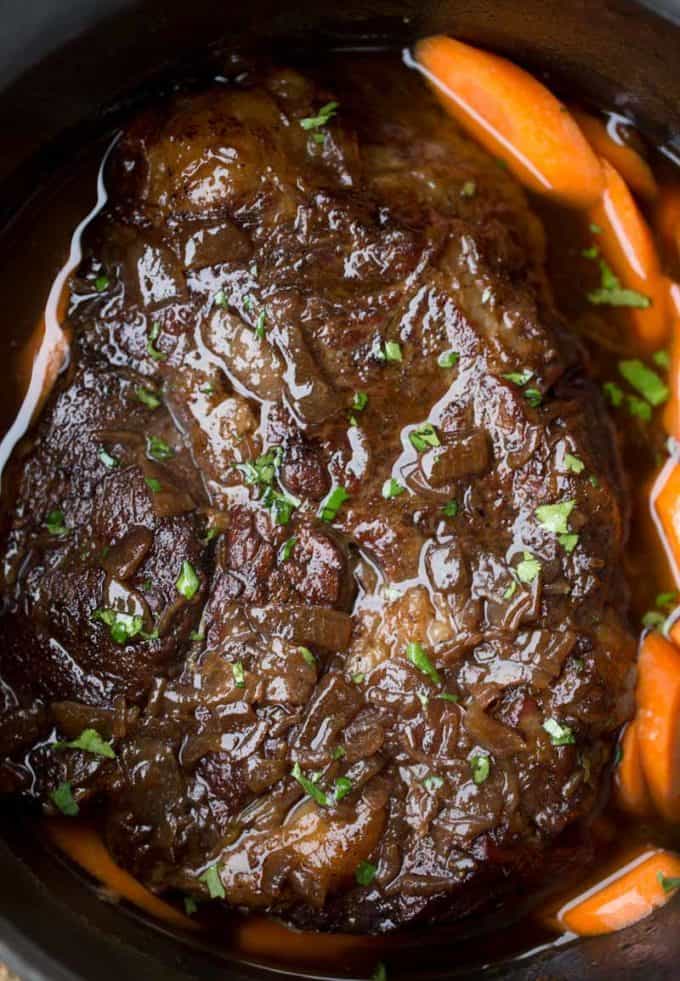 Tools used in the making of this Slow Cooker Balsamic Pot Roast:
Slow Cooker: Love this slow cooker and how programmable it is, it has been a workhorse for me… until…
My New Slow Cooker: This recipe was made in this slow cooker. For larger roasts I also brown the meat in the insert and not lose a bunch of the flavor by transferring the meat and leaving the browned bits behind. If you're thinking of a new slow cooker, consider it if your budget is open.
Better Than Bouillon: I almost never buy boxes of broth because I keep the beef, chicken and vegetable version of this Better Than Bouillon.
Balsamic Vinegar: I love cooking with balsamic vinegar as it adds a ton of flavor. I love this brand and the Trader Joe's brand as well.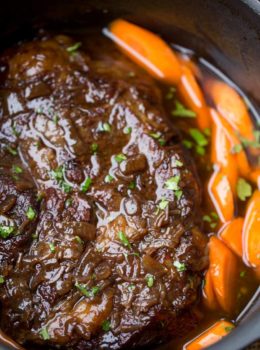 Slow Cooker Balsamic Pot Roast
Slow Cooker Balsamic Pot Roast with a rich balsamic glaze and tender fall apart beef, you'll LOVE this whole meat in one pot!
Ingredients:
2 tablespoons canola oil
4 pound chuck roast, boneless
1 1/2 teaspoons kosher salt
1/2 teaspoon ground black pepper
1 yellow onion, diced
3 cloves garlic, minced
1/2 teaspoon dried thyme
1 bay leaf
1/3 cup balsamic vinegar
1 tablespoon beef base (totally optional but it is awesome)
1/2 cup red wine
1/4 cup brown sugar
3 carrots, chopped into 1″ pieces (if you have room)
12 baby gold potatoes (if you have room)
Directions:
In a large pot or skillet add 2 tablespoons of canola oil oh high heat.
Season the pot roast with the salt and pepper.
Add the pot roast to the pan and brown on both sides, 3-5 minutes on each side.
Add the meat to the slow cooker.
Add the onions into the pan you browned the beef in and cook for 1-2 minutes.
If you have space around the meat in the slow cooker add in some small potatoes and carrots.
Top the beef with the onions, garlic, thyme and bay leaf.
In a small cup add the beef base (if using) to the balsamic vinegar and whisk.
Top the beef with the balsamic mixture, red wine and brown sugar.
Cook on low for 6 to 8 hours.
Remove bay leaf before serving.
To make the sauce into a glaze, strain the liquid out after it is done cooking.
Spoon off the fat and discard.
Add the remaining sauce to a small pan and cook in a saucepan on medium heat until thickened, about 8-10 minutes.
If you want a stronger balsamic flavor, add in another 2 tablespoons of balsamic vinegar to the sauce before cooking it down in the saucepan.
All images and text ©
Made this recipe?
Show me what you made on Instagram or Facebook and tag me at @DinnerthenDessert or hashtag it at #dinnerthendessert.
MY OTHER RECIPES
Dinner, then Dessert, Inc. owns the copyright on all images and text and does not allow for its original recipes and pictures to be reproduced anywhere other than at this site unless authorization is given. If you enjoyed the recipe and would like to publish it on your own site, please re-write it in your own words, and link back to my site and recipe page. Read my disclosure and copyright policy. This post may contain affiliate links.