Guinness Pot Roast has fork-tender beef with classic ingredients like potatoes and carrots, and a surprise layer of flavor from stout, rosemary, and garlic.
This Irish twist on a Classic Pot Roast is the latest addition to our collection of worldly pot roast recipes that includes Mexican Pot Roast, Thai Peanut Pot Roast, and French Onion Pot Roast. Guinness Pot Roast doesn't stray far from a traditional preparation, but the addition of the tasty stout will have you raising a glass to toast this amazing meal!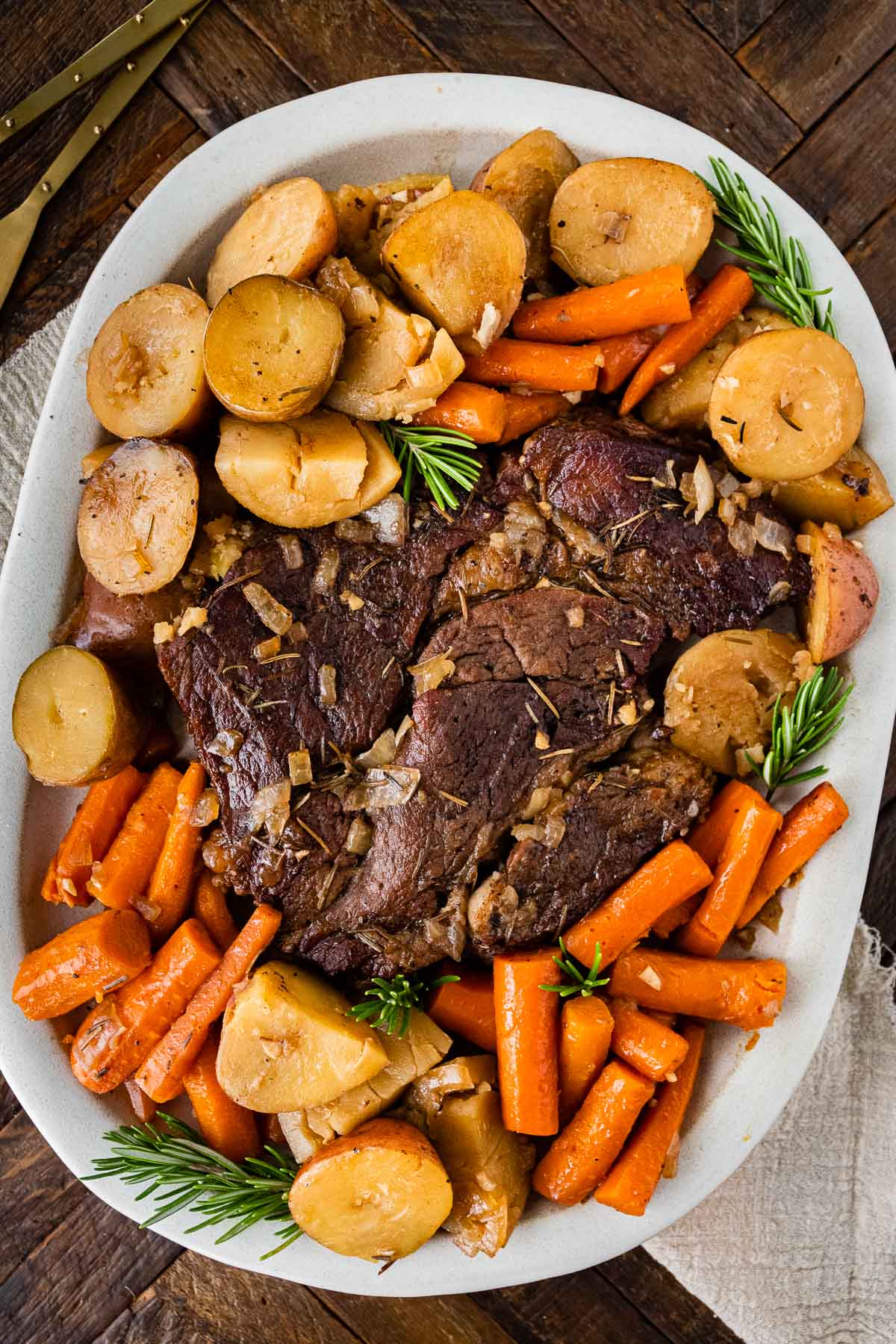 There's nothing more cozy and comforting than a hearty meat and potatoes dinner. The rich, deep flavors of a Guinness stout are bold enough to take your pot roast to the next level! Guinness has a slight sweetness to it and a mild creamy finish, which makes it the perfect companion to the more savory flavors of beef broth, garlic, and rosemary in this pot roast.
This is a perfect Sunday dinner, because it can be prepared in the early afternoon and braise in the oven for a few hours while you relax or watch a game. Then you can enjoy the leftovers when your busy week begins! Since the carrots and potatoes cook along with the roast, they soak up all the yummy flavors and provide a side dish in this easy, one-pot meal.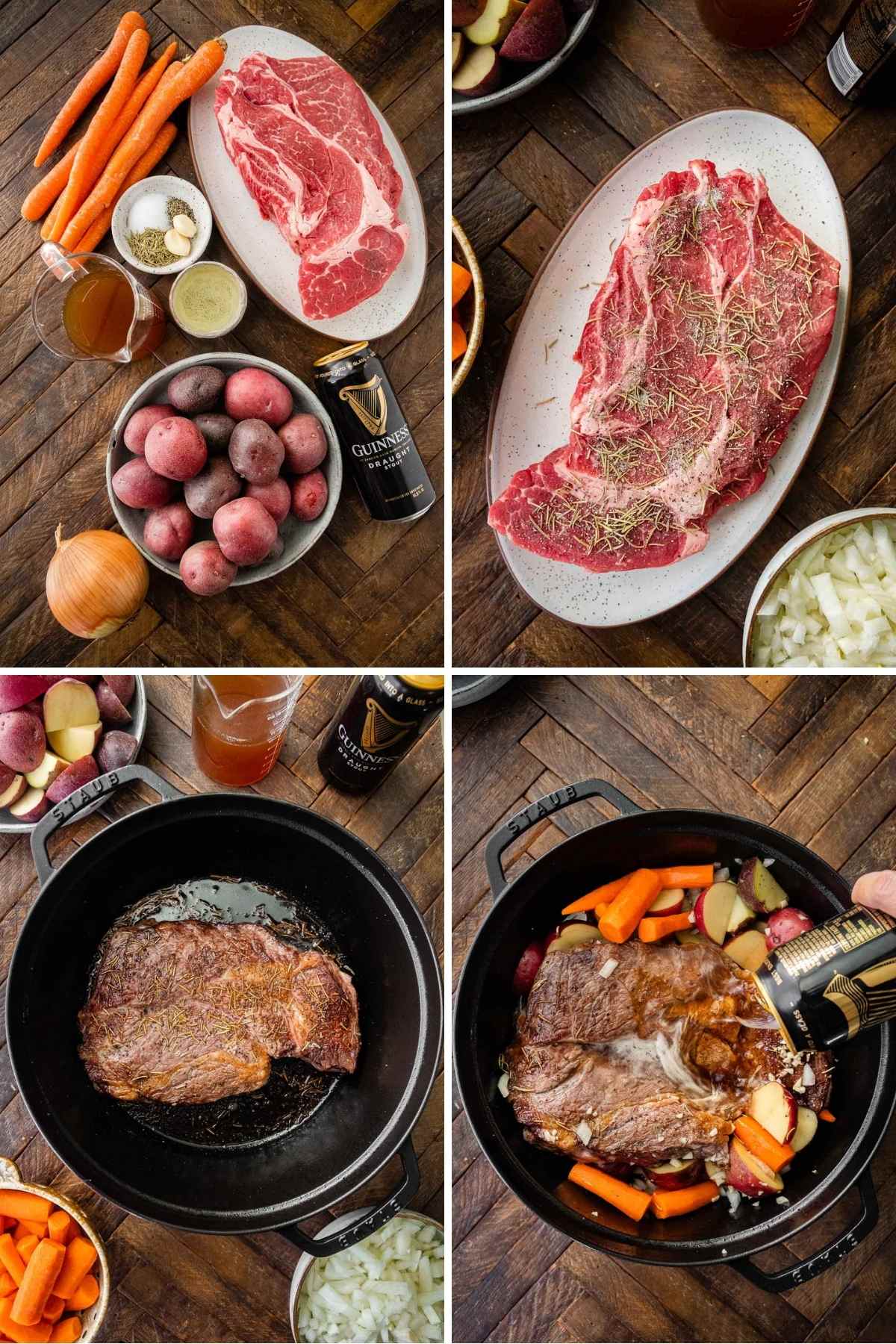 As with so many pot roast recipes, it is important to take the step of deeply searing your roast on both sides before adding the liquid ingredients. Season the beef first, then make sure the oil is nice and hot. Give your roast a good few minutes on each side to achieve a dark, caramelized crust. This will not only add tons of flavor to your pot roast, it will improve the texture also!
How to Make Guinness Pot Roast
Prep: Preheat the oven to 325 degrees, then season the roast with salt, pepper, and rosemary.
Sear: Add oil to a pan and turn on the heat. Once it ripples with heat, add the roast and sear until a deep brown color, about 4-5 minutes on each side.
Cook: Add the carrots, potatoes, onion, garlic, beef broth, and Guinness, then cook for 3-3 ½ hours.
More Pot Roast Recipes
Frequently Asked Questions About Guinness Pot Roast
Why does Pot Roast have to be cooked for so long?
The longer you cook a pot roast, the more tender it will become. This is because the meat has a lot of connective tissues that take a while to break down. However once they do you get tender meat that you can pull apart with your fork.
What if I can't find a roast that is 4-5 pounds to fit the recipe?
If you can't find a roast that is 4-5 pounds, it's okay to use one that is smaller. You can even use one that is larger if you have a pot it will fit in. You will need to adjust your cooking time, as a small roast will cook faster, and a large roast will take more time. Watch your roast and test it with a fork to see if it's done.
Why Use Guinness?
Guinness is the best beer for this recipe, and no they are not a sponsor! Although there are many varieties of stout on the market, including different types of Guinness, the traditional Guinness Extra Stout is what you want. It is well balanced between bitter and sweet, with a slight roasted quality that adds a depth of flavor to this pot roast. The great thing is that if you buy a six-pack, you'll have plenty left over to drink a perfect pairing with dinner! If you prefer a stout from a different brewery, just make sure it has similar balanced flavors and is not heavily bitter or sweet. 
How to Serve Guinness Pot Roast
Although Guinness Pot Roast can be served as a complete meal, you could also add a fresh green veggie like Roasted Broccoli or Brussels Sprouts. A side salad would be another light dish to pair with the roast. You can also make an easy Beer Bread to soak up the juices from the pot roast and expand on your beer-themed meal! For leftovers, a juicy Pot Roast Sandwich would make an excellent lunch or dinner.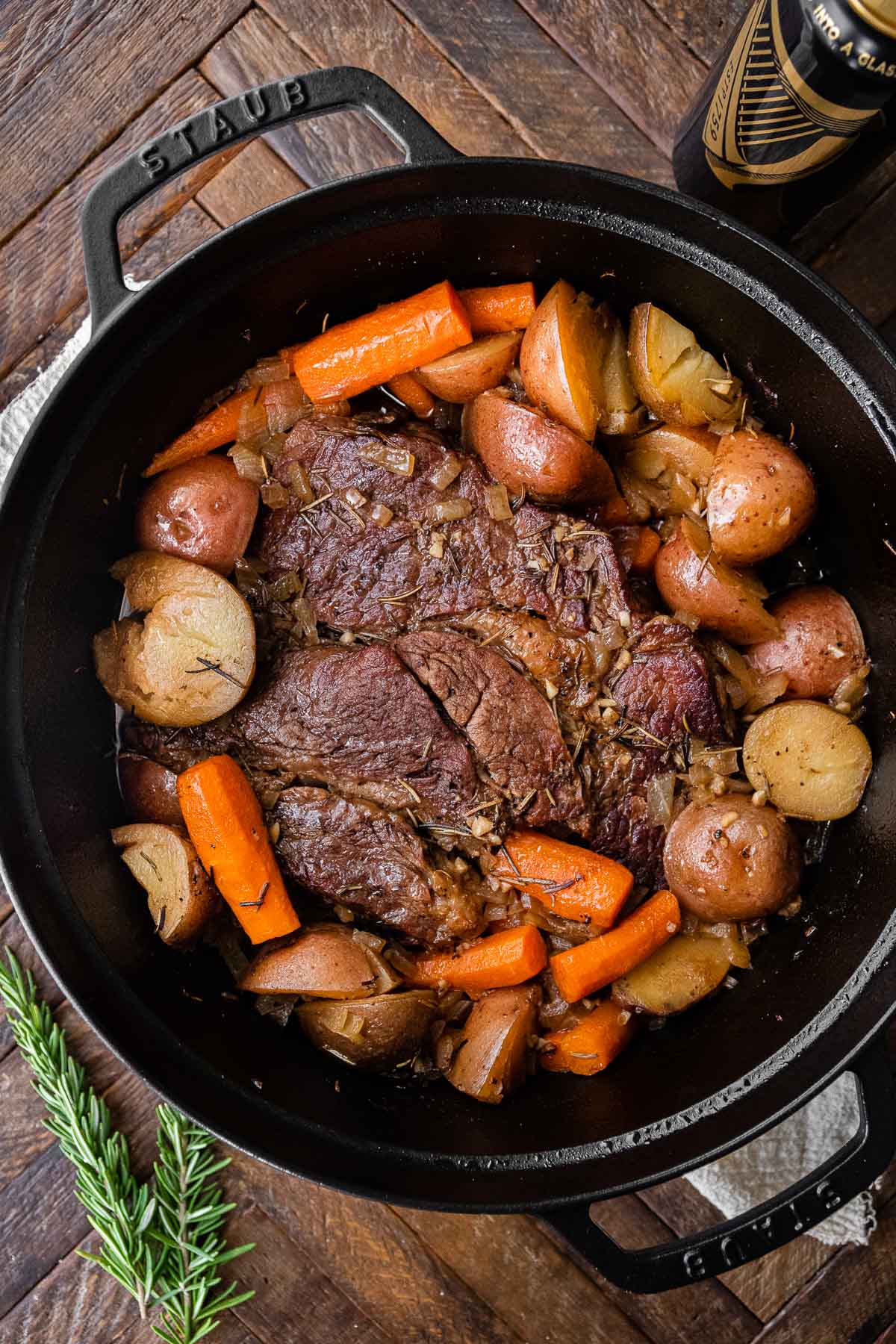 Create a free account to Save Recipes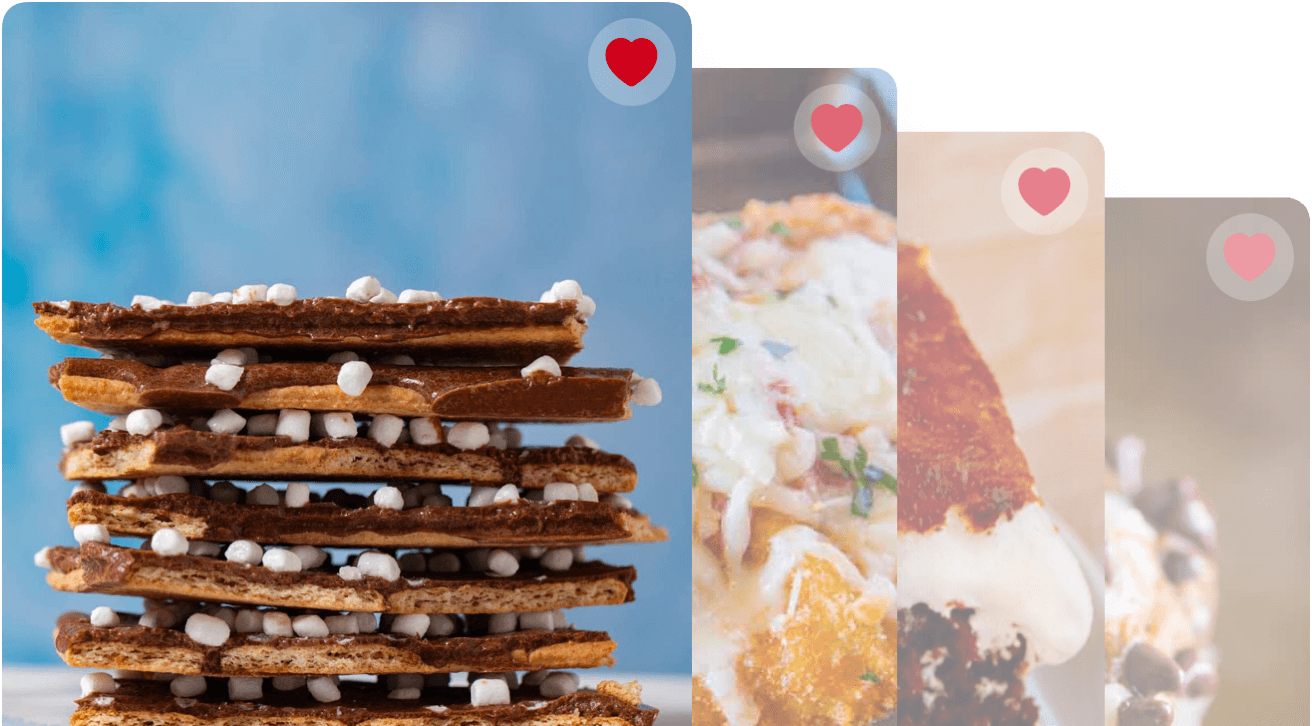 Variations on Guinness Pot Roast
Beef: Chuck roast is typically used for pot roasts because it is inexpensive and works well for the slow cooking method. However, brisket or bottom round roasts would also work beautifully for pot roast. 
Veggies: Substitute parsnips, turnips, rutabaga, or any of your favorite root vegetables for the carrots and potatoes.
Seasoning: Instead of rosemary, use dried thyme, sage, or a combination to suit your taste.
Beer: While Guinness is highly recommended, if you prefer a milder beer flavor, try substituting a light pilsner or lager.
Slow Cooker Guinness Pot Roast
Prep: Season the roast with salt, pepper, and rosemary. Rest while you gather the rest of your ingredients.
Sear: In a large skillet over medium heat, heat the oil until shimmering. Add the beef and brown deeply for 3-4 minutes on each side.
Cook: Place roast and remaining ingredients in the slow cooker. Cover with the lid and cook for 7-8 hours on low, or high heat for 3-4 hours, until meat is fork-tender.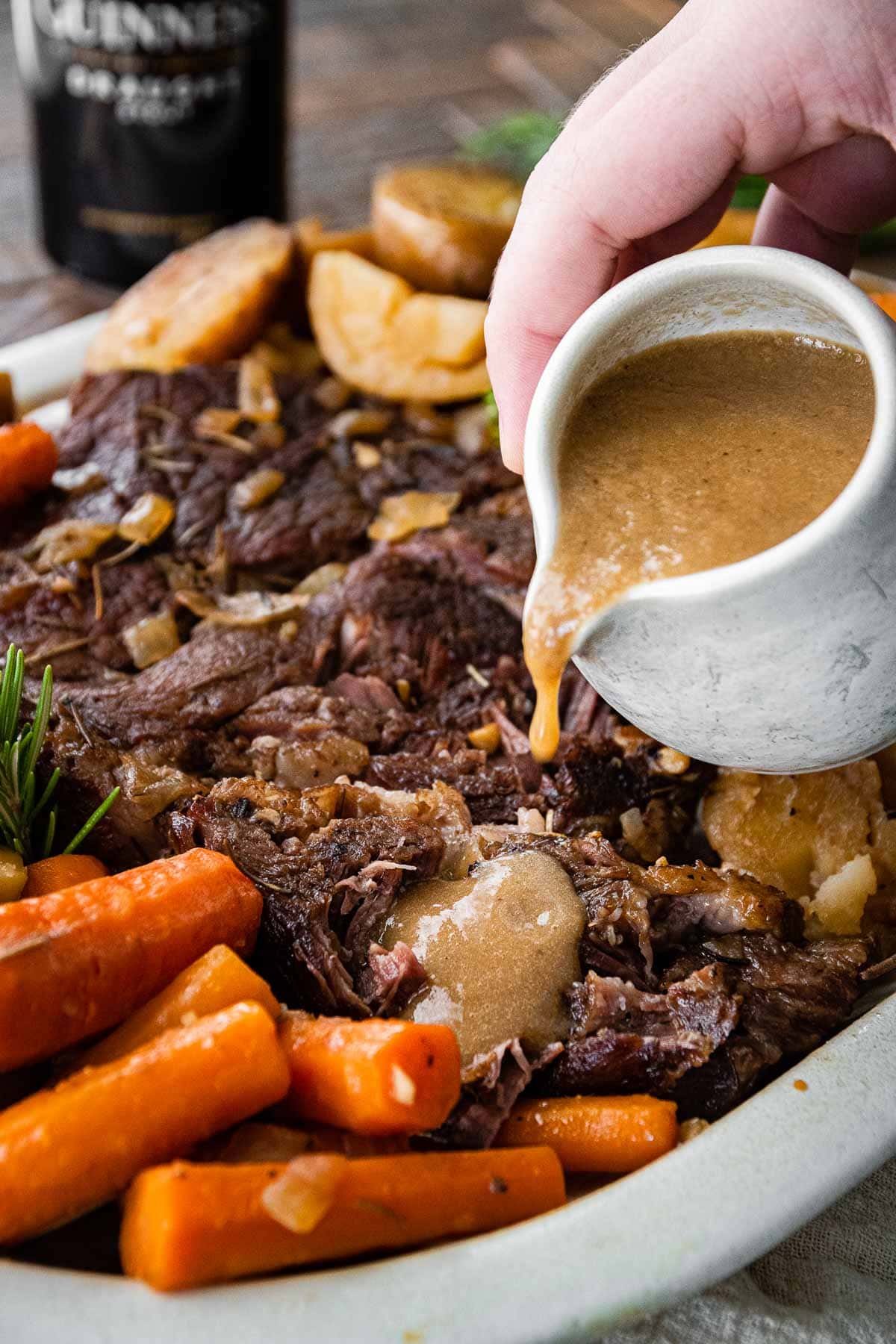 More Recipe Favorites With Beer
Instant Pot Guinness Pot Roast
Prep: Season beef with salt, pepper, and rosemary on both sides and allow to rest at room temperature.
Sear: Heat oil in Instant Pot on Sauté Function. Once the oil is hot, add beef and brown on both sides for 3-4 minutes each.
Deglaze: Remove roast and set aside. Deglaze Instant Pot with 1 cup broth, scraping off any brown bits.
Cook: Return beef to the pot and add the remaining ingredients. Close and secure lid and seal pressure valve. Cook on Manual High Pressure for 15 minutes per pound (60-75 minutes). Naturally release pressure, unlock the lid, and serve.
How to Store Guinness Pot Roast
Serve: Guinness Pot Roast can be kept at room temperature for up to 2 hours before needing refrigeration.
Store: Store in an airtight container in the refrigerator for up to 3 days.
Freeze: Freeze Guinness Pot Roast in a freezer-safe container for 2-3 months. Defrost in the refrigerator overnight and reheat in the oven or on the stovetop. You may want to add up to a cup of Guinness or beef broth when reheating.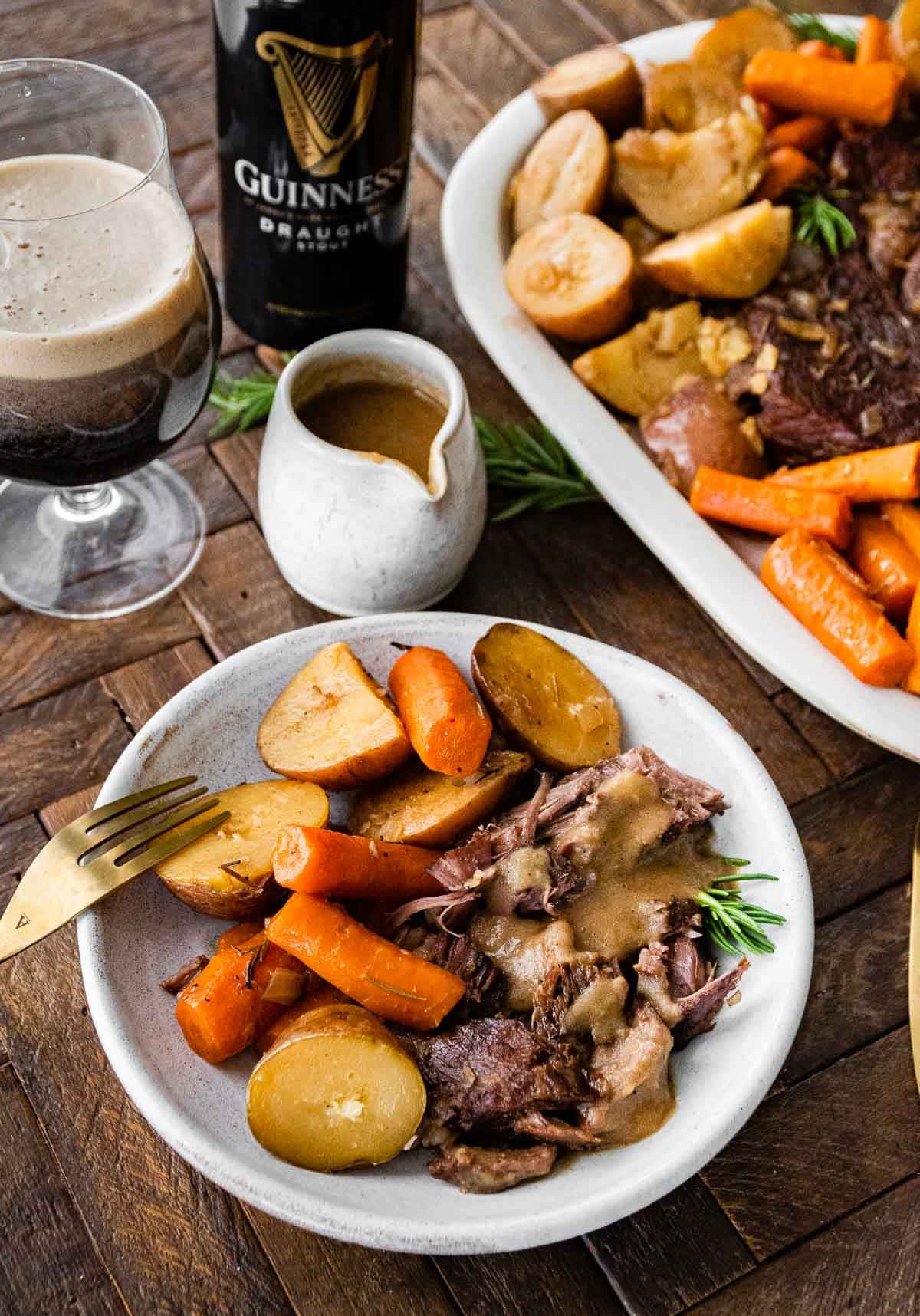 Ingredients
4-5

pound

chuck roast

2

tablespoons

canola oil

2

teaspoons

kosher salt

1

teaspoon

coarse ground black pepper

1

teaspoon

dried rosemary

1

pound

carrots

, peeled and cut into 2" chunks

2

pounds

red potatoes

, cut into large chunks

1

large onion

, diced

2

cloves

garlic

, minced

1

cup

beef broth

12

ounces

Guinness Beer
Instructions
Preheat your oven to 325 degrees.

Season the chuck roast with the kosher salt, pepper, and rosemary.

Add the canola oil to a pan and heat. When it ripples and is hot add in the roast and brown, deeply, for

4-5 minutes

on each side.

Add carrots, potatoes, onion, garlic, beef broth, and Guinness beer, and cook for

3-3 ½ hours

.
Nutrition
Calories:
377
kcal
|
Carbohydrates:
18
g
|
Protein:
31
g
|
Fat:
20
g
|
Saturated Fat:
8
g
|
Polyunsaturated Fat:
2
g
|
Monounsaturated Fat:
10
g
|
Trans Fat:
1
g
|
Cholesterol:
104
mg
|
Sodium:
625
mg
|
Potassium:
995
mg
|
Fiber:
3
g
|
Sugar:
3
g
|
Vitamin A:
6341
IU
|
Vitamin C:
10
mg
|
Calcium:
51
mg
|
Iron:
4
mg