Slow Cooker Clam Chowder is so easy to make with a deliciously creamy, briny flavor mixed with smoky crispy bits of bacon and rich buttery yukon potatoes.
Slow Cooker Clam Chowder
Slow Cooker Clam Chowder is an easy fall soup you'll enjoy as well as great gameday food you can make for a crowd. We often serve this clam chowder in a bread bowl, but even more often I pile it into a giant bowl and throw a huge handful of oyster crackers on top.
The flavors in the soup scream "hey its not swimsuit weather anymore!" with half and half, bacon, potatoes and clams, but just a small bowl will keep you warm and full for HOURS. We went skiing last winter a lot and one of the few meals I made in our hotel mini kitchen was this soup. After a long day of playing in the snow, you're going to love this thick, rich bacon filled chowder. Can I just be super bold and say this is the best clam chowder in the world?
The recipe for this clam chowder actually started as a back of the can recipe that I've added and subtracted ingredients from over the years. Since then I've actually entered this chowder into multiple office contests when I worked in an office and in one local soup challenge. The results, this is an award winning clam chowder recipe! I have the free movie tickets I won to prove it!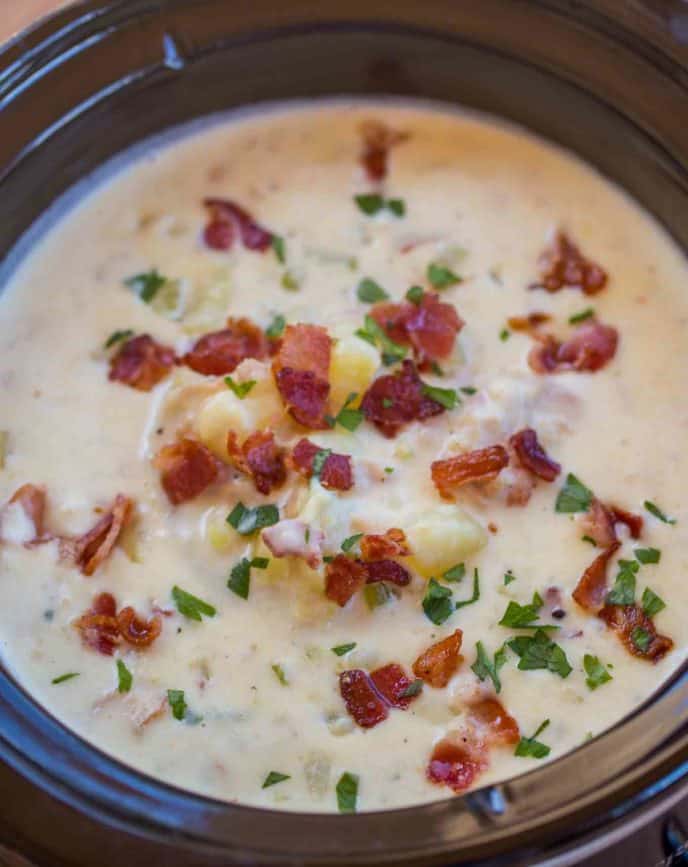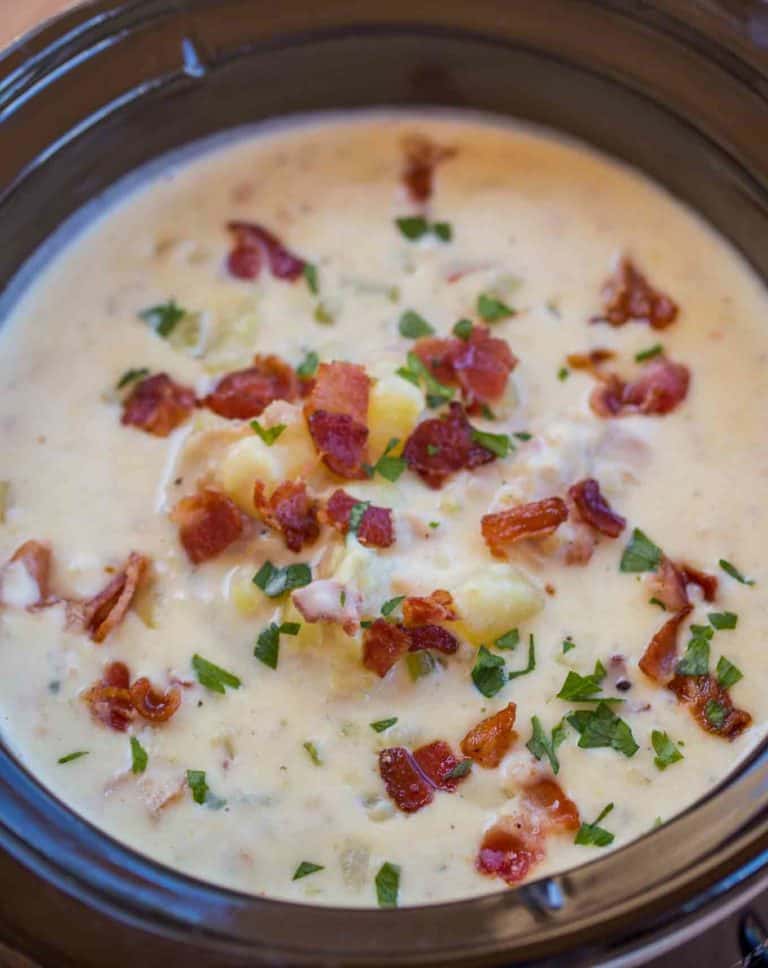 Tips for making this Slow Cooker Clam Chowder:
Get your bacon nice and crisp but not browned. The browned bacon will add an overcooked flavor to the soup.
You can swap out the half and half for milk, you may need to mash some of the potatoes to add thickness to the soup.
I've also made the Clam Chowder with heavy cream before and it is an indulgent treat!
You can top with parsley as I have or chopped chives which add flavor as well as freshness.
Want to make this clam chowder even better? My secret flavor boost is Clam Base. It isn't something people generally keep in their kitchens so I left it as an optional ingredient in the directions, but I always add it!
If you don't want to buy Clam Base you can also buy Clam Juice to replace the water.
What is the difference between New England Clam Chowder and Manhattan Clam Chowder?
Manhattan Clam Chowder uses tomatoes and is often referred to as Manhattan Red Chowder.
Q&A about the vegetables in this Slow Cooker Clam Chowder:
I used Yukon potatoes for their rich and buttery texture. You can also use red potatoes.
I added celery because I love the added flavor of it and it reminds me of a lobster roll. You can also add carrots.
For a huge flavor boost sauté your veggies in the bacon fat before adding (they will look less pretty in the soup).
Garlic is a flavor not added to some clam chowders but I find it adds a great flavor to the soup which still tastes like your favorite classic chowder.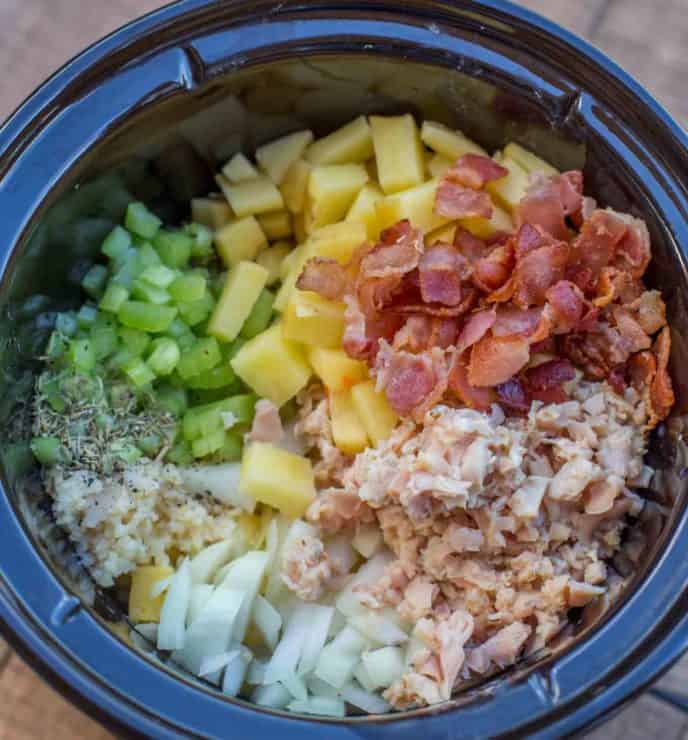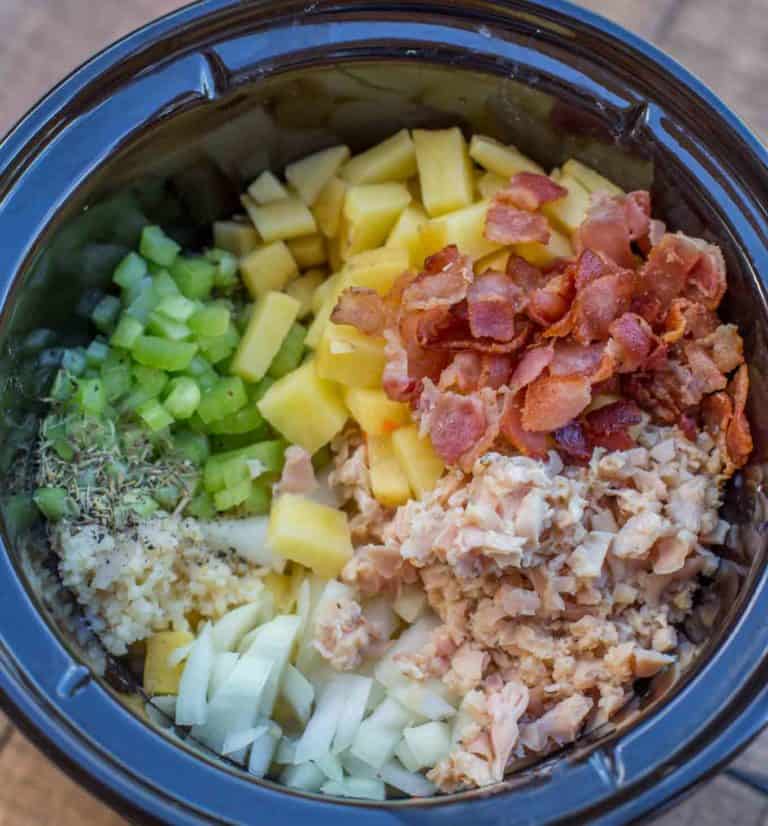 Looking for more Slow Cooker Soups?
Tools used in the making of this Slow Cooker Clam Chowder:
3 Qt. Slow Cooker: The perfect size for side dishes for 10-12 people, this slow cooker is an absolute bargain and a workhorse.
Cast Iron Skillet: If you don't have a slow cooker with a stovetop friendly insert, this is my most used pan in my kitchen, heavy, keeps heat well and gives the BEST sear ever.
Chopped Clams: I always use this brand and always use pre-chopped. You can also sub baby clams but the texture would be different than a classic clam chowder.
Clam Base: I almost never buy boxes of broth because I keep the beef, chicken and vegetable version of this Better Than Bouillon. Or you can use clam juice in place of the water too if you'd like.


Ingredients
1/2

pound

bacon

diced

3

cans

clams

(6.5 ounce, not drained)

1

yellow onion

chopped

4

yukon potatoes

peeled and diced

2

stalks celery

diced

2

cloves

garlic

minced

2

cups

water

*

1

teaspoon

Kosher salt

1/4

teaspoon

coarse ground black pepper

1/2

teaspoon

dried thyme

2

cups

half and half

2

teaspoons

cornstarch
Instructions
In a large cast iron skillet on medium high heat cook the bacon until crisp, then remove from the pan.**

Add half of the bacon, clams, onion, potatoes, celery, garlic, water, Kosher salt, black pepper and thyme into the slow cooker and stir.

Cook on low for

7 hours

and refrigerate the remaining bacon for serving with the soup.

In a measuring cup add the half and half with the cornstarch and whisk together.

Add in the half and half mixture to the slow cooker and stir.

Cook on high for

30 minutes

.

Serve with the remainder of the bacon sprinkled over the top.***
Notes
* I add 1 tablespoon of Clam Base to the water to pump up the clam flavor in the chowder. Totally optional though.
** Truth? When I don't need it to look all pretty, I brown the onions and potatoes in this bacon fat before adding it to the slow cooker.
*** You may want to heat the bacon slightly before sprinkling it on top since it will be cold from the refrigerator.
Nutrition
Calories:
256
kcal
|
Carbohydrates:
15
g
|
Protein:
7
g
|
Fat:
18
g
|
Saturated Fat:
8
g
|
Cholesterol:
41
mg
|
Sodium:
525
mg
|
Potassium:
531
mg
|
Fiber:
2
g
|
Vitamin A:
270
IU
|
Vitamin C:
11.8
mg
|
Calcium:
101
mg
|
Iron:
3
mg