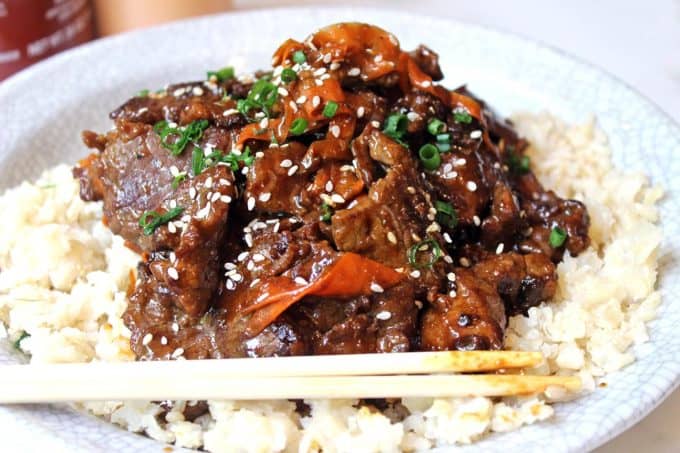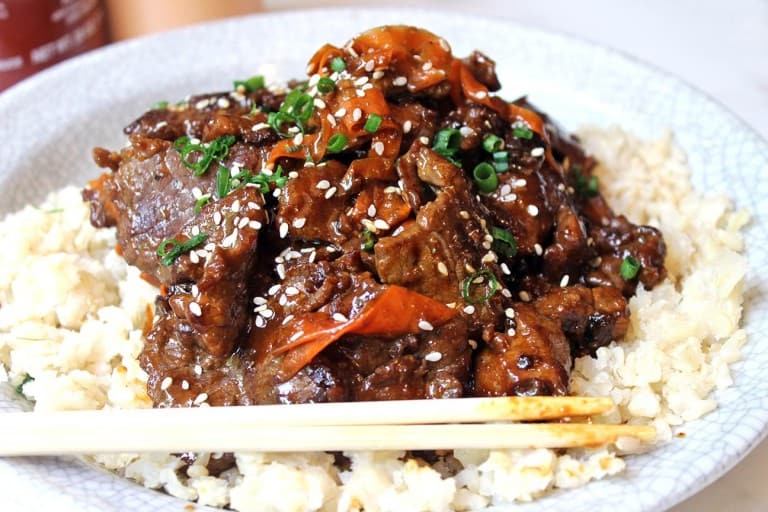 Tender Spicy Tangerine Beef simmered in spicy garlic orange sauce with carrot ribbons. Tastes like a cross between orange beef and Mongolian beef!
This Spicy Tangerine Beef has the distinction of being the very first meal I ever cooked for my now husband when we first moved in together. We had been in the apartment for just a couple of nights, I had unpacked my wok and my knife, so I went hunting online for a recipe. This also happened to be years ago when I enjoyed watching Guy Fieri's cooking show. So I was excited to find a Spicy Tangerine Beef recipe online and when it turned out amazing it went into my folder of recipes (an actual folder with paper and all…this was before Pinterest!).
I've adjusted a few ingredients over the years, added in the carrot ribbons that I make with a vegetable peeler. In case you are wondering why I am linking you to a vegetable peeler it is because that peeler is the only one I use to make ribbons. I have probably 10 different peelers (I'm probably underestimating here). Every time I would come across a good deal on one I would buy it. So I have a HUGE variety of them (seriously I should take a picture of them all) and they each are good for different reasons (ie, I wouldn't use this peeler for a butternut quash, it is too delicate, I would use a serrated peeler). This specific one makes the smoothest, thinnest ribbons. It actually does such a good job I've been using my much beloved mandoline (my favorite wedding present!) less and less. You probably think I am crazy, having so many different peelers, but hey if you think about it they sort of are like knives right? Look at those beautiful thin, wide ribbons!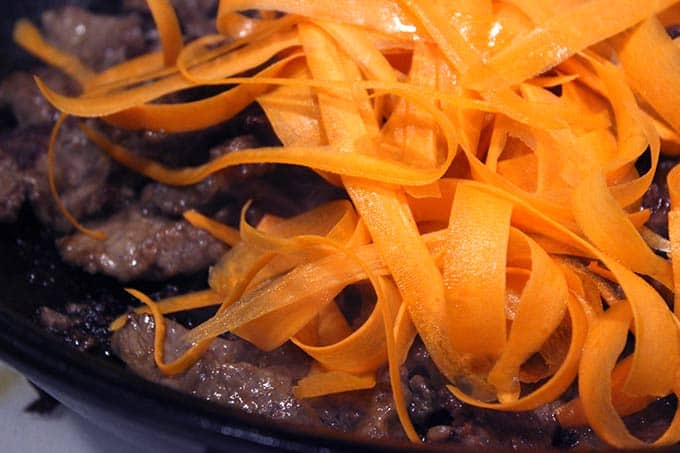 Ok I officially rambled about the carrots long enough. Back to this sauce, some pointers I've learned over the years:
Don't swap the honey, the flavor difference will be significant. Trust me if you don't have honey, go buy it.
Chili garlic paste is great, Sriracha is a good substitute if you need it.
If you like things spicy, this is a good heat level for the chili garlic paste, with kids, I would do a ½ teaspoon. Like things hot? go for a tablespoon
Fresh ginger is a big part of this recipe, try not to use ground if you can. Quick tip, I freeze my ginger so it lasts longer. If you freeze it feel free to grate it into to the dish instead of mincing.
If you don't have tangerines you can use orange. I have in the past and I add a bit of lemon to the mix (I always keep lemons on hand, they're a pantry staple for me).


Ingredients
1/4

cup

lite soy sauce

1

tablespoon

cornstarch

1

pound

flank steak

, cut in ¼ inch thick slices

2

tablespoons

cooking sherry

2

tablespoons

hoisin sauce

2

tablespoons

honey

2

teaspoons

chili garlic paste

(you can sub Sriracha)

2

tablespoons

soy sauce

1/4

cup

freshly squeezed tangerine juice

3

tablespoons

canola oil

2

tablespoons

minced fresh ginger

3

scallions

, chopped

1

tangerine

, zested

2

tablespoons

toasted sesame seeds

1

large carrot

, shaved with vegetable peeler
Instructions
Add ¼ cup lite soy sauce, cornstarch and sliced beef to a ziploc bag.

Shake to combine, then refrigerate for at least a

half an hour.

Add the cooking sherry, hoisin, honey, chili garlic paste, 2 tablespoons soy sauce and tangerine juice to a small cup and stir to combine.

Heat a skillet or a wok on high and add the oil to the pan.

Cook the beef on high heat, quickly.

You only want a quick sear on both sides.

Add the ginger and carrot ribbons into the pan.

Cook for

45-60 seconds

(until the carrots are just softening), tossing the carrots, then add the sauce mixture back into the pan.

Add in the beef and combine and cook until sauce has just thickened

Garnish with scallions, tangerine zest and sesame seeds and serve over some rice.
Notes
Recipe adapted from Guy Fieri (I know what you're thinking...but it is GOOD.)
Nutrition
Calories:
381
kcal
|
Carbohydrates:
24
g
|
Protein:
28
g
|
Fat:
19
g
|
Saturated Fat:
3
g
|
Cholesterol:
68
mg
|
Sodium:
1517
mg
|
Potassium:
626
mg
|
Fiber:
2
g
|
Sugar:
16
g
|
Vitamin A:
2825
IU
|
Vitamin C:
13.6
mg
|
Calcium:
91
mg
|
Iron:
3.2
mg