Truffle Pasta recipe for an indulgent dinner with linguine served in a buttery sauce made with heavy cream, white wine, and truffle pate.
This delicious pasta dish is the perfect Dinner Recipe for a special occasion. If you love rich, creamy pasta dinners, then this is the recipe for you. Be sure to try our Chicken Alfredo Pasta and Shrimp Pesto Pasta for more impressive yet easy Italian dinners.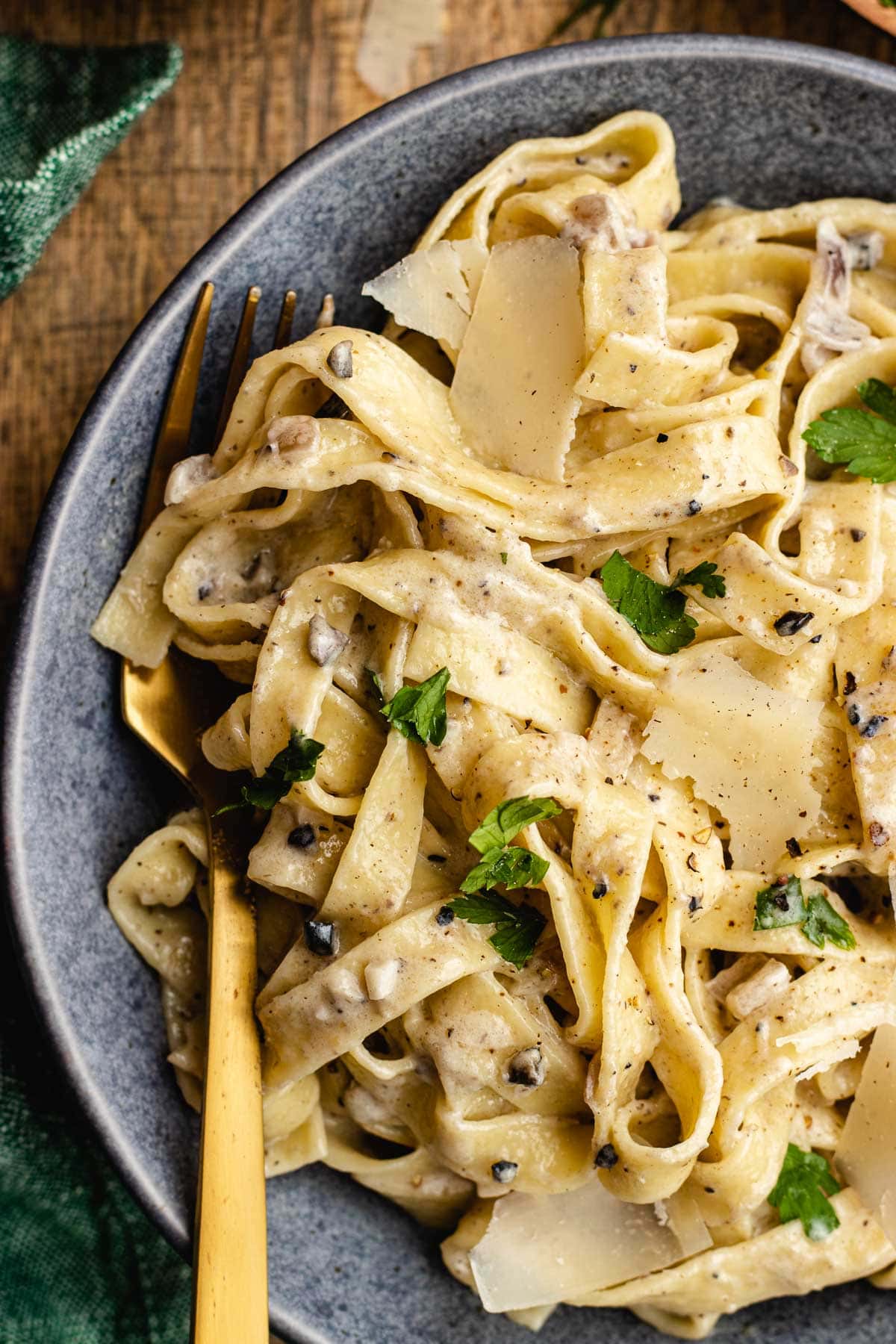 This Truffle Pasta recipe has a complex and delicious combination of nutty, earthy, and slightly fruity flavors. A bulk of the flavor comes from the white truffle pate, but other ingredients like white wine, heavy cream, butter, garlic, and parmesan cheese come together to highlight those amazing flavors.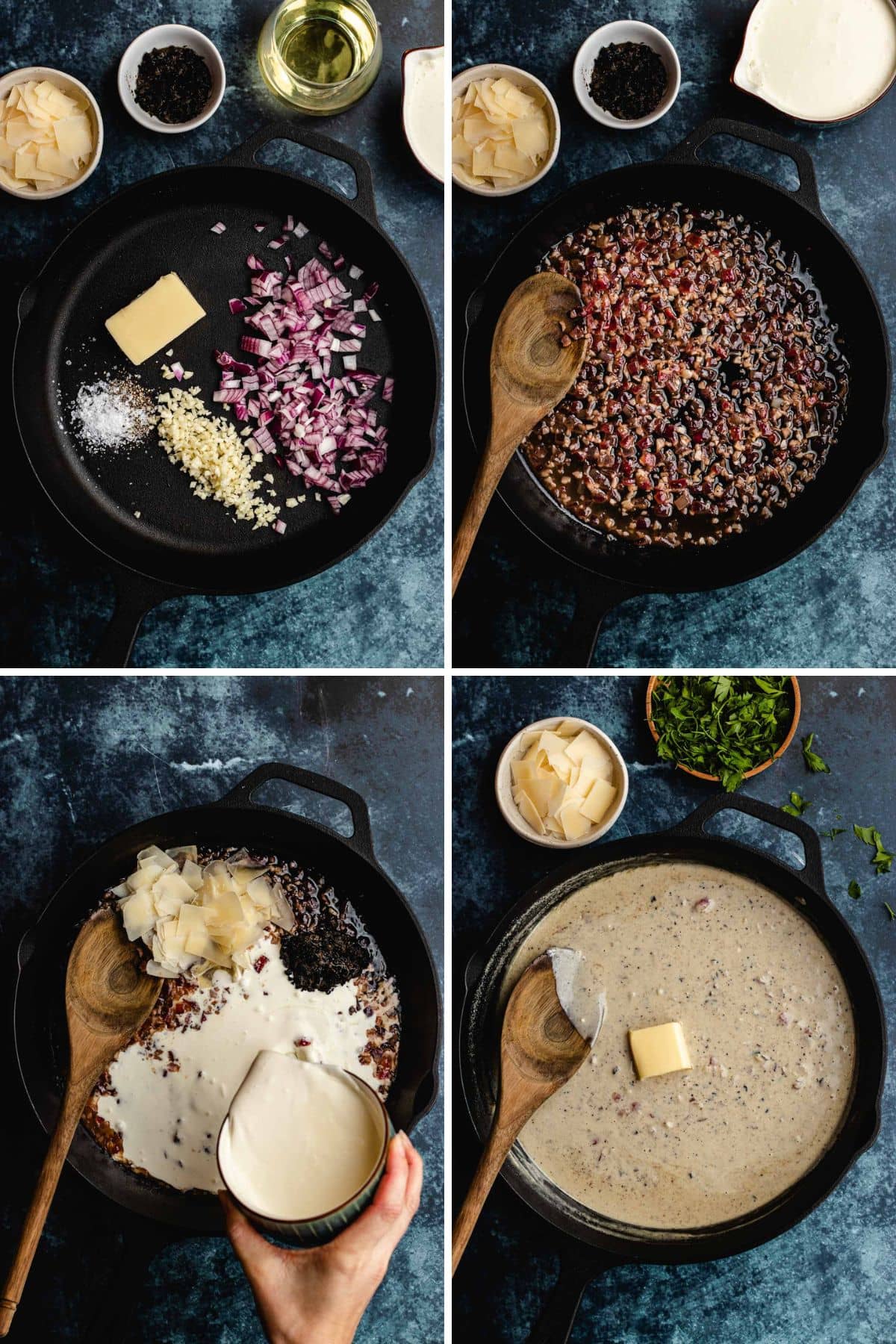 Truffles are slightly pricey, which is why you might want to save this dish for a special dinner. Instead of using fresh truffles to make this recipe, you'll use a truffle pate. This makes it easy to incorporate the rich truffle flavor into the creamy sauce.
You can serve Truffle Pasta as a main dish on its own or make a meat dish to serve the pasta along with. This makes the recipe a little more filling and tastes amazing with the creamy pasta dish. You can slice Grilled Chicken or Ribeye Steak into thin strips and layer the meat over the pasta to serve.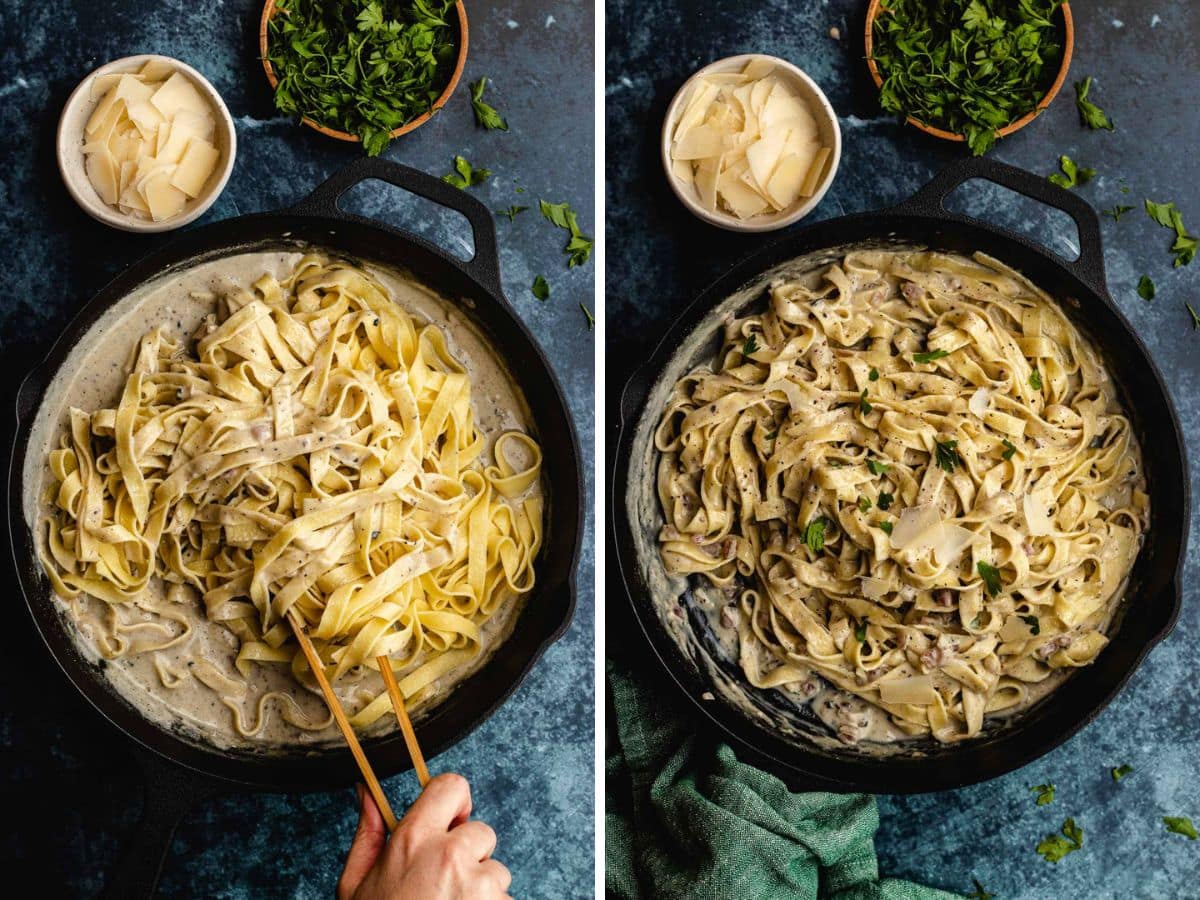 How to Make Truffle Pasta
Cook pasta: Add water to a large pot and season with salt. Bring the cooking water to a boil over medium heat, and cook pasta for 1 minute shy of the package instructions. Drain the pot of water, keeping ½ cup of the pasta water for later. Do not rinse the cooked pasta.
Truffle Sauce: Add four tablespoons of unsalted butter to a large, heavy skillet. Add the minced garlic cloves, red onion, kosher salt, and freshly ground black pepper. Stir the ingredients well and cook for 3-4 minutes until the red onions are translucent. Then add the wine and cook for 3-4 minutes until the liquid has evaporated. Next, add the heavy cream, truffle pate, and Parmesan cheese. Bring to a simmer and continue to heat until sauce forms into a thicker mixture. This should only take about 2 minutes. Turn off the heat and add the remaining butter.
Finish: Add the cooked pasta to the truffle and butter sauce. Toss to coat, and serve the Truffle Pasta with additional Parmesan cheese.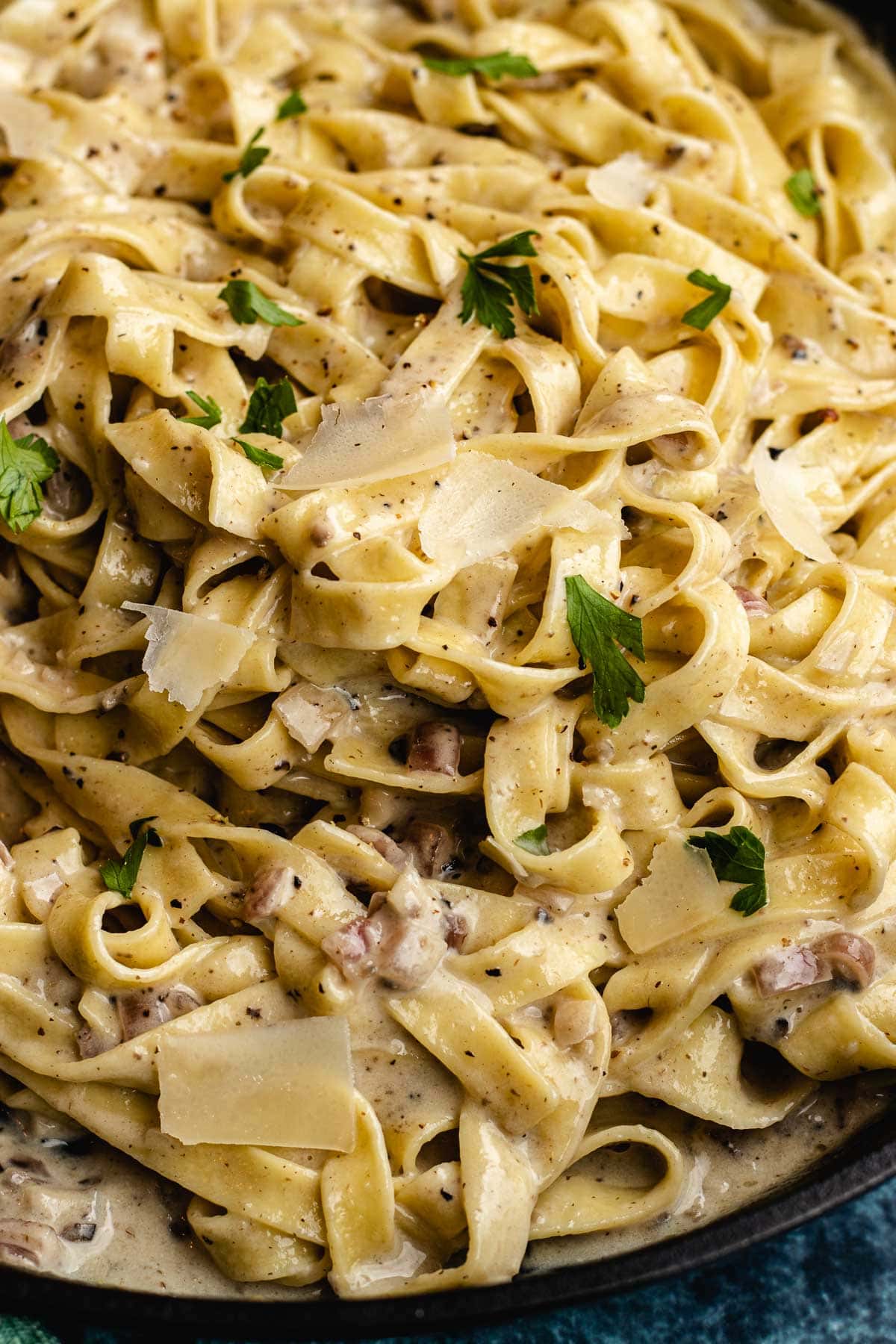 FAQs
What kind of wine goes best with Truffle Pasta?
To make this into the ideal dining experience, you can also serve the pasta dish with a glass of wine. A crisp Pinot Gris or Barolo goes perfectly with this recipe.
What meat goes best with Truffle Pasta?
Apart from drinks and side dishes, you could also serve this recipe with a protein option. Truffle flavor tastes good with a variety of meats, including chicken, seafood, pork, and beef. Baked Sour Cream Chicken, Seared Cube Steaks, Baked Salmon, or Pan Seared Scallops would all taste amazing with this pasta, and you can dip pieces of meat in the creamy sauce for an amazing flavor.
What are truffles?
Truffles are a type of fungus that grows near tree roots. They're often confused for a type of mushroom, but they aren't the same.
Why are truffles so expensive?
Truffles are quite expensive because they're difficult to find and time-consuming to grow. They need very special climate conditions to grow, and truffle farms need about a decade before they even start producing.
What do truffles taste like?
The flavor of truffles can be difficult to describe. Although they aren't the same species as mushrooms, truffles do have a similar flavor to above-ground mushrooms. They have an earthy, slightly meaty taste. You may also hear them described as nutty with slightly sweet undertones.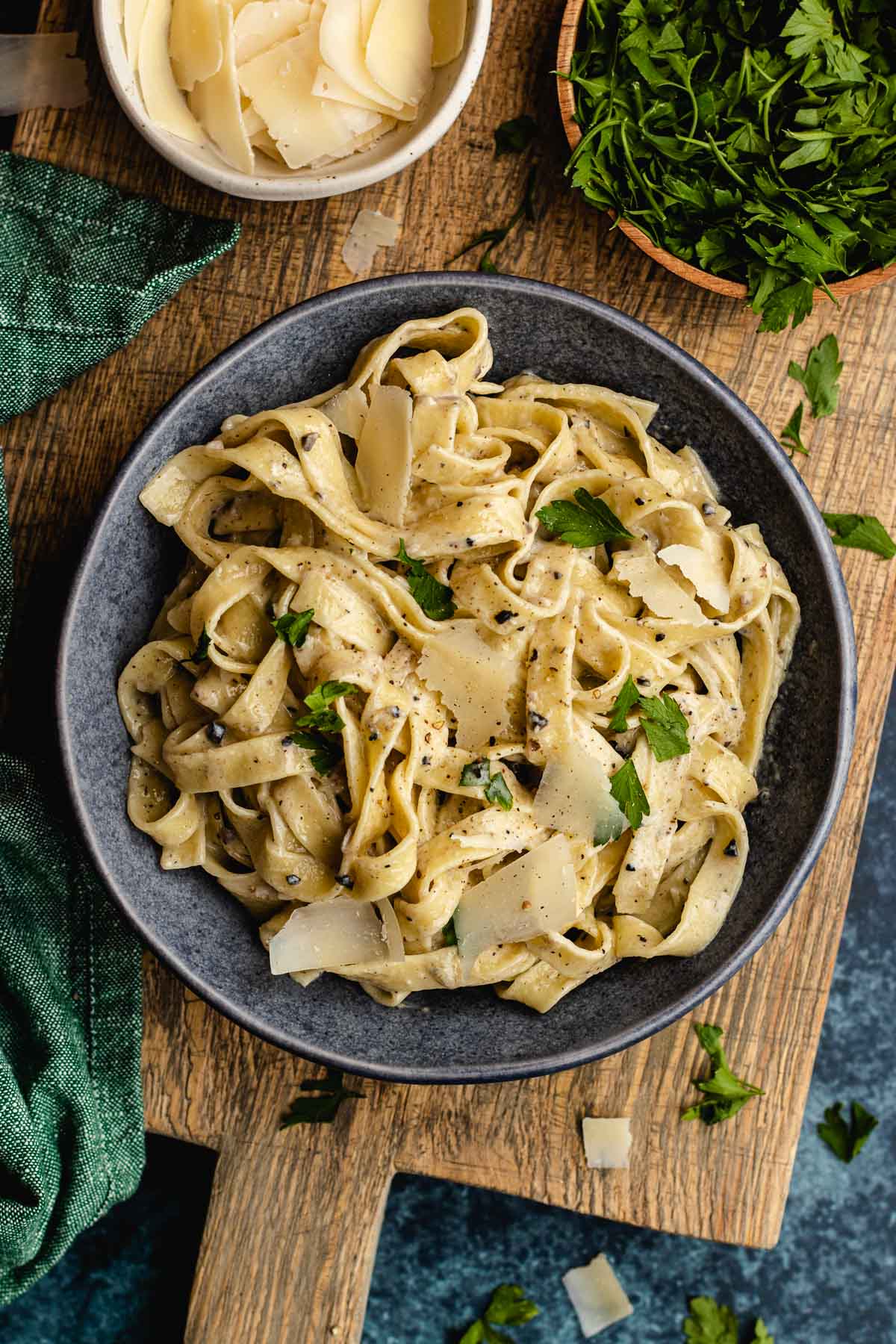 Create a free account to Save Recipes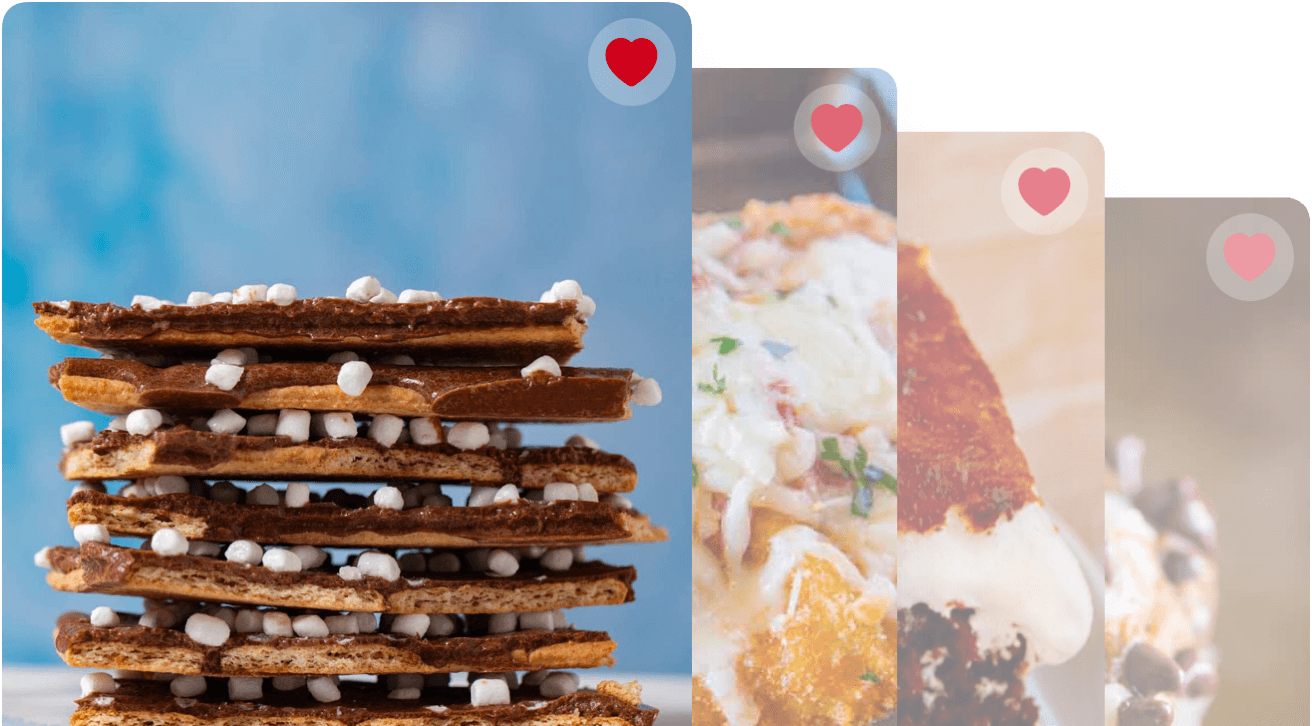 Key Ingredients
Pasta: Thick linguine is the ideal pasta for this creamy truffle pasta sauce. Because linguine is long, you'll be able to twirl it in the sauce as you get it on your fork. It's also thick enough that it can hold up the heavier sauce without breaking. If you don't have linguine, you can swap it out for another thick pasta option. Scroll to the variations section to find some of the best pasta alternatives.
Butter: You'll use the unsalted butter both to cook the garlic cloves and onion and to add to the sauce mixture to give it a richer flavor.
White wine: Using white wine in pasta sauce is a great way to contribute a delicate, fruity flavor that pairs beautifully with the earthy taste of the truffle. It also thins down the sauce. However, you will cook it down so that the sauce is still quite thick.
Heavy cream: Heavy cream is the other liquid ingredient in the sauce. It makes a thick, creamy blend perfect for coating the pasta.
Parmesan: Use fresh, shaved parmesan cheese for the delicious truffle sauce. You'll use most of the parmesan sauce at the same time that you add the heavy cream so that it can melt and incorporate into the sauce. But save a handful of parmesan cheese to sprinkle over the Truffle Pasta before serving.
Truffle pate: To give this recipe its rich truffle flavor, you'll use 2 tablespoons of truffle pate. Truffle pate is made from fresh truffles, extra virgin olive oil, and salt. This recipe uses a white truffle pate, but you can also purchase a black truffle pate.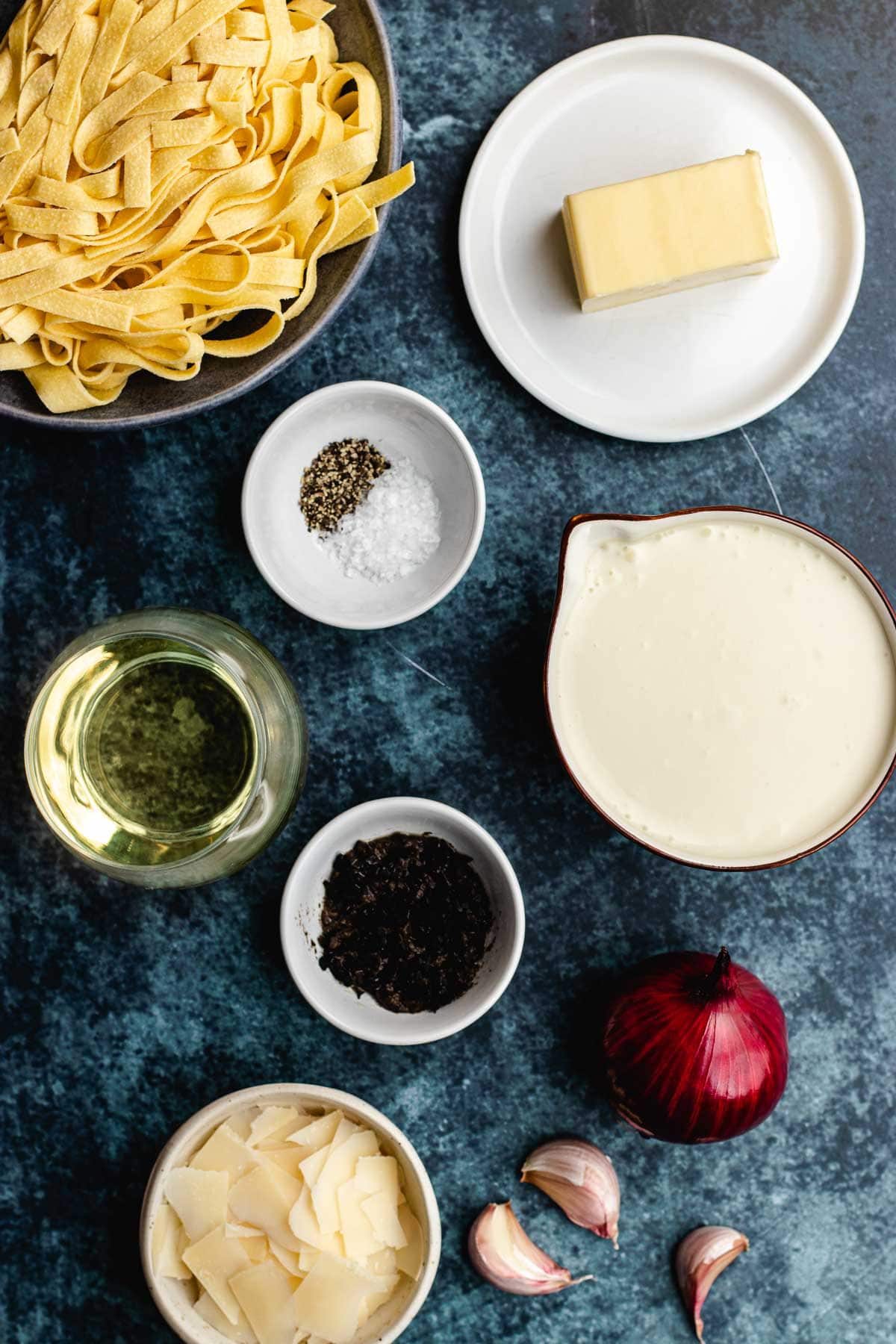 Variations
Truffle Mushroom Pasta: Mushrooms and truffles pair together quite well. Sliced baby Bella mushrooms, portabello mushrooms, or white cap mushrooms taste excellent with this recipe. Add them to the sauce along with the onions to saute the mushroom slices in the sauce.
More vegetables: You could also add other veggie options like cooked cauliflower florets, squash, fresh spinach, or sun-dried tomatoes.
Pasta varieties: Linguine is a good pasta variety for this recipe because its thick, long shape is perfect for twirling and coating in the creamy sauce. You can swap it out for similar pasta options like fettuccini or tagliatelle. If you prefer shorter pasta, you can use tubular pasta like rigatoni or ziti. The hollow center also does a great job picking up the rich truffle sauce.
Cheeses: This recipe already includes ½ a cup of shaved Parmesan cheese. The Parmesan melts into the sauce and contributes to the thick consistency. However, you can also sprinkle on other cheese varieties, such as shredded mozzarella, crumbled blue cheese, goat cheese, or Gorgonzola.
Flavor additions: To introduce new flavors to the sauce, you can add seasonings like red pepper flakes, chili powder, or onion powder. After making the easy truffle sauce and mixing it with the linguine pasta, you can also add fresh herbs like parsley, thyme, rosemary, or fresh chives as a garnish.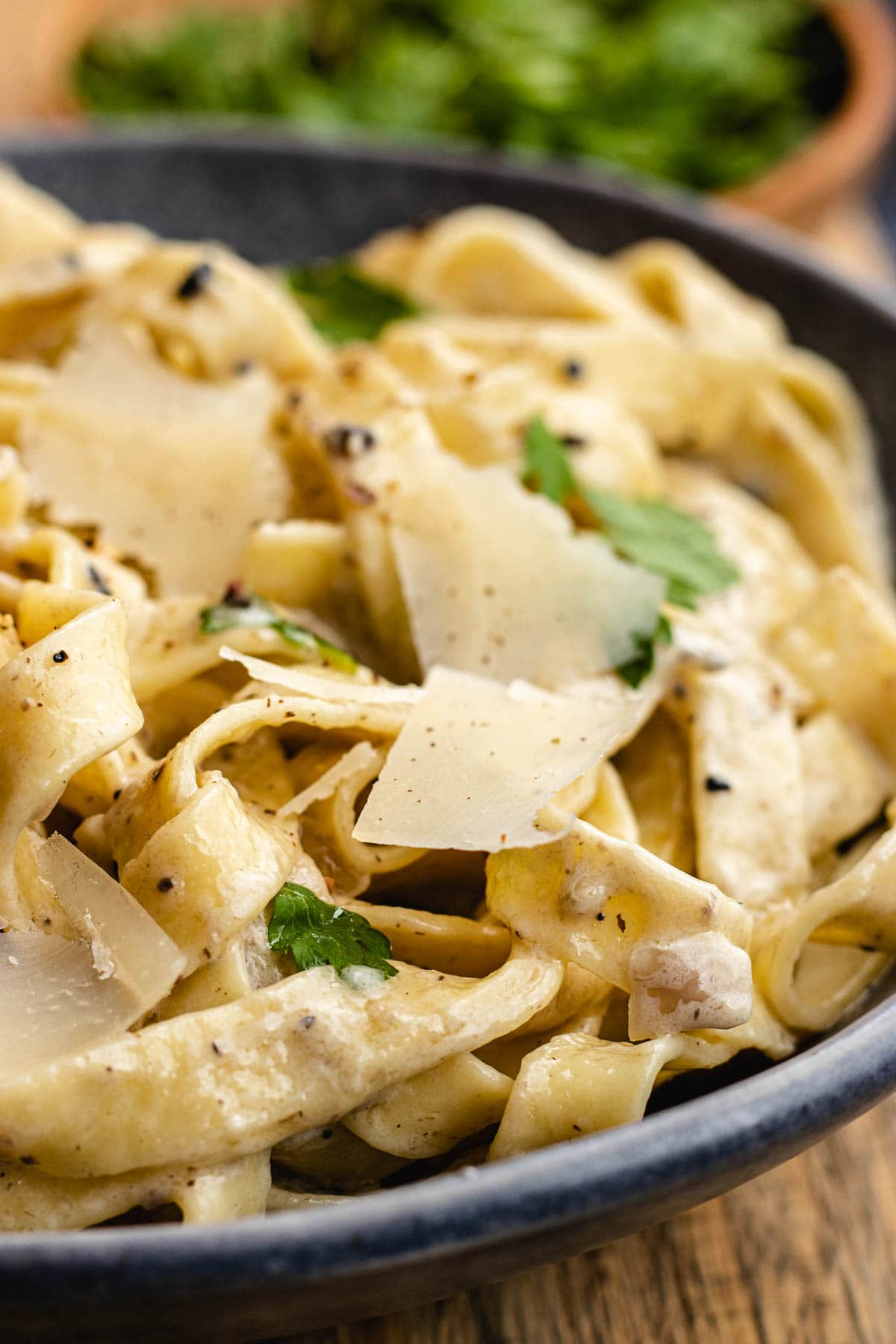 More Amazing Pasta Recipes
How to Store
Serve: You'll get the best flavor serving fresh pasta right after cooking. Be sure not to leave the Truffle Pasta sitting out for more than two hours.
Store: To keep leftovers, let the pasta dish cool to room temperature, then transfer it to an airtight container to store in the fridge. It can stay good in the fridge for up to 1 week. Reheat the creamy pasta dish on the stovetop and add extra water as necessary to make the sauce creamy again.
Freeze: Unfortunately, the cream-based pasta won't keep well after freezing and defrosting. If you haven't finished the recipe after a week, it's better just to make it fresh. But, to be honest, you probably won't have any problems finishing this delicious recipe.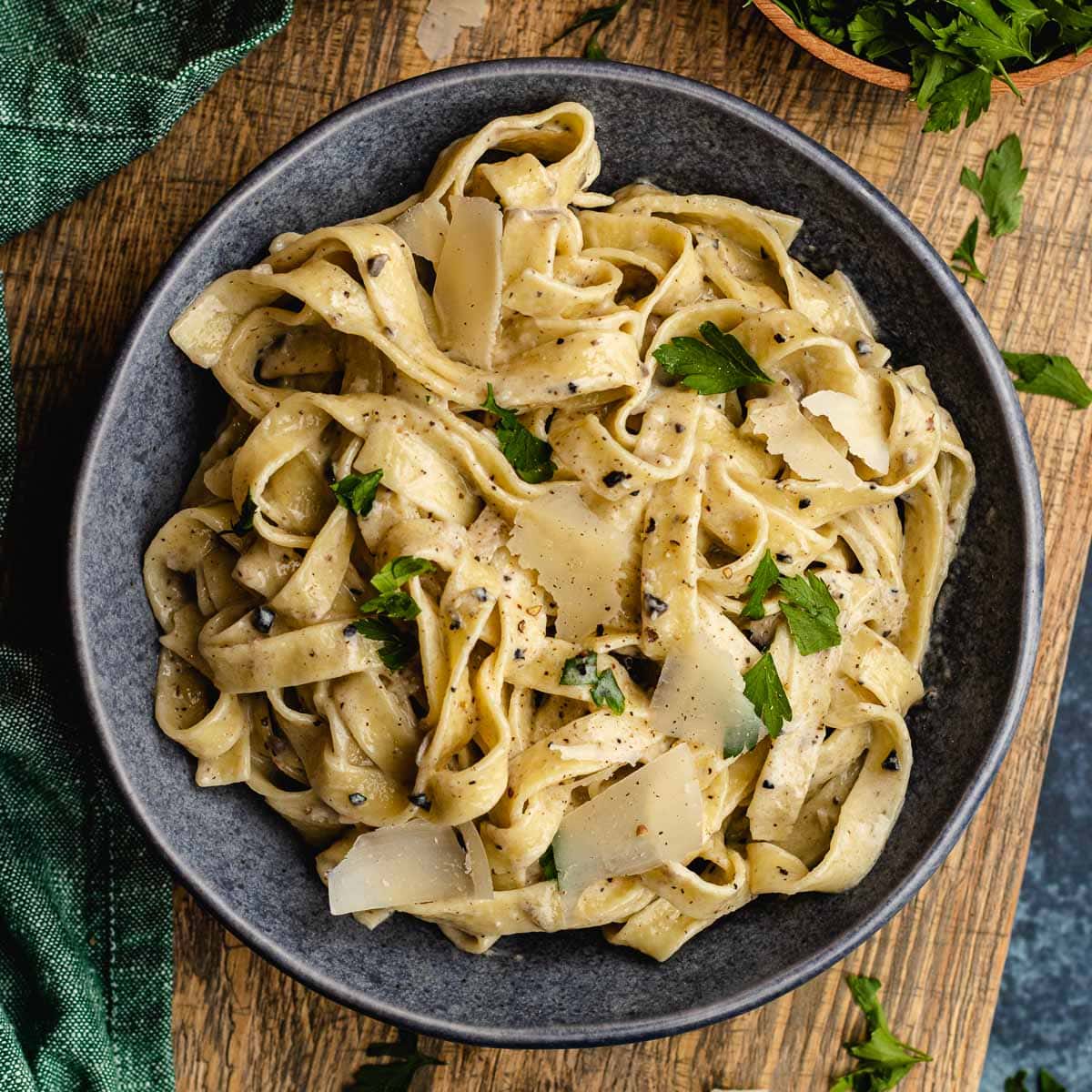 Ingredients
1

pound

linguine pasta

5

tablespoons

unsalted butter

, divided

3

cloves

garlic

, minced

1/2

red onion

, minced

1

teaspoon

kosher salt

1/2

teaspoon

coarse ground black pepper

1

cup

white wine

2

cups

heavy cream

2

tablespoons

truffle pate

1/2

cup

shaved Parmesan cheese

, more for serving
Instructions
In a large pot of salted water, boil the pasta one minute shy of the package instructions.

Drain and set aside, reserving ½ cup pasta water. Do not rinse.

In a large heavy skillet on medium high heat add 4 tablespoons butter.

Add in the garlic, red onions, salt and black pepper.

Stir well and cook for

3-4 minutes

until red onions are translucent.

Add in wine, cook for

3-4 minutes

until liquid has evaporated.

Add in heavy cream, truffle pate and parmesan cheese.

Bring to a simmer and thicken for

2 minutes

.

Turn off heat and stir in remaining 1 tablespoon butter.

Add in the pasta, tossing to coat.

Serve with additional shaved parmesan cheese.
Nutrition
Calories:
896
kcal
|
Carbohydrates:
74
g
|
Protein:
19
g
|
Fat:
55
g
|
Saturated Fat:
32
g
|
Polyunsaturated Fat:
3
g
|
Monounsaturated Fat:
17
g
|
Trans Fat:
0.5
g
|
Cholesterol:
144
mg
|
Sodium:
661
mg
|
Potassium:
365
mg
|
Fiber:
3
g
|
Sugar:
6
g
|
Vitamin A:
1829
IU
|
Vitamin C:
2
mg
|
Calcium:
215
mg
|
Iron:
2
mg