German Walnut Shortbread Cookies made in a traditional shortbread style with coarsely chopped chunks of walnuts, these are the perfect Christmas cookies.
Cookies are a popular dessert option on the site including Mexican Wedding Cookies, Chocolate Chip Cookies and the classic Rolled Sugar Cookies that look similar to these shortbread cookies and hold their shape perfectly!
German Walnut Shortbread Cookies
Shortbread cookies are the pie crust of cookies, an easy recipe with no leaving ingredients (think baking soda and baking powder here) that comes together in just a few minutes. Because there isn't anything to make these cookies rise your cookies go in and come out of the oven the same size, so they're perfect for shapes and cutting into slices like my Lemon Poppy Seed Cookies and Linzer Cookies.
I keep it simple here with perfect circles but remember when slicing cookies into circles the most important thing is to keep the cookie dough very cold. If you let it get too warm the cookie dough will smash down on one edge creating a flat side. If you'd like, you can even freeze the dough for and hour.
And easy trick for cutting these cookies perfectly is to actually use thread to cut the dough so the weight of the knife's blade doesn't smash the shape of the cookie.
German Christmas Cookies
German Christmas Cookies are typically made using butter and powdered sugar, ground nuts and shapes. Crescent cookies are traditional as well, and other traditional options like lebkuchen and pfeffernusse cookies and the use of peppernuts are traditional german options too.
These cookies will satisfy your German friends and be the perfect traditional German Christmas gift to give them and even their German grandmothers without breaking out a German-English dictionary. If you'd like to add a bit of spice to these cookies you can warm them up with the addition of a bit of cinnamon and cut them into cinnamon stars for a traditional german option too.
Vanilla Crescents are another classic cookie, called Vanillekipferl, they're made the exact same way as these Walnut shortbreads but with using almonds instead walnuts and shaped into crescent shapes. Once you bake them, gently coat them in powdered sugar.
The base of this recipe, the shaped nut based shortbread cookie, is the classic german Christmas cookie. The fun you choose to have with the shapes and the coating is up to you.
You can even make a vanilla sugar to coat your cookies with, there are many stores who sell pre-made vanilla sugar or you can use a small food processor to add a small section of a vanilla bean to 2 cups of sugar and mix until it is a fully cohesive mixture and keep it in an airtight container (you will use this in everything).
You can also choose how large to keep the nuts. I like to keep them fairly large and chunky, others put them in a food processor and make them very small. The first time you make the recipe try them larger, the next time make them small and taste test.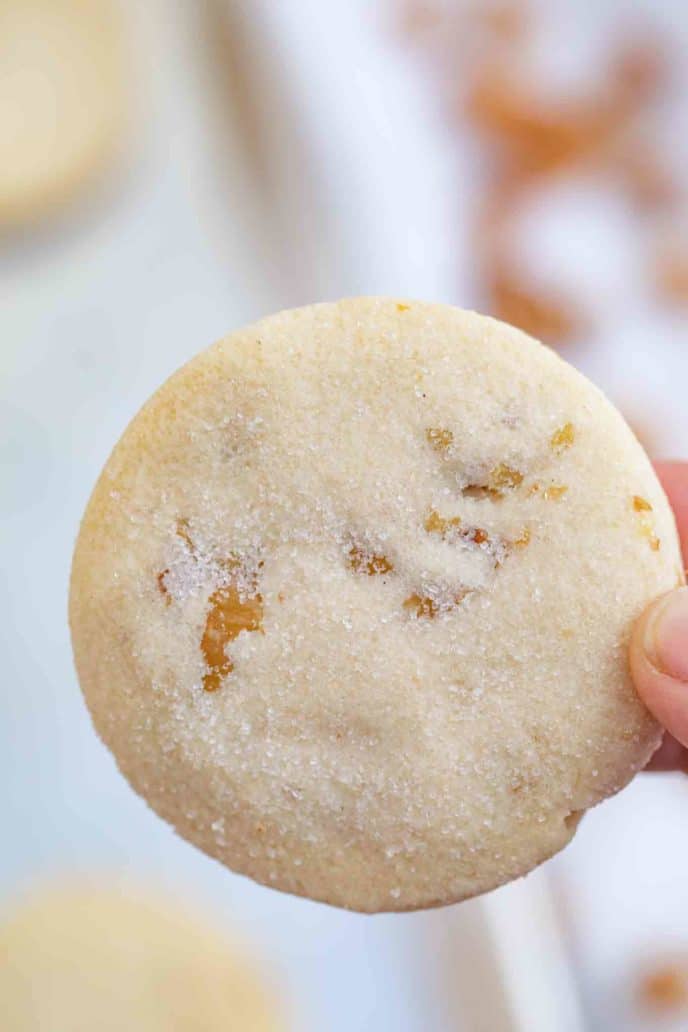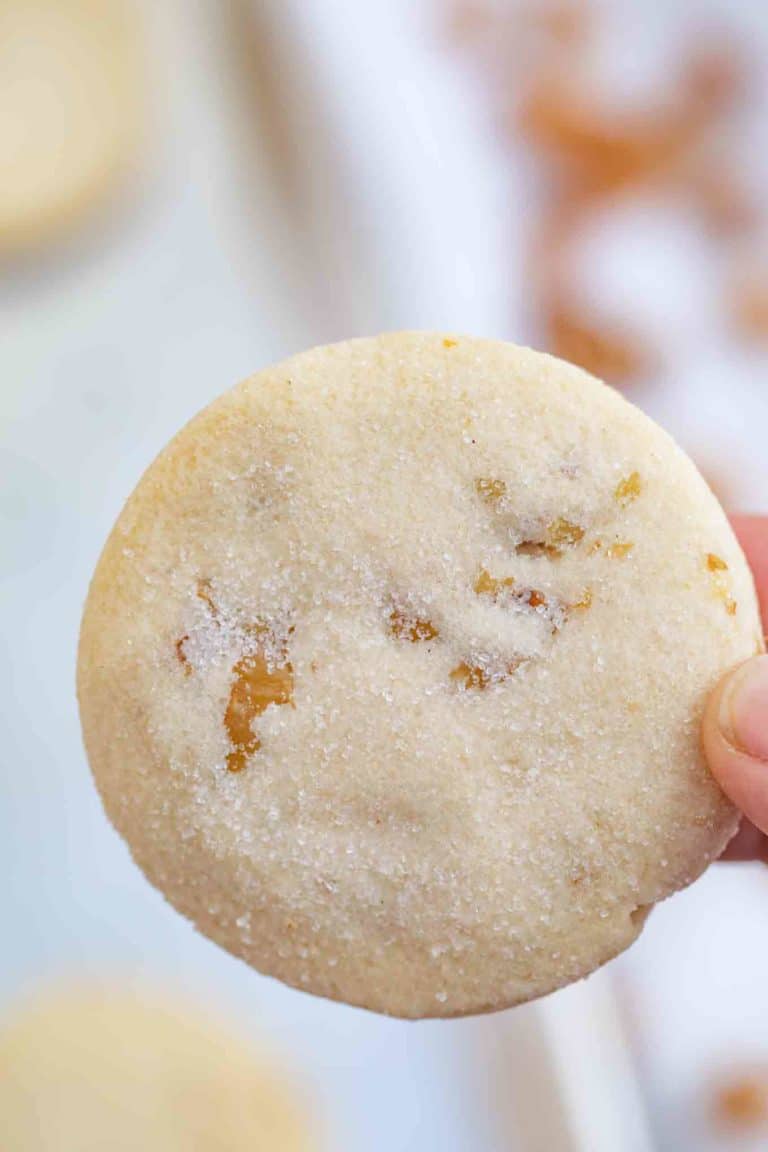 Create a free account to

Save Recipes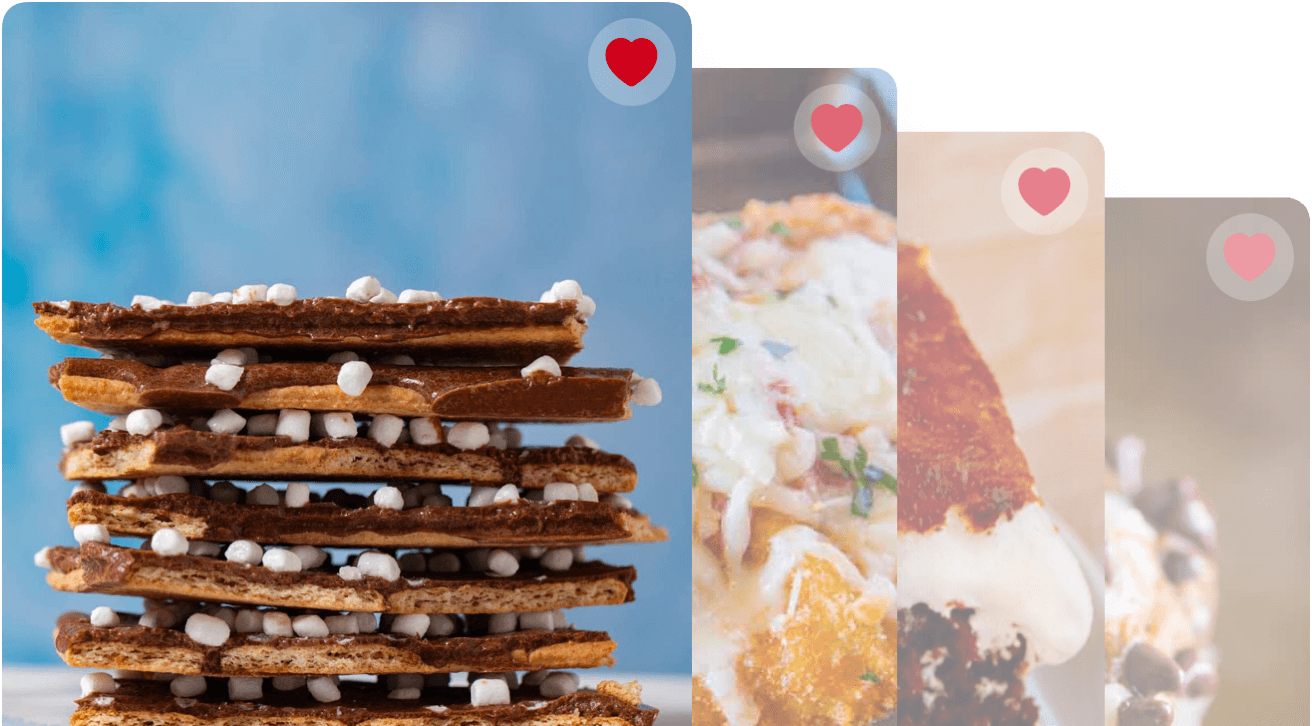 HOW TO STORE YOUR COOKIES:
To keep these cookies fresh and chewy keep them stored in a tightly closed container for up to one week. If you find your cookies are going stale faster than that, try including a slice of bread in the container with them to absorb any excess moisture that is making it's way into the container.
Can you freeze Shortbread Cookies? Yes, you absolutely can, just freeze them with parchment paper between layers, in an airtight container to prevent freezer burn.
If you want to freeze this cookie dough, you can freeze it in slices, then defrost the slices in the refrigerator for 2 hours before baking on a baking sheet. Using a paper towel dot any remaining moisture off the top of the slices before baking.
COOKIE BAKING TIPS:
Use a good silicone mat. This prevents excess browning on the bottom of your cookies, but with these shortbread cookies a bit of browning on the bottom is great for flavor, this is a browned butter flavor.
Preheat your oven well ahead of time and check the temperature with an oven thermometer.
Use an electric mixer to beat the butter and sugar well until very light and fluffy before adding in the flour.
Let your cookies cool completely on a wire rack instead of on the baking sheet. I only let them cool on the baking sheet for a couple minutes to firm up before removing them.
Make sure your dough is completely chilled or slicing will deform the cookies and the butter being too warm will result in the cookies losing their shape in the oven.
Instead of using a stand mixer you can use a large bowl and hand mixer since you only need to beat butter with sugar and the rest of the ingredients only need to be barely combined.
More Cookie Recipes: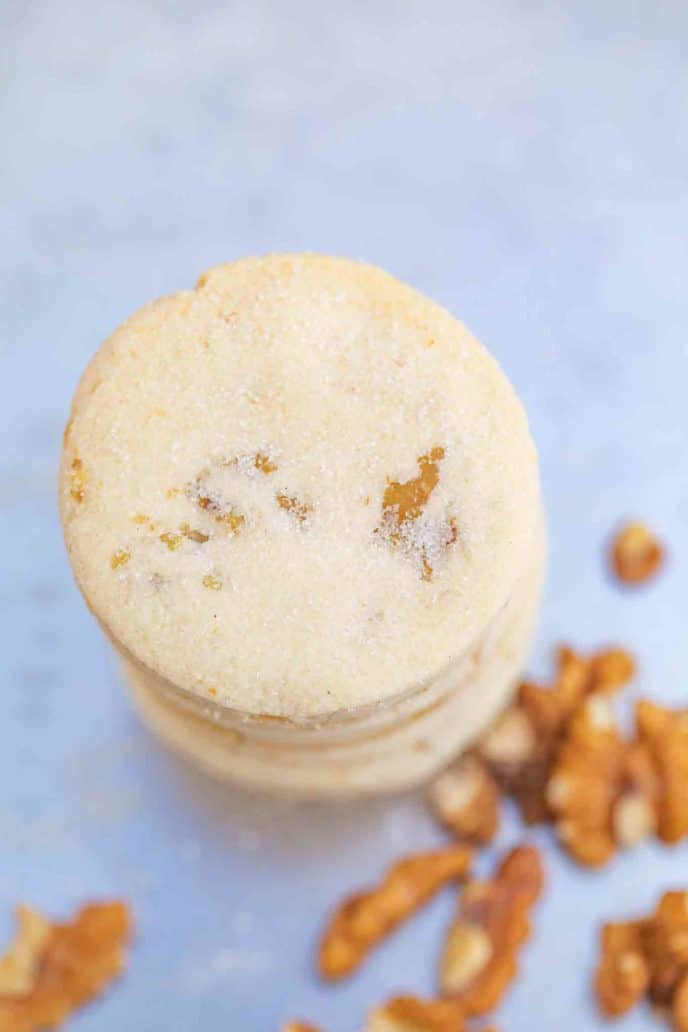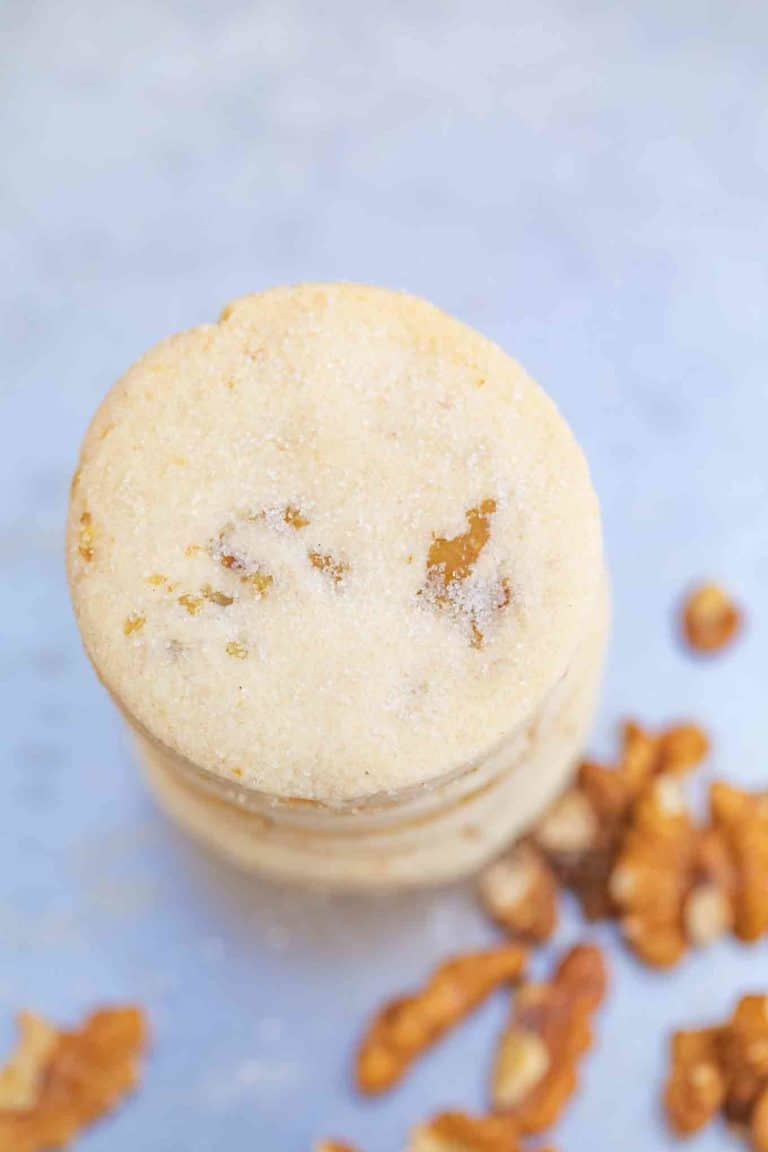 Ingredients
1

cup

unsalted butter

, cold

1

cup

powdered sugar

1

teaspoon

vanilla extract

2

cups

flour

1/2

teaspoon

salt

1

cup

walnuts

, coarsely chopped

1

cup

sugar
Instructions
Add the butter and powdered sugar and vanilla to a stand mixer on low speed for

20 seconds

then move to high speed for

1 minute

until light and fluffy.

Add in the flour and salt on low speed until just combined, then add in the sugar and walnuts until just combined.

Remove the dough, placing onto 2 large pieces of plastic wrap and wrap into 2 large logs and refrigerate them until completely chilled, at least

2 hours

.

Preheat your oven to 350 degrees and unroll the cookie dough, slicing into 1/2" thick cookie dough slices then dip into sugar and bake on baking sheet for

10-12 minutes

.
Nutrition
Calories:
126
kcal
|
Carbohydrates:
14
g
|
Protein:
1
g
|
Fat:
7
g
|
Saturated Fat:
3
g
|
Cholesterol:
13
mg
|
Sodium:
33
mg
|
Potassium:
23
mg
|
Sugar:
8
g
|
Vitamin A:
160
IU
|
Vitamin C:
0.1
mg
|
Calcium:
6
mg
|
Iron:
0.4
mg