Italian Sprinkle Cookies are made with a soft, sweet, melt-in-your-mouth cookie base, and topped with a simple glaze, and bright sprinkles.
Cookie Recipes like Italian Wedding Cookies and Snowballs are well-loved family favorites that are as easy as they are delicious. These melt in your mouth cookies start with a classic Italian recipe and smother them in a sweet glaze and colorful sprinkles.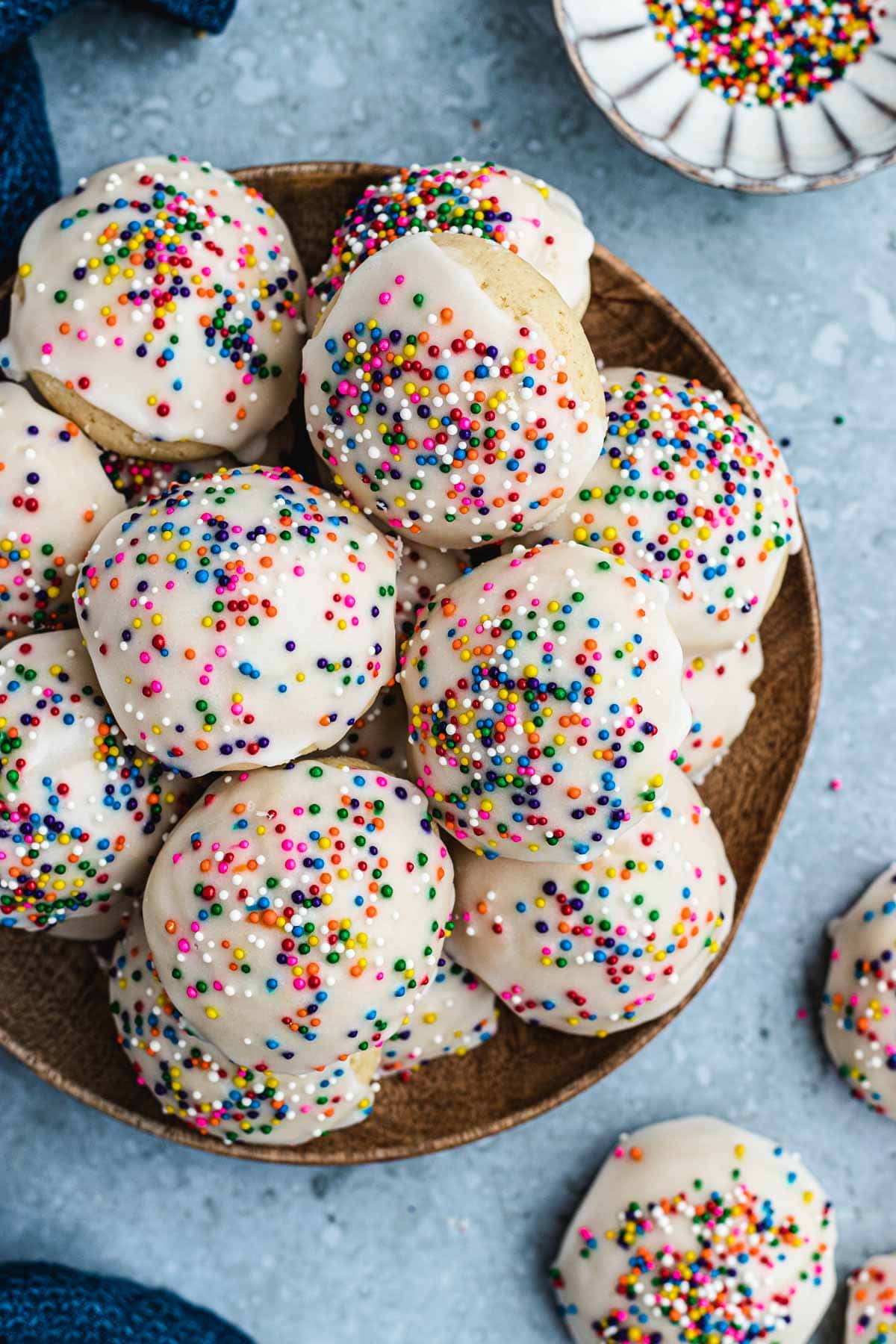 Whenever you get a craving for buttery, sweet cookies, these tasty and easy Wedding Cookies are just the recipe you need. They are made with simple ingredients you probably have in your pantry and only need a little chilling time so you can enjoy them in less than an hour from start to finish. Normally cookies are made with granulated sugar but this recipe uses powdered sugar and shortening in the dough, so you get ultra-soft cookies. They are topped off with a super easy glaze and colorful sprinkles for a fun finish to the simple, but delicious cookie recipe.
The sprinkle topping makes this Italian Sprinkle Cookie recipe a bright and colorful addition to cookie plates for your next party. Plus, you can change out the rainbow sprinkles for red and green sprinkles to serve them for a Christmas party. Serve them along with Cranberry Cookies, Candied Shortbread Cookies, Ginger Cookies, and any other seasonal favorites for the perfect holiday cookie tray.
What are Italian Sprinkle Cookies?
Italian Sprinkle Cookies are soft and pillowy Italian shortbread cookies made with almond extract for a light almond flavor. They are covered with a sweet, creamy vanilla almond glaze and then topped with rainbow nonpareil sprinkles. Nonpareil sprinkles are the tiny little balls that are crunchy and colorful. These cookies are often called wedding cookies but really they are enjoyed all year-round for any occasion!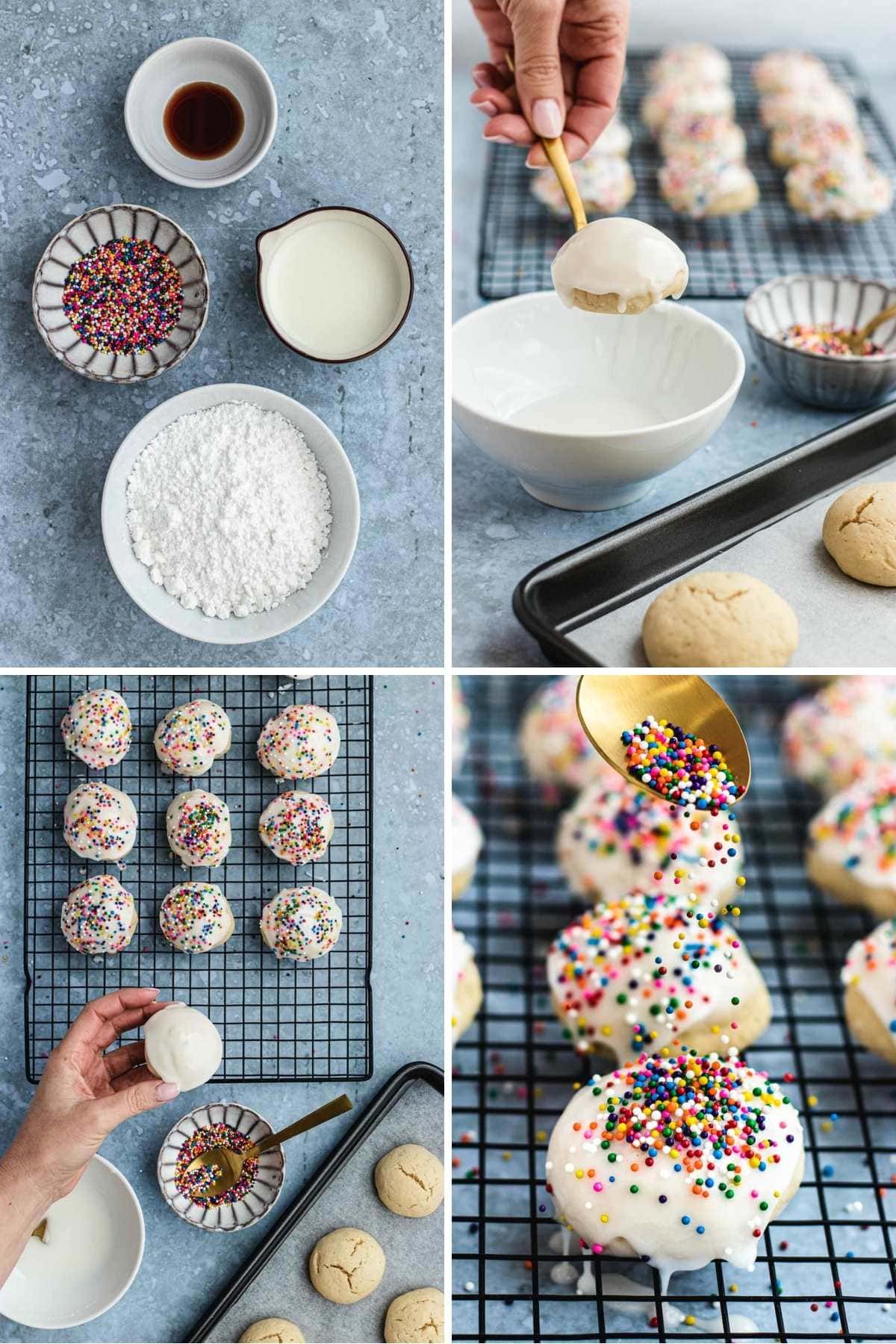 What is the difference between Italian Wedding Cookies and Mexican Wedding Cookies?
They look identical and they are made with almost identical ingredients but there are a couple differences between Italian Wedding Cookies and Mexican Wedding Cookies. The biggest difference is Italian cookies are made with almond extract (sometimes almonds or ground almond flour) and the Mexican recipe uses chopped pecans and vanilla extract. Another difference is these cookies are topped with a glaze whereas Mexican Wedding Cookies are rolled in powdered sugar.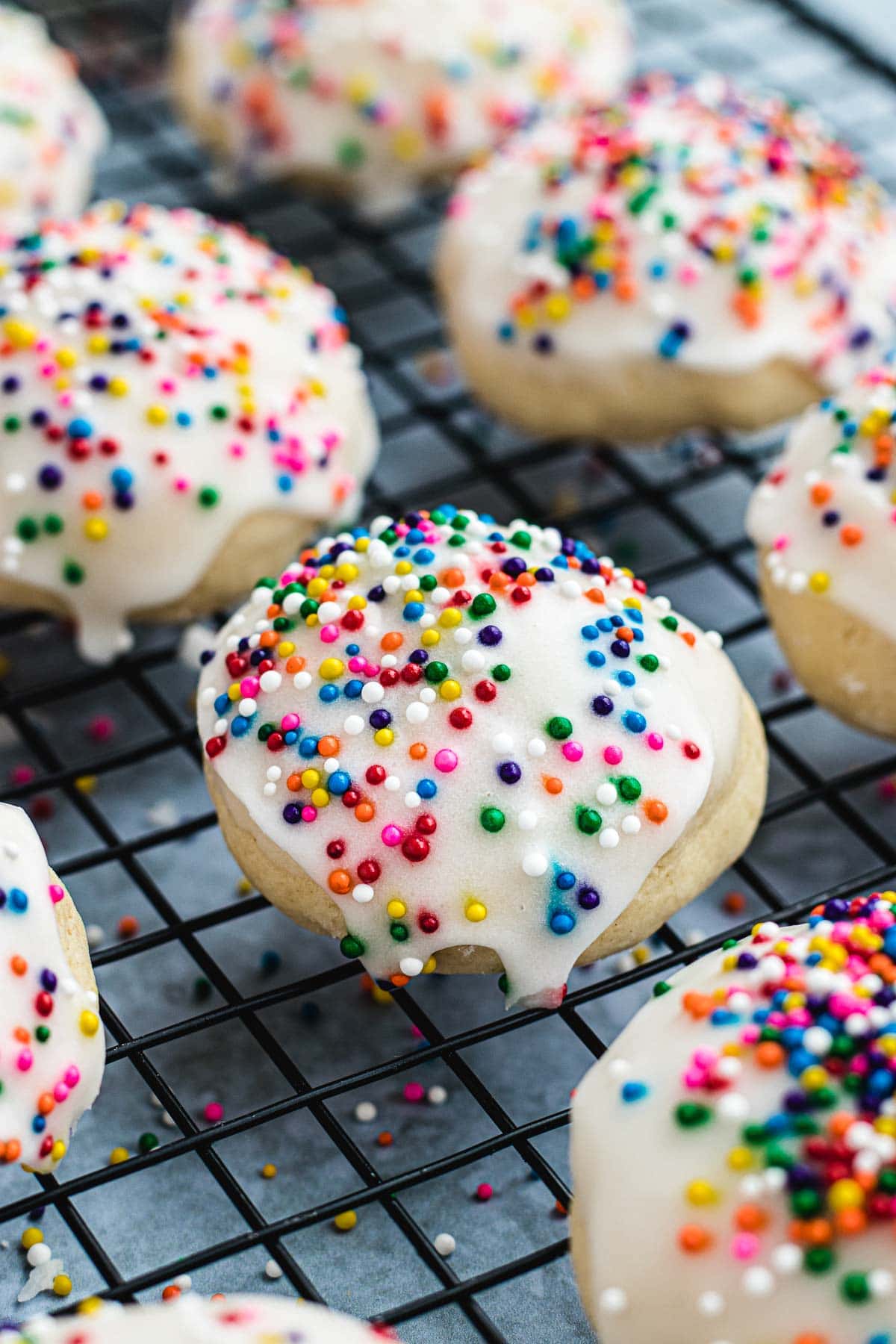 BAKING TIPS
How to Make Italian Sprinkle Cookies
Egg mixture: Beat the eggs at high speed until light and foamy. You can also put them in a large mixing bowl and use an electric hand mixer or whisk by hand.
Food processor: Add the flour, powdered sugar, and baking powder to a food processor and pulse until they're mixed. Add the shortening, almond extract, and vanilla extract. Pulse until just combined into coarse crumbs.
Combine: Open the food processor chute, and pour in the frothy egg mixture while still pulsing. Continue to mix into a smooth cookie dough.
Refrigerate: Cover the cookie dough in plastic wrap. Then put the cookie dough in the fridge for 20 minutes chilling time.
Form: Preheat the oven to 350 degrees, and line your baking sheet with parchment paper. Then use a cookie scoop to form 1″ balls of dough, and place them on the prepared baking sheet.
Baking time: Put the cookies in the preheated oven, and bake for 12-14 minutes until the bottom of the cookies are a light golden-brown color.
Glaze: During the baking time, add the powdered sugar, milk, almond extract, and vanilla extract to a bowl. Then mix the glaze ingredients until smooth. Once the cookies are baked, gently stick a fork into each one, and dip them in the glaze. Let excess glaze drip off into the bowl. Place cookies on wire racks to cool. Measure out ¼ cup rainbow sprinkles. Then top cookies with sprinkles while the glaze is still wet. Let them harden before serving.
More Tasty Cookie Recipes
FAQs for Italian Sprinkle Cookies
Do Italian wedding cookies have nuts?
These Italian Wedding Cookies do not have nuts, however many recipes use ground almonds or add chopped almond pieces. It does use almond extract however so those with tree nut allergies should avoid these cookies or leave out the almond extract.
Why did my Italian wedding cookies flatten?
The biggest culprit of flat cookies is the butter or shortening got too warm before the cookies went into the oven. That's why it is important to chill these cookies before baking so that the shortening is nice and cold and melts slowly as they bake.
Can I freeze the cookie dough?
It's always great to have frozen cookie dough ready to go for when you need a dessert and don't have time to prep. If you want to make this cookie recipe in advance, you can make the cookie dough and roll it into 1-inch balls. Then place them on a parchment-lined baking sheet in the freezer for about 2 hours. Once they've hardened, you can transfer the dough balls to a freezer bag to store long-term.
Then when you're ready to make the almond and vanilla cookies, place the cold cookie dough balls on the baking sheet and bake. While they're in the oven you can make fresh glaze to dip them in. Then top the cookies with sprinkles as usual to finish.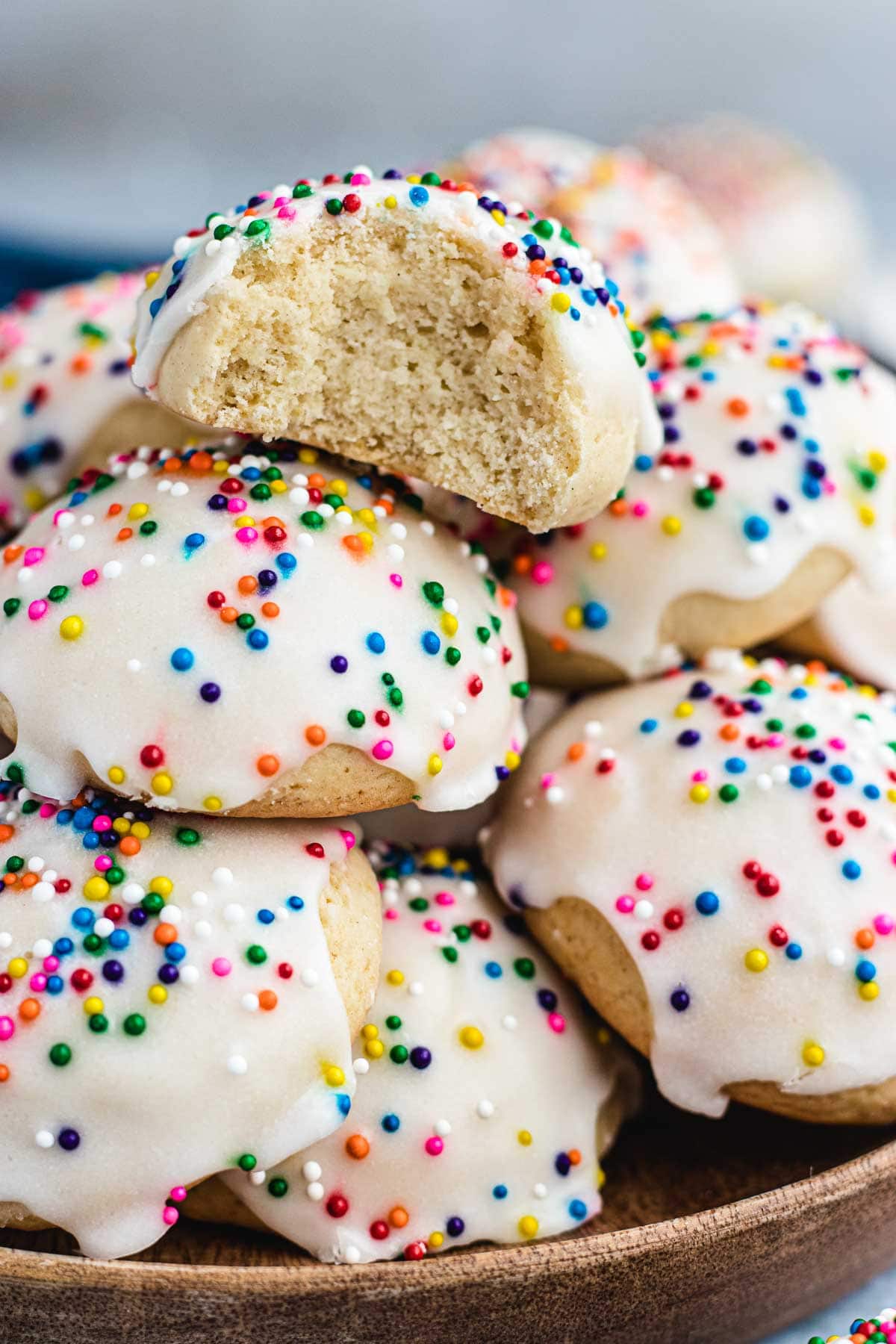 Create a free account to

Save Recipes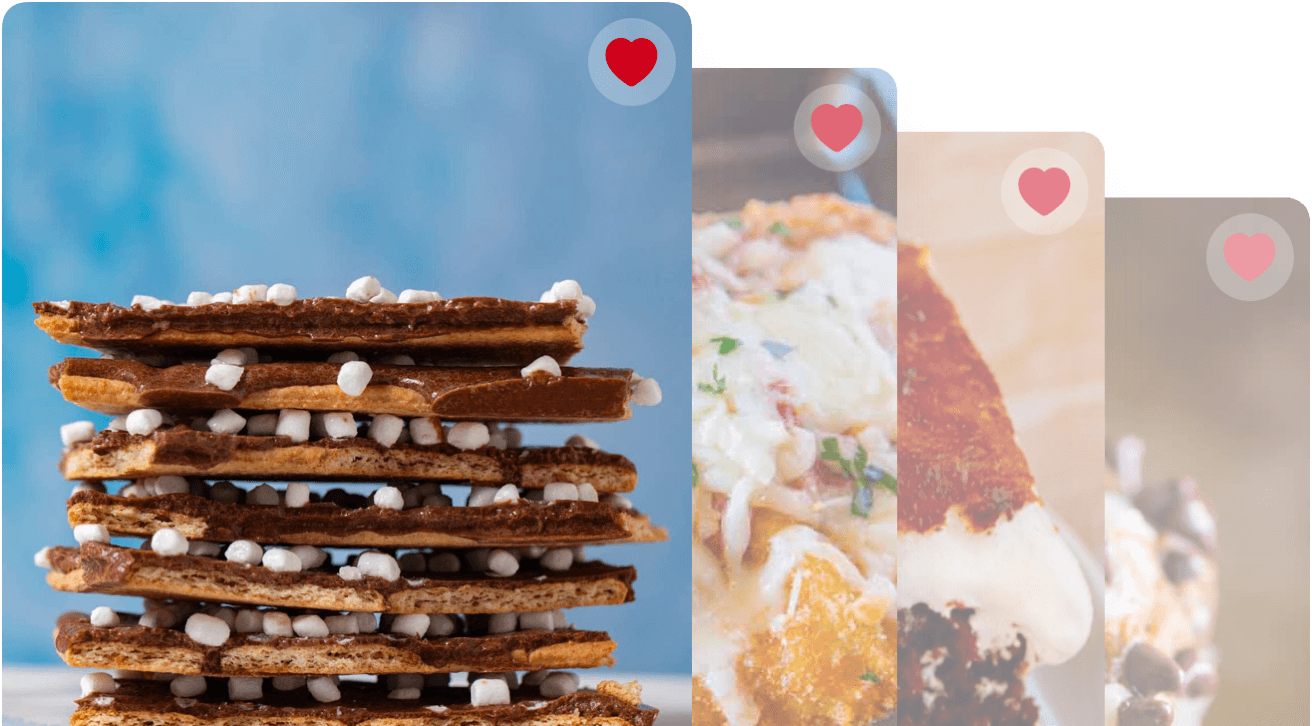 Key Ingredients
Powdered sugar: Unlike most cookies, which are made with either white sugar, brown sugar, or some combination, these Italian cookies use powdered sugar in the dough. The powdered sugar makes the dough more light and airy for fluffy cookies.
Vegetable Shortening: The vegetable shortening in the recipe makes the cookies moist and helps bind the rest of the ingredients so that the dough doesn't spread too much while baking.
Almond Extract: Italian Sprinkle Cookies are flavored with both vanilla and almond extracts for a nice comforting and classic flavor. Mix the extracts into the dough as well as the simple glaze for an all-around flavor.
Sprinkles: The sprinkles used on these cookies are nonpareils which are crunchy ball shaped sprinkles that are very small. You could also use the longer softer sprinkles if you prefer those.
Variations
Flavored extracts: You can easily experiment with the flavor by replacing the almond extract in the Italian Sprinkle Cookies with ½ teaspoon lemon extract, coconut extract, or peppermint extract.
Nuts: To add some texture to the soft cookies, you can mix chopped nuts into the dough. Almonds, pecans, or walnuts would all make excellent additions to the buttery, soft cookies. These are delicate cookies so you want to finely chop any nuts you add.
Toppings: There are all kinds of easy decorations you can try instead of rainbow sprinkles. Sanding sugar or colored sugar would look amazing. Or, for holiday cookies, you could add crushed peppermint candies. Any chocolate lovers can try drizzling on melted chocolate or sprinkling chocolate shavings over the top
Fruit: Dried fruit is a tasty addition to these cookies! You can form the dough around maraschino or candied cherries. Dice up dried pineapple, dried cranberries, or candied ginger and fold into the dough before you add the eggs. Dried cranberries in the filling with a melted white chocolate drizzle on top would be super tasty for Christmas!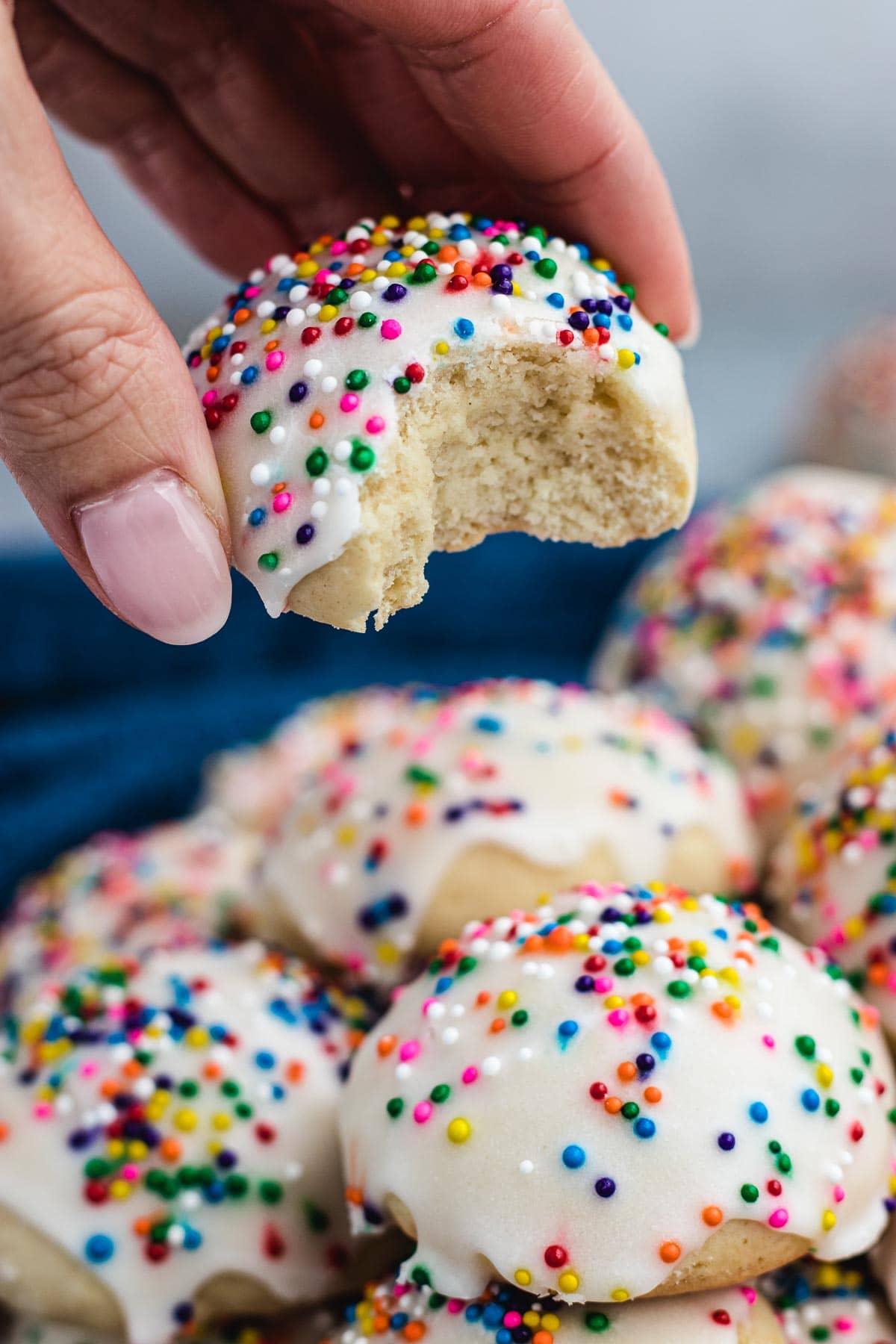 More Fun Colorful Desserts
How to Store
Serve: Let the glaze harden before you serve the Italian Sprinkle Cookies, but you will want to add the sprinkles before the glaze hardens so they stick.
Store: To store the cookies, you can cover them in plastic wrap and keep them at room temperature for up to 3 days. Or, transfer the cookies to an airtight container to store in the fridge for up to 2 months.
Freeze: For even longer storage, put the cookies in an airtight container or freezer bag with parchment paper between each layer. They can stay good for up to 1 year in the freezer.


Ingredients
Italian Cookies
3

large

eggs

, room temperature

2 1/2

cups

flour

1

cup

powdered sugar

1 1/2

tablespoons

baking powder

1/2

cup

vegetable shortening

1

teaspoon

almond extract

1

teaspoon

vanilla extract
Italian Cookie Glaze
2

cups

powdered sugar

1/4

cup

whole milk

1/2

teaspoon

almond extract

1/2

teaspoon

vanilla extract

1/4

cup

Rainbow Nonpareils Sprinkles
Instructions
In your stand mixer add the eggs on high speed for

4-6 minutes

until light and foamy.

In a food processor add the flour, sugar, and baking powder, and pulse until mixed.

Add in the shortening, almond extract, and vanilla extract and pulse until just combined in small crumbs (do not just run the food processor).

Pour the eggs through the food processor chute slowly while pulsing until combined and smooth.

Refrigerate for

20 minutes

, covered with plastic wrap.

Preheat oven to 350 degrees.

Roll 36 small 1″ balls of cooking dough and place them onto two baking sheets lined with parchment paper.

Cook for

12-14 minutes

until the bottoms are barely browning.

While the cookies are baking mix the powdered sugar, milk, almond extract, and vanilla extract until smooth.

When cookies come out of the oven dip them gently in the glaze with a fork, letting excess glaze drip and place on a wire rack to let excess glaze drip off.

Immediately top with ½ teaspoon or so of sprinkles before the glaze hardens.

Let dry completely before storing in airtight containers.
Nutrition
Calories:
109
kcal
|
Carbohydrates:
18
g
|
Protein:
1
g
|
Fat:
3
g
|
Saturated Fat:
1
g
|
Polyunsaturated Fat:
1
g
|
Monounsaturated Fat:
1
g
|
Trans Fat:
1
g
|
Cholesterol:
16
mg
|
Sodium:
8
mg
|
Potassium:
68
mg
|
Fiber:
1
g
|
Sugar:
11
g
|
Vitamin A:
25
IU
|
Calcium:
27
mg
|
Iron:
1
mg