Zankou Chicken Rice Bowl with Garlic Sauce (Copycat)
This post may contain affiliate links. Read my disclosure policy here.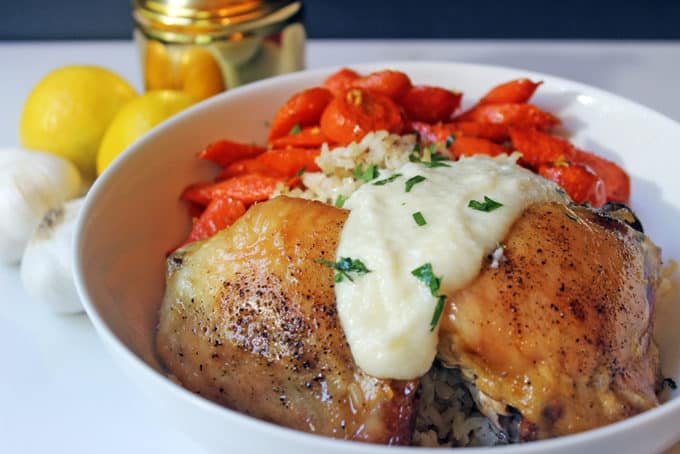 Zankou Chicken's legendary Garlic Sauce is served with this Brown Rice Pilaf Bowl. Crispy chicken thighs and lemony roasted carrots make this chicken bowl an amazing meal you'll eat for dinner and then won't be able to wait for lunch the next day for leftovers!
The sauce used in this meal is the Copycat Zankou Garlic Sauce that was one of the first recipes I ever posted (that is how much I love it, I couldn't wait to make it!). I keep a jar in my fridge at all times, but if you make it for this meal, please make sure the sauce is made at least 8 hours before you plan to use it.
A note about the garlic sauce that just about everyone in LA is obsessed with (including Zagat). It is raw garlic and it is STRONG. So if you LOVE garlic, you will love this sauce. If garlic is just sort of "eh it's ok I guess" I don't recommend this sauce.
The fun thing about this meal is the rice goes in for an hour and halfway through cooking you put in a tray of chicken and carrots. When the timer goes off everything is ready to be eaten at the exact same time.
If you want to use white meat chicken for the recipe, use bone in skin on and roast for the same amount of time.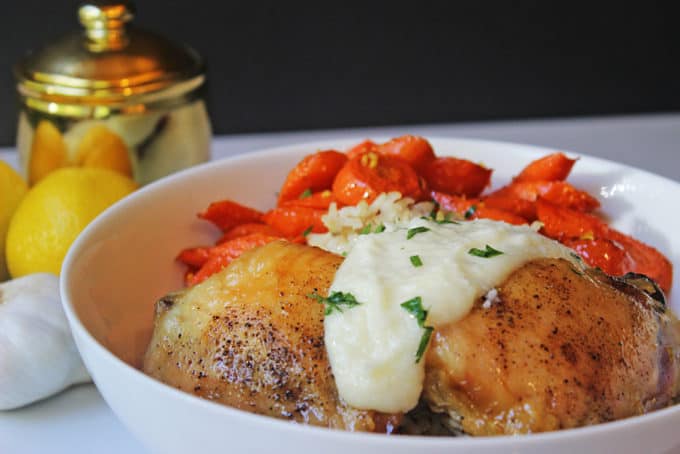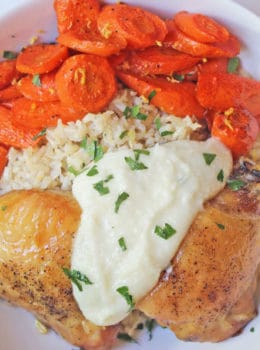 Zankou Chicken Rice Bowl with Garlic Sauce (Copycat)
Zankou Chicken Copycat Bowl with their Chicken with Brown Rice Pilaf, Armenian Garlic Sauce & Lemon Scented Carrots. Serve with hot peppers and pickled turnips for a totally authentic experience.
Prep Time 10 minutes
Cook Time 1 hour
Total Time 1 hour 10 minutes
Ingredients
1 cup Garlic Paste (Zankou Copycat)
6 chicken thighs
1/2 teaspoon kosher salt
1/4 teaspoon black pepper
1 tablespoon lemon zest
2 pounds carrots , peeled and sliced into 1 inch diagonal coins
2 tablespoons canola oil
1 1/2 cups brown rice
3 cups chicken broth*
1 tablespoon unsalted butter (optional)
Instructions
Preheat oven to 375 degrees.

In a baking dish add chicken broth, rice, butter, salt and pepper (I use 1?4 teaspoon of each for the rice)

Bake rice in the oven for 60 minutes.

About thirty minutes into the rice cooking time, start the chicken and carrots.

In a large bowl, mix the chicken, carrots, salt, pepper, 2 tablespoons canola oil and lemon zest.

Spread onto a pan and roast in the oven along side the rice, for about 25-30 minutes.

Everything should be done and ready to come out of the oven at the same time.

Serve the pilaf with chicken and carrots. Top with garlic sauce.
Recipe Notes
*NOTE* This recipe is best when the garlic sauce is made the day before your meal (at LEAST a couple hours though). There will be lots of garlic sauce left over. You'll thank me for that when you use it on everything!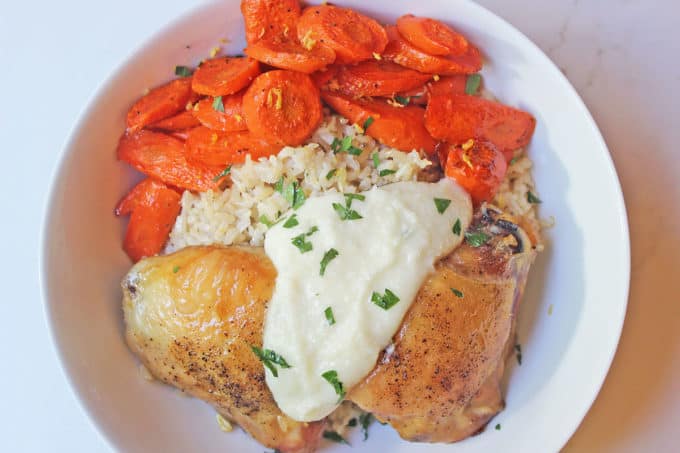 Dinner, then Dessert, Inc. owns the copyright on all images and text and does not allow for its original recipes and pictures to be reproduced anywhere other than at this site unless authorization is given. If you enjoyed the recipe and would like to publish it on your own site, please re-write it in your own words, and link back to my site and recipe page. Read my disclosure and copyright policy. This post may contain affiliate links.