Almond Cookies are the perfect, easy, melt-in-your-mouth, buttery cookie finished with sliced almonds over the top.
This is a simple and quick Cookie Recipe perfect for any occasion. For more delicious almond treats, try Almond Pound Cake and Almond Biscotti Cookies.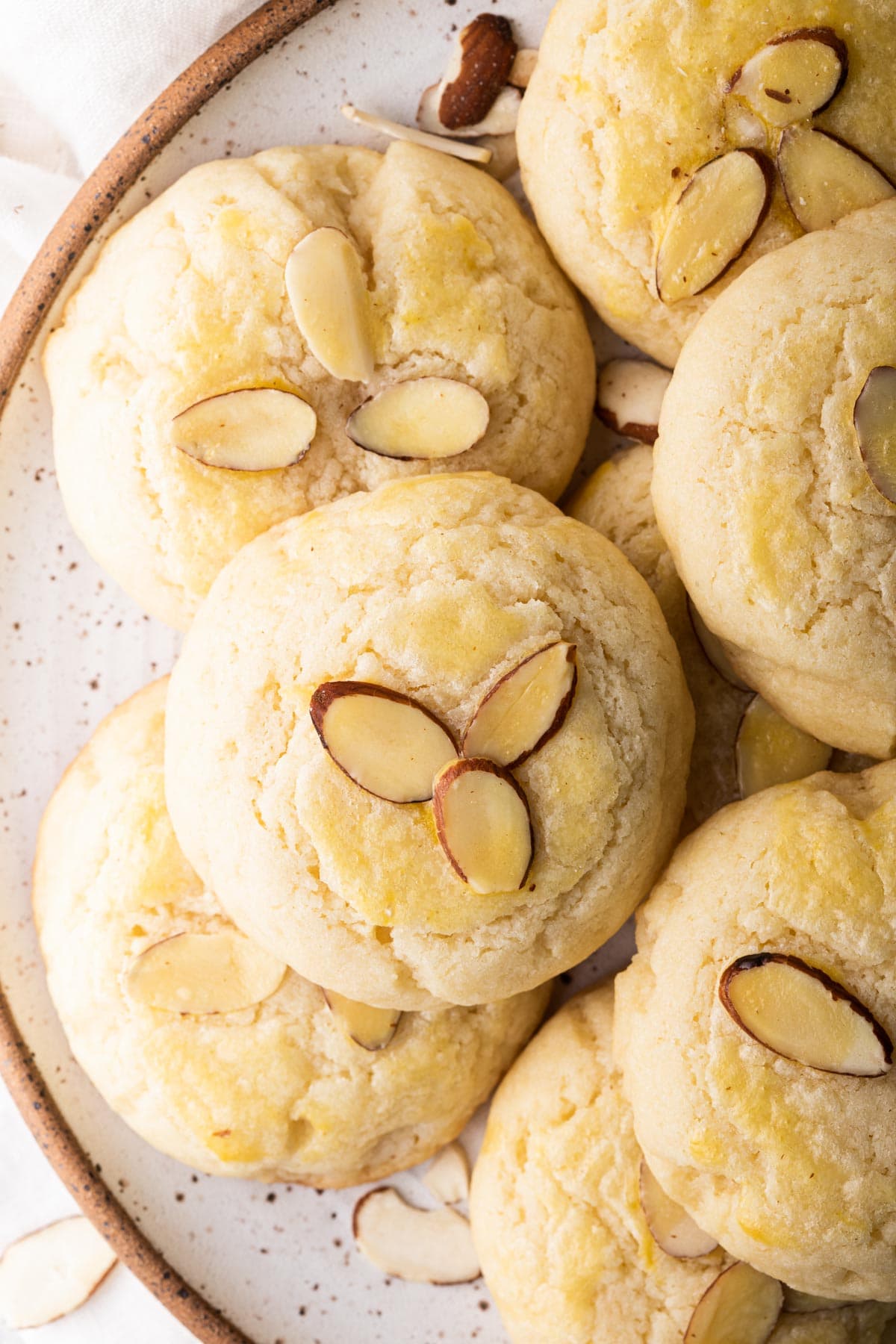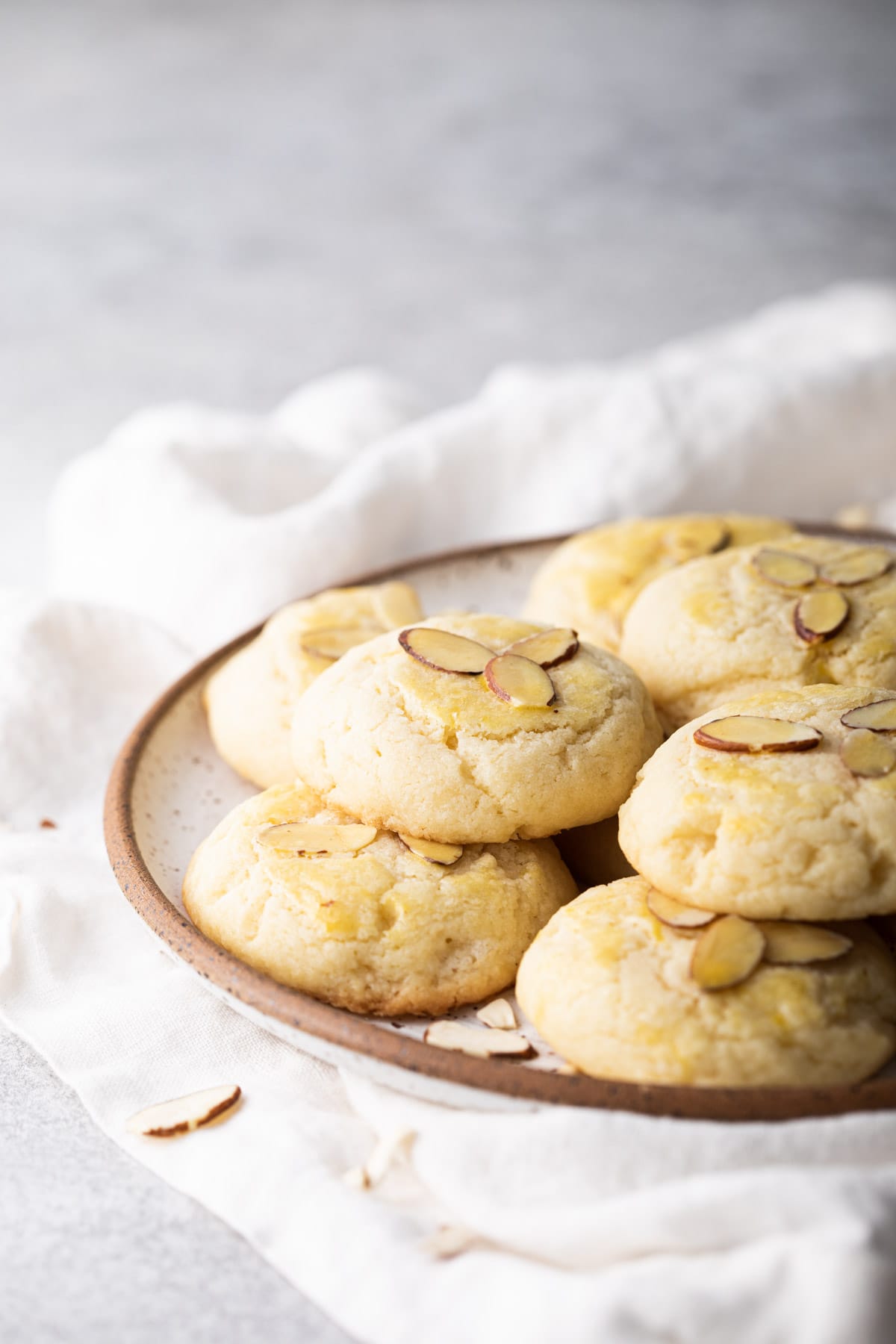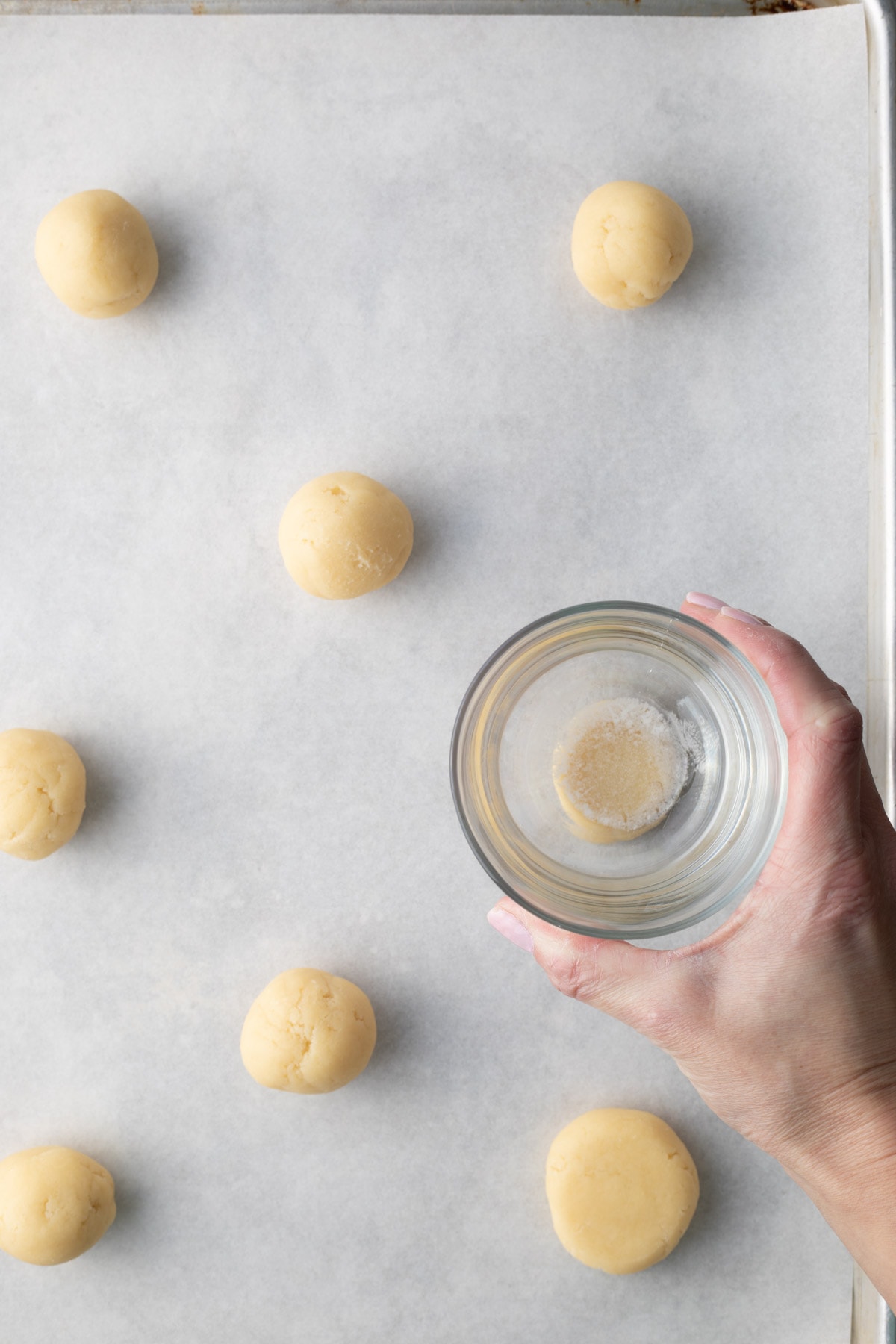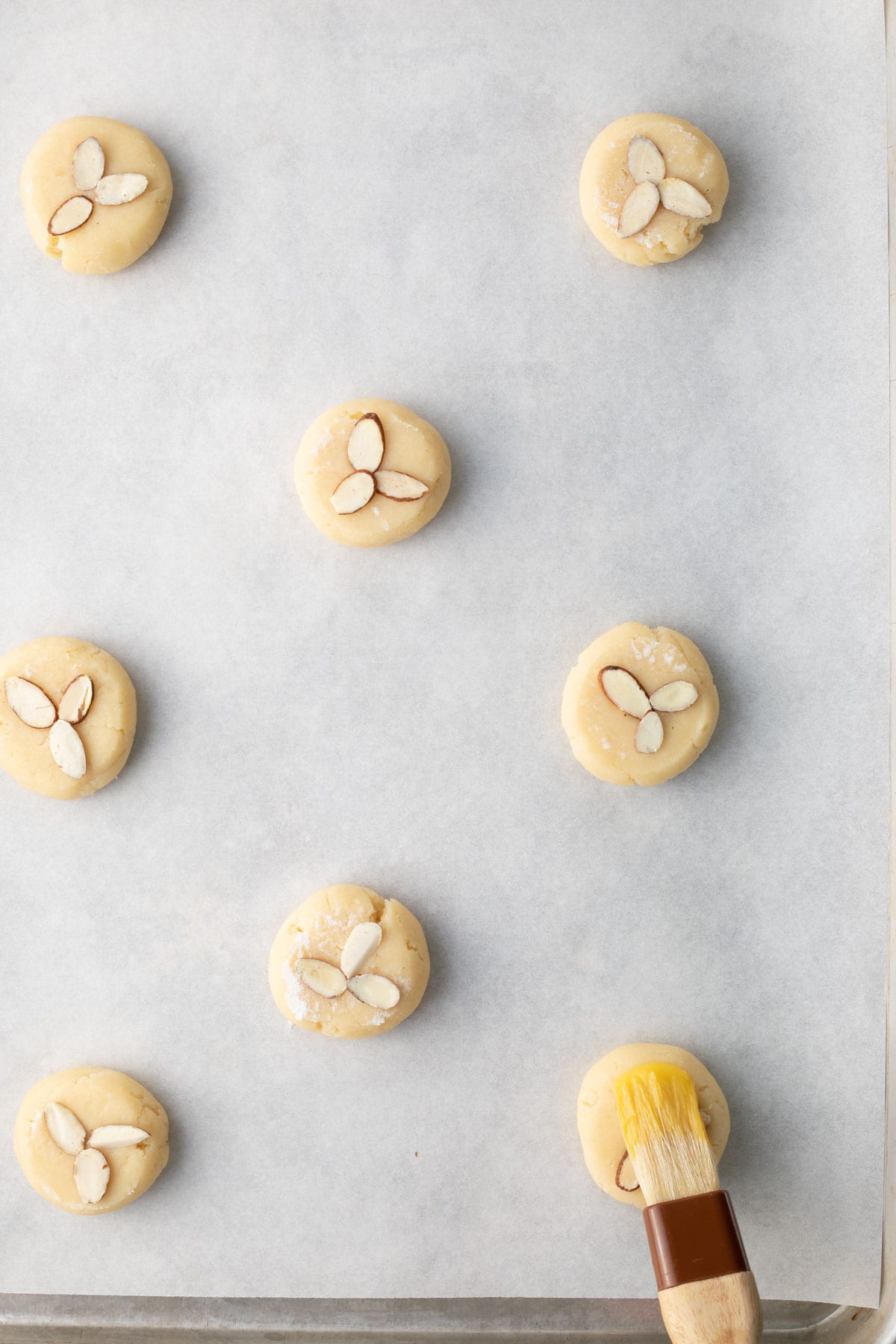 About Our Almond Cookies Recipe
This delicious recipe is a reader favorite when you a quick and simple treat. Once you set aside enough time to let the dough chill, the recipe is super easy to make and doesn't require a lot of hands-on time. The addition of sliced almonds over the top gives them a fancy look and taste wonderful on the melt-in-your-mouth Almond Cookies. This recipe is easy enough that you don't need a special occasion to serve them. Keep them in a cookie jar in your kitchen to enjoy anytime your craving something sweet.
"Can I prep Almond Cookies ahead of time?"
Yes, if you want to prep this cookie recipe in advance, you can make the dough and freeze it for later. Prep the dough according to the recipe instructions, then let it chill in the fridge for 20 minutes. After that, you can scoop dough balls onto a parchment-lined baking sheet. Then flatten the cookie dough slightly and add the almond topping.
Almond Cookies Key Ingredients
1 cup Unsalted Butter: Make sure you're using unsalted butter for your cookie recipe. Take the butter out of the fridge about a half hour before making the cookies so that it has time to soften.
1 teaspoon Almond Extract

: Though only 1 teaspoon is used, almond extract adds lots of almond flavor to the other simple ingredients. The extract is distilled from almond oil and adds a sweet, pure, and distinctive taste to baked goods.

1 large Egg

: You don't want more than 1 egg because the crisp cookies don't need a lot of liquid ingredients in the dough. The egg will blend the ingredients, add some fat, and bind everything together.

Almonds

: Add sliced almonds to the top of the cookies before baking. They'll toast slightly in the oven, and they offer a lovely nutty flavor and crisp texture.
Kitchen Tools & Equipment
Stand Mixer: A mixer with a bowl and paddle attachment will make things so quick and easy while making these cookies.
Sifter: You'll use a sifter to blend together your dry ingredients, ensuring the cookie dough comes together well without over-mixing.
Plastic Wrap: Cover the dough in the bowl with plastic wrap while it refrigerates to prevent the dough from drying out.
Baking Sheets: You'll use two standard baking sheets so that you can bake more cookies at one time.
Parchment Paper: Parchment will help make sure your cookies do not stick to your baking sheet.
Glass with a Flat Bottom: Grab a glass with a flat bottom so you can use it to press your cookies flat.
Whisk, Bowl, and Basting Brush: These cookies are brushed with egg yolk before baking so you'll need a basting brush and a whisk.
Spatula and Cooling Rack: Any appropriately-sized spatula and wire cooling rack will do the trick once your cookies are finished.
How to Make Almond Cookies
Time needed: 42 minutes.
With these simple steps, your Almond Cookies will come together in no time.
Almond Cookie Dough

Combine the sugar and butter in your stand mixer. Slowly raise the speed to high and beat for 2-3 minutes until light and airy. Add the egg and almond extract. Sift the flour, baking powder, and kosher salt into a separate bowl. Add the dry ingredients to the stand mixer at the lowest speed setting until just combined.

Refrigerate

Cover the bowl in plastic wrap and refrigerate for 20 minutes.

Shape Cookie Dough

Preheat an oven to 350 degrees. Line two baking sheets with parchment paper. Then use a two tablespoon-sized cookie scoop to spoon the dough onto the prepared baking sheet leaving 2 inches between each ball of dough.

Flatten the Dough

Dip the bottom of a water glass in flour and flatten the cookie dough balls slightly with the glass.

Top with Almonds

Press almond slices into the center of the cookie dough.

Egg Wash

Whisk egg yolk and water together in a small bowl and rush the egg wash over the almond topping.

Baking Time

Bake for 12-14 minutes until they're just starting to turn golden brown around the edges. Let the cookies cool for 5 minutes before moving to a cooling rack.
Nutritional Facts
Nutrition Facts
Almond Cookies
Amount Per Serving
Calories 153
Calories from Fat 81
% Daily Value*
Fat 9g14%
Cholesterol 36mg12%
Sodium 47mg2%
Potassium 35mg1%
Carbohydrates 16g5%
Protein 2g4%
Vitamin A 258IU5%
Calcium 22mg2%
Iron 1mg6%
* Percent Daily Values are based on a 2000 calorie diet.
How to Store Almond Cookies
Serve: Give the cookies 5 minutes to cool on the baking sheet. They'll continue to bake and set while on the hot pan. After that, you can transfer them to a wire rack to finish cooling or serve the warm Almond Cookies right away.
Store

: Cookies will start to dry out if you leave them uncovered at room temperature for more than a few hours. To keep them fresh, place in a Ziploc bag or another airtight container and they will stay good at room temperature for 2-3 weeks.

Freeze

: To extend the storage time, you can place the Almond Cookies in an airtight freezer container. They can retain the quality in the freezer for up to 6 months. To thaw frozen cookies, take them out of the airtight container and spread them out at room temperature.
Ideas to Serve Almond Cookies
Gatherings: You can set these out as a simple treat for a family get-together or party with your friends. If you want to serve them with other desserts, try placing them on a platter with other cookie recipes like Crispy Peanut Butter Cookies or Chocolate Cookies.
Morning Snack: These Almond Cookies also make a great mid-morning pick-me-up. If you're having a long day, and want something sweet to tide you over until lunch, have a couple of these delicious cookies with some coffee. The crisp and buttery cookies go perfectly with tea or coffee, and they aren't so sweet that they feel too rich to eat in the morning.
On the Go: Almond Cookies make a really good on-the-go treat. They're small, fit in many different containers, and they don't contain chocolate that might melt while you're out and about. You can throw them into lunch bags as a fantastic lunchtime dessert.
FAQs for Almond Cookies
Why does the butter need to be softened for Almond Cookies?
Soft butter is essential because the first step in the recipe is beating or creaming the butter with sugar. You want a light, fluffy mixture, which you can't do with chilled butter. The fluffy sugar and butter mixture contains air bubbles, which stop the dough from becoming too dense and keep the cookies buttery and slightly chewy.
Why do Almond Cookies crack?
It is possible that your ingredients are old, causing the cookies not to rise properly. Another reason is if your oven is too hot. You can use an oven thermometer to double-check your oven temperature. If the cookies are cracking after baking, it's likely because they haven't had enough time to set so make sure to leave them for 5 minutes before transferring.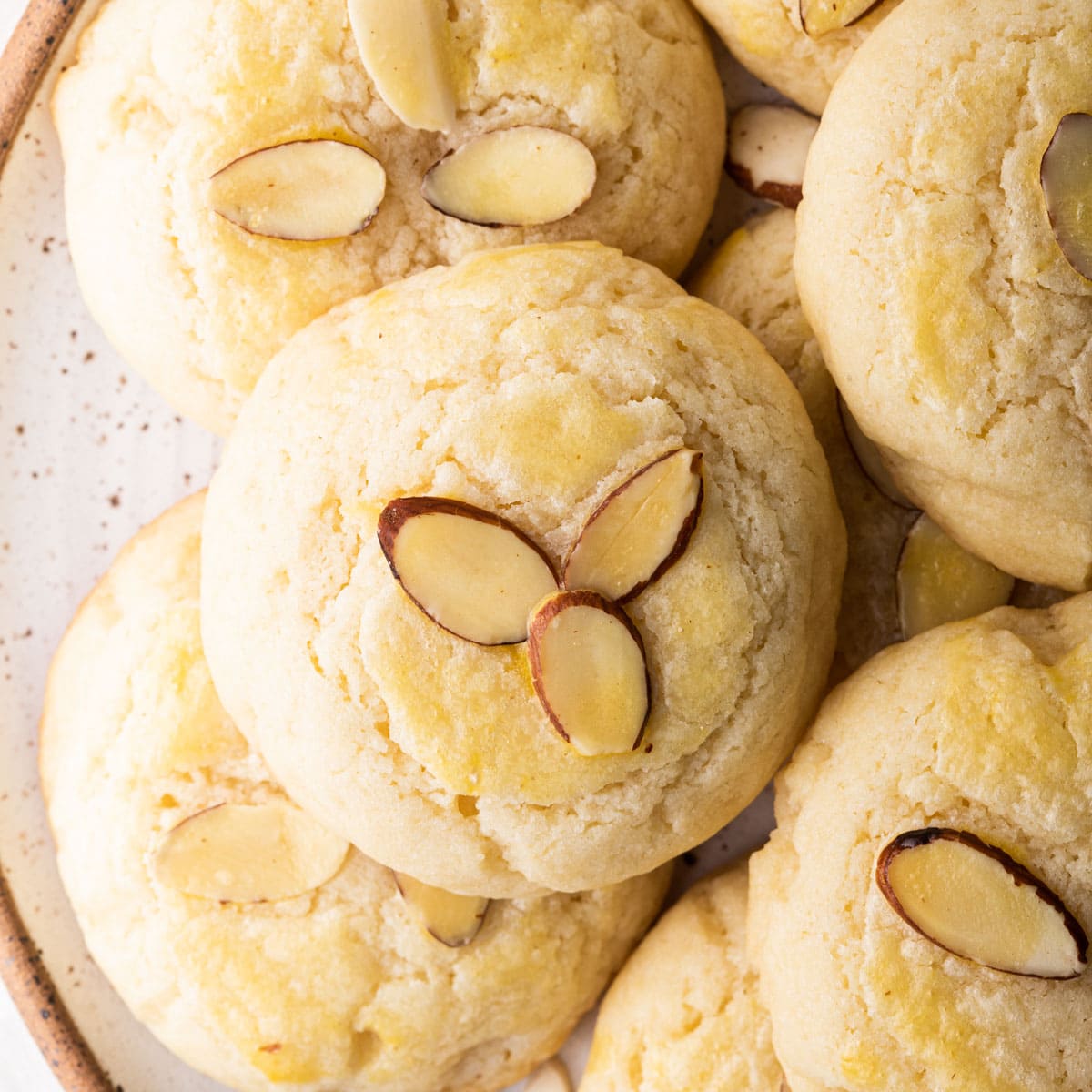 Recipe Card


Ingredients
1

cup

unsalted butter

, softened

3/4

cup

sugar

1

large

egg

1

teaspoon

almond extract

2 1/4

cups

flour

1

teaspoon

baking powder

1/4

teaspoon

salt
To Finish Cookies:
1/2

cup

sliced almonds

1

large

egg yolk

1

tablespoon

water
Instructions
To your stand mixer add the butter and sugar on medium speed then raise speed to high and beat for 2-3 minutes.

Add in the egg and almond extract.

Sift together the flour, baking powder, and salt.

Add to the stand mixer on the lowest speed setting until just combined.

Cover and refrigerate for

20 minutes.

Preheat oven to 350 degrees and line two baking sheets with parchment paper.

Using a two tablespoon-sized cookie scoop, add the cookie dough 2-inches apart on your baking sheets.

Dip the bottom of a water glass in a bit of flour and flatten the cookie dough slightly.

Press three slices of almond into the center of the cookie dough.

In a small bowl mix egg yolk and water, and brush over the cookie dough.

Let cool five minutes before removing from baking sheet and baking the next batch.
Nutrition
Calories:
153
kcal
|
Carbohydrates:
16
g
|
Protein:
2
g
|
Fat:
9
g
|
Saturated Fat:
5
g
|
Polyunsaturated Fat:
1
g
|
Monounsaturated Fat:
3
g
|
Trans Fat:
0.3
g
|
Cholesterol:
36
mg
|
Sodium:
47
mg
|
Potassium:
35
mg
|
Fiber:
1
g
|
Sugar:
6
g
|
Vitamin A:
258
IU
|
Calcium:
22
mg
|
Iron:
1
mg
Almond Cookies Variations
Almond Glaze: If you want to add a delicious glaze to this recipe, leave the almond slices off of the top before baking. (You'll add them later.) Other than that, bake the cookies as usual. Add 1 cup powdered sugar, 2 teaspoons almond extract, and 2 tablespoons water to a medium mixing bowl. Then whisk the ingredients together until the confectioners sugar is blended into the liquid ingredients. The almond glaze should be thick but still pourable. If necessary, you can add more water to thin the mixture. Dip the top of the cooled cookies into the glaze. Then place the almond slices on top before the glaze dries. Let the almond glaze harden before serving.
Almond Flour Cookies: You can also make this Almond Cookie recipe with almond flour. This is a great option if you need gluten-free cookies. Just keep in mind that almond flour cookies will likely crack a little bit across the top as they bake.
Flavor Additions: To add a little more flavor to the cookie recipe, you could mix in a few drops of vanilla extract, lemon juice, or orange extract along with the almond extract.
Nuts: The sliced almonds make a simple and delicious addition to these cookies. If you want to change up the nuts, you could also add sliced pecans or chopped walnuts to the recipe.
Related Recipes