Apple Fritter Casserole is an easy breakfast treat that's made with crescent rolls, granny smith apples, brown sugar, cinnamon topped with an easy glaze!
If you've tried my recipes for Chicken Casserole, Tater Tot Casserole and Tuna Noodle Casserole you know how easy and quick casseroles can be!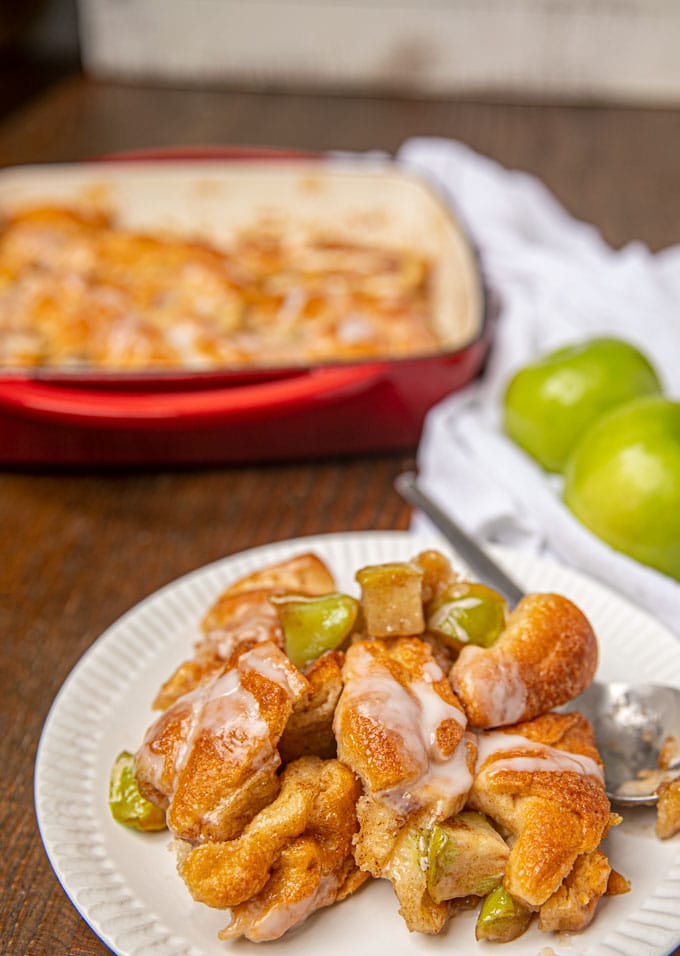 APPLE FRITTER CASSEROLE
Sure, Cinnamon Rolls, French Toast, croissants and donuts are delicious, but have you ever tried having an Apple Fritter Casserole for breakfast? It's rich, hearty, absolutely delicious and you don't have to work all day to make it.
Even if you've never tried a breakfast casserole before, this is a great one to start with. All you really need by way of equipment is a casserole dish, a measuring cup and a rubber spatula to get all of the dough into the dish.
Even if your casserole dish is non-stick, you will most likely want to hit it with cooking spray or coat it in a thin layer of melted butter to grease it. If you decide not to go the cooking spray route, melt butter in a small bowl and then set aside a few tablespoons of butter to drizzle on top when you're done.
If you've never had apple fritter before, you're in for a treat. For starters, it's nothing like apple pie, even though some people use apple pie filling in them: Apple fritter is a baked apple pastry similar to a donut with a thick glaze.
Apple Fritter Breakfast Casserole is rich and decadent, perfect for holidays, brunch and even for dessert. As far as breakfast recipes go, this one is unique and delicious.
HOW TO MAKE APPLE FRITTER CASSEROLE
Preheat oven to 350°F. Spray an 8-inch square (2-quart) glass non-stick baking dish with cooking spray.
In a large bowl, mix apple, ½ cup of the brown sugar, the flour and ½ teaspoon ground cinnamon; stir sugar mixture well.
Unroll 1 can of dough; sprinkle with 2 tablespoons of the brown sugar and ¼ teaspoon of the cinnamon, pressing lightly into dough.
Cut dough into 1-inch squares (8 rows by 12 rows), and transfer to bowl with apples. Repeat with remaining dough, 2 tablespoons brown sugar and ¼ teaspoon cinnamon.
Carefully stir apples and dough until coated, separating any clumps of dough. Spoon apple mixture into baking dish.
Pour melted butter over casserole. Bake 40 to 45 minutes or until dough is thoroughly baked and top is deeply browned. Cool 10 minutes.
In 1-cup glass measuring cup, stir together powdered sugar and milk; drizzle milk and sugar mixture over top.

Create a free account to

Save Recipes
VARIATIONS ON APPLE FRITTER CASSEROLE
Fruit: Fresh fruit and berries go really well on top of the casserole or served in a small bowl on the side. You can chop up some strawberries or set blueberries around to make it look even fancier. If you do use something juicy like a blueberry you should make sure to add them right before you intend to eat it or the blueberry juice can stain the casserole. Something else to try that's delicious is to add caramelized apple slices to the top. The caramelized apple is still crunchy and crispy, which brings out the flavor in the Apple Fritter Casserole.
Apple butter: If you're going for a smoother texture you can use apple butter instead of a whole apple. Just keep in mind that you will have to adjust the cooking time accordingly. If you do use apple butter, you may need to cut it with corn starch and a little warm water to get the correct consistency. You can also add this to chunks of apple too if you're looking for extra apple flavor.
Toppings: You can dust the top of the Apple Fritter Casserole with cinnamon sugar, brown sugar or confectioner's sugar to make it look fancy and taste even sweeter. Dressing up the top makes it look fancy so you don't have to worry about transferring it out of the casserole dish to serve it up.
HOW LONG IS APPLE FRITTER CASSEROLE GOOD?
Serve: You shouldn't leave your Apple Fritter Casserole out at room temperature for more than 2 hours or it will start to grow bacteria that can make you sick.
Store: Apple Fritter Casserole is good in the fridge for up to 4 days before it gets too squishy. Make sure to keep it in plastic wrap or in a sealable bag.
Freeze: Once it's frozen, Apple Fritter Casserole is good for about 2 months before it looses its flavor. Make sure that the casserole has completely cooled down to room temperature before you put it in the freezer or fridge to keep you from getting sick.
More Easy Breakfast Options: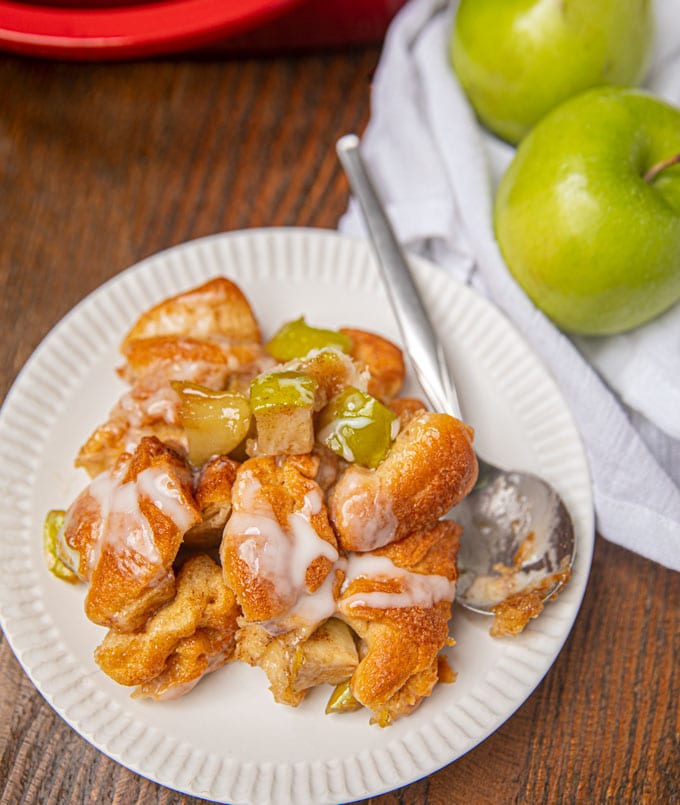 Ingredients
2

cans

crescent dough sheets

, (8 ounce cans)

2

granny smith apples

, cored and chopped

3/4

cup

brown sugar

, packed

1

teaspoon

cinnamon

1

tablespoon

flour

1/4

cup

unsalted butter

, melted

1

cup

powdered sugar

1/4

cup

whole milk
Instructions
Preheat oven to 350 degrees and spray 9x9 inch baking dish with baking spray.

Cut the crescent sheets into 1" cubes and toss with half the cinnamon and brown sugar in a medium bowl.

Toss the chopped apples, flour and the rest of the cinnamon together in a large bowl.

Combine the apples and crescent pieces together and put into your baking dish and pour the melted butter over the mixture.

Bake for

40 to 45 minutes

or until golden brown. Cool

10 minutes

.

Make the glaze by whisking powdered sugar and milk together (microwave 15 seconds if too thick) and pour over your baked casserole just before serving.
Nutrition
Calories:
301
kcal
|
Carbohydrates:
35
g
|
Protein:
1
g
|
Fat:
19
g
|
Saturated Fat:
11
g
|
Cholesterol:
37
mg
|
Sodium:
305
mg
|
Potassium:
46
mg
|
Fiber:
1
g
|
Sugar:
26
g
|
Vitamin A:
435
IU
|
Vitamin C:
1
mg
|
Calcium:
22
mg
|
Iron:
1
mg