Bacon Wrapped Tater Tot Bombs are an easy appetizer of tater tots and sharp cheddar cheese wrapped in thick cut bacon, rolled in brown sugar and baked.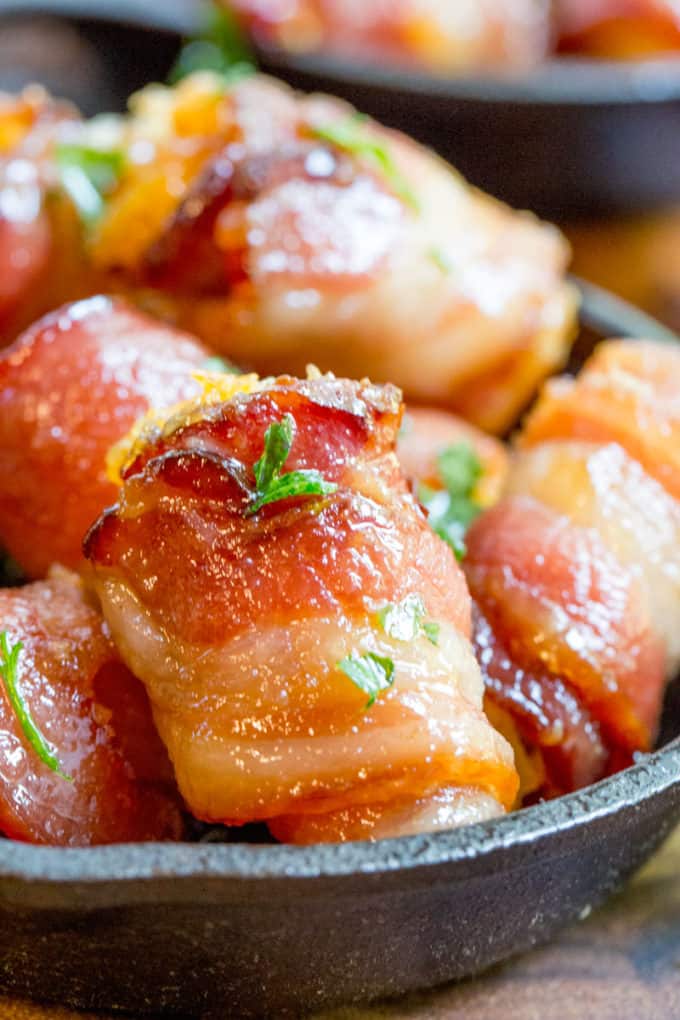 Bacon Wrapped Tater Tot Bombs are dangerous. Dangerous in the same way the Chicken Fire Poppers a couple of weeks ago were dangerous. They're so delicious you'll immediately want to crowd the pan to eat them as quickly as possible only to realize 20 minutes later that eating 12 of these may be a bit overdoing it.
But hey, thats why the Bacon Wrapped Tater Tot Bombs are labeled as appetizers. Sharing is caring, about your fellow friend and your stomach! Here's a video to show you how easy it is!
[brid autoplay="true" video="454092″ player="19072″ title="Bacon Wrapped Tater Tot Bombs" description="Bacon Wrapped Tater Tot Bombs" duration="60″ uploaddate="2019-08-22 13:17:37″ thumbnailurl="//cdn.brid.tv/live/partners/14572/thumb/454092_t_1566479581.png"]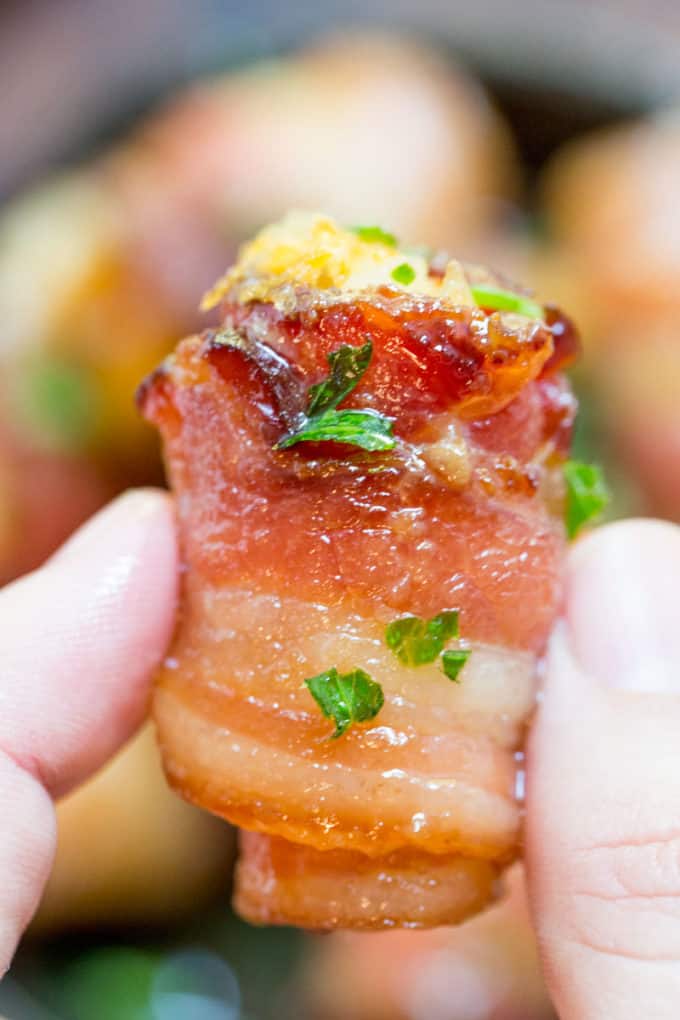 I used to cater a lot of parties for clients and when I'd show up with my plan I'd created for the event I'd hear things like "Do you do little pigs in a blankets?" and "ooh let's do those mini grilled cheese sandwiches with tomato soup shots again!"  I learned quickly to keep the appetizers craveable, fun, playful and indulgent.
These Bacon Wrapped Tater Tot Bombs are no exception to that rule. I use quality ingredients and they turn out great without feeling like you've gone too far over to the processed side.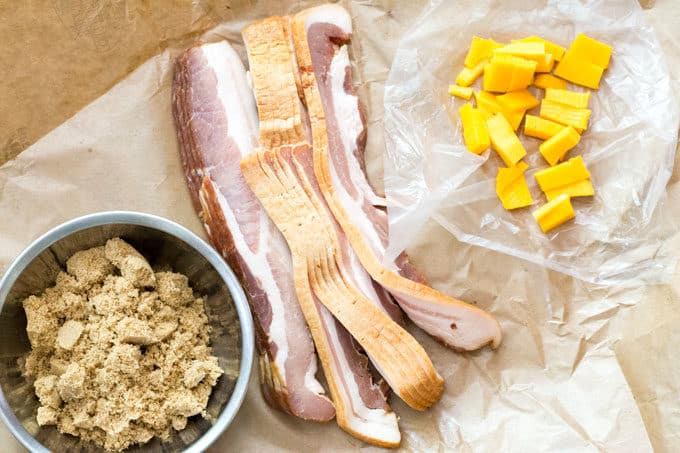 A good sharp cheddar, thick cut bacon, organic brown sugar and organic tater tots (I used Cascadian Farms) are the only ingredients you're going to need to make these delicious little Bacon Wrapped Tater Tot Bombs.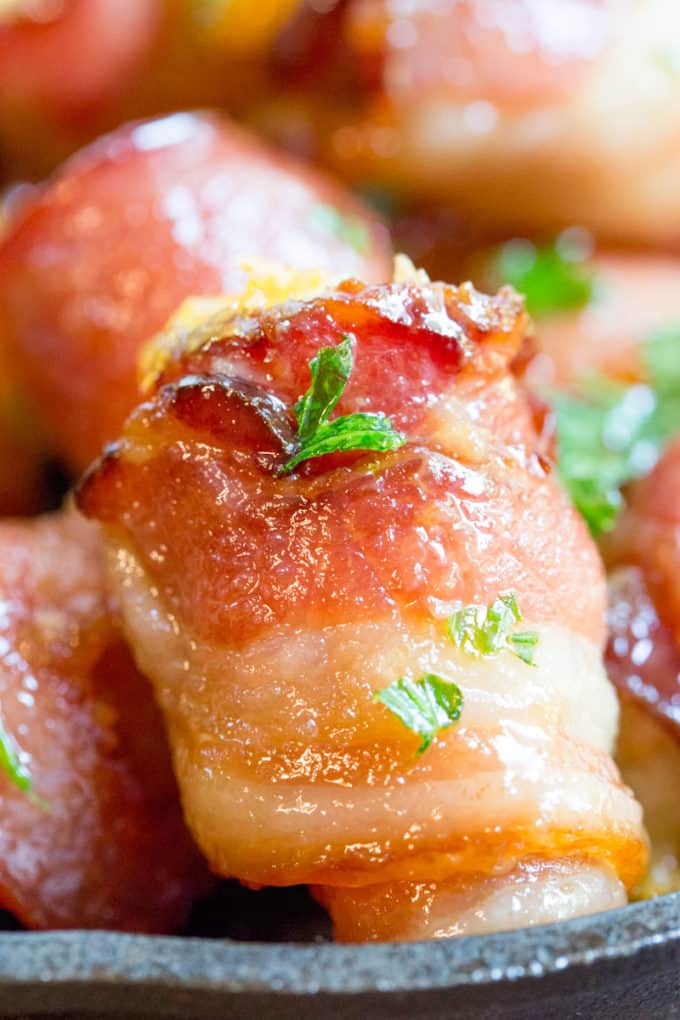 With just a few ingredients and only a couple of minutes of prep time these little bites will be ready in no time. Here's a good visual on the amount of brown sugar coverage you're looking for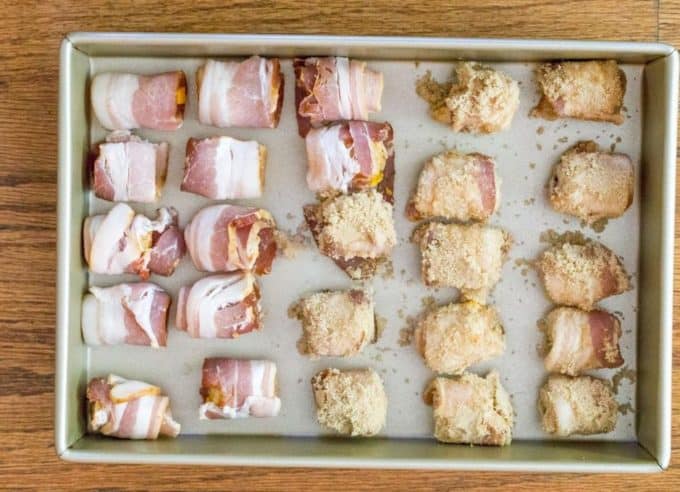 I don't know about you, but brown sugar caramelized little bacon bombs are basically heaven coated in bacon (which is also heavenly around here) and the crunch of the potatoes inside with the rich melted cheese is (yep I'm going to go there) a party in your mouth.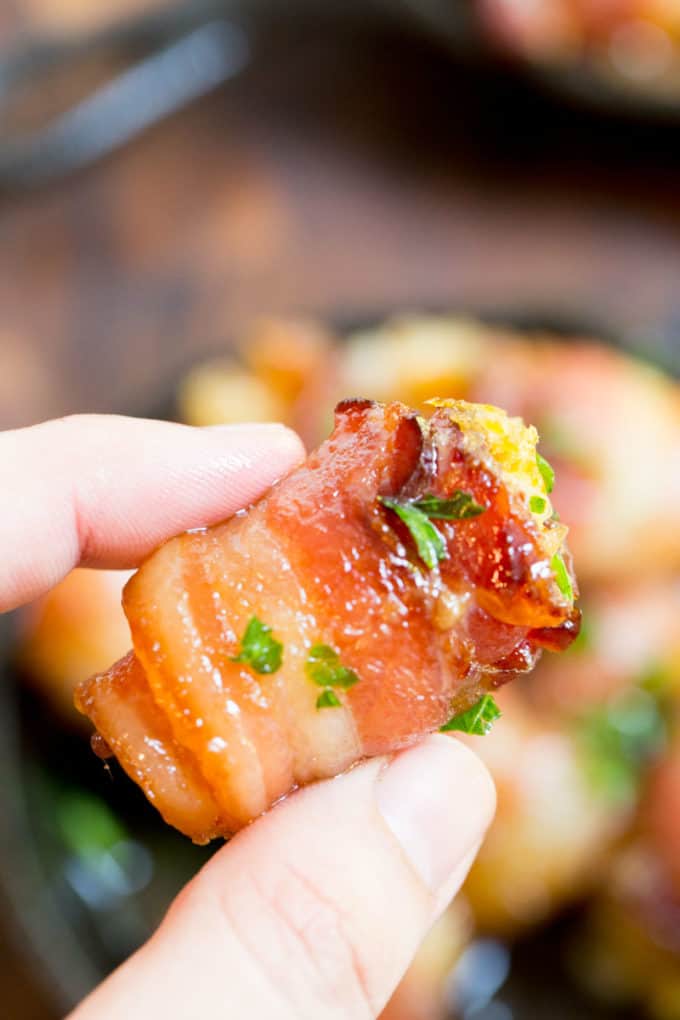 The outsides of the Bacon Wrapped Tater Tot Bombs are crispy and sticky with an amazing coating of the melted brown sugar mixed with the bacon fat (so wrong and yet so right) and the insides have a delicious melted cheese and crispy tater tot filling.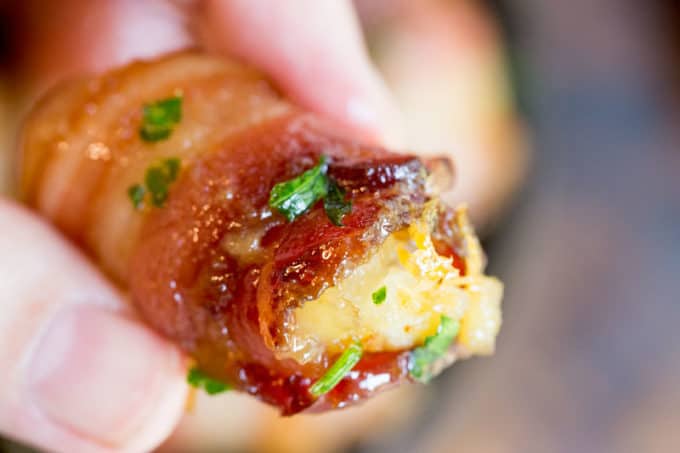 As easy as these Bacon Wrapped Tater Tot Bombs are, you just want to be sure you don't roll it too tight as it will tighten up even more during baking and break the tater tot inside, but just tight enough to not leave extra slack.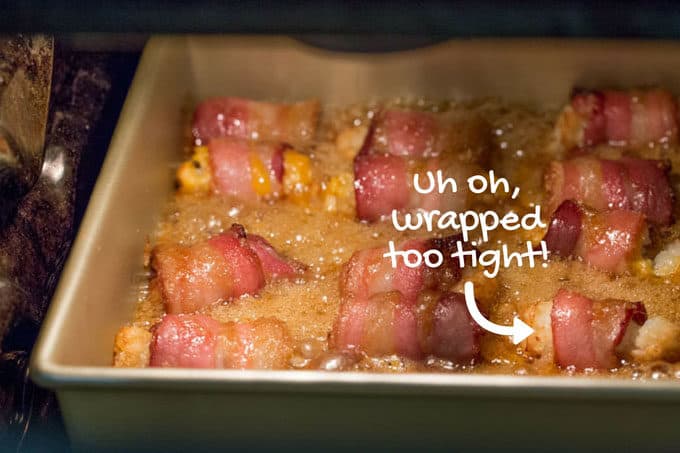 These Bacon Wrapped Tater Tot Bombs are actually pretty versatile too, they'd work at a number of occasions:
Brunch: You could serve these along with some mini egg frittata bites made in a muffin tin/mini muffin tin for the perfect little bites to accompany this recipe.
Game Day: Can you imagine how fast these would disappear at a football game viewing party? I'd would probably at least double the recipe.
Holidays: It's a well known fact that between October 30th and December 31st calories don't exist. These would be perfect at any holiday party you're hosting (though maybe not great for taking to an office party since they would cool completely and while still delicious, they are 500% better warm.


Ingredients
24

tater tots

(I used Cascadian Organic, but any cylinder shaped tot will work)

24

slices

sharp cheddar cheese

, the size of the tater tot, but thinly sliced

12

slices

thick cut bacon

, cut in half

3/4

cup

light brown sugar
Instructions
Preheat over to 400 degrees.

When you are cutting your sharp cheddar cheese you can cut them the same height and width as the face of your tot, but just make sure that the squares are thin since your bacon should still wrap around the tots without creating a bulge for the cheese.

Roll each tater tot with a piece of cheese on it in the piece of bacon.

You don't want to roll it too tight as it will tighten up even more during baking and break the tater tot inside, but just tight enough to not leave extra slack.

Add the brown sugar to a small bowl and dip each bacon tater tot bomb in the brown sugar.

You can pat down on it lightly to add a layer of brown sugar to it (see photo)

Put each one in the baking pan bacon seam side down.

Bake for

15-18 minutes

or until you bacon is browned.

Careful when removing from the pan, your brown sugar is now basically molten sugar and can cause a sugar burn if you handle them immediately.
Notes
Adapted slightly from This Grandma is Fun. I love their page for fun ideas and recipes and the major edits I made here were just in cooking time, and the method, but the recipe stayed primarily the same.
Nutrition
Calories:
230
kcal
|
Carbohydrates:
9
g
|
Protein:
9
g
|
Fat:
17
g
|
Saturated Fat:
8
g
|
Cholesterol:
41
mg
|
Sodium:
333
mg
|
Potassium:
96
mg
|
Sugar:
6
g
|
Vitamin A:
285
IU
|
Vitamin C:
0.7
mg
|
Calcium:
210
mg
|
Iron:
0.4
mg