Baked Honey Mustard Chicken is an easy three ingredient dinner that is juicy, sticky, sweet and delicious that kids will LOVE!
If you love honey mustard and you've had our Honey Mustard Pulled Pork Pretzel Sliders, Raspberry Honey Mustard Pretzel Dip and Honey Mustard BBQ Chicken Wings before, you know that you're in for a new family favorite.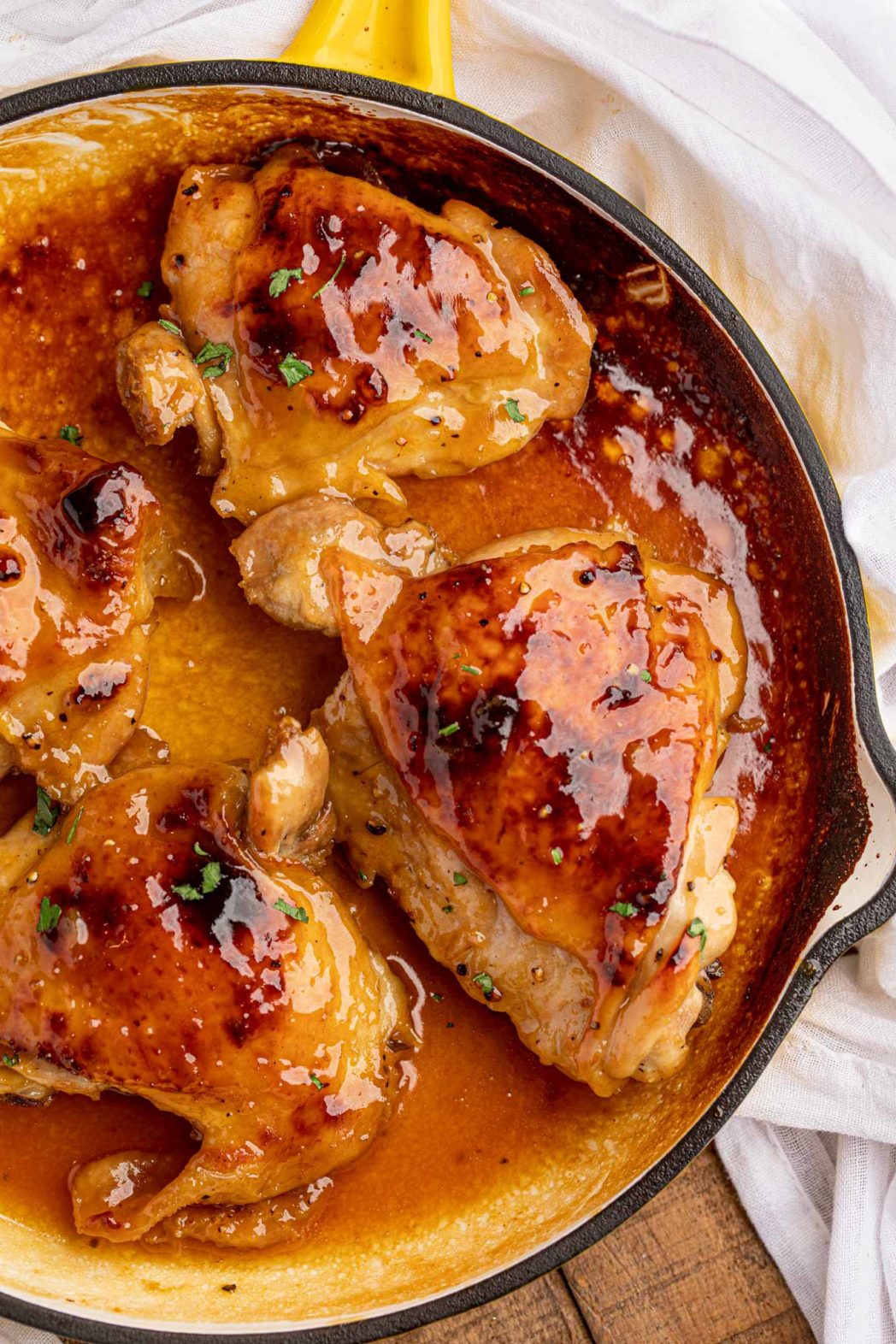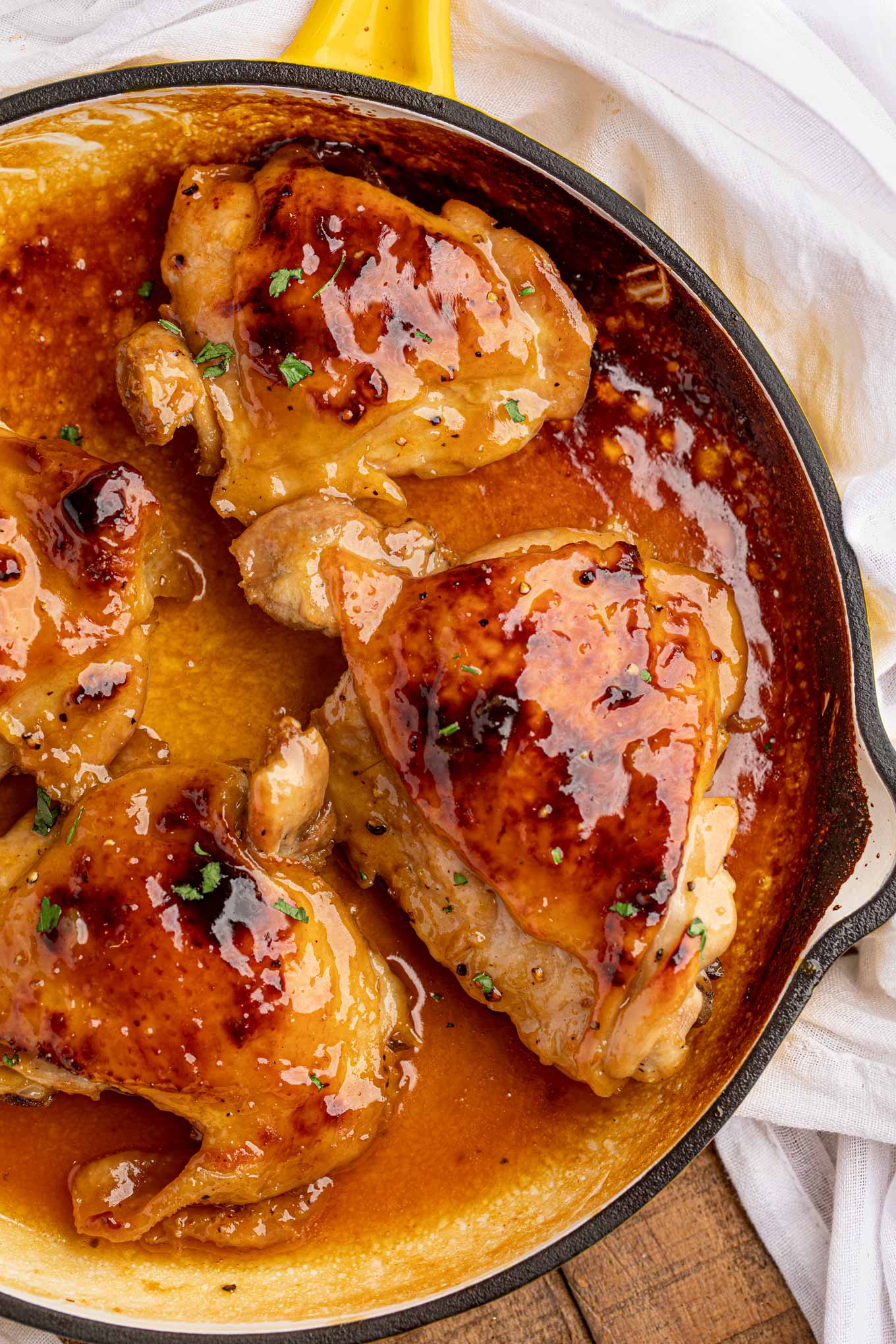 BAKED HONEY MUSTARD CHICKEN
Baked Honey Mustard Chicken is one of the easiest chicken recipes because of how quick it is to prepare. You can whip it up for a weeknight dinner and eat the left overs for lunch the next day. The cook time is a little long, but the prep is so easy that it makes up for it.
Juicy Honey Mustard Chicken baked to a golden brown and covered in delicious sauce. As if that wasn't reason enough to try it, this dish is easy to make and easy to clean up after.
HOW TO MAKE HONEY MUSTARD CHICKEN
Preheat the oven.
Season chicken thighs with salt and pepper.=
Combine the honey and mustard in a small bowl.
Add chicken to the pan and coat with honey mustard mixture.
Put them in the oven for 30 minutes then spoon sauce over chicken again.
Bake for another 10 to 15 minutes until done.
And speaking of you're favorite sides…
VARIATIONS ON BAKED HONEY MUSTARD CHICKEN
Garlic: sprinkle a little garlic powder and black pepper into the sauce mixture for some extra flavor without having to change this chicken dinner recipe too much.
Marinade: you can marinade your chicken in the honey garlic sauce overnight if you want to infuse it with a much stronger flavor. Add a little lemon juice to the sauce to tenderize the meat.
Chicken breasts: you can use bone-in chicken breasts for this recipe if you want a healthier dinner.
Cayenne: If you want a bit of spice in this dish add a 1/4-½ teaspoon of cayenne pepper to the recipe when making the honey mustard mixture.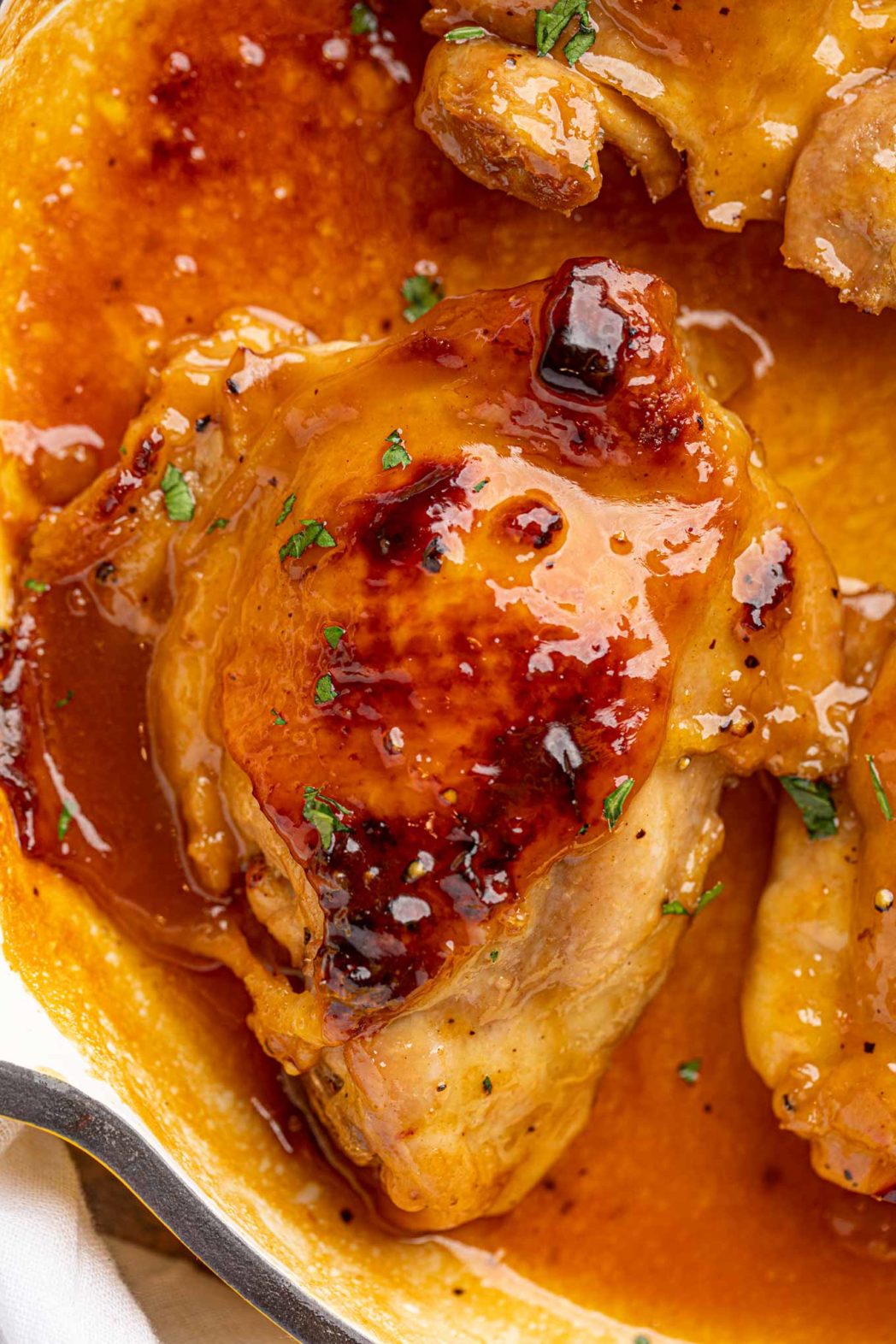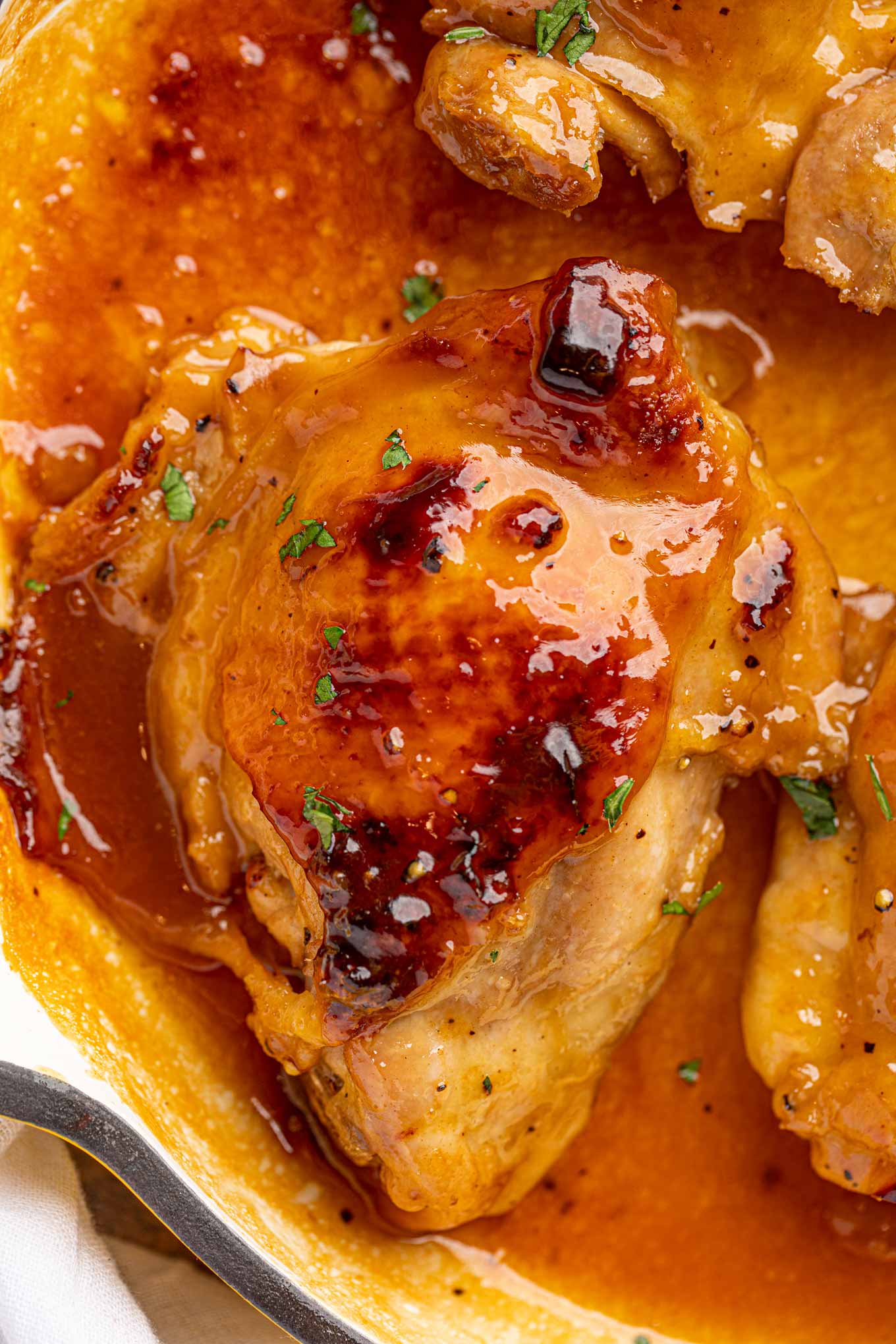 Create a free account to Save Recipes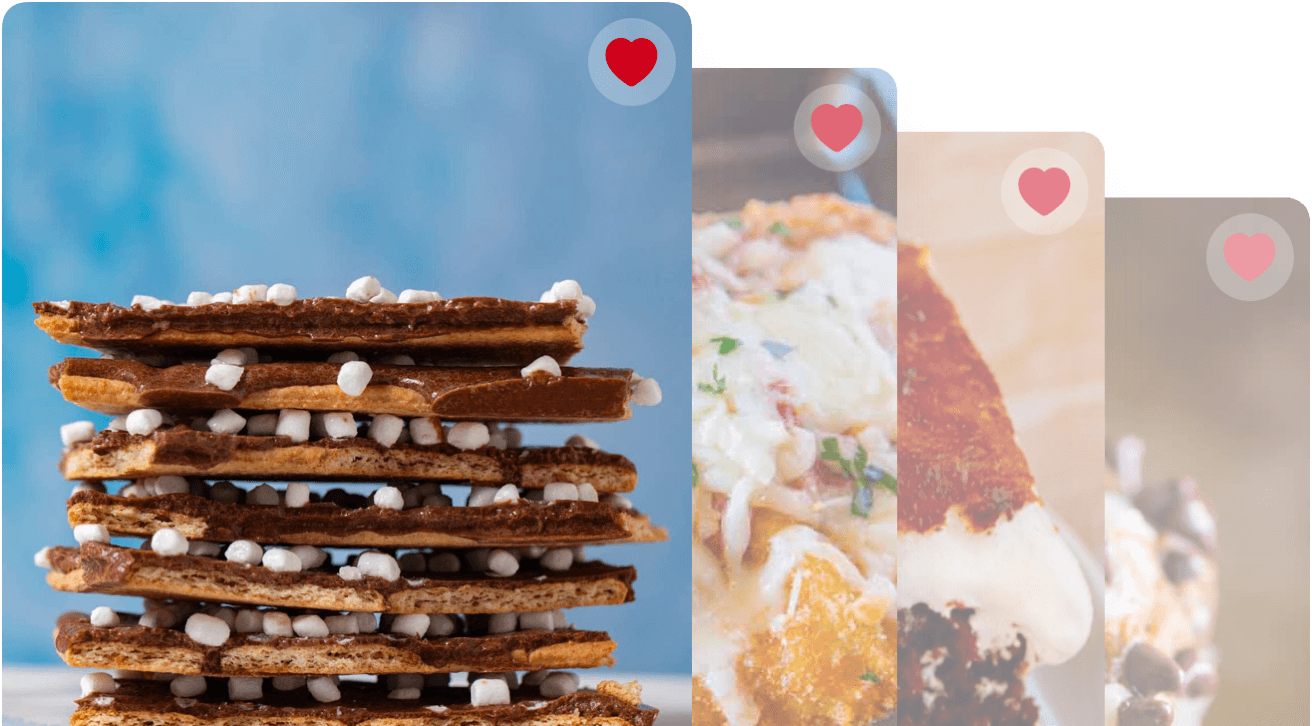 BAKING TIPS
Coat your baking pan with 1 to 2 teaspoons of olive oil or spray it with cooking spray to keep your chicken from fusing to the glass when you bake it. Taking a few seconds beforehand to prep the dish is worth it: you won't have to scrape the chicken off the pan to serve it and you won't have to soak your pan for days before you can scrub it.
Check your glass baking dish for cracks and chips before you bake. Tiny cracks can make the heat not distribute evenly, which mean at best, your chicken may burn in places before the inside is done and, at worst, the dish could shatter.
ORIGINS
Both honey and mustard have been favorite foods for centuries. Honey has been with us since humans first started walking upright and mustard goes all the way back to the ancient Romans.
Mustard:
The word "mustard" comes from the Latin words "must," meaning "young wine," and "ardens," meaning "burning or flaming." That's right, according to the Romans, mustard was flaming wine.
Spreading mustard on your chest when you have a cold can help you breathe better.
Mustard seeds have anti-inflammatory properties.
Mustard first met American hotdogs at the 1904 St. Louis World's Fair. The rest they say is history.
Honey:
An 8,000 year old cave painting from the Araña Caves in Spain shows a human collecting honey, that's how long we've loved it.
Honey has a whole list of health benefits. It helps heal burns, has antibiotic properties and can help people build up immunities to allergies from local pollens.
WHEN IS IT SAFE TO EAT?
Chicken is safe to eat when the internal temperature reaches 165 degrees F (73.8 degrees C), according to the USDA's website.
HOW LONG DOES IT KEEP?
Serve: you should not leave cooked chicken our for longer than 2 hours at room temperature.
Store: last night's dinner can be tomorrow's lunch. Baked chicken leftovers are good in the fridge for up to 3 days before they go bad.
Freeze: in an airtight container, cooked chicken can stay frozen for up to 4 months.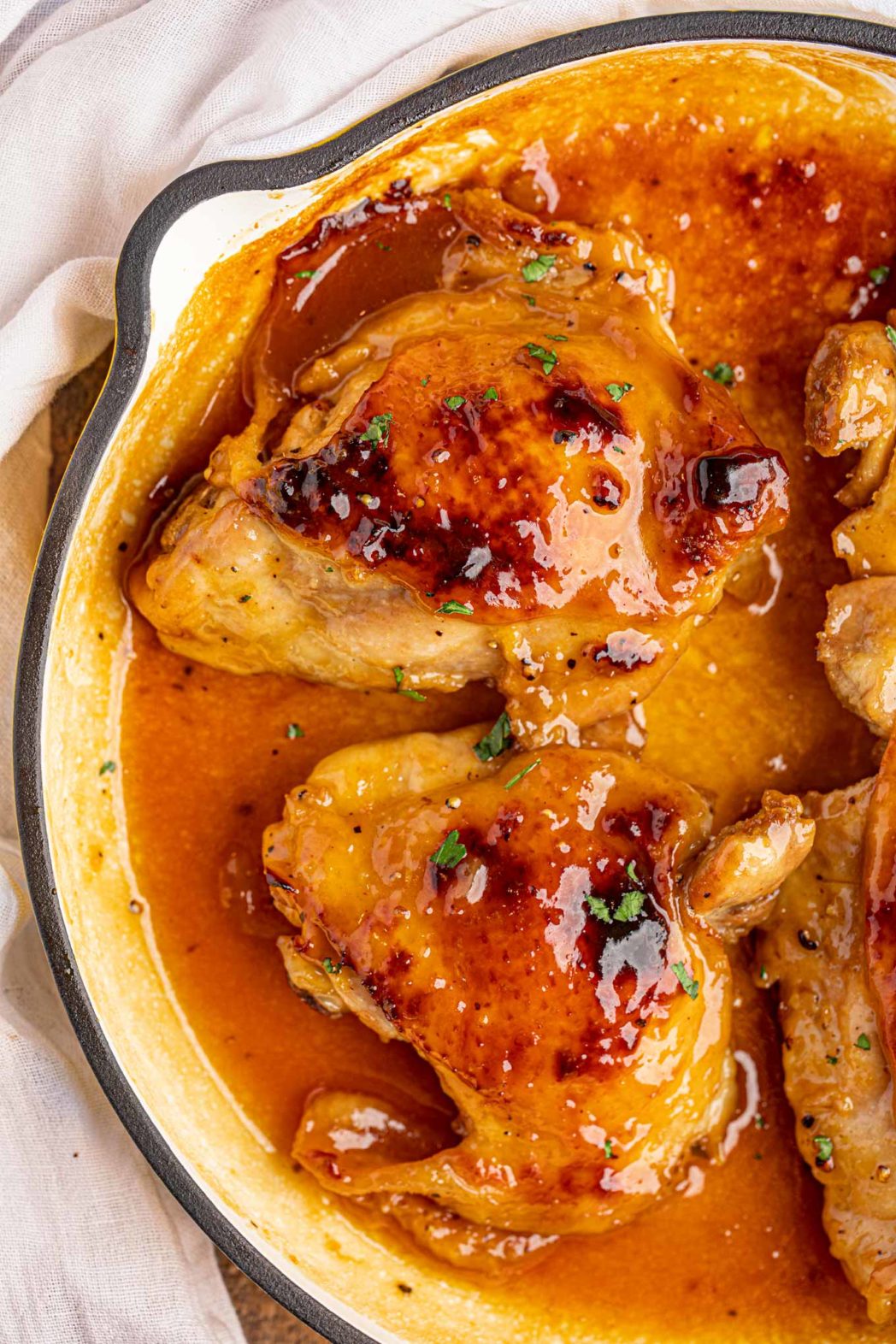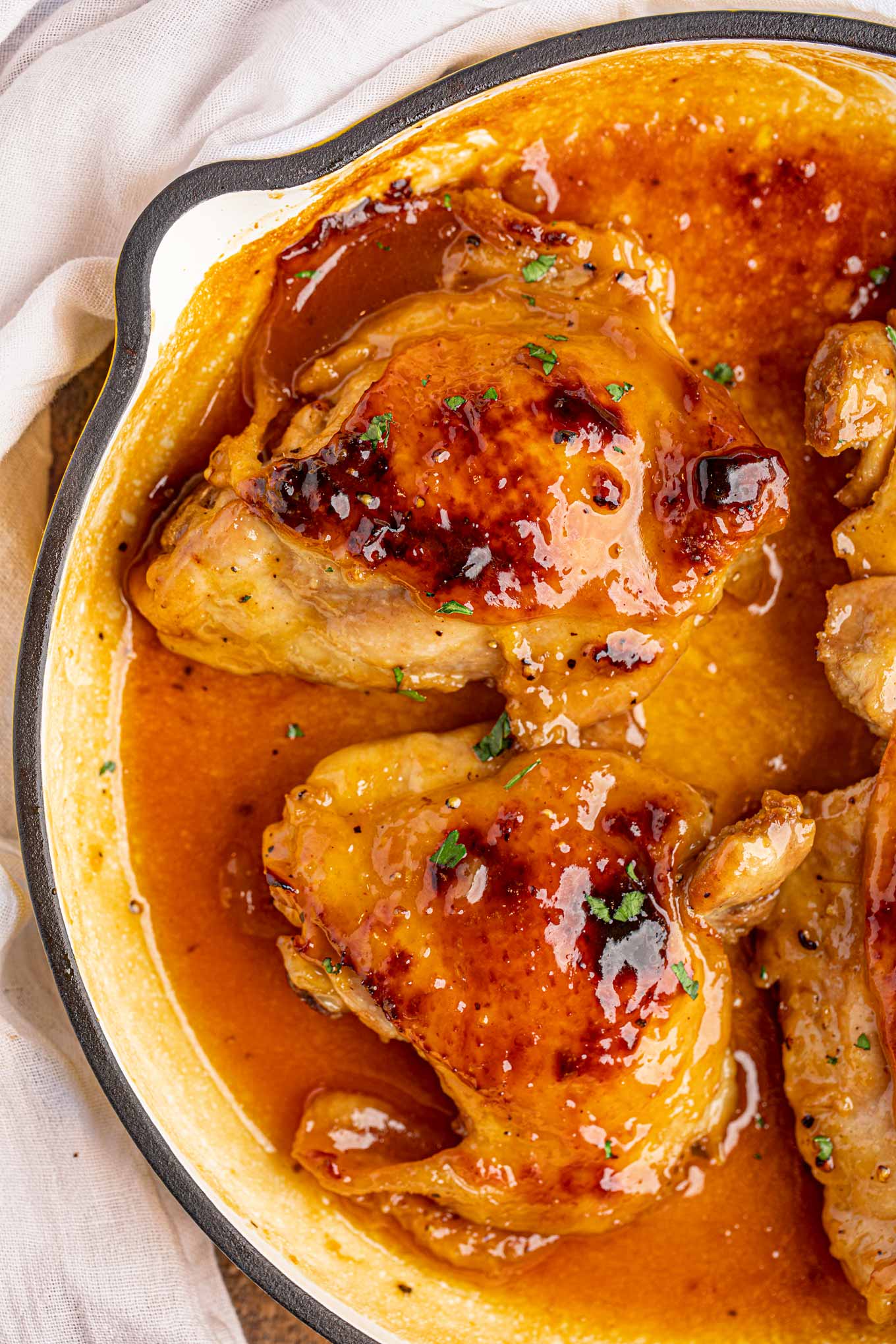 Ingredients
6

chicken thighs

, bone-in and skin on

1/2

teaspoon

Kosher salt

1/4

teaspoon

coarse ground black pepper

1/2

cup

honey

1/4

cup

yellow mustard
Instructions
Preheat oven to 350 degrees F (175 degrees C).

Season chicken thighs with salt and pepper.

In a small bowl, combine the honey and yellow mustard.

Add the chicken thighs to a large skillet or baking dish and cover with honey mustard sauce.

Bake in the preheated oven for

30 minutes

.

Spoon sauce over the chicken thighs to re-coat them.

Bake for an additional

10 to 15 minutes

.
Nutrition
Calories:
230
kcal
|
Carbohydrates:
25
g
|
Protein:
25
g
|
Fat:
4
g
|
Saturated Fat:
1
g
|
Cholesterol:
72
mg
|
Sodium:
368
mg
|
Potassium:
469
mg
|
Fiber:
1
g
|
Sugar:
23
g
|
Vitamin A:
213
IU
|
Vitamin C:
2
mg
|
Calcium:
23
mg
|
Iron:
1
mg