Banana Split Pancake Bites are an easy brunch dish for a party or for your little ones with homemade silver dollar pancakes, Nutella, bananas, strawberries, whipped cream and chocolate chips.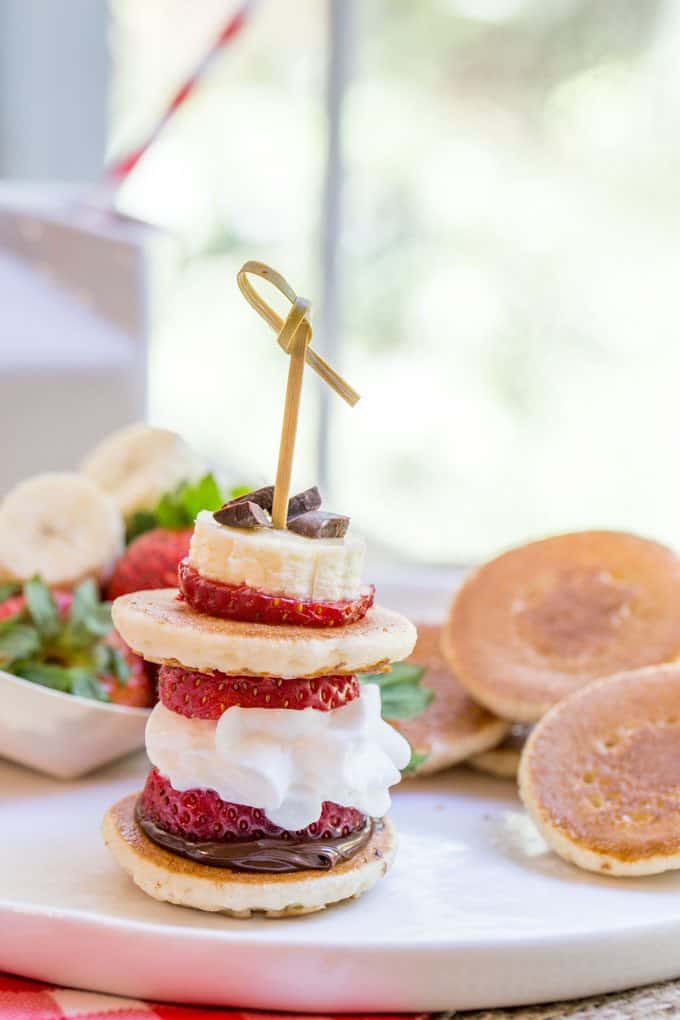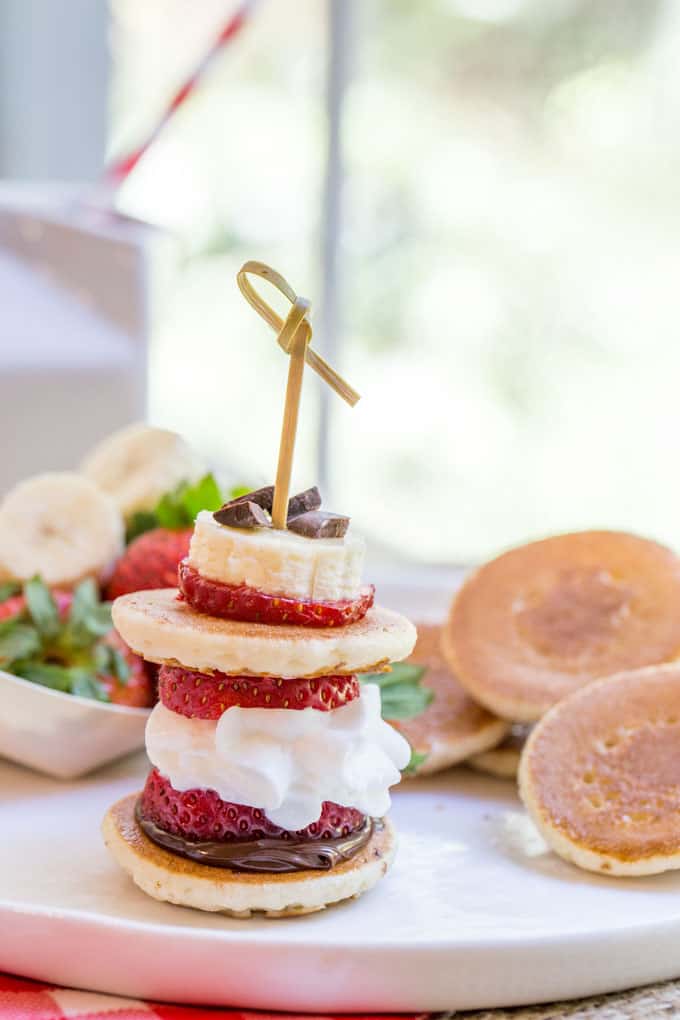 Banana Split Pancake Bites have been party food I've been making for clients for many years. For baby showers, pre-wedding brunches, and any other breakfast themed events pancake skewers are an easy and gorgeous menu item. I've even made them for events where they have to sit out for over an hour or in warmer weather using mini meringues in place of the whipped cream.
The base of these Banana Split Pancake Bites are my Silver Dollar Pancakes which are based on my absolutely fail-proof awesome Pantry Pancakes. I love this pancake base because there aren't a lot of ingredients in it that you may not have around the house. No buttermilk that you have to run to the store for.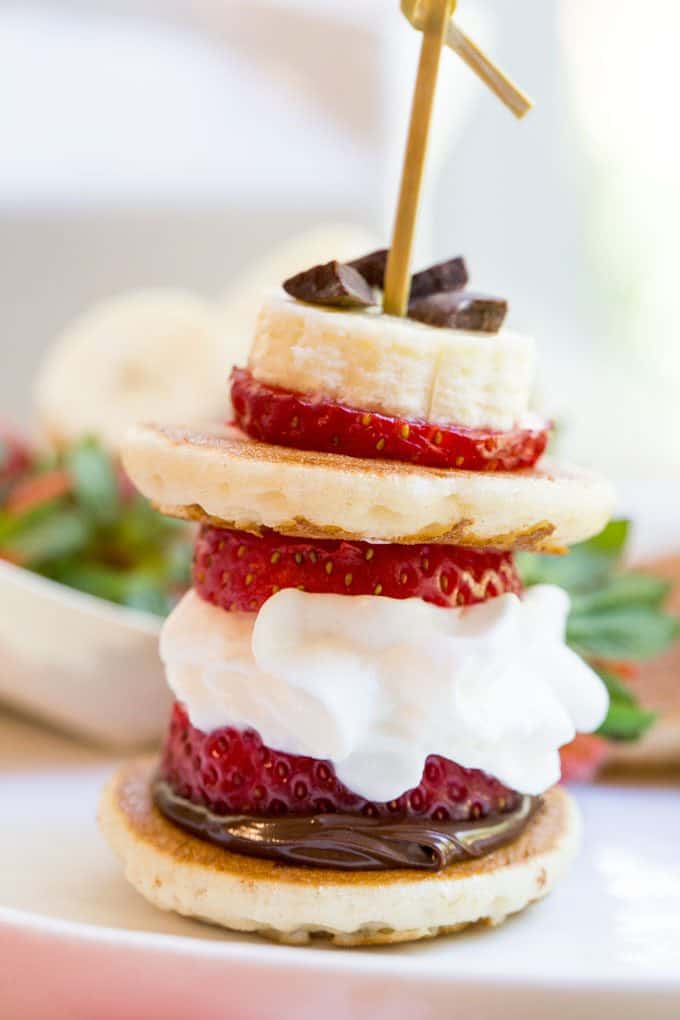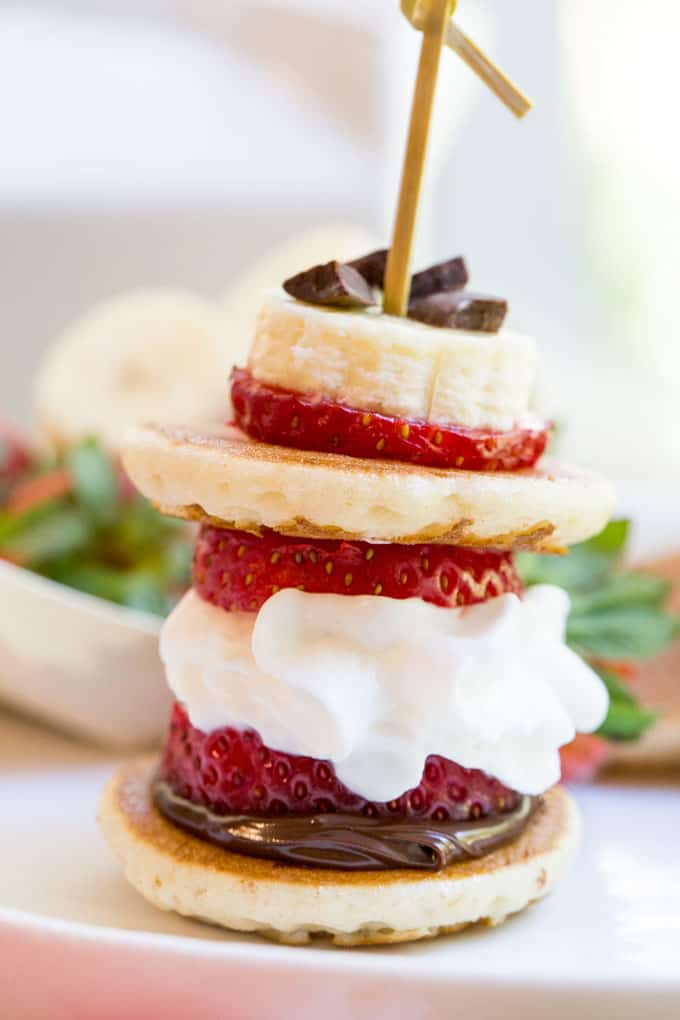 Banana Split Pancake Bites look adorable and while they can look slightly temperamental because of the whipped cream. If you aren't serving them right away go ahead and keep them in the freezer until just before serving (but not more than a half an hour or so, you don't want the fruit to freeze) or skip the whipped cream altogether.
A second way to serve the Banana Split Pancake Bites in a more casual way would be to make the pancake bites without the whipped cream and to serve them with a bowl of whipped cream on the side that you can just grab a spoonful of and put directly onto your plate.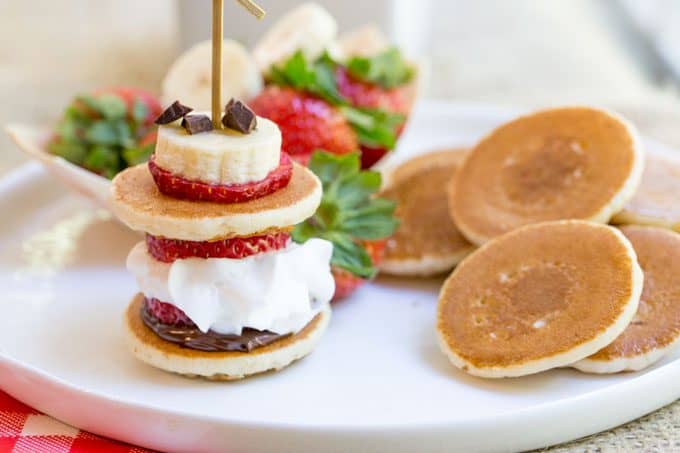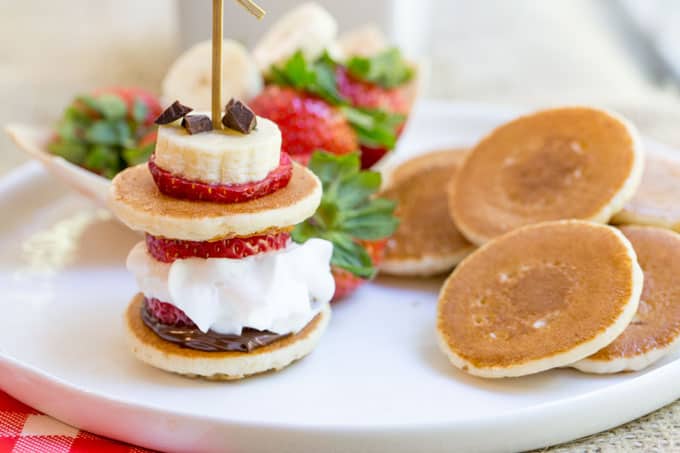 Tools Used in the making of the Banana Split Pancake Bites:
Griddle: if at all possible, either on your stovetop on low heat or an electric griddle. I keep my electric griddle in my kitchen JUST for this recipe and I always get PERFECT browning.
Little spatula to flip. The fork may cause the flipping to take longer or may get batter on the fork. The curved nature of the fork isn't great for these little pancakes.
Chocolate Wafers: I keep these on hand and chop them before sprinkling for a look that is a lot nicer than regular chips. You can of course use your favorite chocolate chips as well, but maybe use mini ones if you aren't going to chop them up.
Chocolate Hazelnut Spread: I use Nutella and Chocmeister, both are totally delicious and whichever you prefer, the texture they have makes the best for spreading. Chocolate syrup or ganache may not be as thick.
Knot Topped Wood Pick: Love these for a great presentation and the knot on top makes an easy spot to grab the pick.


Ingredients
1 1/2

cups

all-purpose flour

3 1/2

teaspoons

baking powder

1/4

teaspoon

salt

4

teaspoons

white sugar

1 1/4

cups

milk

1

egg

4

tablespoons

butter

, melted

2

bananas

, sliced

1

pound

strawberries

, sliced

1

cup

Nutella

1

cup

heavy cream

2

tablespoons

powdered sugar

1/2

cup

semisweet chocolate chips
Instructions
To make the pancakes: You can add the dry ingredients and whisk together, then add the wet and combine fully.

I tend to just put everything in a bowl and whisk, these pancakes are really fuss free.

Heat a pan or griddle on medium-low heat and coat with a small layer of butter.

Using a tablespoon measure use about ¾ of a tablespoon of batter (just scoop with the tablespoon measure but don't scrape out the entire amount, a quick pour will leave enough behind).

Cook the pancakes on both sides until lightly browned, about

45 seconds

on each side.

Cool the pancakes (or the whipped cream will melt).

To make the whipped cream: Add the heavy cream and the powdered sugar to a bowl and whip until the cream is firm and holds a peak (keep refrigerated until just ready to use).

To make the pancake bites add one pancake, then a small spoonful of Nutella, top with a sliced strawberry, some whipped cream (I used a piping bag, but even just a spoonful works), another strawberry, a second pancake, a banana slice and some chopped chocolate chips.

Skewer gently, especially with the whipped cream layer.

Refrigerate until ready to serve.
Nutrition
Calories:
199
kcal
|
Carbohydrates:
21
g
|
Protein:
2
g
|
Fat:
11
g
|
Saturated Fat:
8
g
|
Cholesterol:
26
mg
|
Sodium:
59
mg
|
Potassium:
230
mg
|
Fiber:
1
g
|
Sugar:
12
g
|
Vitamin A:
245
IU
|
Vitamin C:
12
mg
|
Calcium:
68
mg
|
Iron:
1.3
mg