Banoffee Pie is a rich and easy dessert with a graham cracker crust, dulce de leche, sliced bananas and a homemade whipped cream topping.
You may have tried some of our other banana desserts, like our Easy Banana Bread (No Mixer!), Banana Cream Pie or our Chocolate Banana Bread, but I promise you've never tried a pie like this.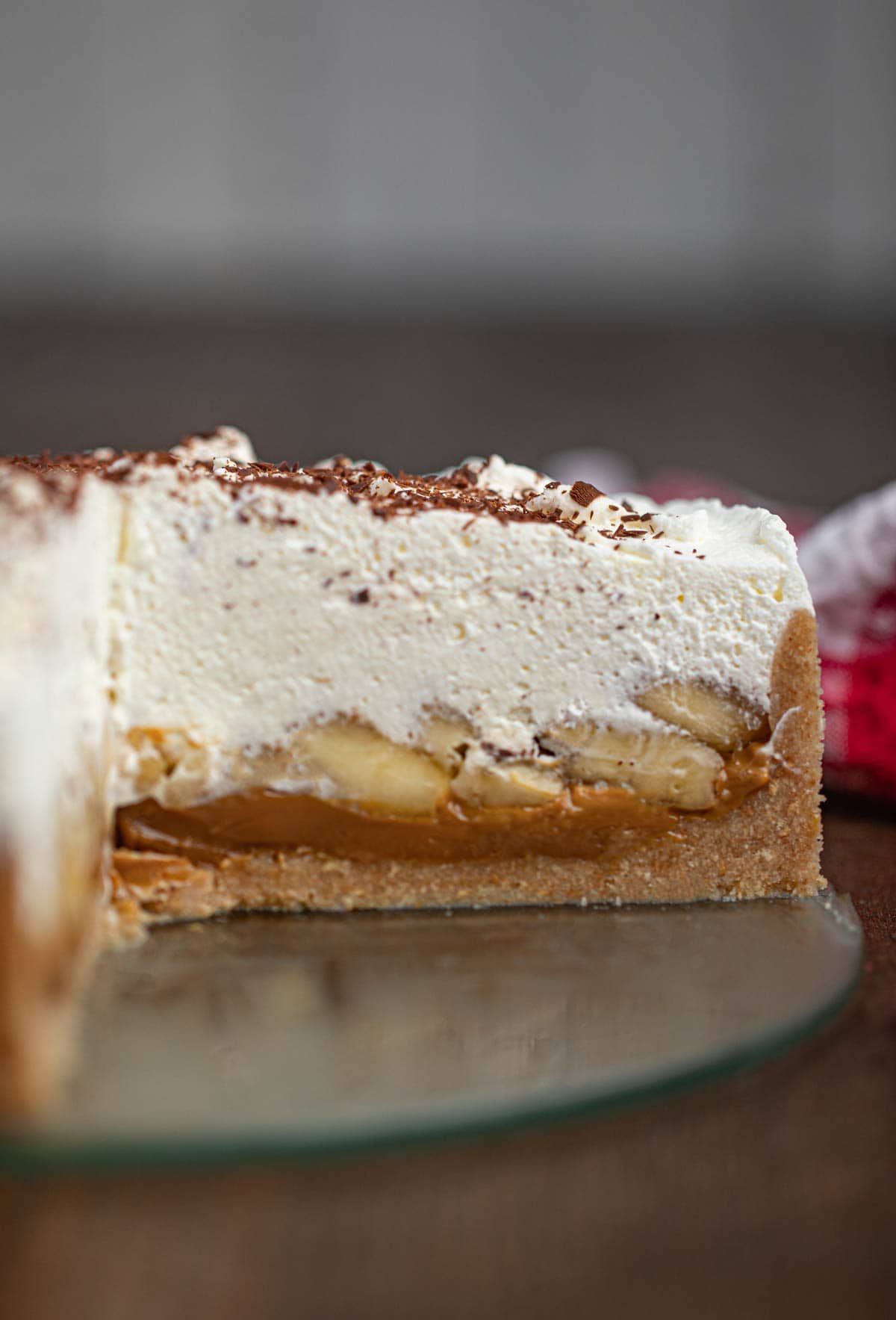 BANOFFEE PIE
You like bananas, you like toffee, but have you had banoffee pie? The name is literally a mix of the words "banana" and "toffee," and you will kick yourself for not trying it sooner. This is a no-bake pie that you will want to make again and again because of how easy it is.
Invented was in the 1970s, it has become very popular in a short amount of time. For people who want the natural sugar of a banana with the smooth richness of dulce de leche, this is an absolute must-try and you shouldn't be intimidated by the layers, they're all easy to make!
We adapted the original recipe into an easier to make, no less delicious version that you can throw together in a pinch. The great thing about this recipe is that the whole thing only takes as long as the mixtures needs to cool, so you can whip up a gourmet, delicious dessert any night of the week.
HOW TO MAKE BANOFFEE PIE
Put a handful of graham crackers in a food processor and blend them in 30 second increments until the chunks are crumb-sized.
Mix the graham cracker crumbs, sugar, ginger and melted butter together until they are very well blended together. You can use a stand mixer or use a plain wooden spoon.
Take the whole mixture and press it into the bottom of a cheesecake pan and let it chill in the fridge.
Once it is cool, take the pan out of the fridge and pour the dulce de leche over the graham cracker crust.
While the filling is cooling, slice up a banana and set the slices over the top of the dulce de leche.
Stir cream until soft peaks form and spoon your homemade whipped cream over the bananas.
Put the whole thing in the fridge and serve it cold with a side of Homemade Vanilla Ice Cream.
How to make Homemade Dulce de Leche from Condensed Milk:
Remove wrappers from condensed milk cans.
Place on their side in your slow cooker and cover with water (should be 1 inch more water than the height of cans).
Cook on low for 8 hours.
Remove cans with tongs.
Allow cans to cool completely before opening (you risk them exploding if you open while hot, PLEASE exercise caution).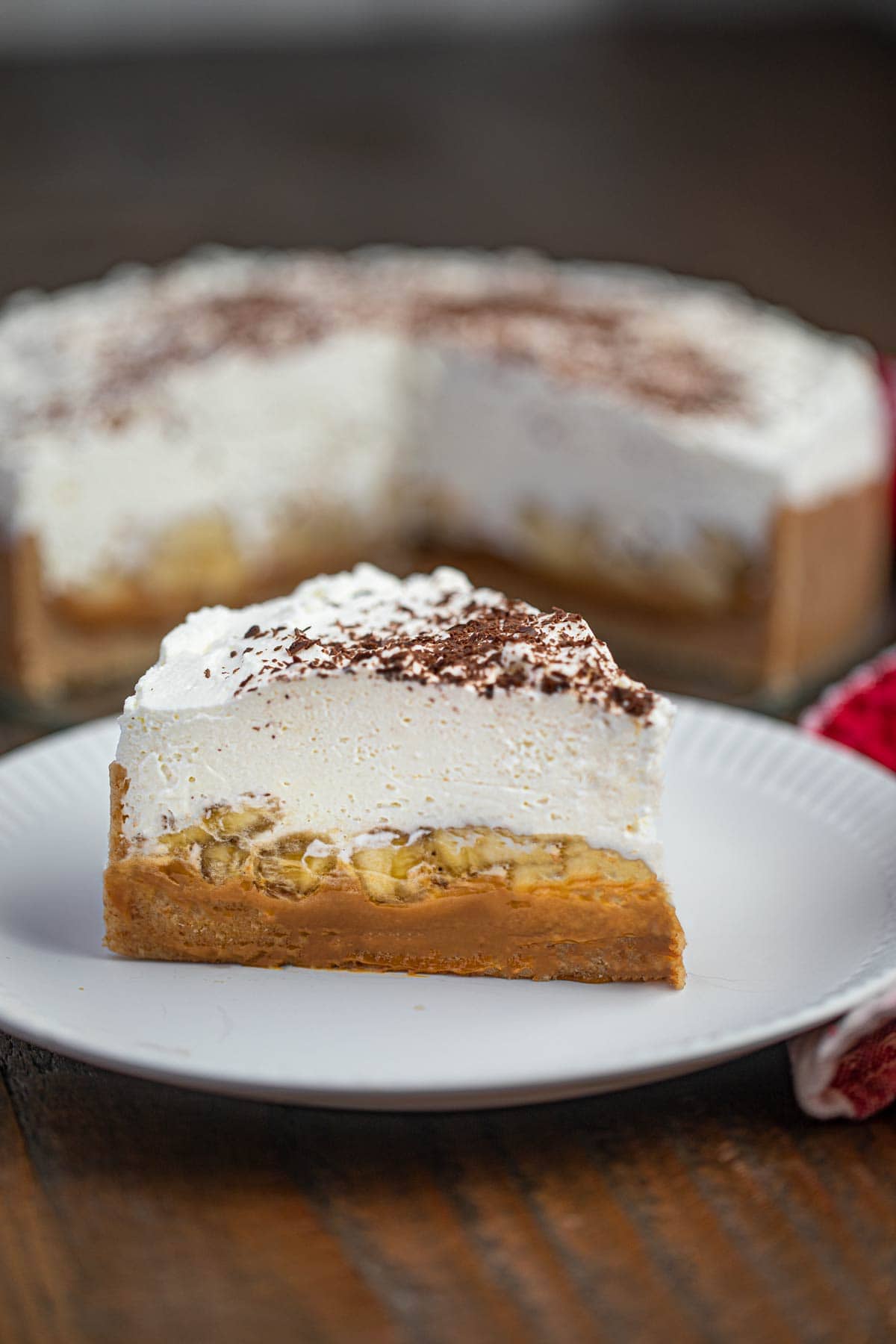 Create a free account to

Save Recipes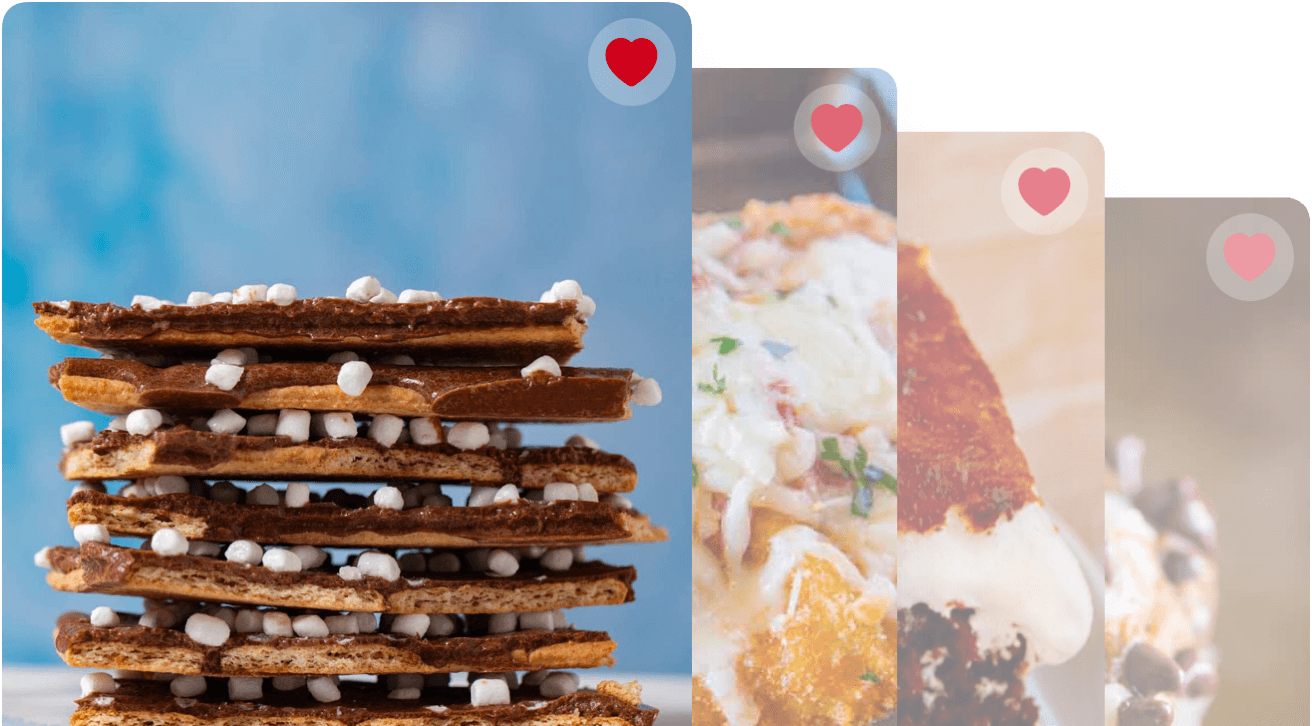 TOPPINGS AND SIDES
Caramel: caramel sauce is delicious drizzled over the top of banoffee pie.
Sugar: crumble some brown sugar or go buy some confectioner's sugar to dust the top of the pie with. The effect will make your pie look super classy.
Chocolate shavings: take a bar of milk or dark chocolate and gently grate it over your pie. The chocolate shavings look fancy and taste delicious.
Pecans: chop pecans and layer them over the bananas on the top. If you have some time on your hands and want your pie to look really dressed up, you can make them into rings around the pie top.
VARIATIONS
Digestive biscuits and shortbread: most Americans don't know what digestive biscuits are, but you absolutely need to try them. They are crunchy, round biscuits that are often eaten with tea and, despite the name, aren't medicinal at all (people used to think they worked like antacids because they had sodium bicarbonate in them. It's a shame that they don't help with heart burn, because they are much tastier than Tums.) Shortbread is a rich, buttery bread that is somehow soft and crunchy at the same time. Take either of these British favorites and use them to make the crust of your banoffee pie instead of graham crackers.
Vanilla extract: try mixing a little vanilla extract into the pie filling before you cool it. The richness of the banana and the dulce de leche goes really well with vanilla flavoring.
Condensed milk: traditionally, banoffee pie is made by boiling a can of unopened sweetened condensed milk to make toffee. We decided to skip that part and just use dulce de leche, but feel free to try out the original way. Be very, very careful though, because there is a lot that can go wrong with this method.
All the bananas: There is nothing to say you shouldn't double or triple the bananas here. I stick to the classic amount but I've also made this with triple the amount and people loved it!
WHERE DID IT COME FROM?
Banoffee pie is a British invention. It was created fairly recently by Nigel Mackenzie and Ian Dowding at a place called The Hungry Monk in East Sussex, England. In 1971, Mackenzie and Dowding were trying to make an American toffee pie recipe that just wasn't working so they substituted in some bananas and made a crust from biscuit crumbs. Voila! A new pie was born. It became a hit around the world, had a short cameo in the film "Love Actually," and was apparently Margaret Thatcher's favorite recipe to bake, according to Wikipedia.
I may secretly love this pie even more because it was in Love Actually. I can't put words to how much that I love that movie, haha.
HOW LONG WILL IT KEEP?
Serve: You shouldn't leave banoffee pie out for longer than 2 hours before returning to the refrigerator.
Store: You can keep pie wrapped in the fridge for up to 3 days.
Freeze: Banoffee pie is good frozen for up to 3 months.


Ingredients
1 1/2

cups

graham cracker crumbs

1

cup

unsalted butter

, melted

1/2

cup

sugar

1/4

teaspoon

cinnamon

1/4

teaspoon

ground ginger

14

ounces

dulce de leche

4

large

bananas

, sliced 1/2" thick

2

cups

heavy whipping cream

1/4

cup

powdered sugar

1

bar

chocolate

, shaved for garnish
Instructions
Mix graham cracker crumbs, sugar, melted butter, cinnamon and ginger in a large bowl then press into the sides of a 9" springform pan.

Place springform pan into the freezer to harden for

15 minutes

.

Spread the dulce de leche carefully onto the crust then top with sliced bananas gently.

Add your heavy cream and powdered sugar to a stand mixer on high speed for

1-2 minutes

until you have stiff peaks, then top the bananas gently with your whipped cream.

Refrigerate until chilled for at least

one hour

, but preferably 2 hours.

Garnish with shaved chocolate just before serving (you can shave your chocolate bar using a cheese grater).
Nutrition
Calories:
273
kcal
|
Carbohydrates:
27
g
|
Protein:
2
g
|
Fat:
19
g
|
Saturated Fat:
11
g
|
Cholesterol:
48
mg
|
Sodium:
73
mg
|
Potassium:
179
mg
|
Fiber:
1
g
|
Sugar:
16
g
|
Vitamin A:
566
IU
|
Vitamin C:
3
mg
|
Calcium:
25
mg
|
Iron:
1
mg