Birthday Cake Fudge made with actual cake mix, sweetened condensed milk, white chocolate, and vanilla is the perfect celebratory treat for your next party!
Often we only think of making Candy Recipes like Chocolate Fudge around Christmas time, but why not make fudge year round? This creamy white chocolate fudge is perfect for Birthdays and other celebrations any time.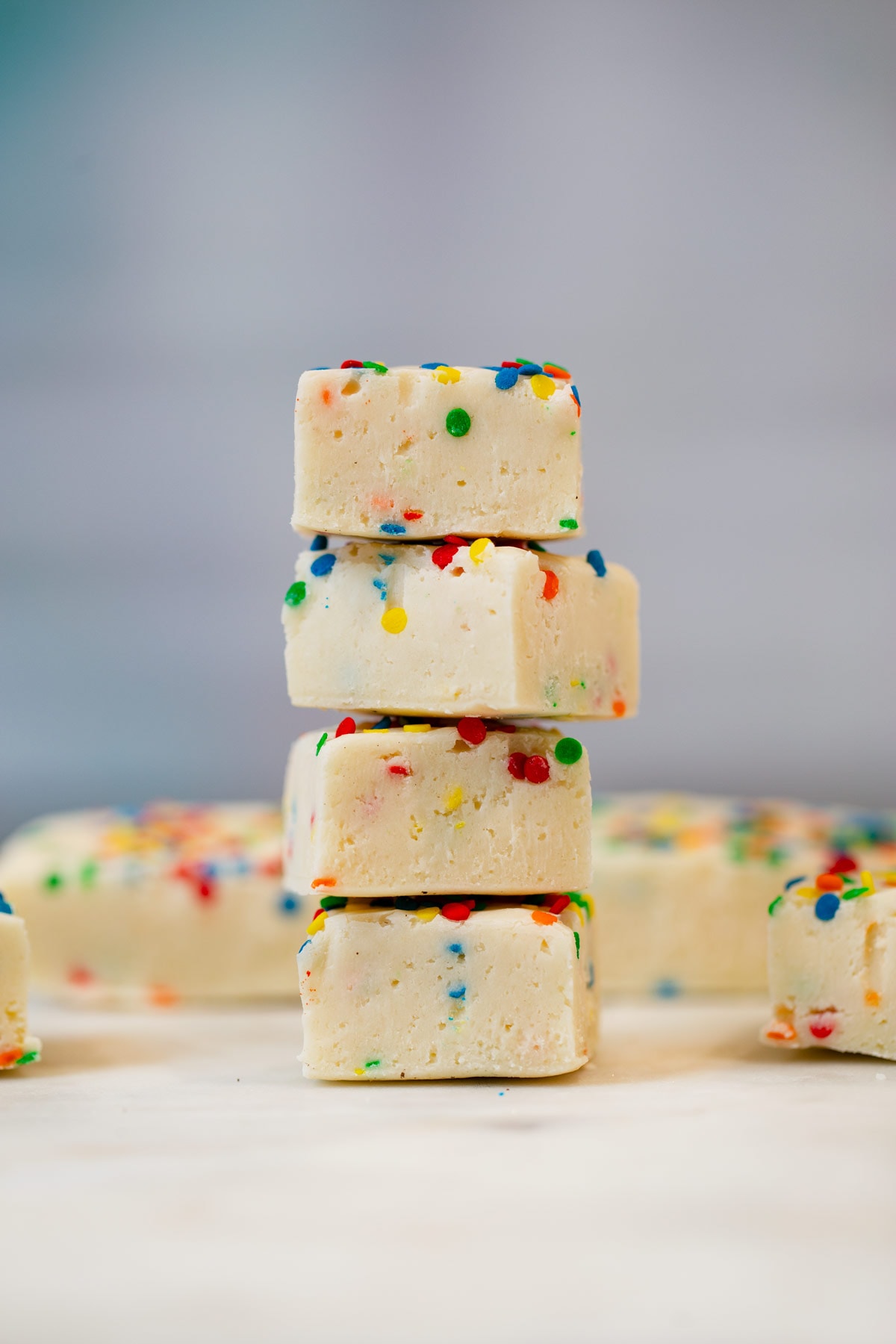 BIRTHDAY CAKE FUDGE
Just like Cake Balls, this is an easy homemade candy that turns out colorful and fun with festive sprinkles and white chocolate. If you're planning a birthday party this is a great treat to have out, or package up as party favors. The fun rainbow sprinkles make it a huge hit with kids, and the fudge is so rich and creamy adults will love it too!
Each piece of fudge is made to look like a miniature cake on its own. The fudge is made in two layers with rainbow sprinkles in the middle and on top. The sprinkles look like colorful frosting on the mini white cakes. To make them look extra cute you could even stick a birthday candles in the center of the Fudge Birthday Cakes.
You could also use small pieces of fudge as a topping for Homemade Vanilla Ice Cream for an easy Birthday dessert. Another option is using pieces of Birthday Cake Fudge as decorations for an actual birthday cake. Instead of pouring the fudge mixture into a regular pan try using candy molds to make the fudge into whatever shapes you want. Once the fudge sets, you can place it on your cake and enjoy.
MORE EASY FUDGE RECIPES
TIPS FOR MAKING FUDGE
Make sure you prepare your pan with aluminum foil and non-stick spray so the fudge doesn't stick to the pan.
The most common thing to go wrong when making fudge is not cooking the chocolate mixture to the right temperature. When you add the chocolate chips, condensed milk, and cake mix to the sauce pan, you want to keep it on low heat. Continue stirring it until the chocolate is melted and the mixture is smooth. To make extra certain you don't over or undercook the chocolate use a candy thermometer. You want the fudge to be 235 degrees F.
Once the chocolate has reached the right temperature, turn off the heat before mixing in the vanilla extract.
Add half the fudge to your prepared pan and use a spatula to smooth it out. Add half the sprinkles over the top.
Repeat with the remaining fudge and sprinkles.
Wait to slice the fudge until it sets in the fridge for 4 hours.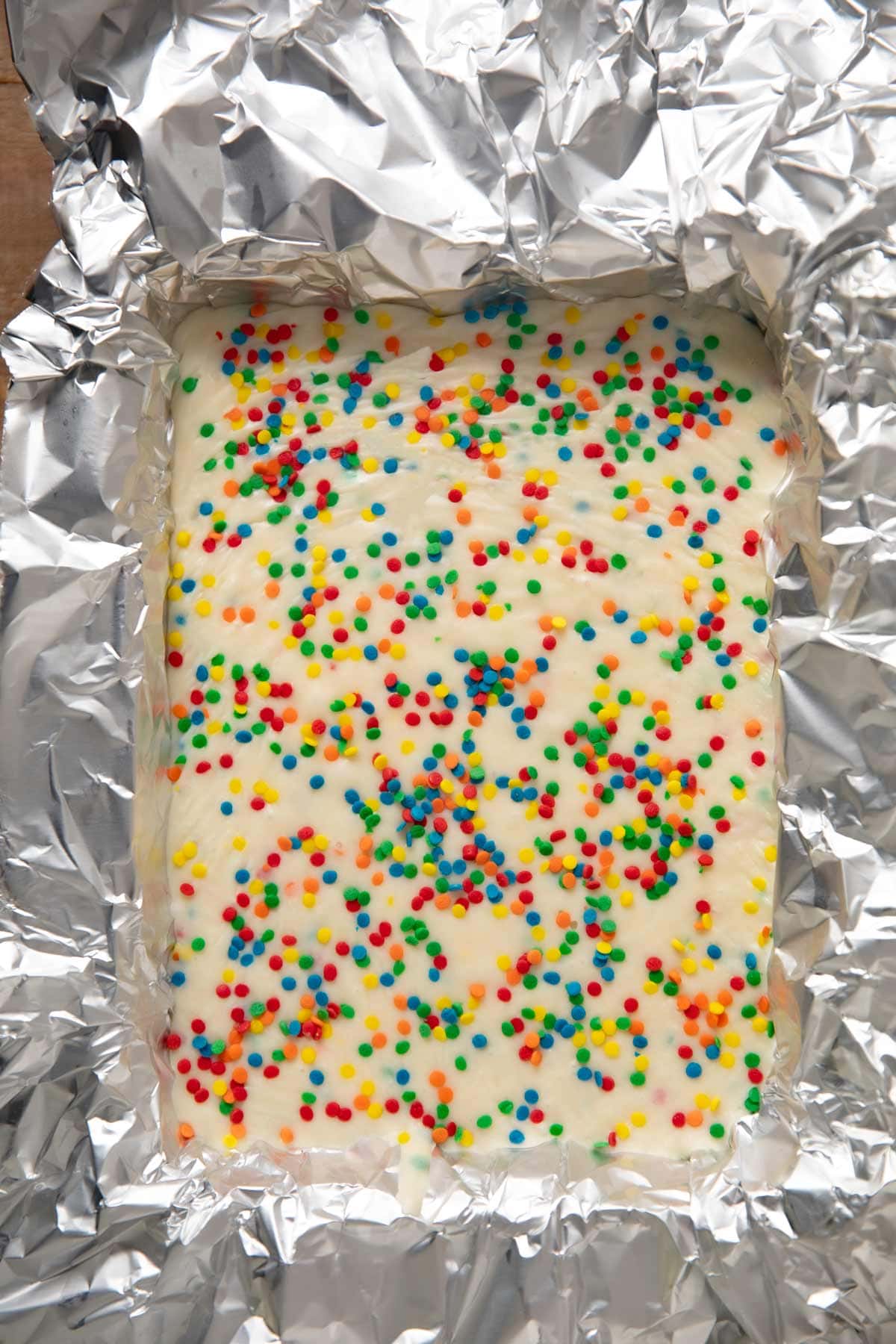 Create a free account to Save Recipes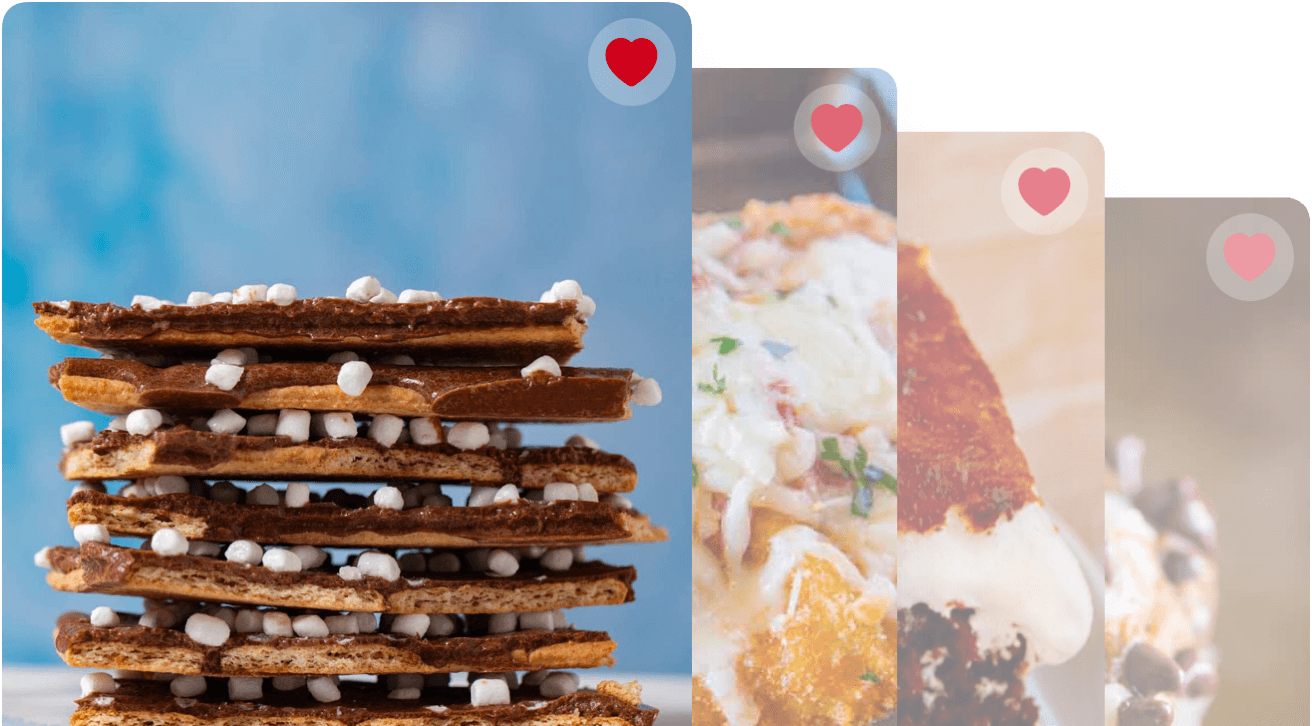 VARIATIONS ON BIRTHDAY CAKE FUDGE
Chocolate Cake Fudge: Instead of making white chocolate fudge, you can exchange the white chocolate chips for semisweet, milk chocolate or dark chocolate, and use your favorite chocolate cake mix to make Chocolate Cake Mix Fudge.
Cake mix: You could also try other cake mixes besides white or chocolate. Funfetti, red velvet, strawberry, or yellow cake mix could all be fun to try out in this fudge recipe.
Food Coloring: To make your Birthday Cake Fudge even more festive try using food coloring to make your white chocolate fudge into any color you'd like. You can even divide the fudge in half to make the top and bottom layer 2 different colors.
Add-ins: For more texture try putting in some nuts like chopped almonds, pecans, or walnuts. You could also add in mini-chocolate chips or marshmallows at the same time you add the vanilla extract.
MORE HOLIDAY RECIPES
HOW TO STORE BIRTHDAY CAKE FUDGE
Serve: After it's set in the fridge, you can keep fudge at room temperature for up to a week. Keep it in an airtight container in a cool area.
Store: Birthday Cake Fudge will stay good in the fridge for up to 2 weeks. Keep it in a ziplock bag or other airtight container. Separate the squares of fudge with parchment paper so they don't get stuck together.
Freeze: Fudge can keep well in the freezer for up to 6 months. To prep it for the freezer wrap each piece of fudge in wax paper and plastic wrap, then seal them in a freezer bag. Let them defrost in the fridge before eating.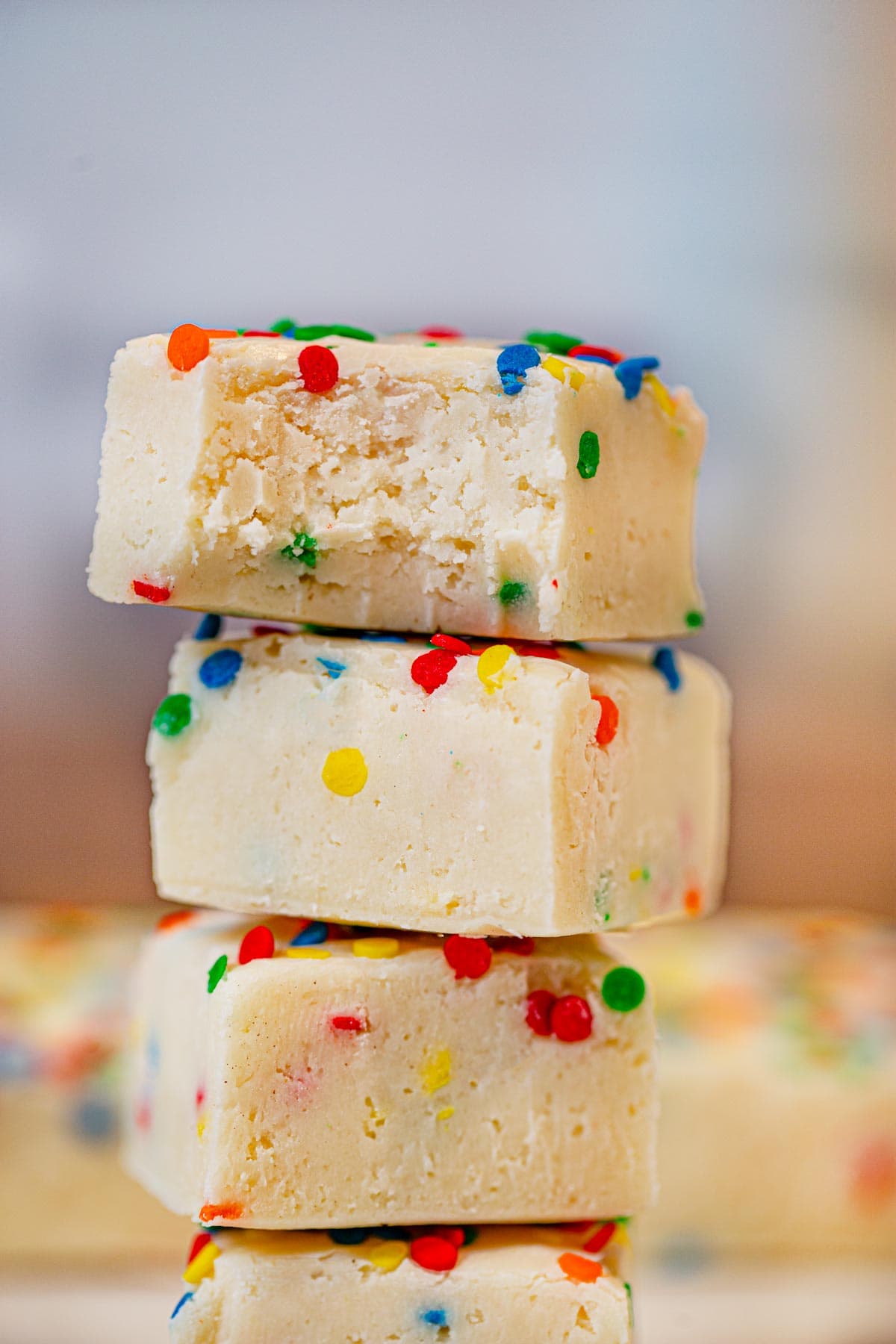 Ingredients
3/4

cup

white cake mix powder

14

ounces

sweetened condensed milk

2

tablespoons

unsalted butter

2

cups

white chocolate chips

2

tsp

vanilla extract

1/3

cup

rainbow sprinkles

, divided
Instructions
Line an 8x8 pan with foil and spray with vegetable oil spray.

Add white chocolate chips, white cake mix and sweetened condensed milk to a large saucepan on low heat.

Stir until chocolate is melted.

Once chocolate mixture is smooth, turn off heat and add in vanilla extract.

Add half the fudge to baking pan and spread evenly.

Sprinkle over half the sprinkles.

Add the rest of the fudge evenly and add the remaining sprinkles over the top.

Refrigerate for

4 hours

before slicing.
Nutrition
Calories:
180
kcal
|
Carbohydrates:
26
g
|
Protein:
3
g
|
Fat:
8
g
|
Saturated Fat:
5
g
|
Cholesterol:
11
mg
|
Sodium:
86
mg
|
Potassium:
109
mg
|
Fiber:
1
g
|
Sugar:
23
g
|
Vitamin A:
78
IU
|
Vitamin C:
1
mg
|
Calcium:
93
mg
|
Iron:
1
mg