Carrot Cheesecake Bundt Cake is a tender, flavorful, and moist carrot cake from scratch with a creamy cheesecake filling and cream cheese glaze.
With this easy, decadent Cake Recipe you never have to choose when you are craving both Carrot Cake and New York Cheesecake!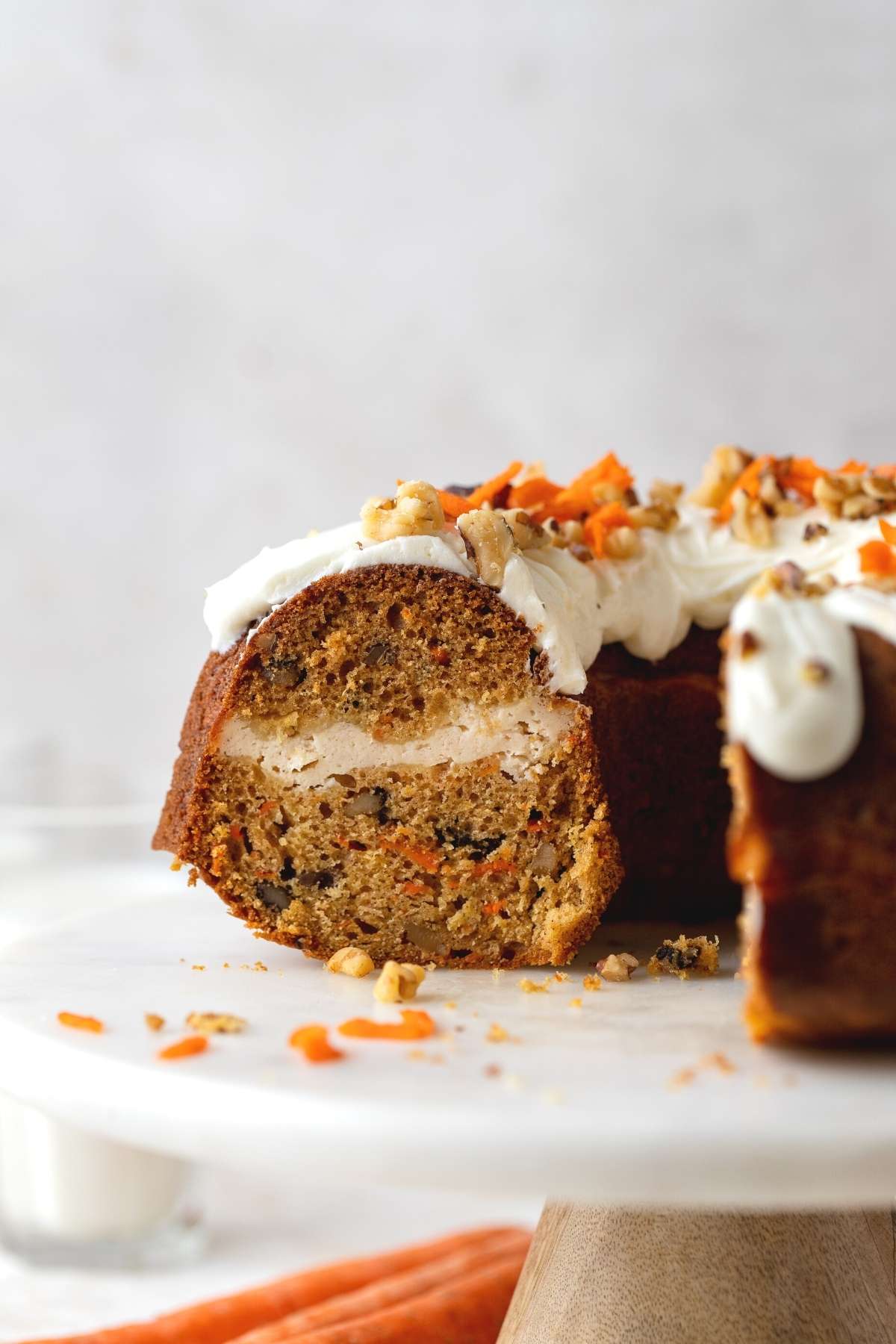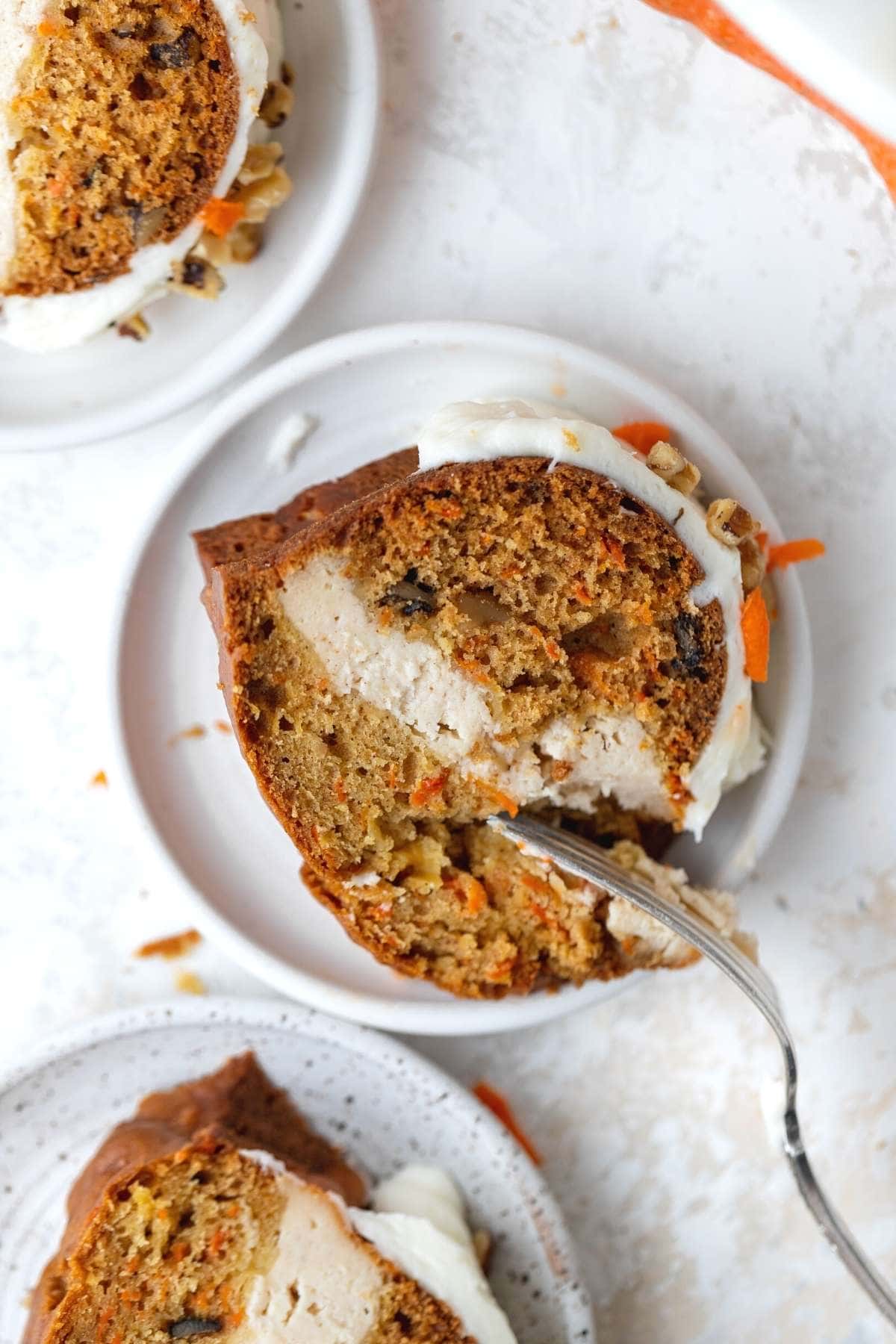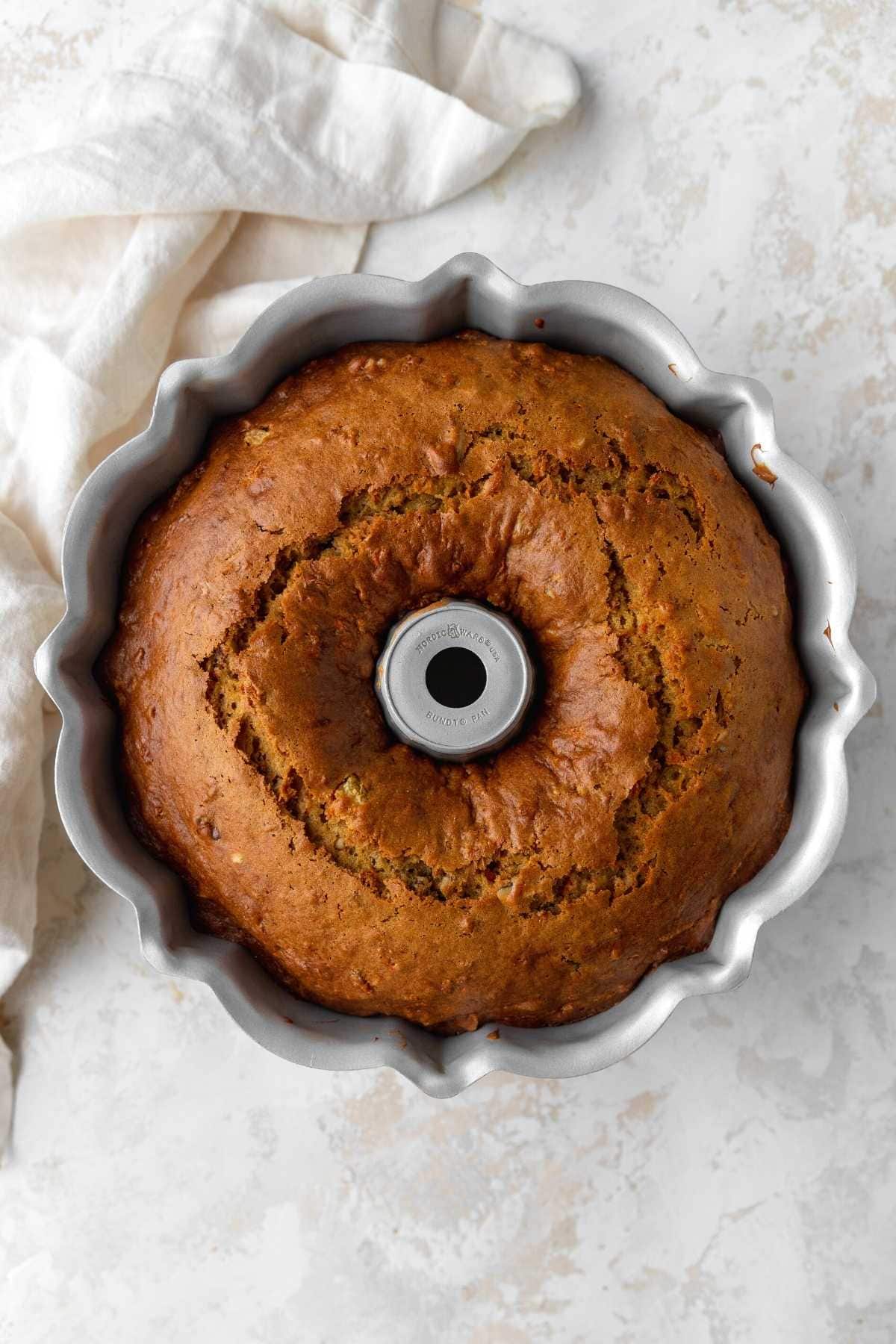 About Our Carrot Cheesecake Bundt Cake Recipe
If you are searching for the perfect dessert for a get-together, or really any occasion, you are going to love this amazing blend of two classic well-loved cakes. A deliciously moist carrot cake, full of natural sweetness, is wrapped around creamy cheesecake. This cake is finished with cream cheese frosting glaze for a sweet, rich dessert that is layered with flavor in every bite.
A Bundt pan makes baking a stunning cake so easy! No need to bake in separate cake pans and then assemble after they've cooled. No water bath for the cheesecake either, since it's inside the cake you don't have to worry about cracks or cooling to set it. Even the frosting is easy for this cake, with a simple glaze poured on top. For an extra special touch, serve with a drizzle of Salted Caramel Sauce!
"Can Carrot Cheesecake Bundt Cake be made ahead?"
If you normally like to make desserts ahead of time before a big event, you can count this recipe among those you make the night before. Prepare the recipe according to the directions, then let the cake completely cool and place it either covered, or in an airtight container in the refrigerator. On the day you'd like to serve it, take the Bundt out of the refrigerator and let it warm up at room temperature for about 30 minutes. Make the icing and top the cake with Cream Cheese glaze so that it's nice and fresh on the day you'll eat it. Let the icing set for 30 minutes before serving.
Carrot Cheesecake Bundt Cake Ingredients
½ cup buttermilk: The buttermilk adds moisture plus the acidity makes the texture of the cake tender and soft without being dense. You could also use full-fat Greek yogurt instead.
½ cup vegetable oil: Using a mixture of vegetable oil and buttermilk instead of butter keeps this cake extra moist without being dense. Too much oil or butter can make your cake greasy, so this strikes a great balance.
3 cups shredded carrots: Fresh carrots are going to have more moisture than pre-grated carrots. Shredding them yourself is an extra step that definitely pays off!
1 8-ounce can crushed pineapple: Some people don't think pineapple belongs in carrot cake, but it adds another delicious level of natural sweetness and moisture to this flavorful cake.
1 cup chopped walnuts: Nuts provide texture and warm nutty flavor. Walnuts pair really nicely with the sweet carrots, pineapple, and tangy cream cheese. If you're feeding someone with a nut allergy, you can leave the walnuts out.
2 ½ teaspoons cinnamon: There is ground cinnamon in the carrot cake recipe and a pinch of cinnamon in the cream cheese filling to tie both the flavors together.
20 ounces cream cheese: Used in both the Cheesecake filling, and the glaze, tangy cream cheese helps cut the sweetness that a carrot cake, even with a little sugar added to the filling. It makes the cake extra decadent and perfectly balanced.
Kitchen Tools & Equipment
Bundt Pan: This dessert is very impressive as a bundt cake. The slices look beautiful with the layers inside, and it is so easy to serve. Use any shape bundt pan that you have at home.
Baking Spray: Baking spray differs from nonstick cooking spray because it has oil plus flour so the spray sticks to the side of the baking dish. If you don't have baking spray, grease your pan with softened butter and lightly dust with flour.
Sifter: Sifting the ingredients is very important for an evenly risen cake. You want all of your ingredients well-distributed throughout the batter.
Stand Mixer with Paddle and Whisk Attachments: Your stand mixer will come in so handy here for mixing your cake batter, your Cheesecake layer, and your glaze. You'll use the whisk for the glaze, and the paddle for the cake layers.
Mixing Bowls: You'll use a medium mixing bowl to sift together your dry ingredients for the cake. The bowl that goes with your stand mixer is ideal for the wet ingredients, to which you will add the dry ingredients. Then you'll use a medium bowl to beat the cream cheese mixture for the Cheesecake layer. If you have a second bowl for your stand mixer, you can use it for the Cheesecake. Wash and use the stand mixer bowl again for the glaze, or use a third bowl if you have one.
Large Spoon: Grab a large spoon or two, to add the batter to your bundt pan in layers. You can smooth the layers out with the back of the spoon as well.
How to Make Carrot Cheesecake Bundt Cake
Time needed: 1 hour and 30 minutes.
Prep Time

Preheat oven to 350 degrees and spray a 10-inch bundt pan with baking spray.

Cake Batter

Sift the flour, baking soda, salt, and cinnamon into a medium bowl. Then combine eggs, buttermilk, oil, sugar, carrots, walnuts, pineapple, and vanilla in a separate bowl on low speed. Add in the flour mixture until just combined.

Cheesecake Bater

Beat cream cheese, egg, sugar, and vanilla extract together until smooth and cream. Add ? of the carrot cake batter into the bundt cake and smooth it out a little. Next add the Cheesecake layer on top and smooth it out.

Top Layer

Add the rest of the Carrot Cake batter on top and then it is ready to bake.

Bake

Bake for 70-75 minutes or until a toothpick comes out clean.

Prep Cream Cheese Icing

To your stand mixer, add the butter, cream cheese, and vanilla extract on medium-high speed and whip for 2-3 minutes until light and fluffy. Reduce to lowest speed setting and add in powdered sugar, then raise the speed to medium for 30 seconds. Pour over the cooled cake to finish.
Nutritional Facts
Nutrition Facts
Carrot Cheesecake Bundt Cake
Amount Per Serving
Calories 114
Calories from Fat 3
% Daily Value*
Fat 0.3g0%
Monounsaturated Fat 0.03g
Sodium 1mg0%
Potassium 33mg1%
Carbohydrates 24g8%
Protein 3g6%
Calcium 5mg1%
Iron 1mg6%
* Percent Daily Values are based on a 2000 calorie diet.
Baking Tips & Tricks
Prepare this impressive layered Bundt Cake like a pro following these helpful tips:
Achieving Even Baking

Bring all your ingredients to room temperature before you begin mixing. Room temperature cream cheese and butter mix better, and the ingredients being the same temperature bakes evenly.

Easy Release from the Pan

The number one tip of a Bundt cake is making sure your pan is well greased and floured so it doesn't stick when you flip the pan. Use a generous amount of baking spray (with flour added) or spray with cooking spray and dust with flour or cocoa powder.

A Perfect Finish

Let your cake cool completely before adding the cream cheese glaze so it doesn't melt away. You can also thicken your frosting with extra powdered sugar and pipe it over your cooled cake.
What to Pair With Carrot Cheesecake Bundt Cake
This Carrot Cheesecake will make an excellent dessert at your holiday dinners. It is special and rich enough to follow a festive Thanksgiving Roast Turkey or Christmas Prime Rib dinner. However the carrots bring a spring flavor that will make this a great dessert for Easter Ham or Mother's Day Roast Chicken. Any lover of Carrot Cake and Cheesecake will absolutely love this 2-in-1 dessert for their birthday or anniversary dinner.
How to Store Carrot Cheesecake Bundt Cake
Serve: Carrot Cheesecake Bundt Cake is best served at room temperature but does need to be refrigerated because of the cream cheese filling. Keep it at room temperature up to 2 hours before storing.
Store: Cover the cake with aluminum foil or transfer to an airtight container and refrigerate for up to 1 week. To keep the foil from sticking to the frosting, add toothpicks around the top to tent the foil.
Freeze: Wrap the whole cake or individual slices of cake with plastic wrap and aluminum foil. Freeze the cake for up to 3 months and thaw overnight in the refrigerator to serve.
FAQs for Carrot Cheesecake Bundt Cake
How do I get the Cheesecake layer to spread evenly in my Bundt Cake?
If you're having any trouble getting your cheesecake layer to spread evenly, make sure your ingredients are at room temperature so that the mixture isn't too thick or hard. That even includes the egg. Also it is best if your cream cheese layer does not go all the way to the edges so no need to spread it around too much.
What if I don't have a bundt pan but I want to make this layer bundt cake recipe?

You can substitute a loaf pan for a bundt pan with this recipe. You will likely need 2 loaf pans to fit the volume indicated here. Just follow the directions and layer the filling in the loaf pan the same way it is layered as a Bundt Cake. Remove from the pan when cool, glaze it, slice it, and serve to your happy guests.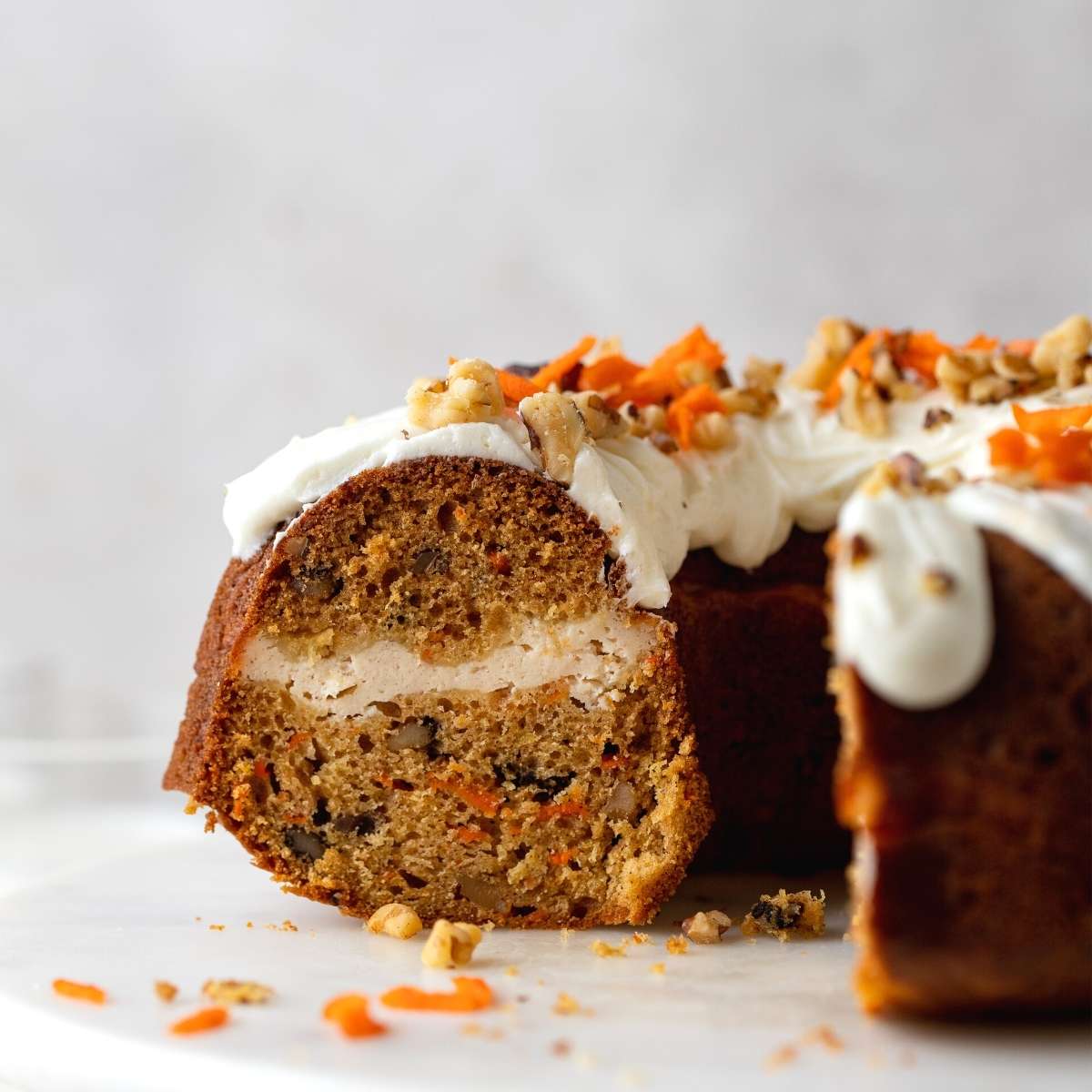 Recipe Card


Ingredients
Carrot Bundt Cake:
3

cups

flour

2

teaspoons

baking soda

1/4

teaspoon

salt

2

teaspoons

ground cinnamon

3

large eggs

, room temperature

1/2

cup

buttermilk

, room temperature

1/2

cup

vegetable oil

1 1/2

cups

sugar

3

cups

carrots

, shredded

1

cup

walnuts

, chopped

8

ounces

canned crushed pineapple

2

teaspoons

vanilla extract
Cheesecake Filling:
16

ounces

cream cheese

, softened

1

large egg

, room temperature

1/2

cup

sugar

2

teaspoons

vanilla extract

1/2

teaspoon

ground cinnamon
Cream Cheese Frosting:
4

tablespoons

unsalted butter

, softened

4

ounces

cream cheese

, softened

1/2

teaspoon

vanilla extract

3

cups

powdered sugar
Instructions
Carrot Bundt Cake:
Preheat oven to 350 degrees and spray a 10-inch bundt pan with baking spray.

Sift the flour, baking soda, salt, and cinnamon into a bowl.

Into your stand mixer add the eggs, buttermilk, oil, sugar, carrots, walnuts, pineapple, and vanilla on low speed, then add in the flour mixture.
Cheesecake Layer:
Beat the cream cheese, egg, sugar, and vanilla extract together until smooth and creamy.
To Finish:
Add ⅓ of the carrot cake batter.

Add the cheesecake filling evenly.

Top with the remaining cake batter.

Bake for

70-75 minutes

or until a toothpick comes out clean.
Cream Cheese Icing:
To your stand mixer, add the butter, cream cheese, and vanilla extract on medium-high speed and whip for

2-3 minutes

until light and fluffy.

Lower the speed to the lowest setting and add in the powdered sugar until just combined.

Raise speed to medium until fluffy for

30 seconds

.

Pour over the cooled cake.
Nutrition
Calories:
114
kcal
|
Carbohydrates:
24
g
|
Protein:
3
g
|
Fat:
0.3
g
|
Saturated Fat:
0.05
g
|
Polyunsaturated Fat:
0.1
g
|
Monounsaturated Fat:
0.03
g
|
Sodium:
1
mg
|
Potassium:
33
mg
|
Fiber:
1
g
|
Sugar:
0.1
g
|
Calcium:
5
mg
|
Iron:
1
mg
Carrot Cheesecake Bundt Cake Variations
Nuts: You can use chopped pecans instead of the walnuts or make the cake without nuts, swapping in golden raisins or even chocolate chips. Toast the chopped pecans or walnuts for extra flavor!
Spices: To give this cake more of a spice cake flavor, replace 1 teaspoon cinnamon with ½ teaspoon ground nutmeg, ¼ teaspoon allspice, and ¼ teaspoon ground ginger.
Coconut: For a delicious tropical flavor, add some shredded coconut to the cake batter and the frosting. Use ½ cup unsweetened shredded coconut instead of ½ cup shredded carrot and fold ½ cup shredded toasted coconut to the frosting.
Orange: Make an orange cream cheese glaze by adding 2-3 tablespoons orange juice and 1 teaspoon orange zest to the cream cheese frosting mixture.
Related Recipes