Cheddar and Sour Cream Roasted Potatoes have all the flavors of the chips on freshly roasted potatoes!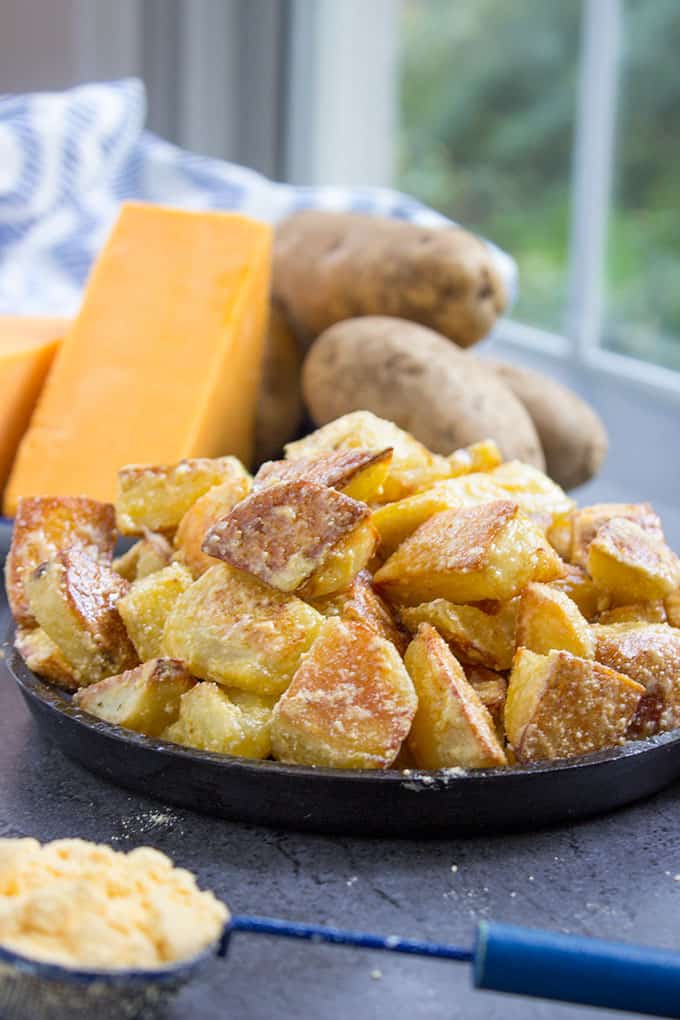 Cheddar and Sour Cream Roasted Potatoes are my new favorite side dish and I have to say I am pretty obsessed with them! They taste like the Ruffles Cheddar and Sour Cream potato chips but without any crazy ingredients and on deliciously crispy, hot, fluffy roasted potato wedges!
As a kind in junior high my school had the strangest after school snacks. One of the combos they had were cheddar and sour cream nachos. A bag of Ruffles Cheddar and Sour Cream chips were opened and nacho cheese sauce was added with a small spoonful of sour cream to finish it off. I know to a person who didn't grow up with such a combination of ingredients it may sound awful, but it is one of the best memories of food in that school. Well, that and I did help out in the kitchen for about six months in the seventh grade and it was a lot of fun. I was meant to be cooking, even at a young age!
Even now if I have the ingredients on hand I always enjoy a bowl of these crazy nachos. These Cheddar and Sour Cream Roasted Potatoes have replaced those crazy cravings for me too!
Much like the awesome Cheddar Popcorn you all LOVE on this page (seriously, on an almost daily basis I see 2 or 3 of you ordering the 100% natural cheddar powder) these Cheddar and Sour Cream Roasted Potatoes are made with natural ingredients and still taste awesome! Want another totally nostalgic, but 100% real ingredient recipe you'll love? Try my Strawberry Shortcake Ice Cream Bars. I dare you to try them and tell me they aren't just like what you remember as a kid.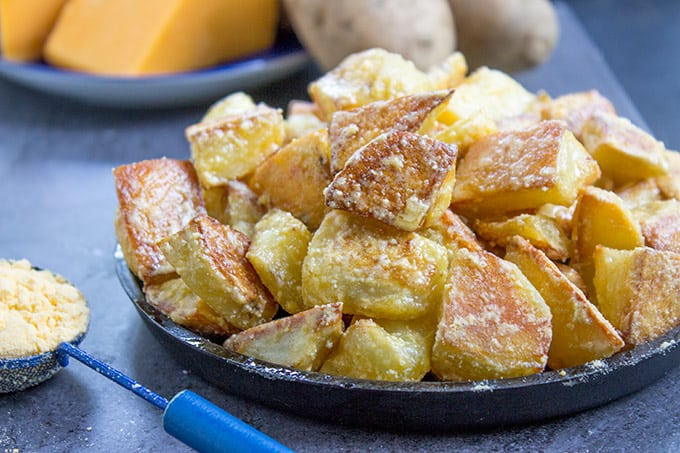 We originally made a giant tray of these potatoes, enough to fill up three plates this size. Then while I was setting up the shooting area and putting the little one down for a nap, potatoes started disappearing.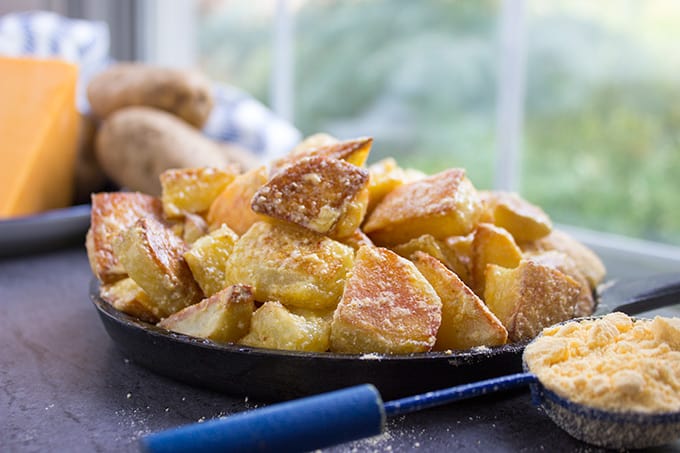 Ingredients
2

pounds

russet potatoes

, cut into 1 inch chunks

1/4

cup

canola oil

, divided

1/4

cup

cheddar cheese powder

2

tablespoons

sour cream powder

1/4

teaspoon

mustard powder

1/4

teaspoon

cayenne pepper

Kosher salt

, to taste
Instructions
Preheat the oven to 400 degrees.

Mix the dry ingredients in a small bowl.

In a large bowl add the potatoes to 3 tablespoons of the canola oil.

Salt to taste.

On a large cookie sheet spread out the potatoes.

Roast for

20-25 minutes

or until browned.

While still hot add the last tablespoon of oil.

Toss the potatoes and sprinkle on the dry mix of powders.

Toss until totally coated.

Check for salt, add as needed (this is so subjective, but I added ½ teaspoon before roasting and another ¼ teaspoon after)

Serve immediately.
Nutrition
Calories:
229
kcal
|
Carbohydrates:
27
g
|
Protein:
4
g
|
Fat:
11
g
|
Saturated Fat:
2
g
|
Cholesterol:
7
mg
|
Sodium:
40
mg
|
Potassium:
630
mg
|
Fiber:
1
g
|
Sugar:
1
g
|
Vitamin A:
105
IU
|
Vitamin C:
8.6
mg
|
Calcium:
58
mg
|
Iron:
1.3
mg