Delicious pumpkin bread with a layer of sweet cheesecake topped with crunchy pecans. Everything you could want in a Fall themed dessert and more.
We're closing in on Halloween and with all the pumpkin flavored recipes I've been making already I am feeling like we are in the thick of the holidays even though we technically haven't even kicked off the holiday season. After finishing this recipe I officially have used 4 large pumpkins worth of puree and I'm still excited about every single recipe that comes out of the oven.
This recipe uses two of my classic favorite recipes for Pumpkin Bread and Cheesecake. The cheesecake recipe is a really basic one that I use when I am making a cheesecake filling. It's easy enough to remember the four ingredients and it works for when you don't need that super thick, rich cheesecake. The addition of the chopped pecans adds a crunchy element to the soft cake, and creamy cheesecake and icing layers.
Because we are dealing with multiple layers there are a couple of tips to keep in mind. First, you are going to want to spoon the cheesecake on top of the cake layer very softly. The weight of the cheesecake is pretty heavy so if you drop the batter on top of the cake batter without being cautious it will likely sink to the bottom. That isn't necessarily a bad thing, but then you won't end up with distinct layers.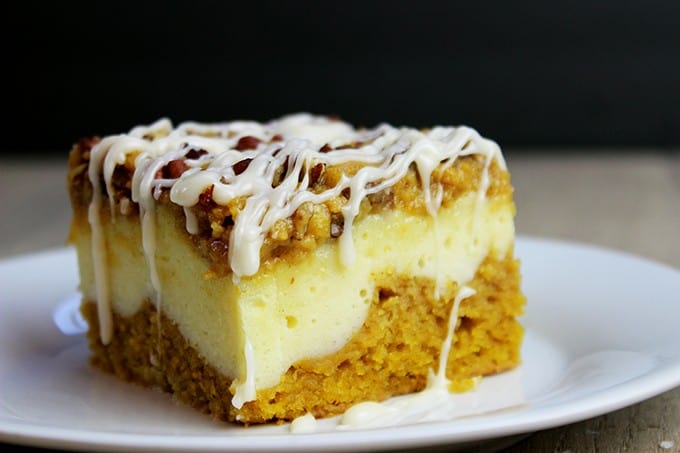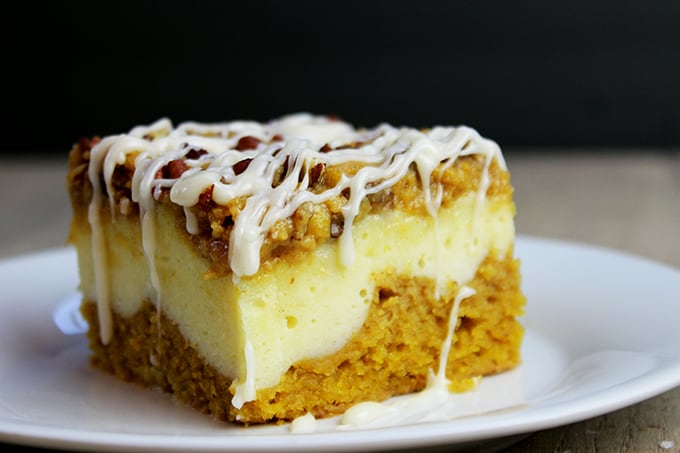 Create a free account to Save Recipes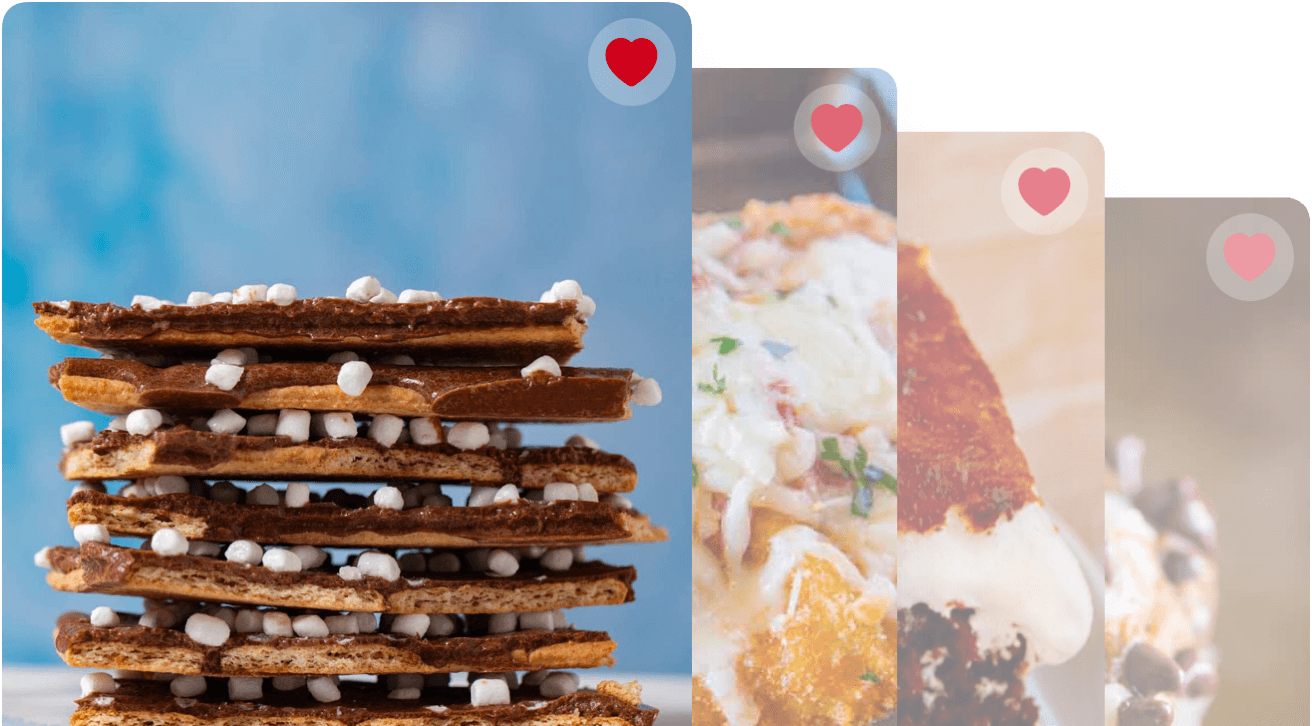 Second, this recipe is is going to be a bit more difficult to determine when it is done. The good thing about cheesecake is you are still technically okay with the middle having a bit of a jiggle. Just be sure your cake on TOP of the cake is done. The bottom will have a more direct heat source and will cook first, but the cake on top may take longer to finish. So when you pull out the cake, don't just test the edge. Test the top middle of the cake for doneness.
Lastly, I know you're going to want to eat this quickly, but just like any cheesecake it benefits from cooling time. Eaten cold this is absolutely delicious, but if you want to have a cold and hot experience, microwave the COLD piece for 10-15 seconds. It is long enough for the outside (aka the cake) to warm up while the more dense inside (the cheesecake) stays cold. Trust me from experience this makes for an absolutely delicious breakfast or dessert.
In addition to this flavor, I know in a couple of months you guys are going to be absolutely sick of pumpkin, so try this recipe with your favorite cake or brownie as the base. Then you can add the same cheesecake filling to the pan and top with icing. I've done this with:
Chocolate cake with strawberry/cherry jam under the cheesecake filling
Carrot cake (this is so good I will be posting it in the next few months in anticipation of Spring and Easter)
Strawberry Cake
Yellow Cake with strawberry/cherry jam under the cheesecake filling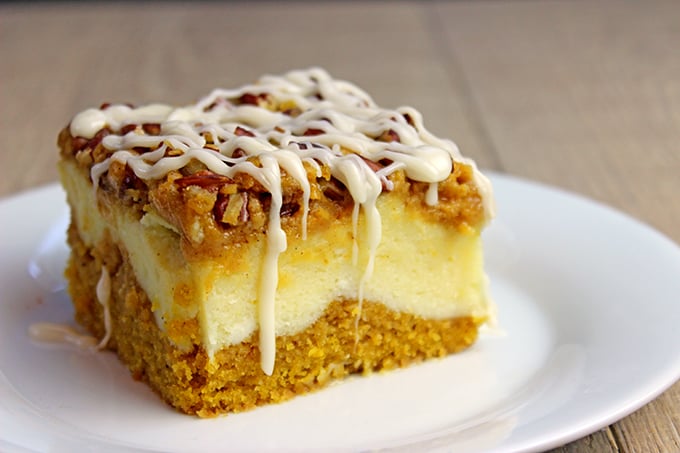 Ingredients
2

packages

cream cheese

1

egg

1/2

cup

sugar

2

teaspoons

vanilla

4

ounces

fresh pureed pumpkin

(canned works great too)

1

egg

1/4

cup

vegetable oil

3

tablespoons

water

3/4

cup

white sugar

1

cup

all-purpose flour

1/2

teaspoon

baking soda

1/4

teaspoon

salt

1/4

teaspoon

ground cinnamon

1/4

teaspoon

ground nutmeg

1

pinch ground cloves

1

pinch ground ginger

2

cups

powdered sugar

2

tablespoons

milk

(you may need an extra one or two depending on how packed your powdered sugar is)

2

teaspoons

vanilla

1

cup

chopped pecans
Instructions
Preheat oven to 350 degrees.

In a mixer, cream the cream cheese, 1 egg, 2 teaspoons vanilla and ½ cup sugar together until fully combined and smooth.

Spray a 9x9 pan with baking spray or cover in butter and dust with flour.

Mix together pumpkin puree, eggs, oil, water and sugar until well blended with a whisk.

In a separate bowl add the flour, baking soda, salt, cinnamon, nutmeg, cloves and ginger and whisk together before adding to the wet ingredients.

Put 75% of the cake batter in the pan.

Top with spoonfuls of cheesecake batter carefully, trying not to cause it to sink too far into the pan.

Top the cheesecake with the remaining cake batter very carefully.

Top with chopped pecans.

Cook for

45-50 minutes

or until the top springs back when touched.

While it is cooking add the powdered sugar, 2 teaspoons vanilla, and milk together in a bowl.

Let the cake cool completely and drizzle the icing on top.

Put in the refrigerator for

4-6 hours

or overnight, this is best served cold.
Nutrition
Calories:
321
kcal
|
Carbohydrates:
51
g
|
Protein:
3
g
|
Fat:
12
g
|
Saturated Fat:
4
g
|
Cholesterol:
27
mg
|
Sodium:
107
mg
|
Potassium:
93
mg
|
Fiber:
1
g
|
Sugar:
41
g
|
Vitamin A:
1515
IU
|
Vitamin C:
0.5
mg
|
Calcium:
18
mg
|
Iron:
1.2
mg