Cheesy Fajita Stuffed Shells are a Mexican twist on a classic Italian dinner recipe. Make this easy cheesy pasta casserole in 30 minutes!
This amazing casserole dish has all the classic Mexican flavors of Beef Fajitas baked inside Cheesy Stuffed Shells for the ultimate comfort food. Make this easy Mexican-Italian dish for Dinner tonight!
These cheesy, stuffed shells are the perfect family-friendly weeknight meal! The filling comes together quickly with simple ingredients, the assembly is easy, and the whole dinner is done in about 30 minutes. Plus, it's a one-pan casserole dish recipe, so you'll love the minimal clean up time too!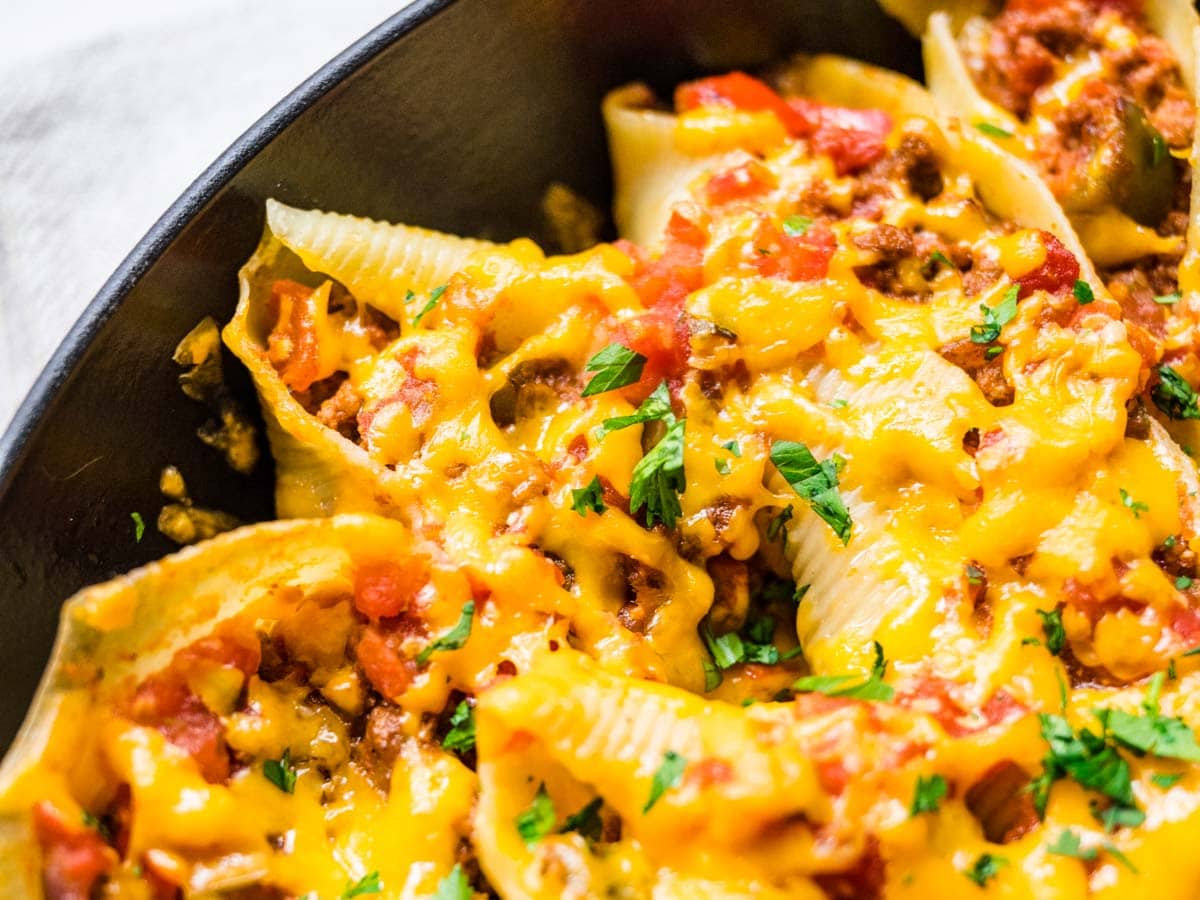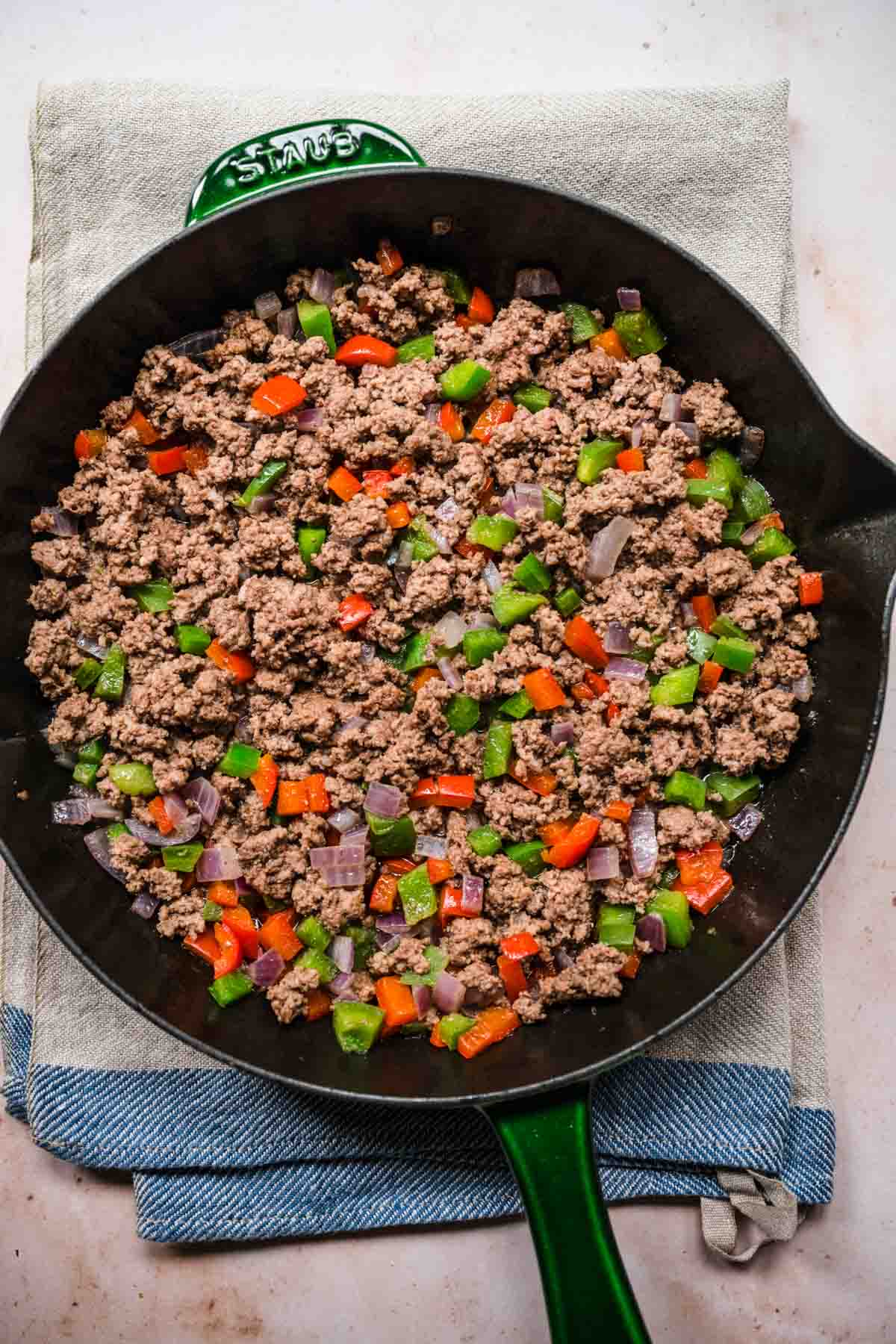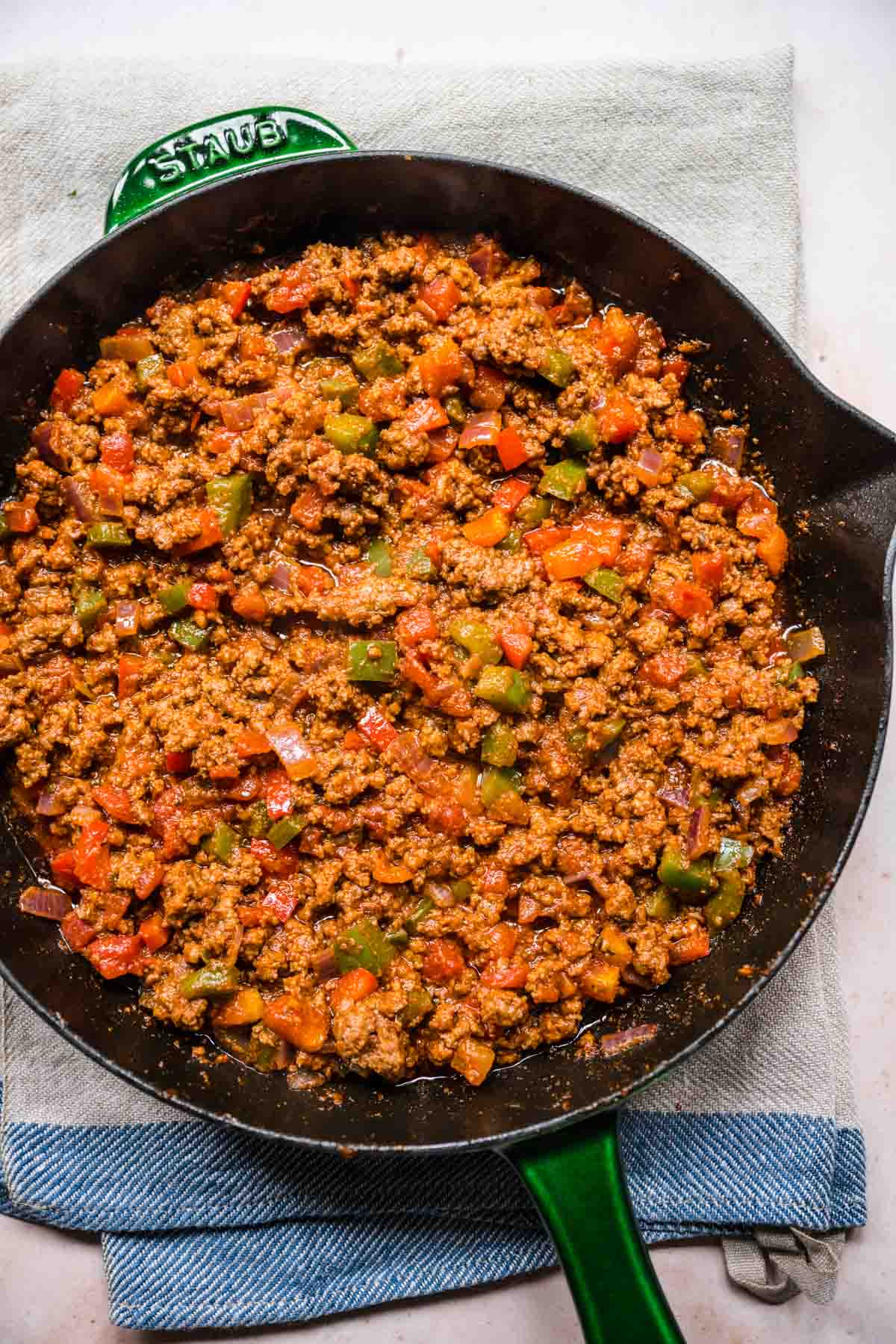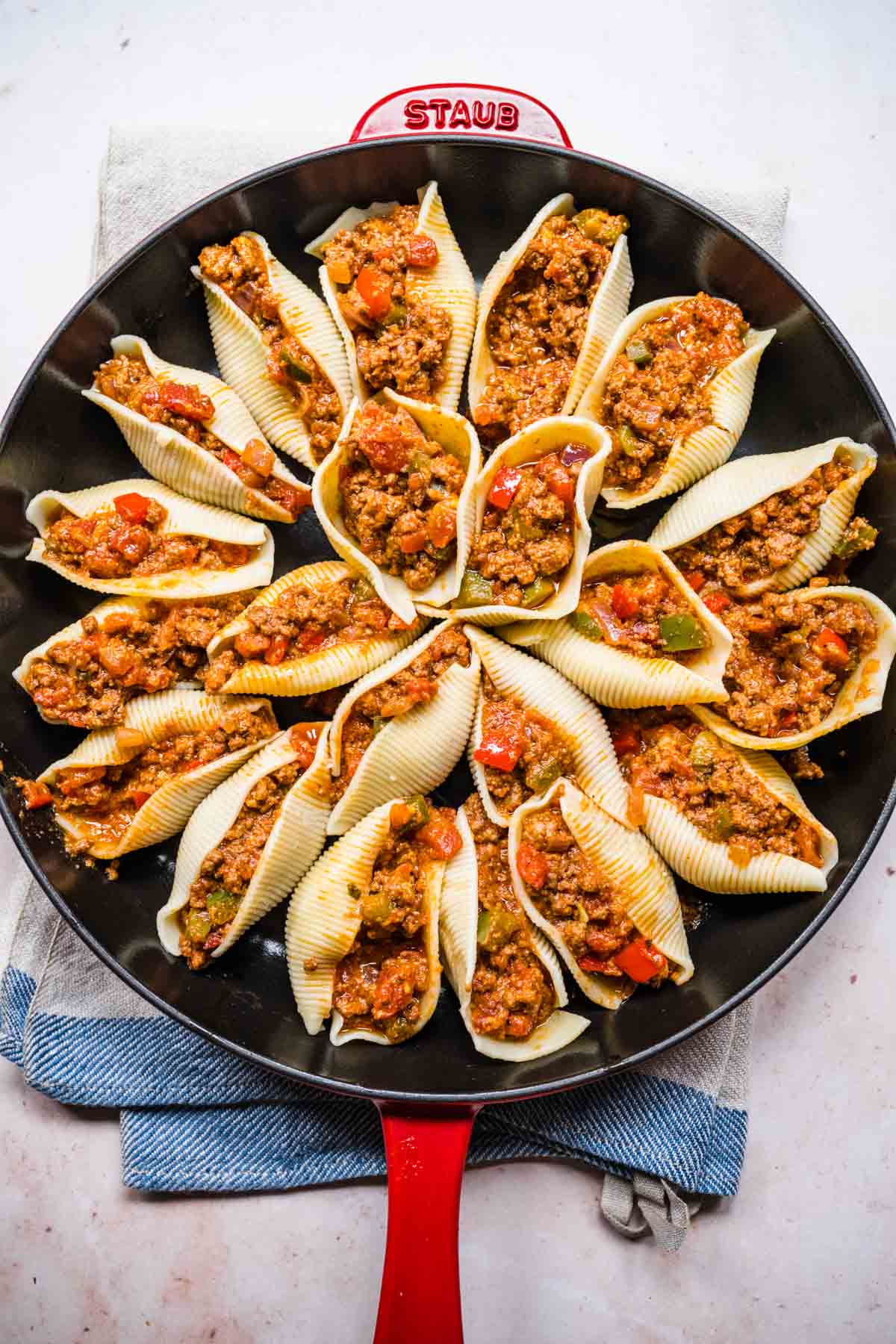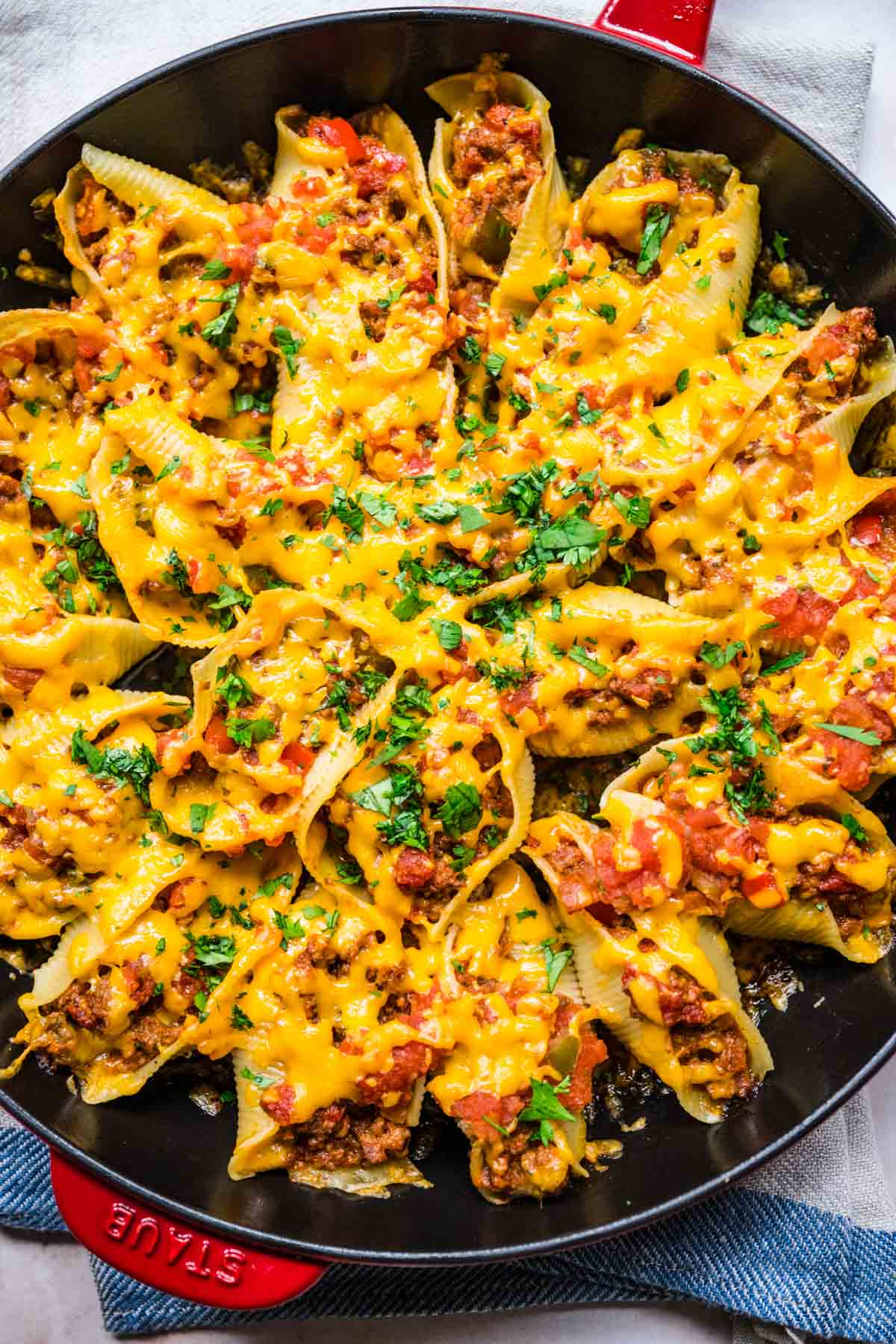 About our Cheesy Fajita Stuffed Shells Recipe
Our Cheesy Fajita Stuffed Shells are a flavorful, easy twist on a favorite delicious pasta dish. It's a fun idea for Taco Night or whenever you can't decide between Italian or Mexican for dinner. The taco meat filling is easy to prepare with plenty of flavor from the tomato sauce, veggies, and fajita seasoning. The filling is all scooped into the jumbo pasta shells to bake with the melty cheddar cheese. It's all ready for the dinner table in just 30 minutes.
Can Cheesy Fajita Stuffed Shells be made ahead of time?
Cheesy Fajita Stuffed Shells are a fantastic make ahead and freezer meal recipe to save you time on busy weeknights! You can assemble them the night before in the skillet and pop them in the oven when you get home. To freeze them ahead, assemble them in a freezer safe 9×13 inch baking pan but don't bake them. Cover the dish with plastic wrap then foil and freeze for up to 4 months. When you are ready to serve them, simply remove the plastic wrap and bake them from frozen, adding 10-15 minutes to your cooking time.
Cheesy Fajita Stuffed Shells Ingredients
Jumbo Pasta Shells: Tender jumbo pasta shells take the place of tortillas in this tasty casserole dish. You could also stuff the filling into manicotti or cannelloni, or roll it up in lasagna sheets!
Ground Beef: A package of ground beef takes the place of steak for a more budget friendly meat filling that is a bit easier to cook. The fattier beef cut stays juicy being cooked then baked, plus the small crumbles fit much better in the pasta shells.
Veggies: Sizzling veggies like onions and bell peppers are a part of a classic fajita dish. Instead of veggie strips, they are diced into small pieces so they mix with the filling and fit nicely in the shells. They add a lot of delicious flavor to the taco meat too!
Fajita Seasoning: Fajita seasoning is a blend of classic Mexican seasonings like cumin, chili powder, paprika, garlic and onion, and cayenne. If you don't have fajita seasoning, you can swap in Taco Seasoning and add a little extra cumin.
Tomato Mixture: Tomato paste, canned diced tomatoes, and salsa are all mixed into the meat and simmered to a rich, thick meat and tomato sauce.
Cheese: Half of the cheddar cheese is mixed into the melty, beefy filling while the rest is set aside for the perfect bubbly cheesy topping.
Kitchen Tools & Equipment
Cast Iron Skillet: A large cast iron skillet takes the place of the grill top you normally use to make fajitas. It gives the meat and veggies a good char and builds a lot of flavor. Plus it can go from stove top to oven so you bake the stuffed shells in the same pan for a one-dish dinner. You can cook this in a 9×13 casserole dish if you don't have the cast iron skillet and just cook the filling separately in a regular skillet.
How to Make Cheesy Fajita Stuffed Shells
Time needed: 30 minutes.
The taco meat filling comes together in about 10 minutes and you bake the pasta shells in the same pan that you cook the filling and sauce. 
Prep your veggies

Start by dicing the red onion and bell peppers into small, even pieces, about ½ inch bits. Preheat your oven.

Cook the Pasta Shells

Bring a pot of water to a boil over medium heat, then cook the jumbo shells according to the box instructions. Carefully drain and rinse the pasta so you don't break the shells.

Brown the Beef with the Veggies

Add the ground beef, diced onion, and bell pepper to a large cast iron skillet. Cook until the meat is well browned, then drain fat.

Make the Fajita Sauce

Add the fajita seasoning, canned tomatoes, and tomato paste. Mix the seasoned beef until nicely combined. Continue the cooking time until most of the liquid has evaporated. Stir in a ½ cup salsa and ¾ cup cheddar cheese.

Fill and Bake the Shells

Scoop the fajita mixture into the prepared shells, and top it off with the remaining salsa and cheese. Cover the baking dish and bake in the 350-degree oven for 15 minutes.
Nutritional Facts
The serving size for this delicious casserole is 3 shells so there are about 5 servings. It's a pretty well balanced dinner with lots of protein. Even though there's plenty of cheese, it's not a super heavy casserole dish. You can always make it a bit healthier with low fat cheese and leaner ground meat like chicken or turkey.
Nutrition Facts
Cheesy Fajita Stuffed Shells
Amount Per Serving
Calories 642
Calories from Fat 243
% Daily Value*
Fat 27g42%
Cholesterol 96mg32%
Sodium 877mg38%
Potassium 935mg27%
Carbohydrates 65g22%
Protein 36g72%
Vitamin A 1509IU30%
Vitamin C 41mg50%
Calcium 310mg31%
Iron 4mg22%
* Percent Daily Values are based on a 2000 calorie diet.
Cooking Cheesy Fajita Stuffed Shells Tips & Tricks
How to Keep Pasta Shells from Breaking

Overcooked pasta tends to stick together so make sure to only cook the shells to al dente. To stop them from cooking, rinse them with cold water after you drain them.

How to Prevent Watery Stuffed Shells

You want to reduce your sauce and let it thicken so you don't get watery stuffed shells. Make sure to drain the fat from the meat well too.
What to Pair With Cheesy Fajita Stuffed Shells
These delicious Cheesy Fajita Stuffed Shells are a perfect one pan meal that is hearty enough to eat on its own or you can pair it with simple sides.
Drinks: Recreate a Mexican Cantina experience by serving your Fajita Stuffed Shells with a margarita or a cold cerveza. Make it a fun, special meal for the kiddos by serving them a Shirley Temple, aka sprite with grenadine and cherry!
Side Dishes: A cheesy, meaty casserole like these stuffed shells always goes with light veggie sides like Roasted Broccoli. You can also make a quick Mexican Corn Salad for a tasty south of the border side dish.
How to Store Cheesy Fajita Stuffed Shells
Store: To store leftovers, transfer the shells to a sealed container, then keep it in the fridge for 3-4 days.
Reheat: Reheat your stuffed shells in the oven in a covered dish so they reheat slowly and don't dry out. You can also add a splash of water or broth to the pan to steam them while they reheat to keep them moist.
Freeze: You can also store the stuffed shells in a freezer-safe container to keep them fresh for future meals. They'll stay good frozen for up to 3 months.
Ideas to Serve Cheesy Fajita Stuffed Shells
Fajita Toppings: You can add any of your favorite Mexican toppings to these Cheesy Fajita Shells. Trying adding a dollop of sour cream, Guacamole, and Salsa over the top, or serve them on the side so everyone can add their own toppings.
Enchilada Sauce: To give this dish some extra Mexican flavors, you can top the Fajita Stuffed Shells off with a drizzle of warm Enchilada Sauce. You could also swap the salsa with the enchilada sauce in the filling too.
FAQ for Cheesy Fajita Stuffed Shells
Why do stuffed shells get watery?
Usually stuffed shells will get watery because the filling is not reduced enough. If your filling is saucy, like in this recipe, simmer the sauce on the stovetop until it's nice and thick, like a Sloppy Joe consistency. If your baked shells are watery, you can try baking them uncovered for 5 minutes to get rid of some of the liquid.
What is the difference between fajita seasoning and taco seasoning?
While taco seasoning and fajita seasoning are made with a lot of the same ingredients, they are slightly different. Taco seasoning has much more chili powder where fajita blends have more cumin. Also, fajita seasoning doesn't usually have oregano but taco seasoning does.
Recipe Card


Ingredients
12

ounces

jumbo pasta shells

1

pound

ground beef

1/2

cup

red onion

, diced

1/2

cup

red bell pepper

, diced

1/2

cup

green bell pepper

, diced

2

tablespoons

fajita seasoning

1

cup

canned tomatoes

, un-drained

1/4

cup

tomato paste

1

cup

salsa

, divided

1 1/2

cups

cheddar cheese

, divided
Instructions
Preheat the oven to 350 degrees.

Cook the pasta shells in a pot according to the directions on the box and drain.

Add the ground beef, onion, and bell peppers to a large cast iron skillet and brown well.

Add the fajita seasoning, canned tomatoes, and tomato paste. Cook until water is gone.

Stir in ½ cup salsa and ¾ cup cheese.

Scoop mixture into the jumbo pasta shells and place back in the skillet. Top with the remaining salsa and cheese.

Bake, covered with foil, for

15 minutes

.
Nutrition
Calories:
642
kcal
|
Carbohydrates:
65
g
|
Protein:
36
g
|
Fat:
27
g
|
Saturated Fat:
12
g
|
Polyunsaturated Fat:
1
g
|
Monounsaturated Fat:
9
g
|
Trans Fat:
1
g
|
Cholesterol:
96
mg
|
Sodium:
877
mg
|
Potassium:
935
mg
|
Fiber:
6
g
|
Sugar:
9
g
|
Vitamin A:
1509
IU
|
Vitamin C:
41
mg
|
Calcium:
310
mg
|
Iron:
4
mg
Cheesy Fajita Stuffed Shells Variations
Mix-ins: For some delicious add-ins try adding some green onion, frozen corn, green chilies, jalapenos, or black beans.
Cheese topping: You can try different cheese varieties like pepper jack cheese, Colby jack, provolone, mozzarella, or a Mexican cheese blend.
Related Recipes
More Beefy Stuffed Shells Recipes