jump to recipe
Chicken Bacon Ranch Lasagna Roll Ups
This post may contain affiliate links. Read my disclosure policy here.
Chicken Bacon Ranch Lasagna Roll Ups have all the flavors of classic lasagna with less effort. Perfect for individual servings and make ahead meals.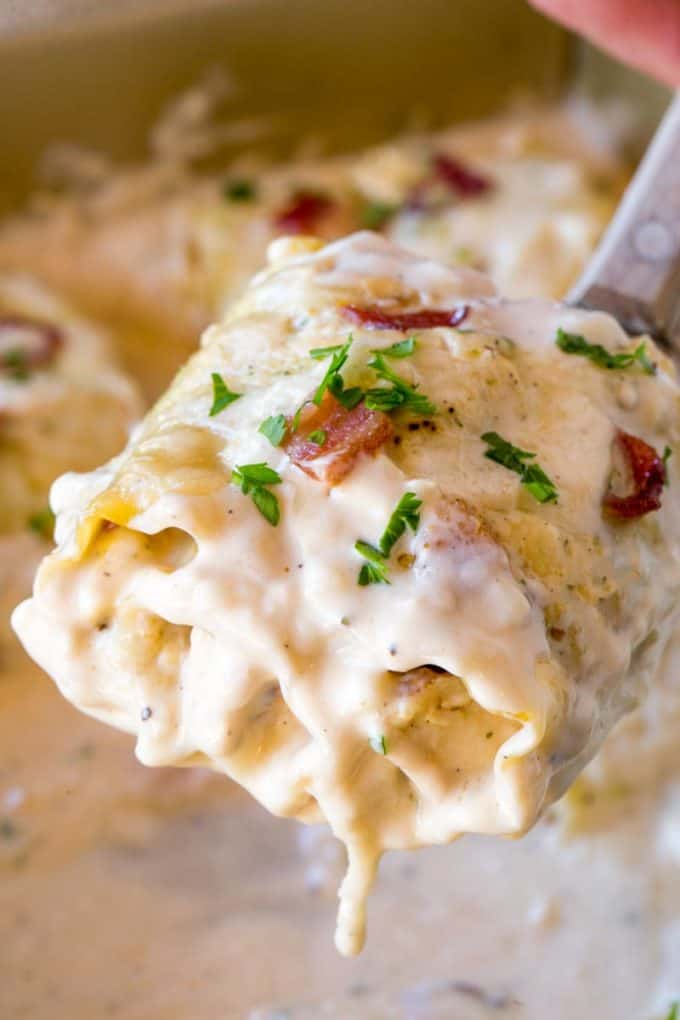 Chicken Bacon Ranch Lasagna Roll Ups combine one of my favorite flavor combinations with lasagna (which is absolutely one of my favorite meals). Plus with such strong flavors like cream cheese, bacon and ranch this dish is going to be packed with flavors!
Chicken Bacon Ranch is a mixture of flavors often referred to on Pinterest as Crack Chicken (because it presumably would be as addicting as crack?) but I'm a more descriptive blogger, so I just go for the gold and call it what it is, Bacon Chicken Ranch goodness… in this case rolled in lasagna sheets baked with a ranch alfredo sauce.
I promise you, you are going to LOVE this recipe. Assuming of course you love bacon and ranch?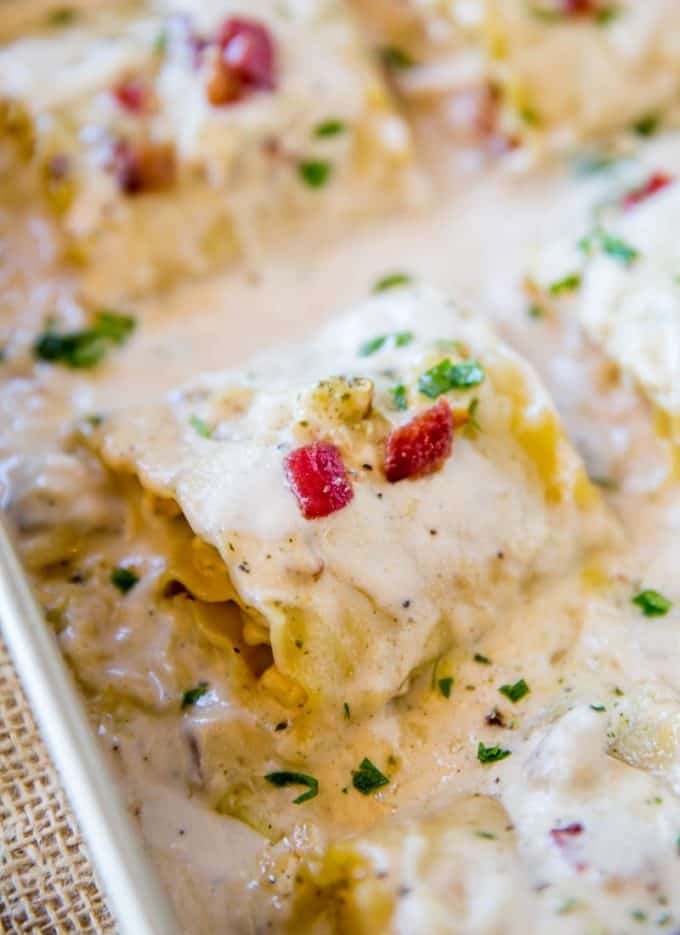 Some tips about making lasagna roll ups:
Make sure you cook the noodles a minute shy of the box directions, this helps keep the shape after baking.
Don't use the no boil noodles, since you have to boil them they'll become mushy and the ruffled edges of the normal variety help keep the filling in.
Bake covered before removing the foil to brown. You don't want the noodles to get too crispy since they'll be exposed and not swimming in sauce.
The more you fill the harder to roll and leave at least 2 inches at the end without filling to complete the roll.
I reserve about 1/4 cup of the filling to top after it comes out of the oven for presentation. Totally doesn't matter if you don't care about that.
Since all the ingredients are baked we are putting it in the oven to cook long enough to melt the cheese inside then uncovering long enough to brown.
Make your filling and sauce ahead of time and you can put the meal together in 30 minutes.
Make the rolls ahead and freeze them in loaf pans for individual servings or in 8×8 foil pans for a quick dinner.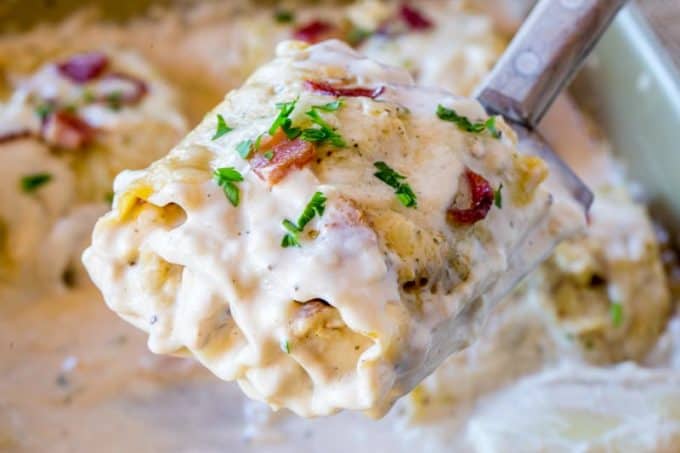 Looking for more cheesy pasta options?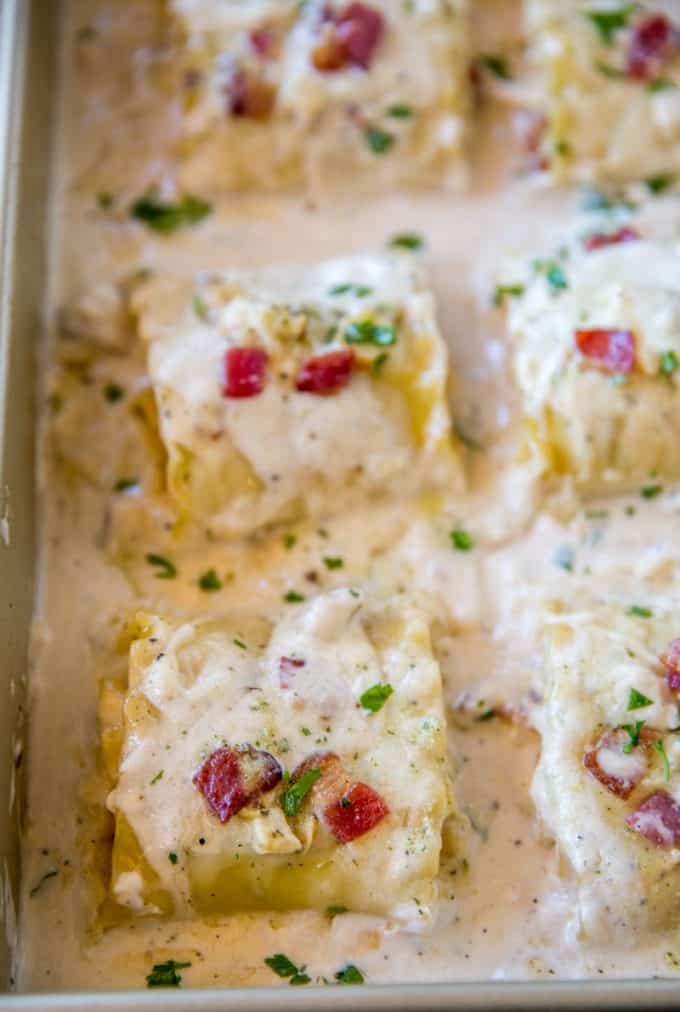 Tools used in the making of these Chicken Bacon Ranch Lasagna Roll Ups:
Lasagna Noodles: Make sure you buy this variety and NOT this one. It makes keeping the filling in much easier.
Ranch Seasoning: I used my homemade recipe, but you can use this packaged one if you prefer.
Baking Pan: Easy to use, doesn't warp, freezes well and has high enough sides you don't have to tent it when you add the foil.
Alfredo Sauce: I use homemade, but if you are in a rush and want to swap it out for pre-made I highly recommend this mix.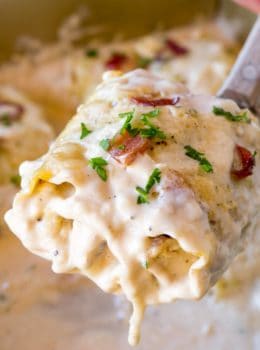 Chicken Bacon Ranch Lasagna Roll Ups
Chicken Bacon Ranch Lasagna Roll Ups have all the flavors of classic lasagna with less effort. Perfect for individual servings and make ahead meals.
MY OTHER RECIPES
Ingredients:
1/2 cup butter (1 stick)
4 cloves garlic, minced
8 ounces cream cheese
2 cups whole milk (1 and 2 % okay too)
6 ounces shredded Parmesan cheese
3 tablespoons ranch dressing mix (this links to the recipe on my site), divided
1/4 teaspoon ground black pepper
8 lasagna noodles, cooked one minute shy of the box directions
2 cups chicken breast, cooked and chopped*
8 ounces of bacon, cooked and crumbled
2 cups cheddar cheese, shredded or chopped into small cubes
Directions:
Preheat the oven to 375 degrees.
In a large pot add in the butter and garlic and melt together on medium heat.
Add in the cream cheese and 2 tablespoons of the ranch mix and whisk well until combined.
While whisking slowly add in the milk.
Add in the Parmesan cheese and black pepper and whisk until just melted then turn off the heat.
Using a large cutting board lay out your pasta noodles.
In a medium sized bowl add the chicken, bacon, cheese and remaining ranch mix.
Spoon the mixture evenly over the noodles leaving 2 inches at the end with no filling.
Roll them up carefully and tightly then using a spatula move them into the baking pan.
Spoon over the alfredo sauce.
If you'd like you can also reserve some of the filling to sprinkle on top of the rolls.
Cover with foil and bake for 20 minutes.
Uncover, spoon the sauce over the rolls and bake an additional 10 minutes.
Serve with extra Parmesan cheese if desired.
*Rotisserie chicken would be great or if you are making from scratch, chop the chicken into small 1/2″ cubes and cook in a skillet on medium high heat for 3-5 minutes on each side (I'd use 2 tablespoons of canola oil with it). Don't worry if it isn't 100% cooked through, the oven will finish is off for you too.
Nutrition Information
Yield: 8 servings, Serving Size: 1 roll
Amount Per Serving:
Calories: 348 Calories
All images and text ©
Made this recipe?
Show me what you made on Instagram or Facebook and tag me at @DinnerthenDessert or hashtag it at #dinnerthendessert.
Dinner, then Dessert, Inc. owns the copyright on all images and text and does not allow for its original recipes and pictures to be reproduced anywhere other than at this site unless authorization is given. If you enjoyed the recipe and would like to publish it on your own site, please re-write it in your own words, and link back to my site and recipe page. Read my disclosure and copyright policy. This post may contain affiliate links.