Chicken Tetrazzini is a creamy baked chicken and mushroom pasta dish with chunks of chicken and mozzarella cheese you can make ahead or get it in the oven in just 15 minutes.
We love easy baked pastas like Baked Million Dollar Spaghetti and Ultimate Meat Lasagna and this Chicken Tetrazzini is no exception to that. It's creamy, cheesy and has a deliciously browned topping that makes this easy dinner a huge hit!
Chicken Tetrazzini Recipe
Baked Chicken Spaghetti with a creamy cheesy sauce is a guaranteed hit with your kids. The most difficult part of the prep is cooking the chicken and pasta ahead of time, so if you're meal prepping or even making another pasta dish for dinner earlier in the week this would be a good time to cook that pasta!
If you're wondering how do you make chicken tetrazzini then I've got a lot of info for you below. We cover meal prepping it, making it homemade with no condensed soups and even substitute noodles you can use.
What to serve with Chicken Tetrazzini:
We love serving this with Garlic Bread, Olive Garden Italian Salad Dressing (Copycat) and Rainbow Roasted Vegetables.
Can you use different pasta?
Yes, classically the dish is made with spaghetti, but you can certainly alter the pasta to suit your tastes or needs. If you have younger children a shorter pasta that is easy to eat, like rotini, would be a good option. If you'd like you can even swap lasagna noodles into the dish and make it into a lasagna of sorts (you may need to double the non pasta ingredients though.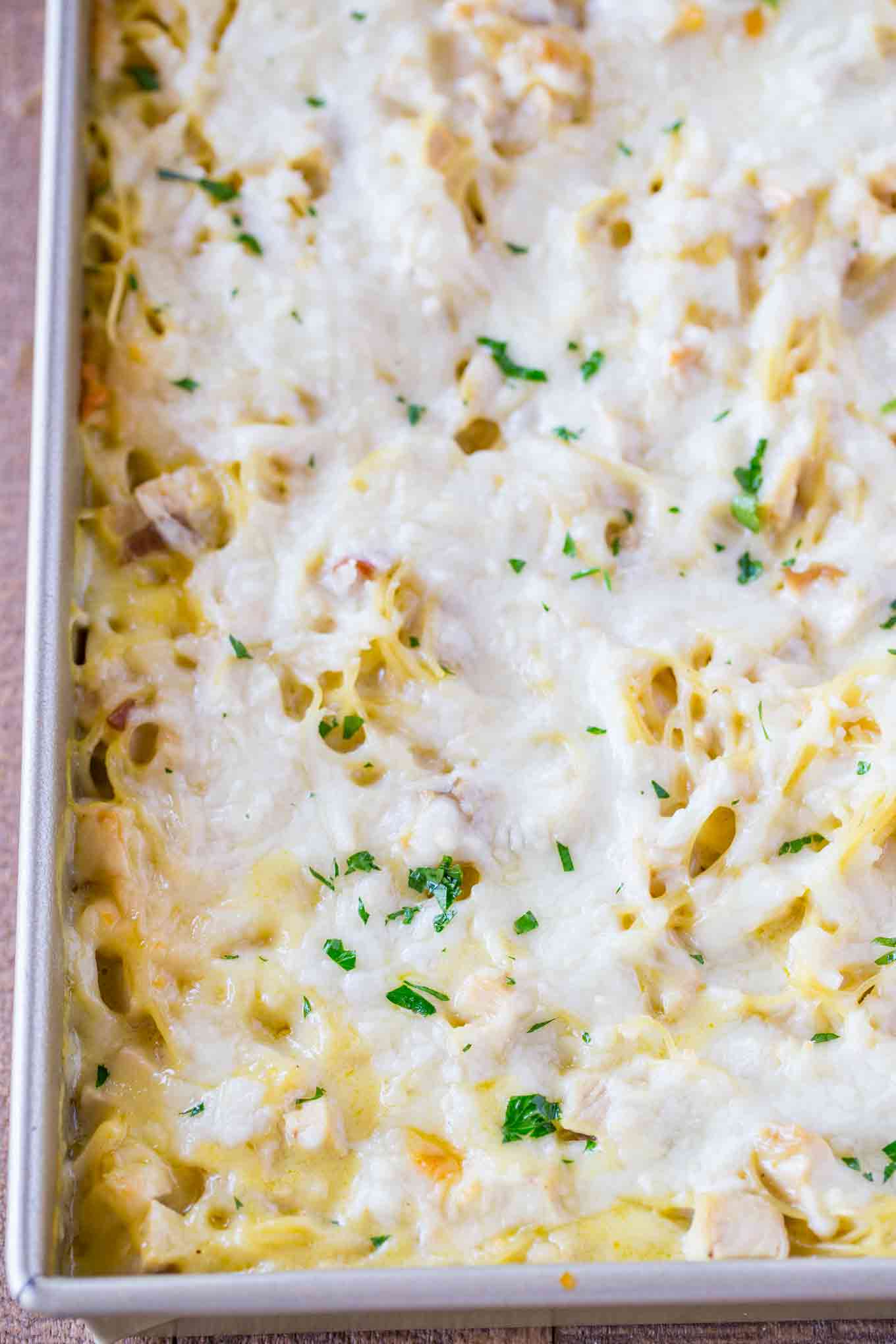 Meal Prep Chicken Tetrazzini:
This meal requires the use of cooked chicken and cooked pasta. So if we are meal prepping or even just thinking ahead while cooking food for another meal you can easily turn this dish into a 2 minute prep time with only baking needed.
Cook extra chicken: Are you cooking chicken any other time this week? Or maybe picking up a rotisserie chicken for dinner? Eat the dark parts and leave the white meat and a bit of the thighs for this recipe. Easiest adjustment, when cooking chicken for another meal add in an extra pound. Once out of the oven just chop it up and put it in tupperware.
Cooking extra pasta: I don't recommend using the same water as a previous pound of pasta but you'll already have a dirty starchy pot needing a wash so just rinse and add fresh water to cook an extra pound of pasta. Let it cool slightly and add it to a tupperware or even to the chicken tupperware if you've also prepared that.
Assembly: Once you have the chicken and pasta cooked you're 99% of the way there. Simply toss with the rest of the ingredients and bake. I would caution against adding the liquids to the pasta the night before baking only because pasta is like a dry sponge waiting to soak up anything it can.
You can toss the pasta with a bit of olive oil before adding the other ingredients if you'd like to prep the whole pan ahead of time, but be aware that oil will interact with the other ingredients during baking which may result in a slightly less creamy mixture.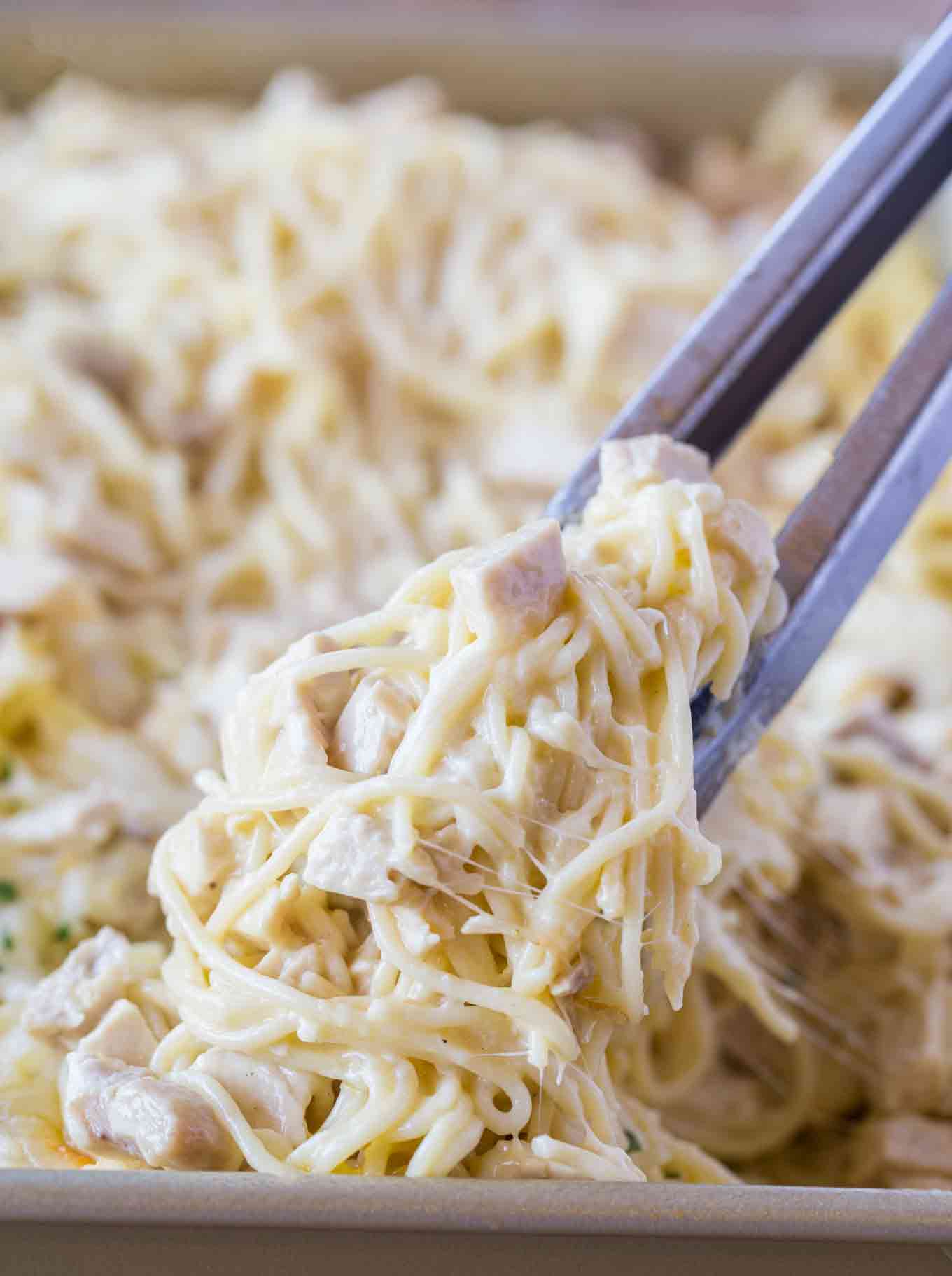 Use of canned soups:
This recipe classically used canned soups that are pre-made. I can tell you I did not use them, instead using Cream of Chicken Soup (Condensed) and Cream of Mushroom Soup (Condensed) and it tastes just as nostalgic but even tastier than the original. I've even conducted side by side tests of this recipe using my homemade versions vs the pre-made.
Now, this is significantly more work to use the homemade versions. What I do is batch cook a bunch of the homemade condensed soups when I have time and freeze them. This allows me to just defrost them overnight when I am preparing the pasta or chicken and add it to the recipe as easily as I would the canned variety.
The actual process of cooking those condensed soups is actually really easy too. Most of them take just 10 minutes to cook. I also have a Cheddar Cheese Soup (Condensed) and Cream of Celery Soup (Condensed) in case you need substitutes for those in other recipes you have.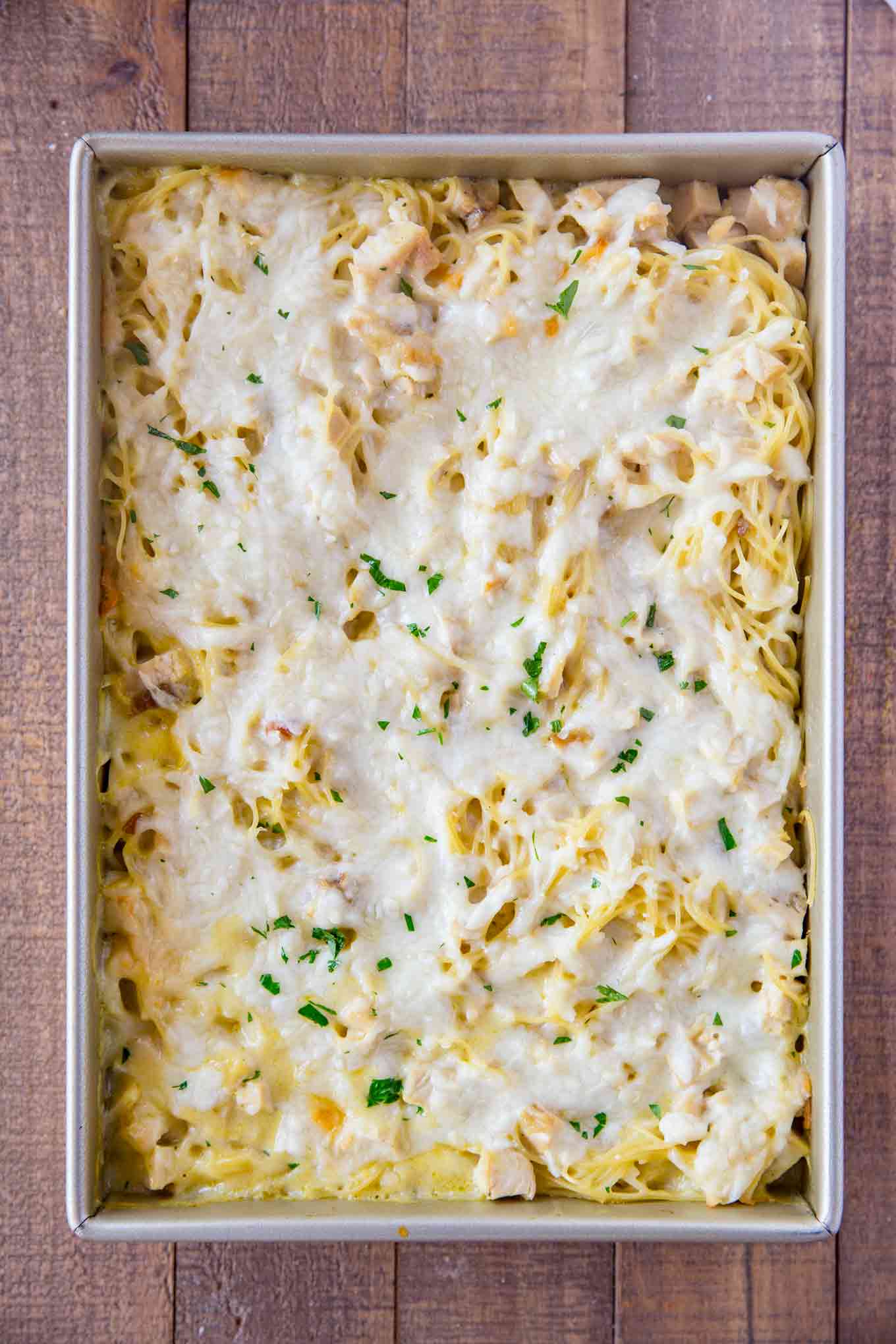 Ingredients
1

pound

chicken breast

cooked and chopped

1

pound

spaghetti

cooked 2 minutes shy of directions

2

cloves

garlic

minced

1

can

cream of chicken soup

1

can

cream of mushroom soup

2

cups

chicken broth

1

tablespoon

Better than Bouillon

chicken base or chicken bouillon

3/4

cup

shredded mozzarella cheese
Instructions
Preheat the oven to 350 degrees.

Add the chicken, spaghetti, garlic, cream of chicken soup, cream of mushroom soup, chicken broth and better than bouillon into a large mixing bowl and mix until well combined.

Pour into a 9x13 pan and cover with mozzarella cheese before baking for

25-28 minutes

.
Nutrition
Calories:
368
kcal
|
Carbohydrates:
47
g
|
Protein:
24
g
|
Fat:
7
g
|
Saturated Fat:
2
g
|
Cholesterol:
49
mg
|
Sodium:
888
mg
|
Potassium:
457
mg
|
Fiber:
1
g
|
Sugar:
1
g
|
Vitamin A:
155
IU
|
Vitamin C:
5
mg
|
Calcium:
80
mg
|
Iron:
1.8
mg