Chile Relleno is a classic dish in Mexican cuisine made with green peppers stuffed with melty cheese, dipped in batter, and fried to golden perfection.
Move over Chicken Enchiladas, these vegetarian, cheese stuffed peppers are about to be the new favorite Mexican Dinner your family craves!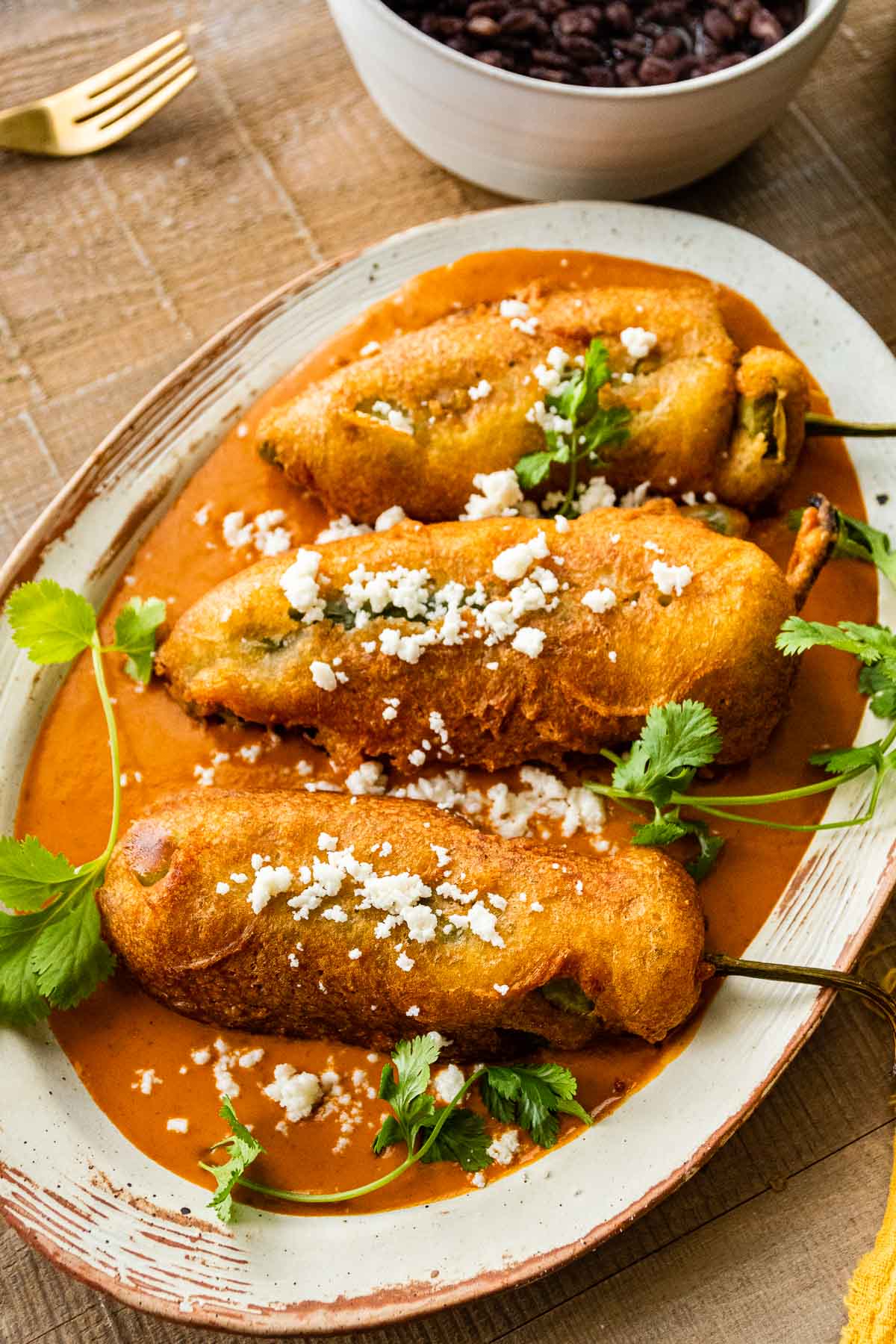 This easy, classic Mexican recipe is sure to be a hit with any cheese lovers. Each of the peppers is stuffed with a melty cheese filling and then fried in rich, eggy batter until puffy and golden brown. The batter makes the outside crispy and the amazing filling makes each bite of Chiles Rellenos like a delicious cheese explosion.
Chile Rellenos are a favorite, popular dish you'll find on the menu of most Mexican restaurants, from the fanciest elevated dining places to the local late night taco shop. You can easily recreate the eggy, crispy batter, tender roasted peppers, and gooey cheese combination at home with some basic ingredients and this step by step recipe. Skip the tacos next Tuesday and serve up these fried stuffed peppers with Refried Beans and Mexican Rice for a fun, tasty, satisfying dinner!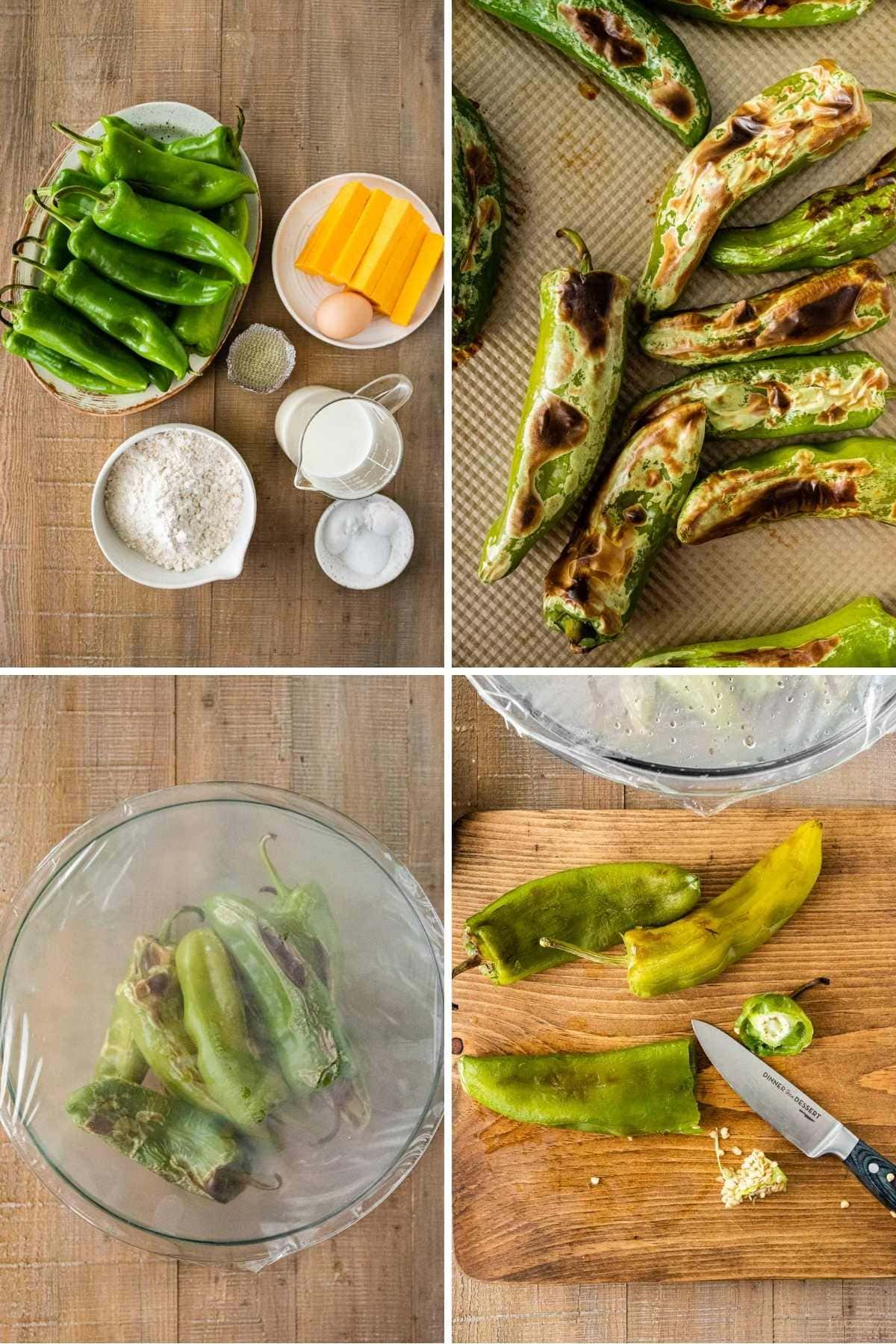 What are Chile Rellenos?
Chile Rellenos are a traditional Mexican dish made by stuffing roasted peppers with cheese, dipping them in thick and fluffy batter made with eggs, and then frying the peppers until the batter is golden. The most common type of pepper used for Chile Rellenos is the Anaheim pepper and poblano peppers. They are served as a main dish, usually with classic toppings like sour cream, Guacamole, and Pico de Gallo. Sometimes they are smothered with a red sauce and melted cheese, similar to enchiladas but the sauce is more like Enchilada Sauce mixed with chunky salsa fresca.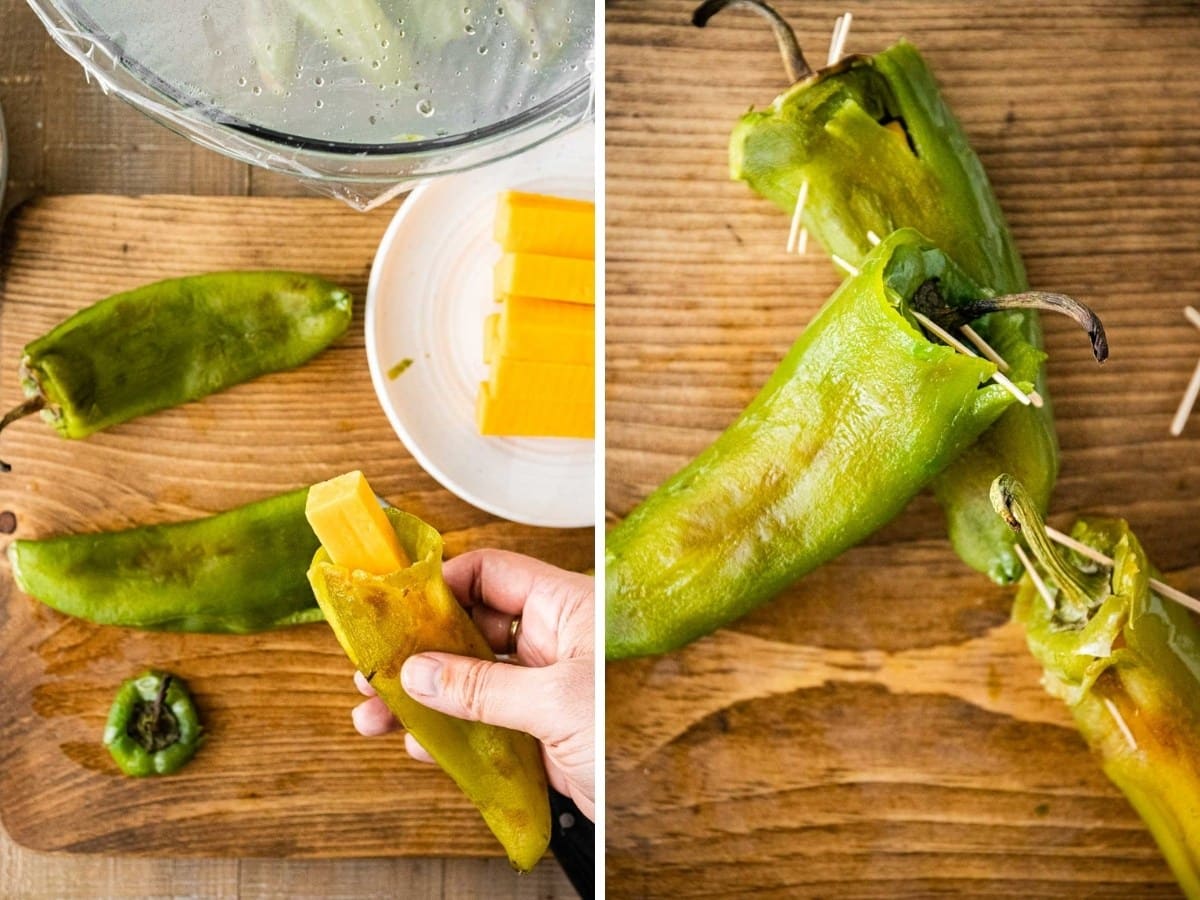 How to Make Chile Rellenos
Prep: Start by charring the peppers on a grill. if you don't want to use a grill, you can place the peppers on a baking dish and put them under the broiler in the oven. Grill or broil until the peppers are softened and blackened on all sides. Place the peppers in a large, covered bowl and let them soften in the steam for 5 minutes.
Stuff: Cut the cheese into cheese sticks small enough to fit in the peppers. Peel the skin from the peppers, remove seeds, and core them. Stuff each pepper with a piece of cheese, then place the core back onto the pepper and keep it closed with wooden toothpicks.
Batter: Add the milk, 1 cup flour, egg, baking powder, baking soda, salt, and vegetable oil to a separate bowl. Whisk until the egg yolks are mixed into the flour mixture.
Frying: Pour cooking oil into the base of a heavy dutch oven. Turn the stove to medium-high heat and bring the oil to frying temperature. Roll each of the peppers in the flour and in the batter to coat. Let excess batter drip off the stuffed chiles before adding them to the pot to fry for 2-3 minutes until browned on all sides. Remove the chiles and serve.
What to Serve with Chile Rellenos
FAQs for Chile Rellenos
Are Anaheim chile peppers spicy?
Anaheim chile peppers are mild in heat, measuring 500 to 2,500 on the Scoville scale, and for comparison spicier jalapenos range from 3,000 to 8, 000 on the same scale. They also have a slightly sweet taste crisp taste that isn't as bitter as a green bell pepper.
What kind of peppers to use for Chile Rellenos?
The best type of peppers to use for Chile Rellenos are larger green chile peppers, about the size of your hand, like Anaheim peppers, Hatch green chiles, or Poblano peppers. Poblanos are larger and slightly spicier than Anaheim and Hatch Chiles, however all of the peppers are good size to make a main dish and mild enough for most people to enjoy. 
Can you make chile relleno without removing skin?
It is recommended to remove the skin from the peppers before stuffing them for Chile Rellenos, as the skin can be tough and chewy. The best way to remove the skin is by roasting the peppers first then soaking them in cold water.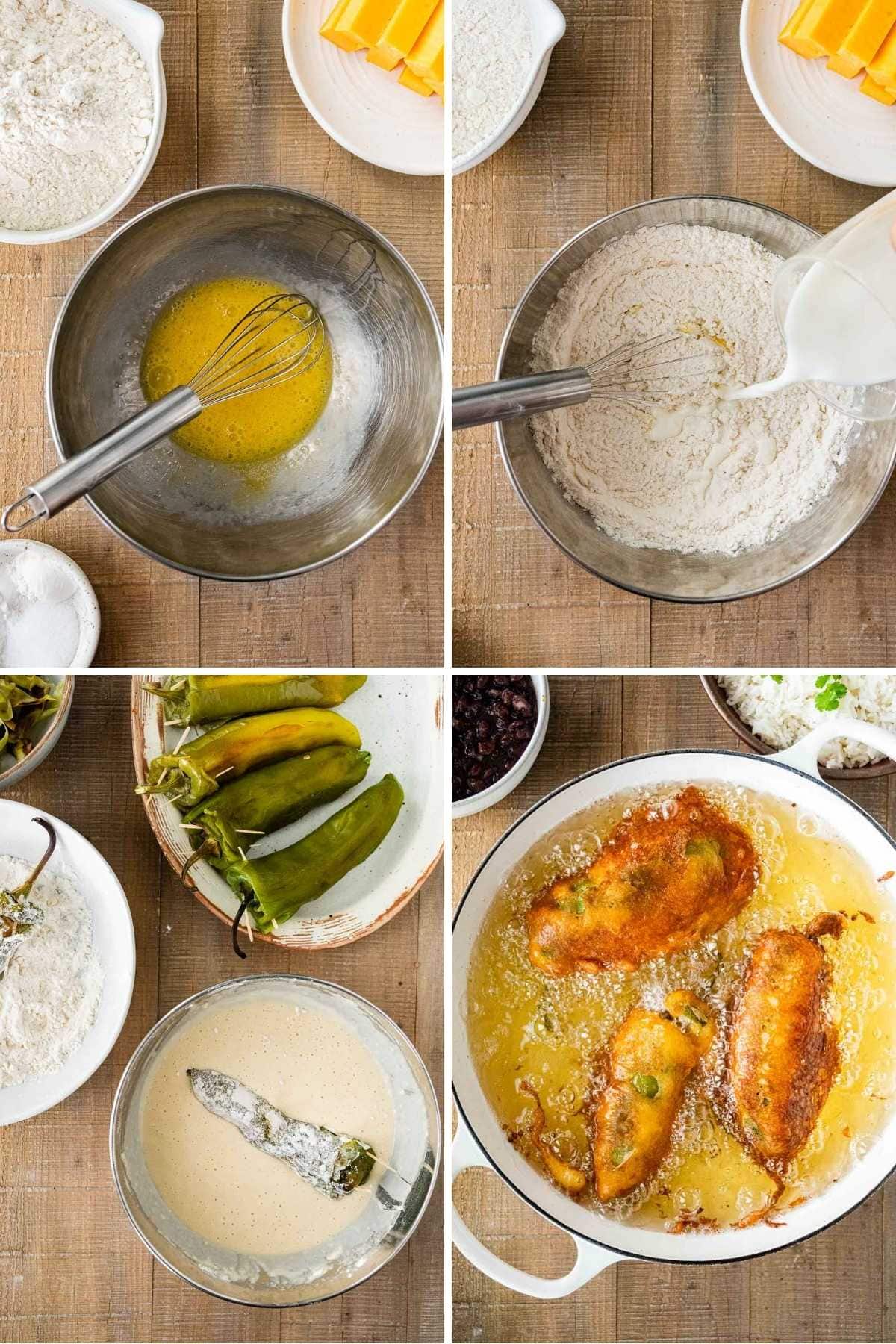 Create a free account to

Save Recipes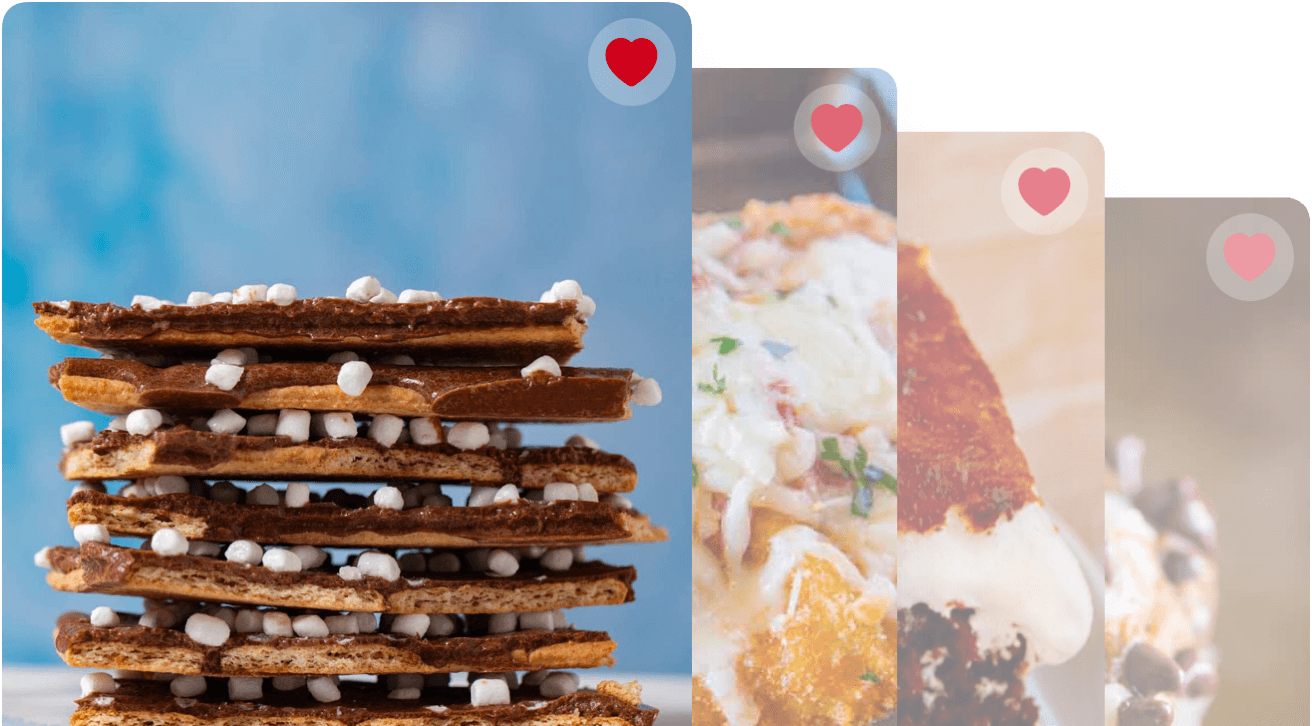 Key Ingredients
Anaheim Peppers: Anaheim chile peppers are the perfect chiles for stuffing. The light green chile peppers are slightly small, but still large enough to easily slice and stuff. They have enough spice for a delicious flavor, but they are mild enough that the whole family can enjoy this dish.
Cheese: The sharp, tangy flavor of cheddar cheese pairs well with the mild flavor of the peppers and adds a melty, gooey texture to the dish. Cheddar cheese isn't the traditional cheese used, but it melts nicely and is widely available to the majority of home cooks. Feel free to swap in more traditional gooey cheese like Queso Fresco.
Flour: All-purpose flour is used both to coat the peppers before dipping them in the batter and to make the batter itself, giving the dish its signature crispy texture. Coating the peppers first will help the batter stick to the peppers better.
Egg Batter: The Chile Rellenos are finished by dipping them in egg batter and frying. Milk, flour, and eggs come together with baking soda and baking powder to make a puffy, airy batter. By frying the mixture, you get a delicious and crispy outer shell for the chile peppers.
Can Chile Rellenos be made ahead of time?
Chile Rellenos can be made in advance, but it's best to assemble the peppers without the batter and fry them fresh for the best texture. Prepare them up to the batter step, then store in an airtight container for up to 2 days. When you are ready to cook them, let them come to room temperature while you prepare the batter then dip and deep fry as usual. The reason you want to bring them to room temperature is so the cheese melts properly in the quick cooking time.
Variations
Cheese: Instead of cheddar cheese, try Pepper Jack, Monterey Jack, white cheddar cheese, or a Mexican shredded cheese blend. For more authentic Chile Rellenos, use Queso Fresco or Queso Oaxaca which you can usually find near the cream cheese section.
Poblano Peppers: An alternative to using Anaheim peppers are poblano peppers. Poblanos are a nice, mild Mexican pepper that tastes delicious in a Relleno recipe. However, poblano peppers are larger, so you may need more filling and batter to finish the recipe.
Ground Meat: If you want to make this stuffed pepper recipe more filling, you can add taco meat along with the cheese filling. Feel free to use ground beef, ground chicken, ground turkey, or ground pork and brown it with diced onions and Taco Seasoning and be sure to drain the grease before adding to the filling.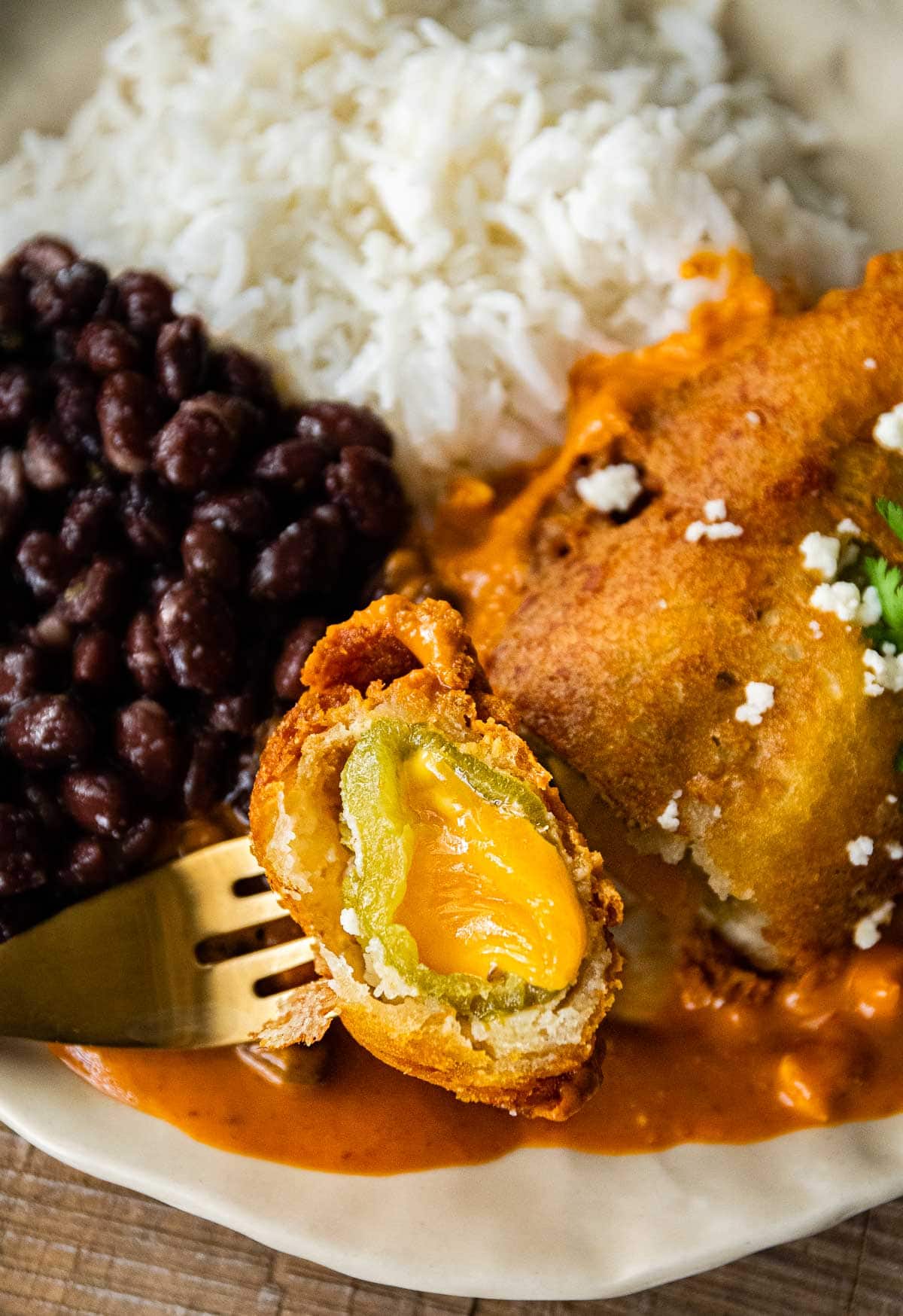 Homemade Chile Relleno Sauce
Instead of salsa, you could serve this Chile Relleno recipe with a delicious traditional Relleno sauce. The cheesy peppers taste amazing served in this rich tomato sauce. Here are the easy steps for a homemade sauce:
Add 1 tablespoon olive oil to the base of a pan over medium heat.
Then add 1 chopped yellow onion, and cook until softened.
Sprinkle in 1 teaspoon cumin, ¼ teaspoon cayenne pepper, and 2 cloves of minced garlic.
Cook for another minute.
Add ½ cup chicken broth, and 1 can of chopped tomatoes with the juice. Bring to a boil for 1-2 minutes.
Remove the Relleno sauce from heat and let it cool.
Pour the Relleno sauce into your blender and blend for 10 seconds.
Add in 1 tablespoon of fresh cilantro leaves, and salt and pepper to taste.
Pulse the blender until the Relleno sauce reaches your desired consistency.
How to Store
Serve: You shouldn't leave Chiles Rellenos at room temperature for more than two hours. They are best hot and fresh from the fryer or you can keep them warm in an oven for about an hour.
Store: After it's cooled, you can cover them in plastic wrap or put them in an airtight container to store in the fridge for 3 days. When you're ready to serve the leftovers put them on a rimmed baking sheet and pop them in the oven to get the chiles warm and crisp up the coating.
Freeze: You can freeze the leftover Chile Rellenos for up to 1 month in an airtight container. Let them freeze on baking sheet or wrap them individually in plastic wrap so they don't stick together.


Ingredients
12

Anaheim chile peppers

1

pound

Cheddar cheese

, cut into 1 inch strips

1

cup

whole milk

1 1/2

cups

flour

, divided

1

large

egg

, beaten

1

teaspoon

baking powder

1

teaspoon

baking soda

1

teaspoon

salt

1

teaspoon

vegetable oil

canola oil

, for frying
Instructions
Char the peppers on a grill or under a broiler in the oven until softened and blackened on all sides.

Add the peppers to a large bowl, covered, for

5 minutes

, to help soften them from the residual steam.

Peel the skin from the peppers, remove seeds, membranes, and core.

Stuff each pepper with a piece of cheese, then place the core back into the pepper and fasten with two toothpicks to hold it closed

In a small mixing bowl whisk together milk, 1 cup flour, egg, baking powder, baking soda, salt, and vegetable oil until well combined.

Pour 3 inches of oil in a heavy dutch oven over medium-high heat.

Roll each pepper in the remaining flour and dip in the batter.

Fry for

2-3 minutes

until lightly browned on all sides.
Nutrition
Calories:
233
kcal
|
Carbohydrates:
14
g
|
Protein:
12
g
|
Fat:
14
g
|
Saturated Fat:
8
g
|
Polyunsaturated Fat:
1
g
|
Monounsaturated Fat:
3
g
|
Trans Fat:
1
g
|
Cholesterol:
56
mg
|
Sodium:
546
mg
|
Potassium:
116
mg
|
Fiber:
1
g
|
Sugar:
1
g
|
Vitamin A:
434
IU
|
Calcium:
311
mg
|
Iron:
1
mg