Chocolate Eclairs with a pat a choux dough and creamy vanilla custard filling topped with chocolate icing made easy with a perfect guide that's easy to follow!
Breakfast pastries have always been a morning favorite, especially on the weekends. Check out the other Breakfast Recipes for ways to start your day.

Chocolate Eclair Recipe
Put it out of your mind that eclairs can only come from a French bakery. You can easily make them at home and still get that same delicious flavor.
In fact, this dough recipe can also be used to make cream puffs and profiterole so you're well on your way to becoming your own pastry chef.
If you want more fun pastry bakery flavors try the Cinnamon Sugar Cruffin for a fun mash up of breakfast flavors or if you're looking for more of a classic French pastry, these Eclairs are just what you need to go along with your cup of coffee.
The Eclair Dough:
The dough we're making for homemade eclairs is called Choux Pastry. It sounds fancy but broken down it just means that we are combining butter, water, salt, flour and eggs on the stovetop and beating the batter until it's a thick and sticky texture.
Instead of using a rising agent, this process traps steam which gets released when baked creating a light and crispy pastry shell that's hollow inside.
Even though the dough uses basic ingredients, getting the dough to the right texture is important.
Start by making sure to measure the ingredients correctly, especially the flour.
If the dough is too runny, your eclairs might come out of the oven flat or soggy.
Another tip is to make sure not to open the oven during the baking process until the end otherwise you'll release steam resulting in flat eclairs.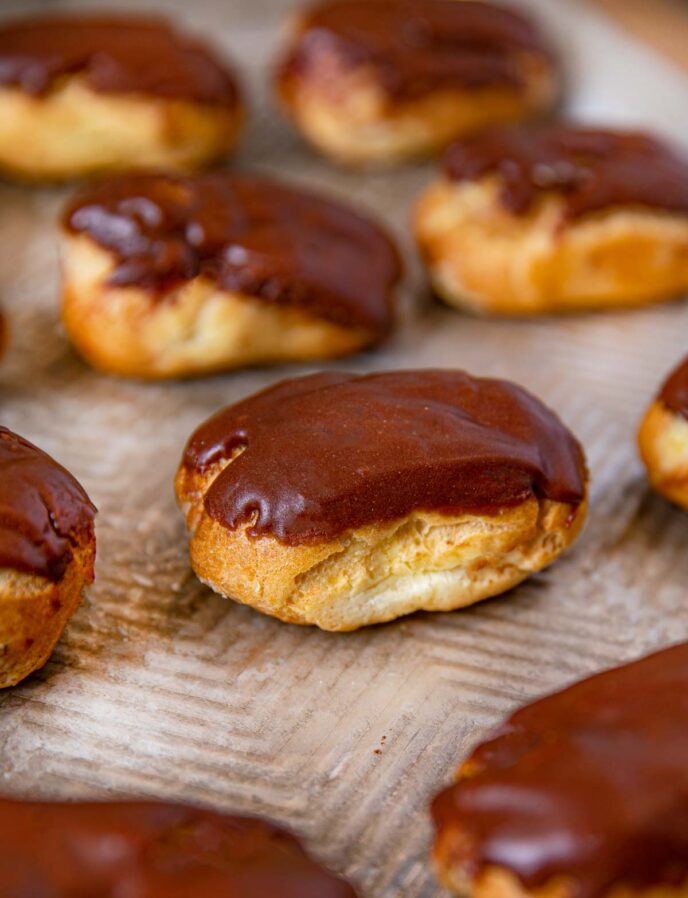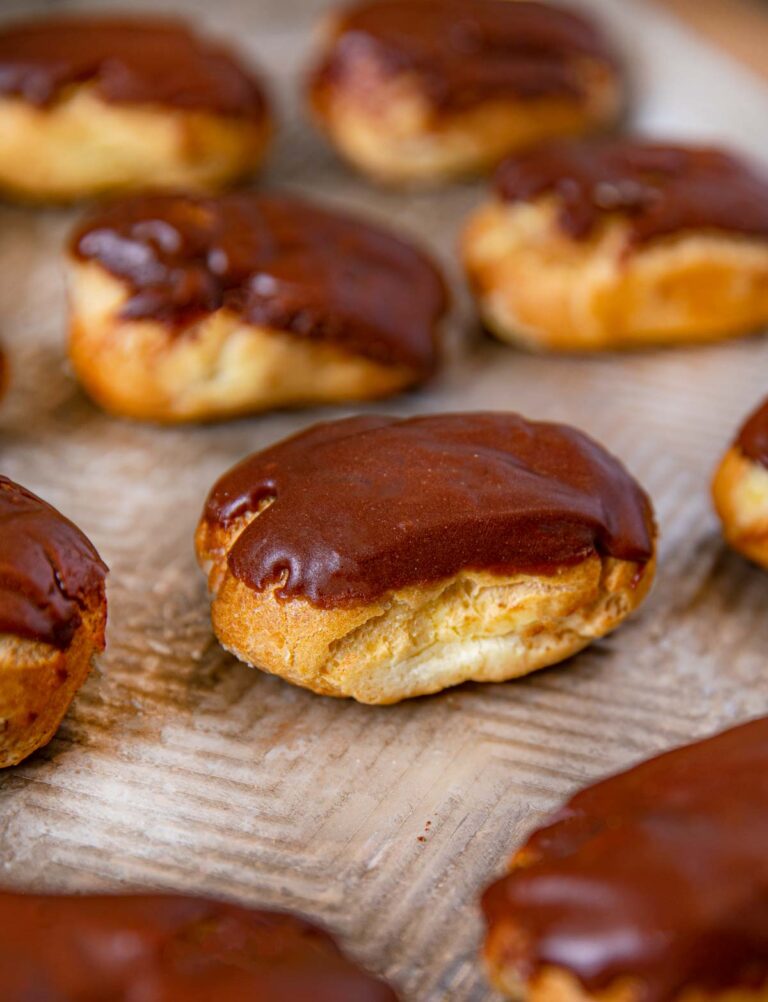 HOW TO FILL ECLAIRS?
To load a piping bag or ziplock bag with pastry cream, I recommend placing the bag inside of a shallow cup and folding the bag down around the outside of the cup. This gives you stability when spooning the cream into the bag.
Poke a hole in the shell and fill with pastry cream from both ends or make 2-3 holes on the bottom with a round tip and fill each one. Make sure to wipe away any excess filling.
CAN YOU MAKE ECLAIRS AHEAD OF TIME?
If you're planning on making this eclair recipe ahead of time, I would suggest making the dough up until the point of baking. Once you've mixed in the eggs, place in a mixing bowl and cover with plastic wrap. You can store it in the refrigerator for up to 3 days.
MORE DELICIOUS BREAKFAST RECIPES
HOW TO MAKE ECLAIRS
For the Dough: Melt butter and add water until boiling then add eggs and whisk well. Once the flour is added whisk well and keep going until it makes a ball. This is the hardest part of making eclairs.
Skip the piping bag: You can skip the piping bag and just spoon the dough onto your baking sheet.
Bake at two temperatures: First higher, then lower. You want to tap the eclair to listen for a hollow sound with a spoon.
Cool eclairs: Cool completely.
Make the Filling: You're making a custard with milk and vanilla. Add the custard with a piping bag or you can cut your eclair in half if you want to spoon the custard in.
Make your Chocolate Icing: Similar to donut icing you'll melt butter and chocolate and add in powdered sugar. Dip the top of the eclairs in upside down and let excess amounts drip off.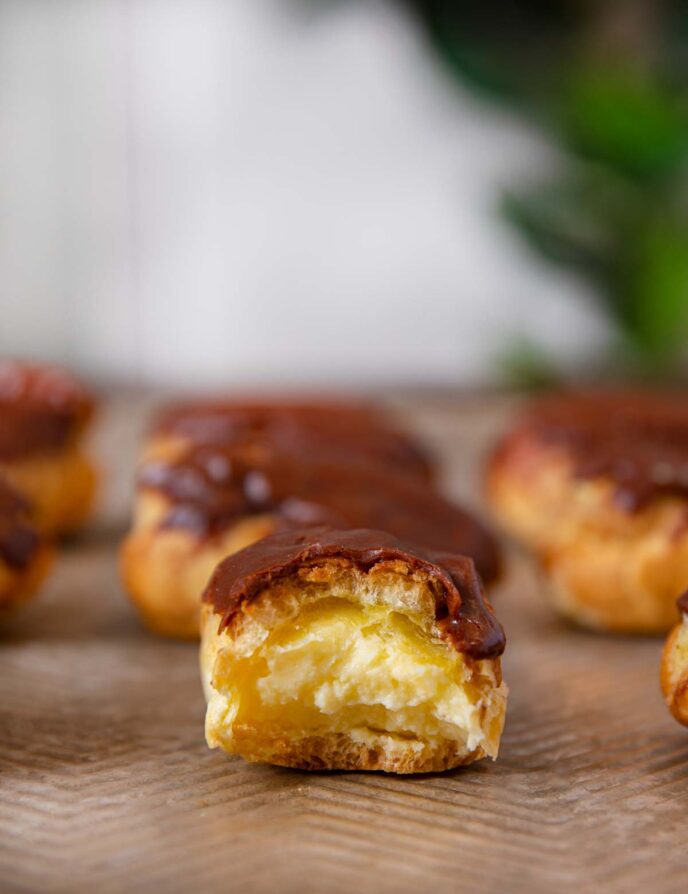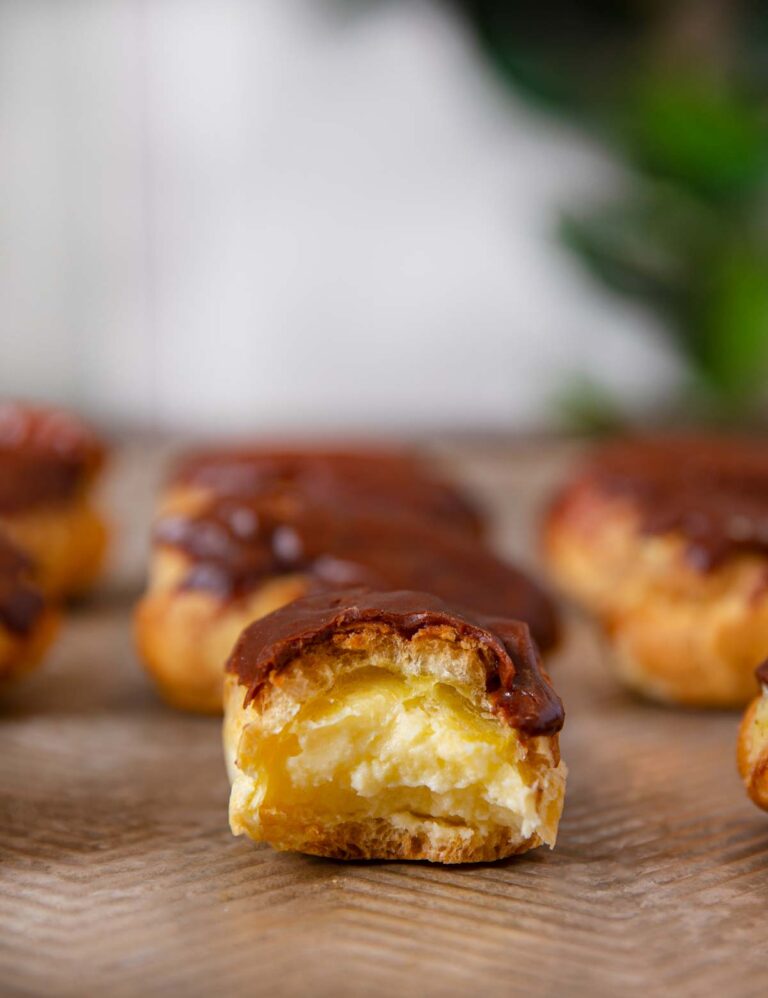 Create a free account to

Save Recipes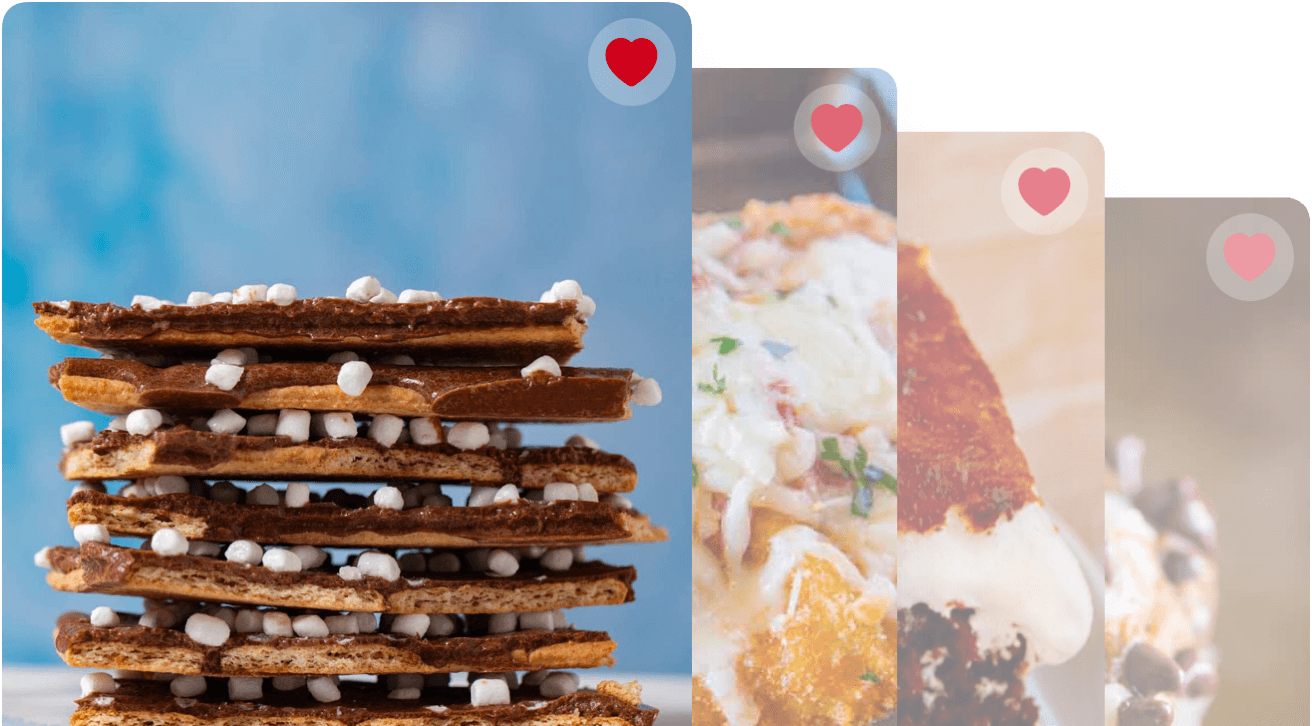 VARIATIONS ON ECLAIRS
S'mores: Use marshmallow cream filling and top with chocolate glaze and mini marshmallows. You can even torch the tops of the marshmallows or in a pinch, place them under a broiler but keep your eye on them so they don't burn.
Peanut Butter: Create a peanut butter mousse by mixing cream cheese, peanut butter, confectioners sugar and whipped cream. Dip the top into chocolate ganache.
Banana Custard: For a lighter, fruitier eclair, fold in mashed bananas into whipping cream for the filling.
ECLAIR FILLING PUDDING HACK
You can use a box of instant vanilla pudding mix as a quick substitute for the eclair filling. Use:
1 (5 ounce) package instant vanilla pudding mix
2 ½ cups milk
1 cup heavy cream
¼ cup powdered sugar
1 teaspoon vanilla extract
Mix the pudding mix and milk and set aside.
In a separate mixing bowl, whip the heavy cream with an electric mixer until it forms stiff peaks.
Mix the powdered sugar and vanilla into the whipped cream.
Fold the whipped cream into the pudding mix.
More Pastry and Donut Recipes:
HOW TO SERVE AND STORE
Serve: Best eaten fresh but will last a day at room temperature.
Store: Keep any leftover filled pastries in an airtight container in the refrigerator for up to 3 days. Unfilled pastry shells can be kept at room temperature for up to a day or stored in the refrigerator for up to 5 days.
Freeze: You can store unfilled eclair shells for up to 3 months if kept in a freezer-safe storage bag or container.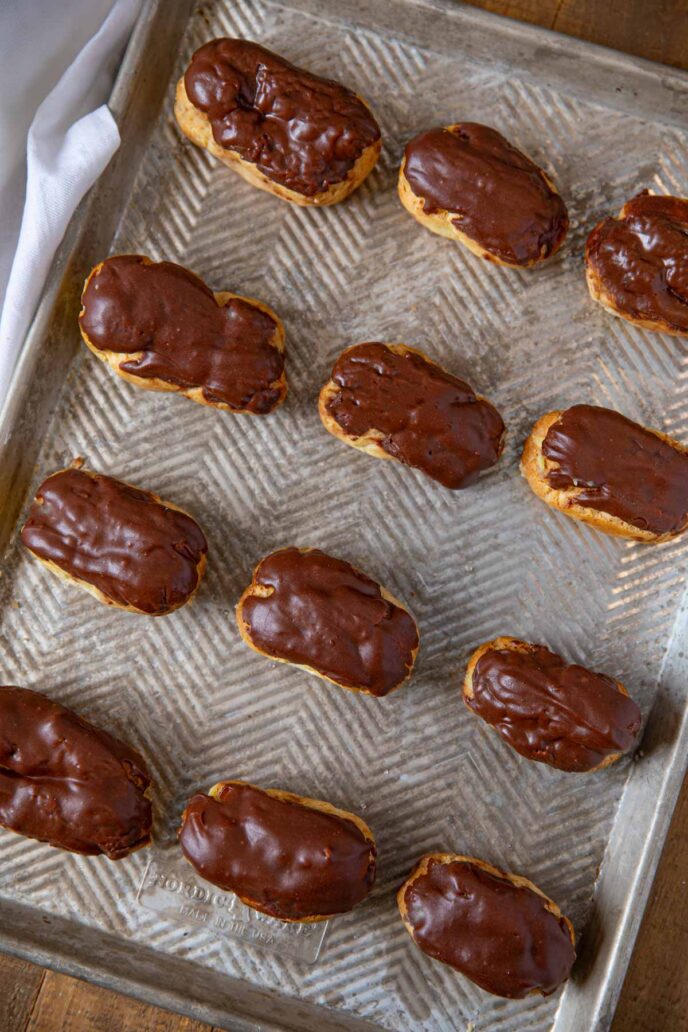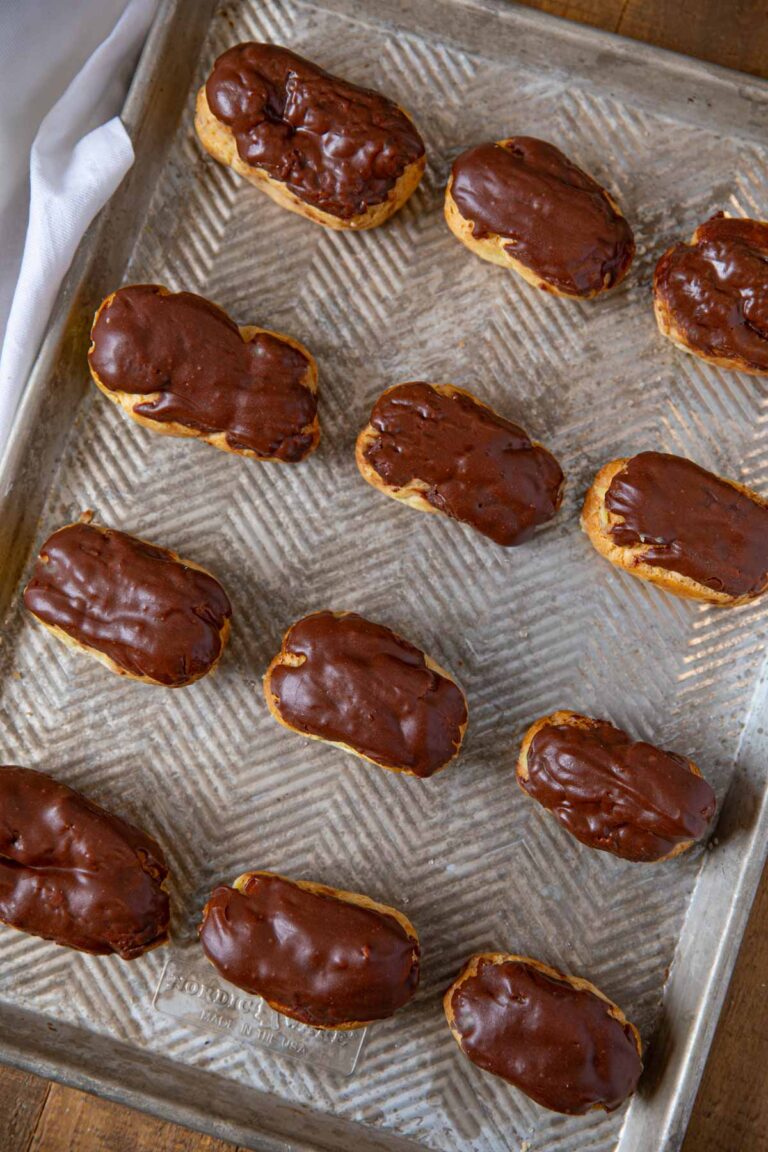 Ingredients
For the Dough:
1/2

cup

unsalted butter

1

cup

water

1

cup

flour

1/4

teaspoon

salt

4

large

eggs
For the Vanilla Pastry Cream Filling:
4

cups

whole milk

1 1/2

cups

sugar

1/2

cup

cornstarch

1

pinch

salt

8

large

egg yolks

1

tablespoon

vanilla extract

1/2

cup

unsalted butter

, room temperature
For the Chocolate Icing:
1/4

cup

semisweet chocolate chips

2

tablespoons

unsalted butter

1

cup

powdered sugar

1

teaspoon

vanilla extract

3

tablespoons

water
Instructions
For the Dough:
Preheat oven to 450 degrees.

Melt the ½ cup butter in a medium saucepan over medium heat.

Once the butter is melted, add water and increase to high heat until boiling.

Reduce to low heat and add the salt, then add the flour gradually, stirring rapidly. Continue stirring until the dough begins to form a ball, not sticking to the sides of the pan. Remove from the heat.

Add eggs, one at a time, whisking until completely mixed in after each egg.

On a greased cookie sheet or a cookie sheet lined with parchment paper, spoon the dough in 1 inch by 3 inch strips.

Reduce oven heat to 325 degrees and bake for an additional

20 minutes

. Lightly tap an eclair on the bottom with a spoon - if it sounds hollow inside, they're done baking; if not, bake for an additional

3-5 minutes

.

Allow the eclairs to cool on a wire rack.
For the Vanilla Pastry Cream Filling:
In a medium saucepan, bring the milk to a simmer, stirring regularly to prevent a film from forming.

Is a separate bowl, mix the sugar, cornstarch, and salt, then add the egg yolks and mix until smooth and creamy (this may take a few minutes.)

Gradually mix in the milk while whisking constantly to prevent the egg from solidifying.

Return the filling to the saucepan and bring to a boil for

30 seconds

to reduce to a pudding-like consistency.

Stir in 7 tablespoons butter and vanilla until creamy and smooth,

Rub remaining butter over the top of the mixture gently, cover with plastic wrap and refrigerate until cool,

1-2 hours

.

Load the filling into a piping bag (in a pinch you can put it in a plastic ziploc bag and just cut off the corner.)

Poke a hole in the bottom of each eclair shell and pipe in the filling.
For the Chocolate Icing:
Melt the butter and chocolate in a microwave-safe bowl in the microwave, stirring after each 30-second microwave period.

Stir in the powdered sugar and vanilla until well combined.

Add in boiling water, one tablespoon at a time, until icing is smooth.

Dip the top of the eclairs in upside down and let excess amounts drip off.

Refrigerate for at least

30 minutes

before serving.
Nutrition
Calories:
244
kcal
|
Carbohydrates:
27
g
|
Protein:
4
g
|
Fat:
13
g
|
Saturated Fat:
8
g
|
Cholesterol:
127
mg
|
Sodium:
137
mg
|
Potassium:
89
mg
|
Fiber:
1
g
|
Sugar:
20
g
|
Vitamin A:
469
IU
|
Calcium:
63
mg
|
Iron:
1
mg