Chop Suey is a delicious Chinese dish that's perfect for using up leftovers. Made with chicken, broccoli, and baby corn tossed in sauce.
A favorite item on most Chinese food takeout menus, Chop Suey has become a classic Chinese-American dish over the years and a delicious Dinner Recipe you can make at home. For more Chinese restaurant favorites, try Easy Sesame Chicken and 3-Ingredient Orange Chicken.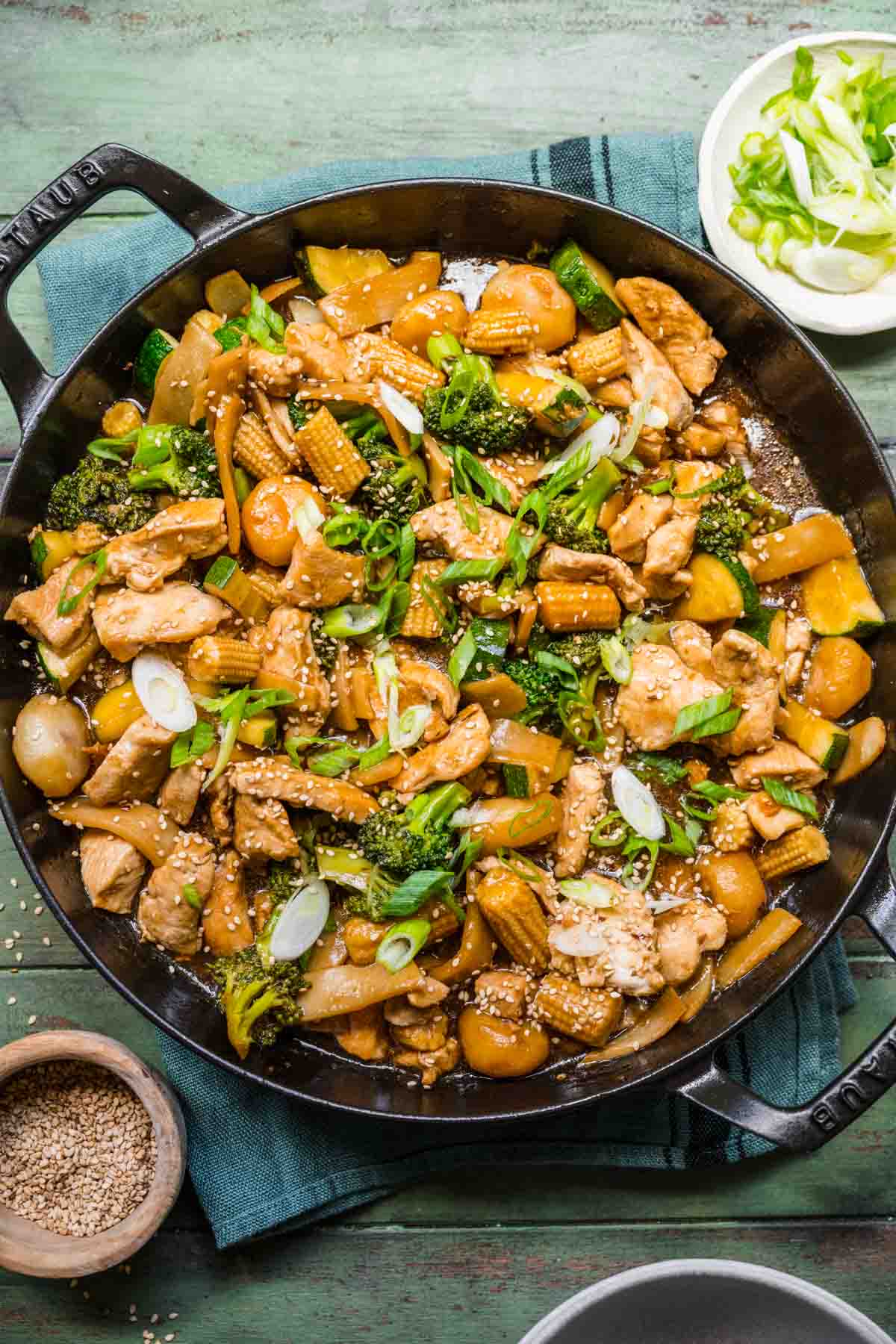 This genius recipe is the perfect meal that you can toss together when you don't have time to cook. The delicious homemade sauce makes the chicken and vegetable stir fry super flavorful without a ton of work or prep time, and you can cook everything on the stovetop.
To cut down on your time in the kitchen, even more, you can make the recipe with leftovers. The next time you have cooked Rotisserie Chicken or Baked Chicken in your fridge, you can skip cooking the meat and instead slice the leftovers and toss them with the veggies and Chop Suey sauce. Keep on the stovetop until the leftover chicken is heated through, then serve the delicious recipe.
To complete your meal, you can serve this stir-fry dish with your other favorite Chinese food dishes. Side dishes like Egg Rolls, Crab Rangoon, or Chow Mein go great with this recipe. The classic Chinese cuisine will have you feeling like you went to your favorite restaurant, but you don't have to worry about the lines, prices, or waiting for delivery.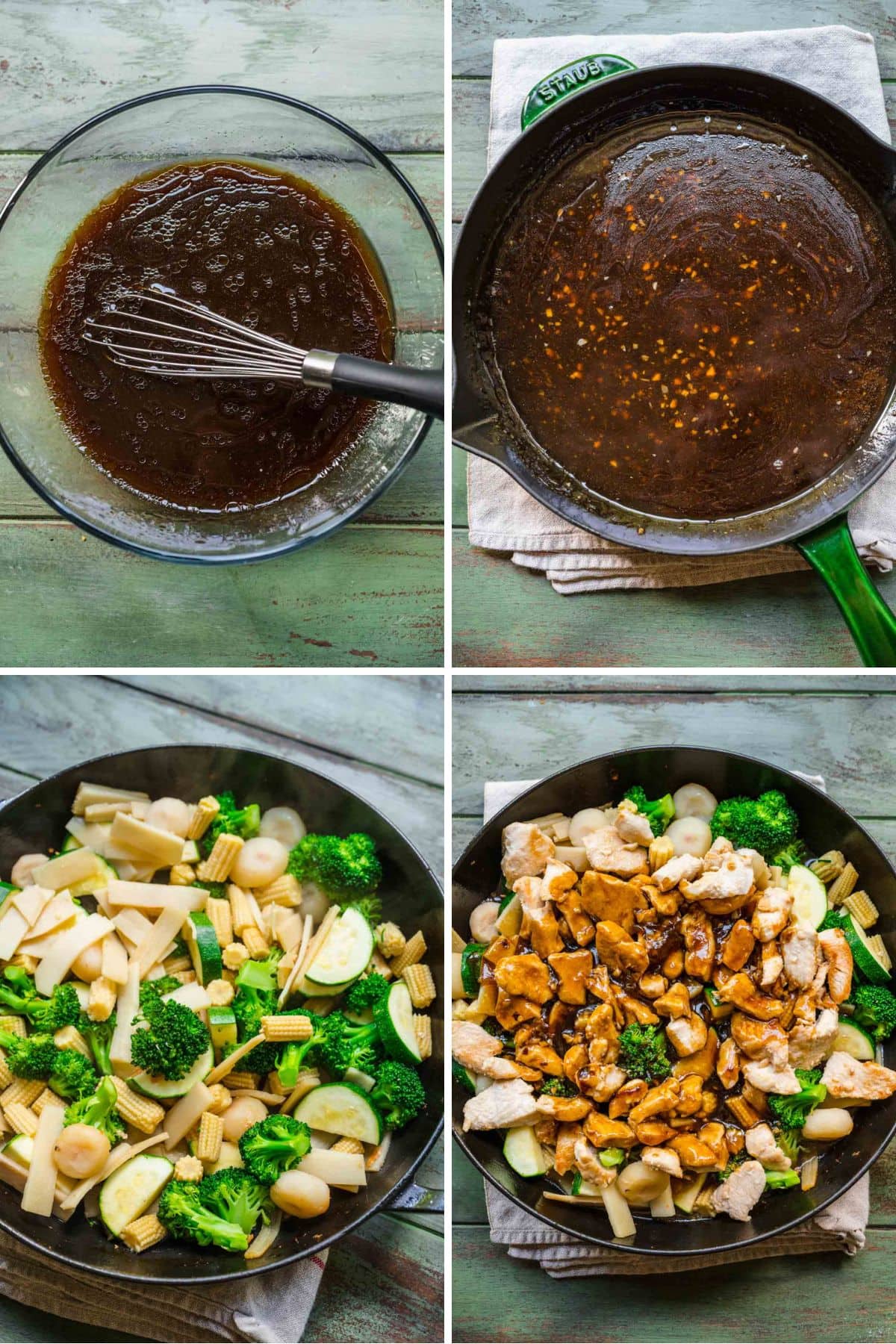 How to Make Chop Suey
Prepare sauce: Add the soy sauce, chicken broth, mirin, hoisin sauce, white sugar, and sesame oil to a medium bowl. Then whisk the sauce ingredients together until smooth.
Cook chicken: Add the vegetable oil to a skillet over medium-high heat. Then add the chicken. Sear the meat on each side for about 2 minutes. Then remove the chicken and set it to the side while you prepare the other ingredients.
Cook sauce: Add the garlic to the same skillet and cook over medium-high heat for about 30 seconds or until fragrant. Then add the sesame oil mixture to the pan and bring the sauce to a boil. Let the mixture simmer for 1 minute. Then whisk together the cornstarch and water. Then add the cornstarch slurry to the sauce. Continue to cook at a simmer for another minute until thickened.
Cook chicken: Add vegetable oil to a clean pan. You'll want to use a large, heavy skillet that you have a lid for. Finish cooking the chicken for about 3-4 minutes on each side.
Cook vegetables: Then remove the chicken and lower the heat to medium. Add the chicken broth, broccoli, bamboo shoots, water chestnuts, carrots, baby corn, and zucchini. Cover the pan and steam the vegetables for 4-5 minutes until tender. Then remove the like and let the chicken broth cook off.
Finish: Add the chicken and stir fry sauce to the pan. Toss the Chop Suey together until the ingredients are coated in sauce. Then garnish with green onions and sesame seeds and enjoy.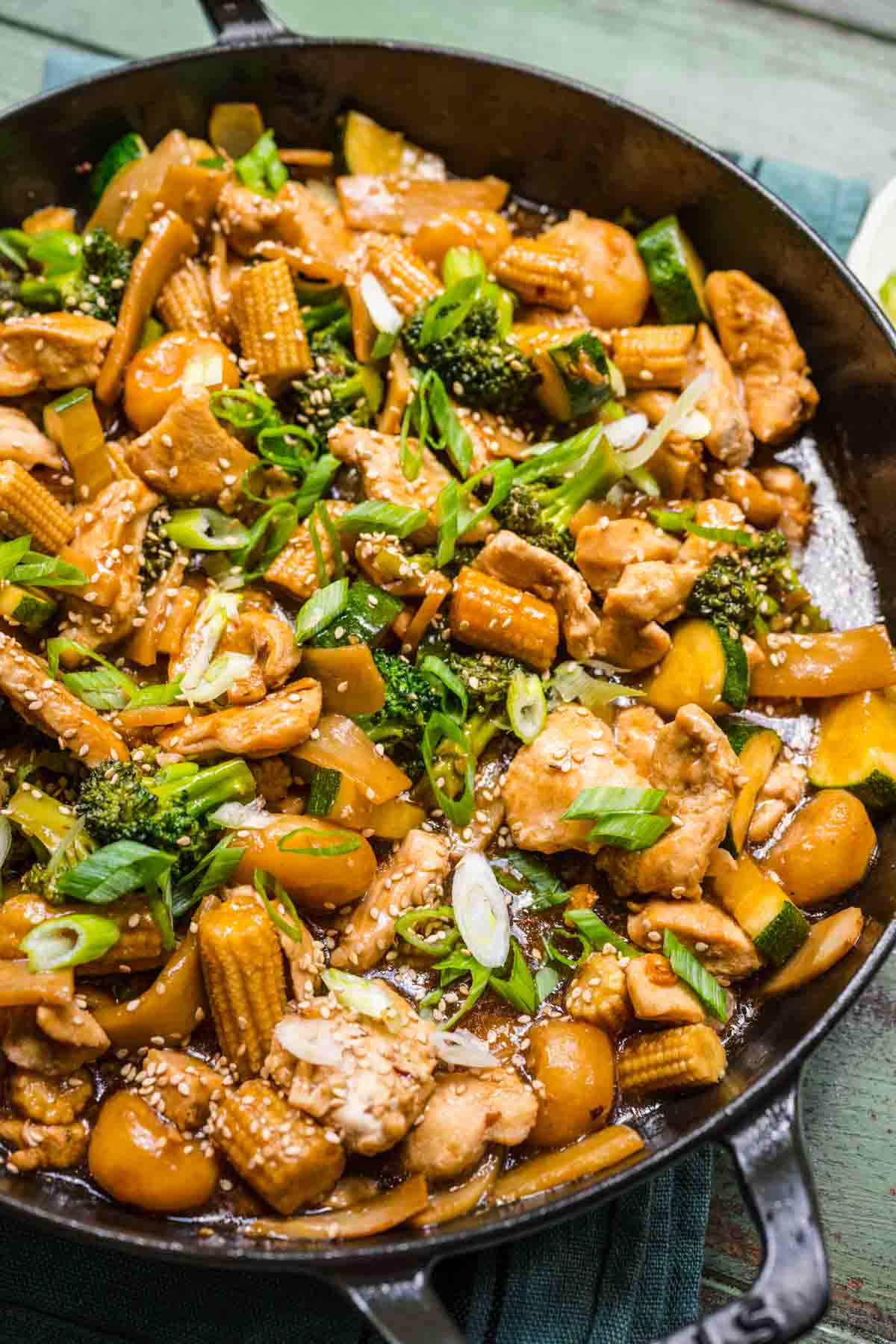 Favorite Chinese Chicken Dishes
FAQs
What is the difference between Chow Mein and Chop Suey?
Chow Mein is made by cooking vegetables, chicken, and noodles in one pan. On the other hand, for Chop Suey, you'll cook the chicken and vegetables separately. Then if you want to serve the dish over rice or noodles, you just add the Chop Suey over the top before eating. 
What does Chop Suey mean in China?
Although there's not a direct translation, "Chop Suey" likely comes from the Cantonese word "shap sui." It means "mixed pieces," which makes sense considering the dish is really made by combining odds and ends from the kitchen. It's the perfect recipe to use up leftover chicken and vegetables before they go bad. 
Where does Chop Suey come from?
Although this is a common dish on any Chinese food takeout menu, its cultural history didn't necessarily start in China. This is more like Chinese-American cuisine. There are a few stories of the exact origin of this now popular Chinese food order. First, a Chinese diplomat had his chef prepare the meal as something inspired by Chinese cuisine that would suit his American guests' tastes. Another is that it started in a San Francisco-based Chinese restaurant when the owner combined the day's leftovers into a dish to serve his last customers. Or, possibly, the most likely theory is that Chinese immigrants created the dish based on a classic Cantonese recipe tsap seui.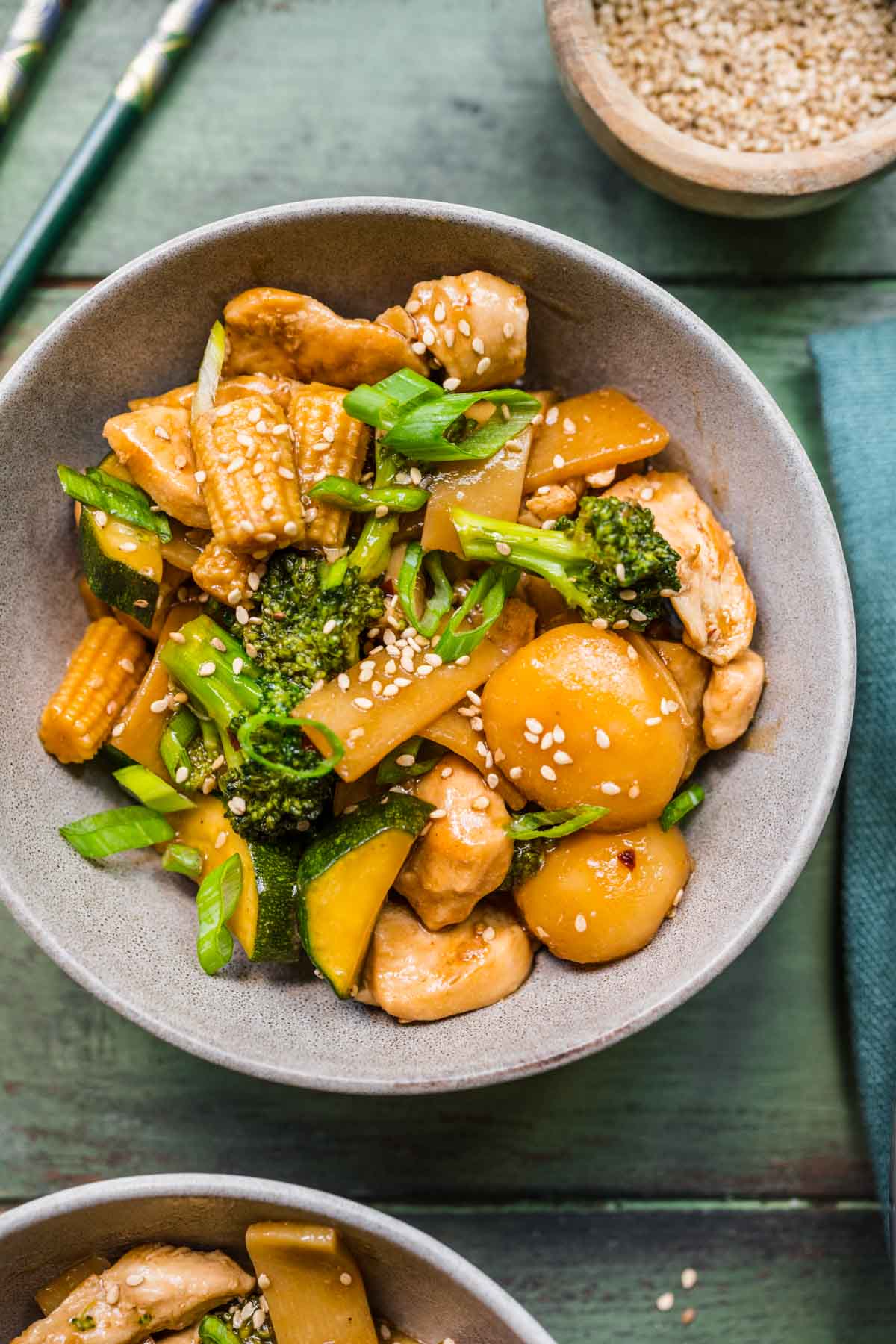 Create a free account to

Save Recipes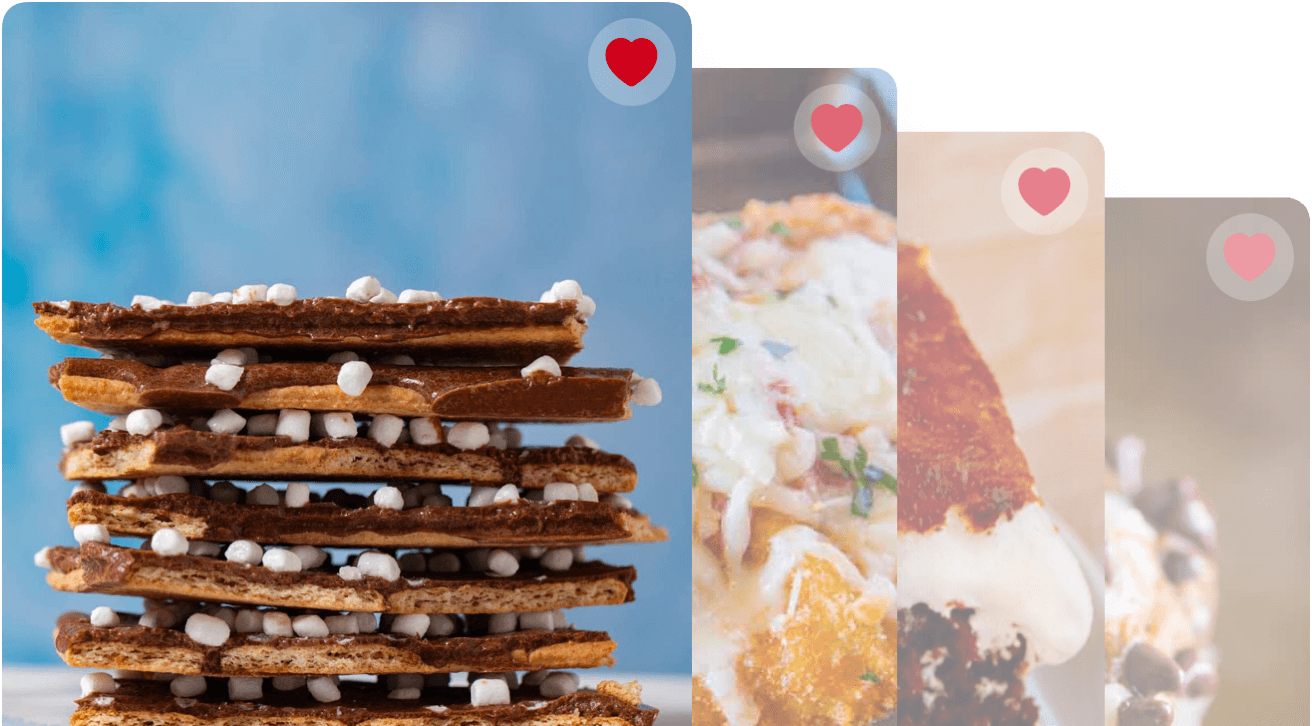 Key Ingredients
Mirin: This is a traditional ingredient in a lot of Chinese cuisine, and it adds a lot of umami flavor to this sauce recipe. It's similar to sake, but mirin is sweeter and has less alcohol. The alcohol also cooks out of the dish.
Hoisin Sauce: If you haven't tried hoisin sauce before, it has a strong flavor that balances salty and sweet. The thick, brown sauce is similar to American BBQ sauce, but it's much saltier. 
Red Pepper Flakes: Along with the rich umami taste of the sauce, adding red pepper flakes is the perfect way to bring some spice to this recipe. You can always add more or less depending on your spice tolerance. 
Cornstarch: Adding a cornstarch slurry (cornstarch and water mixture) to the sauce thickens it into a rich, sticky consistency perfect for coating the stir fry ingredients.
Vegetables: Use fresh produce for the broccoli florets and zucchini in this recipe. The fresh food has a much brighter flavor and crisp texture than frozen veggies would. But, you'll also add canned veggies like water chestnuts, bamboo shoots, and baby corn. Be sure to drain the canned vegetables well before adding them to the Chop Suey mixture. 
Chicken broth: Steaming the vegetables in broth instead of water adds a more savory flavor to the dish. It also helps the vegetable flavors to blend together into a cohesive taste.
Chicken: For the chicken, this recipe uses chicken breast. However, you could use boneless, skinless chicken thighs if you prefer dark meat.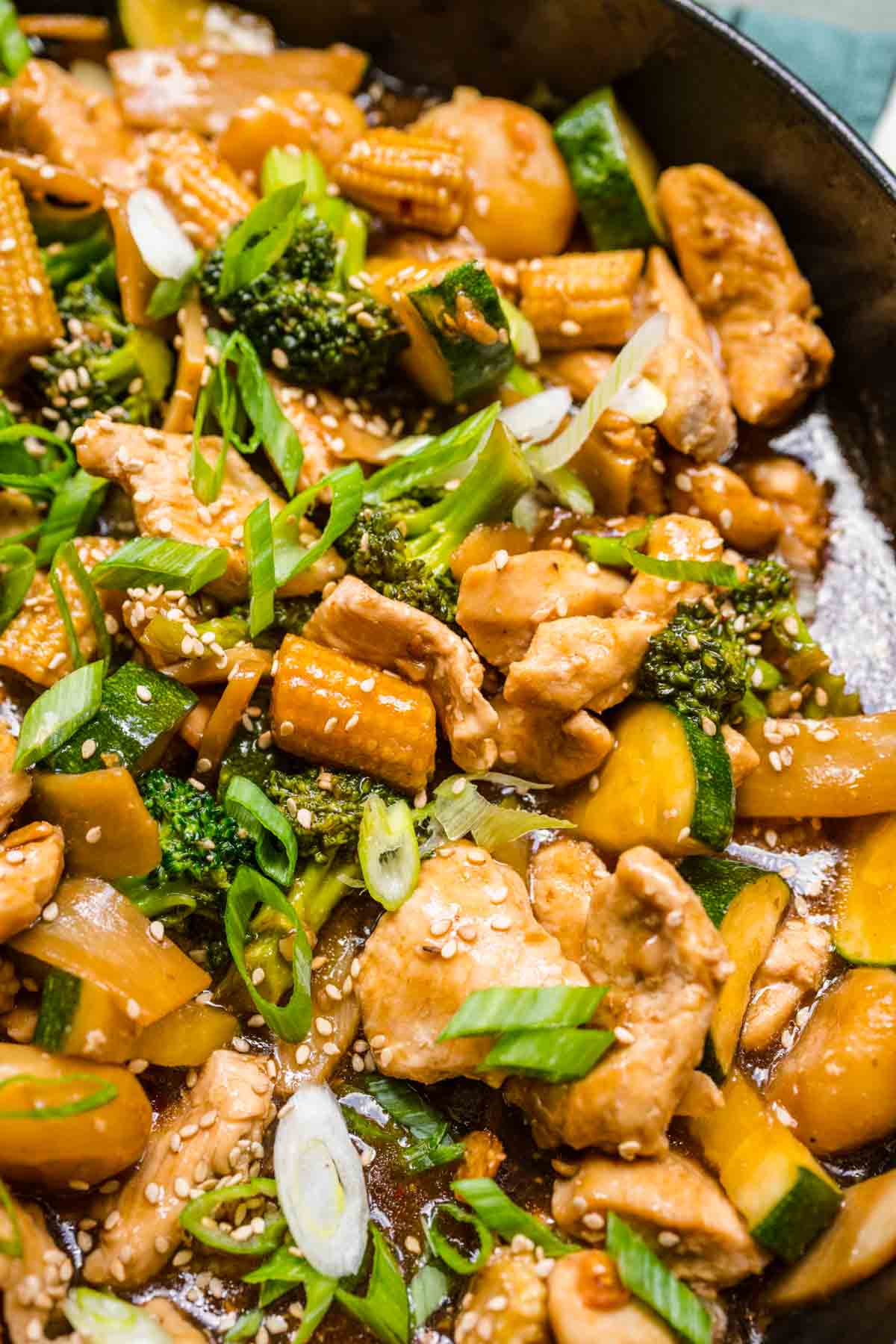 Variations
Vegetables: You can add so many delicious vegetables to this recipe. Along with the mix already included in the ingredients, some delicious add-ins are bean sprouts, carrots, sugar snap peas, mushrooms, bell pepper, white onion, cabbage, or cauliflower florets. 
Meat: You can swap out the chicken in this stir fry dish for different kinds of meat. Use pork tenderloin for a delicious pork recipe. Or, if you want to make this into a seafood dish, you can cook shrimp to mix into the Chop Suey recipe.
Vegetarian Chop Suey: Or, if you prefer leaving meat out of your diet, you can use tofu for the protein in this recipe. Press the tofu to remove as much liquid as possible. Then chop it into bite-sized pieces and sear in oil to crisp up the tofu before adding it to the sauce recipe.
Seasonings: You can slightly alter the taste of the sauce by adding ginger, onion powder, cayenne pepper, or cloves.
Serving Ideas
Typically this dish is served in a bowl over rice or noodles. Steamed White Rice is an easy filling side, and the rice will soak up the flavor from the stir-fry sauce. Or, if you prefer noodles, rice noodles or egg noodles make a good base for this recipe.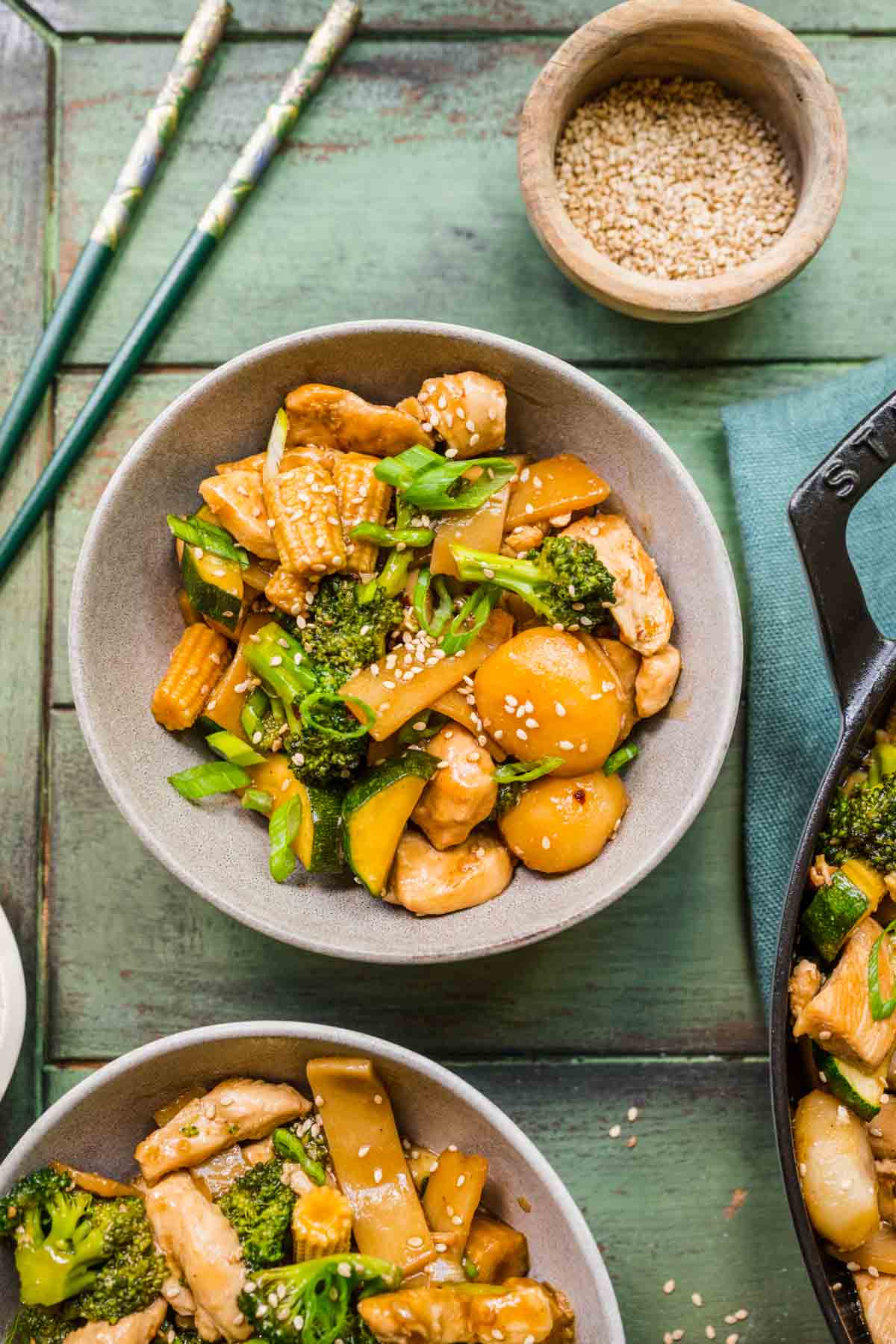 More Chinese Takeout Favorites!
How to Make
Serve: Don't leave this chicken recipe out at room temperature for more than 2 hours at a time.
Store: If you have leftovers, let the Chop Suey cool. Then you can transfer the chicken and vegetable stir fry to an airtight container to store in the fridge. The recipe can keep well for 3-4 days.
Freeze: You can also seal the recipe in a freezer-safe container to store in the freezer for up to 3 months. Let the meal thaw in the fridge before reheating it on the stovetop.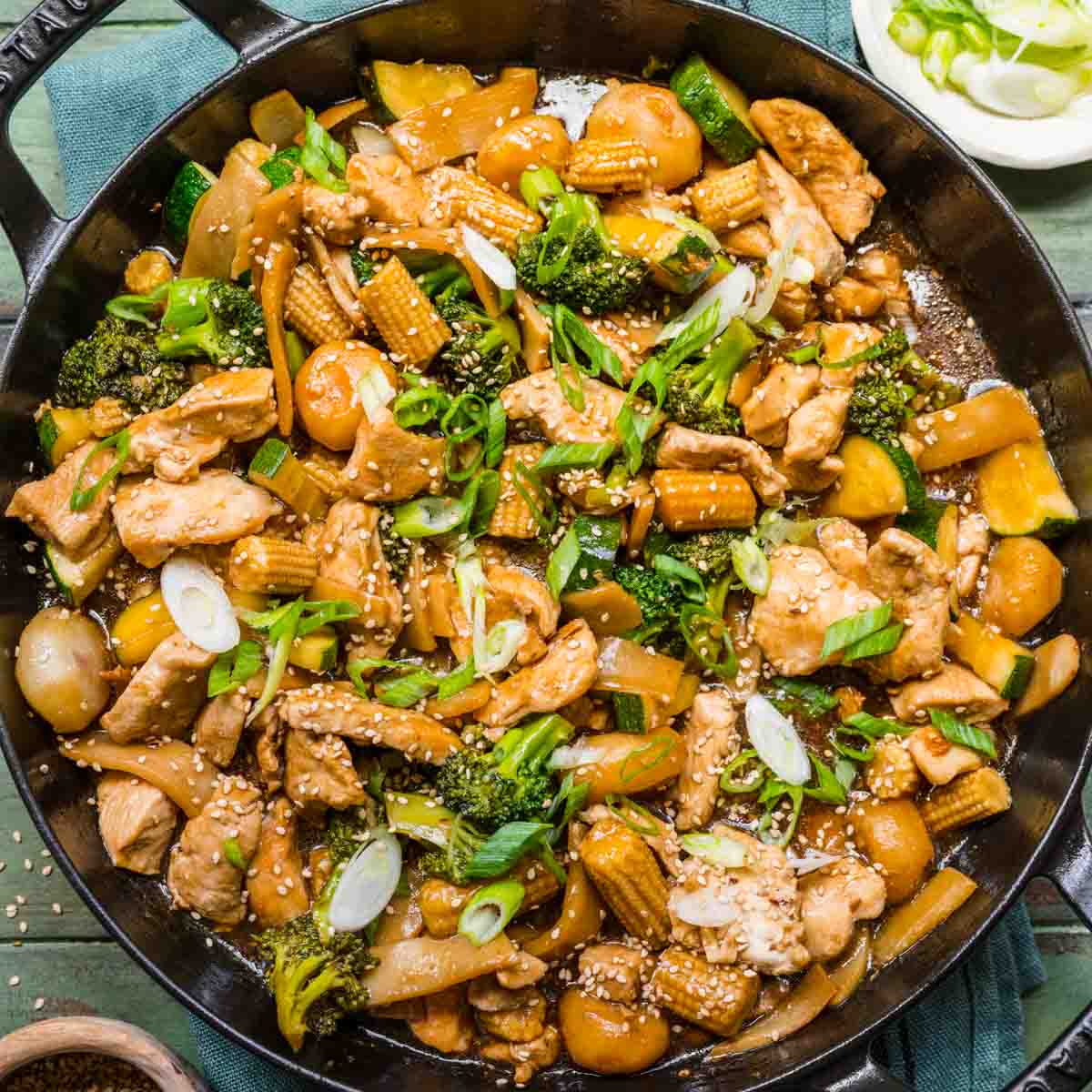 Ingredients
Chop Suey:
2

tablespoons

vegetable oil

2

chicken breasts

, cut into thin bite sized slices

1/2

cup

chicken broth

2

cups

broccoli florets

8

ounces

canned bamboo shoots

, sliced and drained well

8

ounces

canned water chestnuts

, sliced and drained well

15

ounce

canned baby corn

, drained well

1

zucchini

, cut into 1/2" thick half moons
Instructions
Chop Suey Sauce:
In a medium bowl whisk together soy sauce, chicken broth, mirin, hoisin sauce, sugar and sesame oil.

In a skillet add the vegetable oil and chicken on medium high heat in batches.

Sear the chicken for

2 minutes

on each side.

Remove the chicken from the skillet, set aside.

Add in the garlic, stir and cook on medium-high heat for 30 seconds.

Add the sesame oil mixture to the pan and bring to a boil.

Simmer for

1 minute

then whisk together the cornstarch and water and add it to the pan.

Bring to a simmer and cook for

1 minute

until thickened.
To finish:
Add the vegetable oil to a large heavy skillet (that you have a lid for)

Cook the chicken on high heat,

3-4 minutes

per side until seared.

Remove the chicken, lower heat to medium and add chicken broth, broccoli, bamboo shoots, water chestnuts, carrots, baby corn and zucchini.

Cover and steam for

4-5 minutes

.

Remove lid, let chicken broth cook off and add the chicken and stir fry sauce to the pan.

Toss to combine, garnish with green onions or sesame seeds.
Nutrition
Calories:
587
kcal
|
Carbohydrates:
66
g
|
Protein:
36
g
|
Fat:
23
g
|
Saturated Fat:
4
g
|
Polyunsaturated Fat:
11
g
|
Monounsaturated Fat:
6
g
|
Trans Fat:
0.1
g
|
Cholesterol:
74
mg
|
Sodium:
2343
mg
|
Potassium:
1266
mg
|
Fiber:
8
g
|
Sugar:
23
g
|
Vitamin A:
742
IU
|
Vitamin C:
59
mg
|
Calcium:
73
mg
|
Iron:
3
mg