Cinnamon Apple Bars are the perfect Autumn treat with apples mixed into a buttery base and topped with a walnut and cinnamon-sugar mixture.
Just like Apple Pie or Apple Crisp, this simple, delicious Bar Recipe is a comforting apple treat for the Autumn season. It has all the apple flavors you love in a soft, buttery brown sugar bar.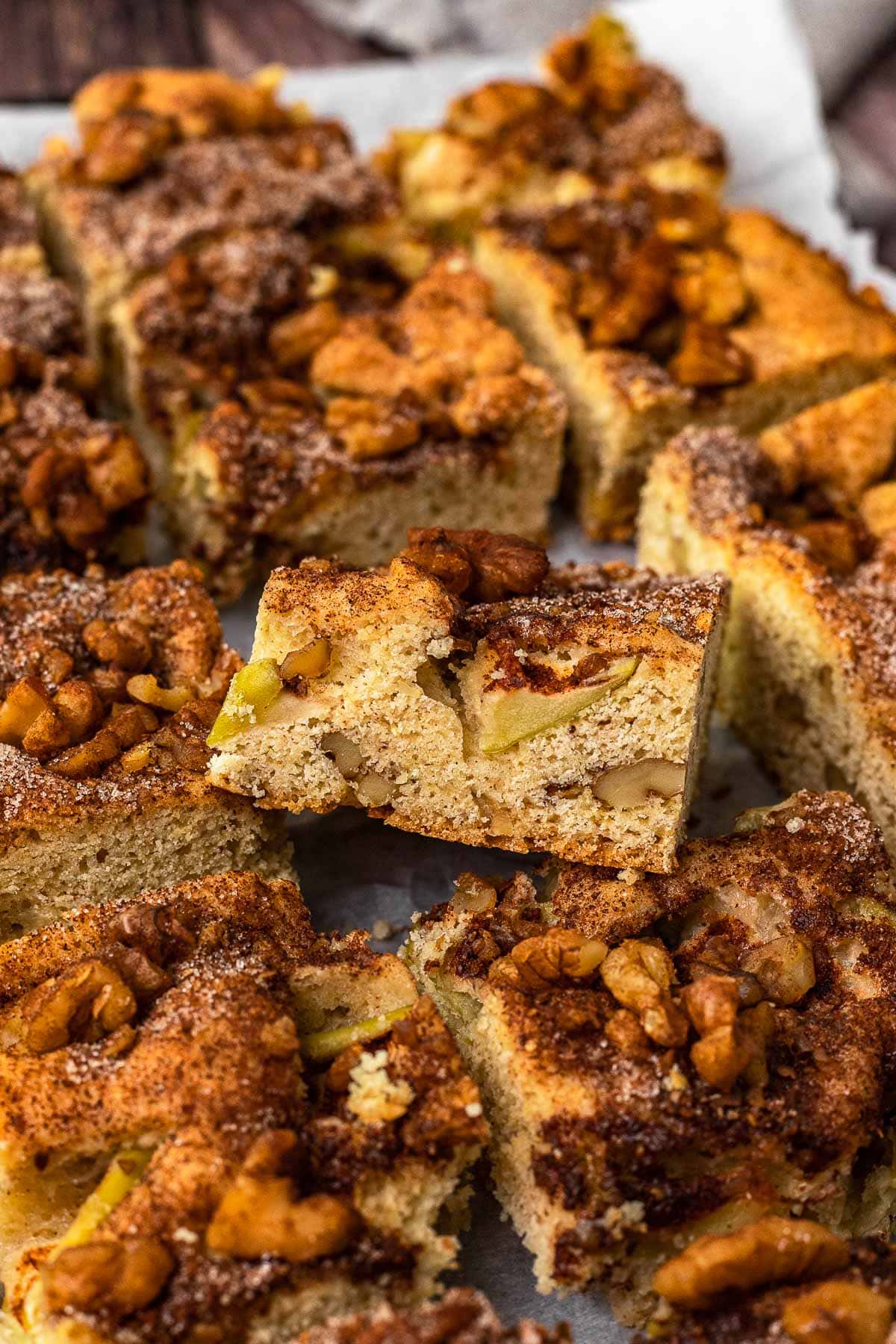 These simple apple squares are perfect for when you're craving a baked apple dessert, but don't want all the work of baking a pie. You get the amazing spiced apple flavor with a simple, buttery, brown sugar bar base, and it's all finished with cinnamon sugar and walnuts for a sweet and crunchy topping. They are an easy fall treat perfect for snacking throughout the week.
If you're looking for a dessert that's easy and delicious, with tons of fall flavor, you are going to love these delicious Cinnamon Apple Bars. The instructions are super simple to follow, starting with a buttery sweet batter made with brown sugar and white sugar. Some sweet, fresh apple pieces and a handful of the walnuts get folded into the batter then poured into a pan. Top it off with a cinnamon sugar walnut mixture for some crunch then you pop it in the oven.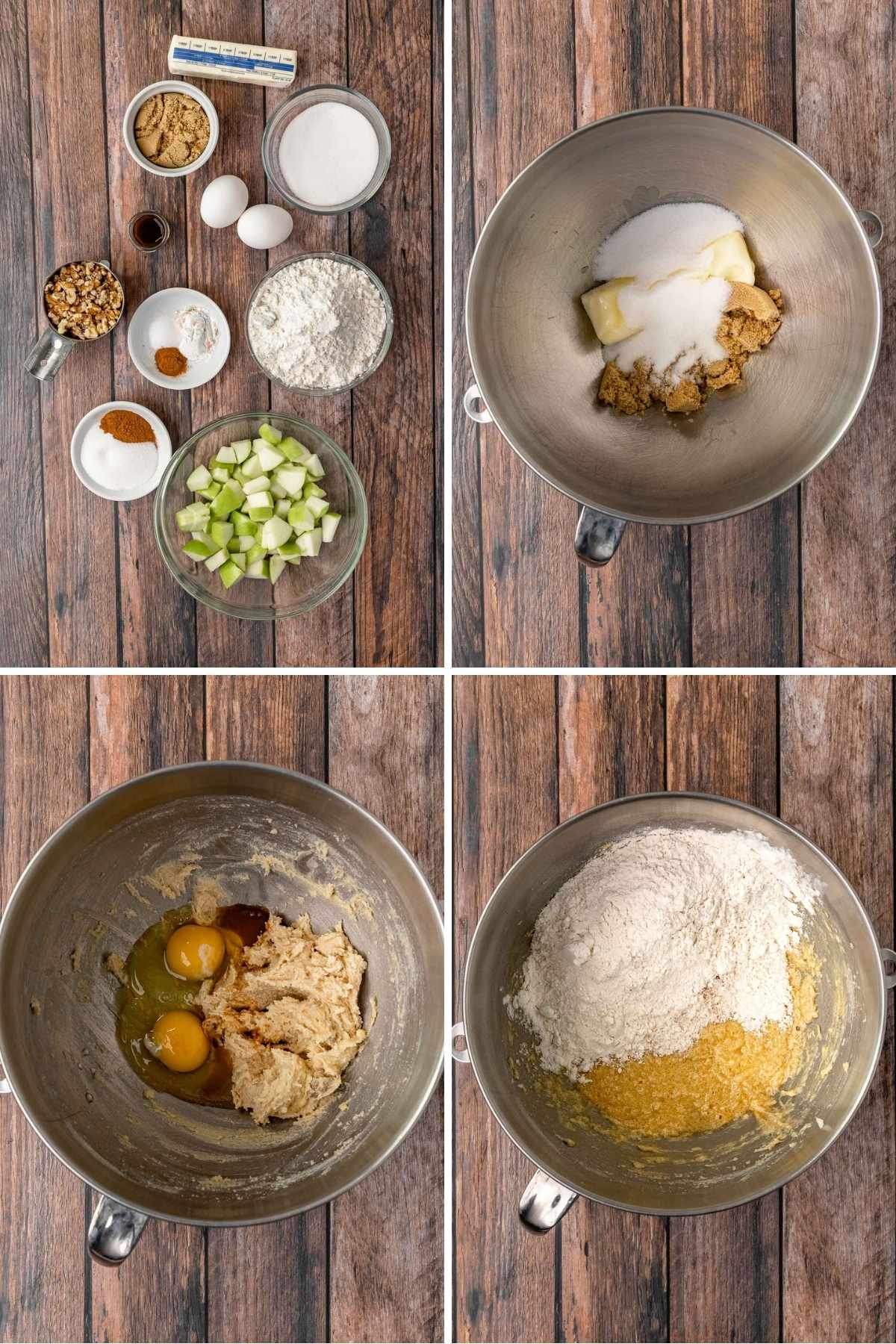 Once the Cinnamon Apple Bars are done baking, you can snack on them by themselves for a quick sweet fix. Or, make it into a more decadent dessert with a scoop of Vanilla Ice Cream served over the warm bars like an apple pie a la mode. A drizzle of Caramel Sauce would also taste amazing on these apple dessert bars!
How to Make Cinnamon Apple Bars
Prep: Start by preheating the oven. Spray a 9×13 inch baking dish with nonstick spray. Or, if you don't have nonstick spray, you can line the dish with parchment paper.
Batter: Add softened butter, brown sugar, and sugar to your stand mixer. Cream the ingredients at medium speed for about 1 minute. Add the eggs and vanilla, and continue mixing until the wet ingredients are well combined. In a separate medium bowl, sift together the all-purpose flour, baking powder, salt, and ¼ teaspoon of ground cinnamon. Then add the dry ingredients to the stand mixer. Mix in the flour mixture at the lowest speed setting until just combined. Fold in the prepared apple slices and ½ cup walnuts.
Walnut Topping: Add 2 tablespoons of sugar, 2 teaspoons of cinnamon, and ¼ cup of walnuts to a small bowl. Whisk the cinnamon, sugar, and walnuts together and set aside.
Bake: Spread the batter in an even layer over the prepared baking dish. Sprinkle the walnut sugar mixture over the top and bake for 35 minutes. Let them cool so that they can set a little before you slice them into apple squares to serve.
More Delicious Baked Apple Bars
FAQs for Cinnamon Apple Bars
What are the best apples to bake with?
You want to use firm, tart apples to bake with because they will hold their shape best without getting mushy and they have a lot more flavor. Good baking apples are green apples, Jonagold apples, Fuji apples, and Braeburn apples.
How do you know when Cinnamon Apple Bars are done?
Because the apple filling makes the bars moist, you can't really use an inserted toothpick to check if they're done like you normally do with bar recipes. Instead, the Cinnamon Apple Bars should be a beautiful golden-brown color without any jiggle.
How do you keep apples from being mushy while baking?
You can use a fancy technique of par-cooking the apples before baking with them if you want to keep them firm. It sounds like the opposite of what you want to do, but pour boiling water over them and let them soak for 10 minutes, until they are just slightly soft. For more apple flavor, use boiling hot Apple Cider instead of water!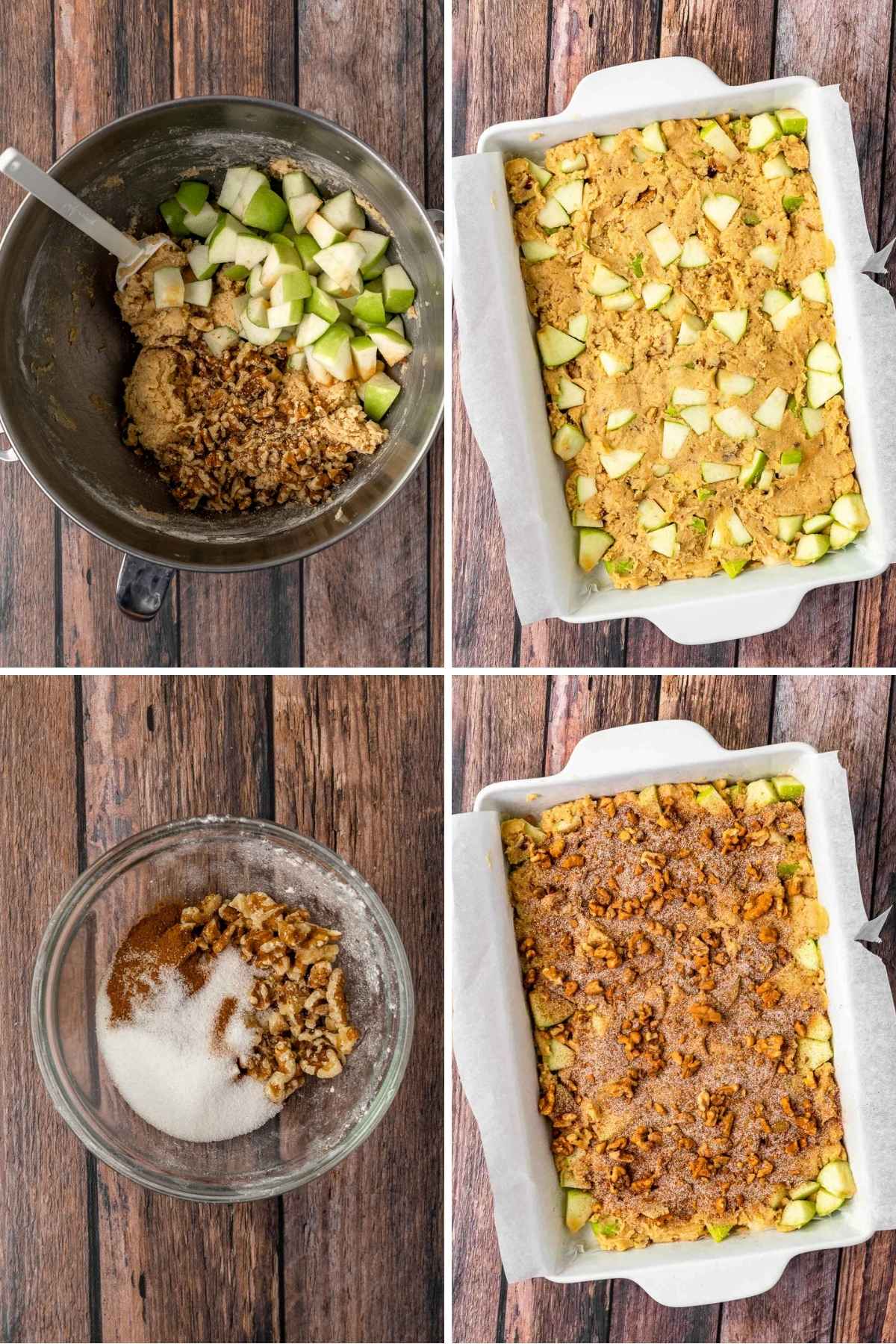 Create a free account to

Save Recipes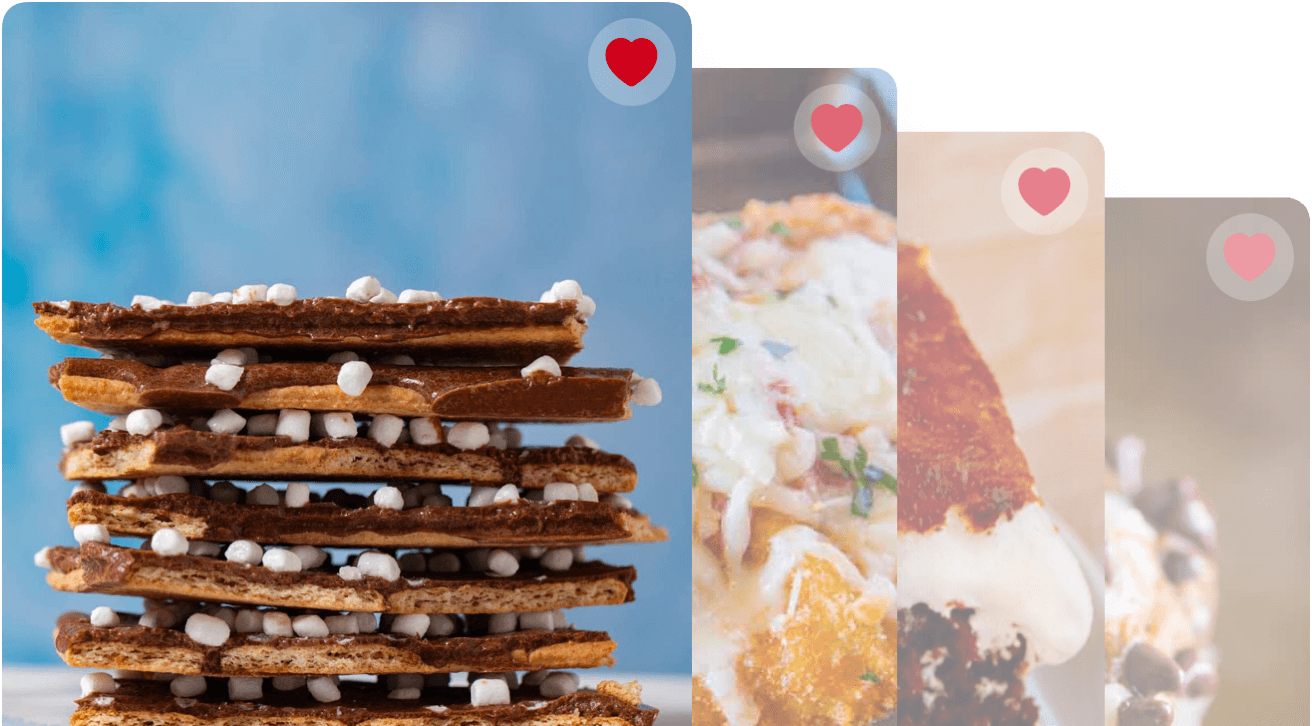 Key Ingredients
Apples: Tart green apples are excellent for baking because of their strong flavor, and sturdy structure. You can also try other kinds of fresh apples like Honeycrisp, or Braeburn. Just make sure that you're using nice, crisp apples. When you slice the apples, feel free to make the apple chunks as big or as small as you like depending on how much texture you want in the bars.
Cinnamon: You only need ½ teaspoon of ground cinnamon to flavor the buttery apple bars. Then whisk in another 2 teaspoons cinnamon with the white sugar and walnuts. It makes an easy cinnamon-sugar mixture to dust over the top along with the crunchy walnuts.
Sugar: To sweeten the Cinnamon Apple Bars we recommend using half granulated sugar and half brown sugar. Brown sugar makes slightly chewier desserts with a richer, caramel-like flavor, while the white sugar gives some better structure. The combination of both sugars is the perfect balance for this soft, delicious apple bars recipes..
Butter: The buttery bar batter is made with softened butter that is creamed until fluffy with the sugar. This helps create air in the bars while giving them a delicious, rich buttery crust flavor like apple pie.
Walnuts: The walnuts get tossed with lots of cinnamon and a little granulated sugar for a warm, sweet and crunchy topping almost like candied walnuts.
Can Cinnamon Apple Bars be made ahead of time?
Yes, you can definitely make parts of these Cinnamon Apple Bars ahead of time to save you time the day you want to bake them. You can chop up the apples and store them in the fridge overnight, just make sure to toss them in some lemon juice so they don't brown. The cinnamon-sugar walnut mixture can be made up to 2 weeks ahead. Make extra for a topping for oatmeal!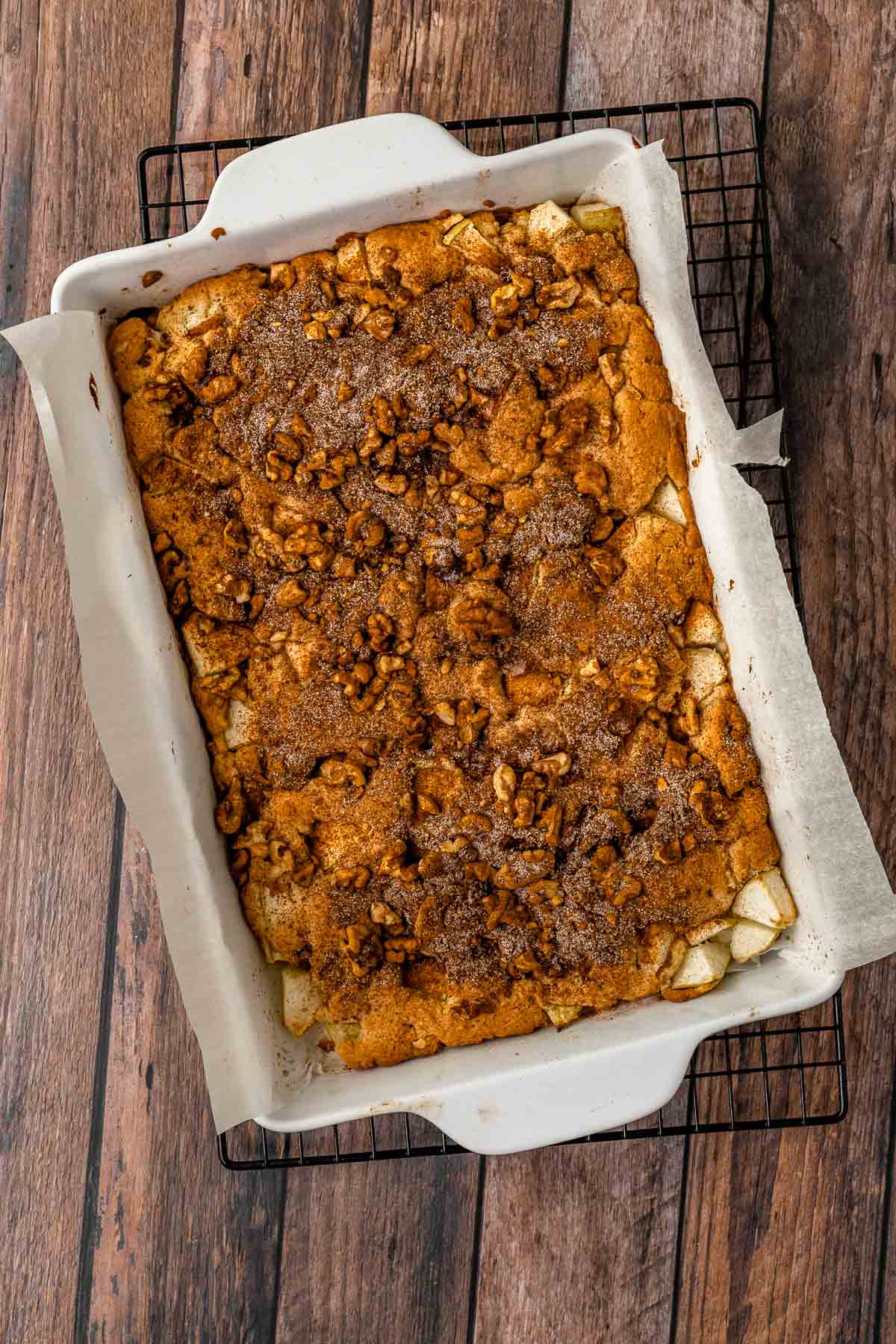 Variations
Glaze: If you want a little extra sweetness, you can top the Cinnamon Apple Bars with a rich maple syrup glaze. To make the glaze, combine 2 cups powdered sugar, 2 teaspoons cinnamon, and ¼ cup maple syrup. You can make a lemon glaze by adding a tablepsoon of lemon juice at a time to 2 cups of powdered sugar until it's thin enough to drizzle over top.
Crumb Topping: Make a tasty buttery crumb mixture with a ¼ cup brown sugar, ¼ cup granulated sugar, ¼ cup all-purpose flour, ½ teaspoon cinnamon, and a pinch of salt. Cut in 2 tablespoons of cold butter until it's blended into coarse crumbs. You can also add in the walnuts if you still want them in the topping. Sprinkle the mixture over the batter, and bake the Cinnamon Apple Crumb Bars.
Spices: For some extra spiced flavor, you can mix in a dash of nutmeg, ginger, and allspice to go with the cinnamon. You could also add extra sweet cinnamon flavor, crush some Cinnamon Toast Crunch cereal over the top for some Cinnamon Apple Crisp Bars.
Oatmeal: For some Cinnamon Apple Oatmeal Bars, replace 1 cup flour with 1 cup oatmeal. The oat mixture will make the bars chewier and more dense. For crunchy buttery streusel, combined a ½ cup oats with 2 tablespoons melted butter and ½ teaspoon of cinnamon. Sprinkle the streusel over the batter before baking.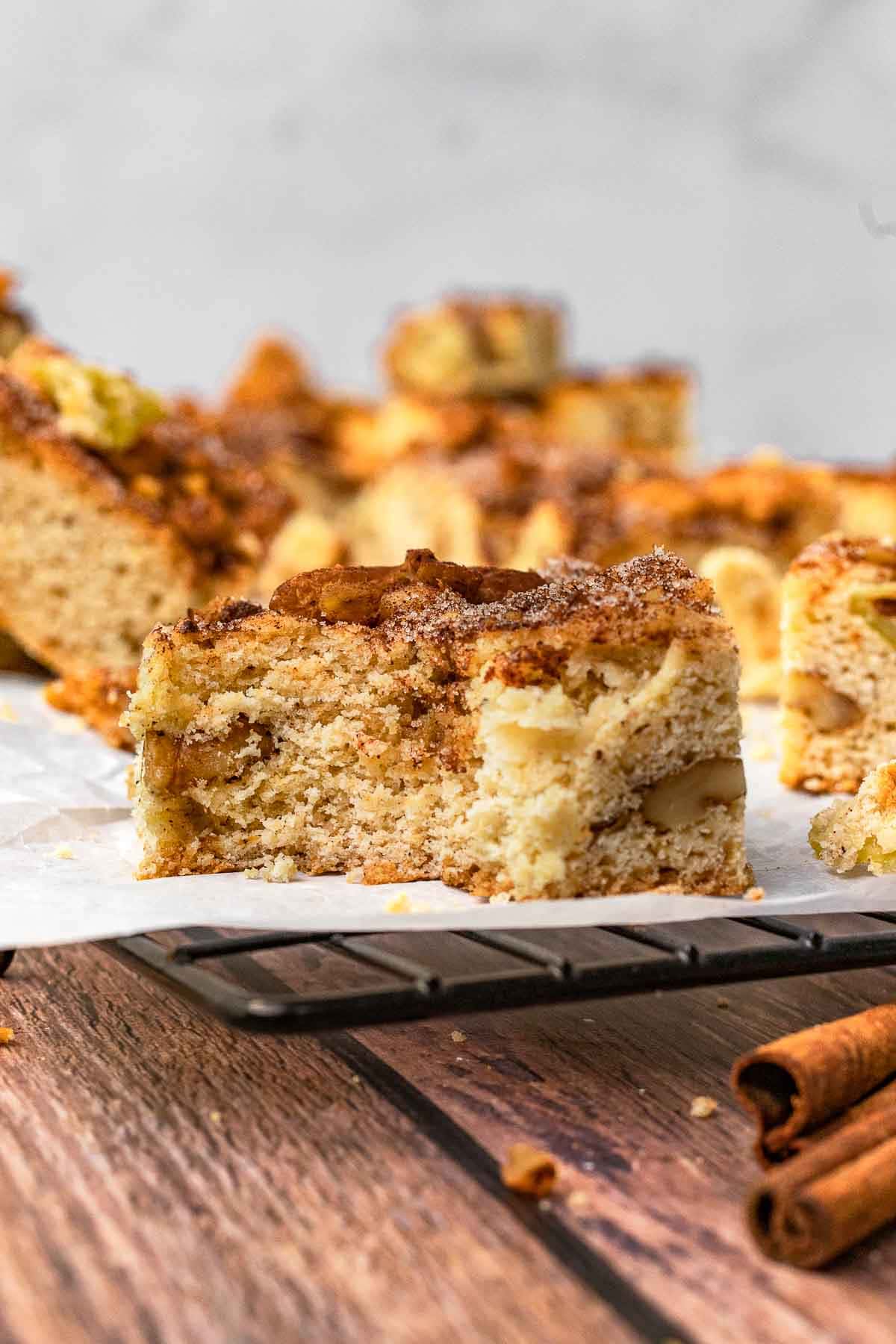 How to Store
Serve: Cinnamon Apple Bars can stay good at room temperature for a full 4 days. Just make sure to let them cool, then cover the apple squares in plastic wrap or foil to keep them from drying out.
Store: You can also place the bars in an airtight container with a paper towel at the bottom to absorb any excess moisture. Put them in the fridge to store for up to 1 week. You can reheat them in the microwave or pop them in the oven on low heat to warm them back up.
Freeze: Freeze the Apple Bars for up to 6 months. For best results put them in a freezer bag with parchment paper between the layers of bars so that they don't freeze together, or freeze them for an hour first on a baking sheet then store. Thaw at room temp or in the fridge before serving.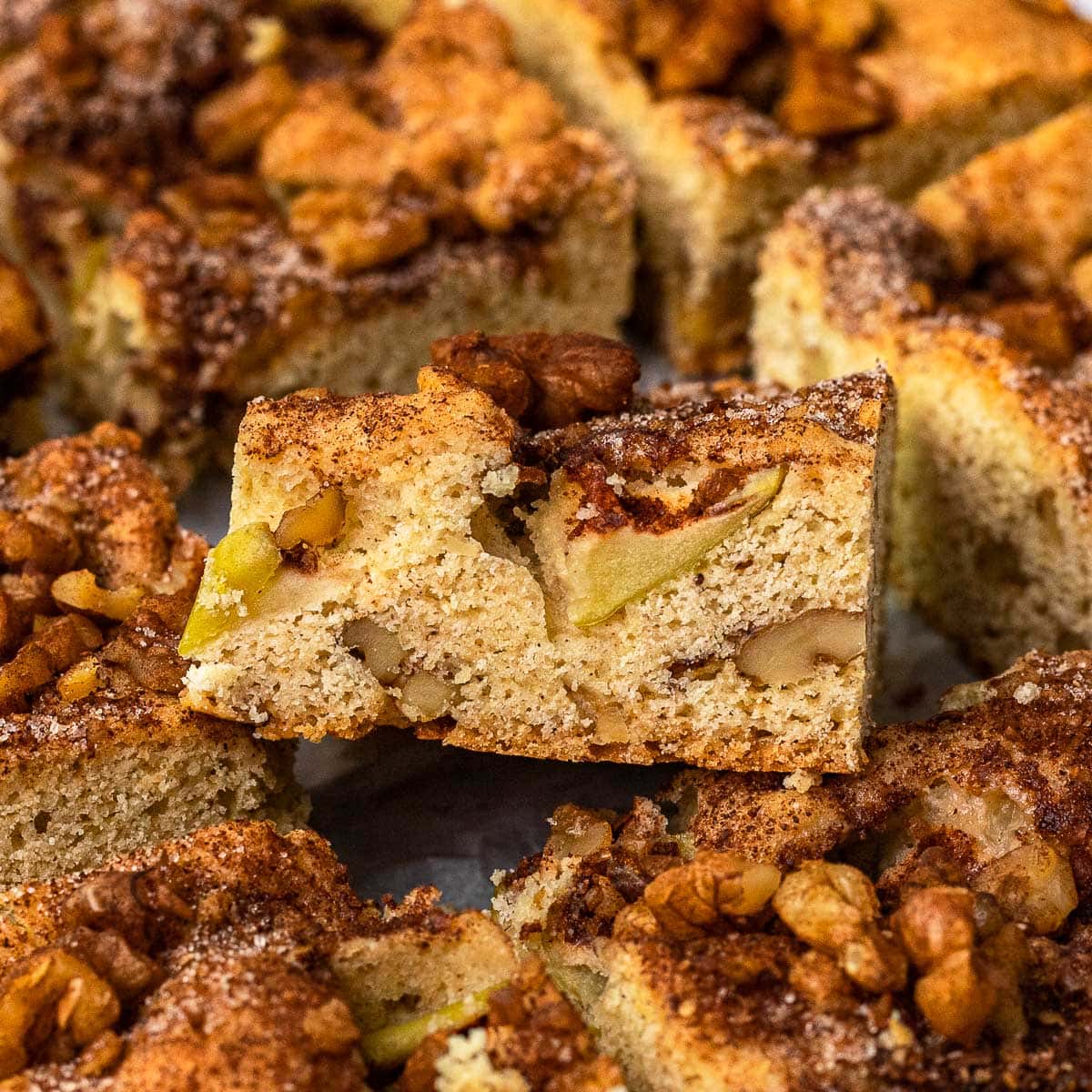 Ingredients
1/2

cup

butter

, softened

3/4

cup

brown sugar

, packed

3/4

cup

sugar

2

large eggs

2

teaspoons

vanilla extract

2

cups

flour

2

teaspoons

baking powder

1/2

teaspoons

salt

1/2

teaspoon

ground cinnamon

2

green apples

, cored and chopped

3/4

cup

walnuts

, finely chopped (divided)

2

tablespoons

white sugar

2

teaspoons

ground cinnamon
Instructions
Preheat oven to 350 degrees and spray a 9×13 baking pan with baking spray.

In your stand mixer, cream together the butter, brown sugar, and sugar on medium speed for

1 minute

.

Add in the eggs and vanilla until well combined

Sift together the flour, baking powder, salt, and ¼ teaspoon of cinnamon, then add it to the butter mixture on the lowest speed until just combined.

Stir in the apples and ½ cup of the walnuts.

Mix the 2 tablespoons of sugar, 2 teaspoons of cinnamon, and the remaining ¼ cup of walnuts together in a small bowl.

Spread the batter into your baking pan and top with walnut sugar mixture.

Bake for

35 minutes

. The batter will be slightly moist still because of the apples, so the toothpick test won't work.

Let cool before cutting into squares.
Nutrition
Calories:
247
kcal
|
Carbohydrates:
37
g
|
Protein:
3
g
|
Fat:
10
g
|
Saturated Fat:
2
g
|
Polyunsaturated Fat:
4
g
|
Monounsaturated Fat:
3
g
|
Trans Fat:
1
g
|
Cholesterol:
20
mg
|
Sodium:
204
mg
|
Potassium:
92
mg
|
Fiber:
2
g
|
Sugar:
23
g
|
Vitamin A:
298
IU
|
Vitamin C:
1
mg
|
Calcium:
56
mg
|
Iron:
1
mg