CPK Thai Peanut Chicken Pasta made with white meat chicken, vegetables, and a honey-peanut sauce full of umami, this California Pizza Kitchen dish is easy to make at home.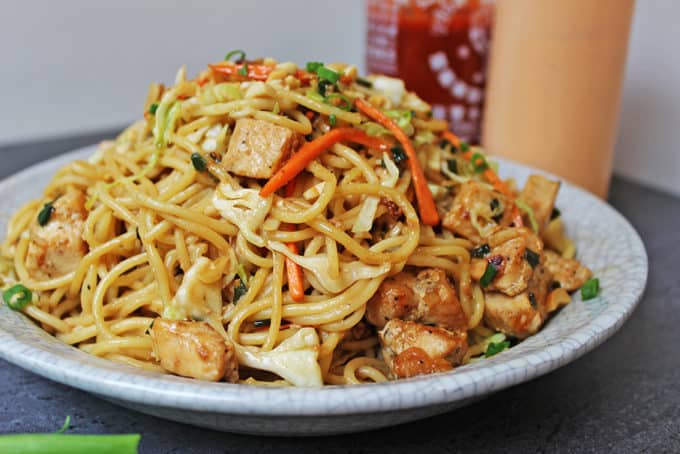 CPK Thai Peanut Chicken Pasta made with white meat chicken, vegetables, and a honey-peanut sauce full of umami, this California Pizza Kitchen dish is easy to make at home. I mean it! Put the take-out menus away!  
There is no doubt about it, we're a noodle loving house. A surefire way to make sure I am not making extra grilled cheese sandwiches for anyone who refuses to eat is to make noodles, especially peanut noodles. Even if you have leftovers (which we sometimes don't as we have been known to overeat pasta around these parts), you can't count on getting any of the leftovers.
The next morning I woke up having dreamt about this CPK Thai Peanut Chicken Pasta (I am a weird soul who can dream about carbs, I think it is the diets I was on as a young adult!) and when I made my way downstairs in the morning I knew I was going to take a cold bite of pasta only to find my husband had done away with the small amount left in the middle of the night. That is how good this pasta is…. it doesn't even make it to the next morning.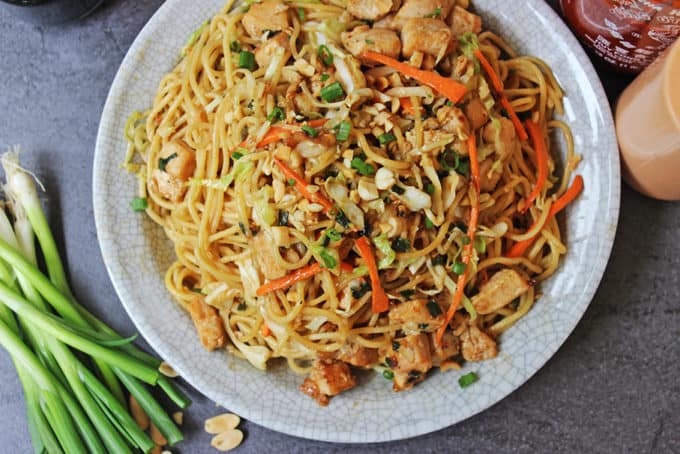 This is where I would normally give you the play by play photos for this amazing CPK Thai Peanut Chicken Pasta. Only problem is that my SD card bit the dust and I only noticed it after I had finished making the dish. Thankfully I was going to offload the pictures before taking the glamour shots, so the delicious proof of the meal still exists!
During dinner, my husband suggested I draw a stick figure (this is about as artistic as I get) re-enactment of the cooking process for you while I was expressing frustrating with my SD card having failed me. The look I gave him in return said as much as I imagine it needed to because his next move was to take the kids upstairs for bath time and bedtime! This meant I got to watch some Real Housewives while enjoying the end of my pasta. Double win! PS, is there anyone out there who is actually Team Ramona? She makes my head hurt.  Watching her also makes me miss RHOBH and my darling Lisa.
Ok, ok I just went off on a tangent. Back to the food already! Right?
If you chop the ingredients while you boil the water and make the sauce while the veggies are cooking you will be done start to finish in 20 minutes. Just be aware this recipe does use pre-made chicken chunks. We had roasted a couple of chickens off in the oven the day before so it was easy enough to toss the pieces in.
If you don't have any pre-cooked chicken on hand, dice up the chicken breast in ¾ inch cubes, season with salt and pepper. Heat oil in a large skillet and add the chicken. Let cook undisturbed for 3-4 minutes, then turn. Give it another 2 minutes and you are ready to go! If you do make the chicken fresh, I highly suggest cooking the veggies in this pan, the chicken bits left behind can only add more flavor!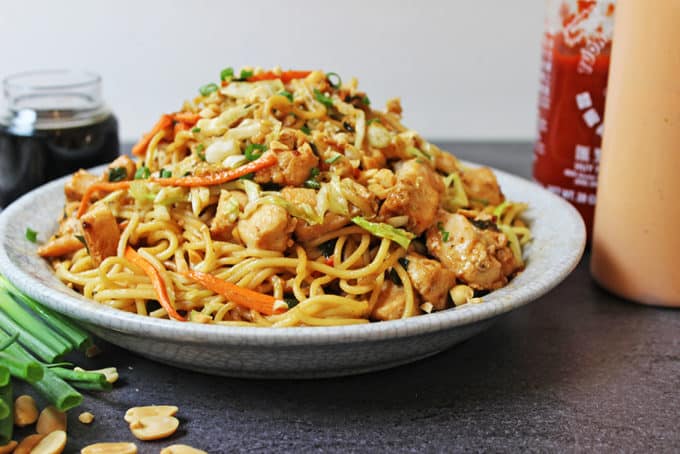 Ingredients
1

pound

thin spaghetti

3

tablespoons

oriental sesame oil

, divided use

1

cup

julienned carrots

2

cups

napa cabbage

, sliced

2

cups

chopped

, cooked chicken breast meat

8

green onions

, chopped

5

garlic cloves

, minced

1

tablespoon

fresh ginger

, peeled and minced

1/4

cup

honey

1/4

cup

creamy peanut butter

1/4

cup

soy sauce

3

tablespoons

unseasoned rice vinegar

1 1/2

tablespoons

Sriracha sauce
Instructions
Bring a pot of water to boil.

Add 1-2 tbsp of salt to season the water.

Cook pasta, al dente (I shoot for a minute shy of what the box says)

Drain pasta and toss with 2 tbsp sesame oil.

Pat dry the inside of the pot and add 1 tbsp of sesame oil.

If you would like to add some green onions as a garnish at the end, reserve ¼ cup of them before putting the rest in the pan.

Add the green onions, carrots, napa cabbage, chicken, garlic and ginger.

Saute for a

minute

or two until they have softened and barely start to turn color.

Add in the honey, peanut butter, soy sauce, vinegar and Sriracha.

Stir all the ingredients together and add the pasta back into the pot.

Toss the pasta with the rest of the ingredients and serve!

Garnish with remaining green onions if you chose to reserve some.
Nutrition
Calories:
734
kcal
|
Carbohydrates:
81
g
|
Protein:
17
g
|
Fat:
39
g
|
Saturated Fat:
4
g
|
Sodium:
823
mg
|
Potassium:
597
mg
|
Fiber:
8
g
|
Sugar:
18
g
|
Vitamin A:
3825
IU
|
Vitamin C:
12.3
mg
|
Calcium:
90
mg
|
Iron:
2.8
mg