Creamy Chicken Fajita Pasta is an easy pasta dish with seasoned chicken, fresh veggies, and tomatoes in a creamy sauce with fajita flavor!
If you can't decide between Chicken Alfredo or Chicken Fajitas for dinner, why not make both? Classic fajita ingredients are combined with creamy, cheesy Pasta for the ultimate comforting and flavorful Weeknight Dinner!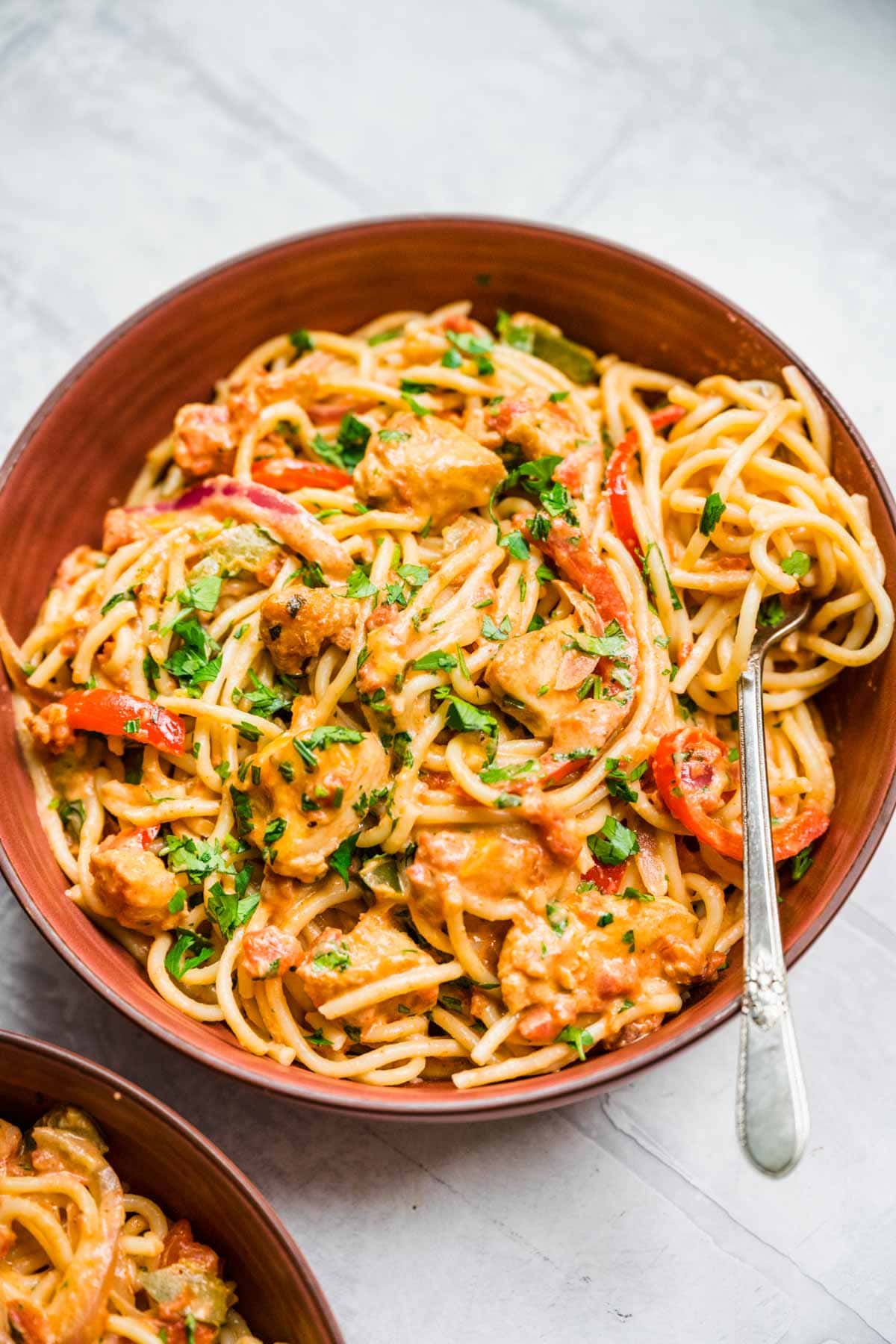 This Chicken Fajita Pasta recipe makes the most amazing and quick dinner that combines two favorite dinners into one delicious dish. It's a hearty and flavorful one pot recipe that only takes about 20 minutes start to finish so you can have a complete dinner on the table fast. It's the perfect pasta recipe for when you want something flavorful and filling, but don't have a lot of time to spend cooking or making a bunch of separate dishes.
You start this easy, kid-friendly weeknight meal by cooking the pasta, this recipe uses spaghetti but feel free to use what is on hand. You drain the pasta and in the same pot, you cook up the chicken pieces then the fajita veggies. You make a rich, flavorful Mexican-inspired sauce with the veggies and chicken along with salsa, tomatoes and fajita seasoning. When the sauce is ready, you stir back in the pasta along with heavy cream and cheese, for the ultimate creamy pasta dinner the whole family will love.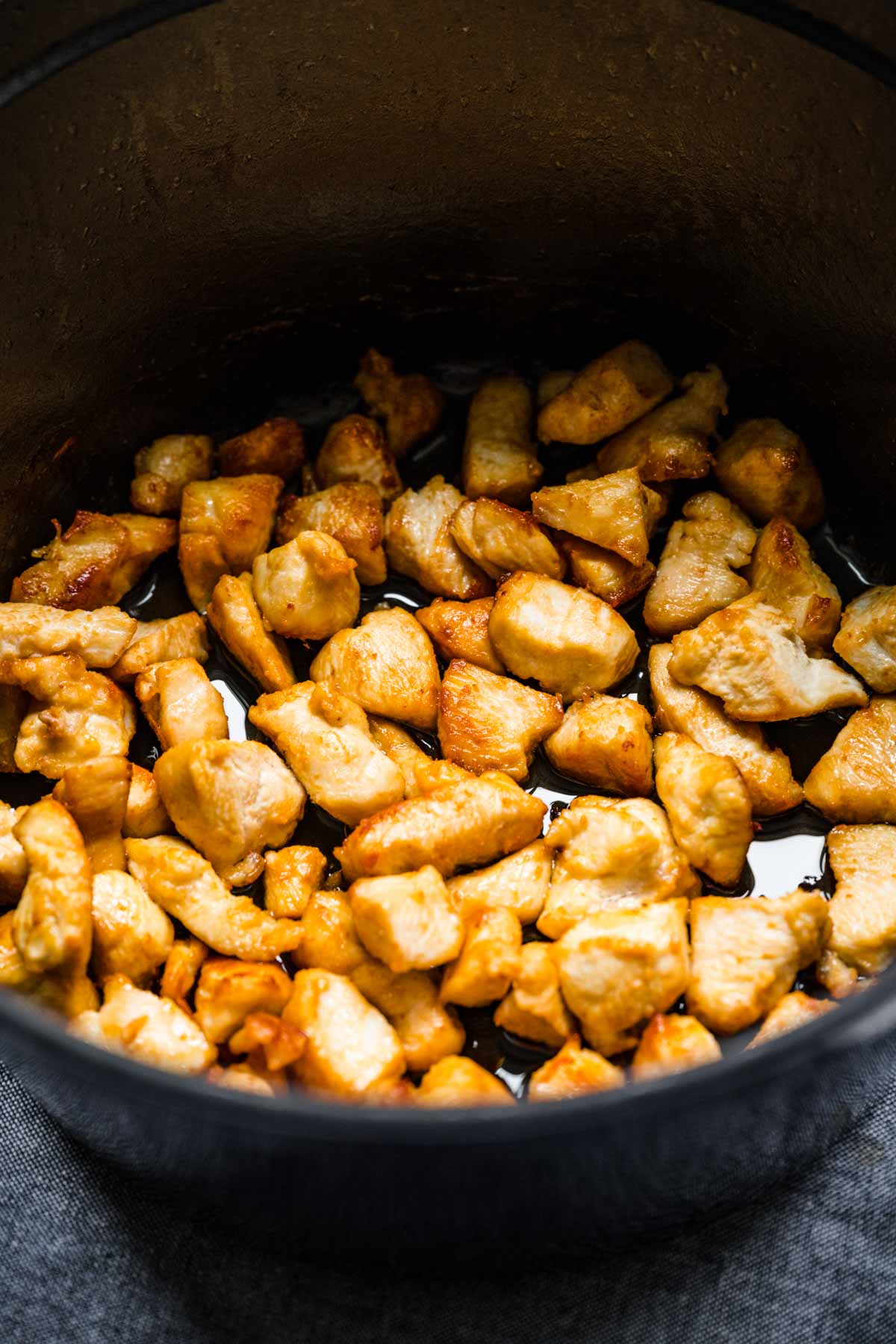 This delicious and hearty pasta dish is a one pot meal meaning it's ready to serve, sides and all, but you can always add classic Mexican toppings to play on that fajita flavor. Top the creamy sauce off with some sour cream, sliced avocados, or an extra spoonful of Salsa. Serve it with some hot sauce so those who like spicy food can turn up the heat!
How to Make Creamy Chicken Fajita Pasta
Prep: Start by bringing a large pot of water to a boil. Then add the pasta to the boiling water, and cook for 1 minute shy of al dente. You want the pasta still slightly firm so it doesn't get mushy in the sauce. Drain the pasta water, and set the cooked pasta to the side without rinsing. You can save some pasta water for sauce if you like.
Chicken: Add vegetable oil to the base of the pot you just cooked the pasta in. Then add the chicken breast pieces. Cook the chicken pieces over medium heat until they're browned on each side.
Fajita Sauce: Remove the chicken pieces from the pot, and add the fajita veggies. Stir throughout the cooking time until the onion and pepper mixture starts to soften. Add the chicken back into the mixture along with the fajita seasoning mix. Then add the crushed tomatoes, tomato paste, and salsa. Bring the sauce to a simmer.
Finish: Add the cooked pasta and heavy cream into the pot. Stir, and continue cooking for another minute until the sauce is thickened. If your sauce is too thick, you can add some of the reserved pasta water to make it smoother. Stir in the cheddar cheese and garnish the Creamy Chicken Fajita Pasta with cilantro before serving.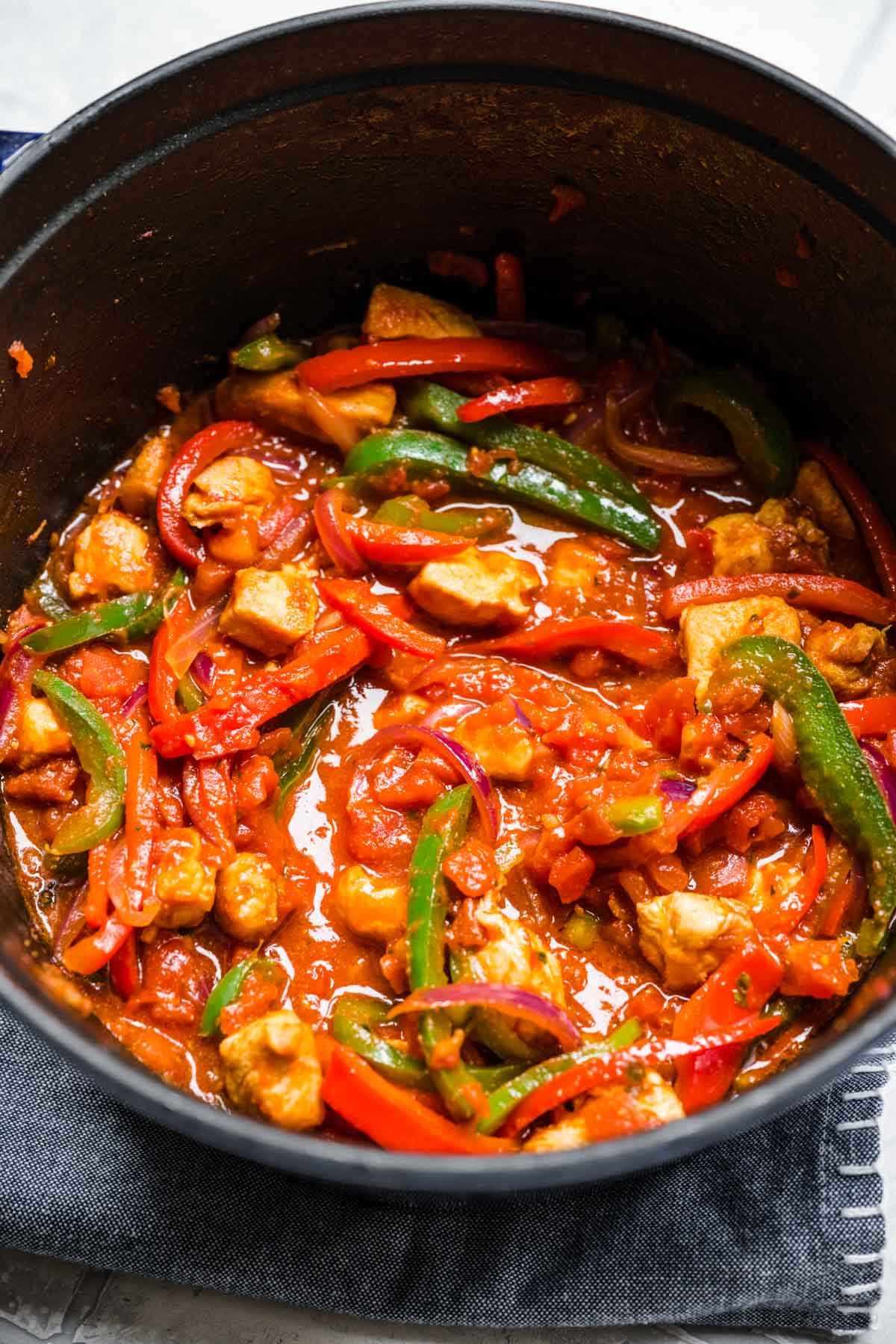 FAQs for Creamy Chicken Fajita Pasta
What do you serve with Creamy Chicken Fajita Pasta?
This easy pasta recipe is a one-pot recipe meaning it's a complete delicious family dinner made in one pan so you don't need to make sides. However, if you still want a side dish, try serving Chicken Fajita Pasta with a tossed green salad or a bowl of Tortilla Soup.
Can I use chicken thighs?
Instead of the boneless skinless chicken breasts, you can use boneless chicken thighs instead. You could also use leftover Rotisserie Chicken or other cooked chicken chunks. Just cook long enough to heat it up and season it, about 2-3 minutes.
What kind of pasta do you use?
The nice thing about this chicken pasta recipe is you can use pretty much any kind of pasta you want. This recipe uses spaghetti noodles, but you can easily swap them out for penne pasta, elbow macaroni, bowtie pasta, fettuccine noodles, or whatever dry pasta you have on hand.

Create a free account to

Save Recipes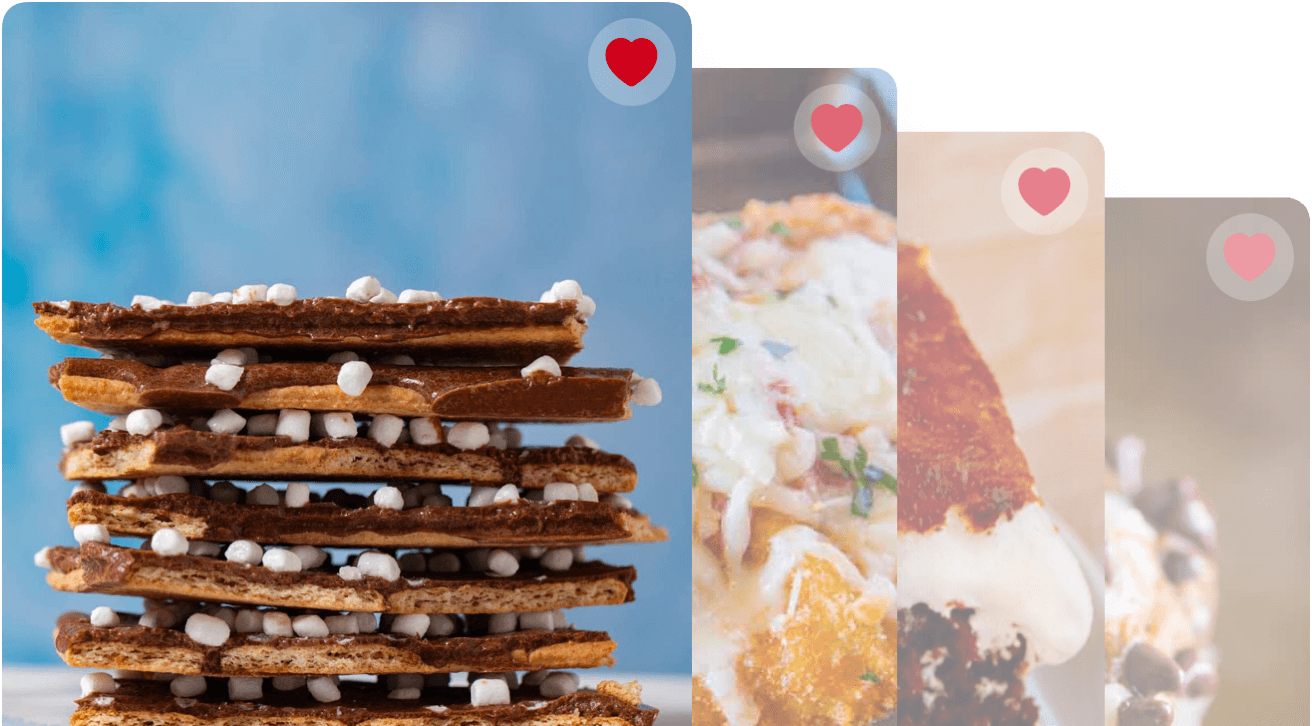 Key Ingredients
Pasta: While fajitas are often served with tortillas, for this recipe you can enjoy them with pasta. The spaghetti is just as filling, but it makes a nice unexpected and kid-friendly twist.
Veggies: Peppers and onions are classic vegetables to add to fajitas. The colorful bell peppers and red onion are easy to cook to crisp-tender perfections, and they add lots of fresh flavor and texture to the spaghetti dish.
Chicken Breast: For the meat, all you need is boneless, skinless chicken breast. Slice it into 1? strips before starting the recipe. Then it's easy to brown and mix with the veggies and sauce.
Fajita Sauce: The fajita sauce is packed with absolutely amazing flavor. Simply stir together the fajita seasoning, crushed tomatoes, tomato paste, and salsa. You can alter how spicy the sauce is based on what salsa you use.
Creamy Ingredients: To make the sauce thick, and creamy all you need is heavy cream and cheddar cheese. The cheese melts into the rest of the sauce, and it all thickens as you simmer everything together.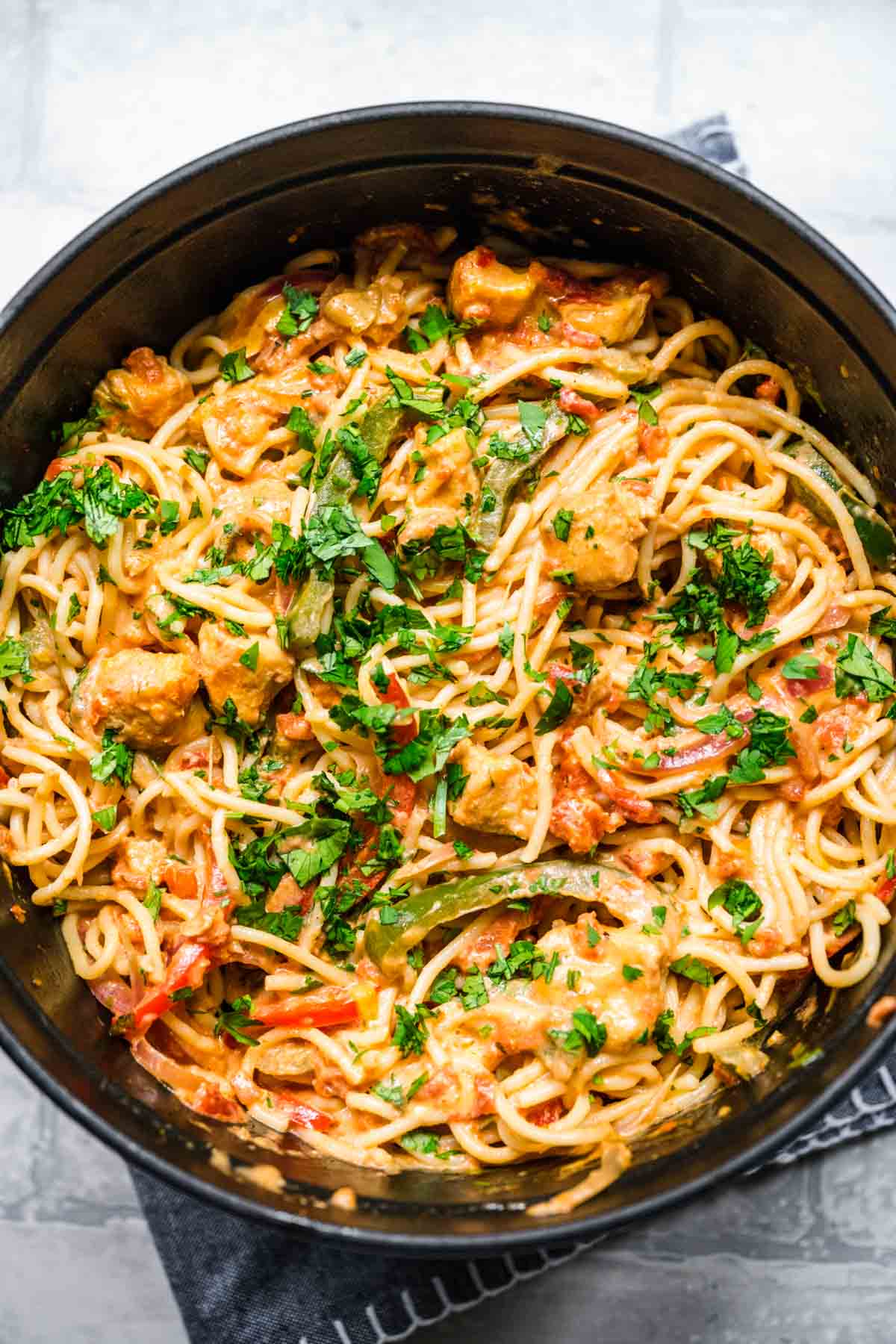 Can Creamy Chicken Fajita Pasta be made ahead of time?
You can prepare parts of Creamy Chicken Fajita Pasta the day before to save time when you go to cook the dish, but it's definitely best hot and fresh. Slice up the onions and bell peppers, and cut the chicken into strips, but store separately overnight. You could also cook the pasta up to 2 days beforehand, just toss in some olive oil so it doesn't stick and reserve a cup of pasta water (stored separately) to help make the sauce. Let the pasta come to room temperature during the cooking time so it's not cold when you add it.
Variations
Fajita Seasoning: You can make your own homemade seasoning with common pantry spices. Combine ½ tablespoons chili powder, 1 ½ teaspoons kosher salt, 2 teaspoons paprika, ¼ teaspoon cayenne pepper and 2 teaspoons ground cumin. If you like spice, add more cayenne pepper.
Vegetables: You can add all kinds of vegetables to your pasta, both traditional fajita veggies like yellow onion and zuchinni, or try some pasta veggies like mushrooms and artichokes. Some canned corn kernels or fresh tomatoes would taste great too!
Cheese: Try experimenting with different kinds of grated cheese to mix into the creamy fajita sauce. Along with the cheddar, try adding provolone, mozzarella, Pepper Jack, Parmesan cheese, or a Mexican cheese blend.
Meat: Just like traditional fajitas, you can make this delicious pasta with Grilled Steak or tender, juicy shrimp instead of chicken. It's a great dish to use up leftovers, just cut up the cooked meat into bite-size pieces and heat it up with the oil and seasonings to flavor it and add flavor to the skillet.
Vegetarian: If you want to make this delicious pasta dish vegetarian, swap out the chicken for extra fajita vegetables or add a drained and rinsed can of black beans to make up for the missing fajita meat.
Baked Pasta: If you want to make this a baked pasta dish, prepare it as usual but only add ½ the cheese. Pour it into a baking dish and bake at 350 degrees for 20 minutes. Cover with the remaining cheese and bake another 10 minutes or until the cheese is melted and bubbly.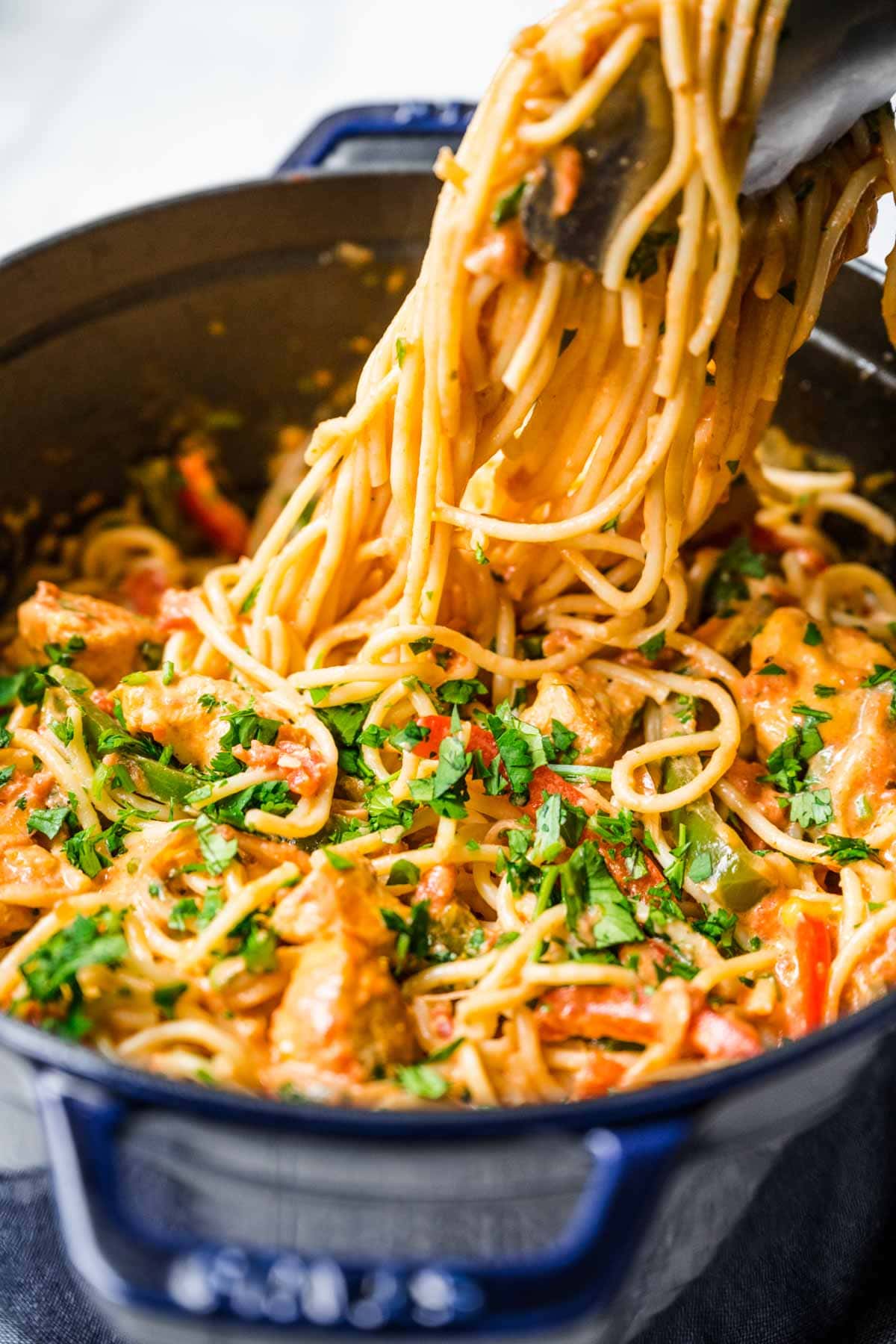 More Twists on Classic Dishes
How to Store
Serve: Creamy Chicken Fajita Pasta is best served while still warm and melty. Don't leave it out at room temperature for more than two hours.
Store: Once the Chicken Pasta has cooled, you can transfer it to an airtight container and seal it carefully. The dish will keep well in the fridge for 3-5 days.
Freeze: You can also transfer the pasta to an airtight food container to store in the freezer. Keep the dish in the freezer for up to 3 months. Reheat it in a baking dish in the oven.


Ingredients
1

pound

spaghetti

2

chicken breasts

, cut into 1" pieces

1/4

cup

vegetable oil

1

red bell pepper

, thinly sliced

1

green bell pepper

, thinly sliced

1/2

red onion

, thinly sliced

3

tablespoons

fajita seasoning

14

ounces

crushed tomatoes

1/4

cup

tomato paste

1/2

cup

salsa

1

cup

heavy cream

1

cup

cheddar cheese

cilantro

, for garnish
Instructions
Cook the pasta

1 minute

shy of the directions on the box, then drain (but do not rinse) and set aside.

Brown the chicken in the pot you cooked the pasta in with the vegetable oil over medium-high heat.

Remove the cooked chicken and add the onions and peppers, stirring and cooking until they begin to soften.

Add the chicken back in along with the garlic and fajita seasoning.

Add the crushed tomatoes, tomato paste, and salsa, and bring to a simmer.

Add the pasta and heavy cream to the pot and stir well to combine, cooking for

1 minute

to thicken.

Stir in cheddar cheese just before serving and garnish with cilantro.
Nutrition
Calories:
710
kcal
|
Carbohydrates:
70
g
|
Protein:
34
g
|
Fat:
33
g
|
Saturated Fat:
15
g
|
Polyunsaturated Fat:
7
g
|
Monounsaturated Fat:
8
g
|
Trans Fat:
0.1
g
|
Cholesterol:
112
mg
|
Sodium:
644
mg
|
Potassium:
950
mg
|
Fiber:
6
g
|
Sugar:
10
g
|
Vitamin A:
2019
IU
|
Vitamin C:
53
mg
|
Calcium:
217
mg
|
Iron:
3
mg