Crispy Hawaiian Garlic Chicken made with a soy garlic sauce and fried jalapeño rings. This is a spicy version of your favorite island takeout!
We love Hawaiian food, especially Hawaiian takeout food and this recipe is the PERFECT main course served with rice and Hawaiian Macaroni Salad.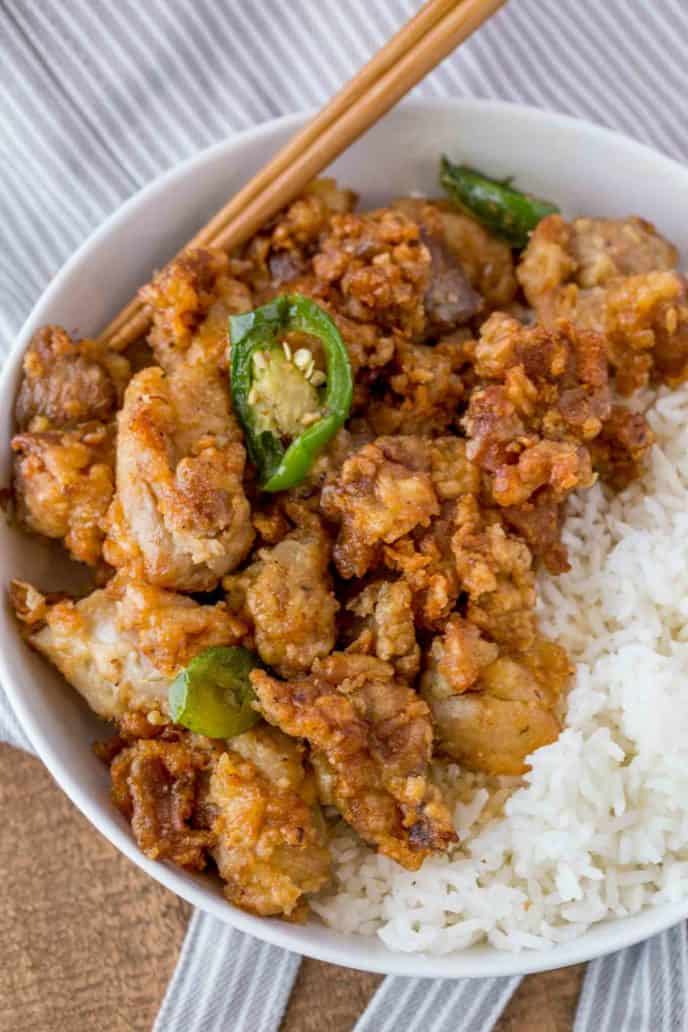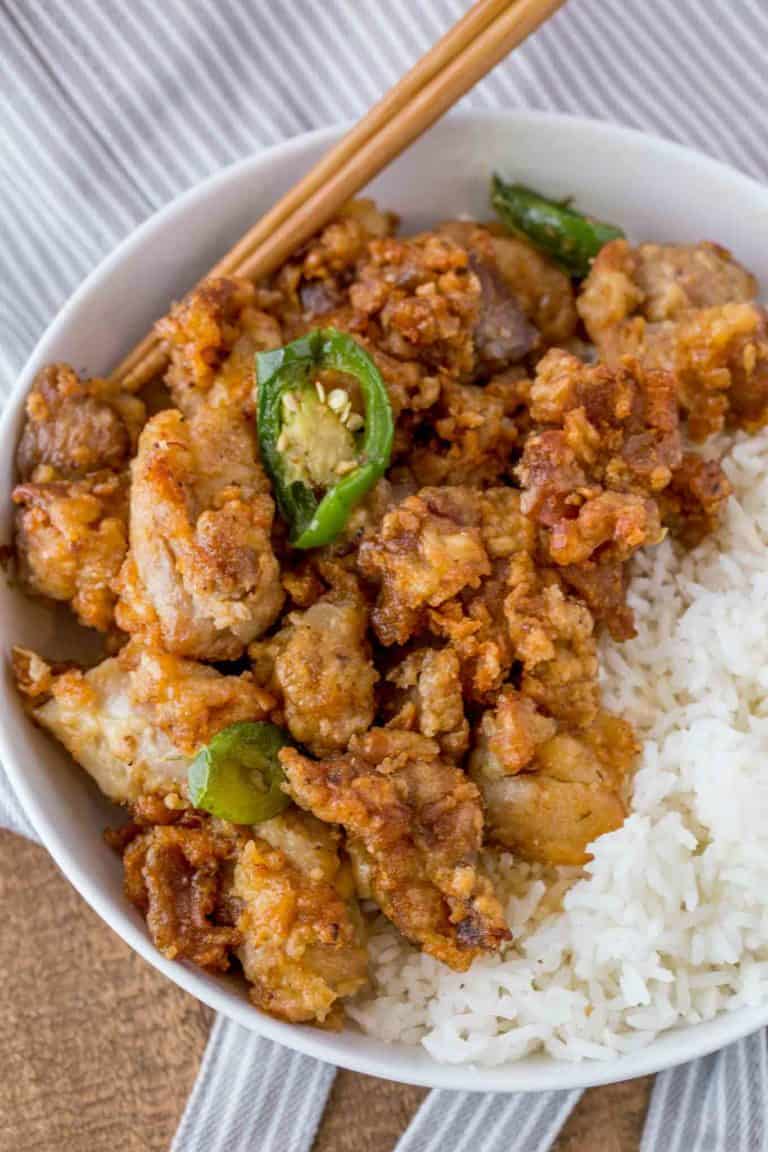 It tastes like an L&L Barbecue Hawaiian Chicken copycat, if you're fortunate enough to have L&L Barbecue nearby.
You're probably wondering about the jalapeños because true Hawaiian crispy garlic chicken doesn't have jalapeños. Well, the reason we fried them up and added them to the mix is that one of my absolute FAVORITE Chinese Food dishes is Salt and Pepper Chicken.
This Crispy Hawaiian Garlic Chicken has a lot of the same flavor elements of Chinese Salt and Pepper Chicken. I was contemplating adding spice a different way, either with Sriracha or crushed red peppers, but when we order salt and pepper chicken we all fight over those fried jalapeños.
You can certainly leave them out, but if you like spice I would tell you to at least give it a shot with the jalapeños, they're so delicious with the rest of the Crispy Hawaiian Garlic Chicken.
The sauce itself is a pretty simple sweetened soy sauce mixture filled with a whole lot of garlic. Most takeout food is this simple though and if you were ordering a Hawaiian chicken plate at your favorite takeout spot you'd see this chicken with a giant pile of rice and macaroni salad.
This dish is certainly at least marginally related to my Korean Fried Chicken but it's closer to an l&l garlic chicken recipe with a hint of Chinese salt and pepper chicken because of the thin sauce it is tossed in along with those fried jalapeños.

How to make Hawaiian Garlic Chicken:
Heat the oil to 350 degrees.
Make sure the chicken isn't coated too thickly with flour.
Bring the sauce to a boil.
When the chicken is done frying toss it together with the sauce RIGHT before serving so it doesn't get soggy.
Serve with rice and macaroni salad.
What Makes Hawaiian Garlic Chicken different than most fried chicken:
Hawaiian Crispy Garlic Chicken is different because of the sauce. While the fried chicken is pretty straight forward, the intense soy garlic sauce it is tossed in adds a ton of flavor to the chicken. Since the mixture is only brought to a boil before being turned off, the garlic is still a very strong flavor.
Again, you guys definitely don't HAVE to add the spice, but if you like spice you're going to be fighting over those bites. We actually slice up two jalapeños personally since we all love them, but I adjusted the recipe to 1 jalapeño to prevent it from being too spicy.
Looking for more Asian food takeout?
Tools used in the making of this Hawaiian Crispy Garlic Chicken Recipe:
Soy Sauce: Nothing much to say here except I only use this brand and I always recommend reduced sodium.
Cast Iron Dutch Oven: I used to fry in my cast iron skillet, but this dutch oven is perfect for frying larger pieces of food and it keeps heat really well. Plus the lid is a second pan!
Slotted Skimmer: Love this tool for gently removing and draining oil from fried food.


Ingredients
1 1/2

pound

chicken thighs

boneless and skinless

1

jalapeno

sliced (optional)

1/2

teaspoon

salt

1/2

cup

flour

1/4

cup

cornstarch

1/4

teaspoon

coarse ground black pepper

oil for frying

1/4

cup

soy sauce

1/4

cup

sugar

3

tablespoons

water

1/2

teaspoon

ground ginger

2

tablespoons

garlic

minced
Instructions
Cut the chicken into 1 inch pieces and season with salt and pepper.

Slice the jalapeno into ¼ thick slices [if using].

Heat oil on high heat, to 350 degrees.

In a bowl, mix the salt, flour and cornstarch and coat the chicken in the mixture.

Add about ¼ of the chicken to the oil at a time, frying in batches.

Once the chicken is fried add the jalapeños to the oil and fry for

30 seconds

.

While the chicken is frying add the rest of the ingredients to a saucepan and bring it to a boil, whisking well.

When the mixture reaches a boil, turn off the heat.

Once all the chicken is fried, toss it with the sauce mixture.
Nutrition
Serving:
1
g
|
Calories:
262
kcal
|
Carbohydrates:
17
g
|
Protein:
15
g
|
Fat:
14
g
|
Saturated Fat:
3
g
|
Cholesterol:
83
mg
|
Sodium:
617
mg
|
Potassium:
206
mg
|
Sugar:
6
g
|
Vitamin A:
85
IU
|
Vitamin C:
2.7
mg
|
Calcium:
12
mg
|
Iron:
1.2
mg