Vanilla Cake is a CLASSIC cake recipe made with vanilla extract and topped with buttercream frosting, ready in under 60 minutes!
This site has a Cake recipe for almost any occasion, and if you love this vanilla cake you'll also love Mint Chocolate Cake (Grasshopper Cake), Carrot Cake, Oreo Cake, and Classic Yellow Cake!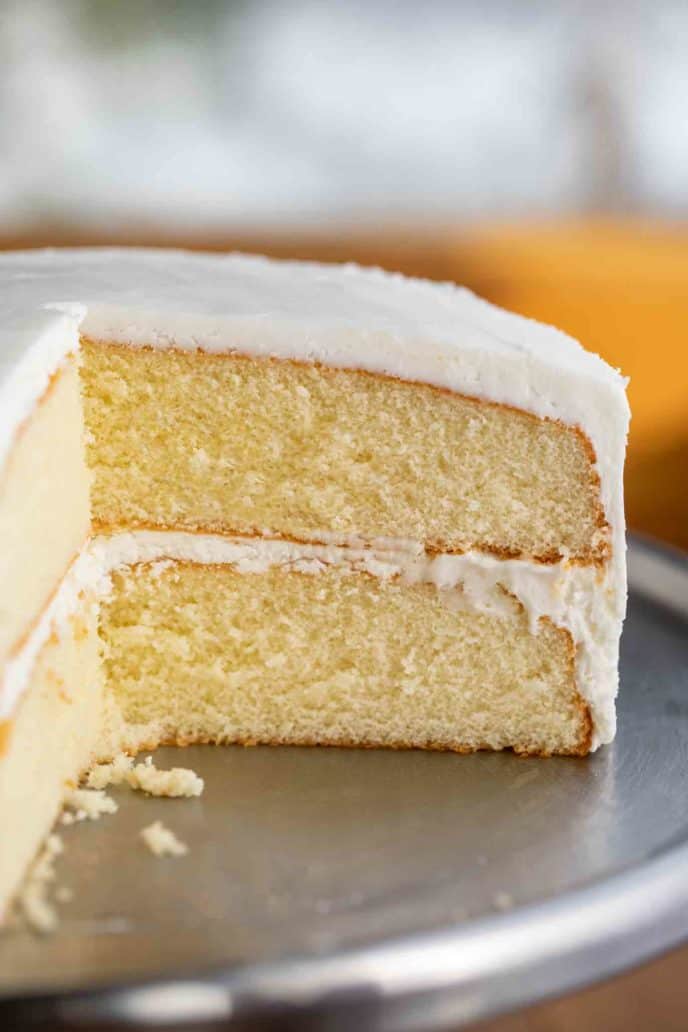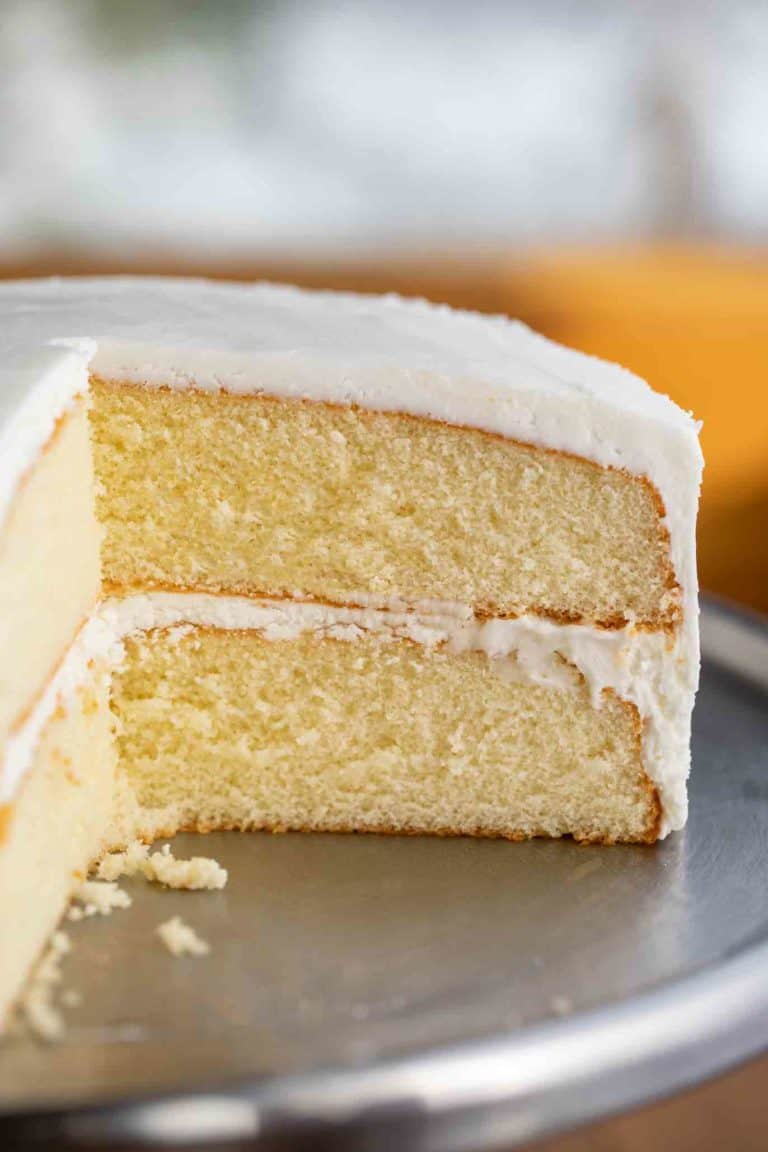 Vanilla Cake is one of the best all-time favorite CLASSIC cake recipes, made with vanilla and topped with this go-to homemade Buttercream Frosting. You'll love to serve this for parties, because it's easy to make and the perfect cake to decorate for any occasion. Birthday cakes and wedding cakes are often made with vanilla cake which makes this your go-to recipe for parties! You can even use the batter to make vanilla cupcakes!
Make sure you bring the butter and eggs to room temperature before starting. This will make it much easier to evenly mix everything together. Also, make sure you sift together your dry ingredients before adding them to the cake, to make sure everything is evenly dispersed before adding to the wet ingredients. If you don't have a sifter, you can whisk your dry ingredients together but the texture might be slightly less light in the final cake.
You can also top this delicious cake with Chocolate Frosting or Cream Cheese Frosting for more variation.
How to Make Vanilla Cake
This classic vanilla cake is super easy to bake. Check it out!
Step One: Mix all the ingredients together for your vanilla cake batter in a large or medium bowl. It's a good idea to make cakes in a stand mixer with the paddle attachment because it makes sure that everything is incorporated nicely, but you can use a hand-held mixer if that's what you have.
Step Two: Pour the batter into two 8 inch cake pans. Bake until ready! Baking time is about 30 minutes.
Step Three: While the cake is baking, make the Buttercream Frosting. After the homemade vanilla cake comes out of the oven, make sure it cools down completely before frosting. You want to make sure the homemade frosting and cake are the same temperature, or you'll pull up crumbs when trying to frost.
Frequently Asked Questions
Is there a difference between white cake and vanilla cake?
White cake recipes avoid ingredients that may darken the batter, like egg yolks or vanilla extract, which are both ingredients that help color a Yellow Cake Recipe. Vanilla cake will use vanilla flavor, and can be made with or without egg yolks.
Can I add oil instead of butter in a cake?
If you run out of butter, you can replace it with canola oil for this vanilla cake recipe, but use ¾ of the amount of butter in the recipe. Just keep in mind that the butter adds some flavor to the cake that won't be there if you remove it.
How do I make a cake more moist?
Don't substitute the butter, milk, or eggs for lower fat ingredients. The fat in this vanilla cake recipe helps keep everything moist and light.

Try using buttermilk instead of milk, because the acid and fat in the buttermilk will work with the gluten to help give your cake a softer fluffy texture.

You can add more moisture to the cake by substituting part of the butter with vegetable or canola oil.

Bring the cake to room temperature before serving it for the best texture. When cakes are colder than room temperature, they are sometimes mistaken for stale or dry. If you take it out of the refrigerator about an hour before you're ready to serve, it will be room temperature when you cut into it.

You can use half brown sugar and half granulated sugar if you want a deeper flavor, just keep in mind that brown sugar will make your cake turn out darker in color.
What is the difference between a sponge cake and a regular cake?
A vanilla sponge cake recipe will usually have more eggs and less butter than a regular cake. This is why sponge cake has a lighter fluffy texture, and can be used for recipes like this Chocolate Cake Roll. A regular cake like this vanilla cake will have butter, oil, and a more dense sweet texture.
Why did my cake fall apart?
If your cake is falling apart it is most likely too dry. There are a few reasons this might happen. Make sure your oven is cooking at the right temperature, because an over-baked cake can easily be dry and crumbly. Try using an oven thermometer and set your oven temperature, then make sure they match so you're not over-baking anything.

Measure your all purpose flour exactly, to make sure you're not adding too much. Try weighing the all purpose flour, or using a knife to level the measuring cup.

If you're replacing the eggs or butter in this recipe, make sure you're not removing all of the fat because it helps keep the texture of the cake soft. I also recommend not using any butter substitutes, like margarine.

Make sure you're not over-mixing the cake batter. Stop mixing when everything is just mixed in.

If your cake falls when you take it out of the oven, it's possible that there was too much baking powder used. The baking powder causes the cake to rise really fast, then fall before it's done baking. Try leveling the baking powder in the measuring spoon with a knife, similar to how we did the flour.
How can I tell when it's fully baked? 
You can see if most baked desserts are done by inserting a toothpick into the middle. If the toothpick comes out clean, the dessert is done. This works for both cake and cupcakes.
Why is my cake sticking to the pan? 
If you're having trouble with your vanilla cake sticking to the cake pans once they're done baking, try lining the bottom of the cake pan with a piece of parchment paper. Trace the bottom of the pan on the parchment paper, then cut out the circle and it should fit exactly.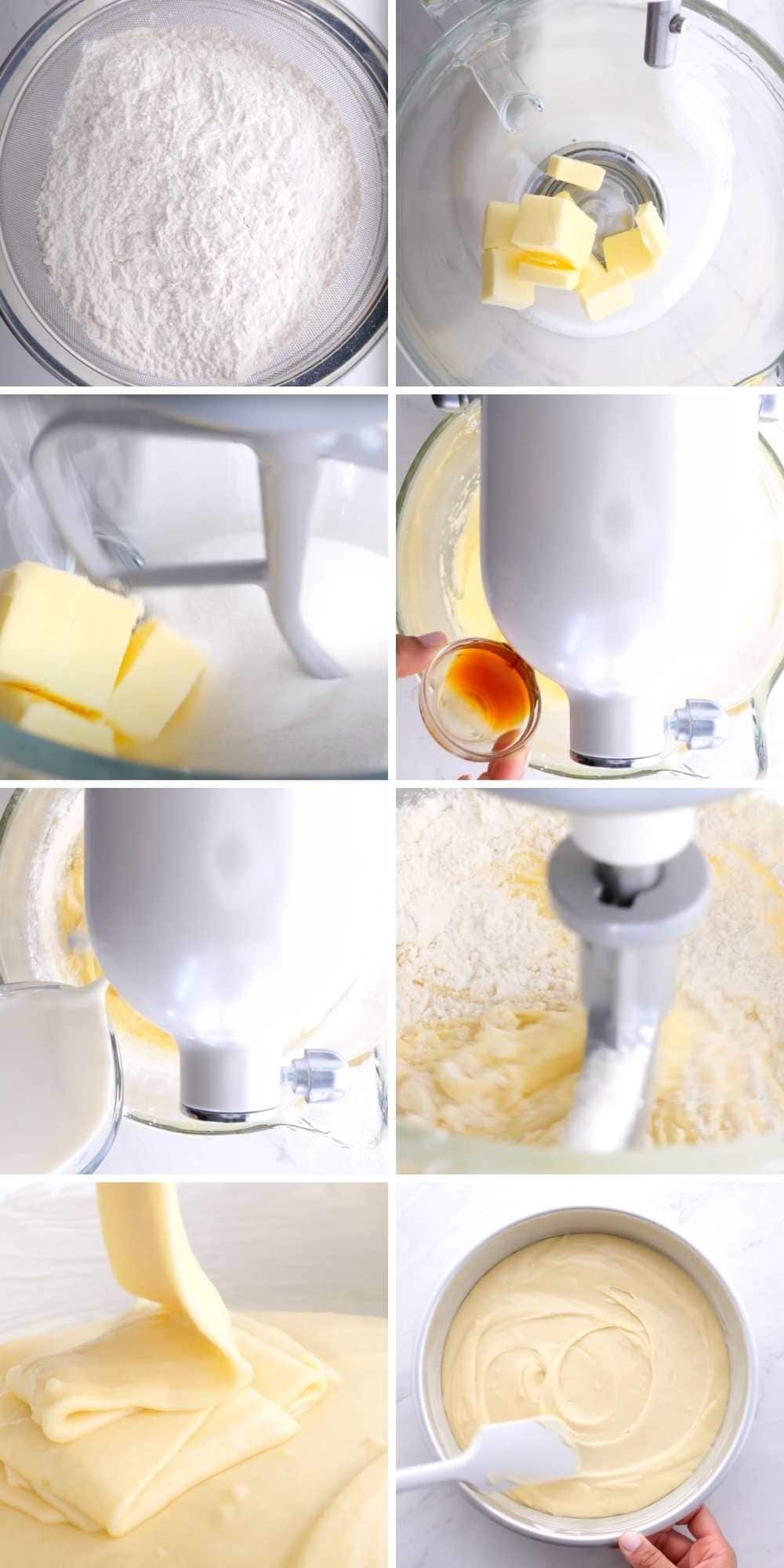 Create a free account to

Save Recipes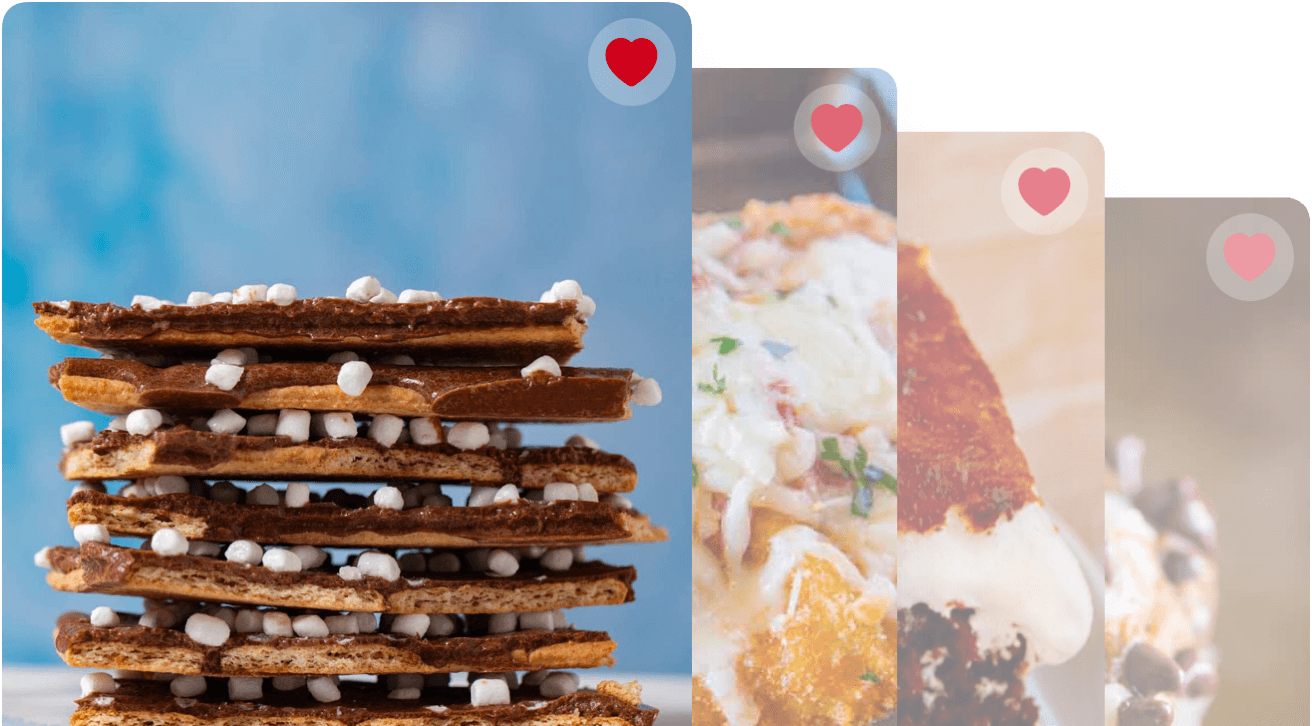 Key Ingredients in Easy Vanilla Cake
All the ingredients can be found in your pantry or at the local grocery store.
Flour: For more delicate cakes like white cake, use cake flour because it requires a finer texture, but for this vanilla cake you can use all-purpose without issue. If cake flour is all you have, you can use it for this cake.
Eggs: Use large eggs of your preferred choice. You can use egg whites alone if you prefer, but the egg yolks do influence the taste.
Sugar: This recipe calls for white sugar.
Vanilla: Use real vanilla extract for best taste.
Butter: Always use unsalted butter, so you can add the salt in as necessary. If you want to use salted butter, I would skip adding any salt to the dry ingredients.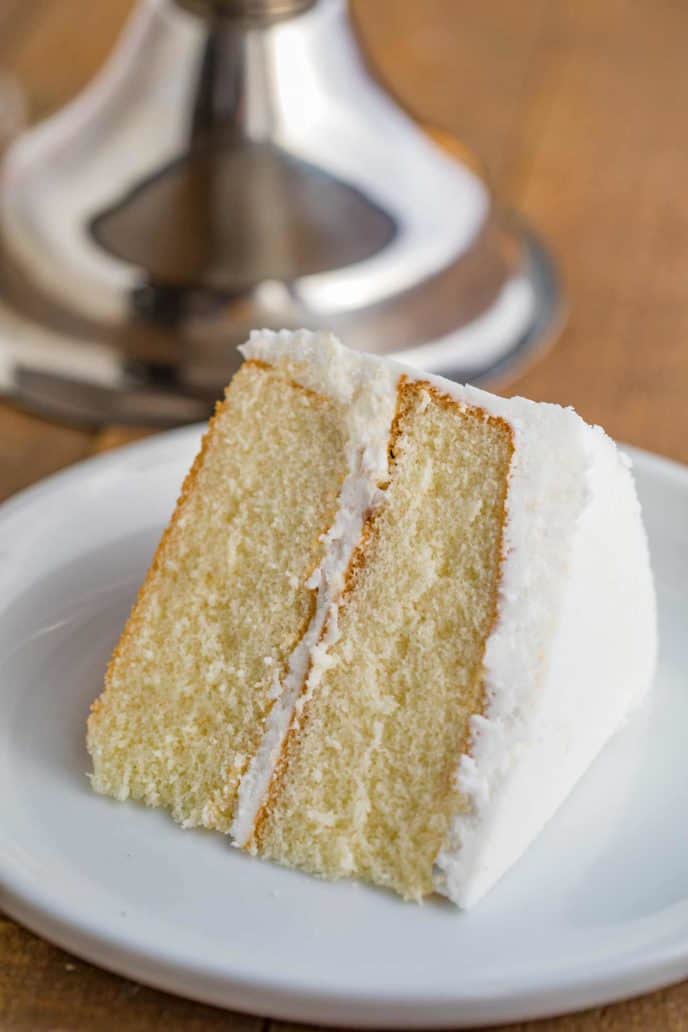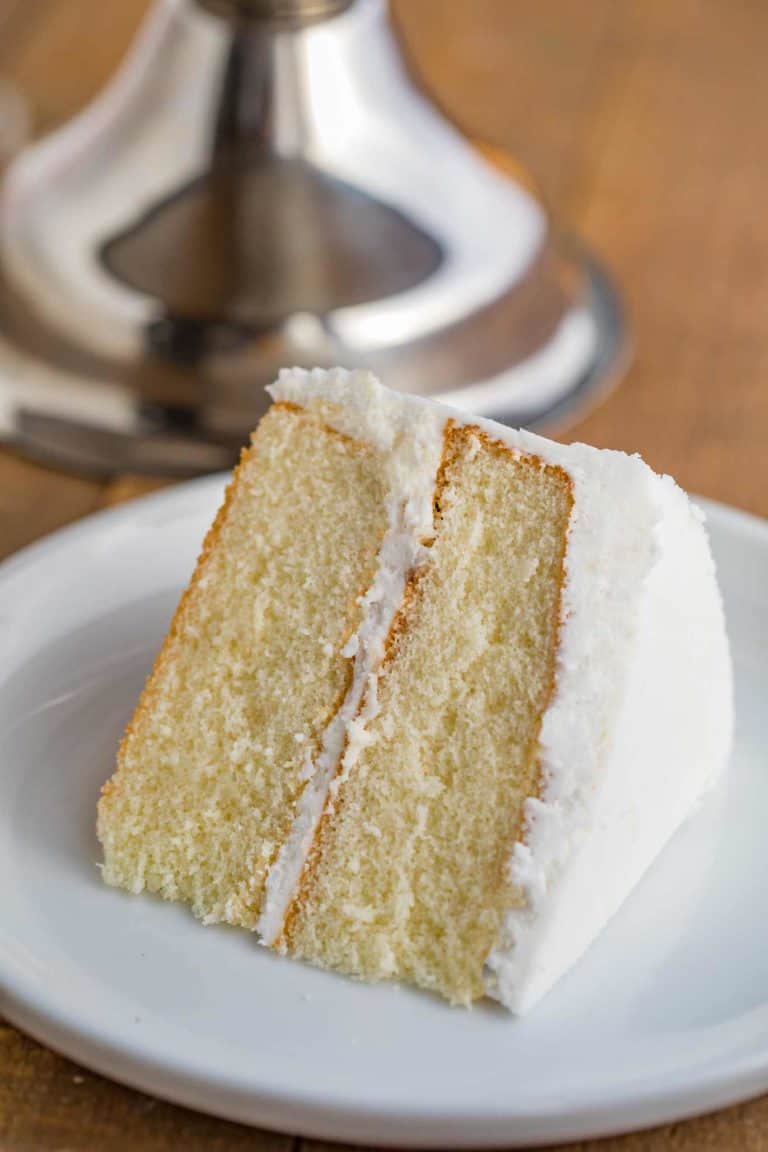 Variations on Vanilla Cake
Summer Cake: Try topping this vanilla cake recipe with a few tablespoons of powdered sugar and fresh berries instead of buttercream.
Fun Shapes: You can also use a bundt pan or make a sheet cake instead of round cake pans with this vanilla cake recipe.
Delicious Layers: Try making a layer cake with this vanilla cake and use Pineapple Topping between each layer, then frosting with Cream Cheese Frosting. Or make a layer cake with Strawberry Topping between each layer and frost the cake with Chocolate Frosting! You can also do this with cupcakes and pipe the filling into the middle.
Layered Cake: Use two 8 inch non-stick cake pans because to make a layer cake with this vanilla cake recipe. If you want to make it taller, you can double the recipe and make additional layers, with frosting between each one. If you're making more than 3-tiers, you can make this in batches and re-use the cake pans after they've cooled. If you're making a layered vanilla cake, cut the very top off of any cake layer that will have another one resting on top of it. This helps make it flatter, so the cake will stay together better.
Vegan Cake: Make this non-dairy by substituting the butter with applesauce, and the milk with a non-dairy almond milk or soy milk. But keep in mind that the butter and milk play an important role in flavor and texture, so it might be less fluffy and buttery.
More Easy Dessert Recipes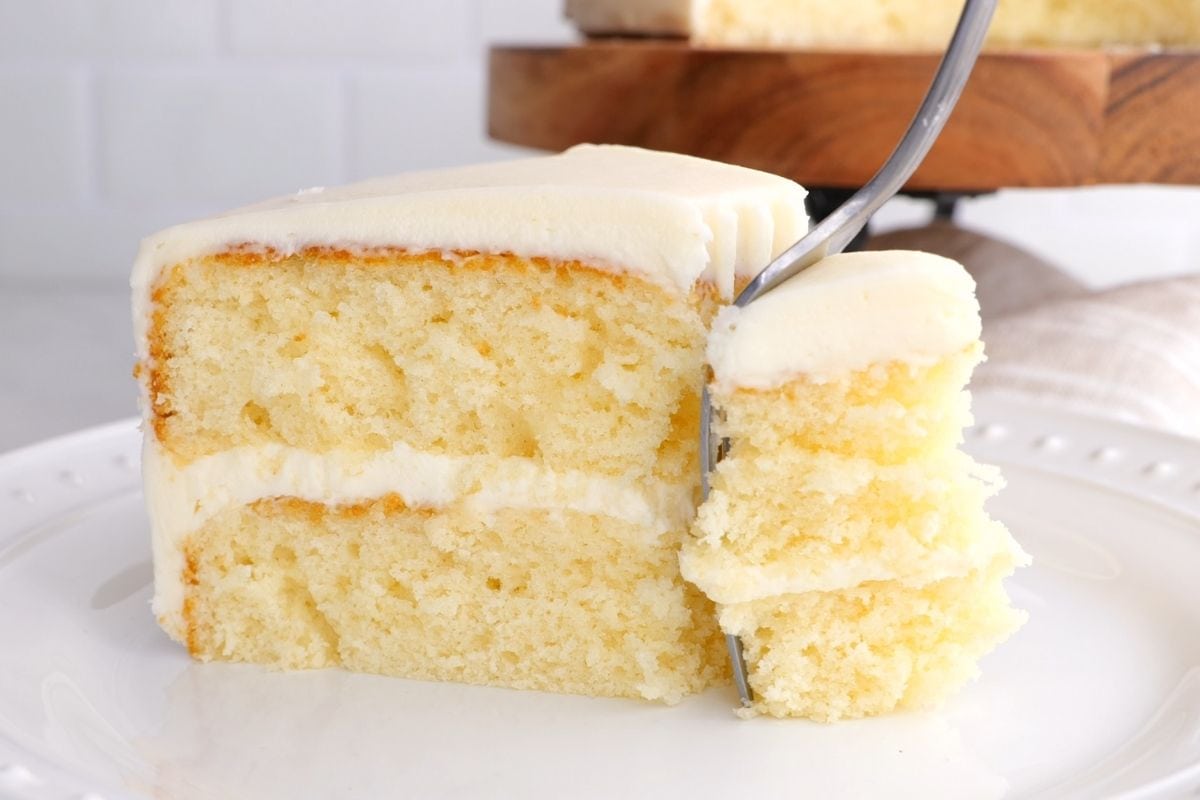 How to Store Easy Vanilla Cake
Serve: If you've frosted the cake with a dairy frosting, it can be kept at room temperature up to 2 hours.
Store: If you're just making the cake layers, you can store the cake on the counter tightly wrapped or sealed in an airtight container. If you've frosted the cake, it depends on what type of frosting is used. For dairy frostings, like cream cheese or vanilla butter cream, store them in the refrigerator.
Freeze: Freeze unfrosted cake layers tightly wrapped in plastic for up to 2 months. Defrost at room temperature.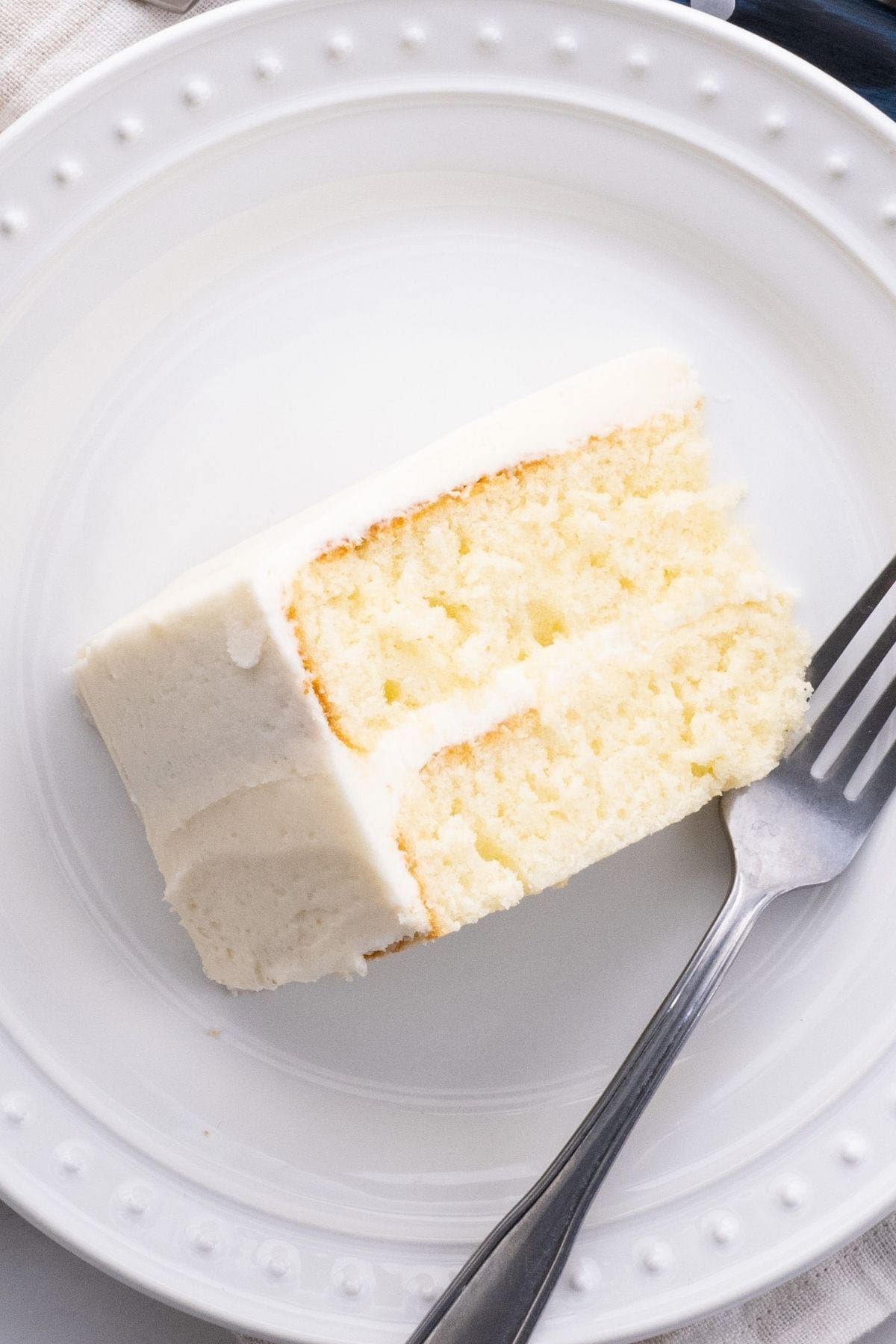 Ingredients
3/4

cup

unsalted butter

1 1/3

cups

sugar

3

large

eggs

2

teaspoons

vanilla extract

1

cup

whole milk

, room temperature

2 1/4

cups

flour

2 1/4

teaspoons

baking powder

1/2

teaspoon

salt

Classic Buttercream Frosting

, (recipe)
Instructions
Preheat the oven to 350 degrees and butter and flour two 8 inch cake pans.

Sift together the flour, baking powder and salt then set aside.

To your stand mixer add the butter and sugar and beat them together until light and fluffy on medium speed,

2-3 minutes

, then add in the eggs one at a time 15 seconds apart along with the vanilla then lower the speed to low. Add the flour mixture and milk, alternating a little of each at a time.

Pour into the cake pans evenly and baked for

25-30 minutes

until a toothpick comes out clean.

Once cakes are cooled frost them with your buttercream frosting.
Notes
Note: click on times in the instructions to start a kitchen timer while cooking.
Nutrition
Calories:
461
kcal
|
Carbohydrates:
67
g
|
Protein:
4
g
|
Fat:
19
g
|
Saturated Fat:
9
g
|
Cholesterol:
73
mg
|
Sodium:
193
mg
|
Potassium:
159
mg
|
Sugar:
47
g
|
Vitamin A:
445
IU
|
Calcium:
70
mg
|
Iron:
1.4
mg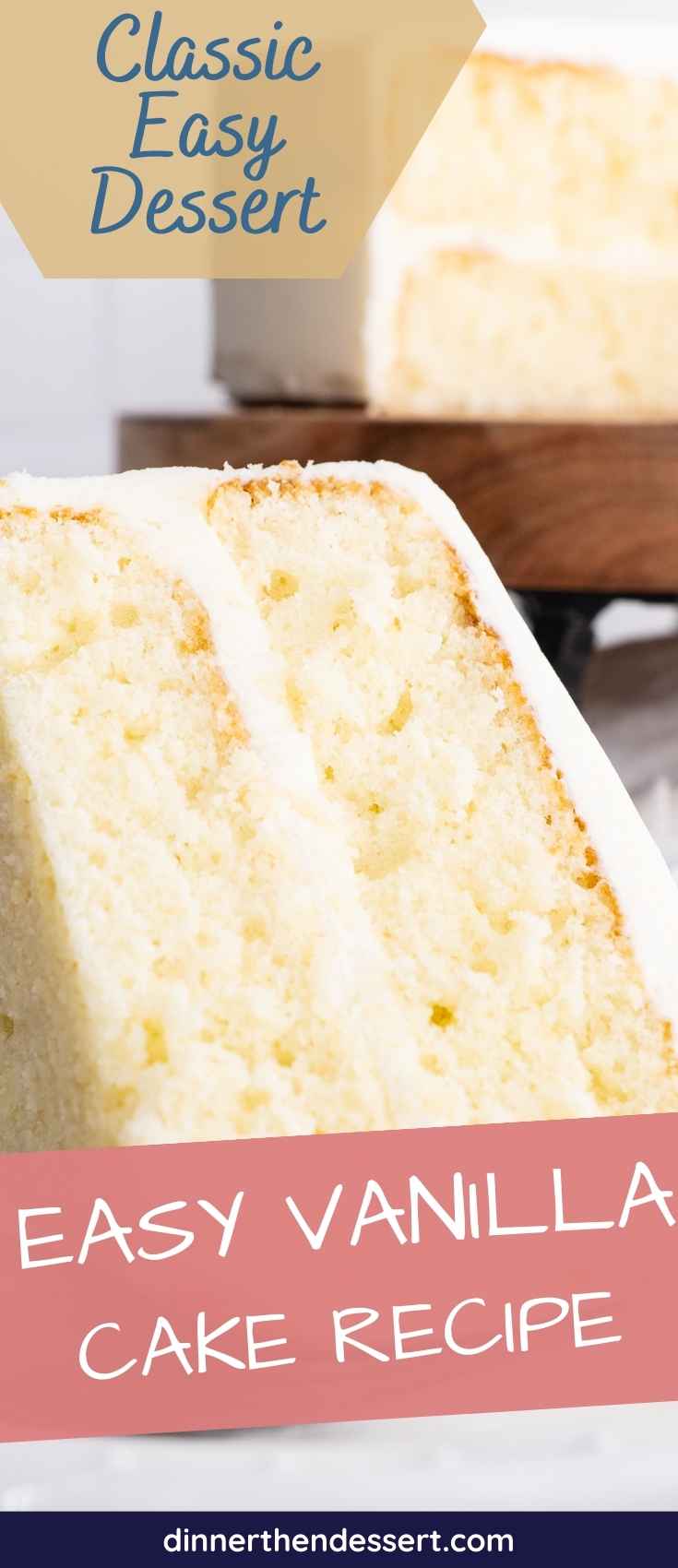 Photo used in a previous version of this post.