Easy Raspberry Jam recipe for homemade preserves with no added pectin! Small-batch jam made with fresh raspberries, sugar and lemon juice.
Fresh Fruit jams like Strawberry Jam, Blueberry Jam, and raspberry jam are a delicious way to use up ripe berries at the end of summer. Serve it over some warm homemade White Bread for the perfect morning toast!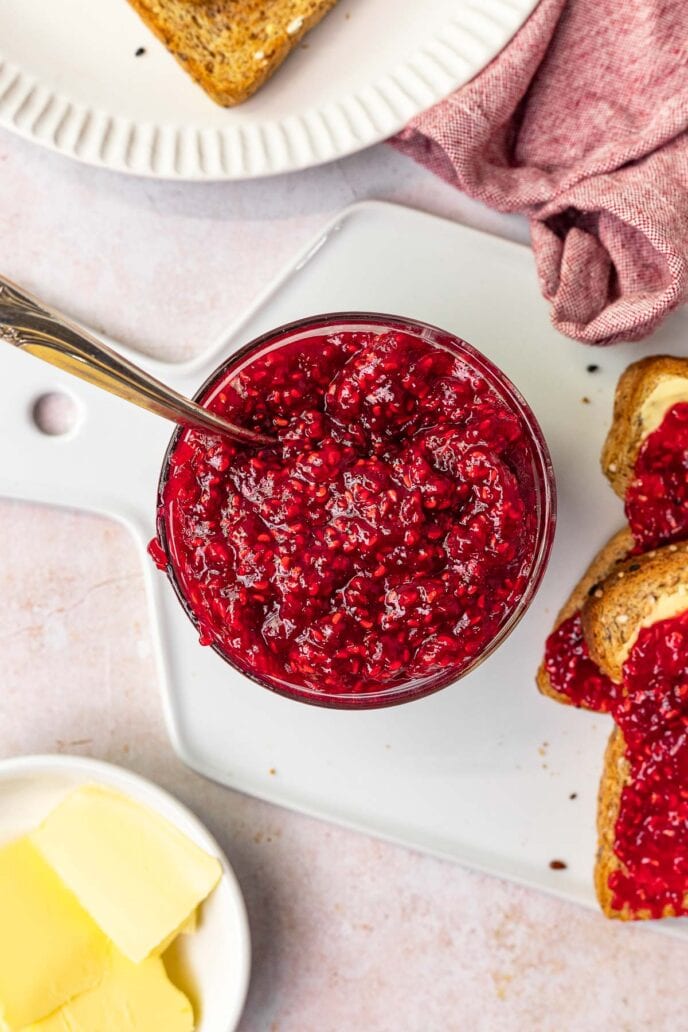 This small-batch Homemade Jam is the perfect easy jam recipe. There's no need to boil jars in a large pot of water to make multiple cans of raspberry preserves. That's right! you can skip the canning jars because this recipe just takes simple ingredients and breaks them down in a saucepan.
This method of jam making doesn't use any pectin. Pectin is a fiber that forms a gel in the jam. It's great for if you're not cooking the fruit. The downside is that it takes much longer to make the jelly. This Easy Raspberry Jam is done cooking within 30 minutes and ready to refrigerate. Instead of letting it cool in jars overnight, you can have it within a few hours.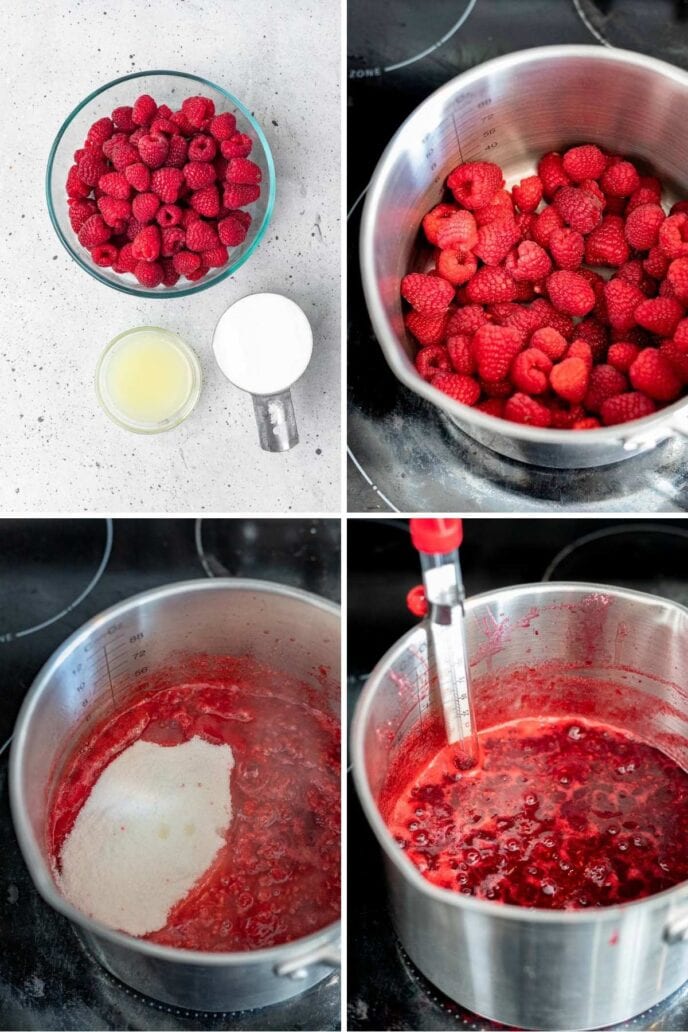 How to Make Raspberry Jam
Berries: Cook the raspberries in a large pot over medium heat, stirring occasionally until they start breaking down.
Cook: Stir in the lemon juice and sugar until the sugar dissolves. Cook the jam mixture until it reaches 220 degrees. Stir it frequently so it doesn't bubble over or burn.
Set: Remove the pan from the heat and cool completely. Transfer the jam to a sealer container and refrigerate until set.
Breakfast Baked Goods for Fresh Jam!
FAQs for Raspberry Jam
Can you use frozen berries to make this jam?
Yes, you can use frozen berries but keep in mind that much like overripe berries, the frozen raspberries are going to breakdown a lot more. You may need to add some fruit pectin if it isn't setting.
What to do if my jam doesn't set?
If your jam doesn't set properly, you can try cooking it for a bit longer to evaporate excess moisture and promote better thickening. Alternatively, you can heat it up and dissolve a small amount of commercial pectin or more lemon juice to help the jam set.
Why do you put lemon juice in Raspberry Jam?
Raspberries don't have a lot of natural pectin or acidity, so you need to add lemon juice to help thicken the jam. The citric acid works with the fruit pectin while bonding with the sugar as the jam cools, which makes it set. It also brings out the sweet, tart flavors of the berries.
Can you make Raspberry Jam without sugar?
Yes, but you will need to add commercial pectin if you are not adding sugar or your jam will not set. Raspberries are a low pectin fruit so while you can add some honey or sugar substitute for sweetness, they need either low sugar pectin or actual sugar added for the jam to set.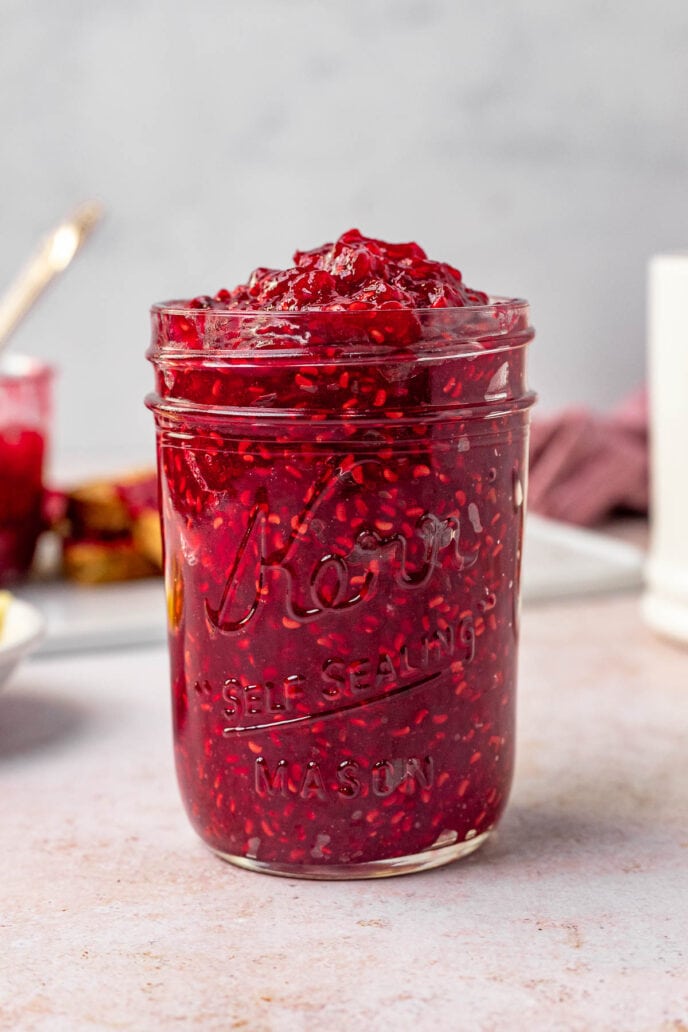 Create a free account to

Save Recipes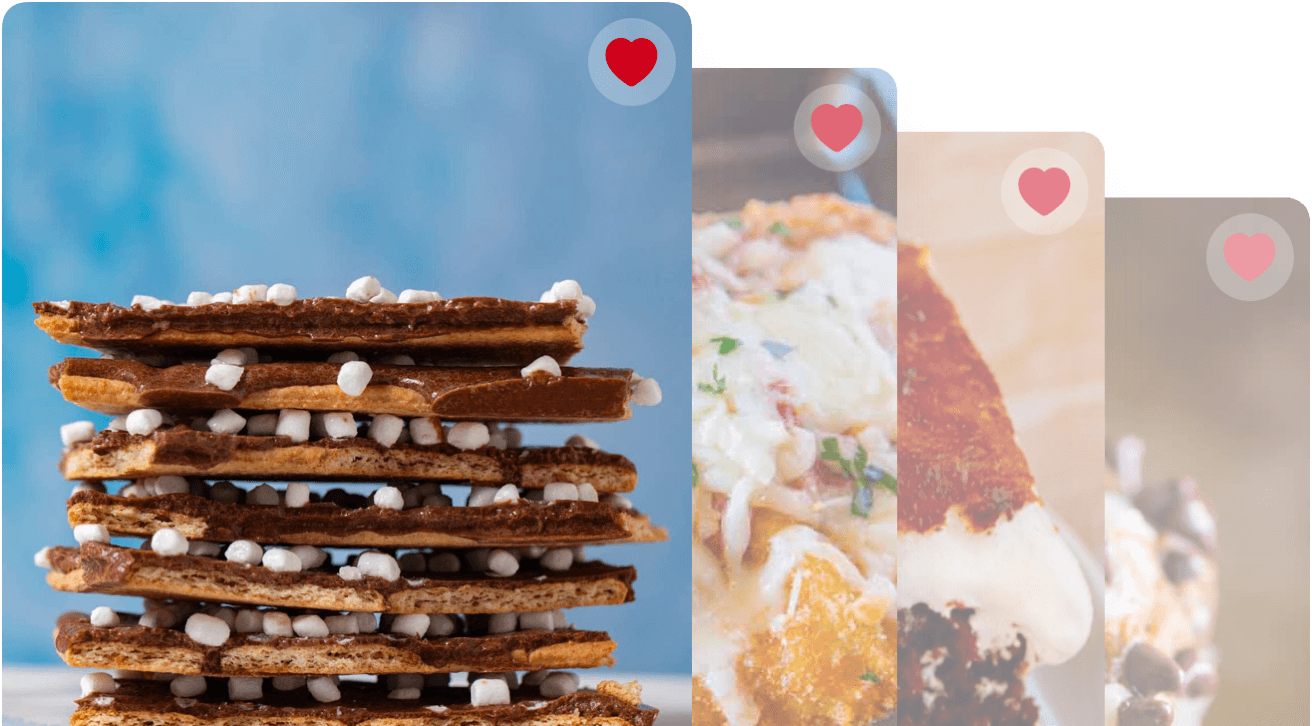 Key Ingredients
Raspberries: Fresh raspberries have a tart vibrant flavor that is a beautiful balance of sour and sweet. Raspberries have a low amount of natural pectin, so you do need additional ingredients to help the jam set. You don't want to use overripe berries or your jam won't be as thick and unripe berries will be too tart.
Granulated Sugar: Sugar plays a vital role in the jam-making process. It acts as a natural preservative, helps the jam set by interacting with the fruit's natural pectin, and adds sweetness to balance the tartness of the raspberries.
Lemon Juice: Lemon juice serves multiple purposes in making fruit jam without pectin. It adds a bright and citrusy note that complements the raspberries' flavor. The acidity in lemon juice helps activate the natural pectin in the raspberries along with the white sugar, aiding in the jam's thickening process.
Can Raspberry Jam be made ahead of time?
Yes, you do need to prepare jam at least a couple of hours before you plan on serving it so that it has time to cool and thicken. You can also use the water bath canning process to make the jam up to a year in advance. There are canning instructions provided below.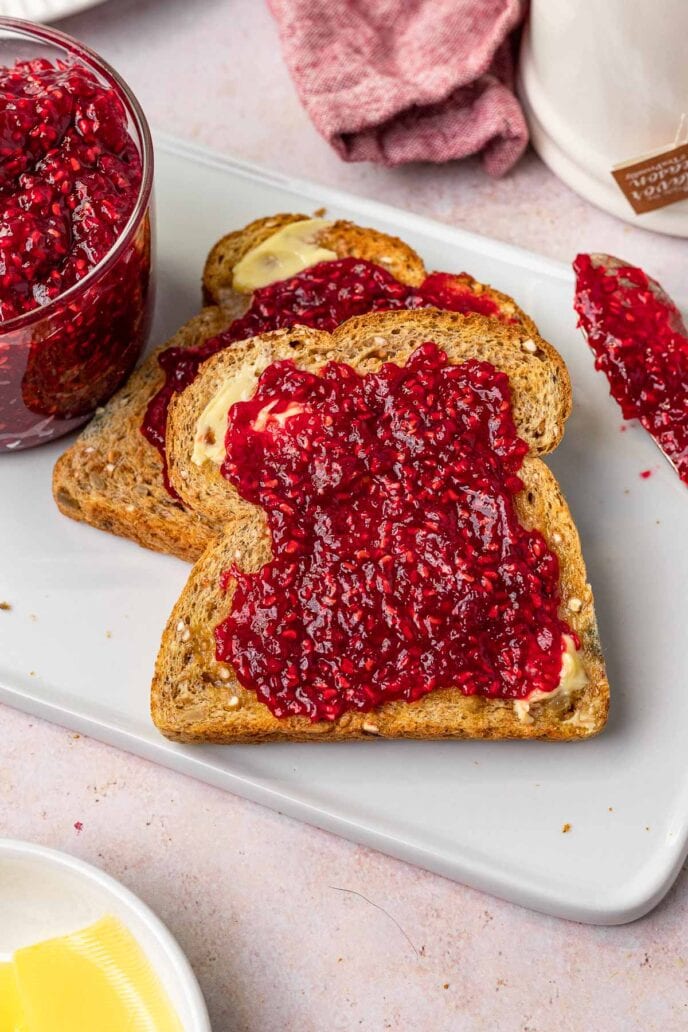 Variations
Berries: You can use this old fashioned recipe to prepare other kinds of berry jam with no pectin. Try using blueberries, blackberries, strawberries, or a combination for a mixed berry jam.
Seedless: If you want a smooth, seedless Raspberry Jam, use a food processor to mash the berries before adding to the pan. Let them break down further for 10 minutes, then run the berry mixture through a fine mesh sieve to remove the seeds.
Peach Jam: Swap out half the ripe berries with ripe fresh peaches cut into small pieces to make a delicious summery Peach Raspberry Jam. You could also use other fruits like plums, mangoes, or kiwi. Feel free to get creative!
Frozen Raspberries: Although this recipe will taste the most fresh, sweet, and tart using fresh fruit, you can also use frozen raspberries. Heat up the frozen raspberries before adding the sugar and lemon so they have time to defrost.
Spicy: Hot peppers like jalapenos, cherry peppers, and habanero peppers all taste delicious with sweet, tart homemade preserves. Start with 1 or 2 fresh peppers, minced into fine bits, so that it's not overly spicy and add some sugar if needed.
How to Serve Raspberry Jam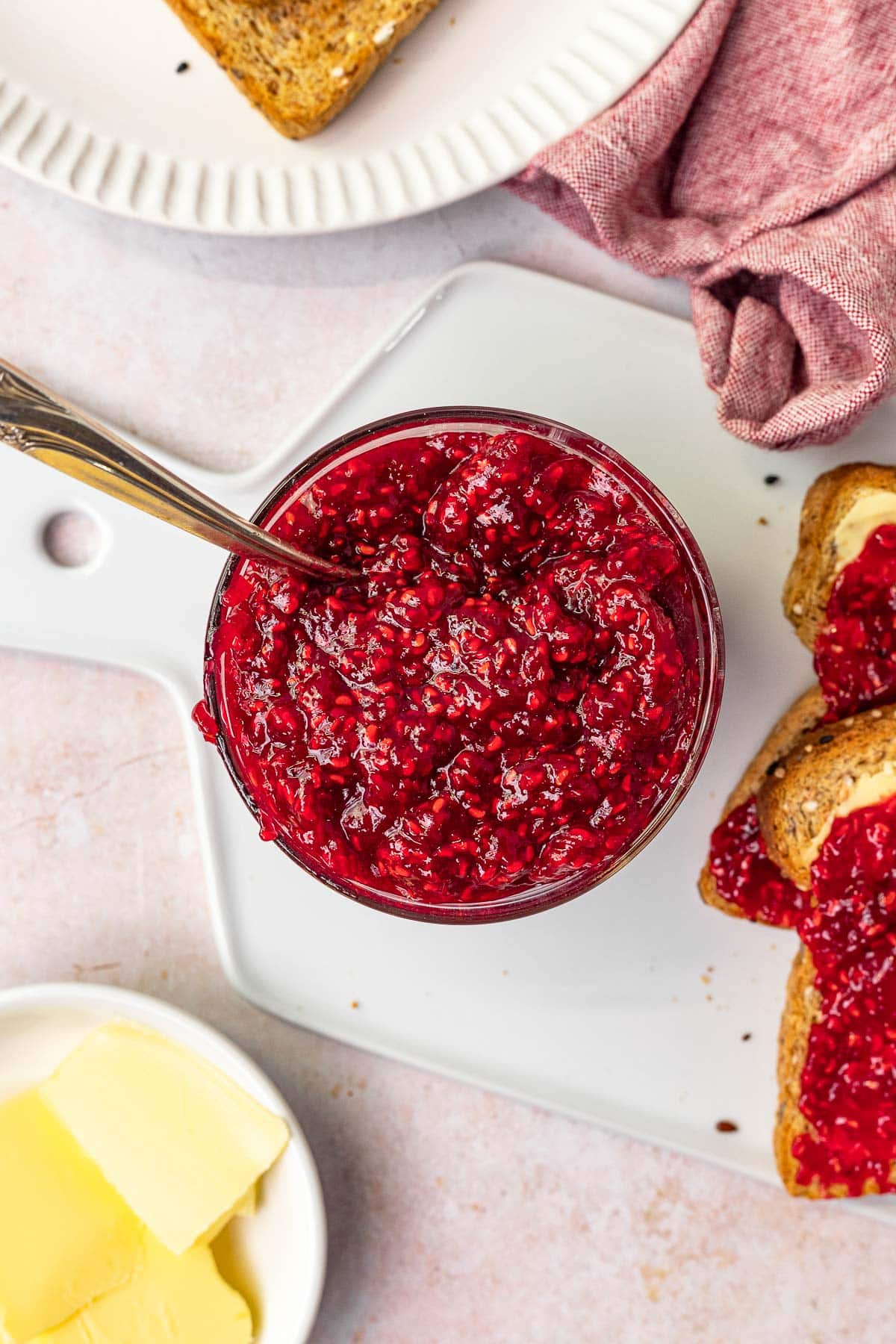 How to Can Raspberry Jam
Although this is a quick way to make jam in a small batch, if you'd like extra canned preserves follow the step-by-step instructions below.
Double the ingredients to make Raspberry Jam for canning. If you don't want any berry chunks use a food processor for mashed berries.
Add the fresh raspberries, sugar, and lemon juice to the saucepan and cook according to the recipe.
Bring a heavy-bottomed pot of water to a boil and add the half-pint jars and lids to the pot to sanitize them. Keep them in the boiling water for at least 5 minutes before removing.
Take the jars from the pot and ladle the raspberry jam ingredients into the canning jars.
Use a spatula or butter knife to remove any air bubbles from the jar.
Use a wet paper towel to wipe any excess jelly off the side of the jars.
Fill the pot up halfway with water and bring to a boil.
Use tongs to place the cans in boiling water. Make sure the jars are at least 2 inches apart.
Bring to a roiling boil and cover the pot for 10 minutes.
Turn off the heat and use tongs to remove the canning jars from the water bath. Let the jam cool overnight.
In the morning press down on the lids to make sure they're sealed tightly. The lid shouldn't move up or down.
Keep the Homemade Raspberry Jam in your pantry for up to 12 months after canning.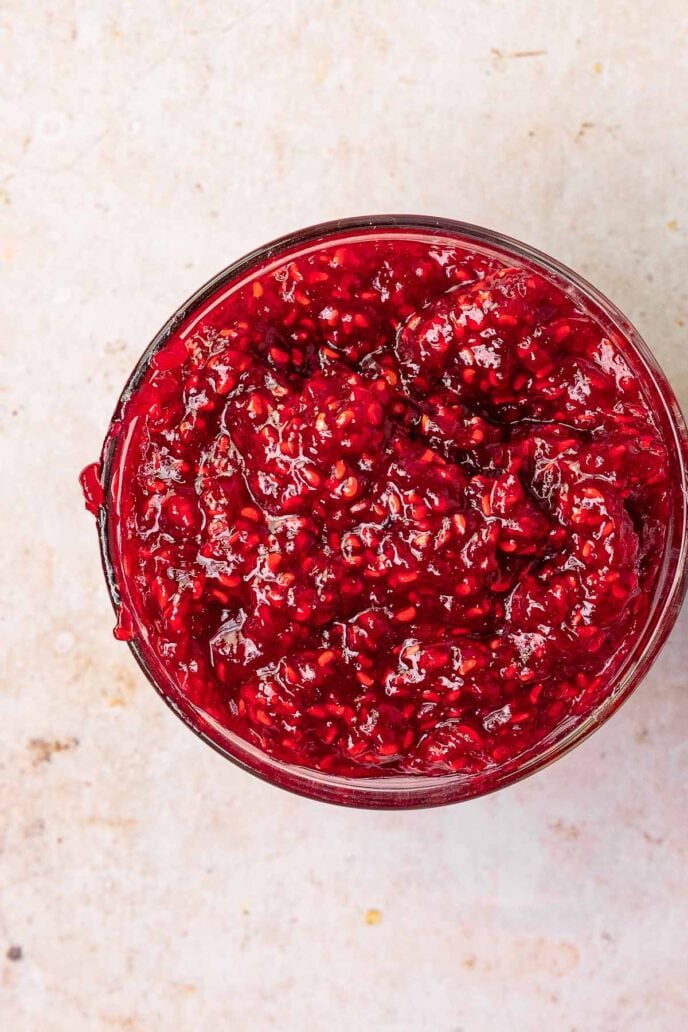 More Easy Berry Jam Recipes
How to Store
Serve: Make sure to chill this homemade Jam recipe before serving so it has time to thicken. Don't leave it at room temperature for more than 2 hours.
Store: Transfer the jam to a jar with an airtight lid and store it in the back of the refrigerator, where it's coldest, for up to 2 weeks.
Freeze: You can also keep this jam in the freezer. Stored in an airtight container, Freezer Jam, will keep well for up to 12 months. However, make sure to leave some room at the top of the container so the jam can expand.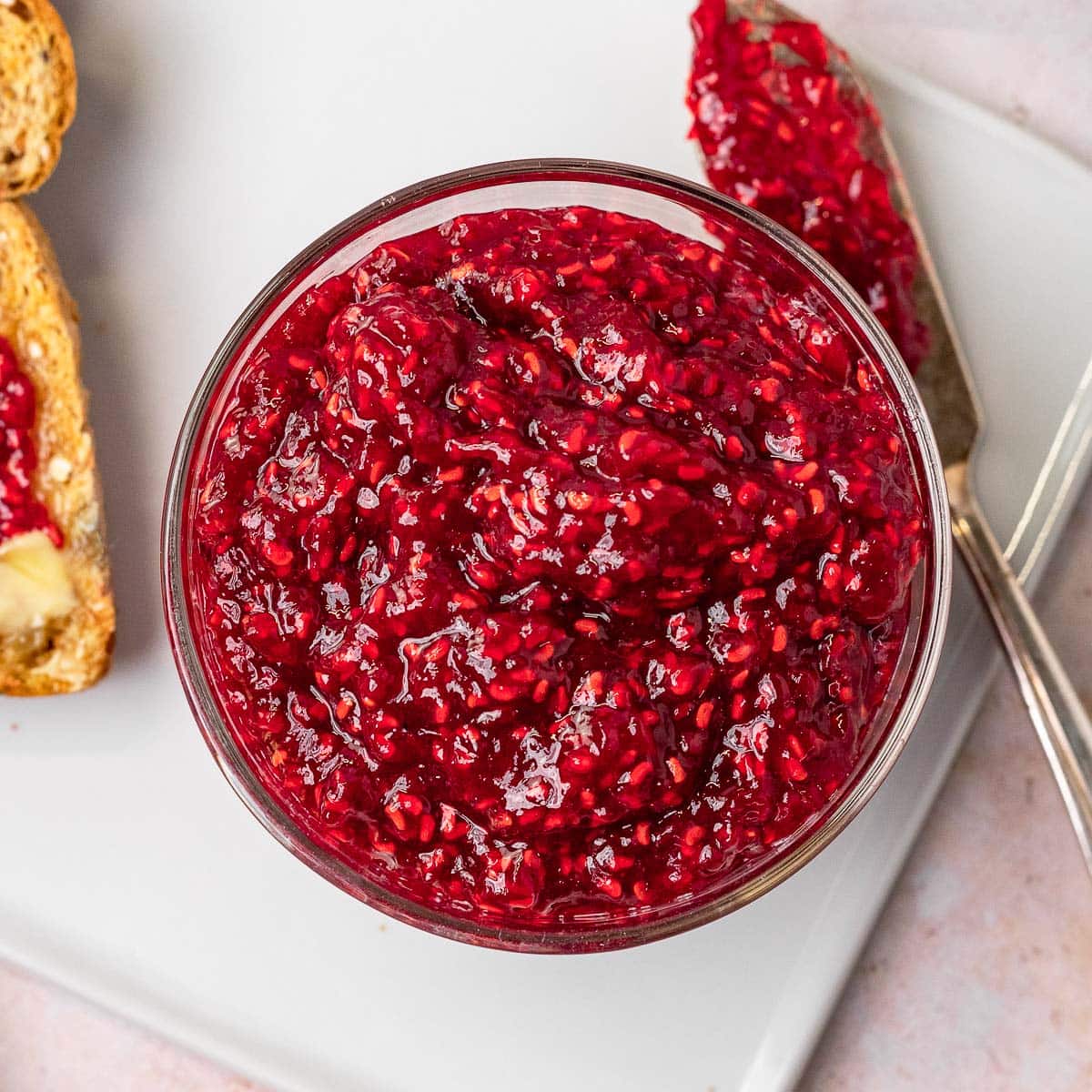 Ingredients
4

cups

raspberries

1

cup

granulated sugar

3

tablespoons

lemon juice
Instructions
Add raspberries to a pot on medium heat and cook, stirring occasionally, until they start breaking down, about

10 minutes

.

Add in the sugar and lemon juice, and stir.

Cook, stirring frequently, for another

15 minutes

until it reaches a temperature of 220 degrees.

Turn off the heat and let cool before refrigerating in a covered container.
Nutrition
Calories:
43
kcal
|
Carbohydrates:
11
g
|
Protein:
1
g
|
Fat:
1
g
|
Saturated Fat:
1
g
|
Polyunsaturated Fat:
1
g
|
Monounsaturated Fat:
1
g
|
Sodium:
1
mg
|
Potassium:
32
mg
|
Fiber:
1
g
|
Sugar:
9
g
|
Vitamin A:
7
IU
|
Vitamin C:
6
mg
|
Calcium:
5
mg
|
Iron:
1
mg